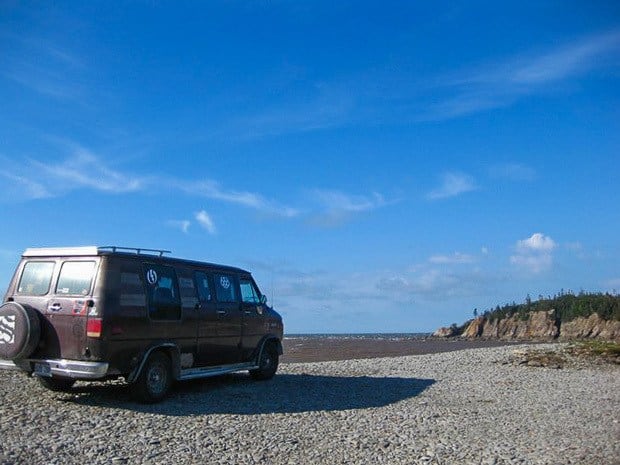 It is the ultimate Canadian road trip – Driving from the West Coast to the East Coast. British Columbia to Newfoundland.
An adventure that few Canadians themselves have done, but most aspire to do. For a traveller to the Great White North, driving across Canada is one of the country's greatest bucket list items.
And the coolest, most comfortable, cheapest and most stylish way to do it is in your very own van or motorhome.
Back in 2008 we bought an ageing 1986 GMC Vandura in the happening city of Vancouver. F
ull of so much character, with her red carpeted interior, disco ball, track lighting, captain's chairs and queen-size bed, we quickly named her Latoya, and dreamt up our Canadian road trip.
Over the course of 3 years we took Latoya from her original home in British Columbia, through the Rockies, across the prairies and into the Maritimes.
We eventually reached Cape Spear, the Eastern-most point of the North American continent on the gorgeous island of Newfoundland.
When the Trans Canada Highway ended, we only had one option – to turn around and ride all the way back to British Columbia. We never paid for accommodation once while we were driving across Canada.
We receive a lot of questions about our Canadian road trip, how easy it was buying a van in Canada as a foreigner and what to know about registration, licensing and insurance.
Here are some of the basic tips to help you get started to do this epic adventure yourself.
Buying A Car In Canada As A Foreigner
It is completely legal for a foreigner to purchase a vehicle in Canada, even if on a tourist visa.
For the most part the only thing you will need is a valid international drivers license, some money and somewhere you can put down as a local address.
It is fine to use the address of your hotel or hostel as your permanent address. Just keep in mind that any paperwork you may need in the future will be forwarded to that address.
It is fine to use the address of your hotel or hostel as your permanent address. Just keep in mind that any paperwork you may need in the future will be forwarded to that address.
What Vehicle Should I Buy?
When it comes to buying a vehicle to drive across Canada, you have a huge amount of options.
Cars, trucks, vans, RVs and anything in between. They all have their advantages and disadvantages and it is worth doing your research before you commit to anything.
We went with a large cargo van and would never have wished for anything else. Having the larger size of a van means you can easily sleep inside it, with enough room to store all your items and cooking/sleeping supplies.
Ours was decked out with a couch that folded out into a queen-size bed, insulation in the walls, comfortable chairs, lights everywhere and was so big we had room to move around.
On days when it was raining or cold and we didn't want to pitch our tent, sleeping in the van was a welcome option. The only downside was that it went through a lot of fuel.
A RV (motorhome or campervan) is more complete, often coming with a kitchen and a bathroom inside. Although they are bigger, really stand out and harder to move around busy cities.
You cannot park a campervan anywhere without drawing attention to yourself.
Cars are another great option and will usually be cheaper. However sleeping inside a car can be a bit of an issue if you are doing it night after night for months at a time.
Not impossible, it just depends on what you are looking for in your road trip. Personally we recommend buying a van.
Where To Find A Vehicle
In Canada there are plenty of great online resources to find a car, van or RV. Check out:
Another option is to go directly to a dealership to buy your car. Doing this has the added benefit of having an expert assist you in all the paperwork, and you may even be able to receive a warranty.
However buying a car from a dealership will almost always be more expensive.
Also don't forget to check popular backpacker hostels and ski resort towns to see if anyone is selling their car or van in a hurry. You may be able to pick up a great bargain!
How Much Does It Cost?
Our van cost us $1600. We have friends who spent much less (sometimes only $500) and managed to find decent vehicles. Of course it really depends on what your budget is.
Realistically you should be looking at anything from $1000-$3000 for a (mostly) reliable car or van in good condition.
Latoya came completely decked out, so we never had to spend a cent to improve her. This is not always the case, but building supplies are cheap in Canada. It can really work out to be a lot cheaper than doing a road trip around Australia.
We know from experience that registration and insurance is cheaper in the provinces of Alberta and Quebec.
British Columbia was very expensive. We cannot comment on the other provinces Perhaps consider buying your vehicle to help save on some costs.
Transfer Of Ownership
Once you have found your perfect road trip vehicle, you will need to transfer the ownership into your name.
You can collect the relevant forms from the provincial road authority registry (such as ICBC, MTO, SAAQ, etc).
Once you have this you need to have both the seller and buyer fill out the form, sign it and take it back into the road registry.
You will need to pay tax on how much you purchase the vehicle for. If you are cheeky, you can always put down a lower amount to pay less tax. However this may affect the amount you receive from your insurance later if you ever need to make a claim.
It is much easier to go directly into the registry with the previous owner for the transfer of ownership.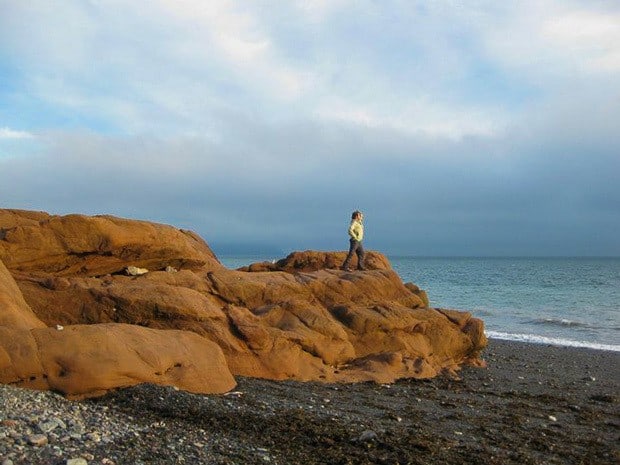 Registration
Once the vehicle is in your name, you need to register it. Vehicles from a different province, ones that have not been registered for a while or have been in storage will need to undergo a safety inspection to ensure it is roadworthy.
This usually involves a mechanical inspection and checking all the safety equipment (seat belts, airbags, etc). In British Columbia vehicles also need to undergo emissions testing in the Lower Mainland (Vancouver) and Fraser Valley.
If the vehicle you are looking at buying is particularly old, it may not pass this test. Consider driving it out to a rural place to register it if this is the case.
Once you have your vehicle safety inspection form (if required) and your transfer of ownership, go into the motor vehicle registry and pay the registration fee.
If there is money owing on the VIN (vehicle identification number) due to fines or any other issue, this needs to be paid before you can register it.
This is why it is a good idea to go with the seller to do this so you don't get stuck with any additional costs.
Licence Plates
Licence plates in Canada do not come with the vehicle. Once you change ownership and registration, the plates go with the seller. They then can use them for another car or return them to the registry.
When you go into register your vehicle you will be given new licence plates. If you are getting your temporary vehicle permit they will give you a paper printout to stick in your windscreen.
Make sure you do this correctly to avoid any fines.
Insurance
Vehicle insurance is a mandatory requirement in Canada. It would also be very foolish to drive on the roads without it.
Each province has their own insurance providers and prices vary. At the bare minimum you need third party liability. On top of that are options of collision and comprehensive insurance.
Once the vehicle is in your name, call or drop into an insurance brokerage and purchase your cover.
You are able to get a temporary vehicle permit so that you can drive your car to a garage or somewhere else once you make the purchase. This temporary permit is only valid for a few days.
Licensing
Tourists are permitted to drive a car in Canada on an international drivers licence for 6 months.
After that you need to apply for a local licence from the province you are in (not necessarily where the vehicle is registered).
Each province has its own licensing procedures. Sometimes you can just exchange your foreign drivers licence for a provincial one. Other times you may be required to undergo a complete road test.
We never bothered with getting a local licence, but it is up to you whether you want to take the risk or not.
Road Rules And Dealing With Police
In Canada traffic drives on the right hand side of the road. Road rules are slightly different in each province, but should never take more than a few hours to pick up.
If you are pulled over by the police they will likely just check your licence, insurance and registration. As long as these are all current you should have no problems.
Driving Across Canada
Canada is a big country. Massive in fact! To drive from Vancouver to the end of Newfoundland is over 7000km. But every mile is worth the effort.
It is only natural that a nation so large would have a diverse range of landscapes. From the forested mountains of the West to the jagged coastal cliffs of the East, and the sparse, barren Prairies in between, we truly fell in love with the Great White North.
Driving across Canada in your own car, van or RV can take you anywhere from a week to a year. Of course the longer you have to enjoy the road trip, the more you can see.
The plus side is that the slower you travel, the cheaper it can be, while giving you the chance to truly explore each region you find yourself in.
Roadside Assistance
We signed up with CAA (Canadian Automobile Association) for their roadside assistance program. It was great that we did, because our beautiful old van had a big habit of breaking down every other day.
Their premier membership is about $150 a year, and in our opinion very worth it. They also give you free maps when you stop by one of their offices. Highly recommended!
Accommodation
During our entire road trip we didn't pay for a single night's accommodation. We slept either inside our van, pitched our tent and camped or used Couchsurfing.
In a lot of places free camping is frowned upon. They would prefer you spend your money in a hotel or a registered campground, and you may end up getting awoken by rangers or the police. This never happened to us, but it did to some of our friends.
The benefit of having a van instead of a RV is that it is more inconspicuous. It is easier to park up in an urban area and not draw too much attention to yourself.
A lot of the time residents won't even know someone is inside. That was a huge benefit.
Walmart will also allow motorhomes to park overnight for free. We used this option when we were in bigger cities and couldn't find quiet streets to park on.
In more remote places we almost always found great places to camp for the night right in the middle of nature.
On the edges of rivers or on cliffs overlooking the ocean. Great places to wake up in the morning!
Sometimes you just need to drive around for a while and find back roads that lead to cool places. In a country as large as Canada, this is easy to do.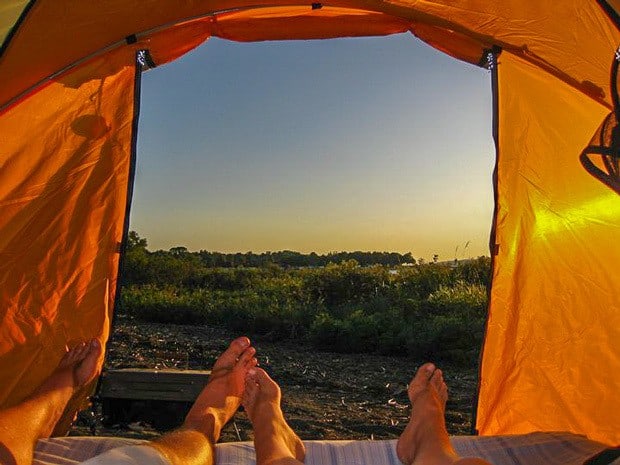 What To Do For Food
If you are on a tight budget you will be looking at self-catering most of the time. We were almost broke the entire time on the East Coast, so we lived on very basic food.
We bought ourselves a little gas cooker, some instant noodles, rice and a few condiments and would cook up big meals for only a few dollars.
During the day we would snack on tuna and crackers or peanut butter sandwiches. The only times we really splurged out was when we were towns known for special food, such as poutine or seafood.
We also drank a lot of Tim Hortons coffee. You have to love Timmy Ho's!
Weather
I'm sure you already know this, but winter in Canada is freaking cold. Due to this, road tripping and living out of a van during the months of November to March is not really recommended unless your vehicle has great insulation and a heater to keep you alive at night.
It snows a lot on the West Coast as well. Winter tyres are a must for snow and ice driving, and these can set you back quite a few hundred dollars.
We bought good quality winter tyres and then kept them on all summer. Not the smartest idea as they can wear out a lot quicker, but we managed to get away with it.
Time your road trip across Canada to avoid the winter.
Crossing Into The United States
As long as you have a valid licence, registration, insurance and have the appropriate visas (or can get them at the border), then you can legally take your Canadian vehicle into the United States and back again.
We never did this, but if we were to return we would do our road trip driving across Canada, hop over the border and then return via another route.
Buying a van and driving across Canada is still to this day one of our favourite travel memories.
It really made us fall in love with road tripping and was something we will always consider doing in any other part of the world.
Have you done this yourself? We would love to hear your own personal experiences and tips on driving across Canada or buying a vehicle as a foreigner.
Let us know in the comments below!