We spent a month travelling on the MV Ultramarine, Quark Expeditions' newest luxury polar exploration vessel and dove deep into every new feature, cabin and facility onboard. In our Quark Ultramarine review we explore every deck and explain everything there is to know about new polar cruise ship.
The mystery of the polar regions has been captivating explorers for centuries, with intrepid seafarers navigating treacherous seas in search of the great unknown onboard questionable vessels.
It wasn't that long ago, relatively, that a trip to the Arctic or Antarctic would be shrouded in uncertainty of whether the ship would survive the journey.
This uncertainty is no longer a concern, and in the last few years the standard polar expedition ship has evolved to become a master of the seas, filled with the highest technology available and onboard luxury that rivals even the finest 5-star hotels.
Some would say that this has taken away from the romance of a remote expedition, with a few companies now taking enormous cruise ships to the furthest reaches of the planet.
A few core operators have stuck to the idea of adventure though, opting instead to stay true to their values and only run small-ship tours with capped passenger numbers, while upgrading the overall experience and comfort.
One such company is Quark Expeditions, the leaders in unique and responsible polar journeys.
Boasting a small yet spectacular fleet of rugged, research-style ships, they have now welcomed into their arsenal the world-class MV Ultramarine, arguably one of the finest vessels to sail the Antarctic and Arctic oceans.
Commissioned exclusively by Quark and constructed in 2021, the MV Ultramarine is a purpose-built polar exploration ship to give guests and crew the best, safest and most comfortable experiences, to an extent previously unseen in the expedition industry.
We were lucky enough to spend an entire month onboard the Ultramarine on its inaugural season in the western Arctic, and having travelled the world on a variety of small-group ships, from luxury yachts to Russian research vessels, we can attest that the Ultramarine lives up to its reputation.
READ MORE: Check out our comprehensive trip review of the Northwest Passage: In the Footsteps of Franklin journey we did onboard the Ultramarine.
In our comprehensive Ultramarine review we share our thoughts on the ship, explore every cabin and deck and determine whether this new style is not only suitable but beneficial for polar adventures.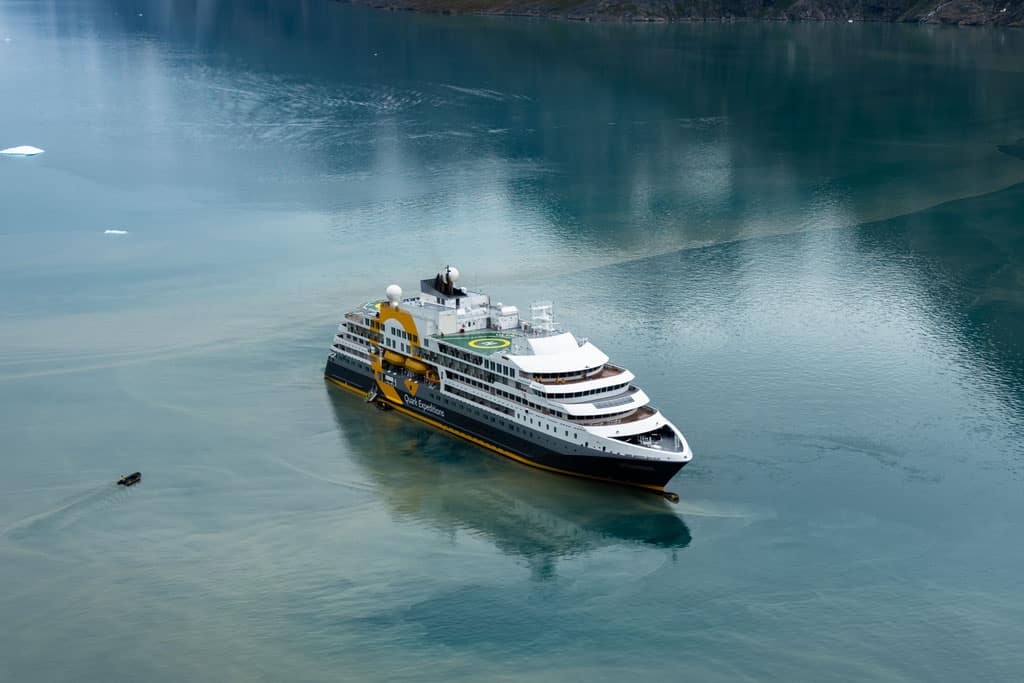 Introducing the MV Ultramarine
With experience operating in the polar regions since 1991, the Quark Expeditions team drew up a dream list of what would make the perfect polar ship and got to work designing the ultimate vessel.
Contracting the naval architects LMG Marin in Norway and the shipbuilders Brodosplit and Viktor Lenac Shipyard's in Croatia, Quark were involved in every aspect of the process to bring this dream to life.
The end result is the Ultramarine, the newest, ice-strengthened polar tour ship designed specifically for navigating the Arctic and Antarctic, with a priority on maximising guest experience in this part of the world.
The MV Ultramarine can hold a maximum of 199 passengers (200 people is the maximum number that can leave any ship at the same time in the Antarctic according to IAATO regulations) and 140 crew, so not only does it pass this important passenger limit rule, there's substantial staff available to cover all needs and requirements for high-end cruise executions.
With a focus on environmentally responsible tourism, Quark ensured that the Ultramarine also utilises the most sustainable tech available to operate, including special systems to convert waste to energy, minimise fuel consumption and navigate narrow passages without impacting the land or seabed.
Luxury is paramount onboard, and every corner blends spacious functionality with high-end amenities and tasteful decorations.
EXCLUSIVE – We have partnered with the world's top polar tour operator, Quark Expeditions, to offer readers of NOMADasaurus a very special deal on any trip to Antarctica or the Arctic! Contact us ([email protected]) if you'd like to learn more.
There are 8 decks with different style cabins, lounge, two bars, two restaurants, presentation room, gym, spa, reception, ready room and a fully-stocked store.
The newest addition and arguable highlight is the two twin engine helicopters that allow for off ship experiences such as scenic flights and landings in places few people have ever seen.
Let's dive deeper into each cabin and deck in our Quark Expeditions' Ultramarine review.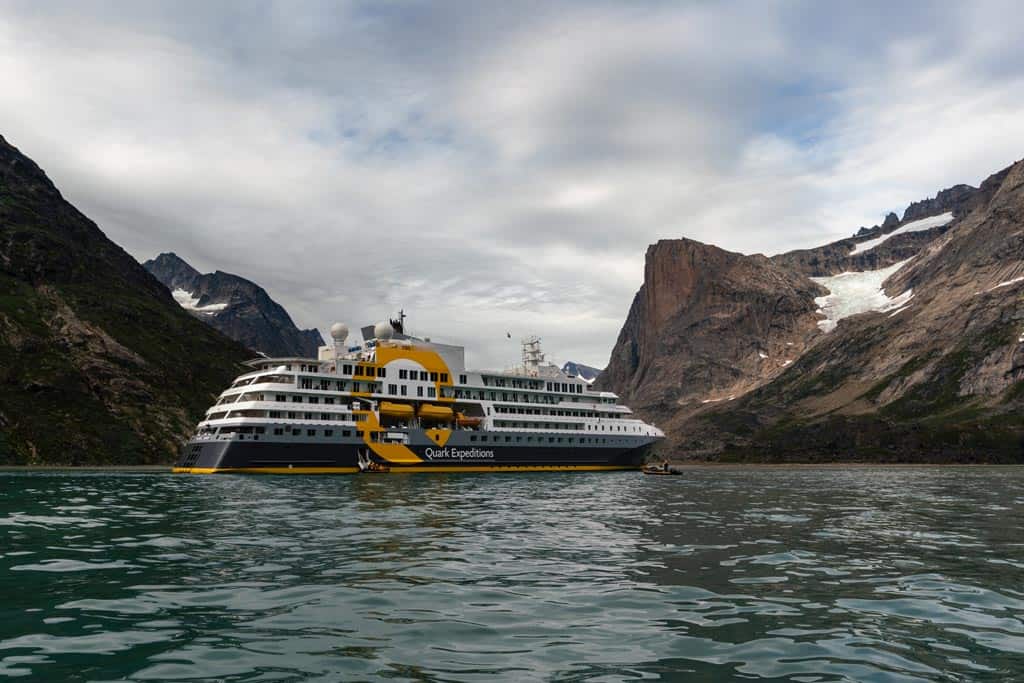 The Cabins
There are nine types of cabins onboard the Ultramarine catering for all styles, groups and budgets.
These range from the lower Explorer Cabin right through to the unbelievable Ultra Suite, but truth be told there's no 'lesser' cabin on the Ultramarine.
Every cabin, regardless of class, includes:
Comfortable beds with high quality pillows, mattress and thread-count sheets
Flat-screen TV with movies, documentaries and live streaming of presentations
Private bathroom with full-size shower and heated floors
Luggage and clothing storage
Lockable safe
Sitting area
Small fridge
Wifi access
READ MORE: Our detailed Greenland Adventure cruise review with Quark Expeditions is now live! Don't miss it if you're looking for more incredible Arctic tour ideas.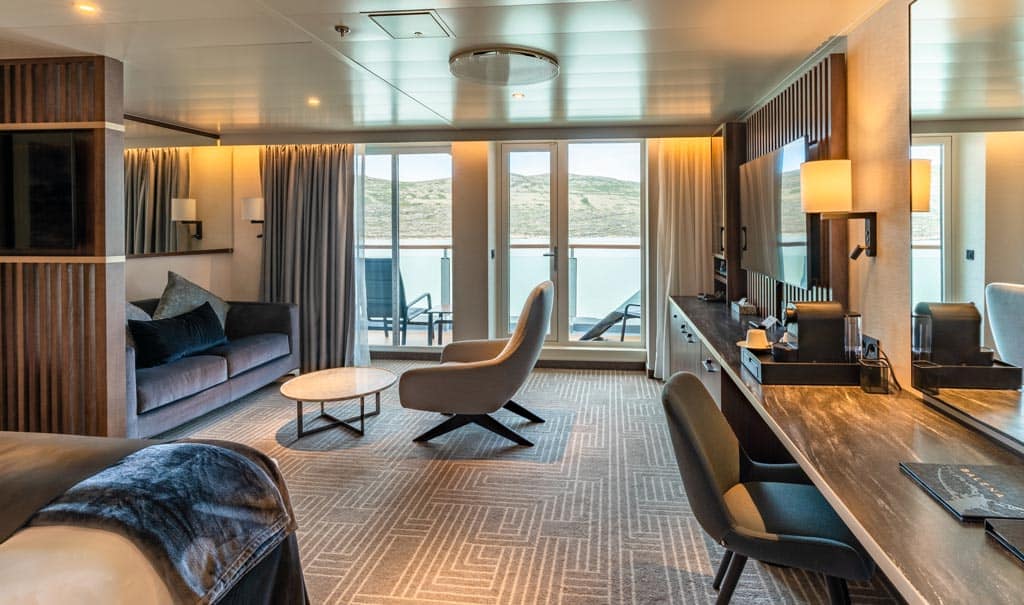 The Explorer Cabins have large windows (not portholes), Solo Panorama has floor to ceiling windows, and every cabin above that has their own private balcony.
If you're travelling solo and don't mind sharing with another adventurer you can opt for the Explorer Triple, or if you'd like your own solo cabin the Solo Panorama means you won't have to share.
Stepping up to the Suites guests can enjoy a private extra wide balcony, isolated toilet, bathtubs and even a separate sitting area.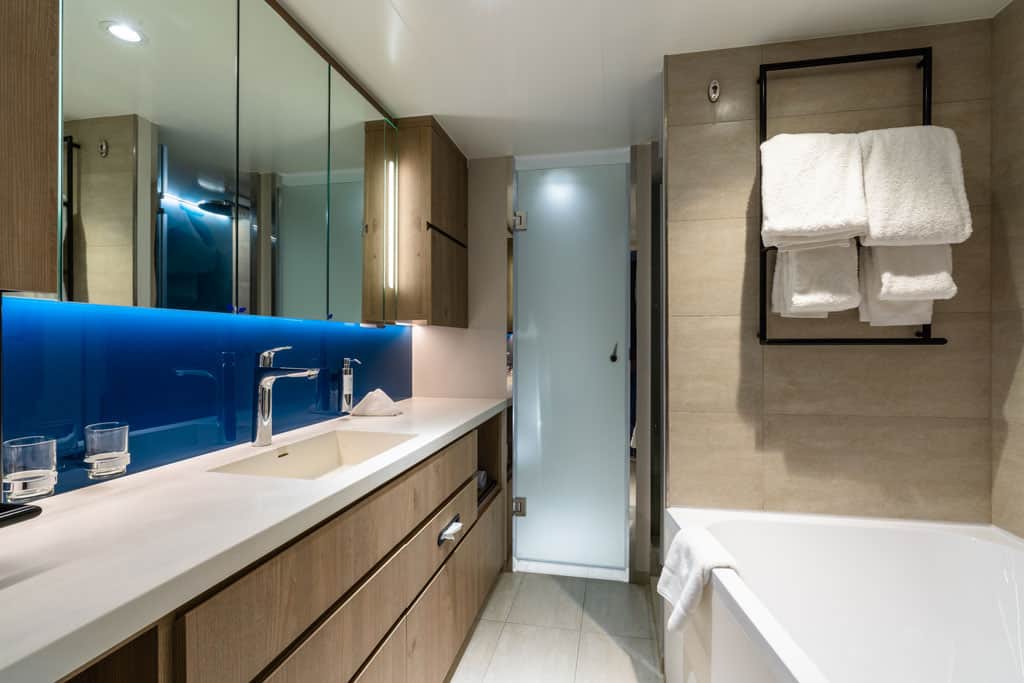 Many cabins have a choice between a large queen or king-sized bed, or twin beds, so whether you're travelling with a spouse or friend/family member you will be catered for.
We personally stayed in a Balcony Suite and found this to be the perfect size for us, with ample room to spread out, charge our camera gear and enjoy the balcony for a quiet drink while admiring the impeccable views of the Arctic.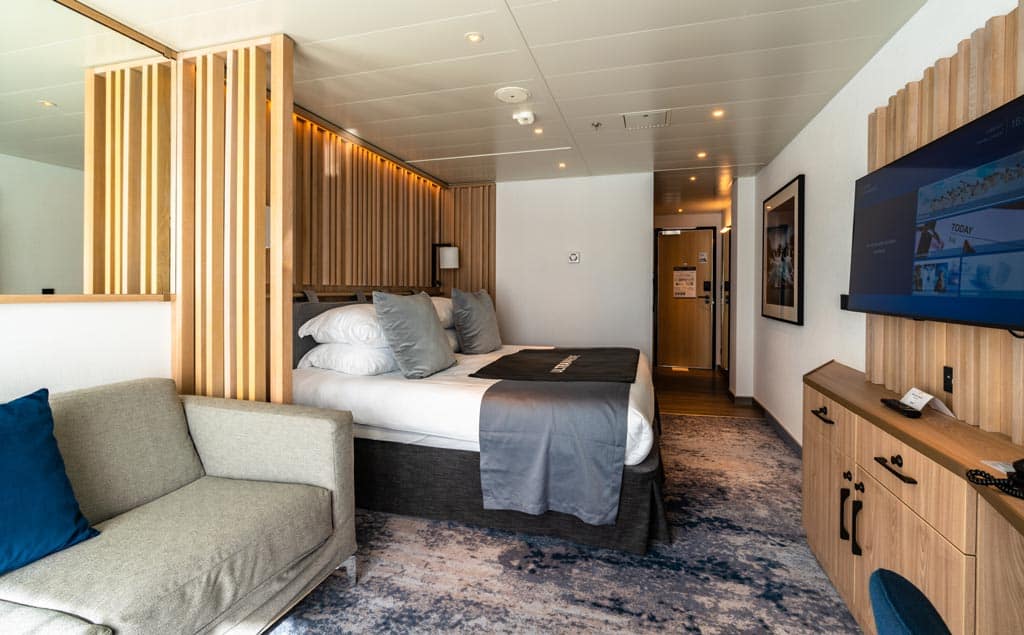 The Panorama Lounge and Bar
Located at the bow on Deck 7 is the Panorama Lounge, the ultimate social hub on the Ultramarine.
It's perfect place for guests to relax and unwind at the end if a big day's exploration or to chill in the morning with a cup of coffee while watching the landscapes pass by.
You'll find a mix of comfortable chairs and sprawling couches to spread out in this spacious lounge, and lots of electrical power outlets if you'd like to plug your laptop in and edit photos and videos.
There's a fully-stocked bar offering boutique beers, wines, cocktails, mocktails, soft drinks and snacks, and a coffee and tea station with a push-to-operate coffee machine.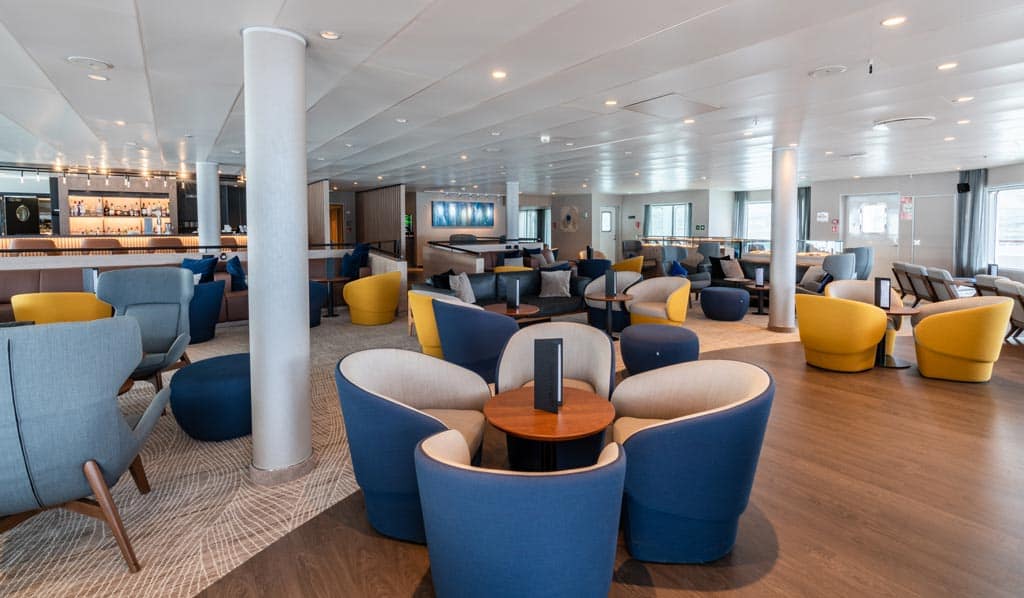 At the back you'll find a library and reading area with lots of books focused on the wildlife, landscapes and history of the polar regions available to borrow.
Display units showcasing local art and relics are scattered around the room, and a full-size replica of the bridge showing real-time information is at the front.
Binoculars and scopes are provided free of charge for guest use too.
The reason the Panorama Lounge gets its name though is the huge windows that wrap around the room, giving 180-degree views so you can sit and stare out while protected from the elements.
This room also gives access to the large Panorama Deck for the best out-in-the-elements vistas, which is where you'll find all the guests hanging when navigating sea ice, narrow passages or when spotting wildlife.
When we weren't sleeping, eating or out on excursions, we spent the majority of our time here in the Panorama Lounge drinking coffee and making friends.
This is also where we spotted our first ever polar bear and saw a pod of 30 orcas surround the ship, so it pays to always be ready with camera handy.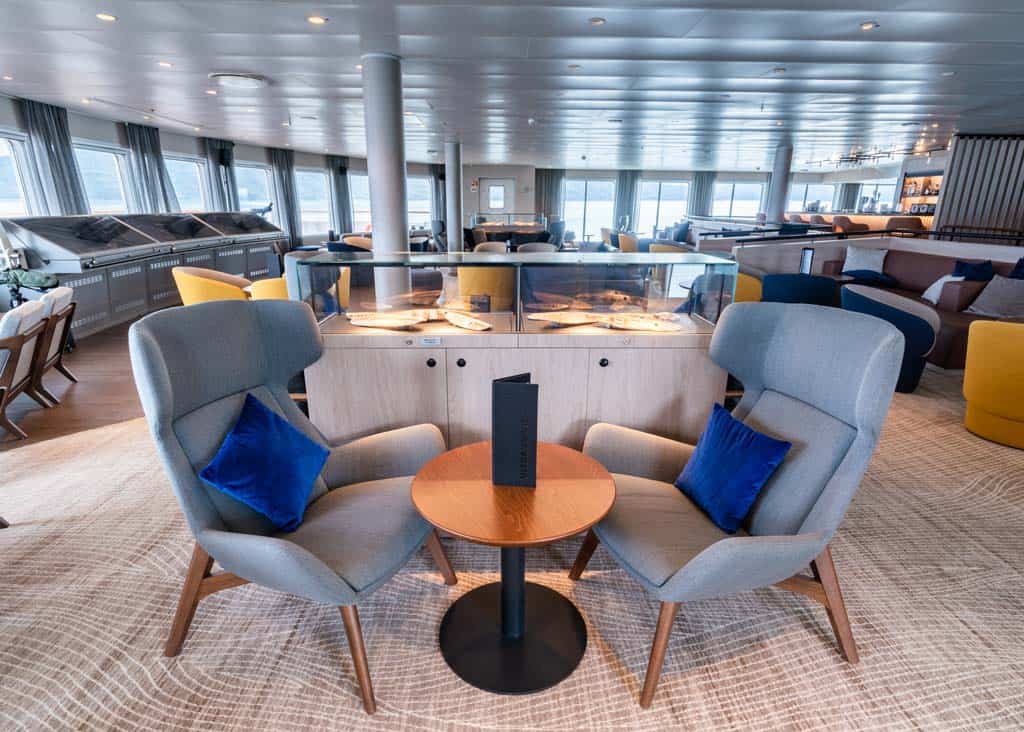 The Balena Restaurant
The main restaurant on the ship is the Balena Restaurant, which has a variety of different sized tables for guests to sit at, from intimate two-person sets and circular booths to large, round tables perfect for groups.
Located on Deck 5, there's two sections to the Balena Restaurant – the front section which is more like a lounge and the bright, back section which has more of a diner feel.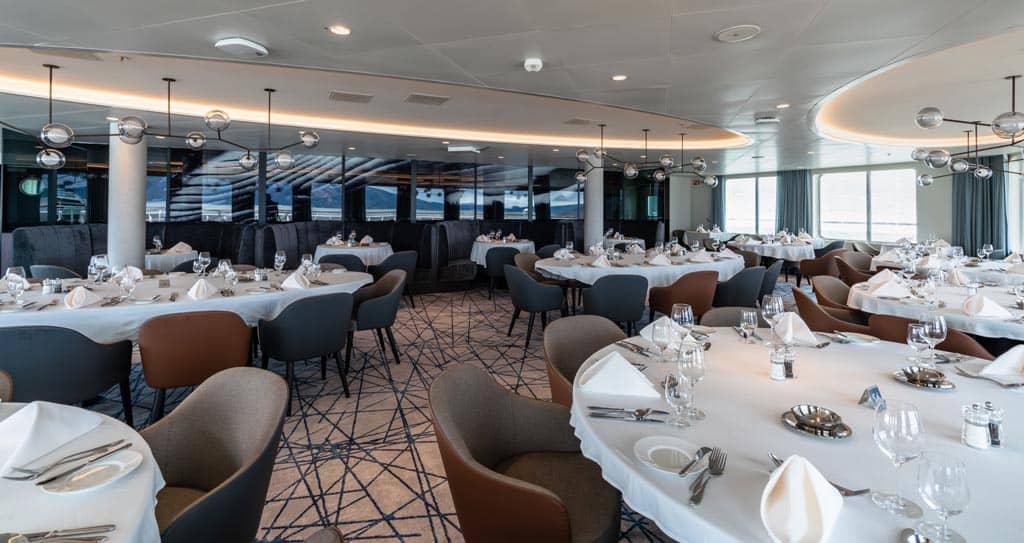 In the middle is a long, double-sided buffet, dedicated dessert station, small bar where daily special food themes are offered (such as stir fry or sushi) and a soup station.
The Balena Restaurant has self-serve meals during the day, a-la-carte at night, and is open for breakfast, lunch and dinner.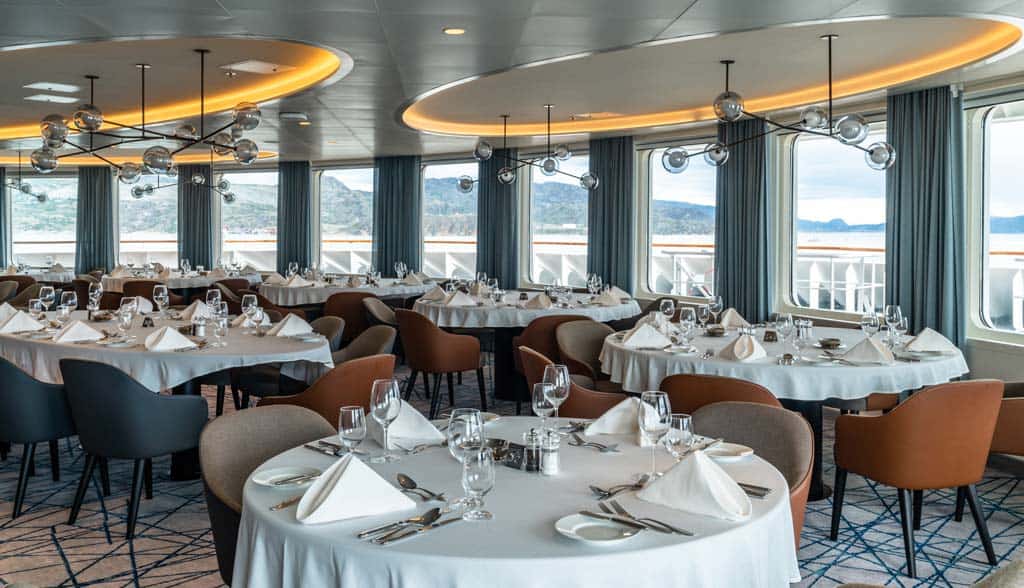 Bistro 487
If you'd prefer a more casual and quieter meal you'll find Bistro 487 on Deck 7.
This is the perfect place to grab something quick and easy, and there's both indoor and outdoor seating arrangements.
The Bistro was closed to guests during our Arctic trip and instead was the dedicated staff eating area due to COVID restrictions.
Once the pandemic is over staff will eat with guests and the Bistro 487 will be open to everybody.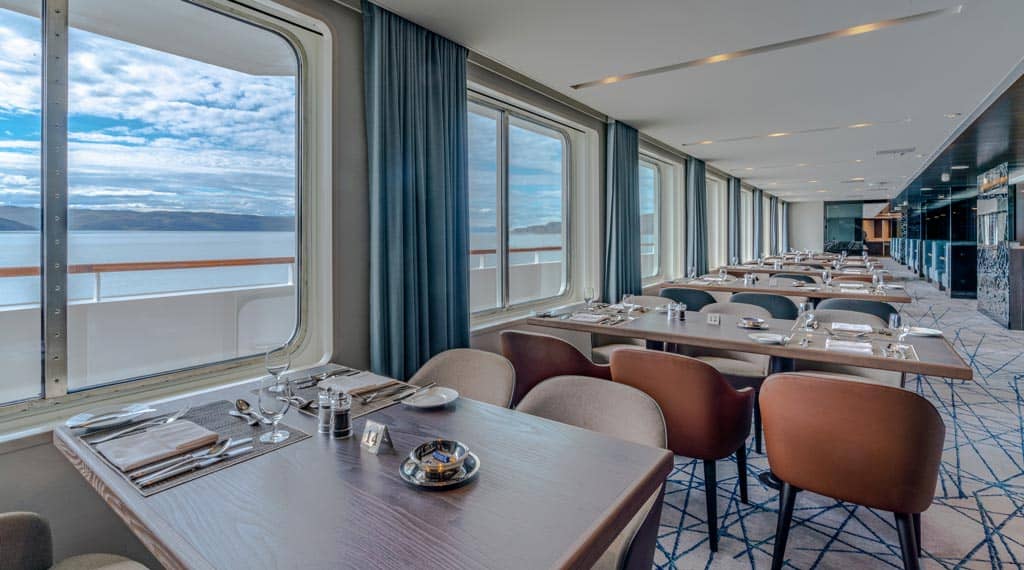 The Ambassador Theatre
One of the highlights of any trip to the polar regions is the opportunity to learn from experts in the industry, and Quark Expeditions has prided themselves on hiring the world's best and most celebrated leaders.
From marine biologists and ornithologists to professional photographers and polar historians, guests are constantly educated on every aspect of their trip to ensure they have a deeper understanding of the places they are travelling.
The polar experts aren't just found out in the field sharing their knowledge – they often put together in-depth presentations with slideshows, videos and facts on sea days and between shore excursions.
The Ambassador Theatre on the Ultramarine is where these lectures usually take place, and this huge auditorium is equipped with enough space for every guest to join.
There's a high resolution LED screen at the front and more TVs on the sides so everybody can see what's being displayed, and an excellent audio setup throughout.
If you're feeling thirsty there's also a small bar and you're welcome to bring your own drinks too.
These presentations are also broadcasted live to every cabin, so if you want to watch one of the lectures but don't feel like leaving your room you can switch on the TV and not miss anything.
In the evenings the Ambassador Theatre is where the end-of-day wrap-ups by the expedition leaders occur.
The Tundra Spa and Sauna
Just because you're in furthest reaches of the planet doesn't mean your body has to suffer, and the Tundra Spa on the Ultramarine ensures that you'll be as refreshed and pampered as possible during your voyage.
Qualified spa and beauty therapists offer a range of treatments, from full-body massages to facials, and these can be booked directly on board.
There's also a steam room, private showers, lounges and our personal favourite amenities – the Tundra Sauna.
The Tundra Sauna is an impeccably-designed full-size timber sauna with panoramic windows staring out to the stern side of the ship.
We didn't personally get any spa treatments here (we did use the sauna and steam room though), but the guests we chatted to who did all raved about it.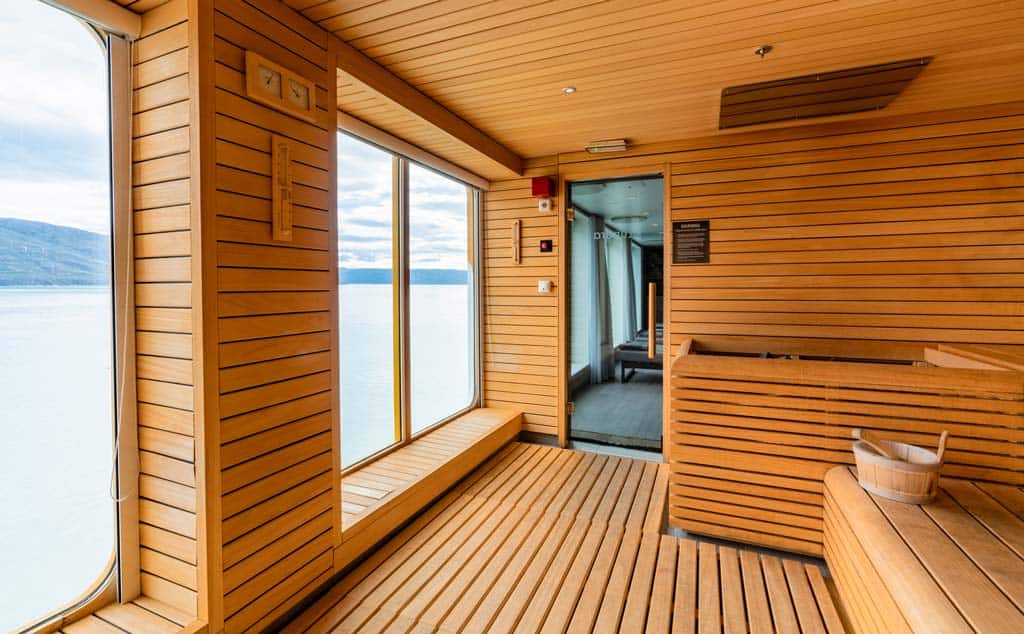 Fitness Center
Don't do what we did and put on weight during your voyage (hey, the desserts and food were just too good).
Instead hit up the Fitness Center, filled with state of the art gym equipment including weights, treadmills, a rowing machine and bicycles.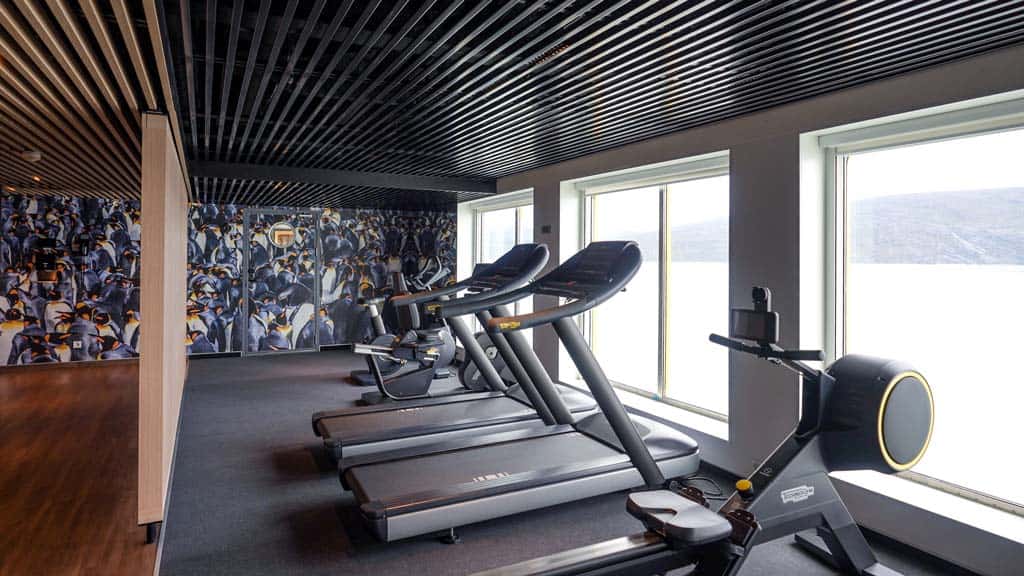 The Ready Rooms
Down on Deck 2, where you hop on and off the ship, are two large 'Ready Rooms' for guests to store their wet weather and cold weather expedition gear and prep for excursions.
You'll be assigned a locker when you check in, and this is where you'll find your personal floatation device (PFD), mosquito head nets and supplied muck boots to change into before heading out for zodiac adventures.
By having these Ready Rooms guests will ensure they don't trek mud through the ship, while also stopping cross contamination, and you can also keep your waterproof pants and jacket here if you'd like to keep your cabins clean by not bringing in wet outerwear.
Guests are split into zodiac groups to ensure the Ready Rooms are never too crowded.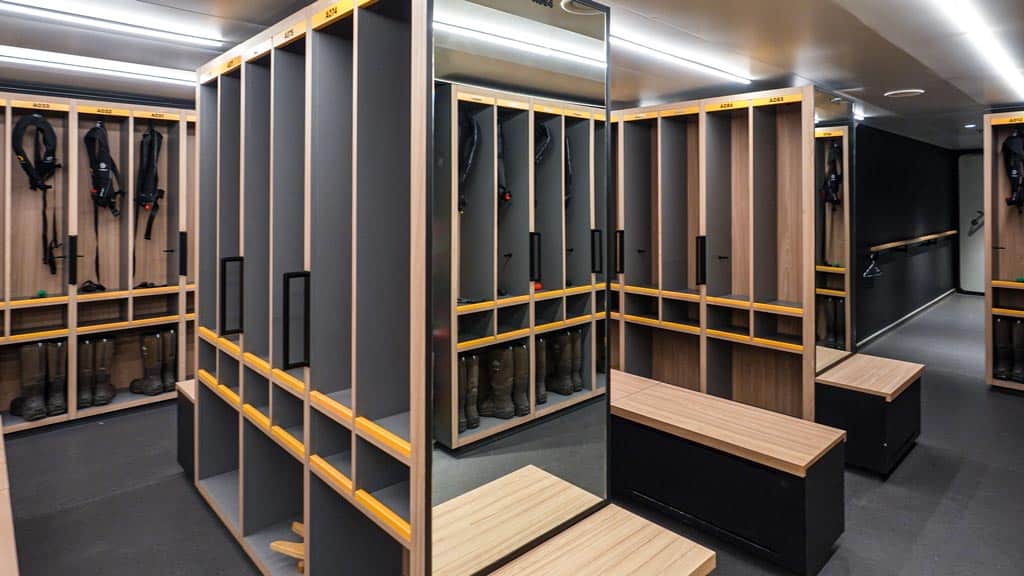 Reception
If you ever have any questions about your cabin, voyage or experience, head down to the reception on Deck 3 where the friendly staff can answer anything on your mind, or instantly track down another member of the team to help.
Across from the Reception is also a small media centre with two public computers where you can edit your photos and videos, or dump your content into the shared folders for other guests to use.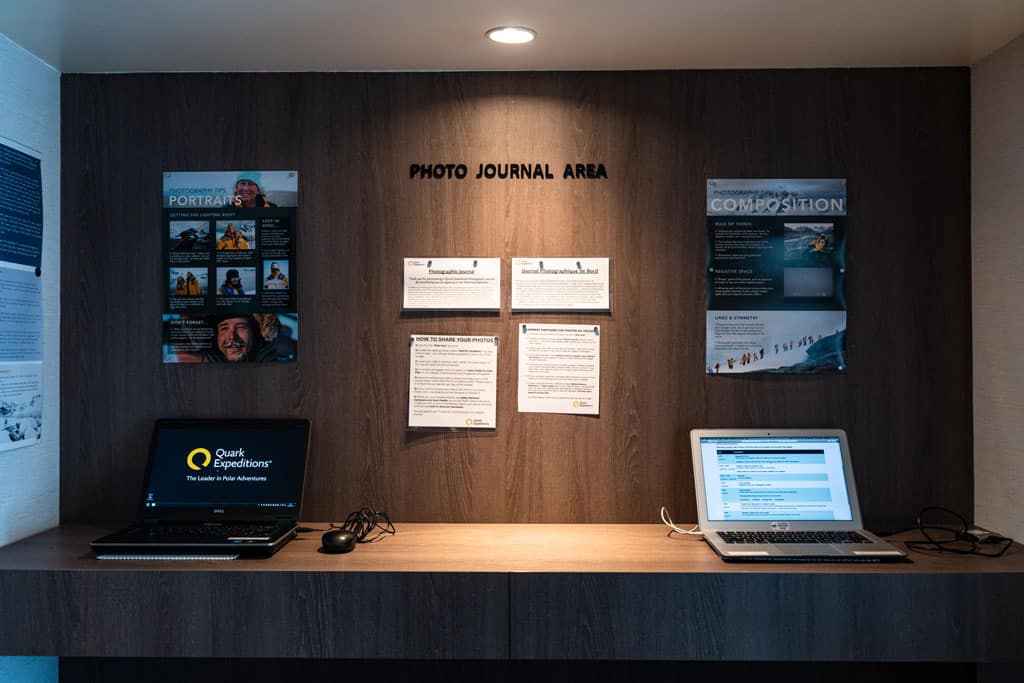 Polar Boutique
The Polar Boutique on Deck 3 is the Ultramarine Shop where you can buy just about anything you need, or want, for your trip.
This is not just a souvenir store with t-shirts and plush toys. It's also a fully-stocked adventure gear shop, with gloves, beanies, pants, jackets and camera equipment in case you've forgotten anything at home.
It's reasonably priced as well. We bought some pairs of Icebreaker thermals and they were the same price as what we'd pay back home in Australia.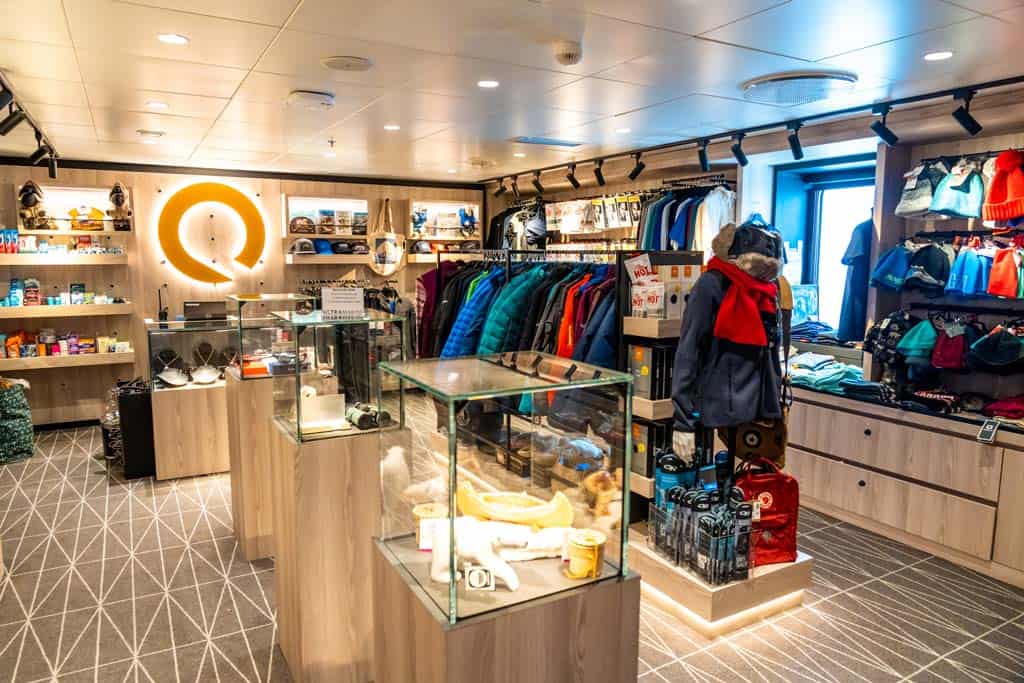 The Bridge
The Bridge on Deck 6 is where the captain and his officers spend all their time controlling the Ultramarine through the Arctic and Antarctic.
Normally the ship has an 'open bridge' policy, meaning guests are welcome to come in and hang out in the bridge whenever they'd like (except for in difficult sea or navigating conditions), but during out trip it was closed due to COVID policies.
We'll update this article when there is no longer a restriction on guests visiting the bridge.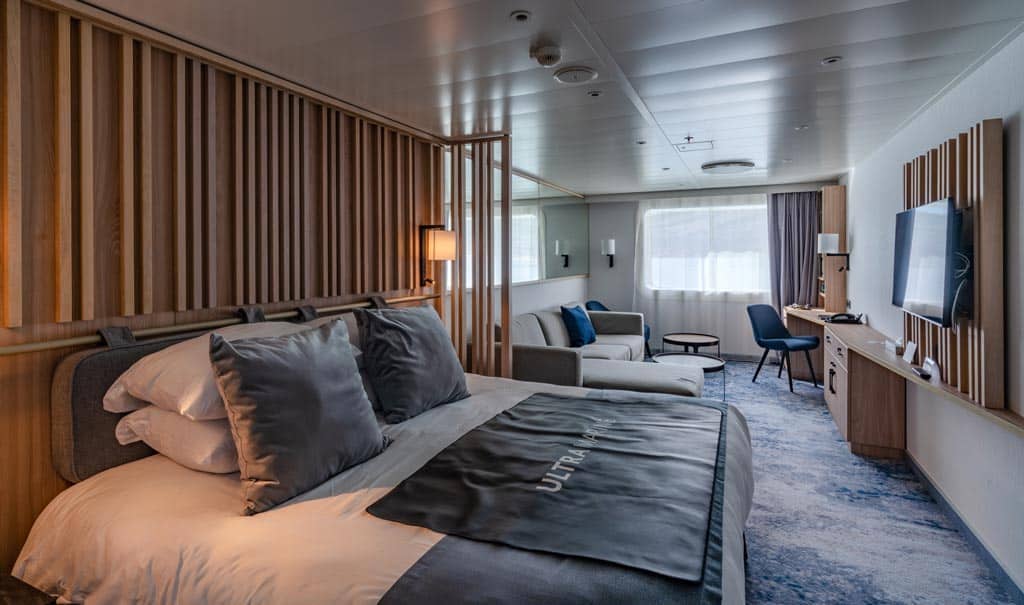 The Decks
So far you've heard all about how amazing it is inside the ship, but let's be honest – when something exciting is happening outside the last place you're going to be is sitting in your cabin watching TV.
You're going to want to be out on the decks watching the experience unfold, and luckily the Ultramarine has 360-degree views thanks to its three main public decks.
Front View Decks
On decks 5 and 7 you'll find huge open-air decks at the bow of the ship, which is the perfect place to hang when the ship is pushing its way through places like the Lemaire Channel or Disko Bay.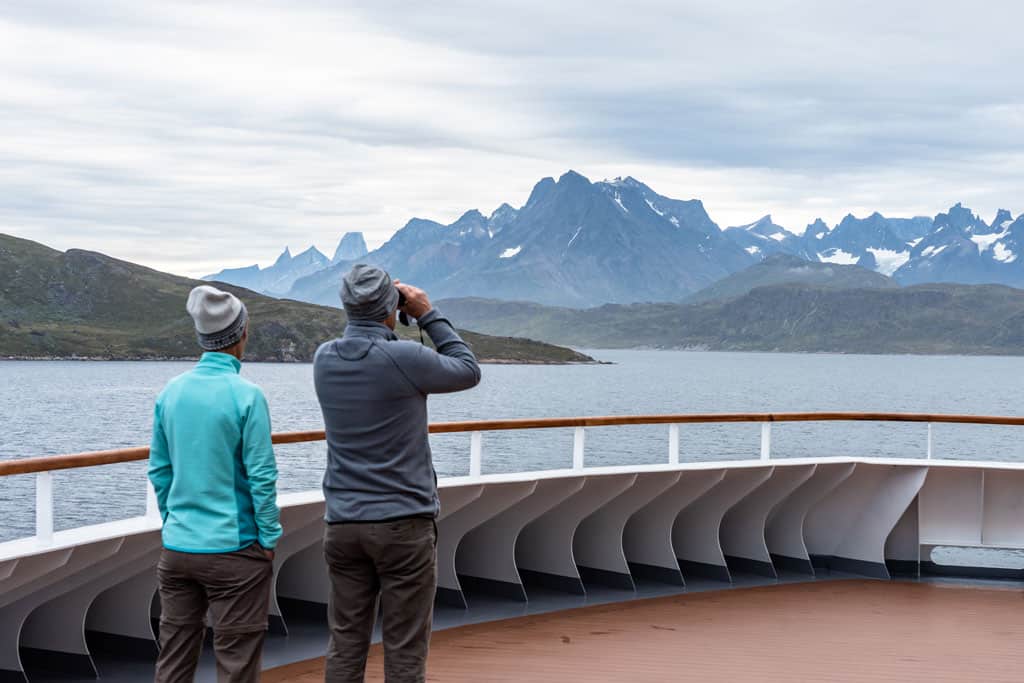 Rear Decks
Behind the Ambassador Lounge is the rear deck, which has enough room to run around with cameras and watch the drama of the polar plunge unfold beneath you.
Wraparound Deck
If you would like to do some walking laps on the Ultramarine then Deck 5 is the place to do it.
With their full wraparound deck space you can enjoy a walk or view the landscape or wildlife from all angles.
They even have fixed chairs out the back for you to sit and end the view from the back of the ship.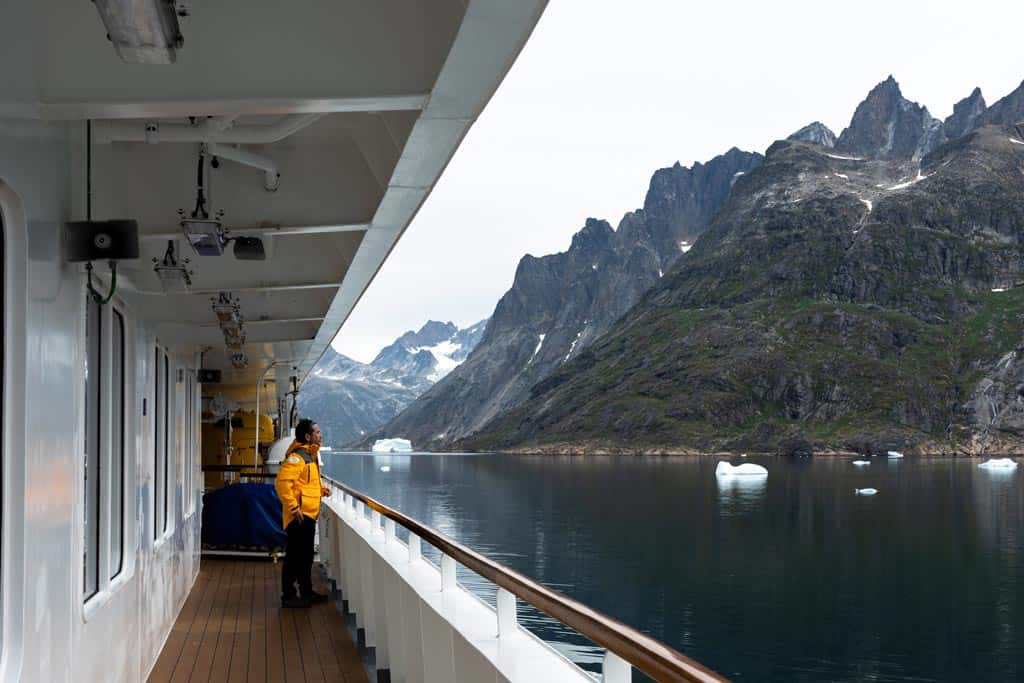 The Ultramarine Experience
The ship itself provides the ultimate base for remote travel in true comfort, but the entire experience of being on board the Quark Ultramarine is what makes it the best polar expedition ship in the industry.
The Crew
During our month travelling the Arctic with Quark Expeditions, there were a lot of incredible memories, fantastic experiences and pleasant surprises.
The destinations were mind blowing, the ship was everything we hoped it would be, but truth be told what really made our adventure as spectacular as it was came down to the crew onboard.
We're not talking about the Quark Expedition Team (who were superb), but the hotel and restaurant staff of the Ultramarine who are a permanent fixture.
Quark's Ultramarine crew are an amazing bunch of the nicest and most attentive people we've ever come across in our more than 15 years travelling the world.
Hailing from a whole variety of nations, including the Philippines, Indonesia, India, Ukraine, Kyrgyzstan, Bosnia & Herzegovina, the UK and plenty more, the staff took care of our every need with a level of service we'd never seen before.
Our room attendant, Nieves was like a caring sister who went out of her way to ensure every part of our stay was perfect. The same was said of every other guests' room crew too.
The reception staff always had a smile on their faces and no issue was too big to solve.
The restaurant, chefs and bar staff…where do we even start?
From day 1 they memorised every single passenger's name and dietary requirements, and they were a constant source of laughter and camaraderie for us.
They took the time to get to know all of us personally, while cracking jokes, checking on our trip experience and catering to every need.
The ship officers, engineers and everybody else were beyond anything we ever could have expected.
By the end of the trip, these people had become our friends, and we would travel onboard the Ultramarine again just for them.
We could write an entire article just about how special the crew of the Ultramarine are, but trust us when we say they are the heart and soul of the ship.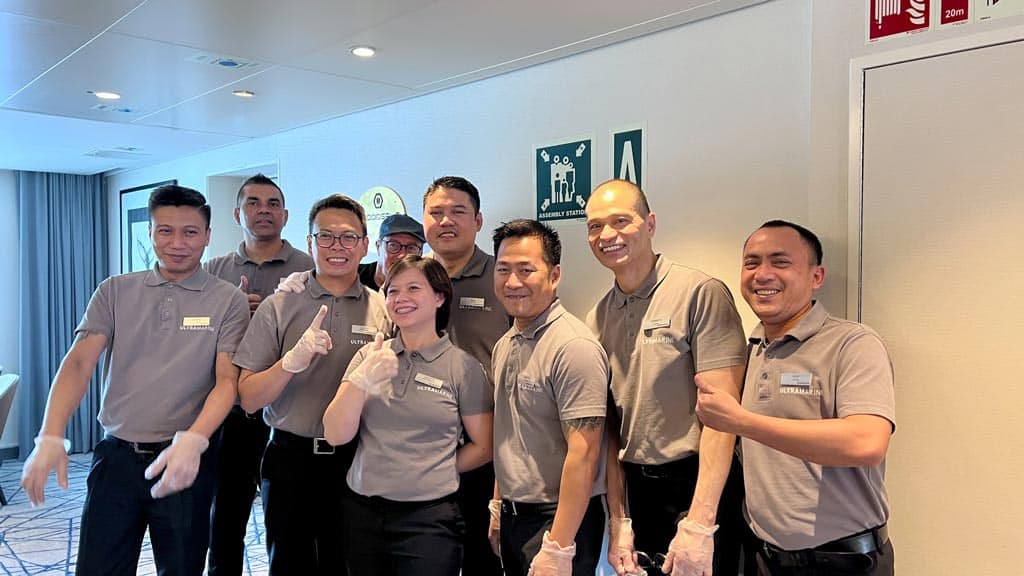 Food
A ship of this calibre has cuisine to match, and the food onboard was so good we actually gained weight despite all the activities.
Every meal has a wide variety of options to cater for all diets, requirements and desires.
Breakfast included everything from fully cooked spreads and pastries (prepared by the dedicated pastry chef) to healthy muesli and fruits.
Lunches were buffet style, and they would often have food themes such as Mexican, sushi, stir fries and more.
For dinner the meals are a la carte, and the menu usually covers dishes with red meat, chicken, fish and vegetarian options.
The meals could be as fancy or as simple as you want, and if you just felt like a steak and chips for example that was made to order without a moment's hesitation.
Every single day was a different menu, and excluding breakfast we rarely came across the same thing twice.
And the desserts…
At lunch there's a full dessert station with ice cream, gelato, pastries, cookies and other delicacies, and at dinner time you'll find classic fare such as crème brûlée or tiramisu (with ice cream and brownies always available.
Every single meal we would say to ourselves 'no dessert' and then we'd see what was out and we'd cave in.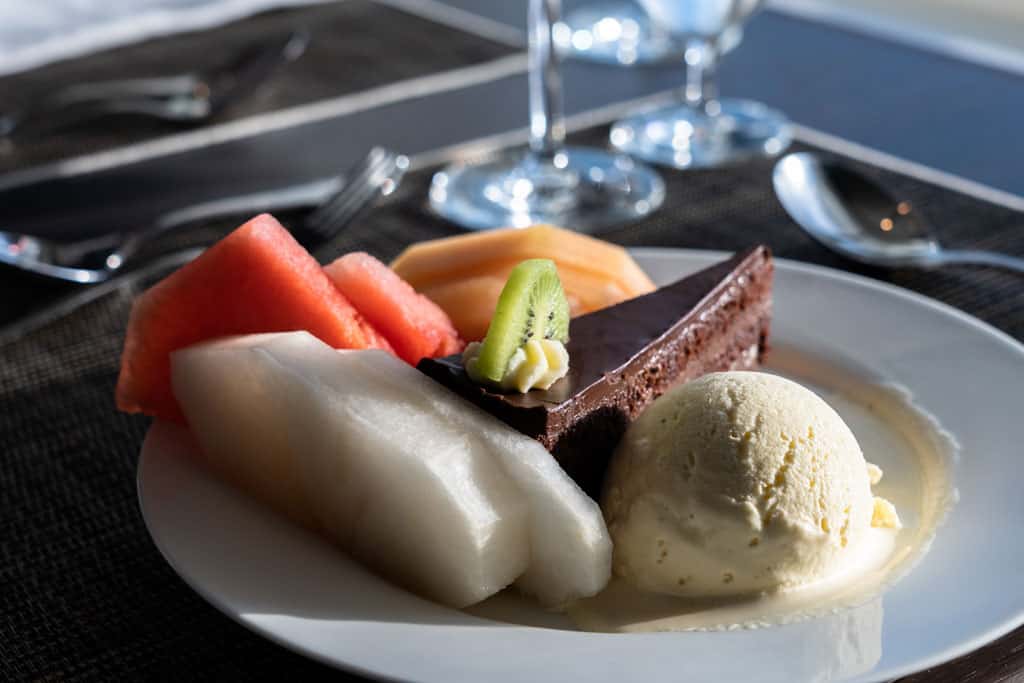 Drinks
You'll find every type of drink you'd ever want in the restaurant and bars, from cocktails and craft beer to fine wine and soft drink.
During meal times wine and beer is included, and outside of meals you can charge these to your room.
The prices are quite reasonable too (USD$3.50 for a bottle of local beer for example), which is the complete opposite of what you find on normal cruise ships.
There's a coffee machine and tea station in the Panorama Lounge that is open 24 hours a day, and filter water machines on every deck.
Embarkation
Deck 2 is where you get on and off the ship, and because the Ultramarine was designed from the ground up for optimum passenger experience, this could not be any easier.
The ship has four embarkation points at water level – two on the stern, one on the starboard and one on the port.
This ensures that the expedition team can load and unload zodiacs on whichever side is calmest for minimal risk.
When you're at the embarkation points multiple Ultramarine crew are always there to hold onto, and they are absolute experts at getting the zodiacs secure.
For landings where you can walk off the ship they have a long, ramped gangway like you'll find on other cruise lines.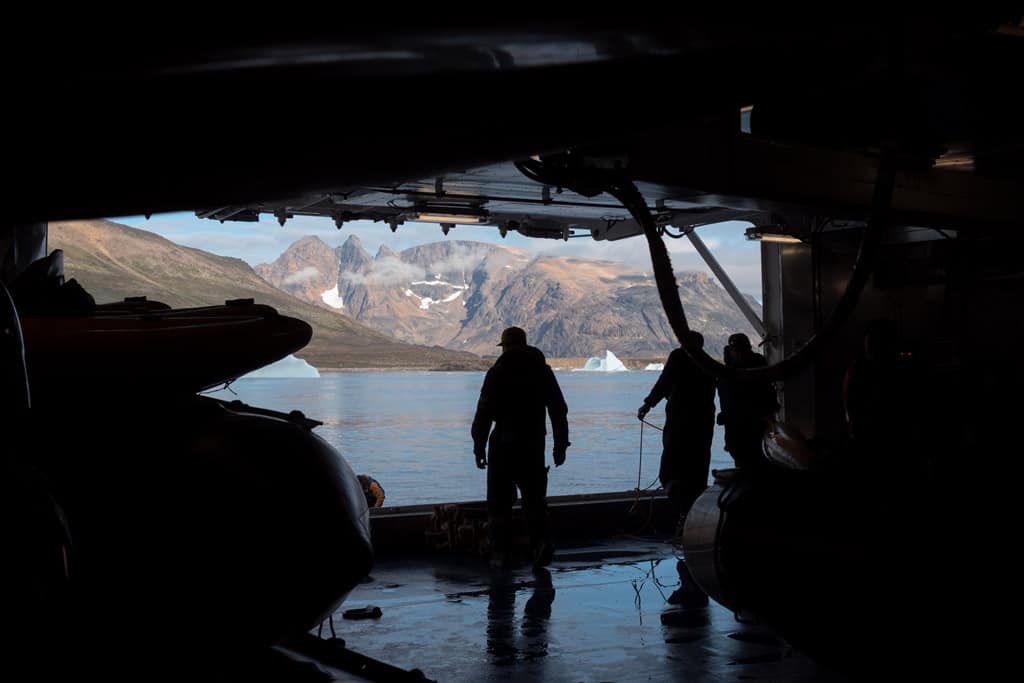 Zodiac and Kayak Launch
The stern of deck 2 is where all the zodiacs and kayaks are stored in an enclosed, secure environment.
There are two hydraulic lifts on either side of the ship to help deploy the equipment very quickly, which means if something special happens (a pod of whales appears for example) and the expedition leader wants to get execute some spontaneous off ship adventures, the zodiacs can be dropped into the water in a matter of minutes.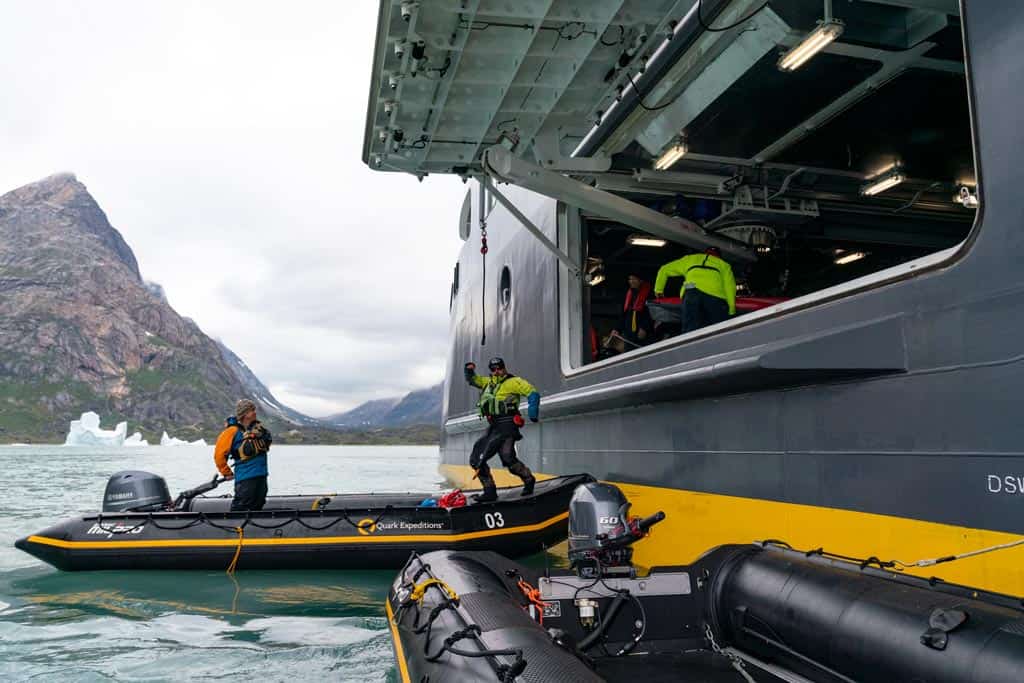 The Helicopters
Of course the main drawcard of the MV Ultramarine are the two helicopters they have onboard, which allow for off ship adventures have previously been all but impossible for the average person in the polar regions.
The two twin engine Airbus H145 helicopters are brand new, state of the art and fuel efficient choppers, flown by experienced ex-British military pilots and maintained by military-trained engineers.
These helicopters are used for a variety of innovative itineraries and activities, including sightseeing flights, heli-skiing, -hiking, -kayaking and -mountain biking, direct access to remote polar wilderness and more.
Seeing places like the Antarctic Peninsula or southern coasts of Greenland by air is something you'll never forget, and Quark are pioneering this type of experience in the expedition cruising industry.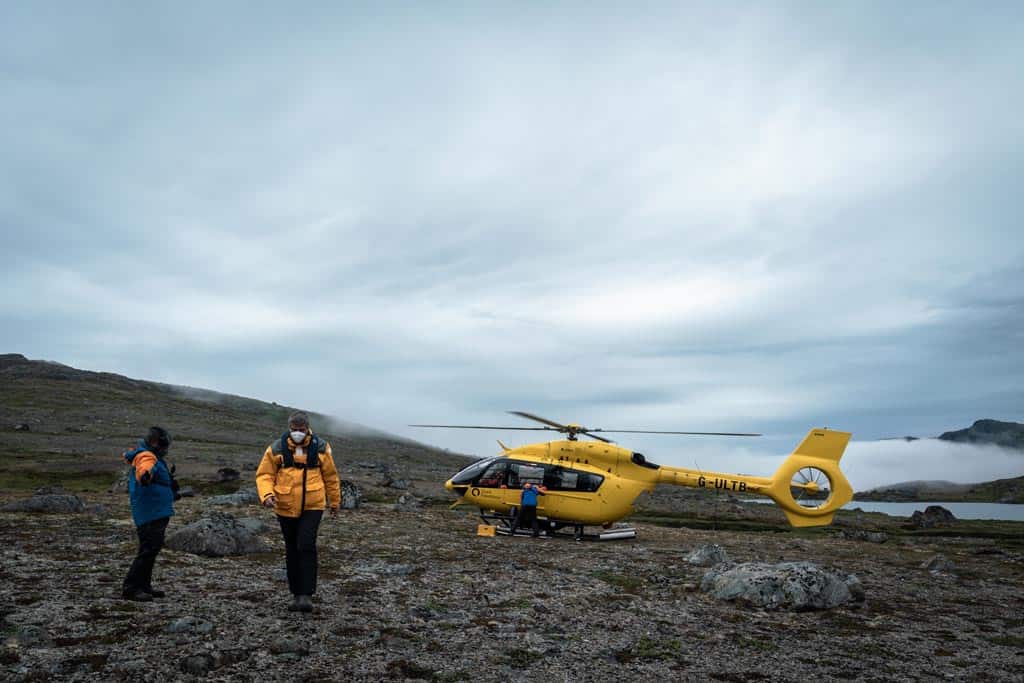 Technology and Safety on the Ultramarine
The MV Ultramarine is equipped with the highest standards in ship technology and advanced safety systems making it one of the most sustainable and secure vessels in the sea.
The ice strengthened hull can set sail at a steady 16 knots with cutting edge safety features allowing the captain to navigate even the narrowest of passages.
Dynamic positioning is possible via GPS, meaning the Ultramarine doesn't have to drop its anchor to stay in the same spot.
Brand new evacuation life rafts are fully-equipped to keep every guest and crew member safe in the unlikely event of an emergency.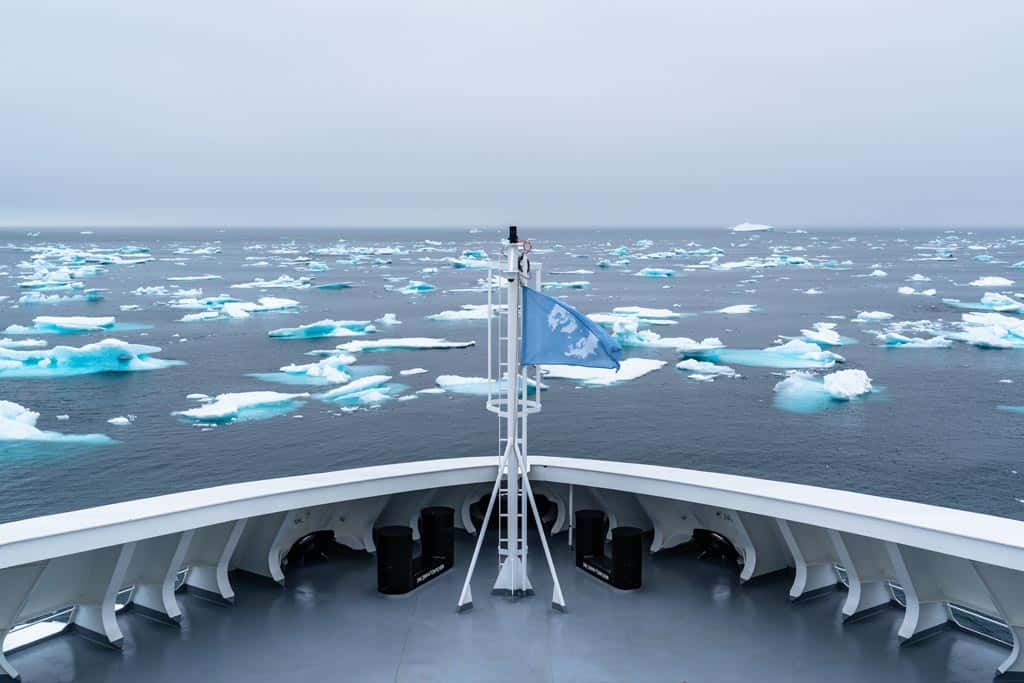 MAGS Waste System
One final element of the Ultramarine we want to mention is the revolutionary Micro Auto Gasification System, or MAGS.
MAGS are the onboard waste handling systems which turn the waste produced into excess energy to power the ship electricity.
In cruising a huge amount of wast is produced, and thankfully responsible operators like Quark have profoundly committed to not dumping it into the sea (unlike some other cruise ship companies in recent years).
But rather than store it until they can unload on a remote community in the Arctic or South America, the Ultramarine can use that waste in an economical and sustainable way.
With sustainable and responsible tourism more important than ever, especially when travelling to the most isolated places in the world, it's refreshing to see Quark Expeditions leading the way and improving industry standards with systems like this.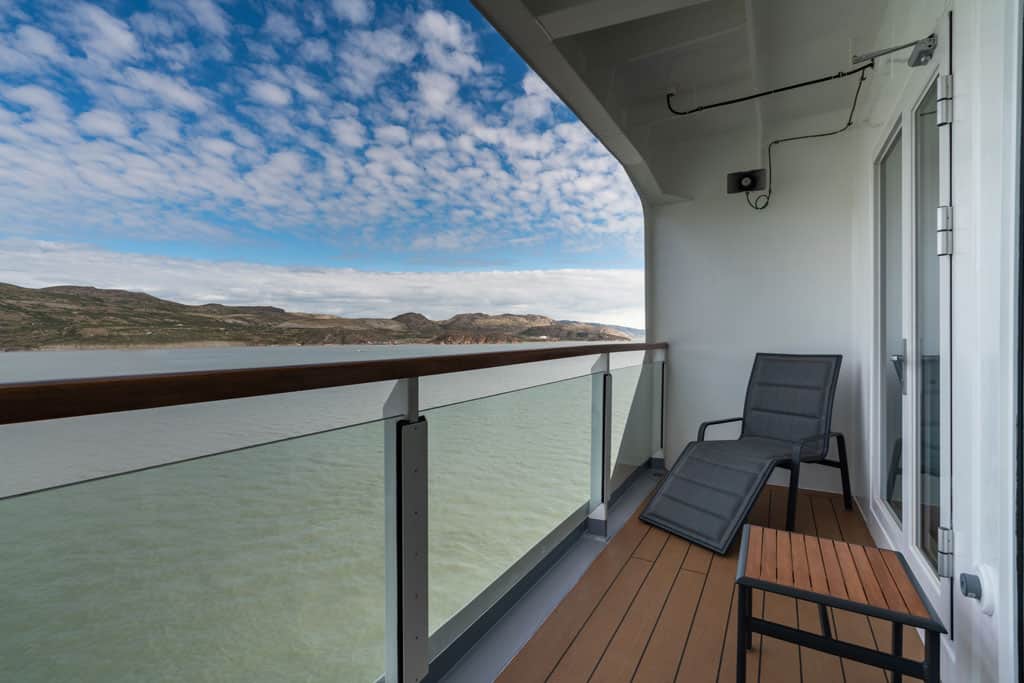 Final Thoughts – 9/10
That's it for our Quark Ultramarine review, and we hope we've managed to answer all your questions about this modern expedition ship.
While not perfect (for example we wish proper bow access was available like on other vessels rather than just decks 5 and 7), it's carved its way to be the finest, most advanced ship navigating the polar regions.
Having travelled on Russian research vessels in Antarctica, luxury yachts in the Galapagos, schooners in the Chilean fjords and large cruise ships in the Pacific, we can honestly say we've never cruised on a vessel as beautiful and magnificent as the Ultramarine.
While Quark Expeditions still have the rugged fan favourites of Ocean Adventurer, Ocean Diamond and World Explorer (the former we are travelling on for our NOMADasaurus Tour of Antarctica, South Georgia and the Falkland Islands), the Ultramarine will soon become the standard that other expedition companies look to match.
With its next level cabin comforts, high end safety features, off ship adventure possibilities thanks to the two helicopters and vast range of facilities like the Tundra Spa and Ambassador Theatre, you'll be hard pressed to find anything better for expedition travelling.
If you're trying to choose a trip in the Arctic or Antarctic, and you have the choice of which ship you can be on, we highly recommend the Ultramarine.
Quark Ultramarine Review - Best Polar Expedition Ship [2023]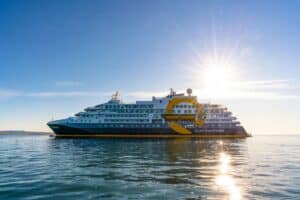 We spent a month travelling on Quark Expeditions' newest polar exploration vessel. In our Quark Ultramarine review we share what it's like onboard.
Product Brand: Quark Expeditions
Pros
High-end luxury in a small ship
Twin helicopters onboard
Superb ship crew
Modern, sustainable design