Hit the streets, trail or long weekend with the best packable backpack of 2023. Find out which packable daypack will give you everything you need on your next quick adventure!
Owning a great packable bag that you can use as a daypack is incredibly functional and should be an essential part of your hiking gear. But with so many packable daypack options available, we've narrowed our list down to the top 10 that we think are worth considering.
As we have traveled full-time for nearly a decade and have used seemingly every daypack on the market, we've thoroughly researched and sampled a variety of packable backpacks and are confident that this post will guide you to the perfect one that meets your specific wants and needs.
Other Great Options…
Top Recommended Packable Daypacks
| | | | | | | | |
| --- | --- | --- | --- | --- | --- | --- | --- |
| | | | | | | | |
| | | Waterproof outdoor activities | | | | | |
| | | | | | | | |
| | | | | | | | |
| | | | | | | | |
| | | | | | | | |
| | | | | | | | |
| | | | | | | | |
| | | | | | | | |
| | | | | | | | |
| | | | | | | | |
---
---
The Best Packable Daypacks – Our Expert Guide
Let's take a closer look. We held the industry up to the microscope and combed through loads of the best packable backpacks that make big promises. Only the bags that keep quality in mind in every seam made it through our trials and onto this list.
Our Top Choice: Matador Freerain
Price Range: $75 – $125
Best Use: Waterproof outdoor activities
Capacity: 22L
Weight: 300g
# Pockets: 4
Our favorite packable backpack made it to the top of the list by proving the packable category can do anything a regular backpack can.
The Matador Freerain condenses ample storage space, an extra pocket outside, and even two water bottle pockets into a stretch mesh pocket that fits in the palm of your hand.
All this efficiency is wrapped up in 30D waterproof tear-resistant nylon that is ready for hikes, rain or shine. The immense weatherproof capability and large storage space for a stuff pack set it apart from the crowd.
Anyone looking for a lightweight packable backpack ready for all sorts of weather can find all the carrying space they need in this little engine that can.
PROS
Made of Matador's most advanced materials
Completely waterproof daypack with ripstop nylon
Alpine-ready gear loops, sternum straps, and removable hip belt
CONS
Costs as much as your daily carry
Not enough weight distribution for heavy loads or long distances
---
Tortuga Setout Packable Daypack
You can cram this Tortuga packable bag and its exterior zippered pocket into your main luggage and explore your final destination before unpacking.
The incredibly small pack squeezes inside its own stuff sack and unfurls large enough to carry everything you need for a day of wandering through the city.
Tortuga is all about high-quality backpacks. Their smallest option is no exception. This bag fits like a traditional backpack and keeps the same feel thanks to its reinforced materials and YKK zippers.
Our runner-up backpack isn't the most supportive packable bag on our list. But it makes its point as one of the lightest packable backpack options on the market while staying more than just a stuff sack.
PROS
Incredibly lightweight materials
The front stash zipper pocket has room for all the essentials
Easily slips inside a coat pocket
CONS
Shoulder and sternum straps can feel flimsy
Its popularity makes it difficult to find
---
Sea To Summit Ultra-Sil
This stuff sack on steroids is a proper packable backpack. You can stuff it down to the size of a tennis ball and expand it for a lightweight bag capable of carrying a raincoat, snacks and a backup battery.
Easily carry the essentials Sea to Summit style, in one large zipped pocket in a size so small you won't even notice it while packing.
This Sea to Summit Ultra Sil bag is slightly too slim for an everyday bag. And it doesn't come with a hip belt or chest strap necessary for longer hikes. But it is the best packable backpack out there for quick-strike missions.
That's because this packable backpack isn't much more than breathable mesh shoulder straps and a large main compartment, all reinforced by 30D ripstop nylon.
The Sea to Summit Ultra Sil left everything else out in favor of an ultra-lightweight and water-resistant shell that easily fits into your pockets or even a carry-on backpack.
PROS
Most compression straps weigh more than this entire packable daypack
Front hook perfect for a bike light
Ships with its own stuff sack and carabiner that can slip the bag right on your waist
CONS
No zippered stash pocket or water bottle pocket on the exterior
It can hold heavier loads but lacks the reinforcements that shift the weight off your shoulders
---
Columbia Lightweight Packable Backpack
Columbia is an affordable giant in the outdoor scene, making good quality products that won't set you back an entire paycheck. Their packable daypacks are a great example of the company's commitment to quality without bells and whistles and without an extreme price tag.
Columbia followed typical backpack models and maintained many features other packable daypacks ignored to serve a different purpose.
This packable bag looks and feels a lot like your typical backpack, flushed with 21 liters of storage, a divider to split storage between the main compartment and exterior pockets.
However, this particular backpack can condense inside of its own pocket to walk a great line between a packable backpack and an everyday carry-on bag.
It's not the lightest or smallest bag on our list, and you won't find many fancy features or hardcore denier ratings on this entry-level backpack. But you'll certainly be able to store everything you need for a day's adventure.
If you're looking for old reliable, take advantage of the external pockets to treat this bag as more than just another foldable daypack.
PROS
A delicate balance between a stuff pack and a lightweight backpack
One of the few packable backpacks that come with a divider for the main compartment
Jack of all trades, master of none
CONS
No water bottle pockets
Thin shoulder straps
---
Osprey Ultralight Stuff Pack
It should come as no surprise to see an Osprey option on our list of the best packable backpacks.
The Osprey logo is one of the most common sights on the back of any traditional backpack because every one of their ultralight bags and daypacks can survive harsh conditions while standing the test of time.
The Osprey Ultralight Stuff Pack exemplifies that quality and proves its high-performance materials can work on a miniature foldable backpack.
The bag barely weighs more than the lightest stuff sack on our list, and it comes with way more pockets and organization options than most packable backpacks twice this size.
How many bags that weigh less than an empty water bottle come with two water bottle pockets!? That, plus the water-resistant shelling, makes for one of the best packable backpacks on the market. And somehow the cost stays down well below $50.
As if that wasn't enough, the packable daypack comes with Osprey's all-mighty guarantee, which means that your affordable purchase is protected from life from any damage for any reason.
PROS
The top zipper pocket has enough space for the little things
Osprey still found enough extra weight for padded shoulder straps
An extra 10D's over most of the competition
CONS
One of the few Osprey backpacks that don't include a sternum strap
You'll feel everything in the bag against your back
---
Matador Beast 18
The second Matador option on our list of the best packable backpacks takes things up a notch from a technical standpoint. The Matador Beast 18 represents a high-tech blend between packable bags and heavier loads and even comes in 18 and 28-liter options.
A roomy main compartment reinforced external pockets and a hydration bladder holder makes this bag a day trekking genius.
A hip belt, comfortable shoulder straps and a sternum strap make it tough to convince the folks at home that it's really a foldable backpack. Further, the side pocket made for bananas and granola bars is the proverbial cherry on top.
This bonafide packable backpack can do things most daypacks couldn't dream of, all while keeping the weight down to an extraordinarily low level. 
PROS
One of the only packable backpacks on our list with a frame suspension
A zipped pocket and another efficient internal pocket alongside the main compartment make it easy to stay organized
Strongest ripstop nylon out of any packable daypack on our list
CONS
Both the heaviest and most expensive packable daypack on our list
---
Naturehike Packable Daypack
Allow me to introduce you to the most affordable packable backpack on our list: Naturehike Packable Daypack.
While it's a far cry from the materials used in most packable daypacks on our list, this efficient option brings enough pros alongside the cons to garner consideration for anyone shopping on a budget.
This smart option can serve admirably as a daypack or extra bag for shoppers with lower expectations. You can also use the stuff sack storage pocket that this great packable daypack fits inside to store your keys or wallet while unfurled.
Two external water bottle pockets and adjustable shoulder straps bring incredible value to such a low-cost option.
These mesh pockets provide the bag's exterior with a splash of value that puts it ahead of most low-cost packable daypacks that aren't much more than gym bags in disguise.
PROS
Will cost less than a pair of hiking socks
While it's not a completely waterproof day pack, Silicone coating and ripstop nylon provide some water-resistant properties
CONS
The Naturehike company doesn't have the same pedigree as some other bags on our list
No hip belt or sternum strap
---
Wandrd Veer 18L
This upstart bag brand is all about modern solutions for modern travelers. In classic Wandrd style, this packable daypack goes above and beyond the category and sneaks in ergonomic features at every corner.
If you're willing to invest in your packable backpacks, you should consider this fresh face seriously. Wandrd designed the bag to feel like any old daypack when expanded. Their main point of focus on getting that done is the inflatable back frame.
You can deflate your support system, squish the bag down to a minimum and huff and puff your way to a soft cushion between you and your gear.
The panel isn't a full-on internal frame. But it makes a huge difference on hikes that start to creep up in mileage.
That extra support works alongside the water-resistant fabrics and heavy denier rating to create a packable backpack that can hold well beyond its measly size.
PROS
Mesh shoulder straps are breathable and supportive
An inflatable back panel represents one of the only frame options for bags of this category
Protected by a lifetime guarantee
CONS
Not easy to stuff the bag inside its own storage pocket
Super expensive for a packable daypack
---
New Outlander Packable Daypack
If you're not looking for a whole lot more than a few shoulder straps and a roomy main compartment, you won't need more than this New Outlander option.
The budget bag has some slick features that most packable bags in this price range couldn't dream of, and you can have your pick of nine different colors to settle on your perfect fit.
It's not quite waterproof sailcloth protecting your gear, but the tear and water-resistant nylon exterior can help out in the event of a surprise shower. That said, we still wouldn't trust this bag to keep our electronics dry in a thunderstorm.
A zippered external pocket and two water bottle pockets can hold onto everything you need for your commute or a quick hike from basecamp.
It's not the best packable daypack on the market, but it is one of the most affordable and there is plenty to love alongside the pricetag.
PROS
Sponge padding on the shoulders makes each step a bit easier
Loads of high-tech features in such an affordable backpack
Comes with a free carabiner and in a variety of different colors
CONS
The company doesn't have the same track record as most of our best packable daypack options
Weak connection points between the straps and the main bag body
---
Patagonia Ultralight Black Hole
The Patagonia Ultralight Black Hole line is one of the most successful luggage series in the outdoor industry today.
As the packable option of the line-up, this Patagonia waterproof packable backpack can shrink and expand alongside your packing list and take you through all sorts of travel days.
The tote can be carried like a grocery bag or a traditional backpack and comes with a few great zippered pockets and water bottle holders that help you organize your day.
A zippered closure protects the main compartment, and some models even include a buckled closure for extra hold. If things get heavy, hook up the sternum strap and get off to the races.
A final benefit of going with a Patagonia backpack is knowing your waterproof daypack will have been made with sustainability in mind and without unnecessary harm to the environment.
What's the point of buying gear to explore more if that same gear harms the Earth you hope to see?
PROS
Made from 100% recycled nylon
Various reinforcements and additional pockets make the bag feel much larger
Great for commutes, international travel, and walks in the woods
CONS
Most expensive daypack on our list
For such a high-tech option, it doesn't pack down very small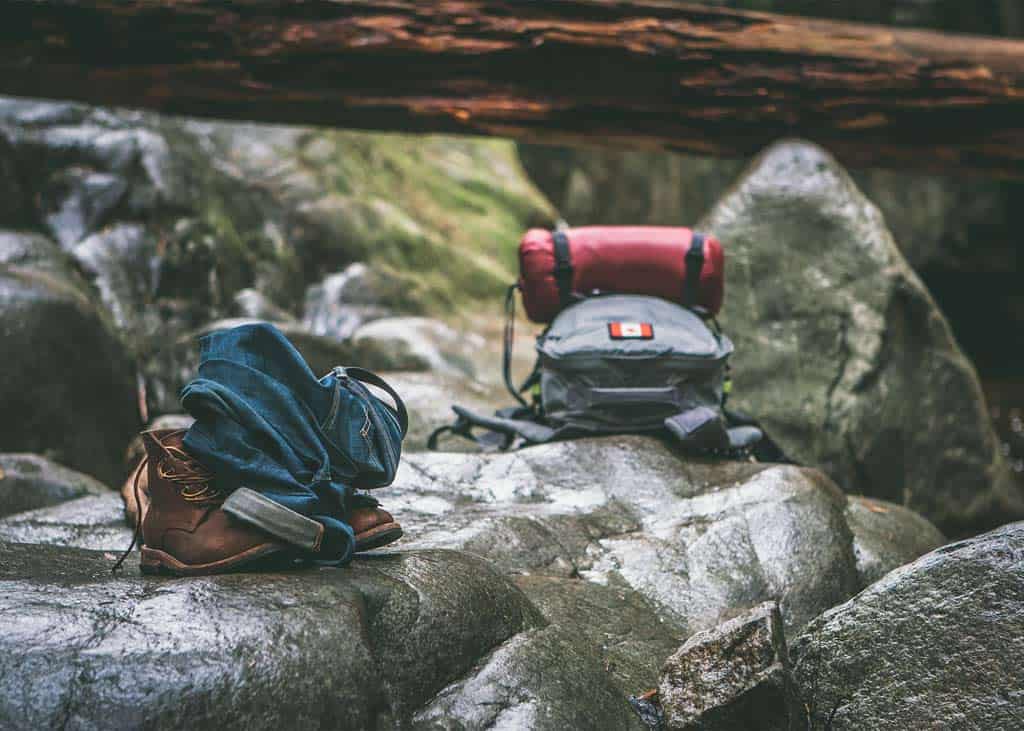 You may also be interested in…
---
Choosing the Best Packable Daypack
We all need a heavy suitcase or thick backpack to get to camp or the hotel, but then what? These daypacks come in handy for hiking, sightseeing, and more when you don't want to carry your entire travel backpack with you.
There used to be two options. First, you could carry an unwieldy bag that makes you stick out like a sore thumb. Or second, head out with only what fits in your pockets.
Now, modern wanderers can take advantage of packable bags that condense to almost nothing and then expand to hold over 20 liters of the good stuff, also known as everything you'll need to get through a day hike or a day in the city.
When it comes to carrying large gear at such a low weight, the margin for error is slim. The category's success has led to loads of copycat bags promising the world and ripping before the end of day one.
Use this ultimate buying guide and think about where you want your packable daypack to take you, and you'll have everything you need to find the perfect packable companion for your next mission.
As you can see from our list, there are many ways to take a traditional backpack and condense it down a size or two. There is no singular correct answer to your search. It will all depend on where you plan on taking your bag.
For example, if you're looking for a packable backpack for overnight hiking trips, weight and condensed size should be the top priority.
However, if you want a bag to shove inside your checked bag and then use it to explore a new city, you should put serious consideration into the extra features and organization options of your backpack.
There's nothing more annoying than digging through your rain gear and extra socks just to pay for a cup of coffee!
We'll walk you through the process we used to narrow down the crowded field so you can decide for yourself which packable backpack to trust with your gear. Each one of these categories plays a part in making the best packable daypacks.
Specs
The stat sheet is where bags begin to take shape. These three factors are universally important. But when it comes to the packable category, they are the three most defining characteristics of a quality option.
Weight
Packable backpacks should be so light you don't notice them inside your larger backpack. While some more advanced options start to creep up towards 2 pounds, most bags on our list stay below a half pound.
If you're shopping for an ultralight bag, plenty of packable bags weigh less than 100 grams, but as the weight gets lower, the storage capacity and durability can also start to slip.
Size
When discussing packable bags, the size refers to how much space the bag takes up when packed. Every bag on our list packs inside of itself to take up minimal space and will take a size somewhere between a tennis ball and a water bottle.
Capacity
It doesn't matter how small your packable bag is if it doesn't fit everything you need! Luckily, you shouldn't have to worry too much about that, especially if your bag comes from this list.
18 liters is enough to carry a raincoat, fleece, water bottle, snacks and a portable charger, so we feel comfortable calling anything 18+ liters a day hike-ready option.
Extra Features
This category is entirely up to your personal preferences. Packable options smaller than a tennis ball and lighter than a sandwich are some travelers' favorite bags, but they won't likely unfurl to anything more than a large main compartment.
Other packable backpacks forgo a touch of miniature status for extra pockets, water bottle holders and even malleable frames. The more extra features it has, the more it will weigh, so decide where you sit on the scales.
Sustainability
As each summer seems to get hotter than the one before, we'd be remiss to completely ignore sustainability, especially when shopping for gear that's supposed to get you outside.
Unfortunately, the high-tech materials that allow these bags to hold so much while weighing so little are not sourced easily, which makes this a tough category to find recycled and sustainably produced products.
Weather Resistance
Look out for cheap bags making big promises, especially when it comes to weather resistance. There are very, very few packable daypacks that will actually keep your gear dry through a rainstorm.
Unless you're willing to drop three figures on your bag, you should assume that your equipment will not keep your phone dry through any full submerges or extended exposure to driving rain, unless you go with a Matador or Patagonia option.
Materials
Most of the bags on our list take advantage of lightweight and durable nylon to comprise the outer shells of their packable bags.
The higher the D-rating of your backpack, the more durable it will be and the better it will respond to bumps and bruises along the road.
Conclusion
We've shown you the road. Now it's up to you to stick your thumb out and get going. Any one of the packable backpacks on our list will make a great companion to your arsenal by packing down to a size so small you won't even remember it's there until it's time for it to come in handy.
For the ultimate combination of packability, weather resistance, and comfortable carrying capacity, there's just no other bag like our editor's choice, the Matador Freerain.
EDITOR'S CHOICE:
Matador Freerain
You simply can't go wrong trusting this packable daypack. It boasts the best waterproofing in this class, provides plenty of comfort features normally reserved for unpackable bags, and conforms around your body to fit like a glove.
We particularly loved the roll-top main compartment closure that certifies that bag as entirely weatherproof and the reinforced shoulder straps that keep me hiking all day long.
DISCLAIMER: Some of the links in this article are affiliate links, which means if you book accommodation, tours or buy a product, we will receive a small commission at no extra cost to you. These commissions help us keep creating more free travel content to help people plan their holidays and adventures. We only recommend the best accommodations, tours and products that ourselves or our fantastic editorial team have personally experienced, and regularly review these. Thanks for your support, kind friend!