Fight dehydration on the trail with the best hydration pack for hiking in 2023. Find out which hydration bladder is best for your next hike!
There are a lot of different hydration packs on the market and only one is right for you. Instead of overwhelming you, we've thoroughly researched and sampled a variety of packs and have narrowed the list down to our top 10 recommendations.
We're confident that our buyer's guide, with an in-depth analysis of the best brands and features we look for in a pack, will help you make the best buying decision for your wants and needs.
Other Great Options…
Top Recommended Hydration Packs
| | | | | | | | |
| --- | --- | --- | --- | --- | --- | --- | --- |
| | | | | | | | |
| | | | | | | | |
| | | | | | | | |
| REI Flash 15 Hydration Vest | | | | | | | |
| | | | | | | | |
| | | | | | | | |
| | | | | | | | |
| | | | | | | | |
| | | | | | | | |
| | | | | | | | |
| | | | | | | | |
---
The Best Hydration Packs – Our Expert Guide
We took a look across the industry and filtered out the pretenders to find the few hydration packs truly worthy of your weekend.
These packs all ship with an included hydration bladder and drinking system, and all include a few extra tricks up their sleeve to sweeten the deal.
---
NOMADasaurus Pick: Osprey Skarab 18
You won't find a more complete hydration pack than the Skarab 18.
The combination of a durable hydration bladder, plenty of storage compartments and diamond ripstop nylon create a great way to stay hydrated while covering some serious ground on a day trip.
Osprey packs are the best in the business, and they continue their dominance with this comfortable hydration pack.
The bags keep the weight down while still pumping in liters of water in the integrated hydration system and bring on the compression straps to make even a fully loaded set-up feel lighter than air.
The newest model pits weight as a priority and figured out how to make carrying more comfortable without reducing storage capacity. That makes for one of the best hydration pack options out there that can hold extra clothing or a few treats for the mountain top.
PROS
Airscape breathable back panel keeps the water in the hydration reservoir and off your back
Sternum straps and hip belts help share the load
A new wide-mouth loading system provides easy access to the main compartment
CONS
Front shove-it mesh pockets and integrated rain cover are only available on the largest (30L) model
---
Camelbak Classic
Price Range: $60 – $75
Best Use: Hiking/Running
Liquid Capacity: 3L
Storage Area: 2L
Weight: 0.5 lbs
The industry has been trying to create a drink better than water for millennia, but when it comes to hydration on a day trip, you're better off sticking with the classics.
Namely, the Camelbak classic, the hydration pack that started it all.
This pack comes with two zippered pockets perfect for your phone, keys, and wallet, heavy-duty hydration bladders that can pack in a day's worth of water, and not much else on their way to being minimalist's favorite hydration backpacks.
Hydration systems don't have to be complicated. Loads of hydration packs exist out there that make big promises, but they would be nothing without this Camelbak bag.
PROS
All of the best hydration packs in the business use this as their model
You won't find a more lightweight pack
Zippered pockets still squeeze in enough space for a first-aid kit
CONS
Practically zero storage capacity
Revolutionary at its original release but now relegated to a relatively niche minimalist market
---
REI Flash 15 Hydration Vest
REI's running vest serves as another great minimalist hydration system. The bag helps you stay hydrated while staying lightweight.
But it's got plenty more tricks up its sleeve and plenty more space inside its eight different handy pockets.
REI brings it all together with a few adjustable straps, sternum straps, and a hip belt so you can keep moving and stay prepared. This comfort goes all the way through the shoulder straps that use breathable mesh paneling to improve when you decide to pick up the pace a bit.
The REI Flash 15 takes care of your hydration reservoir with a self-sealing bite valve. After every gulp, you can leave your drinking tube hanging without the risk of wasting precious drops.
Two stretch mesh pockets on either side open up space to pack two more water bottles, just in case.
PROS
Includes four bungee cords that help increase storage capacity
The location of the mesh pockets makes it easy to grab a snack on the go
Neat hook-ups for trekking poles
CONS
15 liters sits at an awkward medium; a bit heavy for running, a bit light for an extreme day hike
The hydration bladder packs a lower liquid capacity than we'd like to see
---
Hydro Flask Down Shift
Price Range: $140 – $160
Best Use: Biking/Skiing
Liquid Capacity: 2L
Storage Area: 14L
Weight: 2.2 lbs
The folks behind water bottles that can keep your bevies cold through all sorts of heat cooked up a pack designed to do the exact same thing.
The Downshift is Hydroflask's newest attempt at hydration backpacks, cutting things downsize while still providing excellent insulation.
There's nothing better than a few liters of ice-cold water after a few hours of mountain biking, but most hydration packs won't stay frosty. The Downshift takes the look of the early Camelbak bladders, a bit bulky under the girth of all that insulation.
Cool water stays flowing through the bite valve no matter when it's time for a quick suckle. Hydroflask fills out the edges with loads of cheeky pockets and quirks that make the 14L of storage feel like a bit more.
Nothing beats a hot summer day outside like a bladder full of cool water.
PROS
A few ice cubes will keep your water cold in hot conditions for up to four hours
3 extra interior pockets provide a perfect space for enough tools to fix a flat
Two straps and an airflow back panel help further keep the heat down
CONS
A portable refrigerator like this one won't come cheap
Hard to fit the bladder inside the pack when completely filled
---
Osprey Manta 34
The Osprey Manta 34 brings all the gear. Two large hip belt pockets and side pockets team up with a cavernous main compartment to offer an ultralight pack with a dedicated drinking tube and hydration system.
This model is the best hydration pack out there if you need to carry a few things alongside liters of water.
Its got enough support to serve as a great day pack, and it all comes with an integrated drinking hose and other essentials for a line of bonafide hydration backpacks.
Most hydration packs can bring enough water for the day's journey but don't quite pack the storage capacity to get a full day's work in.
At 34 Liters, the Manta 34 has the highest gear capacity of any pack on our list. Shipping out with a 2.5-liter liquid capacity, both the bladder and the pack are ready to stay outside past sunset.
PROS
Offers the largest gear capacity of any hydration pack on our list
Between the Airscape back panel, adjustable shoulder straps, and the super comfortable chest strap, this bag carries well
Includes an integrated rain cover
CONS
Just barely too small for overnight adventures, slightly too large for quick hikes
Slightly larger than some of the most strict carry-on requirements
---
Camelbak M.U.L.E
This Camelbak Backpack has served as the brand's most adventurous model for decades.
The bag adds a waist belt, chest straps, and front pocket onto a typical bladder-centric Camelbak pack to create a day trip-ready gear hauler for under a hundred dollars.
Camelbak started as an extremely niche company, and they kept everything that made them the best hydration pack manufacturer in the business in this XL model.
It doesn't quite stack up to some other gear companies built for rough terrain, but this is a good hydration pack that serves as one of the lightest pack options that can hold a day's worth of gear too.
The pack uses a U-shaped zipper to completely open up the main compartment and get you back on your way in a hurry.
They took things down to the details, focusing on Padded shoulder straps and a top stash pocket that helps you access a few essentials fast while your hands-free water bottle takes care of the rest.
PROS
The crux hydration system and bite valve bring 20% more water per sip
One of Camelbak's OG packs providing adventures with water since 1996
A stretchy external pack helps the bag open up beyond the 10 Liters of storage
CONS
Doesn't quite hold up to tough terrain like some other packs on our list
Bike-centric storage optimizations make this pack a confusing day hiker
---
Gregory Nano H2O
Gregory's Nano H2O series offers all sorts of day hiking styles. This particular hydration backpack is the only one of the series that comes with a 3L bladder alongside tons of gear capacity separated into a few key pockets.
Two mesh water bottle holders further increase your bevy intake, a top stash pocket holds a few key ingredients, and a side zipper is large enough to strap a hammock for halftime.
This unisex pack has an adjustable chest strap that clips right up to the magnetic bite valve attachment so you can guarantee a sip stays close to the chest.
All the features add up to one of our favorite versatile hydration packs. The breathable mesh back panel and affordable price tag make this bag a great alternative to the more expensive Osprey Manta.
PROS
3-Liter water capacity provides a bit of extra slurp
Plenty of easy-access spaces for the essentials
Has enough under the hood to work as a complete, affordable day hiking pack
CONS
We'd love a few other pockets and straps to hook up trekking poles and other oversized equipment
Hip and chest straps don't provide much cushion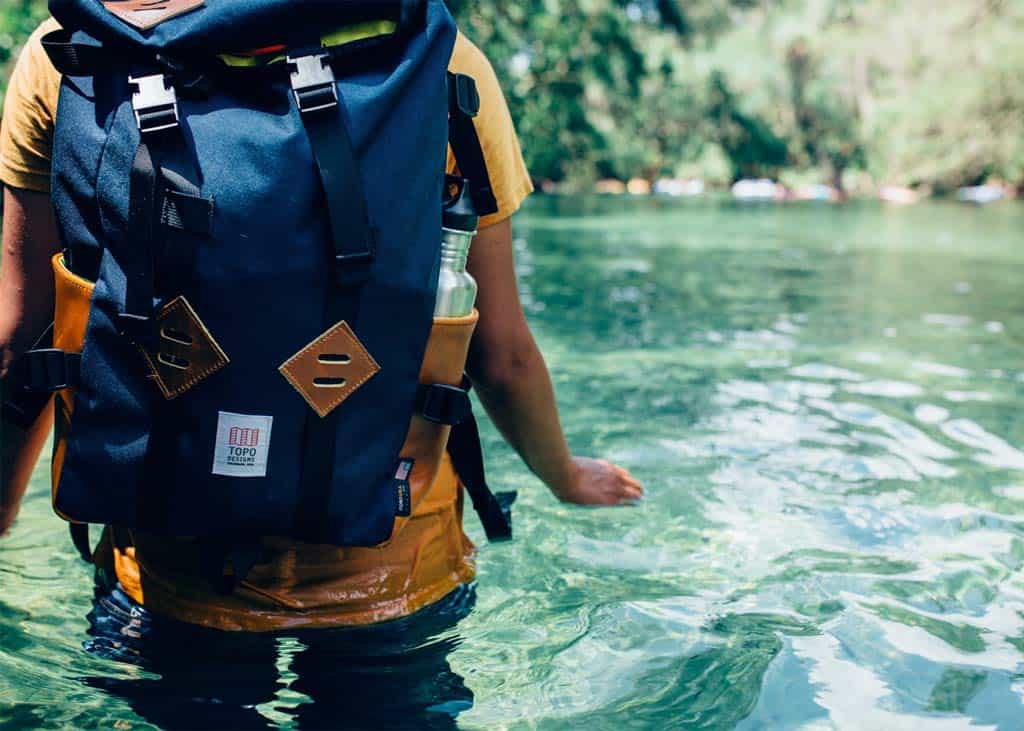 ---
Osprey Raptor
Price Range: $130 – $160
Best Use: Biking/Skiing
Liquid Capacity: 2.5L
Storage Area: 10L
Weight: 1.6 lbs
The Osprey Raptor 10 is one of the lightest pack options on our list, but it still provides a heavy-duty shoulder strap and waist belt system that makes this pack ready to roll.
There's not much more than 10 Liters of storage space in this strike mission specialist, but that's still enough for a spare tube and a snack or two.
Osprey kitted out the support system with the same comfort it brings its other packs, resulting in an incredibly beefy fit that holds tight through quick corners and long days.
The shoulder straps and hip belts help offset your drink tube and bladder system so you can haul loads of water without slowing down.
The Raptor and the accompanying Raven series are mountain biking specialists, but they check off all the boxes we look for out of any of the best hydration packs on the market.
Whether you're buckling up for a downhill ski or an uphill climb, bring along everything you need and nothing you don't, with this high-performance hydration pack.
PROS
Comes in male and female-specific styles that mold well to different body shapes
Designed to hand tough at high speeds and take a few hits along the way
Has the hip belt and chest strap support of a much larger pack
CONS
Heavy-duty casing and comically large handle for such a small pack
Lots of dangling excess straps
---
Kuyou Hydration Pack
Price Range: $20 – $30
Best Use: Hiking/Running
Liquid Capacity: 2L
Storage Area: 1L
Weight: 0.75 lbs
If you're not looking for much more than valves and bladders, take a serious look at the Kuyou Hydration Pack. These guys make the best hydration backpacks for hikers on a budget, capable of filling up your cup for less than 20 bucks.
At that price, we wouldn't expect much support, but Kuyou won't leave you high and dry.
While the pack doesn't bring along a hip belt or chest strap, the mesh shoulder straps hang tough and stay breathable.
There is also no gear storage beyond a quick stash pocket, so you won't need the reinforcement of a removable stability belt anyways.
This pack is also a great choice for people who don't want to rely on bite valves for their h2o. A rubber stopper is all that separates you and a quick refreshment. The great entry price makes this a perfect choice for someone interested in finding out if hydration packs are right for them.
PROS
Everything you need to haul liters of h20 on your next hike for less than a half tank of gas
Bite-free sip system
CONS
No storage space behind one stash pocket for the phone and keys
No strap support system
---
Teton Sports Oasis
Thanks to a few fun exterior holding points, this hydration pack can hold just enough to get you through most day trips.
The pack utilizes a honeycomb design alongside canvas to last long while pumping liters of refreshment to your expeditions.
It also provides a built-in rain cover to make sure your bladder won't get too wet.
All these extra features make the Teton Sports Oasis a great all-around pack, the hydration system is just a bonus. it can even fit a laptop alongside your bladder if your day is about to get really versatile.
Between multiple compartments, adjustments at the shoulders, chest, and waist, and a solid drinking tube, this pack puts in serious work. 
PROS
Loads of exterior hooks to make sure you can bring everything you need alongside your h20
While it comes with a 2L bladder, the opening is large enough to upgrade to 3
Built-in rain cover makes this bad boy bonafide waterproof
CONS
The included hydration bladder will need a wash every few months
No magnetic valve attachment
You may also be interested in…
---
Choosing the Best Hydration Pack
Humans can survive around a week or so before we need a Cliff Bar. But you might not even get through a long weekend without any water by your side.
There is no easier way to bring liters of water into the woods than a great hydration pack. Whether biking, hiking, or taking the scenic route, these packs help you breathe easily and drink hands-free so you can focus on getting up that hill.
Any old water bottle will get you through an afternoon at the gym, but once the miles start adding up, only a few potent hydration packs can carry the burden leak-free.
There's nothing crazy complicated about the best hydration packs in the business, just high-quality parts that stop leaks and help you carry the burden.
The main differences in these units lie in the make-up of the pack and what sport they serve best. Decide what kinds of qualities are important for your lifestyle and use that to meet your match.
There is no such thing as the best hydration backpack for every adventure, it all comes down to what you need. As you've seen from our list, there are several truly great options that will all make your life a bit easier, but each one has advantages and disadvantages.
So, let's break down what makes a hydration backpack piece by piece to help give you an idea of the best bag for your next day outside.
Types of Hydration Packs
This is an easy way to nail down the field a bit. Each pack can be separated into one of four categories that will largely define things like how much extra storage your pack has and what kind of support it offers.
Hiking Packs
This type of hydration pack can sometimes be used as a daypack. They typically feature more storage than other hydration types and provide quality support.
Running Packs
Running hydration packs are the lightest packs out there. These packs won't be much more than bladder holders and comfortable support that will make sure you don't feel your pack as the miles add up.
Biking Packs
Sitting in the middle of a running and hiking pack is this lightweight option that still leaves enough storage to store enough tools to get you through a flat tire.
These packs are designed to fit tight on your body at high speeds and make sure you can grab a granola bar without getting off the trail.
Ski & Snow Packs
These bags are quite similar to biking packs, with a few added straps for the trekking poles. Some ski packs will also include extra insulation to prevent freezing, but no matter which pack you choose, make sure to store your drinking tube on the inside of your jacket to make sure your valve doesn't freeze!
Reservoir Capacity
This statistic represents exactly how much water you can carry with you. The packs on our list range from 1.75 to 3 Liters of drinkability. Obviously, the longer you plan on staying outside, the more water you bring with you.
Some of our packs even include water bottle holders so you can stretch out the juice a bit longer.
No matter which reservoir you choose, they'll all carry far more water than a typical wide-mouth Nalgene, which carries a 1 Liter capacity.
Fit/Comfort
Any one of these bags will be comfortably empty, but once you start filling up the bladder, they won't quite be weightless. Fit and comfort are perhaps the most important designation among the four different categories we listed above.
Bags built for comfort will feature chest and hip belts that help support your load through long miles, and hydration packs concerned with fit will make sure there are plenty of adjustabilities to conform to your body type.
If you want a tight-fitting bag, look for options in the biking/skiing category, as they are designed to stay locked in place even when you throw your weight around.
Ease of Drinking
For some hikers, the drinking tube isn't an absolute essential, as you'll always have your hands nearby if things start to get messy. Anyone shopping for a biking or skiing bag, however, should find a bag that not only drinks hands-free but also stows without leaking or jimmying.
That means looking for a magnetic or another clipping style that locks your valve directly to your chest. You might also want to consider a feature like the Camelbak mule's locking mechanism that guarantees a leak-free downhill section.
Ease of Cleaning
Whatever you do, don't put anything but water inside your reservoir. One Gatorade powder-powered Saturday afternoon will take months to fully clear out. If you stay with just H20, and fully empty the pack after every trip, you won't have to worry about your cleaning much.
When it is time to polish, you'll want a reservoir with a wide opening. That will help you get your hands in there and make sure no bacteria build up in the corners. Without a wide-mouth reservoir, you'll need a specialized cleaning kit to get the job done.
Extra Features
Why not bring along a few extras alongside all that water?
Hip Belt
For many adventurers, this particular perk is a necessity. A hip belt helps shift the weight across the body and make sure all that water isn't bearing down on your shoulders alone. It also helps your hydration pack stay locked in place when you start moving and shaking.
Great hip belts will also feature zippered pockets large enough to stow away your keys, phone, and maybe even a few snacks for the road ahead.
I like backpacks that provide as much access as possible without having to take the whole thing down and dig through the main compartment, so hip belt pockets are an absolute must in my search.
Bite Valve Shut-off Switch
While hydration tube tech has come a long way, it's still very rare to find a sucker that doesn't lose a bit of drip.
Without a shut-off switch or a magnetic attachment that keeps your valve upright, it's only a matter of time before you notice a bit of wetness on your backside.
It's not a huge deal. Over the course of the day, we're talking about a half oz of lost water maximum. Still, if every drop counts for you make sure to invest in a shut-off switch, as it's the only way to know the water won't flow.
Disconnecting Tube
Every pack on our list (save our budget choice) includes a disconnecting tube that allows you to fill up your reservoir without undoing your drinking tube.
It's a small perk that makes life a bit easier in the middle of a hike, especially when you've wired your tube underneath a sweater.
Shoulder Strap Clips
It can be a pain in the butt to try to figure out where your drinking tube has gone off too. A great hydration backpack like the ones on our list will include either a magnetic or an old-fashioned plastic piece that locks your clip into place and keeps your drinking valve exactly where you need it to be at all times.
Number of Portals
The Tube portal is the area of a hydration pack where the tube leaves your reservoir and wraps around your mouth. The packs on our list either offer one portal that goes through the center of the bag or a portal over each shoulder that allows you to pick your own path.
Conclusion:
You're not getting very far without water. The hydration packs on our list make it easier than ever to bring liters of the good stuff with you no matter what's on the day's agenda.
No pack embodies that mindset better than the Osprey Skarab 18, the best choice for hiking, biking, skiing, running or just plain sightseeing.
NOMADasaurus Pick
Osprey Skarab 18
When it comes to backpacks, there is no brand easier to use than Osprey, and hydration packs are no different. The Skarab 18 packs in 2.5 liters of liquid capacity as well as tons of ergonomic packing features, all supported by Osprey's incredible air support back, chest, and waist strap system. 
If that wasn't enough, the pack (and the included hydration bladder) is also protected by an all-mighty guarantee that promises a lifetime repair or replacement if anything goes south.
DISCLAIMER: Some of the links in this article are affiliate links, which means if you book accommodation, tours or buy a product, we will receive a small commission at no extra cost to you. These commissions help us keep creating more free travel content to help people plan their holidays and adventures. We only recommend the best accommodations, tours and products that ourselves or our fantastic editorial team have personally experienced, and regularly review these. Thanks for your support, kind friend!