Looking for the best and most important hiking essentials for your big trek? We've got you covered with our top recommendations in this post!
We've spent more than 15 years hiking around the world, from incredible day hikes in New Zealand to monster treks in Kyrgyzstan and Patagonia and countless multi-day backpacking trips, it's now become our favourite outdoor activity.
It's safe to say we now consider ourselves experts when it comes to hiking, but we weren't always as confident as we are now.
In fact, we've made every mistake you can imagine, from not packing rain gear to getting stuck overnight without an emergency shelter.
These days though we have finally figured out the best, and safest, ways to explore nature, whether it's on longer hikes or smooth trails.
A big part of that is making sure you have the essentials for hiking when it comes to gear.
READ MORE: Don't miss our list of our top hiking tips to become a master of the trails too!
When you are hitting the trails, it is vital to have all the required items on you. Hiking essentials are a must so you are prepared for anything while out on the trial.
10 Hiking Essentials – Our Expert Guide
Here is our list of 10 essentials for hiking that you can't leave behind.
1) Comfortable and Supportive Backpack
The first item on our ten essentials you need to take hiking is a great backpack. It's important to look after your body, as nothing will ruin a day out in nature quicker than having your back or feet start to ache.
If you do not have a good backpack, you may experience pain and discomfort in your waist and shoulders.
Some of the features that we highly recommend for hiking backpacks are:
Lightweight, water-resistant material
Top-loader
Fully adjustable harness including waist belt
Comes with a rain cover, or purchase one separately for all weather conditions
A few separate pockets for things like a water bottle, snacks, etc
Having the right backpack that fits your back correctly is essential. We recommend going into an outdoor store and trying different backpacks on, as every harness and fit is different.
Whether you are buying a small backpack for a day hike or a larger one for multi-day treks, you should get the shoulder straps adjusted correctly and make sure there is good padding on your waist.
Make sure you do not get a backpack too big for your body. With a large bag, it's easy to overpack as well. A super heavy bag is never comfortable while hiking, and it can actually lead to shoulder and back problems.
Look at the material of the backpack. You want the bag to last, but you want it to be lightweight and comfy.
Look at the design of the backpack. Is the inside easy to access? Are there internal and external pockets? These are great for storing smaller items like maps or a compass or sunscreen.
Our Recommendation:
We both use and have the Osprey Ariel 55 trekking bags in the male and female versions. We love both of these backpacks.
We have used many different brands over the years and this one has the best harness and fit, and it's also one of the most common we see out on the trails.
It is so comfortable. The hip belt is important as it helps to take some weight off your back and shoulders.
Read Next: Check out our article on the best Hiking Backpack.
2) Comfortable, Waterproof Hiking Shoes
Next on our list of hiking essentials list is hiking shoes. Trust us – you need to wear good quality shoes that are right for your feet.
Make sure your boots are comfortable and durable and can help with ankle support when you're hiking over rough terrain.
There are so many hiking shoes out there, so where do you even start? Do your research and read reviews to see which one will suit you best, then head down to your local store and try them on.
Some of the features that we highly recommend for hiking boots are:
Gore-tex or similar waterproof material
At least above the ankle – mid ankle is fine
Grippy sole
Lightweight
Laces rather than quick ties for optimum fit
The best hiking boots are the ones that you actually test out in person, rather than trusting only online reviews.
You can try on a few different pairs and compare sizes until you find a pair of boots or hiking shoes that is perfect for your feet.
It's absolutely fine to buy these online though, and you'll often get a much better deal if you do. Just ensure you've already established the correct model and size.
After you have chosen the right shoes for yourself, wear them in around the house or neighborhood. This is so your feet get a bit more comfortable in your shoes before you go on your hike to make sure you don't get blisters.
Our Recommendation:
We've tried all the major brands and always come back to Salomon shoes. We have had different styles of Salomon shoes and have loved every one. They fit us well, they're high quality, waterproof and they're very comfortable.
Because we know exactly what size we are and the models we like, we have always purchased our shoes online during sales from various stores.
They are true to their sizes and we have never had an issue. We highly recommend going into a store and trying them on first though as they have different fits like wide and narrow.
Read Next: Check out our buyer's guide on the best hiking boots.
3) Hiking Socks
What goes with your shoes? Socks. And they are just as important as your shoes.
For hiking, you will need a really good pair of socks. If you buy good quality ones, they should keep your feet dry, prevent blisters, and let your feet breathe so it does not swell.
Some of the features that we highly recommend for hiking socks are:
Merino wool
Long, able to go well above your ankle
Moulded fit to prevent slipping
The best material for your socks is wool because it is durable, breathable, and lightweight. Wool is the most popular hiking sock material.
Polyester is a synthetic material and is not recommended as it will get too hot and cause your feet to sweat a lot.
Avoid cotton socks. They are not breathable and they can be flimsy or slippery, causing your feet to slip around or your sock to fall down in the shoe.
Choosing the right socks will help you avoid chaffing and blisters. Make sure the socks are clean, dry, and fit well inside your boots each time you step out on the trail.
Our Recommendation:
We love our Icebreaker Hiking Socks. We have multiple socks and love every one. They are breathable and our feet love them. The Icebreaker brand is high quality so we have continued using them for years.
Read Next: Check out our post on the best hiking socks.
4) Stretchy Hiking Pants (NOT Jeans)
Stretchy hiking pants have a bit of flexibility and give a little when you move in them.
They are not tight and stiff like jeans or some leggings. These types of pants are great for hikes where you are climbing stairs, stepping over rocks, or scrambling. You are able to move more freely and you won't feel restricted.
Some of the features that we highly recommend for hiking pants are:
Stretchy material
Quick dry
Lots of deep pockets for things like snacks, your phone, etc
Another great thing is that these pants are usually thin material. Thin material is breezy and comfortable, and it can be quick-dry when it's raining.
Our Recommendation:
We recommend pants with stretchier material and zip-off legs. These are the best ones we have found and are great for hiking.
You can find these types of pants at any retail store specializing in outdoors or athletics.
Read Next: Check out our buyer's guide on the best hiking pants.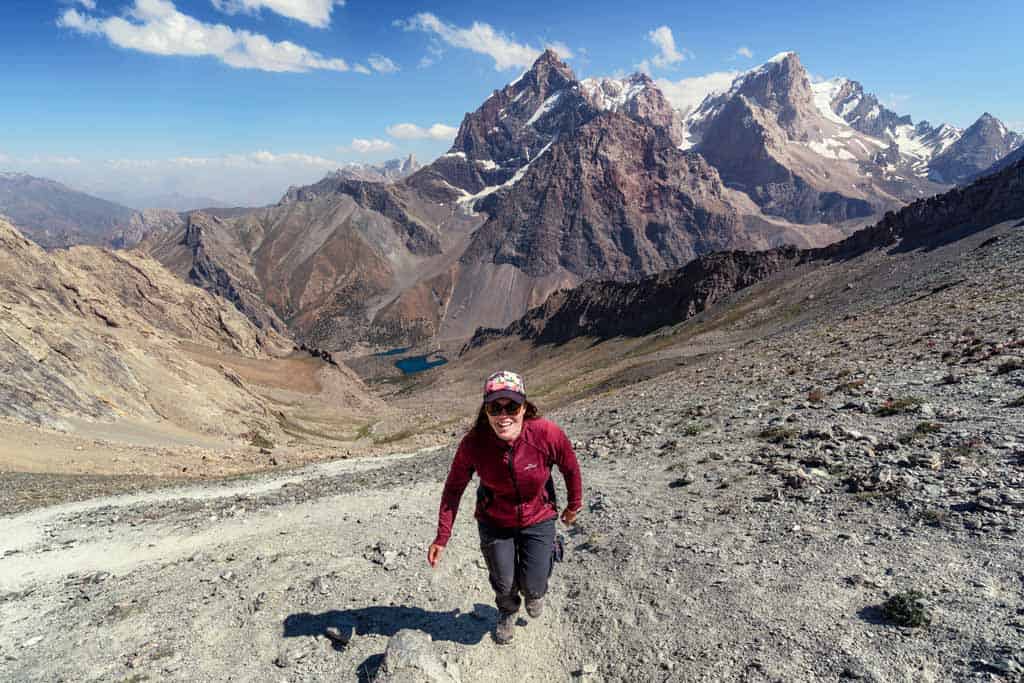 5) Trekking Poles
Another one of our ten essentials for hiking is trekking poles. In the past, we never used hiking poles and now that we do, we wish we got them earlier.
Trekking poles help support your knees and ankles on steep hills. They also help with balance and can give you that extra charge up or down the steep sections.
For me, they boost my confidence because there are more points of contact with the ground and they help me balance and stay upright while hiking.
We highly recommend adding trekking poles to your list of hiking gear. You can buy them from any outdoor store. They do come in different sizes depending on your height.
Some of the features that we highly recommend for hiking poles are:
Telescopic or foldable for easier storage
As lightweight as possible
You can get carbon fibre poles that are lightweight. When you are not using them, attach them to the side of your backpack and you won't even feel you are carrying them. This material can be more expensive though.
The cheaper poles will be heavier and the quality may not be there. Definitely go into a store and try all the poles and ask the staff about the product so you can choose the right ones for you.
Our Recommendation:
We love the Black Diamond Distance Carbon FLZ Trekking Poles. I got mine about 5 years ago and I absolutely love them. They are lightweight, compact for storage, and easily attach to my backpack.
I have taken them on so many multi-day hikes, and finally managed to convince Jarryd to get a pair. He loves them as much as I do now.
They are easy to adjust while hiking and are sturdy. I splurged on these as they are not cheap, but they have lasted me so long and are still in great condition.
READ MORE – Check out our article on the best trekking poles.
6) Lightweight Shell Rain Jacket
Another item on our list of hiking essentials is a lightweight shell rain jacket, ideally, one that can pack away small.
These compact and lightweight jackets can fold into their own hood or pocket for easy storage. We usually keep our jackets on the very top of our backpacks so they are easy to access.
Some of the features that we highly recommend for rain jackets are:
Shell, which means no insulation
Gore-tex or similar waterproof material
Breathable
Lightweight
Packs into own hood or pocket
A good quality rain jacket will keep you as dry as possible, but in torrential downpours, you can still get wet.
Always check the weather before leaving on a hike and if you have service, monitor it during the day if you can see a storm brewing.
A pack-away rain jacket is not just for when it rains but it can also be used as a wind jacket for when you reach the top of the summit. This is a piece of hiking gear that is an essential item on your hike.
Our Recommendation:
We recommend getting a high-quality, Gore-tex rain jacket from a reputable brand like North Face, Patagonia or Kathmandu.
Trust us – don't skimp on a cheap jacket. All it will take is one bad weather event to make you miserable, and possibly in danger if the temperatures drop and you get wet.
We also recommend that it's a shell jacket, not an insulated jacket.
The reason is you will be able to layer up in cold weather or throw the rain jacket over a t-shirt without overheating. They also take up less space.
Read Next: Check out our buyer's guide on the best rain jacket for hiking.
7) Water Bladder or Water Bottle
An absolute must on our hiking essentials list is a water bladder or reusable bottle. Staying hydrated is essential!
While you are hiking, drinking water will keep your body feeling great. If you know you are going on a hike, hydrate yourself the day before and drink some water in the morning before departing.
You need to replenish your body's fluids and electrolytes throughout the day while hiking. We recommend stopping and drinking water every hour while you are hiking. If the day is hot, stopping more frequently for water is always a good idea.
Some of the features that we highly recommend for water bottles or bladders are:
For water bladders, a good quality one so it doesn't leak in your backpack
For water bottles, lightweight and reusable
Both should have a wide mouth for refilling in streams
If hiking in cold weather (below-freezing temperatures), get an insulated sleeve so your water doesn't freeze too
Even bring an electrolytes pack to put in your water if you feel you need a little more of a boost. We recommend putting some of these in your first aid kit just in case.
Before leaving for your hike, purchase some water sterilisation tablets, a Steripen or other great water filters to clean your water from any nasties if you have to fill up at flowing rivers.
Water bladders are great for those long and more challenging hikes as your drinking tube is right on your shoulder which is easy to access.
You are able to keep on moving if you need and still be able to drink without taking your concentration off your feet.
Even when you have finished your hike at the end of the day, make sure you don't forget to drink more water. These are hiking essentials as staying hydrated is so important.
Our Recommendation:
We both have CamelBak 2lt hydration bladders with a reservoir sleeve. We got the water bladder with a sleeve as we wanted a little more protection for the bladder when we put it in the back of our backpack.
When we go on multi-day hikes, each of us also carries a water bottle. This bottle is good for meal times to collect water for the meals. It also could be for extra water during the day if needed.
We also recommend a rechargeable Steripen. We always hike and travel with this.
Read Next: Check out our buyer's guide on the best water bladder.
8) Energising Snacks
While you are hiking, replenishing your body's energy with water and food is important.
Make sure you have a high-carb dinner the night before, do not skip breakfast and pack high-energy snacks.
Even if you think you won't be hungry, it's better to have snacks just in case.
Some of the features that we highly recommend for hiking snacks are:
High protein value
Tasty (of course!)
Healthy – don't just snack away on chocolates and candy the whole time
Trail mix and granola bars are great energy snacks to keep you going while hiking. It is amazing how quickly your body can perk up on a hike after a snack. If you're feeling lethargic, it's time to stop and have a bite.
Make sure the snacks you are packing are high in protein, carbohydrates, healthy fats, and calories. You need all this to help your body while hiking.
Pretzels are another great snack. This salty, starchy snack provides sodium that is lost through your sweat during hiking and carbohydrates that are easy to digest.
If you love savoury snacks, these are great if you don't like the sweeter snacks.
Our Recommendation:
We love the brand CLIF energy bars which you can get from a lot of outdoor stores. These are great to give you that extra energy you need when you are low during your hike.
Pretzels are also great, as is homemade trail mix with things like nuts, seeds, chocolate, and dried fruits.
Feel free to chuck in your favourite chocolate bar too for a morale boost and reward at the top or end of a trail, but don't just survive on these.
9) Comprehensive First Aid Kit
Everything else we've listed on our guide to hiking essentials is pretty standard, but the one thing most new hikers forget to bring is a first aid kit.
You might not think you're doing anything extreme, or that you won't be too far from civilisation if something goes wrong, but trust us – a first aid kit can be the difference between having something minor turn into a major issue.
Many hikers do not take a small first aid kit when they head out on a hike. Whether you are on a day or multi-day hiking trip, we feel this is a must as you never know what will happen.
An emergency situation can always happen, so be ready. Your hiking first aid kit does not need to be overflowing with everything you may need under the sun, but having the essential items in your kit is very important.
Some of the features that we highly recommend for a hiking first aid kit are:
Bandaids and bandages
Anti-septic cream
Gauze
Blister packs
Emergency space blanket
Electrolyte and hydration tablets
Water sterilisation tablets
Stinger cream for bites from insects
Paracetamol
Tweezers for getting out splinters
Simple first aid supplies can save you in any situation such as minor injuries like an ankle roll or some grazes from a fall.
In the kit, store things like bandages (a few different sizes), bandaids, safety pins, anti-septic cream, gauze, insect itch cream, pain killers, tweezers, a light, antiseptic wipes, and any other emergency items you may think of.
Having duct tape in your first aid kit is smart as well, as it comes in handy for so many different situations. Duct tape could fix your backpack or shoes if something rips of breaks on the trail.
It is important to have more unexpected emergency gear as well, just in case you have an accident and are stuck out in the bush for the night.
For example, a space blanket is a smart thing to have in your first aid kit. It does not take up any space and is very lightweight. This blanket can save your life if in an emergency when you are waiting for help.
With the thermo heat it provides, it will keep you as warm as you would be in a sleeping bag. Some countries also call it an emergency blanket.
If you are hiking to a remote place and the trail is not a popular one, we recommend hiring or borrowing a personal locator beacon or handheld GPS device.
We also have a bag for our toilet business when going on long, multi day hikes. We have toilet paper, sanitiser, a foldable lightweight shovel, and plastic bags.
I mention this as it is important you stay hygienic and bury your human waste for the sake of your health and the animals in the area.
Some other items we take on our multi-day hikes are fire starters, a head torch, extra batteries and a multi-tool. We tend to use these on every multi-day hike, and sometimes on a day hike.
Our Recommendation:
We recommend getting a first aid kit that's already made from an outdoor store. This is a great starter kit and will have a lot of items you need in it.
From there, you can add in what you would like and what you think you may need.
READ MORE – Check out our article on a Travel First Aid Kit to give you a guide.
10) Bug and Sun Protection
Bug spray and sun protection are essential on any outdoor excursion.
There are so many people that think you can only get burnt when the sun is out, but this is not true.
You can get burnt even when the skies are overcast. This is why it is always important to cover up and protect yourself from the sun's rays.
Some of the features that we highly recommend for bug and sun protection on a hike are:
SPF 50+ sport sunscreen
Eco-friendly, if you can find it
Long-sleeve shirt and pants
A wide-brimmed hat that covers your neck and ears
Sunglasses with polarized lenses
I have a little keyring sunscreen that I have attached to my hiking backpack. It is so convenient and easy to access at any time.
I have a big bottle at home and apply sun protection before leaving and during the hike. Make sure you reapply your sunscreen during your hike also, especially if you are sweating a lot.
This is one of the hiking essentials you should be thinking about before you start on your walk as well. Make sure you wear a wide brim hat, sunglasses, and even long sleeve shirts. Make sure they are sun-protective ones!
You can grab sun-protective clothing from an outdoor store, and they are always a great investment.
If you are hiking near water, bug repellent is another thing you should take on your hike. We carry a small bottle in a protective bag in case it leaks.
Bugs tend to come out in the early morning or late afternoon, so definitely pack bug repellent if you're hiking at those times.
Our Recommendation:
We recommend natural bug repellent. It has always worked great for us as we are not fans of DEET.
If you are planning to swim, get reef-safe sunscreen as this is much better for the environment
Bonus Essentials for Hiking for the Experts or Multi-Day Backpacking Adventurers
Now that you know the top hiking essentials for beginners, you may be wondering what to bring next to step up your game if you're getting serious about trekking in different environments
Here you go!
Extra Layers of Clothing
The weather can change so quickly and unexpectedly so be prepared. Make sure you take extra layers of clothing.
Our tip is to bring items that are compact and do not take much room up in your backpack. Pack a down jacket and thermal underwear. These will keep you very warm in the evening or at night.
If you are doing overnight hiking, make sure you pack gloves, a beanie, and even a scarf. Nights can get cold, especially if you're hiking at high altitudes, no matter what the season.
Tent and Camping Gear
Planning on being out overnight on a trek? Good quality camping gear is absolutely essential then.
Check out our recommendations here:
Thanks for reading our list of hiking essentials!
We hope they help you feel more prepared for your hikes, and most importantly, that they help you stay safe when you're out on the trail.
If you're interested in reading some of our favourite hiking stories, you can find them all on the adventure travel page of our website.
DISCLAIMER: Some of the links in this article are affiliate links, which means if you book accommodation, tours or buy a product, we will receive a small commission at no extra cost to you. These commissions help us keep creating more free travel content to help people plan their holidays and adventures. We only recommend the best accommodations, tours and products that ourselves or our fantastic editorial team have personally experienced, and regularly review these. Thanks for your support, kind friend!