Planning a drive from Vancouver to Calgary, and want to know the best places to see along the way? Our Vancouver to Calgary road trip itinerary will help you make the most of the drive!
Stretching from British Columbia to Alberta, you'll be sure to see some amazing things on this drive – from tons of national parks, beautiful stretches of highway, scenes of the Canadian Rockies, and so many stops along the way.
An added bonus is that this trip can also be done in reverse as a Calgary to Vancouver road trip.
Vancouver to Calgary Road Trip Itinerary
This itinerary will show you the best of the best and then some on your Vancouver to Calgary drive.
Driving from Vancouver to Calgary is an epic adventure for anyone. But note that this iconic road trip is to do so outside of the Winter months.
READ MORE: Plan your trip to Canada with our travel guide!

Day 1: Vancouver to Whistler Village
Distance & Time : 123 km / 2 Hours
From Vancouver, it's off and out on one of the most scenic highways in Canada – the Sea to Sky Highway.
Cruising through the mountains you'll have the opportunity to check out countless waterfalls, stop at viewpoints, and tour some incredible national parks as you start out on your 5-day Vancouver to Calgary road trip.
READ MORE – Don't miss out on my guide on all the amazing things to do in Vancouver as well.
Stop 1: Squamish
Less than an hour north of Vancouver on the incredible Sea to Sky Highway is where you'll find your first stop. Squamish is surrounded by incredible mountains on one side as well as the Howe Sound and the coast on the other.
Home to awesome adventure sports like whitewater rafting, mountain biking, and rock climbing, the town in the Canadian Rockies offers a ton of stuff to do.
One of the major attractions in Squamish is the Sea To Sky Gondola. Right off the highway and high above the water take the 10-minute ride in a cable car up into the mountains.
Once at the top there are tons of viewpoints and a stunning suspension bridge. For more information visit their website.
If you want a bit more of a challenge why not opt for hiking the Stawamus Chief aka The Chief.
This hiking trail is a favourite for the sweeping panoramic views of the surrounding mountains once you reach the top.
Shannon Falls is an easy to find spot right off the highway as you enter Squamish too. There are stunning waterfalls and countless hiking trails in the area as well as a great spot for picnics too.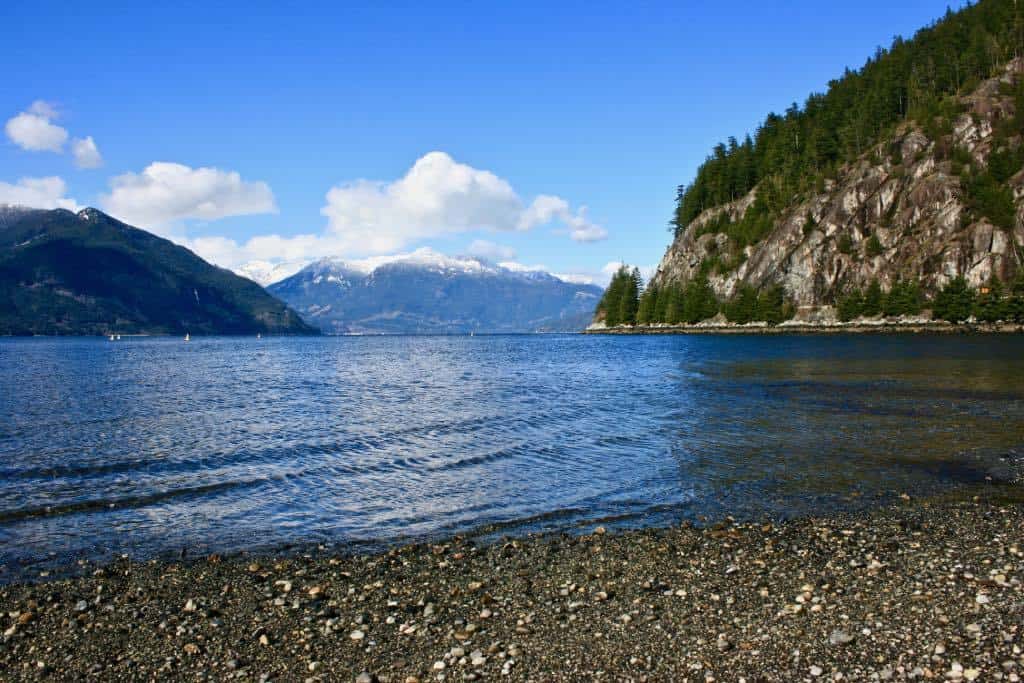 Stop 2: Whistler
As you carry on the Sea to Sky Highway further North the next and possibly most well-known location to international visitors is Whistler in the Canadian Rockies.
Home to the largest ski resort in North America, Whistler Blackcomb, the snow season here is dreamed of by snow lovers from around the world.
En route to Whistler make sure to stop in at Brandywine Falls where a little way down the trail you'll find a stunning set of waterfalls and a few other trailheads to enjoy.
Thrill-seekers will have their choice of a helicopter ride, snowboarding, skiing, mountain biking, rock climbing and even ziplining in Whistler.
Whistler is also home to one of the longest ziplines in the country. Go for a ride and soar above the mountains, where you'll be gifted with one of the most stunning views ever.
Head into Whistler Village for a day of shopping, or a night on the town. Whistler doesn't skimp on anything just because you're in a small town either.
Vancouver to Whistler via the Sea to Sky Gondola is one of the best things to do in British Columbia.
For more views hop on the Peak to Peak Gondola. Head out to Lost Lake for a bike ride, swim or just to check out the postcard-worthy views.
Cheakamus Lake is the perfect hike for anyone with zero elevation gain but all sorts of beautiful views and trails through the woods.
And be sure not to miss out on taking a selfie in front of the Olympic Rings at the Whistler Olympic Plaza, which was a site for the 2010 Winter Olympics.
Grab a place to stay in Whistler for the night (make sure you book ahead), before continuing on your road trip the next day.
Alternatively, book yourself in for a few days to make the most of all there is to see and do in Whistler.
Day 2 – Whistler to Kamloops
Distance & Time : 300 km / 4 hours
Once you've ticked off all those epic Whistler experiences, it's time to pack the car and head off again to keep up our Vancouver to Calgary driving adventure.
Stop 1: Joffre Lakes or Garabaldi Provincial Parks
On your drive from Vancouver to Calgary, you'll have the opportunity to experience some of Canada's most incredible national and provincial parks along the way.
There are two near to one another as you carry on through British Columbia, Joffre Lakes and Garabaldi Lakes.
Garibaldi Lake Provincial Park is on the same stretch of road as you continue on the road from Whistler.
Located in the heart of the coast mountains, the park is named after the immense peak that towers above the trails and the lake below.
The trails here might be steep but again the views are well worth the sore legs! And on a hot day who wouldn't want to go for a dip in a glacial lake anyways!
Joffre Lakes Provincial Park is an incredible collection of 3 beautiful glacially-fed lakes connected by switchback trails as well as flat terrain.
The hardest and steepest section is the trail connecting the first and second lakes, but the reward is the view from the top.
These lakes are fed by glaciers, resulting in some of the most vibrantly coloured lakes you'll ever lay your eyes on. They are also some of the coldest!
If the weather isn't ideal on your drive you may want to skip the hike. But the first lake is less than 10 minutes on flat ground from the parking lot so it's definitely worth visiting.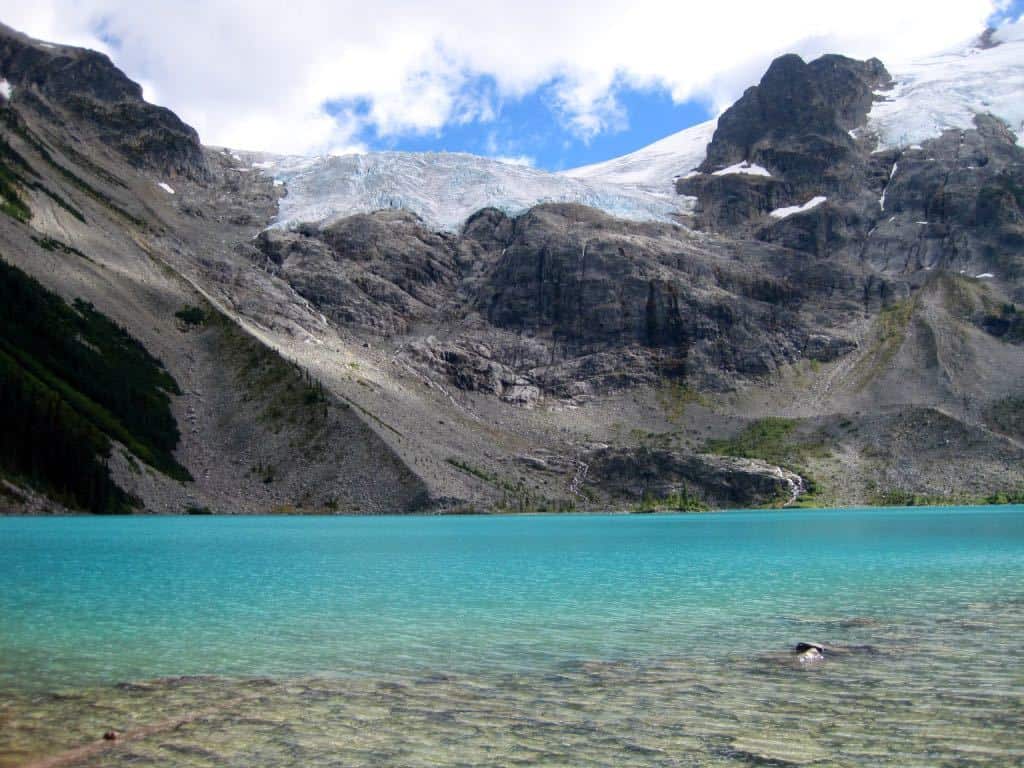 Stop 2: Kamloops
Driving out on the Trans Canada Highway the mountains seem to get bigger and you'll eventually reach the city of Kamloops.
Kamloops Lake is a great spot for a walk or a bike ride. Stretching out at nearly 30km long, there are tons of trails to take advantage of all with great views.
Riverside Park is a perfect spot for a picnic with tons of lush green spaces to enjoy on the river's edge with a full view of the neighbouring mountains.
For anyone looking for a bit more adventure head to Kenna Cartwright Park to find over 40km of mountain biking and hiking trails to be explored.
Kamloops Heritage Railway is a working railway with a gorgeous old steam train. This is a great place to learn a little bit more about the history of the city.
The Spirit of Kamloops train was built in 1912 for the Canadian Northern Railway but was retired some years later. As it is now newly restored, visitors can ride the train and see the sights in a unique way.
If you're looking for an awesome place to stay in Kamloops check out Wingate by Wyndham Kamloops.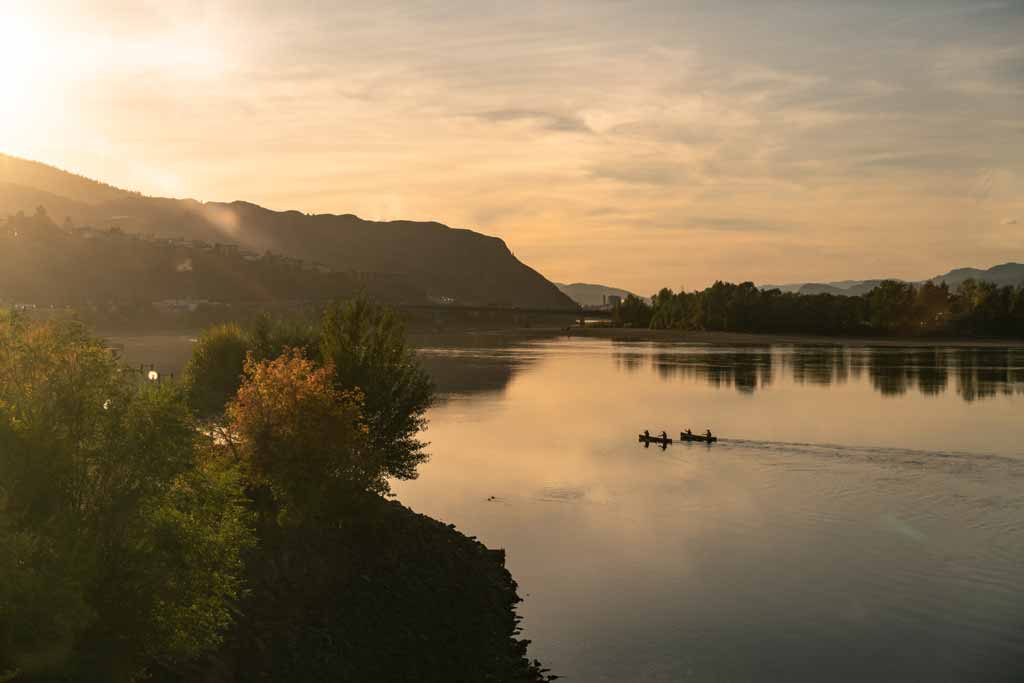 Day 3: Kamloops to Revelstoke
Distance & Time : 315 km / 3 hours 45 minutes
Now that your Vancouver to Calgary road trip is in full swing, you'll be sure to have high expectations for day 3!
Epic ski resorts, pretty lakeside parks, unreal mountain biking terrain, and another national park awaits you on Day 3 to blow your mind.
Stop 1: Sun Peaks
Less than an hour northeast of Kamloops is one of Canada's best-known Ski resorts. Sun Peaks has over 4,000km of skiable terrain, 137 trails, 13 lifts, and a 10-acre terrain park.
The resort is a mecca for snow lovers. But in the summer months, you'll find the area looking totally different.
Mountain Biking is a huge summer sport here and with 65km of terrain to explore you'll never be bored.
Hiking on the mountain is another great way to soak in the views from high atop the mountain too.
A must-do trail is the Mt.Morrissey Viewpoint. At 4.4km and under 2 hours it's the perfect way to stretch your legs and get an epic view.
If golf is more your thing, you're also in luck as the resort offers an amazing 18-hole course and one of the most scenic in Canada.
For more information on trails and rates visit their website here.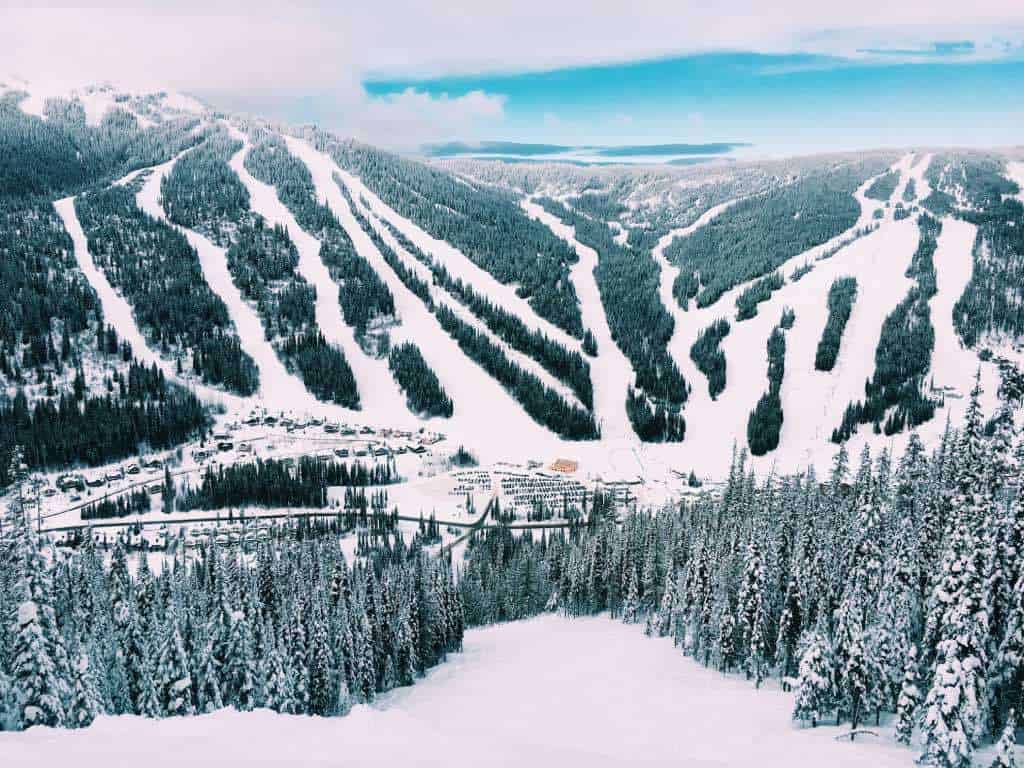 Stop 2: Salmon Arm
Named after a large salmon run that used to take place in an arm of the Shuswap Lake, Salmon Arm is a chilled-out city to stop into on your Vancouver to Calgary Road trip.
Shuswap Lake is a great spot to start with stunning views out onto the mountains from the beach. There are several hiking trails here too which definitely should be taken advantage of.
Nature Bay Wildlife Sanctuary runs along the lake as well. It's a cool and shady spot, and a good one to get some bird watching in.
Herald National Park is free to enter and the perfect spot to escape the city. The Margaret Falls Trail is a popular one that will take you through the beautiful woods and towards a lovely waterfall at the end.
The Salmon Arm Wharf is a great spot to do some fishing. Or if you'd rather see the views from the water you can rent boats here to take out onto the lake as well.
Stop 3: Revelstoke
Considered one of the best winter playgrounds in all of Canada, Revelstoke should be on every Vancouver to Calgary drive itinerary. It is located right next to Glacier National Park, home to some of Canada's best alpine views.
But there is plenty to do near the town of Revelstoke itself. Hikers can explore the Bottoms Up trail that will take visitors from the ski base all the way up to Revelation Lodge with some epic views.
Stoke Climb is perfect for mountain bikers and you'll get a chance to see the rainforests on the mountain too.
There are a few outfitters in town where you can rent paddleboards or kayaks and take to the Columbia River.
Or if you want a bit more of a thrill there are tons of options to get out on the whitewater rapids of the river too.
Mount Revelstoke National Park has a great mix of challenging summit hikes and cooler more laidback rainforest trails to check out. If you want to venture over to Glacier National Park as well, there are lots of trails there.
One of the most scenic ways to take in the national park is by driving the Meadows in the Sky Parkway. You'll get some of the best views of the mountains as you wind your way up and the panoramic views from up top are incredible.
For a charming place to stay with a great location check out Holten Heritage House.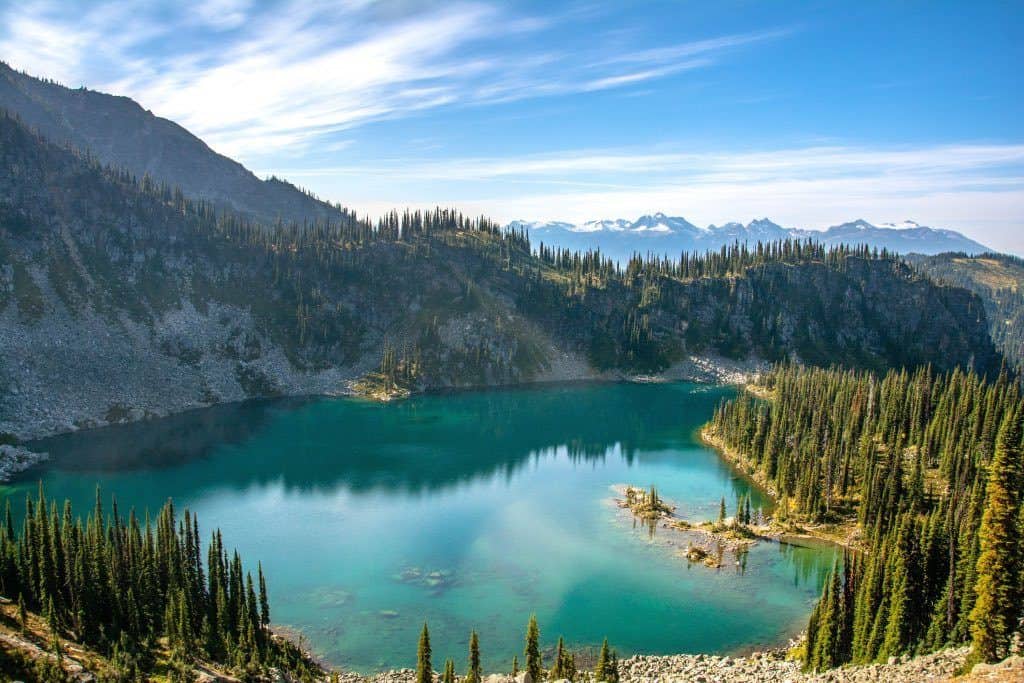 Day 4: Revelstoke to Banff
Distance & Time : 283 km / 3 hours 15 Minutes
After a few cheeky beverages in the Regent or Last Drop pubs, wake up early the next morning to head out for the drive to Banff through Banff National Park!
Stop 1: Golden
One of the last city stops on the Vancouver to Calgary drive is Golden. And while it may look like just your average pit stop, it's so much more than just a gas station and coffee shop.
Located in the Columbia River Valley, Golden is best known for its awesome adventure sports scene.
Where the Columbia River meets Kicking Horse is where you'll find the most epic whitewater rafting opportunity.
This famous river adventure is home to class 2 and class 4+ rapids making it a thrilling experience and a great way to take in the views.
There are outfitters for every level of experience and comfort on the river so you'll have plenty of experiences to choose from.
Located in a prime position surrounded by 6 National Parks the hiking in and around Golden is not to be missed.
Canyon Creek is perfect for everyone, even the dog! With a quick steep start, the trail levels out and takes you along some of the best views and brings you to a viewpoint overlooking the canyon and then loops back.
Other trails nearby include Mount Hunter, Wolverine Pass, and Iceline trail. If you're looking for the most thrilling experience in Golden then you'll be looking at a trip up into the clouds for a skydive!
With absolutely spectacular views over the Rocky Mountain and Purcell Ranges, you'll hardly have time to be scared, just amazed at the views.
Kicking Horse Mountain Resort is a popular place to stay in the area, but we recommend continuing on for more adventures before spending the night in Banff.
Stop 2: Yoho National Park
Your Vancouver to Calgary road trip is definitely never going to be short of national parks to explore. And as you say goodbye to beautiful British Columbia you'll hit the last one before crossing into Alberta.
Yoho National Park is on the Western side of the Canadian Rockies. Yoho National Park is the Cree expression of wonder and awe, and it should be no surprise why once you lay eyes on the park yourself. It's famous for its stunning lakes, including the famous Emerald Lake.
One of the most impressive spots in the national park is Lake O'Hara, where you'll get a full-on view of the most amazing turquoise lake. A number of different trails surround this area and vary in length.
A few of these include Morning Glory Lake, Opabin Plateau Circuit and MacArthur Pass.
For waterfall lovers, you'll want to head right for Takakkaw Falls. Fed by the Daly Glacier and plunging nearly 850 feet over the cliff's edge, this is truly an amazing sight to be seen.
Emerald Lake may be one of the most photographed lakes in the Canadian Rockies, and for good reason too. Surrounded by massive ranges, Emerald Lake is a great place to get out in a canoe or kayak and take in the views from the water.
For more information about trails and advisories in effect visit the national park website here.
Stop 3: Lake Louise and Moraine Lake
A Vancouver to Calgary road trip itinerary would not be complete without a stop at this iconic spot. Lake Louise is located in Banff National Park and is a must-visit spot on anyone's Canadian bucket list.
The town itself is relatively small, which is fine because you'll want to get out and explore all the natural wonder that waits for you here.
The first and the most highly sought after spot to check out is the lake itself. Lake Louise is one of the most iconic views in the Rockies and no matter the weather it is always a stunner.
In the summer months, you can rent boats and go for a paddle. The earlier the better for this one as it's such a peaceful place to be before the crowds arrive.
On the eastern shore of the lake is the Fairmont Lake Louise hotel which looks as close as you can get to a castle in the mountains.
Pop in for a drink or a meal in the restaurant or just admire the architecture. If you're here in winter, you've got your pick of Sunshine, Lake Louise and nearby Mt. Norquay to choose from.
Lake Agnes Teahouse is one of the most scenic and popular trails to take on with beautiful views of the Bow Valley beneath you.
The Shoreline trail is perfect for anyone looking for something easy. At 4km this loop takes you right around the lake and keep an eye out for rock climbers on the nearby mountain faces.
Moraine Lake is a place you've likely seen on a postcard or in a travel guide book, and there's a good reason for that. Magical turquoise in colour and surrounded by stunning mountains, Moraine Lake is the perfect spot for sunrise too.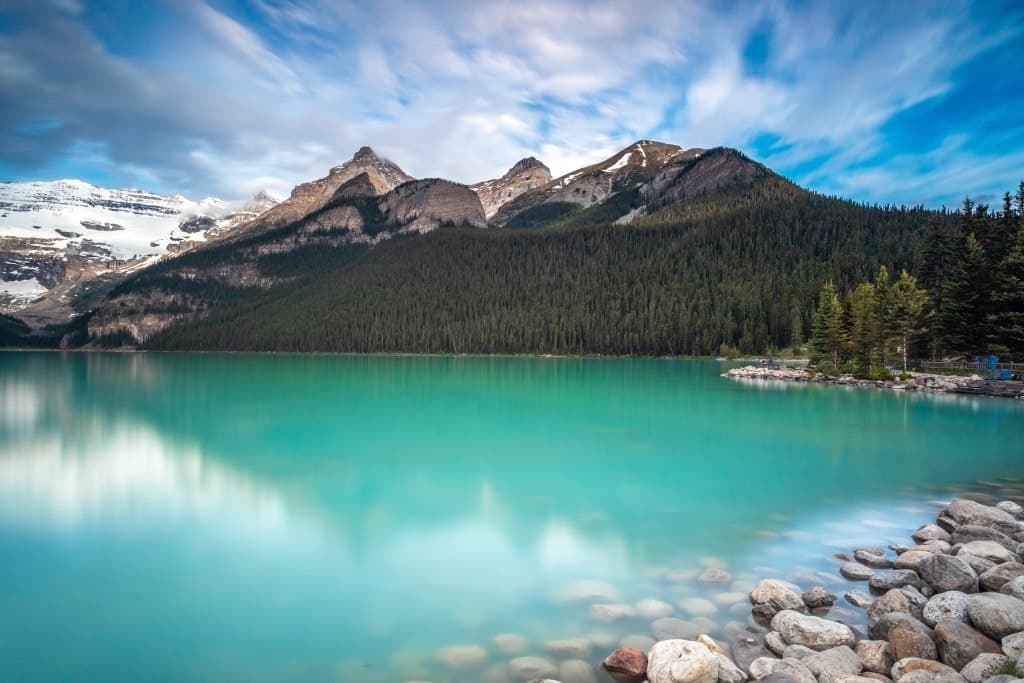 Stop 4: Banff
After admiring Lake Louise and Moraine Lake in Banff National Park you'll enter the town of Banff at the outskirts of the park.
There are all kinds of epic things to do here (make sure you check out this post for our complete guide), so we recommend spending at least another full day here.
Even better, book in for 3 days in Banff to make the most of all the beautiful attractions, hikes, hot springs, and more.
The main town has all kinds of delicious restaurants, cafes and bars and all within walking distance of the Bow River.
There is a beautiful trail that runs along the river and a great spot for a walk, a picnic or even a run. If you follow the river you'll come to Bow Falls where the river comes to a junction creating a beautiful set of waterfalls.
Nearby is the iconic Fairmont Banff Springs hotel that looks like a cross between a school in a wizarding world and a fairytale castle.
There is a bar and multiple restaurants as well as a spa here that visitors can book into without being a guest as well.
For one of the best views of the town head to Tunnel Mountain. A relatively easy trail from the town center will take you up above to the perfect vantage point to see it all.
Lake Minnewanka is less than a 10-minute drive from town and a great spot to head out on a lake cruise or paddling your own canoe. At over 20km long, this is the second longest lake in the Rockies and definitely one of the most beautiful.
There are also lots of hiking trails and natural sights in the national park, and you can further explore there if you have time!
If you fancy a dip in some thermal waters, head to Banff Upper Hot Springs, with several different pools from hot to ice cold all with views of the stunning Sulphur Mountain. For more details about the hot springs, visit their website.
Day 5: Banff to Calgary
Distance & Time : 127 km / 1 hour 30 Minutes
If you have the time, head up towards Jasper National Park to enjoy the Icefields Parkway on your way to Calgary. Jasper National Park rivals Banff in terms of dramatic views of the Canadian Rockies.
But if you don't have time, it's just a short drive up the highway to Calgary.
As you wave goodbye to Banff you'll be rolling into Calgary where you'll find a stunning city at your fingertips and your next adventure to be planned.
After 5 days on the road full of amazing stops, you'll want a great spot to rest up before exploring all Calgary has to offer and Nuvo Hotel is totally that place.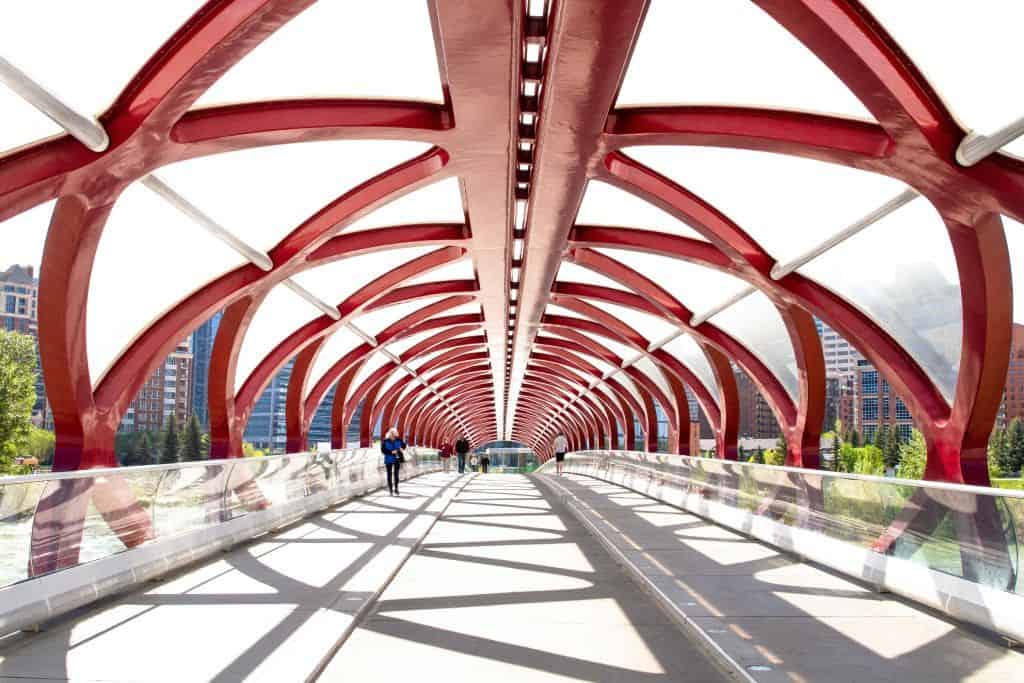 The best way to get around is to rent a car and explore on your own! We recommend Rental Cars, which has the largest range of vehicles for the best value on the market.
DISCLAIMER: Some of the links in this article are affiliate links, which means if you book accommodation, tours or buy a product, we will receive a small commission at no extra cost to you. These commissions help us keep creating more free travel content to help people plan their holidays and adventures. We only recommend the best accommodations, tours and products that ourselves or our fantastic editorial team have personally experienced, and regularly review these. Thanks for your support, kind friend!