There is no shortage of things to do in Victoria, British Colombia in Canada. It is a dream destination for many travellers – and with good reason!
Located on the most western edge of Canada on Vancouver Island, Victoria offers a temperate climate, a large variety of things to do and see and the friendly hospitality for which Canadians are famous.
As a small city with a population of fewer than 100,000 people, Victoria is easy to navigate yet still offers a lot of the amenities you'll find in larger cities.
Getting to Victoria is easy and there are a few ways to do it.
If you're staying in Vancouver, you can take one of the beautiful BC Ferries from Vancouver.
Or you can fly directly to Victoria from a number of Canadian & American cites on a variety of airlines. My favourite way to get to Victoria is via seaplane from Vancouver on Harbour Air.
You can also take the Victoria Clipper from Seattle directly to Victoria.
However you get there, expect to find plenty of great things to do in Victoria, British Columbia!
READ MORE: Check out our legendary guide to travelling in Canada!
The Best Things to Do in Victoria, Canada
Downtown Victoria is famously beautiful, especially in the Spring and Summer.
The Inner Harbour is the heart of downtown and is a lively place to spend some time.
It's the perfect spot to set up your tripod or selfie stick and take some gorgeous photos.
1) British Columbia's Parliament Buildings
Directly behind the Inner Harbour, you'll see one of the many examples of Victorian architecture for which Victoria is deservedly famous.
The Parliament Buildings are home to British Columbia's Legislative Assembly.
It is open to visitors from Monday to Friday from 8:30am to 5:00 pm in the offseason and 7 days a week in the summer.
There are regular guided tours (free of charge) or you can explore the buildings on your own.
You can even observe debates during Question Period if the Legislature is in session!
Summer is the best time to visit the Parliament Buildings. You might get to engage with one of six prominent personalities from Canada's past!
Dressed in period costumes, these personalities appear on tours and deliver historically accurate monologues and interact with visitors.
This year, Queen Victoria is in residence!
There's little parking near the Parliament Buildings but walking around the Inner Harbour is easy and the best way to get around downtown Victoria.
READ MORE: Exploring more in Canada? Don't miss a trip to Banff, Alberta!
You'll have to pass through a security screening to gain access to the building.
There's a lovely Parliamentary dining room open for breakfast and lunch as well as a quaint gift shop.
The beautiful grounds of the Parliament Buildings are available for use and are a favourite spot for picnics and wedding photos.
Bands and choirs perform frequently on the grounds.
2) The Fairmont Empress Hotel
Kitty-corner to the Parliament Buildings you'll find the majestic Fairmont Empress Hotel.
One of the original grand Canadian Pacific Railway hotels (along with the Banff Springs Hotel, Chateau Lake Louise, Chateau Frontenac, and others) the Empress was opened in 1908.
It's designated as a National Historic Site of Canada.
The Empress recently completed an extensive renovation such that its' 464 guest rooms are both modern and luxurious.
Staying at the Empress is indeed a rare treat.
Fair warning though: the Empress is known as one of the most haunted places in Victoria!
There are regular sightings of a thin moustached man who some believe was the famous architect who designed the Empress, Francis Rattenbury as well as quite a few other characters.
One of the best things to do at the Empress Hotel is to have afternoon tea in the Lobby Lounge.
You'll be served the Empress' special blend of loose-leaf tea and Veuve Clicquot Champagne together with traditional afternoon tea favourites like scones, shortbread, cucumber and smoked salmon sandwiches and strawberry tarts.
Take your aunts, sisters, grandmothers and daughters and indulge!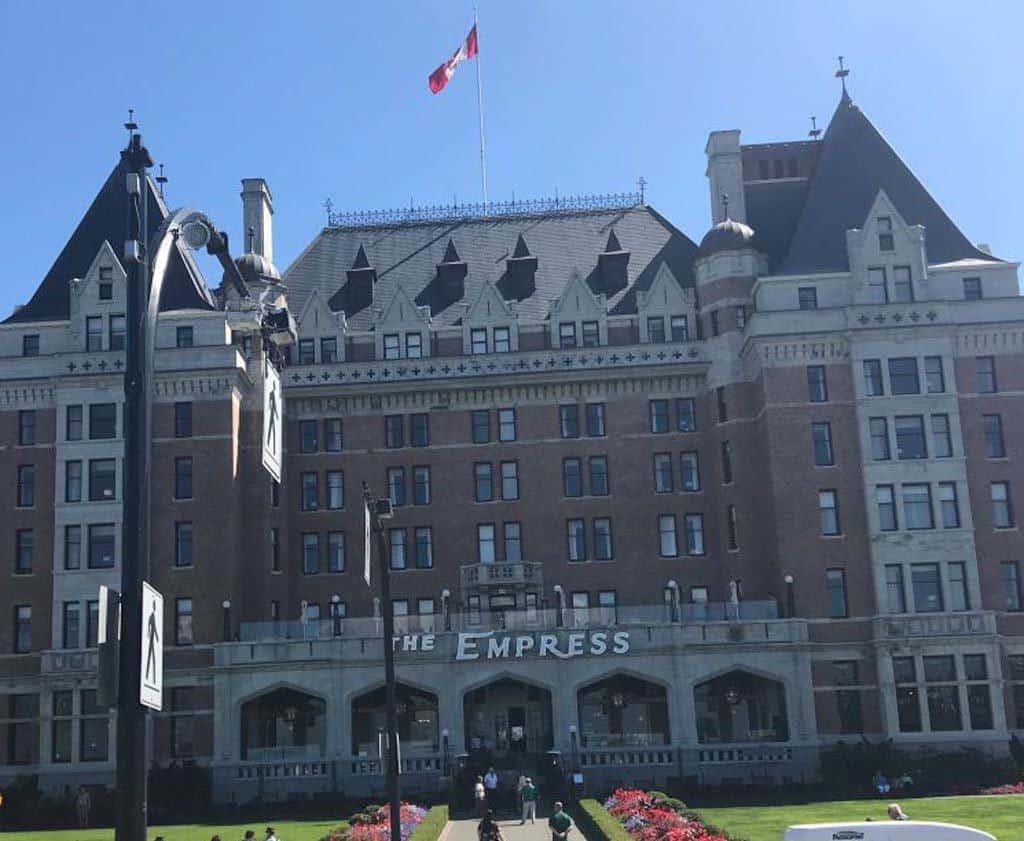 3) Royal BC Museum
Visiting the Royal BC Museum is definitely one of the best things to do in Victoria.
Located right beside the Parliament Buildings facing the Inner Harbour, this great museum features both natural history and human history.
What I love best about the Royal BC Museum is the extensive Indigenous collections comprising more than 14,000 objects from throughout British Columbia.
Representing many of the First Nations of British Columbia including Heiltsuk, Nuxalk, Nlaka'pamus and Athapaskan as well as the local Coast Salish people, this beautiful collection will take your breath away.
Don't miss the exquisite Salish and Nuu-chal-nulth baskets, beadwork and gold and silver jewelery.
The totems outside the Museum building (in an area known as Thunderbird Park) are mostly Haida replica totems and are regularly replaced when they run the risk of falling, as recently occurred in June 2019.
Canadian Icon Emily Carr is well represented at the Royal BC Museum with over 100 paintings as well as sketches, handcrafts, scrapbooks, letters, diaries and much more.
4) Emily Carr House
The Emily Carr House is one of my favourite attractions in downtown Victoria.
At just a short 10-minute walk from the Inner Harbour, this stop is a natural addition to your day in downtown Victoria.
Emily Carr is one of those exceptional Canadian figures that loom large in the national consciousness.
She was the first serious artist to feature Indigenous subjects and figures in her work and she is well known for visiting the most remote native settlements throughout British Columbia to capture their unique qualities and beauty.
Best known for her exceptional paintings, she is lesser known as a writer.
Her book Klee Wyck, a collection of sketches of Indigenous life was so well-received it won the Governor General's gold medal for literature.
Emily Carr House is open to visitors Tuesday to Saturday from 11 AM – 4 PM May through September.
The house and gardens are carefully tended and remain as they were when she lived there.
Emily Carr House also hosts art exhibitions, readings and forums.
Don't miss the gardens – they're particularly lovely.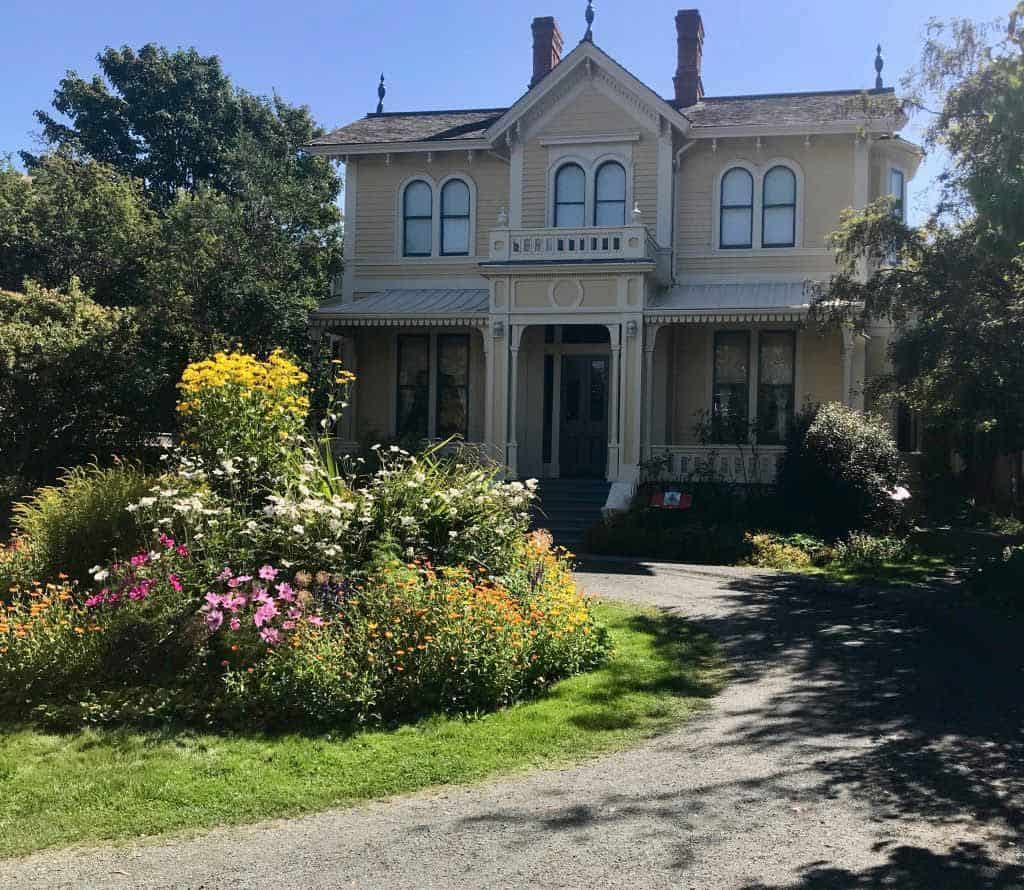 Day Trips for What to Do in Victoria, BC
There are quite a few great attractions outside of downtown Victoria that are worth your time.
5) Fort Rodd Hill
Fort Rodd National Historic Site is a really interesting destination, especially for families.
This is a coast artillery fort built in the late 1800s to defend Victoria as well as the nearby Esquimalt Naval Base from the threat from Russia at the time.
It was in continuous operation until 1956 when it became obsolete.
Kids and adults alike find it really fun and interesting to explore the gun batteries and artillery emplacements.
There are lots of audio and video enhancements to make the experience more interesting and enjoyable.
When we were visited we were treated to a historical re-enactment of soldiers practising maneuvers on the property, as well as a wide variety of other costumed characters, some in military garb and others in Victorian costumes.
There's lots of opportunity for hands-on interaction with de-activated artillery pieces, which is sure to impress even the most jaded youngsters.
If you're keen on camping, make sure to book your camping experience at Fort Rodd Hill.
The view of the Pacific Ocean is worth waking up early!
6) Hatley Castle
Just a quick 10-minute drive from Fort Rodd Hill is the beautiful Edwardian Hatley Castle.
The castle is built on 565 acres at the behest of a railway baron in the early 20th century.
Constructed without regard to cost, Hatley Castle was formerly the family home of the Dunsmuirs.
Sadly, the family patriarch would only live in the Castle for 12 years before he died. His widow and daughter continued to live there until their deaths in 1937.
At its peak, Hatley Castle employed 100s of staff, from gardeners to cattlemen to house workers.
Hatley Castle was then the home of Royal Roads Military College until 1994. It was thereafter leased to a new university, Royal Roads University, who continues to use the property today.
Many movies and TV series have been shot at Hatley Castle, including Deadpool, The Killing, X-men: The Last Stand and Smallville.
You can get a guided walking tour of the estate or a self-guided tour of the sumptuous gardens.
Don't miss the Japanese Garden which dates from 1910 and includes twisting paths, statues of cranes and beautiful ponds.
Hatley Castle has an interesting museum on-site and is open every day from 10:15 am to 3:00 pm.
Parts of the castle are available to rent including the first floor, drawing room, and parts of the gardens.
It's a local favourite site for lavish weddings.
7) Butchart Gardens
The Butchart Gardens is the top attraction in Victoria and it's no wonder!
Now recognized as one of the National Historic Sites in Canada, Butchart Gardens has a long and interesting history and is a must-see destination on your visit to Victoria.
Located between the Swartz Bay ferry terminal and downtown Victoria, Butchart Gardens is easily accessible by car, bus or bicycle.
There are also many tour companies offering full-day or part-day tours.
Butchart Gardens is dog-friendly too!
Plan to spend at least half a day at the Gardens but a full day will allow you to really experience all that the Gardens have to offer.
Current daily fees are USD$25 during high season. Or you can book yourself a private tour of the gardens, which is very popular.
Pro tip: keep your ticket to return the next day for only USD$3.00!
Seasons at Butchart
Butchart Gardens is open year-round with every season offering something unique and different.
Spring is a really lovely time to visit. Fresh blossoms are on full display and the crowds of visitors have not yet descended.
Summer is arguably the best time to visit Butchart Gardens.
Blooms are abundant and everything is lush. There are fireworks displays every Saturday from late June to the end of August.
Fireworks start at dusk and are included with admission. The shows last at least 25 minutes are really quite good!
There are also live performances on the concert lawn every night, and a great electric boat tour (for an additional fee).
The Fall is a great time to visit for the smaller crowds but still quite a few late-blooming shrubs and trees.
This is a great time to see the changing colours of the maples. It's also the only time the greenhouses are open to the public
Winter is a really magical time to visit as Butchart Gardens is decorated for the season and there are many wonderful seasonal activities to enjoy.
There's carolling, ice skating, Christmas displays, and a really special holiday experience.
After Christmas, the Butchart family residence is opened to the public for tours, complete with original furniture and lots of interesting memorabilia.
A Variety of Garden Spaces
Butchart Gardens is really a collection of individual gardens.
The first garden (and the loveliest in my opinion) is the sunken garden, formerly a limestone quarry.
Your first view will be from above where you can marvel at the intricately laid out garden beds and curving pathways.
The rose garden is a feast for the senses and is not to be missed.
I've been known to linger for some time enjoying the heady aroma of the hundreds of different rose varietals.
The Japanese garden is really special.
When you enter through the Torii gate you'll begin to feel the sense of calm and serenity that the traditional Japanese garden is meant to engender.
At just around 1 acre, this is not the largest garden at Butchart, but it's really the most peaceful.
The winding pathways, five different ponds and beautiful Japanese maples will soothe your senses.
I particularly love the fountains at Butchart Gardens, and my favourite is the Sturgeon Fountain.
In addition to the gorgeous gardens, there are a lot of other things to enjoy at Butchart Gardens.
Don't miss the Rose Carousel (great for kids and adults too!) where you can hitch a ride on a beautifully carved animal.
There are also boat tours of nearby Tod Inlet and Brentwood Bay available from May to September for an additional fee.
Dining Options
Butchart Gardens has quite a nice variety of places to get a quick snack or a full meal.
For casual dining, there's a coffee shop just off the parking lot with coffee and pastries and pre-packed sandwiches.
The Blue Poppy is popular with families and is a cafeteria-style restaurant. Annabelle's Café is beside the Rose Carousel and offers ice cream and hot and cold drinks.
There's also a popcorn cart and a gelato stand.
For a more refined experience, try the Dining Room Restaurant.
With white tablecloths and attentive service, you'll feel pampered when you dine in view of the spectacular colours of the gardens.
Great afternoon tea is also available!