We've been all around the world, spent a lot of time in a lot of different countries, and if there's one thing we can honestly tell you it's that we've never felt as welcomed, fascinated and humbled as we did when we visited Iran.
Iran is such an incredible country to travel. The architecture will amaze you, the friendliness of the people will leave you speechless, the culture is fascinating and the landscapes are out of this world.
Iran is also very misunderstood, with many people believing whatever propaganda they hear on the media about how dangerous or difficult it is to travel there.
What to Know Before You Visit Iran
The truth is travelling in Iran definitely has its quirks, and being an Islamic country means there's a few things you need to know about the religion and culture before you go so you can show absolute respect.
Luckily these are easy enough to know before you go if you do a bit of research. We spent one month travelling around Iran and learnt so much during our time there.
To help put your mind at ease about travelling in this incredible country, here's our list of the most important things to know before you visit Iran.
Iran is Safe!
All of the mainstream media outlets portray Iran as an unsafe country, somewhere that you'll be at risk if you visit.
The mainstream media is wrong.
We did not feel unsafe once through the whole 4 weeks of us backpacking independently in Iran.
We weren't with a tour group, had no tour guides, don't speak the local language, took public transport and taxis, wandered the streets on our own – basically everything you shouldn't do if you're in a dangerous country.
And guess what? Nothing bad happened to us at all!
The Iranian people are so friendly and helpful. They want you to have a great time and tell your friends so more people will come and visit.
We were walking around one morning on a quiet street when a car passed us and turned around. A group of young people stopped the car, came up to us, and asked if we were ok or if we needed help.
Once we told them we were just looking for a coffee they pulled out their phones and started showing us where the cafes were on a map.
They even offered us a ride, and said if the cafes were closed they had coffee at their home and would love to make us some.
This is just one example of dozens of interactions that happened to us when we were in Iran. Iranians love that tourists are coming to their country and travelling around.
The locals know what the media says about them and what a lot of the world thinks of their country, and the people just want to show that they are nice, generous people.
Theft against tourists is very rare and even the Religion Police (secret police) tend to leave tourists alone.
Just be careful around the bazaars and crowed places for pickpocketing. We didn't have any issue and didn't hear of any other travellers having problems, but this is common sense in any busy place in the world.
With all that being said, there is a large military and police presence in Iran. Do not photograph any military areas or government buildings, and stay away from any protests if you see them.
Obviously there are some areas of Iran that are no-go zones, such as the borders of Afghanistan, Pakistan and Iraq, so do your research and talk to locals if you're thinking about going anywhere near them.
There's a lot of Customs to Follow
When you travel somewhere you want to take in everything about the country and its people, and that includes the culture and customs.
Iran has quite a few local customs that may take some getting used to, so it's important to learn about them before you go so you don't accidentally offend or disrespect anyone.
Some of the most common ones that throw tourists off are:
Women must wear hijabs (headscarves) at all times in public. They must also wear loose-fitting clothes that don't show their figure.
Giving a thumbs-up sign is considered rude, similar to giving the middle finger in Western society.
Men can wear short-sleeved shirts, but long pants must be worn at all times.
Men and women who aren't related shouldn't touch either. That means no shaking hands or hugging someone of the opposite sex.
If you are travelling with your significant other, avoid any public displays of affection.
Always bring a gift if you are invited to someone's house. Candy, pastries or flowers are fine.
Now we want to give a special mention to ta'arof – This is a hospitality trait where it's customary for someone to refuse payment for a service, and is probably the most confusing thing for any tourist to get their head around.
Basically what happens is if you make a purchase (a souvenir, taxi ride, etc), the person may refuse your payment out of politeness. It is then up to you to insist despite their refusals that you want to pay. After two or three times they'll then accept your money.
If they still keep refusing then perhaps you have just experienced some amazing Iranian hospitality! But chances are they'll accept the payment once the process has been completed. Don't worry, you'll get the hang of it.
The locals are so lovely, that if you do something wrong someone will approach you and nicely let you know. For example, if you are a lady and your headscarf falls off without you knowing, a local will kindly let you know.
Don't stress about getting your outfits beforehand as shopping in Iran is cheap. Just bring one headscarf and set of loose-fitting clothes, and buy more once you get there.
The culture is the best thing about visiting Iran, and after a few days, you'll start to understand and fall in love with it just like we did.
You Need a Visa for Iran
In order to visit Iran, you're going to need to get a tourist visa. This used to be a very difficult process, but luckily things have gotten easier with the introduction of visa on arrivals in 2016
On the 14th February 2016, the Ministry of Iran announced that citizens of 180 countries can now apply for VOA of 30-days at most international airports, including Tehran, Shiraz, Mashad, Tabriz and Isfahan.
There's an exception to this rule though, and if you are from Canada, the UK or the USA, we have some bad news for you…You can only visit Iran if you join a guided tour, so no chance of getting a VOA and travelling independently.
Your tour company will help organise your visa for you.
Check out our article on how to apply for a Visa On Arrival in Iran.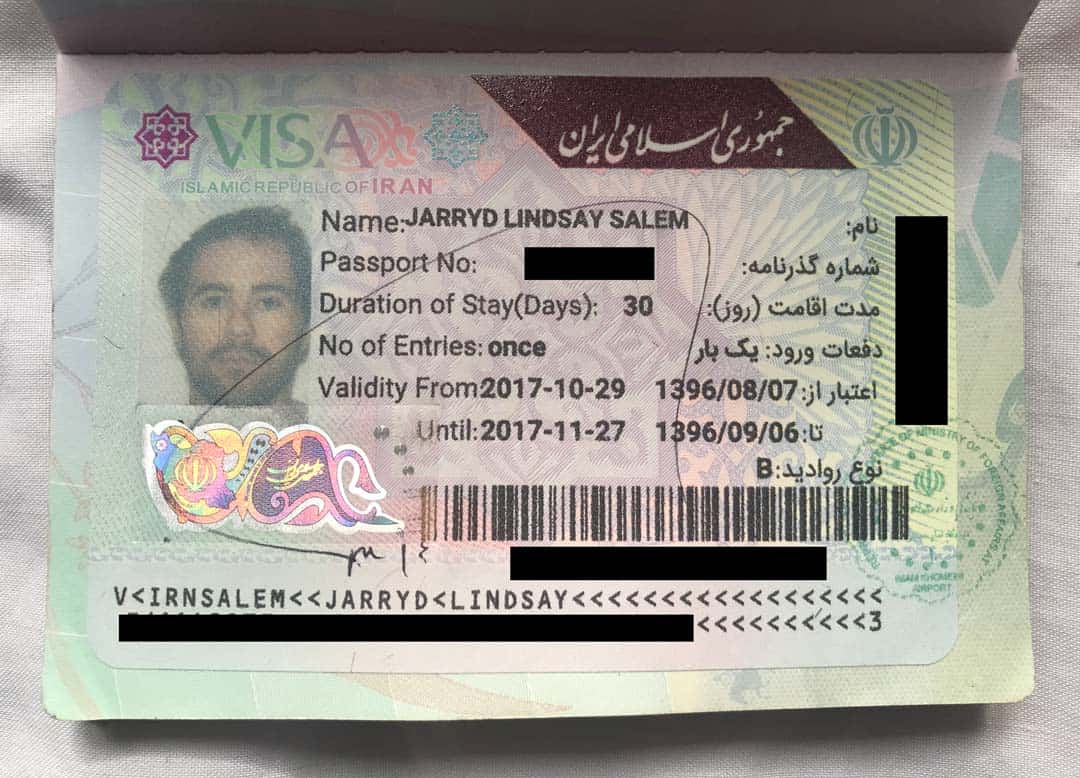 You Need to Dress Appropriately
This follows on from the customs section above, but in a bit more detail.
Iran is an Islamic country, and as such you need to follow the Islamic dress code. Here are some things to keep in mind.
Females
Women need to cover their arms, legs and head. This including a Hijab, loose long length shirt with long sleeves and pants.
Leggings or tight jeans are ok as long as your top is long and covers your bottom. When wearing pants, you need to be covered down to your ankles.
The most common way to cover your head is with a scarf. The local women wear bright colours and are very stylish with their clothing, so don't think you need to wear all black.
Black is still worn a lot but not so much among the younger generation.
You can wear sandals. Some guesthouses and hostels will allow you to take your headscarf off on their premises but do check first.
Males
Men aren't allowed to wear shorts in public, so bring long, lightweight pants as the best option. T-shirts are fine to wear in public. Men can wear sandals too.
If you do wear inappropriate clothing it's not the end of the world, and besides some angry looks from some of the older generation, you'll probably just end up having a friendly local let you know what's best to wear.
In Tehran, the locals push the limits in terms of what they wear in public. At the end of 2017, an uprising occurred and supposedly women were no longer required to wear the Hijab in public in Tehran, but wait until you are in the country to find out for certain.
Have a Head Scarf in Your Carry-On Luggage Before Arrival
When you land at the airport, it is respectful to put a scarf straight on your head ladies. This will cause no trouble for you by locals or the officials at the airport.
Once you're in the air on an international flight you'll see most young ladies take their hijab as soon as the plane leaves the ground. Just follow what the locals do.
Bring a Phrase Book or Have Google Translate on Your Phone
We were quite surprised to discover that a lot of Iranians could speak a little bit of English, but that wasn't always the case, so do yourself a favour and bring along something that can help translate English to Persian.
We always travel with Google Translate and offline languages saved on our phones, but at times having a phrasebook is the best (and most social) way to interact with people who don't speak any English.
Remember, you are in a country that doesn't have English as an official language, so don't be that rude tourist that gets upset if people aren't understanding you.
Persian (Farsi) is difficult, and no locals expect you to learn much beyond hello and thank you while you are there, but do your best anyway as a few extra words will go a long way in showing respect.
Also don't be surprised if you are constantly invited out for tea with people so they can practice their English. If the opportunity comes up, make time for it, as it's an amazing experience for both the local and yourself.
Bring a Lot Of Cash
Don't forget your cash when visiting Iran, as none of the ATMs in the country accepts foreign credit or debit cards thanks to the embargo. So if you forget to bring all of your cash for your entire trip, you're out of luck.
Figure out what your usual budget is for a trip ($50 a day, $100 a day, etc), then bring a bit extra just in case. USD is best for all around the country but Euros and British Pounds are also accepted in Tehran.
There's two exchange rates in the country – official rate and black market rate – and the black market rate is of course much better.
We actually found an exchange booth at Tehran airport that gave pretty close to the black market rate, so we traded some cash there.
As a tip don't exchange all of your foreign cash into Rials at once, because you'll either get ripped off on the exchange rate back if you have any left over, or you'll be unable to trade it outside of the country.
Also don't be too concerned about travelling around with thousands of dollars in your backpacks. As we mentioned earlier theft is rare. Do keep your money stashed in different spots though just in case.
UPDATE: If you'd prefer not to carry all your cash with you, can actually pre-order a local Iranian debit card from the company, Mah Card. It works just like a normal debit card in your home country.
You order it on their website and they'll deliver it to your hotel in Tehran when you arrive. They have an online system too where you can top up the funds if you're running low.
Use the code 'NOMADASAURUS' at check-out to get a 40% discount on the card when ordering. Instead of a 19 Euro issue fee, our code brings it down to 11 Euro.
The Currency Has Two Names
"Toman or Rial?" Get used to asking that question, because if you don't it could end up being a costly mistake.
The currency in Iran is officially known as the Rial, and is valued at roughly 30'000 IRL to USD$1. That's a lot of zeros, so what the locals have started doing is dropping a zero and calling the new value a Toman.
1 Toman = 10 Rial
When you hear prices quoted in Tomans you need to add a zero on the end and pay the amount in Rials. It sounds confusing, but you'll pick it up pretty quickly.
That's why it's important to always ask Toman or Rial, so you don't accidentally pay too much on an item. Most vendors quote in Tomans anyway, so chances are if the price seems too good to be true, you need to multiply it by 10.
Rumour has it that Iran will officially introduce Toman as a currency in the coming years, but that hasn't come into effect yet.
Bring Comfortable Footwear
You are going to do a lot of walking in Iran, so bring comfortable footwear. The towns here are so amazing that you'll probably end up walking at least 10km every day, so look after your feet.
These don't necessarily have to be hiking boots (unless you're planning on doing some treks). Just make sure you have some flat shoes that you can wear all day without a problem.
Don't bring heels. You don't need them, and you won't wear them. We had a pair of hiking shoes each and a pair of sandals. That was perfect.
Research the Food and Don't Just Eat Kebabs
Persian food is varied and delicious, and there's plenty of different styles to try, so be adventurous!
Most people travelling on a budget will end up eating falafel sandwiches when they're in Iran because they are cheap ($1 !), filling and delicious, but there's plenty more to Iranian cuisine then just kebabs.
We don't consider ourselves to be foodies, but luckily we were travelling with our good friends Dan and John and they are all about culinary travel, so they had a huge list of food they wanted to try. And boy were we thankful they did!
They had looked up the different types of food they wanted to try, so we basically followed their advice and tried it all. Of course, it was super delicious too.
One particular dish we all loved was dizi. It's quite confusing how to eat the first time, so we had the restaurant owner show us how to mix and grind all the ingredients. If she didn't show us, we wouldn't have a clue how to eat it.
If you are a vegetarian, there are food options but they can be limited. There is a lot of eggplant, lentil and chickpea dishes. There are simple salads and rice also.
Try to get away from the popular tourist areas as well, as the prices are going to be a lot higher than the average place.
Move away and you will be surprised how much the price drops, and the portions are larger. If you are passing a local restaurant and it is packed with locals, that is going to be a winner.
Bring a Backpack Rather Than a Suitcase
We always recommend people travel with a backpack rather than a suitcase, but this is especially useful when you visit Iran.
The road and paths are uneven, and wheeling a suitcase would be a nightmare. A lot of hotels don't have lifts, so unless you're feeling strong it's going to be hard to carry your suitcase up a lot of flights of stairs.
Always choose a lightweight backpack that fits you perfectly for the best support.
There are also hybrid backpacks, that have harnesses and wheels on the bottom for the times where you just don't want to carry it.
Draw Up an Itinerary, But Keep it Flexible
Unless you are on a whirlwind 7-day trip of the country we recommend you design an itinerary of what you want to see and do, but don't book anything until you are in the country.
Iran is one of those countries that is best to research beforehand so you can make the most of your time and you don't miss anything, but don't be surprised if some places you end up liking more than others.
Be willing to change your plans if you get somewhere that you want to stay an extra day, or if you meet a backpacker that raves about one town you hadn't considered before.
Don't stress about booking buses, flights or trains before you arrive. Everything can be booked in-country, for a much cheaper price than you'll find online.
By not locking in your travel plans, you can change and swap your itinerary easy enough.
Disclaimer: The one time that you may need to book everything ahead of time is during Nowruz, which is the Persian New Year. If you're planning on travelling to Iran during this time (it happens around the spring equinox in March) you'll find things are extremely busy with millions of locals travelling around the country to spend time with their families too.
Looking for somewhere else to check out when you visit Iran? Don't miss our article on the best things to do in Shiraz!
Let Your Guard Down and Talk to Locals
One of the best experiences you will have in Iran is spending time with all the friendly locals. And trust us, you'll get plenty of opportunities if you are open to it.
The city squares are usually where locals will approach you to welcome you to their country, have a chat and practice their English.
Don't shy away from this, even if you are a solo traveller. We found out so much information about Iran and how the locals live simply by chatting away.
Most people asked us questions about where we are from and were very happy to answer our questions. It was a true insight to Iran and we made some beautiful friends from it (many of whom we still keep in contact with).
Don't be surprised if you get a lot of invitations to people's homes as well, and this may be one of the few countries where we'd say hanging out with strangers is highly encouraged. The Couchsurfing scene is huge here too if you're into that.
Do be wary of some people who will take you to an expensive tea house though. They are nice people, you will have great conversations, but they can be a little cheeky.
Also always look at the menu before you start ordering to make sure they haven't taken you somewhere that has crazy prices.
Some will invite you out and try to sell carpets to you. If you are not interested just be firm and move on with the conversation.
We only had this happen to us once out of more than a dozen great experiences, and once we made it clear we weren't buying a carpet we still had a great chat with him.
There is only one thing with all this – Expect to be stopped every few minutes by people wanting to chat! Make sure you're mentally prepared when you go out around town to have a million friendly conversations.
Always Ask the Price Before Buying
You shouldn't just do this in Iran, you should do this everywhere you travel, but it's important to keep in mind.
In some countries, there are tourist prices and local prices. To be honest, we almost never felt ripped off here, but it did happen occasionally.
Before you buy anything, whether it's a souvenir, a meal, a pot of tea, a tour, a taxi ride or whatever, ask to see the menu or how much it will cost to avoid any unpleasant surprises.
Get out of the tourist squares too. Chances are if you walk a couple of blocks outside of those popular areas, the prices will drop dramatically.
When buying survivors, ask the price at a few places, get the vibe from the person/place and then buy. Try your bartering skills, but don't be offensive.
We always try to settle in the middle so both parties are happy. This is their business and they need the money more than you do.
Book Domestic Flights with Your Accommodation or Travel Agent
If you are flying domestic, book through an agent or your local guesthouse in the country. All the local airline pages are in Persian, and these are where the best deals are.
Online booking agencies like Skyscanner and Momondo will not bring up these flights. We were in the west near the Iraqi border and wanted to fly to Tehran. Our local guesthouse helped us out and we booked it for $50 USD including snack and bags.
They were charging $200 USD on one of those online booking agencies above. We never were questioned at the airport about the local price and everything went smoothly.
If you're not travelling in a group of four, ask at your guesthouse or talk to other travellers to see if you can share the cost of a driver with them.
Sometimes hiring a driver between towns as private transport would work out to be the same price as 4 bus tickets. You get there faster and can stop when you like along the way.
This will save you money and you might even make some awesome friends out of it.
Be on Time for Your Appointments
Iranians are very punctual. If you plan to leave for a tour at 8am be in reception at 7:45am, and the driver will most likely already be there.
Buses and trains also won't wait for you if you aren't there. The last thing you want to do is miss your tour because you slept in or hadn't packed yet.
If you're heading to the airport, bus or train station make sure you leave plenty of time in case of bad traffic.
The Traffic is Horrible
When we say horrible, we're being polite. The traffic in Iran is actually insane.
If you're exploring Tehran don't be surprised if you have plenty of "Holy s**t!" moments as you go to cross the street or you get around in taxi.
It's not that Iranians are bad drivers…they just don't have a concept of space when driving around. In one way it's almost as entertaining as it is scary.
No one is actively trying to run pedestrians down, but if you do try to run the gauntlet of crossing a busy road it's best to wait for a local to join them on their hell-bent journey to the other side.
You Need a VPN to Access Some Social Media Platforms
Some social media platforms are banned in Iran and you cannot access them without a VPN (Virtual Private Network).
You cannot access Facebook, Facebook Messenger, Twitter, YouTube or Pinterest. You can access Instagram, but the rest only with a VPN.
We used ExpressVPN and had no issues. Here is a link to get your first 30 days for free.
Make sure you download your VPN before you arrive in Iran, because a lot of the VPN sites are blocked by the government.
If you can, we also recommend having access to a few different VPNs, because every now and then one might be blocked in Iran.
ExpressVPN worked for us during our trip, but some people have reported that it didn't work during their own trip. Last we heard it's back up and running properly now though.
There is Wifi, But Be Patient With It
Most of the guesthouses we stayed at had free wifi, but don't expect it to be fast.
Some hotels had wifi available in the rooms, while others were only in the reception area or dining rooms. It all depends on how upmarket your place is. In popular cities, tea and coffee houses had wifi also.
One thing to keep in mind though is that just because there is wifi at your hotel, be respectful on how much you use it.
There are no unlimited data plans in Iran, so the hotels have to pre-purchase data in small packets.
Please don't be that person that streams Netflix or tries to download the new season of Game of Thrones, because all that will happen is you'll end up using all the net for everybody else in the hotel, and cost the owner more money.
Yep, we met a guy that did just that in Varzaneh, and because it was a weekend it meant nobody in the hostel could get internet until Monday. Thanks, mate.
Pick Up a Local Sim Card
Despite what you may have been told, you can buy a local sim card in Iran as a foreigner, and it's a great idea to do so.
This way you can call hotels to make bookings use WhatsApp and Snap (more on that below) on the go, and keep in touch with friends and family back home.
We bought up a sim card with the telecommunications company IranCel through our hostel in Tehran, however, they marked the price up by double.
We found out later that you can buy sim cards at the airport or at any store, so our suggestion is to do this yourself.
When going into the phone store bring your phrasebook or a local friend. You will not need to show any ID, just pay in cash, but it helps to have your passport with you just in case.
You can top up at little general stores that display the IranCel sign. They will do it all on your phone and charge a small fee for their time. Please don't argue with that, it's maybe 25c USD.
We were getting 5GB of data for about $10 USD.
Iran Has its Own Uber Called Snapp
There is an app in Iran called Snapp, and it is similar to Uber. It's a rideshare app where drivers register and customers can order cars to get around town.
This was a lifesaver for us!
What makes Snapp so great is that a price is determined by the app and you pay in cash once you get to your destination. There's no metre, so the driver will take the most direct way possible.
When you book it you'll get the driver's name, their car model and their registration number, so you know you're getting in the right vehicle.
Yo drop a pin on a map for where you want to go, so there's no need to try and explain it to the driver in case he doesn't speak English (or your pronunciation is crap).
The other added benefit is you can rate the drivers afterwards, so they are more likely to be honest rather than a taxi driver.
The only thing is you cannot easily download it onto an iPhone, as Apple is an American company and does not support Iran. It doesn't show up in the App Store.
If you go to the Snapp website you can download it to your Apple phone through a special link there. Downloading it on an Android phone is easy with no issues.
You Can Drink the Tap Water
This one was a big surprise to us, but you can drink the tap water just about everywhere in Iran.
It's totally safe to drink, even if you're new to the country, so don't worry about buying plastic water bottles everywhere you go.
Bring a reusable water bottle instead and simply fill up as you go.
Don't drink river water tough if you are out hiking.
Good Coffee is Hard to Find
Iran is a nation of tea drinkers, so it's no surprise that you'll get delicious fresh tea for cheap (or free) just about everywhere.
But what about us coffee drinkers??
The bad news is that getting good coffee is very hard in Iran. Despite their close proximity to places like Turkey, the coffee culture phased out years ago and so now the best you'll find is usually those horrible instant packets.
There is a silver lining though, and some entrepreneurial locals have discovered that coffee is basically the second greatest thing on earth (after a delicious IPA, which you also can't get in Iran), and some Western-style coffee shops are popping up in major towns.
They're not cheap, but when you need that caffeine hit in the morning it's totally worth it.
There's a Female-Only Carriage on the Metros
These are basically sections that males aren't allowed in to stop accidental touching of non-related mixed genders, but it also adds a sense of security for women taking public transport.
Occasionally if the mixed carriages are full you'll see one or two men in the female ones, but they tend to stand next to the door away from everyone.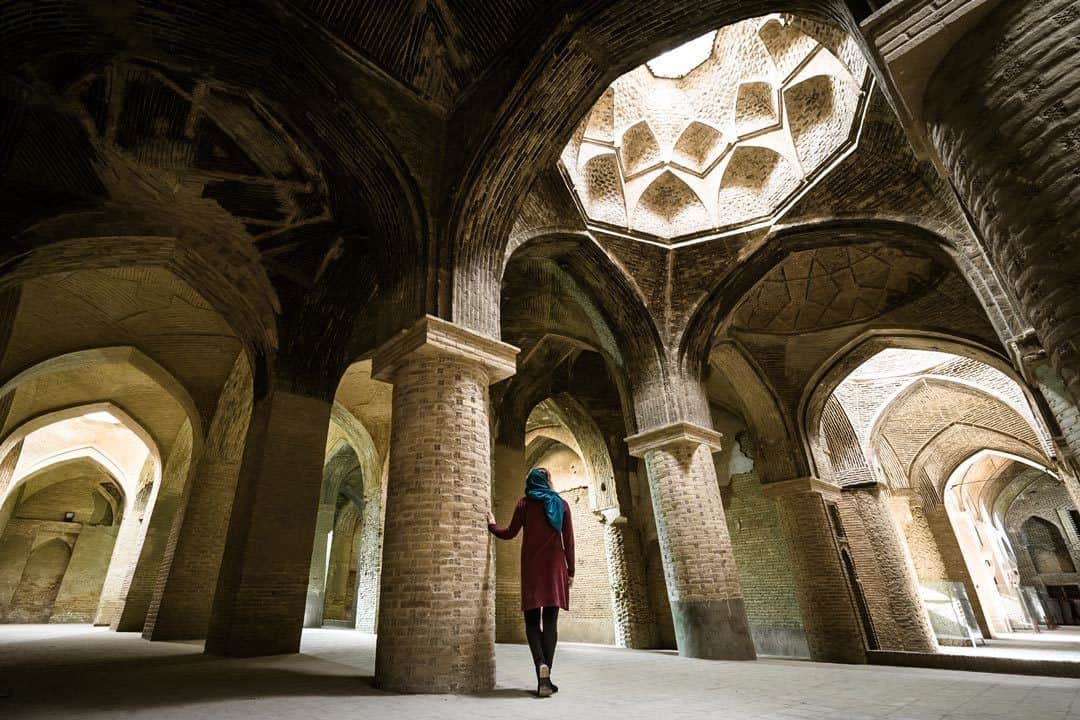 [box] Those were just some of the things you need to know before you visit Iran. Has the article helped you? Do you have anything else to add? Leave a comment below and let us know![/box]