From discovering poetry in the city of poets itself to walking through 2,500-year-old ruins of a fallen empire, these are just some of the best things to do in Shiraz.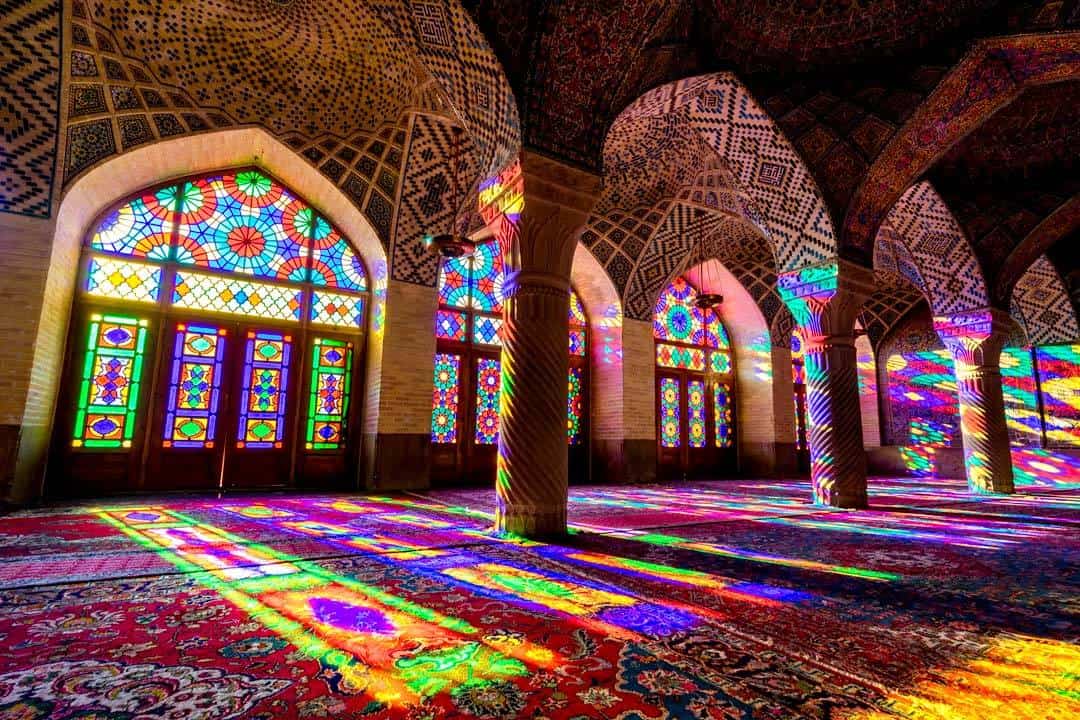 For over 2000 years, Shiraz has been known as the epicenter of Persian civilization. It was the capital of Iran during the Zand dynasty (AD 1747-79) and arguably the most important city in the medieval Islamic world.
It's little wonder then that the capital of the Fars Province is one of the most popular destinations in Iran.
You won't have trouble finding things to do in Shiraz. Wander its streets, get lost in its gardens, barter at the bazaar, admire stunning mosques or try the rich tastes of Iranian wine (if you know where to look).
Whether you're a history buff, into poetry, art or nature, Shiraz has something to offer for everyone.
To experience Persian history more fully you'll need to venture outside Shiraz and visit Persepolis. A glorious city-palace complex designed to showcase the wealth and power of the Persian Empire. Its existence has been documented over 2,500 years ago!
You can visit during any season due to its mild climate, but if you want to experience all that Shiraz is famous for, travel in spring. You'll get the pleasure of enjoying the strong smell of jasmine in the air, nightingales and orange blossom tea.
Don't miss our article on 25 things you need to know before you visit Iran!
Things To Do in Shiraz And Interesting Places to Explore
We spent three days hanging out in the city of poets, and really enjoyed our time there. While Shiraz is best known for the stunning Pink Mosque and the historic Persepolis, there's so much more to see in Shiraz.
Here is our list of some of the best things to do in Shiraz.
Visit The Pink Mosque For Sunrise (Nasir al-Mulk Mosque)
This Qajar-era mosque was built in 1888, and even though it is not a big mosque, it is by far the most popular place to visit in Shiraz.
The Nasir-al-Mulk, better known to tourists as the Pink Mosque, is an incredible piece of architecture and has been made famous thanks to viral pictures of sunbeams breaking into the prayer room.
Arrive early to see the sunrise seeping through the beautiful stained glass windows, and you will see why dozens of photographers and visitors flock to this mosque every day – It is amazing.
Once you've captured your photos head outside and explore the beautiful courtyard. This mosque is different to the others found in Iran thanks to the beautiful pink tiles that adorn the walls, giving it a calming and peaceful atmosphere.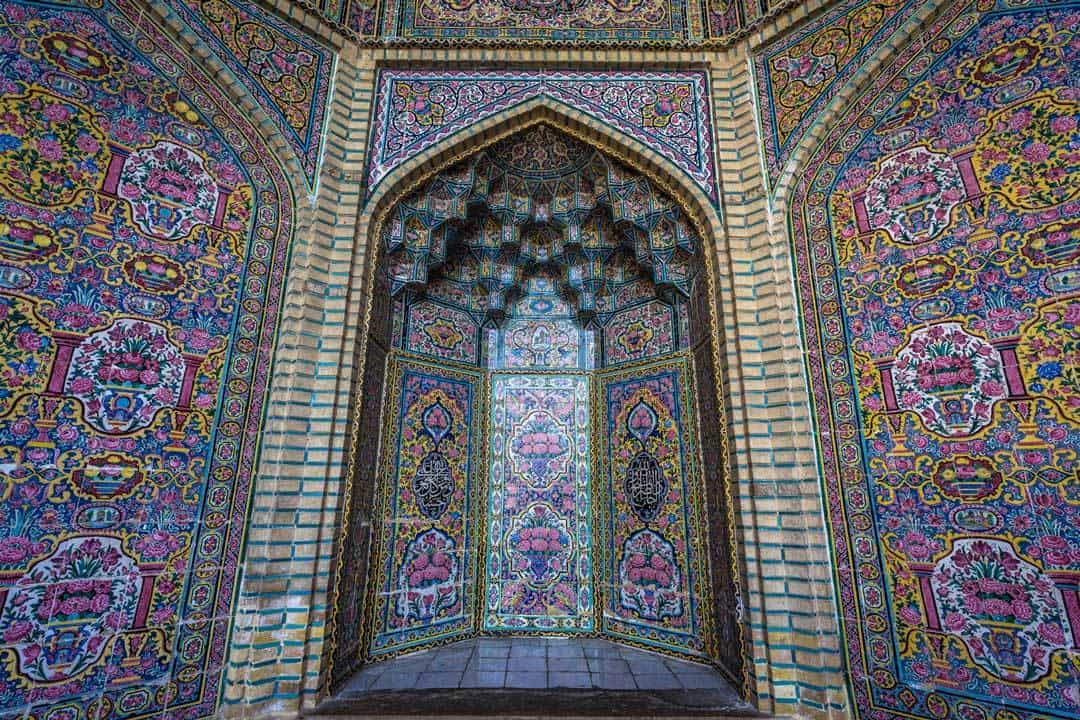 There are multiple rooms to wander through besides the prayer room with the stained glass, so make sure you walk around.
In one corner is an excellent little museum and art gallery, and the curator is very friendly. If he invites you to join him for a cup of tea, do it. He also speaks excellent English.
The Pink Mosque is one of the best things to do in Shiraz, but take our advice and make sure you get there before it opens to beat the crowds!
Address: Fars Province, Shiraz, Lotf Ali Khan Zand Street
Opening Hours: every day from 7 AM – 5 PM
Price: 200,000 Rials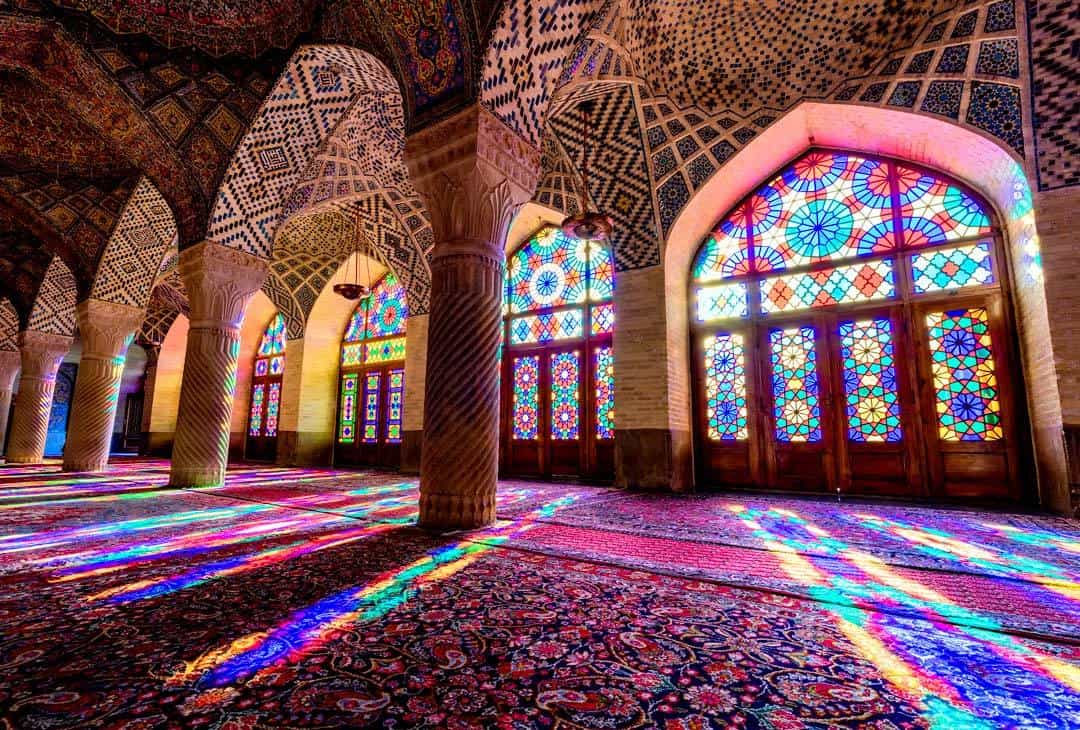 Go On A Tour To Persepolis
Remnants of the capital of the mighty Persian Empire are only 45 min drive away from Shiraz.
King Darius the Great founded the city in 518 BCE and used it primarily as a reception centre and for ceremonious festivities. Persepolis today is a UNESCO world heritage site.
Even by looking at today's ruins, you can see the wealth of the Persian Empire reflected in its construction. At the time, Persepolis was the richest city under the sun!
Some of the reliefs are in excellent condition while the other parts of the site do show signs of devastation made by Alexander the Great. What remained of Persepolis even after the fire and centuries of sand covering is still majorly impressive.
Revel in the 2,500-year-old architecture, beautiful staircase decorated with bas-reliefs, several palaces, a government treasury, guard houses and imposing gates.
To make the most out of your visit book a tour! You will not have the time to read a whole book while you are on site, and the stories behind the reliefs are worth knowing. Having a guide will show you some peculiarities that you could otherwise miss.
Plan your visit for the morning, as the sun is scorching as the noon approaches. It is mandatory to bring something to cover your head to protect yourself from the heat.
Comfortable shoes are also more than welcome if you want to see the best view. Walk up the hill to the tomb of Artaxerxes!
We booked our tour with 'Mr Persepolis', and he organised our transfer, local English-speaking guide, and for us to stay a little bit longer so we can take photos at sunset. You can find him on Instagram, or on Facebook as 'PeyMan'.
Opening hours: in summer, every day from 8 AM – 8 PM; in winter every day from 8 AM – 6 PM
Price: 200,000 Rials
Walk Through Shah-e-Cheragh Shrine
Shah-e-Cheragh Shrine is a famous pilgrimage center, well-known for being home to the tombstones of the brothers Ahmad and Muhammad. The brothers escaped here during the Abbasid persecution of Shia Muslims.
In the 14th century Queen Tashi Khatun erected a mosque and a theological school thus transforming it into a pilgrimage centre.
It's one of the most important pilgrimage centres in Iran – after the shrines of Imam Reza in Mashhad and Fatima in Qum.
The interior of the mosque is beautiful – there are at least a million small pieces of glasswork which will leave you in amazement.
The exterior is equally stunning – the tomb is famous for its onion-shaped dome made from thousands of pieces of crafted tiles. There are also two short minarets, located at both ends of the main column of the temple, which contribute even more to its grandeur. The shrine is surrounded by a spacious courtyard.
The beauty of the temple is the most evident in the evening when the lights of the temple attract the attention of passers-by.
The mausoleum of Mir Muhammad is also part of the complex. But unfortunately, the entrance is not allowed to non-Muslims, unless you know a local who'd be willing to arrange your visit.
Address: District 8
Opening hours: every day from 9 AM – 10 PM
Price: Free of charge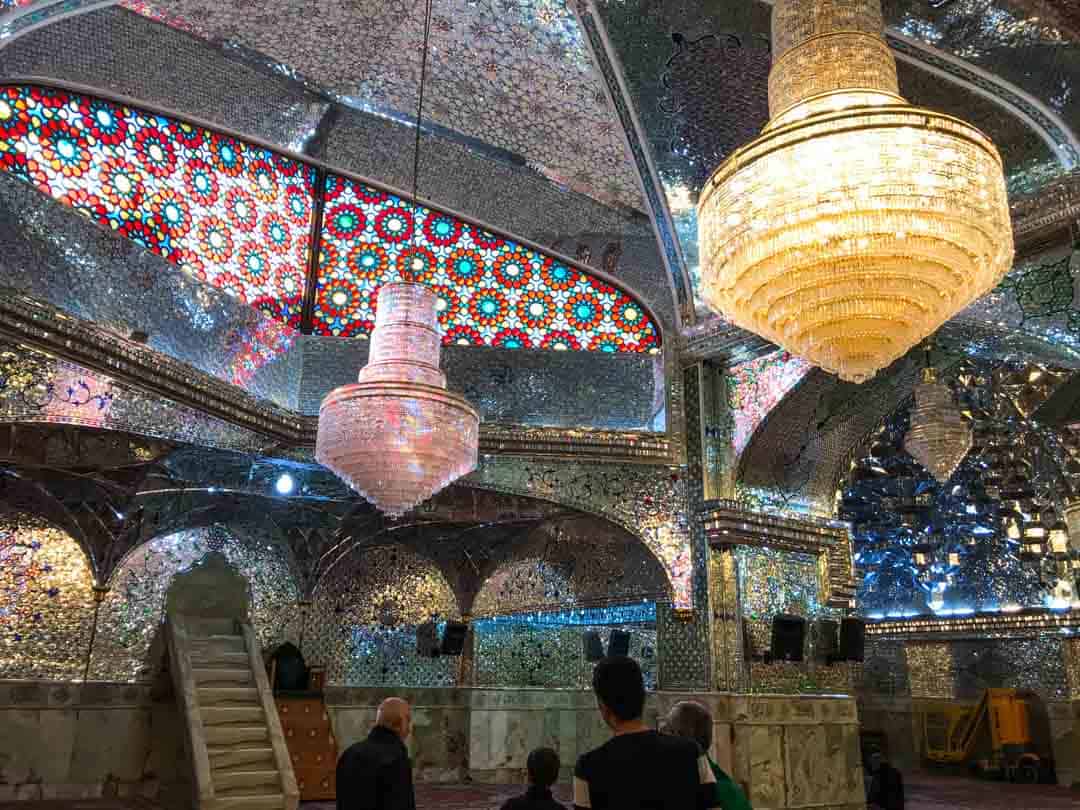 Wander Around The Streets Of Shiraz
Once you visit all the main spots in the city, take some time to wander its streets and soak up the atmosphere. Shiraz is really beautiful and its streets are brimming with activity.
There are a lot of interesting shops and places to eat, and everything is within walking distance!
You'll be enveloped in this city's strong culture. The gardens, mansions, tombs all laced with intricate details of remarkable history.
Do not hesitate to talk to locals, especially youths. Almost everyone speaks English well enough to hold a conversation.
Everybody is more than welcoming and they are usually interested in getting to know you. They are very hospitable, so don't be surprised if some of them even invite you to be their guest.
So don't be afraid to get lost in the chaos of the streets, smell fresh herbs and spices at the markets, and don't forget to try their pistachios!
Do Some Shopping In The Vakil Bazaar
Vakil Bazaar is the biggest and the most famous bazaar in the city – it's a Shiraz must see!
According to some sources, the bazaar was established in the 11th century AD (yes, you've read that right!), but today's appearance it got somewhere around the 18th century after it was completed by the Atabaks of Fars.
The bazaar was commissioned by Karim Khan, who wanted Shiraz to become a well-known trading center. It was built of brick, limestone, and chalk, and as such it's one of the most beautiful in Iran.
It's going to be a little bit difficult to focus on merchandise that's being sold here when there's so much history around!
The bazaar has beautiful courtyards, bathhouses and old shops. As for the merchandise, here you'll find anything from Persian rugs, spices, sweets to antiquities.
You will also be able to test your bargaining skills here and enjoy the vibrant atmosphere.
When you're done exploring bazaar you can talk a walk to see some of the most beautiful buildings. There are a few mosques in close vicinity to the bazaar, which is typical for Middle Eastern markets.
If you get tired of exploring and shopping, you'll also find a number of cafes and restaurants located within the bazaar. You can rest with a cup of tea or taste some traditional delicacies of Shiraz.
Opening hours: Saturday – Thursday from 8 AM – 9 PM
Explore The Vakil Mosque
The Vakil Mosque is located just next to the Vakil Bazaar and was built between 1751 and 1773 during the period of Zand dynasty.
Vakil means regent, a title Karim Khan used during this rule. The mosque was restored in the 19th century during the Qajar period.
The mosque is an architectural jewel – it simply amazes the viewer with its size and art.
There's a large courtyard with a pool in front of the mosque, which even more emphasises its beauty.
The entrance gates are decorated with colourful tiles in floral-shape patterns. The floral tiles are characteristic for the Qajar period. What's unusual about this mosque is that it only has two iwans instead of the usual four.
The Night prayer hall is one of the most impressive areas of the mosque, which contains 48 monolithic pillars.
Before entering the mosque, women will be asked to wear the chador a full head-to-toe covering, which will be provided at the entrance.
Address: Taleghani St.
Opening hours: in spring and summer, every day from 8:30 AM – 8:30 PM, in autumn and winter, every day from 8 AM – 8 PM
Price: 150,000 Rials
Smell The Flowers At Eram Garden
One of the most stunning things to see in Shiraz is undoubtedly the historic Persian garden called Eram.
The garden is located in the northern part of the Khoshk river. Some sources show that the gardens were built between 11th-14th century during the rule of Seljuk Dynasty, and were later restored by the Zand Dynasty.
Today, the Eram garden is part of the Shiraz Botanical Garden which was established in 1983. The botanical garden is run by the Shiraz University and it's listed as a UNESCO World Heritage Site.
Eram is Persian for Arabic word 'Iram' which translates to heaven in Islam's holy book Quran. With its beautiful flowers and trees that date back to 3000 years ago, it's no surprise why the gardens wear this name.
Mohammad Qoli Khan, a Qashqai tribal chief, commissioned the construction of the beautiful mansion, which takes the central part of the garden. The mansion is one of the most impressive parts of the garden.
Spend a whole day in Eram garden and enjoy the blossoming flowers and the shade of the towering cypress trees. It's one of the most relaxing places to visit in Shiraz.
Address: District 1, Eram St
Opening Hours: every day from 8 AM – 8:30 PM
Price: 250,000 Rials
Read The Love Poems At Tomb Of Hafez
The tomb of Hafez and the nearby memorial hall, were built in the memory of the famous Persian poet Hafez.
They were built in 1935 by the French architect Andre Godard, at the site of the previous structure built in 1773.
The tomb is one of the most important Shiraz attractions in the city of Shiraz. It is surrounded by beautiful rectangular pools, trees, and paths.
Many of the items in the garden are engraved with Hafez poetry, much of it in the exact parts of the garden that the poems themselves were written about or written in.
The tomb of Hafez is one of the most popular meeting places in the city for locals. You can understand why while you stroll through Musalla Gardens which were mentioned often in Hafez' poetry.
Hafez is considered the greatest poet in Persian culture. He wrote about love, faith and was an excellent satirist – critiquing politicians and rulers of his time.
It's a truly important place for the locals, they feel immense pride of Hafez who was a Shirazi like themselves. If you want to understand the meaning of the poems, ask anyone around you.
Everyone would be more than happy to help you with the translation and explain the meaning to you.
Location: District 3
Opening hours: every day from 8 AM – 10 PM (except Friday, open until 11 PM)
Price: 200,000 Rials
Shiraz Travel Guide
Now that we helped you come up with a list of what to do in Shiraz, we also created a list of suggestions of restaurants and accommodations no matter what your budget is!
Where To Stay In Shiraz
Being one of the most popular cities in Iran, Shiraz has a huge selection of accommodation available. Whether you're into luxury 5-star hotels or cheap-as-you-can-get hostels, you'll find something for every budget.
For us we fall in the category of 'affordable, comfortable guesthouses', and would prefer to spend a few extra dollars to get a place that is clean, secure, and ideally with wifi and free breakfast.
We're not looking to break the bank by any means, but we've backpacked on the cheap for long enough, and a few extra dollars in Iran goes a long way in terms of quality.
We found ourselves at Forough Boutique Hotel, and we have to say it was probably one of the best accommodations we found in all of Iran.
Tucked away in a bit of an odd location down a side street near Niayesh Boutique Hotel (the main popular backpacker digs in town), but still right in the heart of all the main attractions, Forough Boutique Hotel really is a gem of a place.
It's set around a large courtyard and is in a real traditional Iranian style, with beautiful carpets and tiles adorning the walls. In fact this place is more like an old mansion than a hotel.
The rooms are spacious and comfortable with clean private bathrooms, and most importantly air conditioning for those hot Shiraz days and nights.
A normal Persian breakfast is included of bread, jams, eggs, tea and even coffee. The staff are friendly, and the free wifi works decently, although you need to continually be getting coupons off of the receptionists to get more data.
Best of all they have a cafe that serves real coffee! We're talking lattes, cappuccinos, etc, at very reasonable prices. We'd often spend an hour or two in the afternoon sitting on the roof, drinking coffees and talking with other guests.
We really liked our stay at Forough, and would highly recommend it to anyone with bit more of a budget looking for somewhere clean and comfortable.
Call them for the best price. They speak good English.
Name: Forough Boutique Hotel Shiraz
Address: Namazi intersection, Dastgheib Street, Shiraz
Phone: +98 713 222 5877
Price: USD$40 per night for two people.
Where To Eat In Shiraz
While Shiraz does have lots and lots of restaurants, to be honest we had a hard time finding somewhere good and affordable to eat, except for one (at the bottom of this section).
A lot of the places that offered traditional food in the downtown area were a bit on the pricey side for us, so we ended up resorting to the good old staple, falafels.
On the plus side though, we found some damn good falafels!
The best ones we found were in a little kebab shop on Loft Ali Khan Zand St, just around the corner from our guesthouse and opposite the bakery. Sorry we don't have an exact location, but it was about $1.50 for a great falafel sandwich.
On our second last night we went on the hunt for some shisha, and ended up on the rooftop of Niayesh Boutique Hotel, right near our place.
They offered amazing views, good music, a friendly vibe and relatively cheap shisha and tea in a traditional setting. We loved it so much we went back the next day.
We also decided to try some food there in the downstairs section, and while it was decent, it wasn't great. Still it was the best we found that wasn't falafels, so worth checking out.
At the very least, go to their rooftop for shisha!
How To Travel To Shiraz – Transport Options
There are four different ways to travel to Shiraz – plane, bus, train and taxi. Depending on your time and budget, we'd recommend flying or taking the train.
Personally we came from Yazd in a private taxi transfer, and really enjoyed it because we added on stops at the UNESCO sites of Pasargadae (the Tomb of Cyrus) and Naqsh-e Rustam (the Necropolis).
The bus network connects Shiraz with all the major destinations in Iran, and you can buy tickets either through your hotel, at a travel agency, or directly at one of the stations. Karandish Bus Terminal is the main one.
Trains also join up with Tehran, Esfahan, Mashad and Ahvaz, and are a much nicer way to travel, although they can often take up to twice as long. Book well in advance if you want to ride the train.
By far the best way to get into and out of Shiraz is via the international airport. With connections to all destinations in Iran, as well as to places like Istanbul in Turkey, it's a great place to either start or end your trip to Iran.
Our tip is wait to book your domestic plane tickets in the country if possible. Locals have access to Iranian booking websites that are a fraction of the price of the main ones foreigners get abroad.
[box] That's it for our article on the best things to do in Shiraz! Did we leave anything out? Leave a comment below and let us know![/box]