From diving to hammerhead sharks to hanging out with giant tortoises, these are the best things to do in San Cristobal in the Galapagos Islands!
The Galapagos Islands is arguably the best destination in the world for wildlife encounters, and for most travellers it sits high on the bucket list for places to visit.
If you're planning a visit to the Galapagos Islands you have two ways to explore the archipelago – One is on a live-aboard cruise (which we highly recommend), and the other is to choose one of the inhabited islands as a base and do excursions from there.
If you're trying to travel to the Galapagos Islands on a budget then your best option is going to be to pick an island and stay there. Luckily that doesn't mean you have to miss out on anything!
The three mosts popular islands to stay on are Santa Cruz (which is also the busiest), Isabella (which is the most remote) and San Cristobal.
After doing our research we decided to spend a few days on San Cristobal Island after our two weeks exploring the archipelago by ship, and we're glad we did.
San Cristobal is the quieter of the 3 main islands, and that results in having a beautiful, relaxed, tranquil vibe, that one would expect from an island in the middle of the Pacific Ocean.
Things To Do In San Cristobal
For the wildlife lovers there's also a tonne of insane encounters that are possible right there on San Cristobal. Whether you want to hang out with sea lions, study the marine iguanas or go snorkelling with sea turtles, you'll be spoilt for choice.
Here are some of the absolute best things to do in San Cristobal, Galapagos Islands.
If you're looking for multi day tours from the island, check out the options on Get Your Guide.
Study The History Of The Archipelago At The San Cristobal Interpretation Centre
No matter what your plans are in the Galapagos Islands, once you arrive this is one of the first places to visit in San Cristobal.
The interpretation centre explains the history of the islands with detailed information and illustrations about the wildlife and indigenous vegetation.
It is presented in a chronological order so you can self-guide through the history and significance of the Galapagos Islands at your own pace.
It also explains human's roles and continuing story of evolution, culture and findings. The Galapagos Islands have many different programs to protect the environment and the unique wildlife.
Once you visit the Interpretation Centre you'll have a much better understanding of the current climate in the Galapagos Islands.
Address: Avenida Alsacio Northia, Puerto Baquerizo Moreno
Opening hours: every day from 10 AM – 8 PM
Price: free of charge
Go For A Hike Up To Cerro Tijeretas
Just behind the San Cristobal Interpretation Centre is a walking path that leads you to the top of Frigate Bird Hill, which offers a sensational view over Shipwreck Bay to the south, and a great vista of the famous Kicker Rock to the west.
It will take you about 45 minutes to an hour (depending on your fitness level and how many times you stop to take photos) to walk to the top of the hill to get an amazing view.
The trails are well looked after and paved the entire way. After you exit the Interpretation Centre follow the paved path up into the shrubs.
The path will soon split – to the right is a big rig and lookout stations and to the left heads towards Playa Punta Carola.
From the beach the path splits again and you can go to Charles Darwin's Statue, or up the ridge to the main lookout.
If you go to Charles Darwin's statue, you can snorkel here. It is better to go at low tide, because at high tide the waves can be a little strong and may push you up against the rocks.
Once you have reached the top of the ridge there is a path along the top you can follow. The lookout spots along the ridge are beautiful and you can see all the frigate birds closer in the trees.
If you are a keen hiker you can follow the path down the other side of the ridge for about another hour, which will take you to a secluded beach called Playa Baquerizo.
This path is not paved so be careful with your footing. Definitely bring your snorkelling gear, water and some snacks.
There are many places in town that rent out snorkelling gear or just ask your hotel, as it may be included in your stay.
We do recommend doing this hike in runners or hiking shoes, as the ground can be uneven, and bringing some hiking poles if you have any injuries.
This is a really enjoyable hike though, and the best thing is it is one of the best free things to do in San Cristobal!
Go Snorkelling Or Diving At León Dormido (Kicker Rock)
Kicker Rock is one of the most well known sites in the Galapagos Islands. It's actual name is León Dormido, meaning Sleeping Lion.
The formation is the remains of an ancient volcanic cone, eroded by the sea over thousands of years. It towers 140 metres above the Pacific Ocean, and is home to many types of animals, both above water and below.
It is a popular site for snorkelling and diving because of its amazing location and the incredible, unique ecosystem in the area makes it a real underwater paradise.
We went scuba diving here and absolutely loved it. We decided to go with the well respected company Scuba Eden, as they had one of the best reputations in the entire Galapagos Islands for land-based diving adventures.
We were lucky and had a calm day, with very little current, but this is not always the case at Kicker Rock.
Our divemaster was actually a qualified scuba instructor, and was very professional and knowledgeable. He was an expert at pointing out all the marine life, both large (like yellowfin tuna) and small (like nudibranchs). Their gear was well maintained and their knowledge of the area was amazing.
The thing we did love about this company is that their tour didn't just end once the dives had finished – they also took you to one of the island's most spectacular beaches afterwards. It's like getting two tours for the price of one!
Unfortunately, we didn't get to see the famous hammerhead sharks (obviously it is not guaranteed), but it was one of the most peaceful dives we had done in a long time, with a great variety of geological formations and huge schools of fish (and sea lions).
If you aren't a certified diver they also offer open-water courses, or you can choose to go snorkelling at Kicker Rock.
Lunch and snacks were included, as well as wetsuits and snorkelling gear/diving equipment. After the snorkel and dives we went out to Puerto Grande and relaxed for a while.
Their prices were one of the cheapest in town and the snorkelling tours were well priced. In addition to all your gear rental, lunch and transport the price also includes GoPro photos and video too, captured by the divemaster.
The marine life is amazing to experience up close and is one of San Cristobal must see.
We highly recommend Scuba Eden. Dives are about $160 for 2 dives. (Please note – prices may change in the future. Please get in touch with them for an updated price list)
Take A Highland Tour
The highlands of San Cristobal boast some of the most fertile land in all of the Galapagos Islands. Elevated 730 metres above sea level, it is much cooler than the islands main town, which makes it a great place to explore on a hot day.
You can rent a car to do this yourself (great if you have a few friends) or join a tour. Expect to visit El Junco lagoon, the tortoise sanctuary and go swimming with sea lions at some amazing beaches.
A highland tour can cost around $50 – $60 with any taxi driver on the street. If you are feeling super fit, you can rent a bike for $15 for the entire day and ride to the highlands.
Lagoon El Junco
Lagoon El Junco is a crater lake located 19 km from Puerto Baquerizo Moreno, and holds a volume of around 9 million gallons of fresh water.
The enormous crater was formed in the caldera of a volcano and researchers have said it has existed since the end of the ice ages.
Being a freshwater lake on a small island in the ocean, the only inflow is from the heavy rains that occur in the highlands during the year.
On the trek to the lake you will see many frigate birds, white-cheeked pintails and common gallinules. Do bring a rain jacket as the weather in the highlands are often misty and rainy.
La Galapaguera Tortoise Habitat
The La Galapaguera Tortoise Habitat was established in 2003 and has quickly become one of the best things to do in San Cristobal.
It is a scientifically-backed, man-made breeding program for the tortoises, and provides fascinating information about the species to tourists.
The tortoises are not in cages; they roam in a beautiful green semi-natural habitat. You have the opportunity to get up close and personal with the tortoises, and see them behaving exactly how they have for hundreds of thousands of years.
If you're not visiting the La Galapaguera Tortoise Habitat as part of a tour, there are guides there that will happily show you through the centre and help you understand more about how this species has evolved and the threatening environment they are currently in.
This was the first thing we did in San Cristobal, and it was a wonderful introduction to the Galapagos Islands. The giant tortoises are one of the main species visitors want to see when they visit the archipelago, and this centre provides a wonderful opportunity to do so.
The tortoise habitat is without a doubt, one of the more popular San Cristobal attractions.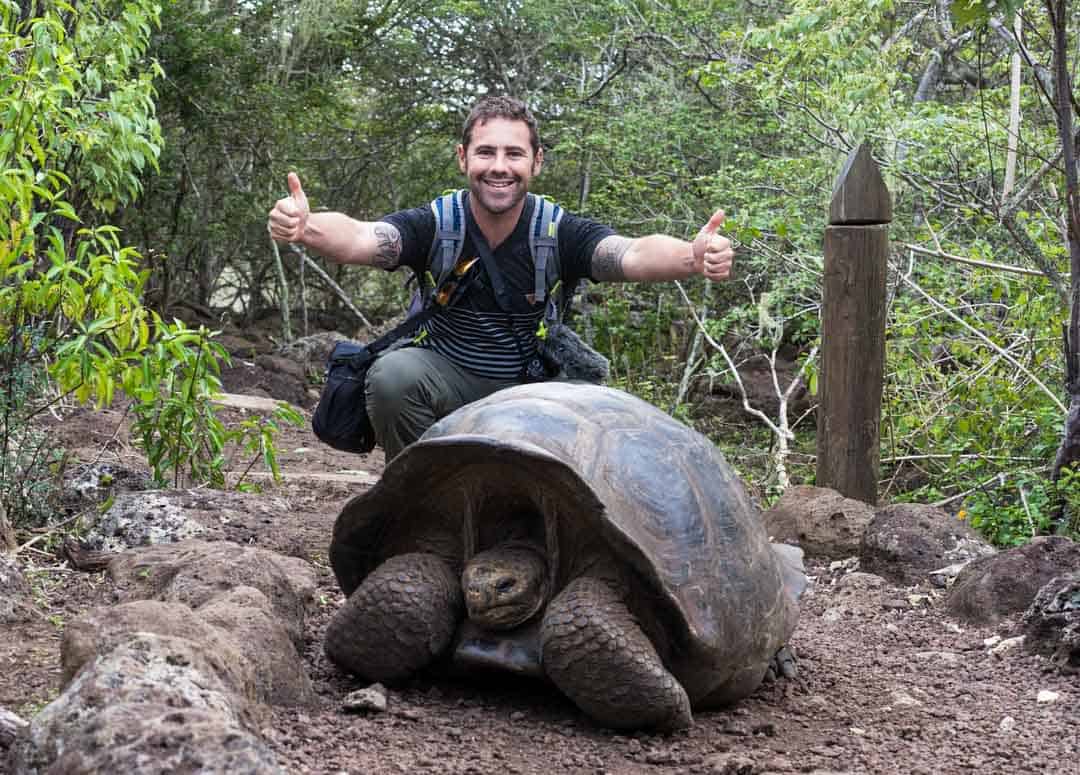 Find Some Marina Iguanas At La Loberia Beach
La Loberia Beach has exactly what you expect from a beautiful Pacific island – pristine, soft white sand and glistening turquoise water.
The beach is in a crescent shape, and absolutely stunning. This is a great place to snorkel, and you can see turtles, sea lions, tonnes of different fish species, and if you are lucky, maybe a marine iguana swimming or eating underwater.
Just be careful at this beach as the waves can be a bit rough. At the end of the beach is a rocky pathway that leads to a sea well. Here you can see even more marine iguanas.
It will take you about 20 minutes to walk here, or you can grab a taxi for $3 one-way.
Puerto Chino Beach
This stunning beach is located 30km away on the far side of the island from the main port. Access is possible by renting a taxi or joining a tour.
From the parking area there is a well maintained path that will take you down to the beach. There are shaded areas for shelter, but no stores to purchase anything, so bring enough water and snacks to get you through the day.
You need to pass over some lava rocks to get to the water and sometimes they can be sharp, so do be careful with your footing.
The water can be calm, with only small waves lapping on the shore, but watch out for strong currents if you are swimming and snorkelling.
You can also swim with sea lions and turtles, which is always a huge thrill for anyone, no matter how many times you've done it in the Galapagos Islands.
When looking at the beach turn to your right and head up a path. This is where all the blue-footed boobies hang out, so make sure you do the walk and take some photos with them.
Note – There are some horse flies around – bring your bug spray.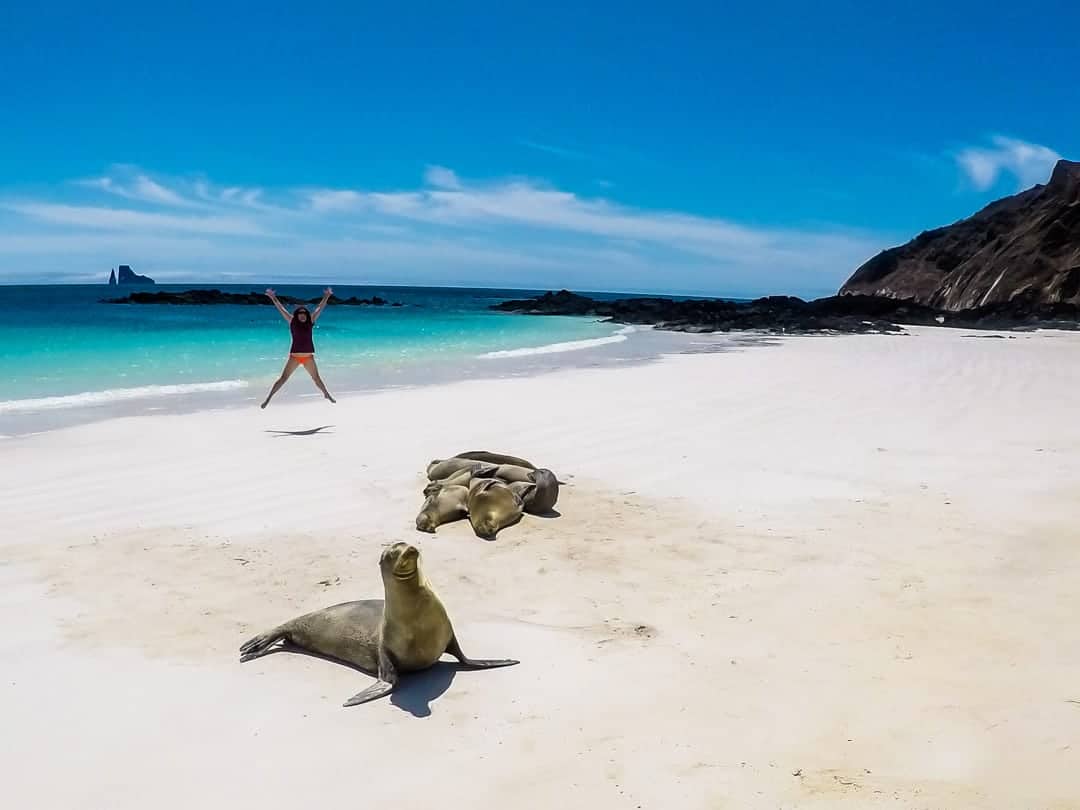 Go On A 360-Degree Tour
This action-packed tour is a great way to see most of the best things to do in San Cristobal in one day.
This tour usually includes visiting several places where you can see a lot of the animals, snorkel or just go for a swim. The spots include: Rosa Blanca, Punta Pitt, Sardine Bay, Punta Pucana, Cerro Bunjo, and Kicker Rock.
The tours start at 7:30am and go to about 5pm, but your time at places is limited as the day is pretty jam-packed.
There are many companies in town that offer this tour. Our advice is to ask around. Check what is included in the price, as some companies don't include a wetsuit and snorkelling gear.
Prices for this tour range from $150 to $200. As you can see it's not a cheap day out, but if you only have one day in San Cristobal it might be your best option.
Wander Around The Town Of Puerto Baquerizo Moreno
It's when you simply walk around this peaceful, quiet town that you get a sense of how calm island life really can be. The locals are very friendly and will greet you with a smile and a hello.
The sea lions have taken over the jetty and beaches and marine iguanas are scattered all over the rocks along the shores. When you hop off your ferry to San Cristobal you will be sure be greeted by a lazy sea lion sleeping on a chair.
Besides the unique animals, the town also offers many options for food and drink, and has many great little gift stores with unique products to take home.
The best way to explore Puerto Baquerizo Moreno is to rent a bike or just stroll around. At about 2–4pm the town is very sleepy and a lot of the shops are closed, although some restaurants do stay open.
During this time go for a walk along the empty Charles Darwin Avenue or visit the sea lions at Playa de Oro and Playa Mann.
A Day Trip To Española Island
Española Island is the most southerly island in the archipelago, and one of the oldest islands in the Galapagos. It is a popular tourist stop thanks to the waved albatrosses and blue-footed boobies that call the island home.
The blue-footed boobies do the most incredible mating dance! If you are lucky enough to see it you'll be blown away at just how funny and interesting it is to witness.
If you are travelling to the Galapagos Islands between April and December all the waved albatrosses will be here breeding, and Española Island will be covered with gorgeous, fluffy chicks.
Bird watchers love this island due to the large amount of bird life; waved albatrosses, blue-footed boobies, nazca boobies, Galapagos doves, red-billed tropicbird, mocking birds, and the swallowed-tailed gulls. It's paradise for them!
The climate is dry and the land is flat. It is the driest of the islands, only getting a few inches of rain a year. Popular places on the Island are:
Gardener Bay which is a kilometre-long white sand / turquoise water beach. It is one of the most beautiful beaches in the world. It is home to many sea lions, marine iguanas, mocking birds and sally light-foot crabs. You can go snorkelling in the crystal clear waters here so don't forget your gear.
Punta Suaraz for the spectacular bird life. There are blue-footed boobies nesting in many different parts of the area. There are so many red and green marine iguanas lazing around and taking in the sun.
It takes about 2 hours to get out here from San Cristobal, but it is worth it. Some times if you are lucky (not guaranteed) you may even see a whale on the crossing.
A day trip from San Cristobal ranges from $180 – $250 depending on the company and time of year you are there.
Sometimes the cheapest option isn't always the best. Do your research and ask about the speed of the boat, quality of the boat, size of the group, experience of the guide, if snacks and lunch are provided and what gear is included.
A lot of the companies don't run tours everyday. Our advice would bet to ask as soon as you land on the island and work out your schedule from there. You don't want to miss out on the beautiful place.
A Day Trip To Punta Pitt
If you've already done the full San Cristobal sightseeing experience, go on a fun day trip to Punta Pitt!
Punta Pitt is located on the extreme eastern point of San Cristobal Island. You will see many different types of birds nesting here. There may be red-footed boobies in the bushes, blue-footed boobies in the interior on the ground and Nazca boobies in the cliffs.
Punta Pitt is perhaps one of the best spots for wildlife on the island!
You have to go on a tour to visit Punta Pitt and it takes about 2 hours to get here from Puerto Baquerizo Moreno's port.
It is worth the long trip as you will be greeted with a golden sand beach with dramatic volcanic landscape. There is a scenic hike for about 2km to reach all the boobies, but takes about 3 hours to complete. You will be taking a lot of photos and stopping every second.
You may bump in to some blue-footed boobies on the path. If you are lucky all three types of the boobies will be there. They are all so incredible and unique.
Having a naturalist guide there is amazing for all the information they offer about the landscape and the animals. A full day tour here will set you back about $100 – $130 USD. Do shop around and check the days they are running.
San Cristobal Travel Guide
Now that you know what to do in San Cristobal, next thing is to decide where to stay on San Cristobal!
Where To Stay On San Cristobal
There are a lot of interesting options for where to stay on San Cristobal, Galapagos Islands, depending on your budget. There are luxury resorts right by the sea, or extremely basic hostels to keep the budget down.
A lot people instantly think they want to be right by the ocean, and at first this seems like the obvious thing to do. Except your neighbours will be dozens of sea lions, and take our word for it, they are not quiet.
Personally we recommend staying at the excellent and affordable accommodation, Galapagos Eco Friendly.
Galapagos Eco Friendly
Run by the certified local naturalist Harry Jimenez, this upmarket hotel a short walk uphill from the port has excellent amenities, clean rooms, spacious and unique common areas, and of course does everything they can to look after the environment.
Our double room was enormous, with a large private bathroom and work desk. A big window let in lots of light, and the bed was large and comfortable.
If you want a place with character, you'd be hard-pressed to find anything in the Galapagos Islands quite like Galapagos Eco Friendly. Harry and his team have spent a lot of time painting, decorating and designing the yard area and rooms to match the island vibe San Cristobal is known for.
Upstairs in the dining area the open-aired room gives excellent views out to the sea, and is where your fresh and healthy breakfast is served every morning. Expect a variety of eggs, homemade muesli, yoghurt, and fruit, all locally sourced.
Harry is also committed to making his hotel as environmentally sustainable as possible, and his passion for the islands comes through whenever you chat with him.
Bikes and snorkelling gear are available to borrow for free when you stay there, and Harry can organise any tours or activities you might want to do.
Food & Drink Prices On San Cristobal Island
San Cristobal is cheaper than Santa Cruz for food and drinks, but there is also less variety. Still you should be able to find anything you want, whether it is Italian food, Mexican, seafood, sandwiches, all your tastes are catered for here.
It's important to keep in mind the remoteness of the Galapagos Islands, and almost everything needs to be brought in from the continent, so prices here are more expensive than in mainland Ecuador.
Food ranges from USD$10-30 a meal, and prices get cheaper the farther back you get from the water. We even found chicken and rice dishes for about $5 in a local place, so it pays to look around if you're on a budget.
Coffee can be bought for $3-5, and beers range from $4-10 in restaurants and bars.
Lunch and snacks are often included in tours, and if you want to really keep your costs down you can even bring food from Quito or Guayaquil and self-cater.
That's it for our list of 12 epic things to do in San Cristobal, Galapagos Islands! Have you been? What else would you recommend? Leave a comment below!
DISCLAIMER: Some of the links in this article are affiliate links, which means if you book accommodation, tours or buy a product, we will receive a small commission at no extra cost to you. These commissions help us keep creating more free travel content to help people plan their holidays and adventures. We only recommend the best accommodations, tours and products that ourselves or our fantastic editorial team have personally experienced, and regularly review these. Thanks for your support, kind friend!