A mini-guide for seeing the famous lights, and our top Vivid Sydney photography tips.
The annual Vivid Festival that happens in Sydney, Australia has become one of the city's best winter attractions.
Sydney's most iconic symbols come alive in brilliant displays of dancing lights, projected art shows, interactive exhibits and even walking robots.
Spread out over two weeks at the end of May and early June, the Vivid Festival first kicked off in 2009 as a collaboration between musicians and artists to highlight energy efficiency.
Since then it has grown to become the biggest festival of music and lights in the world.
It has also become of the most popular free things to do in Sydney, and every year tens of thousands of people flock to the city to check out the visual masterpieces.
Sydney is already one of the most beautiful cities in the world, and to see some of its most famous buildings like the Sydney Opera House and Harbour Bridge come alive in the evenings with huge light paintings really is a sight to behold.
Every year it gets bigger and more impressive, with some of the top musical acts on the planet now joining the festival, and a new fantastic artist being asked every year to curate the entire light show.
ANNOUNCEMENT – Vivid will be back in 2023! The dates for the next Vivid Sydney are Friday 26th May through to Saturday 17th June 2023.
The theme for Vivid Sydney changes each year, so you can make it a regular outing and no two years are ever the same.
Whether you spend your time in Circular Quay or head over the harbour to Taronga Zoo, or perhaps even find the smaller exhibits in North Sydney and Barangaroo, you're sure to be mesmerised by the Vivid Festival in Sydney.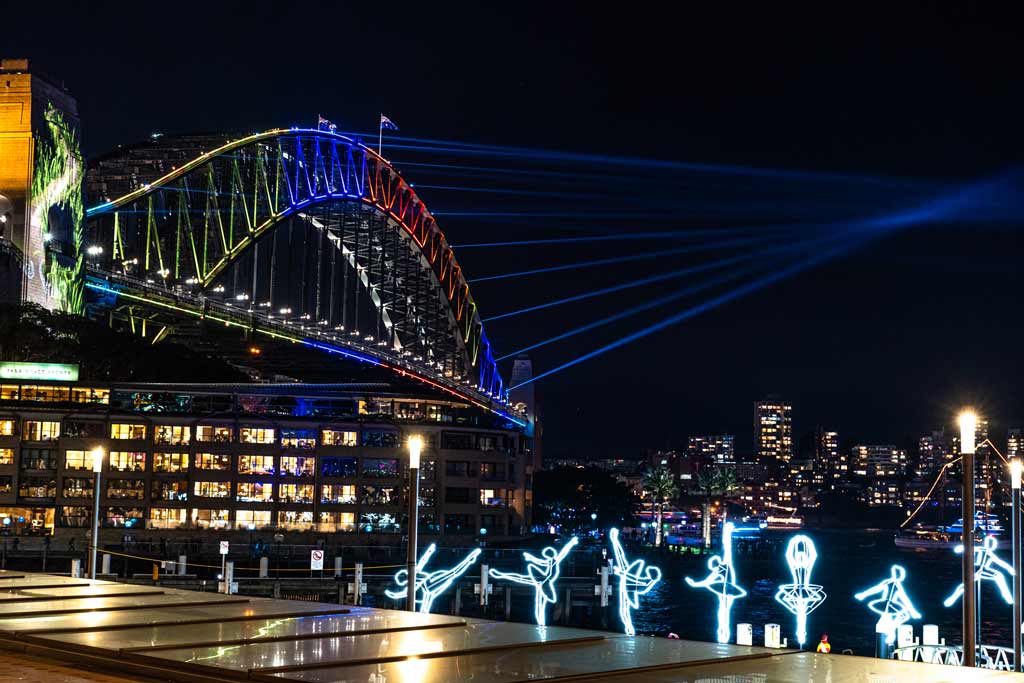 Tips for Photographing Vivid Sydney
For those of us that love photography, Vivid Sydney provides a captivating and challenging canvas.
Just walking around can be quite overwhelming, and trying to capture the best possible images of the lights is a difficult endeavour.
That's why we've put together this mini-guide of Vivid Sydney photography tips to help you come away with amazing shots.
Use a Tripod
The very first thing you are going to have to use in order to get the best photos of the Vivid lights is a tripod.
Even though the lights are bright, it's almost impossible to get clean, sharp images handheld.
For best results, you'll be shooting anywhere from 1/30 of a second right up to 30 seconds (or longer), so you'll need to rest your camera on a sturdy tripod to remove any chance of camera movement.
Make sure when you're using a tripod that you also use a remote shutter release, or set your camera to have a 2-second timer delay.
This way you can activate the shutter without the risk of your hand shifting the camera during the exposure.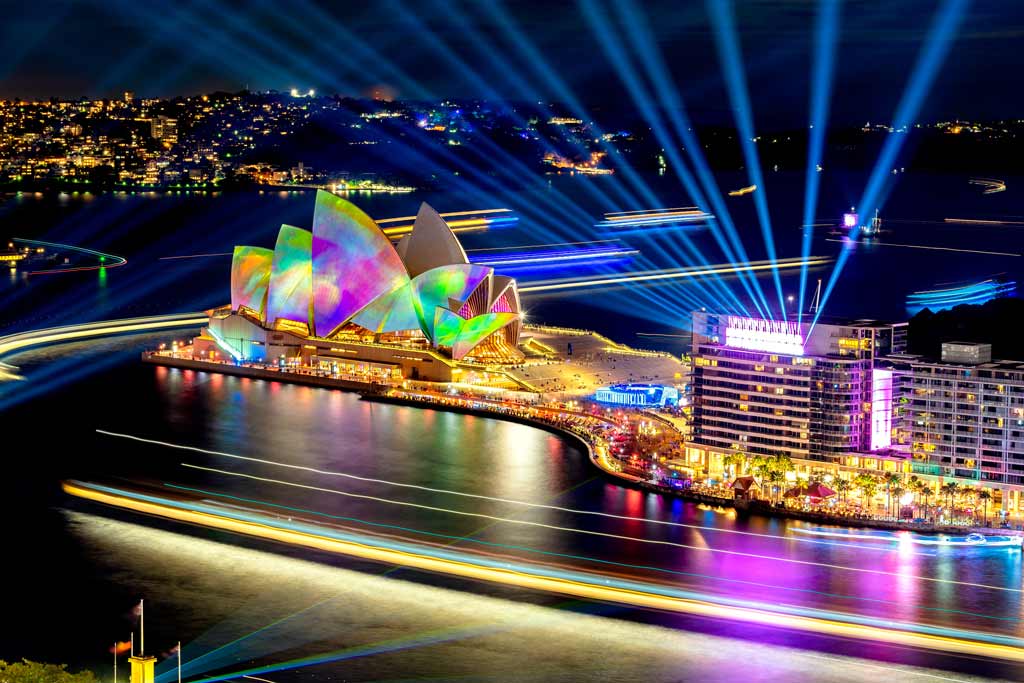 Shoot in Manual Mode
To really capture the best Vivid lights photos you'll need to dial in your camera settings to achieve exactly the style you're looking for.
While modern cameras are getting better and better at shooting in auto, the truth is it doesn't know what you really want the end product to look like. So do yourself a favour and shoot in manual.
This way you'll have complete control over your aperture, ISO and shutter speed.
If you've never shot in manual before we recommend playing around with your camera settings before you head out to Vivid Sydney so you know exactly how to change things in the field.
Even if you're not a pro, don't let the idea of shooting in manual scare you. Playing around at Vivid is a great place to practice, as the light show lasts for hours.
It's great to know this, as you can keep changing the settings without fear of missing that pivotal moment.
NOMADasaurus Tip – Don't know where to start? Try setting your camera at f/5.6, ISO400 and 2 seconds. Adjust from there.
READ MORE: Check out our list of the best travel photography tips for beginners.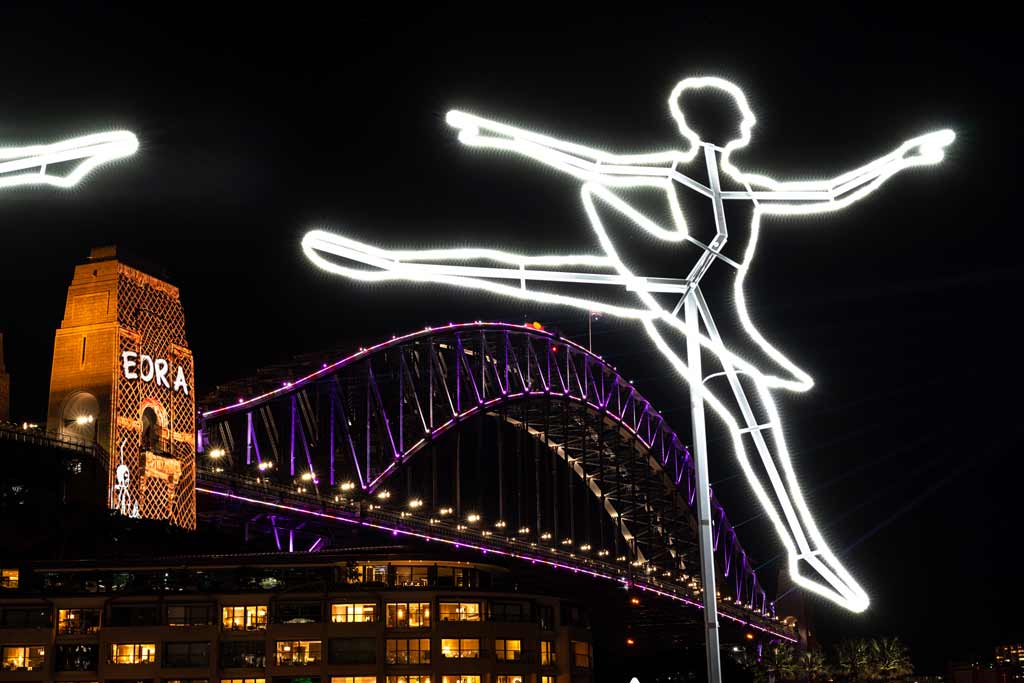 Play Around with Different Shutter Speed
What makes the Vivid Festival so interesting to watch is that the lights continuously dance and change, mesmerising the audience with stories and visual masterpieces.
In terms of photography though, that makes it harder to capture a clean image of one particular scene.
For example, at the Sydney Opera House, the sails may show a lovely display of native flowers, but these may change every few seconds.
If you took a long, 30-second exposure, what you might find is that as the display changes on the sails, the lights all blur into one bright shot, removing any detail.
To combat that you'll want to shoot at a faster shutter speed.
To capture long light trails, such as when the ferries zip around Sydney Harbour, you need the opposite – a very long shutter speed.
This gives time for the lights to move across the scene of your shot, leaving behind the gorgeous trails.
For the exhibits that don't move or change colour, such as what you'll find around the Botanical Gardens, you can experiment with lower ISO and longer shutter speed to keep the noise down and get cleaner shot.
One of our best Vivid Sydney photography tips is to just trying different things, especial with shutter speed.
READ MORE: Check out our guide to the best travel cameras on the market!
Look for Unique Compositions
Thanks to Instagram, the Vivid Sydney Festival is now immensely popular for photographers, and every year thousands of us descend on the city to capture our shots.
As a result, almost every single angle has been done, making it very difficult to get a shot that hasn't been done before.
That's not to say it isn't impossible though! You'll just need to be creative.
Make sure you get the 'classic' Vivid shots, because they are beautiful, but once you have those try to find something unique.
Look for elements popping up between trees or buildings, or find some interesting lines that draw the eye towards your subject.
Also play around with different focal lengths. Instead of shooting everything wide, get a telephoto lens out and zoom in on something to fill the frame.
As a Vivid Sydney photography guide, we recommend having a wide angle (around 16mm), mid-range (55mm) and long zoom (70-200mm).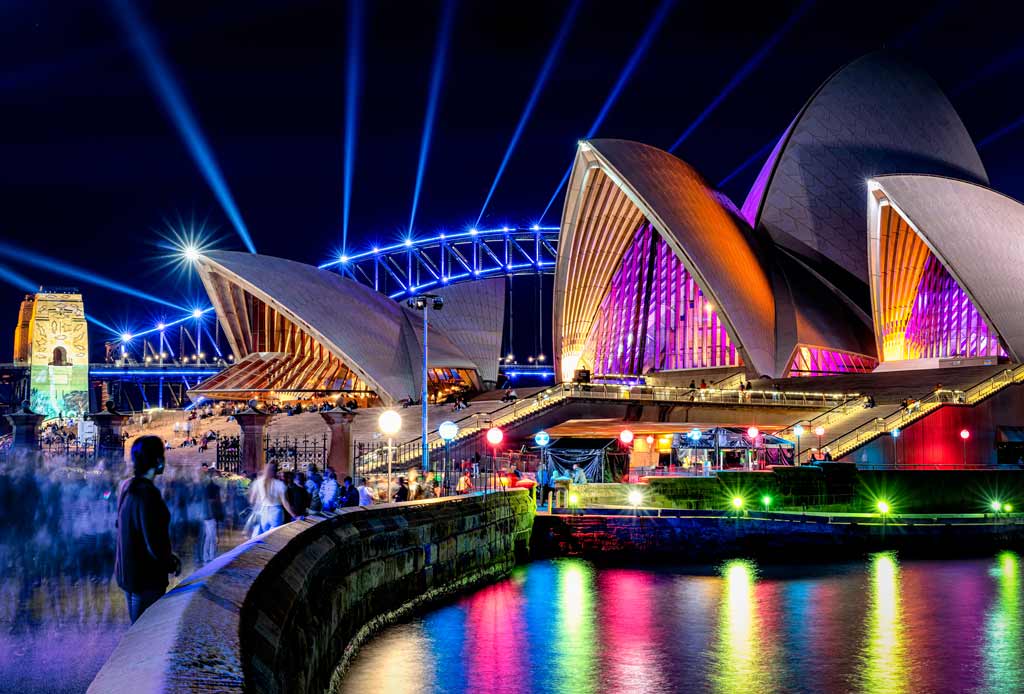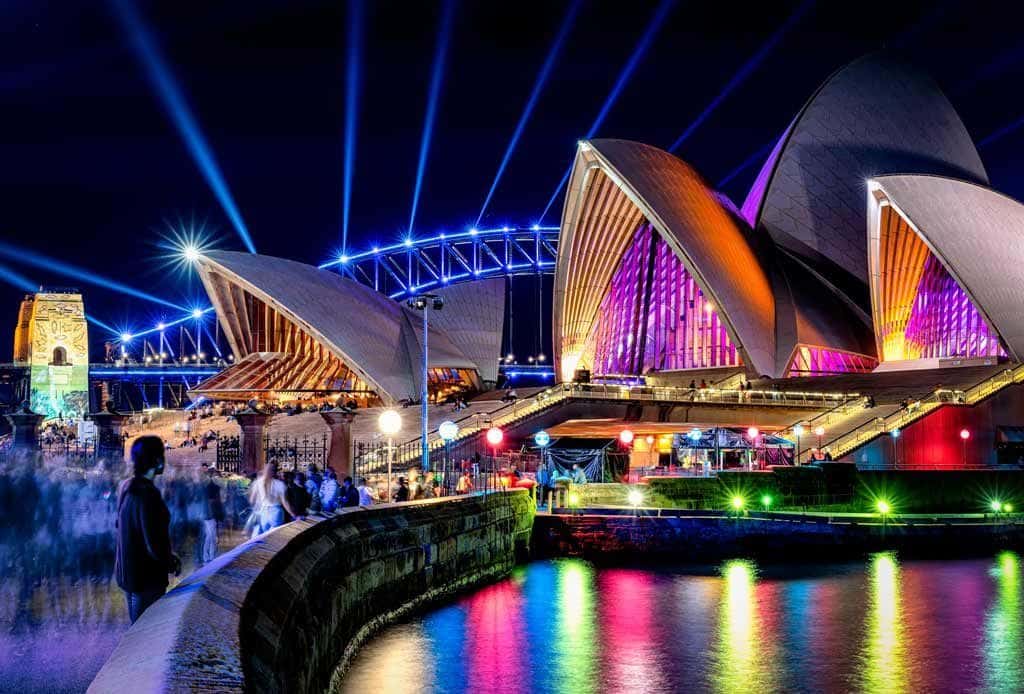 Shoot in RAW
In order to pull the most details out of your shots, you're going to need to edit them using software like Adobe Lightroom or Photoshop.
Most cameras shoot in two different formats – jpeg and RAW. The difference between the two is huge, and will have a big effect on how much you can edit.
Jpegs are compressed files, created by the camera and 'locking in' all of the details of the shot into an easy-to-read format. These can be shared straight from the camera to social media or with your friends.
RAW files are larger and maintain a much higher level of detail. Because of their non-destructive format, you can manipulate images in Lightroom or Photoshop to a much higher degree, really getting making them pop.
RAW files can't be shared on social media though, and they do need to be edited and saved as a different format to be spread around.
If you're taking your photography seriously, and want to get the most out of the high dynamic range found at Vivid Sydney, you'll want to be shooting in RAW.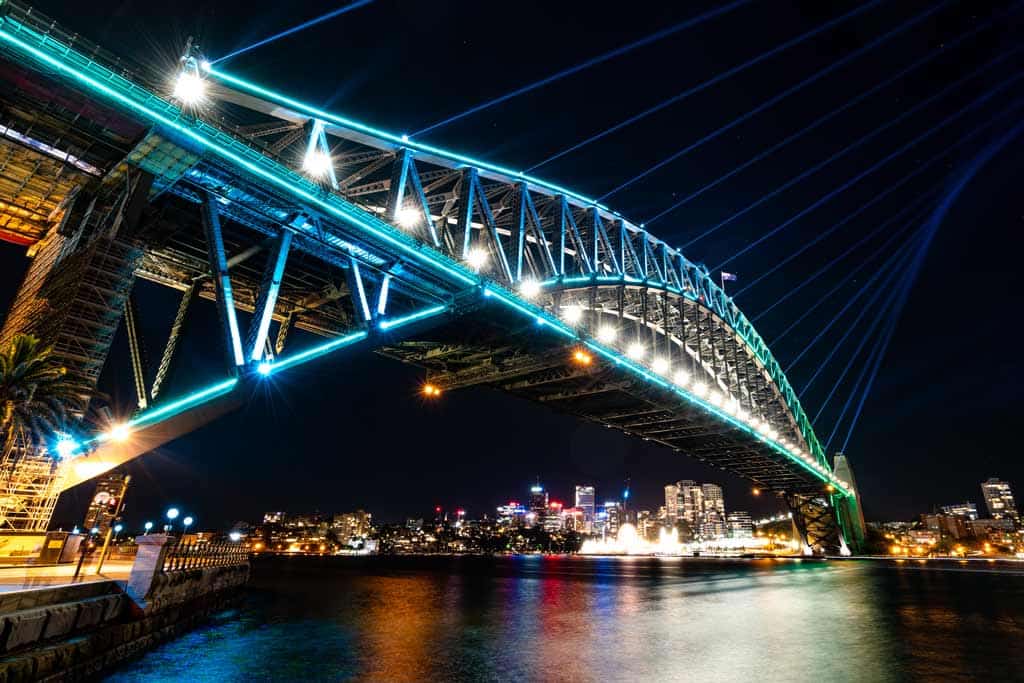 Stay Out Late
The main spots of Vivid Sydney get extremely crowded during the festival, and you'll find thousands of people out making the most of the spectacular scenes.
The crowds make it hard to photograph though, as you'll be struggling to get into a lot of good positions, and always run the risk of people bumping into you as they move about.
For that reason we recommend staying out as late as possible. The crowds tend to disperse around 9pm as people take their kids home, and with the lights staying on until 11pm, that gives plenty of time to try and get your shots with greater ease.
Also we recommend avoiding weekends if you can help it.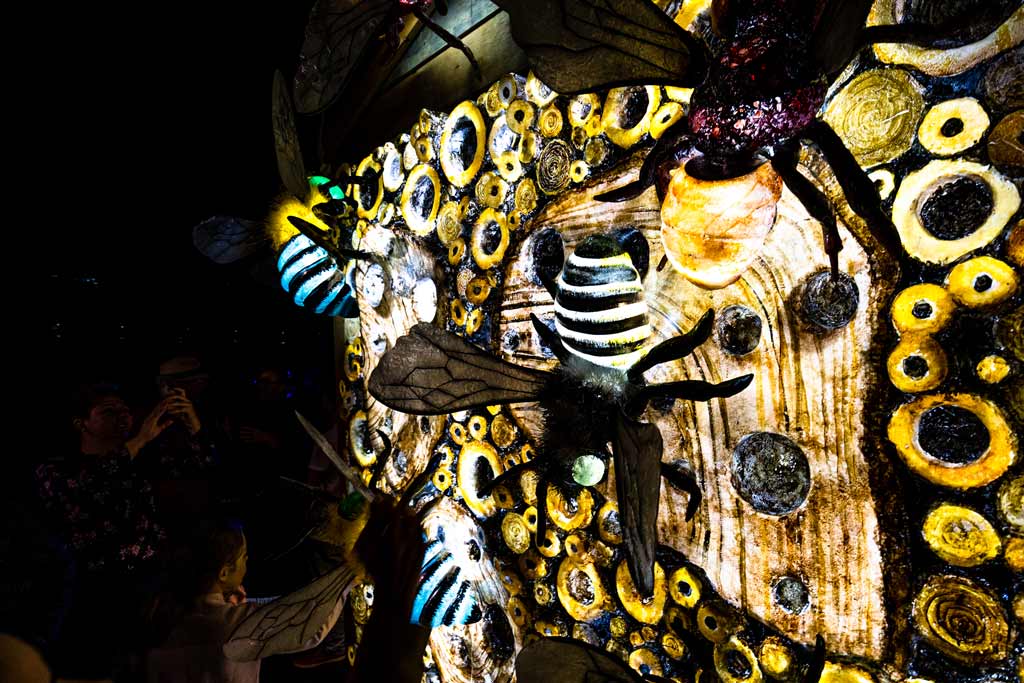 Be Patient
Don't forget that you're not the only person wanting to appreciate the light show!
You'll be exploring Sydney with an enormous number of people, and they all want to get their own shots too.
Dealing with big crowds can be frustrating, but make sure you bring some patience or you're not going to enjoy yourself.
For some tips to deal with the crowds when you can't get into position to photograph, make sure you're fed and have some snacks on you (nobody likes being hangry), have a bottle of water to stay hydrated, and don't try to rush too much into a single evening.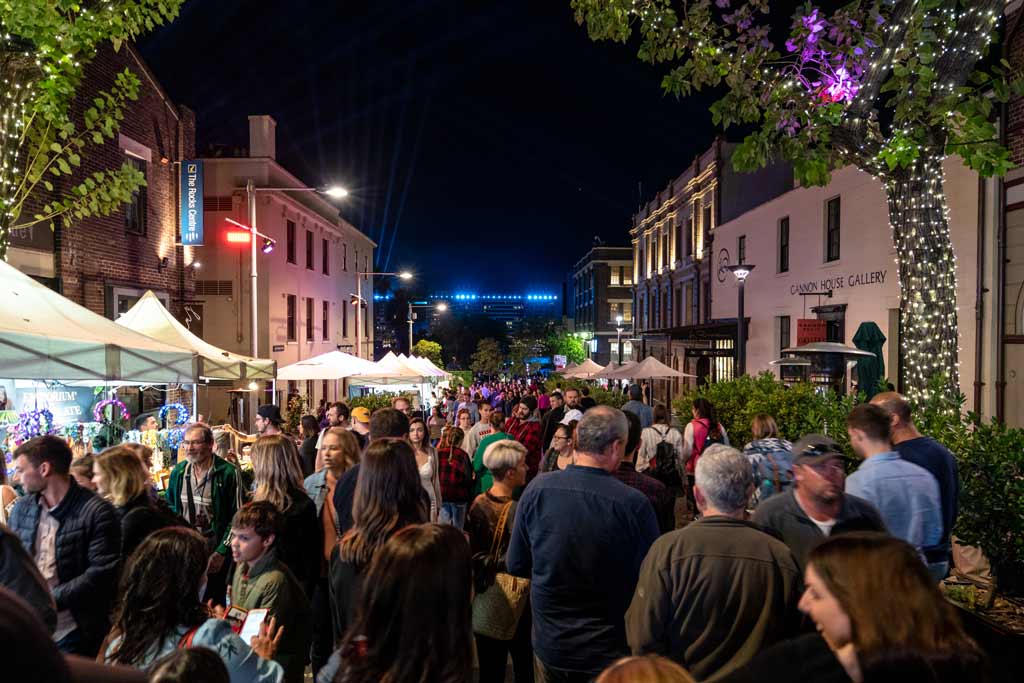 The Best Locations to See the Vivid Festival Sydney
Now that you know how to photograph Vivid Sydney, it's time to know where to go see the lights!
The festival has expanded over the years, and now has exhibits in over a dozen different spots.
The more time you have, the more you can check out obviously, but if you only have one or two nights to see the lights, here's where we recommend going for the best Vivid Sydney photography locations.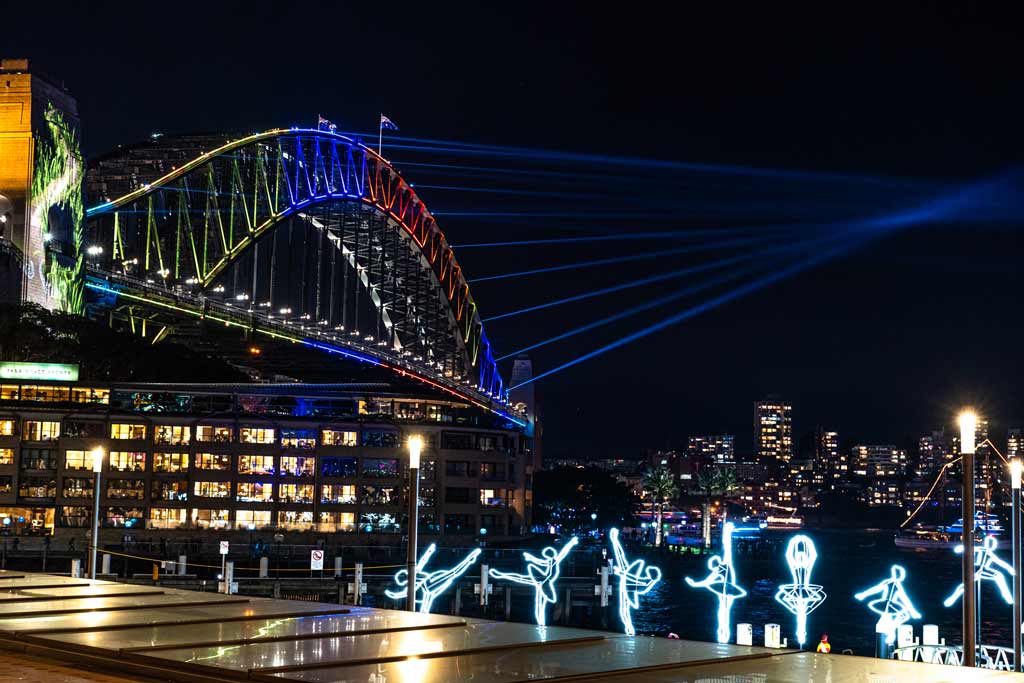 Circular Quay
The main hub of activity for the Vivid Festival in Sydney happens at Circular Quay.
Here you'll find a whole range of different exhibits, from small art installations right up to the famous sails of the Sydney Opera House coming alive.
You could easily spend an entire night just taking photos of Vivid right here in Circular Quay, and once you have the 'classic' shots, definitely try the interactive exhibits.
One of the most enjoyable artworks is found at Customs House, with the entire front facade of the building turning into a dancing canvas.
Don't just take photos of this one – lay down in the grass and get lost in the story.
The Rocks
The Rocks is the historical part of Sydney Harbour, and is already one of the most popular tourist spots in the city.
During Vivid many of the bars and restaurants put on unique displays for patrons, and some of them do a good job at keeping them secret, meaning you'll have to really try to hunt them down.
This is also where you'll find many of the 'ideas' exhibits that have been developed throughout the year to be showcased at Vivid away from the typical lights and music.
Definitely check out the huge tunnel on Argyle Street, where light shows are projected onto the ceiling.
The Royal Botanic Gardens
If you keep walking past the Sydney Opera House you'll find the entrance to the Royal Botanic Gardens, and a whole collection of amazing Vivid Festival exhibits.
These range from small, singular presentations right up to sprawling installations that take up whole sections of grass.
Some of the trees have art pieces put in the branches, so make sure you look up as well.
Walking around the gardens to see all of the artwork will take you two hours or more, and it's strictly a one-way thoroughfare.
Taronga Zoo
Across the harbour in North Sydney you'll find the world famous Taronga Zoo, and while it's a great place to visit during the day, coming at night during Vivid is simply fantastic.
Keeping with a wildlife theme, you'll find massive designs of native Australian animals adorned with colourful lights.
The zoo rarely is open at night, so having the chance to come during Vivid Sydney is a unique experience, especially with the artistic animals lit up
Where to Stay During the Vivid Festival
Unless you live in the Sydney City, there's a good chance you're going to want to find somewhere to spend a few nights to really maximise your photography opportunities.
Even for us living just north of Sydney, it's always been such a headache heading into the city and home again late at night with all of our photography gear.
That's why this year we decided to treat ourselves and have a little 'staycation' in the city, especially as we were also checking out a new Sydney photography studio that had just opened up (highly recommend it by the way).
There's absolutely no shortage of places to stay in Sydney, but if you want to find somewhere with views of the Harbour and Opera House, and is in a great location, you can expect to fork out a small fortune.
You can always look for an Airbnb, but you'll really need to book this well in advance.
However, there's one place you can stay that has epic views, a great vibe and a perfect location right in The Rocks.
Sydney Harbour YHA
Superbly located at the top of The Rocks with what may just be one of the best views of Circular Quay imaginable, the Sydney Harbour YHA takes the concept of backpacker hostels and flips it on its head.
This modern hostel was built over the top of the historical remains of a number of colonial structures that The Rocks is famous for but was done so in a way that not only protects the site but encourages visitors.
The entire bottom floor is elevated, giving protection the artefacts and foundations beneath. YHA often invites archaeology students onto their property for careful excavation.
The reception and lounge area is massive, bright, inviting and sociable. There's a cafe serving up decent coffee and snacks for good prices, and plenty of space to spread out and meet other travellers.
Being a hostel, it also boasts very affordable dorm rooms, starting from $35 a night, so if you're planning to photograph Vivid on a budget, it's the place to be.
We personally stayed in a private room, and while it's pretty no-frills, it was large and comfortable enough for us to keep all of our camera gear charged and have a good night's sleep when we returned from the festival.
But the main reason you would choose to stay at Sydney Harbour YHA when taking photos of Vivid Festival is because of the awesome rooftop terrace.
The top floor has an enormous area with impeccable views over Circular Quay and the Opera House.
If you're planning to try and get some different photos of Vivid Sydney, then the rooftop at this YHA is a great contender, as only guests are allowed up there.
With this higher perspective you can really separate the light trails from the ferries and the surrounding structures, and get the lights penetrating the sky from the bridge and office buildings.
Not only are the views from up here amazing, but you're literally only a 5-minute walk from all the action.
The light exhibits can be found all around The Rocks, and of course once you get to Circular Quay, just down the road, you'll be in the middle of the main attractions.
The Rocks is also our personal favourite area in Sydney, and during the day it's an awesome spot to walk around, check out the various museums and art galleries, grab some great food and drinks and just soak up the atmosphere.
You'll be hard-pressed to find a better spot for Vivid Sydney photography than right here at the Sydney Harbour YHA.