Looking for great activities and attractions in the Alamo City? Our San Antonio itinerary is all you need to plan the perfect trip!
Offering historic charm, diverse cultural attractions, amusement parks, and plenty of other impressive activities, San Antonio, Texas, is full of fun and unique attractions waiting to be explored!
Widely known for its Hispanic culture and historic Spanish colonial missions such as the Alamo, San Antonio was founded through a Spanish mission. Originally a colonial outpost in 1718, San Antonio became Texas' first chartered civil settlement in 1731.
A historical location, San Antonio is filled with history from various cultures, including Spanish, Native American, and American.
For example, the many historical sites like the San Antonio Missions and the Alamo, are visited continuously throughout the year by locals and tourists. Other more fragile artifacts are safely settled in museums speckled around San Antonio.
Though San Antonio is loaded with historical attractions, it is also home to other prevalent activities. Major theme parks like the Natural Bridge Wildlife Ranch, Six Flags Fiesta, SeaWorld, and Morgan's Wonderland welcome hundreds of thousands of visitors each year.
Those that visit San Antonio will learn more about the local history and culture while also having the opportunity to grab an adrenaline rush in San Antonio's many theme parks, making San Antonio one of the best places to visit in Texas.
Suppose you're looking for the best activities for the ultimate San Antonio weekend trip. In that case, we highly recommend you read this article to discover the ultimate three-day San Antonio itinerary!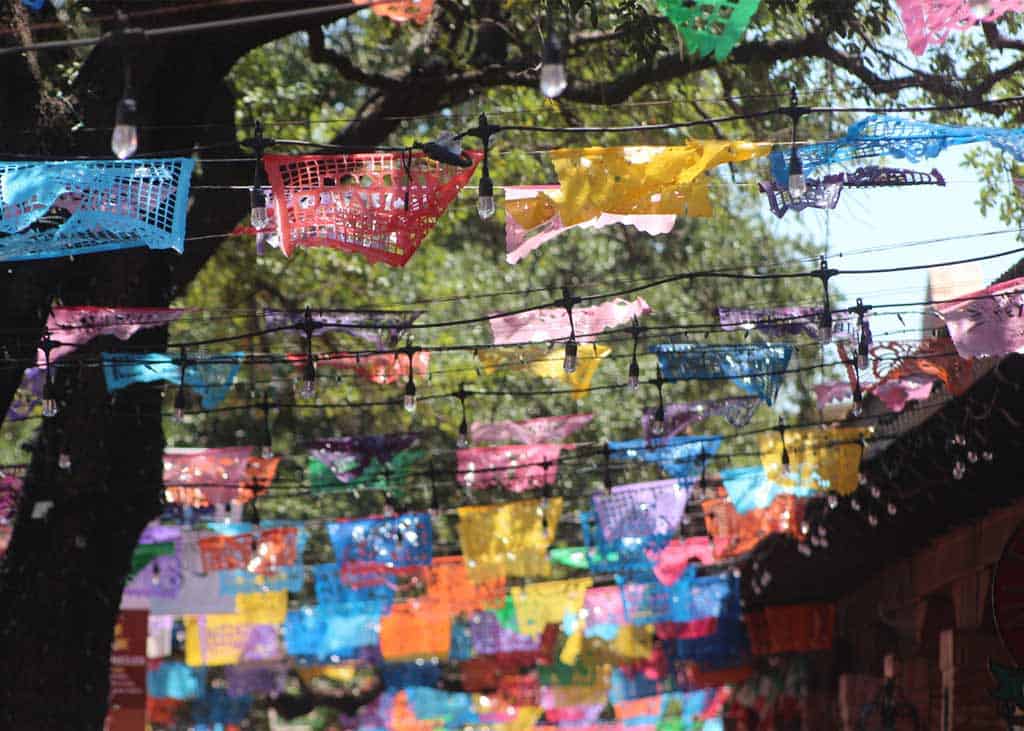 How to Spend 3 Days in San Antonio Itinerary
With this itinerary for a three-day weekend in San Antonio, we'll include the best and most worthwhile attractions to partake in during your trip.
From strolling down the San Antonio River Walk or going on a river cruise to refreshing your senses in a well-hidden attraction, the San Antonio Botanical Garden, your San Antonio trip will be exceptionally fun!
Day 1 in San Antonio, Texas
To start off the perfect three-day San Antonio itinerary, we're going to take a stroll down the scenic River Walk, the #1 attraction in all of Texas.
Then, we'll scour the history of the West at the Briscoe Western Art Museum with its three floors worth of artifacts, sculptures, and artwork. Finally, to end day one, we will continue the day exploring the city center of San Antonio and all it has to offer! 
Read Next: Check out our post on all of the best things to do in Texas!
Day 1 Morning – Stroll Down The Scenic San Antonio RiverWalk
The San Antonio Riverwalk is popularly known as the heart of San Antonio and the #1 attraction in Texas — and for a good reason!
Lined with enigmatic hotels, fragrant restaurants, and suave shops, San Antonio River Walk knows how to attract a crowd with its stunning location and downtown location.
The banks of River Walk are often decorated and crowded with eager tourists and locals looking to explore what it has to offer. Often, many come to visit River Walk to sit back and bask in the entertaining river parades hosted throughout the year.
River Walk began with a young architect with an empowered vision — Robert H. H. Hugman. His vision was to intersect bridges and pathways that flanked the San Antonio River in a way that connected it to downtown.
With Hugman's efficient design, lives and dollars have been saved that otherwise might've been lost due to flooding through the preventative methods in Hugman's efficient design of River Walk. And thanks to his efforts, the stunning River Walk and lively downtown San Antonio can be enjoyed to this day.
Take a scenic night tour and river cruise during your weekend in San Antonio to partake in the vibrant nightlife of this fun city.
Or just book a hop-on-hop-off river boat cruise to use all throughout the day. A boat ride down the river is one of the best ways to sightsee in San Antonio!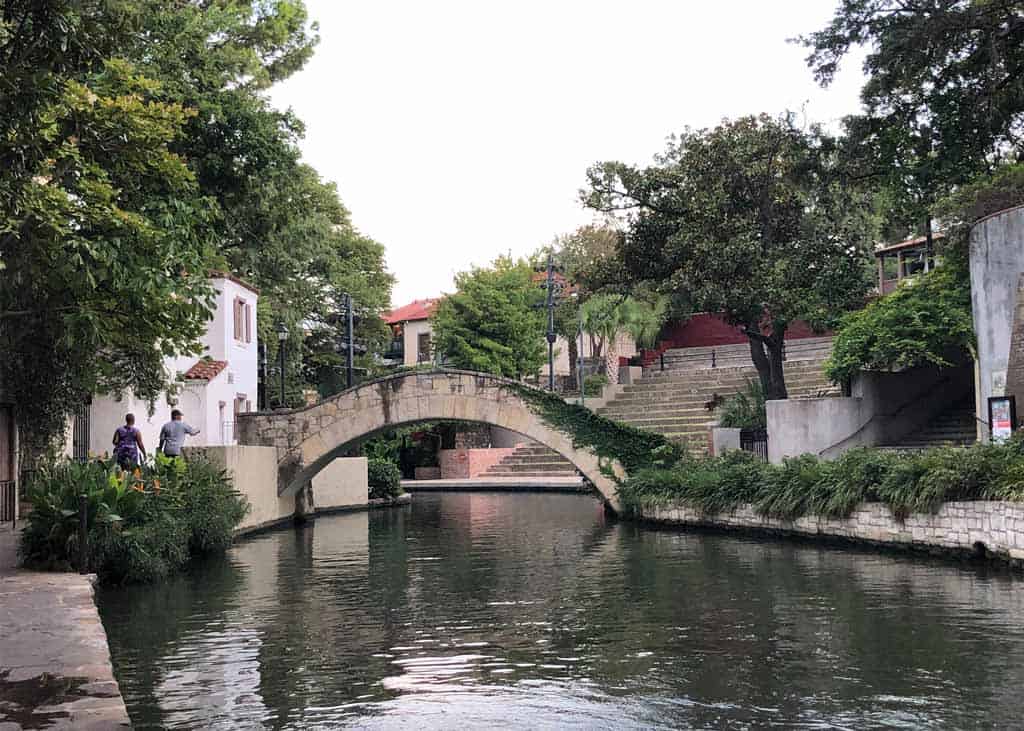 Day 1 Afternoon – Scour The History Of The West At The Briscoe Western Art Museum
Learn more about San Antonio's history while scouring the history of the West at the Briscoe Western Art Museum. A phenomenal modern museum that offers an outstanding display of artifacts and arts that illuminate culture and history throughout the American West.
Sharing stories of the cowboys, Native Americans, and the vaquero, this San Antonio museum has three levels of space to explore sculptures, western paintings, and other impressive artifacts. These three levels can be explored comfortably within 1½ to 2 hours time.
Guests that tour this intimate museum will witness ornate saddles, shiny spurs, a Wells Fargo stagecoach, and on the first floor — a library!
The Briscoe Western Art Museum previously served as the original public library of San Antonio in the 1930s.
Since then, it has dedicated its first floor to honoring the building's origin. To add to its collection, the museum was once also the Hertzberg Circus Collection and Museum in the 1980s.
Bask in the expansive beauty of the Western landscape expressed through sketches, paintings, drawings, and sculptures in the museum's permanent and rotating galleries.
Afterward, step over to the McNutt Sculpture Garden to marvel at the Texas-sized statues created by the world's leading Western artists.
Opening Hours: 10 Am-5 Pm (Thursday-Monday), Closed (Tuesday-Wednesday)
Admission: $12/Adult, $10/Senior/Student, $6/Retired Military/First Responders/Educators, Free/Active Military/Children Under 12
Address: 210 W Market St, San Antonio, TX 78205
Heading north in Texas? Check out our 3 days in Dallas itinerary.
Day 1 Evening – Continue Your Adventure Through Downtown San Antonio
Perfect for nature enthusiasts, history buffs, city lovers, sports fans, and food connoisseurs, downtown is a bustling district popular for its wide and diverse selection of attractions.
When visiting downtown expect to get a taste of all San Antonio has to offer. From eclectic bistros, vibrating performances, locally-owned shops, public artwork, and world-renown historical museums, you may never have enough time to explore all downtown San Antonio has waiting to be explored!
Whether walking down River Walk, grabbing a bite to eat, or checking out the local nightlife, the experience will leave you basking in the heart of San Antonio, where roots run deep.
Some of San Antonio's best attractions, like the Alamo Plaza houses, are present in the downtown area. In addition, one of the city's five Spanish colonial missions has since been designated as a UNESCO World Heritage Site.
Public artwork is displayed all over central San Antonio, including crafted sculptures, street art, and vibrant murals. Stop to take a picture or bask in these displays' creative and historical presence as you go about your downtown journey.
Then, sit down to refresh at one of the local eateries when you're done. Also try to hop over to the Main Plaza to view the San Fernando Cathedral, the oldest functioning religious community since 1731.
If you're in town on a Tuesday, Friday, Saturday, or Sunday, the San Fernando Cathedral is illuminated in colors for a light projection show between 9pm and 10pm. This could be a highlight of your weekend in San Antonio.
Day 2 in San Antonio, Texas
On day two of this optimal San Antonio itinerary, refresh your senses at the San Antonio Botanical Garden for an immersive nature experience. In the afternoon, quench your thirst at a local brewery with a glass of hand-crafted beer or whiskey.
Then end the day at the Majestic Theatre for a live performance at Texas's oldest and largest atmospheric theatre.
Day 2 Morning – Refresh Your Senses At The San Antonio Botanical Garden
A well-hidden attraction in San Antonio, the Botanical Garden is a 33-acre non-profit botanical garden.
Nationally recognized for its botanical diversity and vibrant displays, this hidden San Antonio gem is known for its environmental stewardship, immersive experiences, and fruitful education efforts.
The San Antonio Botanical Garden is dedicated to inspiring its visitors to connect to the natural world through its refreshing displays and commitment to preserving endangered plant life.
A getaway from the hustle and bustle of city life, the San Antonio Botanical Garden houses three main areas.
The Lucille Hasbell Conservatory is home to a tropical lagoon, sunken courtyard, and plants that habituate the desert and forested regions.
The Texas Native Plains houses plants from three geological areas of Texas, and the formal gardens display area houses sights like the Rose Garden, the Old Fashioned Garden, and the Kumamoto En Japanese Garden (which was gifted by the sister city of Kumamoto in Japan).
With a stunning array of diverse plants and exhibits, the Botanical Garden strives to function as a multitude of things, including a serene escape, a living classroom, a stunning entertainment venue, and a research and conservation center.
Nearby you'll also find the Japanese Tea Garden, the San Antonio Zoo, McNay Art Museum, and the Witte Museum. The Witte Museum showcases the natural history and Texas history and heritage, so those are some other options if you have more time after the gardens.
Opening Hours: 8 AM-7 PM (Friday-Wednesday), 8 AM-7 PM (Thursday)
Admission: $16/Adult, $14/Military/Student, $13/Children Age 3-13, Free/Children Under 3
Address: 555 Funston Pl, San Antonio, TX 78209
Day 2 Afternoon – Quench Your Thirst At A Brewery
A fun activity to include in any San Antonio weekend is visiting a brewery. Here are some of your top options!
Ranger Creek Brewing & Distilling is San Antonio's only microbrewery and distillery. An award-winning brewstillery that features handcrafted beer and whiskey,
Hop on a guided tour of the only brewstillery in Texas and enjoy samples of handcrafted beer and whiskey.
Opening Hours: 10am – 4pm (Monday-Thursday), 12pm – 9pm (Friday-Saturday), Closed (Sunday)
Address: 4834 Whirlwind Dr
Blue Star Brewing Company near the King William Historic District is a fun place with a quirky atmosphere.
Located in the Blue Star Arts Complex, this brewery specializes in craft beers and has an outdoor patio with live music
Opening Hours: 11am – 10pm (closes at 9pm on Sundays)
Address: 1414 S Alamo St #105
Pearl Brewery is another one of the top breweries to visit on a trip to San Antonio.
This historic brewery uses traditional methods and equipment to brew its high-quality beverages. The Pearl Brewery complex is so popular among locals and tourists that the space now features a summer night market, a farmers market, a food hall, and event areas.
Opening Hours: 8am – 10pm
Address: 303 Pearl Pkwy
Any of these breweries is a fun stop during your long weekend trip to San Antonio!
Day 2 Evening – Stop In For A Show At The Majestic Theatre
End day two of your San Antonio itinerary with the star of downtown San Antonio, the Majestic Theatre. A must-visit to see live performances like Broadway shows or concerts!
Recognized as one of the most ornate facilities in the United States, the Majestic Theatre is the oldest and largest atmospheric theatre in San Antonio.
Built in 1929, the theatre has been marked as a National Historic Landmark. As the nation's finest and last remaining atmospheric theatre, the Majestic Theatre is honorably acknowledged for its incredulity and historic architectural features.
In addition, the theatre stands proudly as Texas' largest and the second largest motion picture theatre in the country.
As one of the best attractions in Texas, the Majestic Theatre is a hot spot for the performing arts. Hosting comedians, Broadway shows, concerts, and other major live events, the public can buy tickets to enjoy these inspiring performances.
Step through the doors of the Majestic Theatre before the show to bask in the fantastical interior decor and the ceiling which mirrors the sky for a historical destination to sit back and enjoy live events.
Opening Hours: 12 PM-5 PM (Monday-Thursday), 10 AM-5 PM (Friday-Sunday), Times Vary For Show Dates
Admission: On Average Tickets Cost $127
Address: 224 E Houston St, San Antonio, TX 78205
Read Next: Austin is just a short drive away! Here is our ultimate 3 days in Austin itinerary!
Day 3 in San Antonio, Texas
On your last day of this perfect San Antonio itinerary, make it worthwhile!
Start the morning with a refreshing hike exploring the Spanish Colonial Missions, including the famous Alamo.
Then, stroll through the San Antonio Historic Market Square, one of the country's largest Mexican markets, for fresh produce, snacks, or souvenirs.
Finally, end the day wandering through the scenic King William Historic District.
Day 3 Morning – Hike the Mission Trail To See The Spanish Colonial Missions
To visit San Antonio, you have to see San Antonio's star attractions. The notorious Alamo and the Spanish Colonial San Antonio Missions are a historical must-see.
There are a total of five missions in San Antonio, connected by the Mission Trail hiking and biking route. The missions were built by Spanish colonists in the mid-1700s and constructed along the San Antonio River.
These missions were meant to function as the northern frontier of New Spain with the purpose of transforming the local way of life by introducing religion, new farming methods, and communities.
In addition, these communities were meant to encourage religious education and instruction to the local Native Americans.
Except for the Alamo, all of the other historic missions remain active Catholic churches in San Antonio.
On the Missions Trail hike and bike trail, tourists and locals can participate in an active role in exploring the five Spanish colonial missions.
Start at the northern end of the Mission Trail at Mission San Antonio de Valero, popularly known as the Alamo. From there on out, witness the other four missions: Mission San Juan, Mission San Jose, Mission Concepcion, and Mission Espada.
Opening Hours: 9 AM-5:30 PM
Admission: Free
Address: 6701 San Jose Dr, San Antonio, TX 78214
Day 3 Afternoon – Shop At The San Antonio Historic Market Square
A worthwhile stop when visiting San Antonio, the San Antonio Historic Market Square occupies three city blocks of local vendors and stores.
A fun outdoor downtown San Antonio attraction, the plaza is dotted with plenty of bars, restaurants, shops, and other attractions like the nearby River Walk, and the San Antonio missions.
As the largest Mexican market in the United States, the Historic Market Square houses different sections. The "Farmer's Market Plaza" section houses 80 stalls and vendors that sell fresh local produce and homemade foods.
The "El Mercado" section houses 32 specialty shops decked out with delicious foods and other products such as colorful woven sarape blankets.
Hosting over one hundred locally owned businesses, stopping at the San Antonio Market Square is a worthwhile activity for tourists and locals. In addition, it makes for an easy stop for other downtown San Antonio attractions afterward.
Opening Hours: 10 AM-6 PM
Admission: Free
Address: 514 W Commerce St, San Antonio, TX 78207
Day 3 Evening – Explore the King William Historic District
End your San Antonio weekend trip at King William Street, the start of one of the most stunning areas of San Antonio Texas.
The King William Historic District is home to some of the most beautiful architecture in the city.
For a peaceful and scenic stroll to end your San Antonio weekend trip, head down here to see history, art, culture, and architecture collide.
King William District is also sometimes called Southtown or the Arts District, as there are lots of local businesses, art galleries, museums, coffee shops, and more.
Head up South Alamo Street after your sightseeing for some delicious Mexican food at one of the many restaurants nearby. Or head over to the Blue Star Arts Complex, or stroll along the southern side of the San Antonio Riverwalk.
Finish off your weekend in San Antonio soaking in all the sights and stopping by any downtown attractions you haven't seen yet.
Read next: The 21 Best Things To Do In Austin, Texas
San Antonio Travel Guide
Now that you have the best San Antonio weekend itinerary, here is some information that will help you know the best time to visit, how to get around, and where to stay.
When is the Best Time to Visit San Antonio, Texas
Texas has hot summers and mild winters. We recommend visiting San Antonio anywhere from November to April.
During these months, the weather is cooler and comfortable, making it easier to explore San Antonio and stroll down the length of the River Walk.
In summer, hotel rates are also higher due to the large influx of tourists, so visiting in these months will boast lower hotel rates for your convenience.
Getting Around San Antonio, Texas
The best way to get around San Antonio is by car, but if your trip is focused on downtown attractions, you might want to avoid the car.
Central San Antonio is compact and notoriously challenging to get around by car. Parking spots are hard to find, too.
Your best bet for getting around during a weekend in San Antonio is by walking, but renting a car will be your best bet if you're going outside downtown.
Another option to consider is the bus. This public transportation option offers inexpensive bus routes that are tourist-friendly that make stops at San Antonio's most popular attractions that coincide with the ultimate San Antonio weekend itinerary.
The best way to get around is to rent a car and explore on your own! We recommend Rental Cars, which has the largest range of vehicles for the best value on the market.
Where to Stay in San Antonio, Texas
Lastly in our San Antonio weekend guide, we'll talk about accommodation.
If you're wondering where to stay in the city, our recommendations for the best accommodation in San Antonio Texas will help you choose the top spot for your budget!
Best Hostel in San Antonio: Wateralk San Antonio
Featuring all utilities free of charge, WaterWalk San Antonio at The Rim includes a washer and dryer in every suite, along with complimentary detergent and fabric softener.
In addition, the complimentary breakfast experience is delivered to your room to be enjoyed before going about your day in San Antonio!
Best Mid-Range Hotel in San Antonio: Drury Plaza Hotel
Only a fifteen-minute drive from the San Antonio International Airport, Drury Plaza Hotel San Antonio North Stone Oak features complimentary breakfast, free WiFi, and a 24-hour business center for guests that need to work during vacation.
Soak in the hot tub or swim freely in the outdoor swimming pool in your free time!
Best Luxury Hotel in San Antonio: Hotel Emma at Pearl on the Riverwalk
Only 1.3 miles from the Alamo, Hotel Emma at Pearl on the Riverwalk is an enigmatic hotel that boasts a desirable location to all of San Antonio's major attractions.
Guests at Hotel Emma can sit on the sun terrace or grab a drink at the onsite bar before taking an evening stroll down Riverwalk!
DISCLAIMER: Some of the links in this article are affiliate links, which means if you book accommodation, tours or buy a product, we will receive a small commission at no extra cost to you. These commissions help us keep creating more free travel content to help people plan their holidays and adventures. We only recommend the best accommodations, tours and products that ourselves or our fantastic editorial team have personally experienced, and regularly review these. Thanks for your support, kind friend!