Looking for all the best attractions in Paradise Cove? Our guide to all the best things to do in Naples, Florida is all you need!
Nestled on the Gulf of Mexico, Naples, Florida, is renowned for its upscale shopping, pristine beaches, outdoor recreational opportunities, and world-class art. 
There are many fun things to do in Naples, from soaking in the sun's rays on the beach to enjoying some much-needed retail therapy.
Foodies, nature lovers, and history buffs will find that Naples has options galore to appease a variety of tastes and interests. More than 700 restaurants call Naples home.
From quaint cafes to fine dining, the selections are vast and delicious, especially with fresh local catches featured for seafood-based menu items!
The white-sanded beaches gloriously paired with clear blue waters have quickly established Naples as a tropical paradise for tourists and locals. The laid-back vibe is an addicting one, easy to settle into and savor for a memorable vacation full of relaxation and adventure.
Some of the best sunsets can be seen from the beaches or the Naples Pier, so don't forget to bring your camera while visiting Naples, Florida!
The Best Things to Do in Naples, FL
Our list of the best things to do is masterfully curated to include all the exciting attractions in the tropical paradise of Naples.
From watching the sunset on the Naples Pier to peering at world-class artwork at The Baker Museum to seeing fascinating homes protected by the Naples Historical Society, take your pick of these top Naples attractions below for a memorable trip!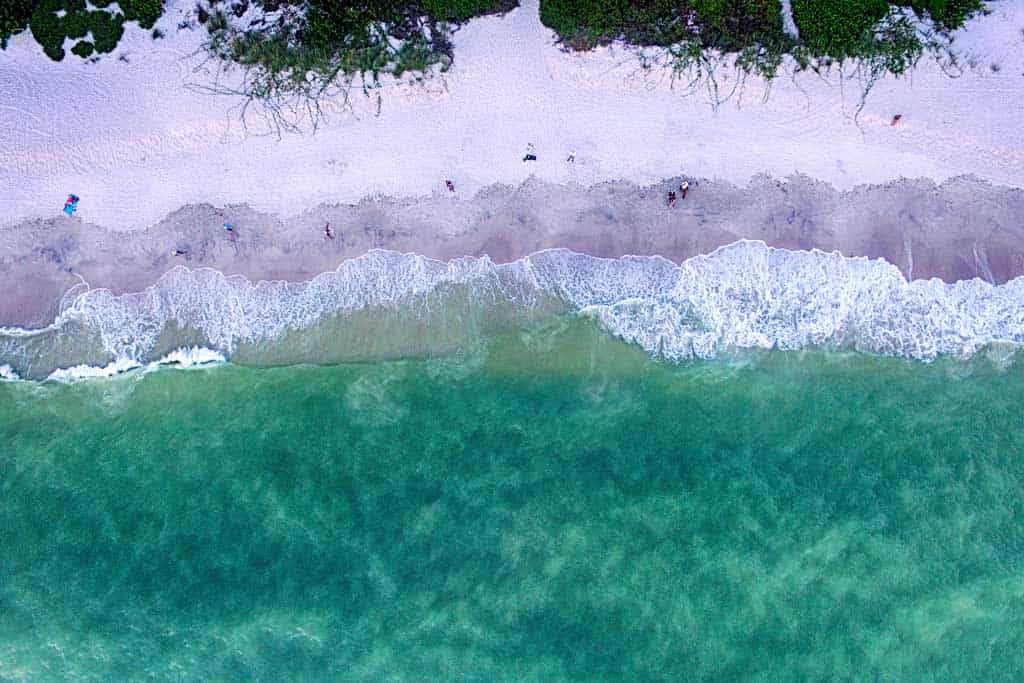 1) Leap Back In Time At The Naples Depot Museum
A historic Seaboard Air Line Railway depot in downtown Naples, the Naples Depot Museum is listed on the National Register of Historic Places. The passenger station has been lovingly restored to preserve the historic structure and educate others about its impactful history.
A visit to the Naples Depot Museum welcomes guests to leap back in time to the days of railroads and to travel by train during the Roaring Twenties.
The museum's exhibits help explain how Southwest Floridians conquered the frontier using transportation and technology.
Visitors can peer at Seminole dugout canoes, restored rail cars, and other preserved artifacts throughout the museum's interactive exhibits detailing the transformation of Naples.
Address: 1051 5th Ave S, Naples, FL 34102, United States
Hours: Currently closed for hurricane recovery – find updates on the website or check out one of the other Collier County Museums
2) Stroll Through The Thriving Naples Botanical Gardens
A world-class botanical garden set on 170 acres overlooking Naples Bay, the Naples Botanical Garden is one of the top Naples activities.
This nature paradise showcases masterfully curated gardens representing tropical plants from across the globe, including Florida, Brazil, and the Caribbean.
The water-based parts of the Naples Botanical Garden present stunning papyrus, waterlilies, and lotus species. Other habitats feature pine flatwoods, coastal scrub, mangroves, and marshes for visitors to ponder over the difference in ecosystems and the living species that call them home.
Address: 4820 Bayshore Dr, Naples, FL 34112, United States
Hours: 9 am – 5 pm, 3 pm – 8 pm Wednesdays
Cost: $25
3) Experience The Natural World At The Naples Zoo at Caribbean Gardens
A nationally accredited zoo and charitable institution, the Naples Zoo at Caribbean Gardens is a historic tropical garden displaying rare exotic plants first planted in 1919.
Tour through featured exhibits of intriguing animal species, including pythons, lions, giant anteaters, monkeys, and giraffes, surrounded by exotics plants in a thriving botanical selection.
With more than 1,000 animals and 200 represented species, the Naples Zoo at Caribbean Gardens is one of the best things to do in Naples, where visitors can learn more about the natural world and the species that live there.
In the zoo are popular exhibits such as the Panther Glade. In this exhibit, guests can see the critically endangered Florida panthers and learn about the conservation efforts to protect the species.
Address: 1590 Goodlette-Frank Rd, Naples, FL 34102, United States
Hours: 9 am – 4:30 pm
Cost: $22.95
Looking to explore more of Florida's gulf coast? Check out our list of the best things to do in Tampa!
4) Soak In The Sun's Ray On The Beach At Clam Pass Park
A breathtaking public beach and park, Clam Pass Park stretches across 35 acres of coastal land. It is one of the top things to do in Naples, with easy beach access points, including a boardwalk.
The family-friendly beach features delicate white sugared sand and majestically serene waters. Tram rides are available to take visitors through the mangrove forest to reach the beach, with opportunities to participate in guided nature walks.
There are restrooms, a picnic area, concessions, and outdoor showers available, plus the benefit of rentals for cabanas, beach chairs, and other fun gear to use at Clam Pass Park.
Address: 465 Seagate Dr, Naples, FL 34103, United States
Hours: 8 am – 7 pm
Cost: $10 beach parking fee
5) Spend A Family Day At Sun N Fun Lagoon
The top water park in Collier County, Sun N Fun Lagoon is a thrilling attraction to explore in Naples with family and friends!
Featuring five water slides, the Sun N Fun Lagoon's largest water slide is the Sea Lion, which plummets riders down an inner tube into the lazy river below.
Float as long as you want in the Lazy River as the water gently flows on its course, taking its passengers on a trip throughout the park. A family-friendly attraction at Sun N Fun Lagoon is the Family Falls, where all ages are welcome to dip in the shallow pool while tanning in the sun.
Address: 15000 Livingston Rd, Naples, FL 34109
Hours/Prices: The park opens for the summer season at the end of May. Check the website for hours and prices!
6) Watch The Sunset On The Naples Pier
The historic Naples Pier is one of the best things to do in Naples for its outstanding scenic viewpoints of the Gulf of Mexico.
Great for sightseeing, locals and tourists flock to the Naples Pier to bask in the impeccable views of the sunset surrounded by the crash of the ocean's waves.
Anglers perch on the Naples Pier for a day, fishing for catches such as Spanish mackerel, Crevalle jack, Great Barracuda, and Atlantic Goliath grouper.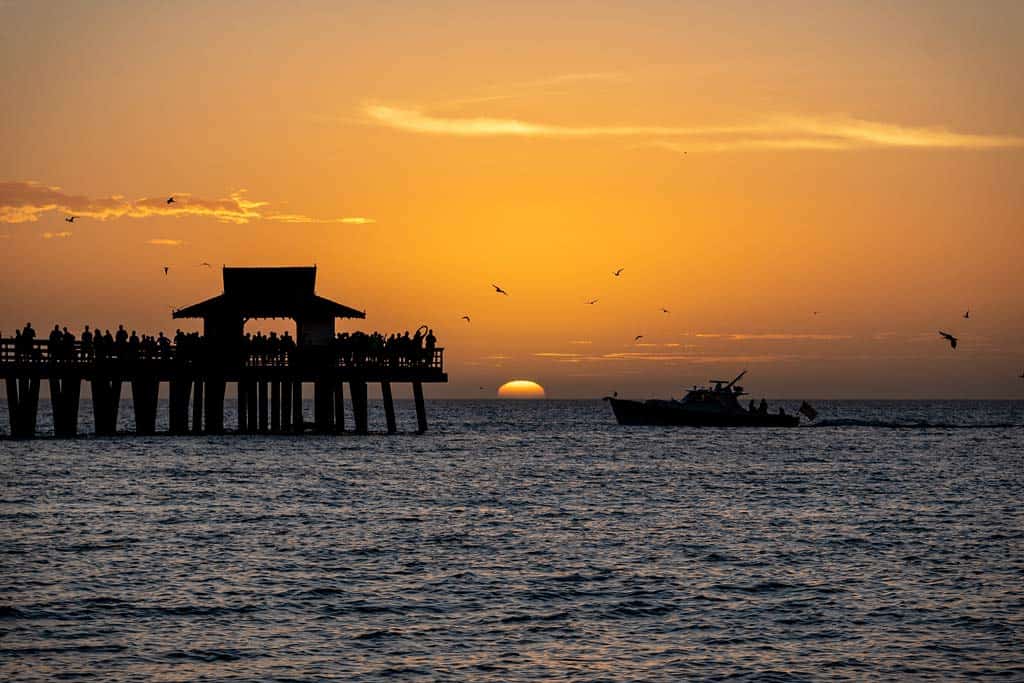 7) Explore Southwest Florida's History At The Collier County Museum At Government Center
Presenting historical exhibits and galleries dedicated to early settlers and American Indians of Southwest Florida, the Collier Museum at Government Center is one of five Collier County Museum locations.
The others include the Museum of the Everglades, Immokalee Pioneer Museum at Roberts Ranch, Marco Island Historical Museum, and Naples Depot Museum.
The Collier Museum at Government Center travels back to the time of dinosaurs, to prehistoric mastodons that were once the big-game hunters in Florida, or the time of gigantic sharks that stalked the area's tropical waters.
Peer over intriguing artifacts, such as ceremonial masks found in archaeological digs, reflecting the history of the Calus Indian people that once prospered in Southwest Florida.
Learn about early settlers that made home to the watery frontier and how Naples became what it is today!
Address: 3331 Tamiami Trail E, Naples, FL 34112, United States
Hours: 9 am – 4 pm Tuesday – Saturday
Cost: Free
Read next: The Perfect 3 Days In Tampa Itinerary
8) Adventure Downtown Naples and Tin City
The waterfront location of downtown Naples is full of refined art galleries, trendy boutiques, and upscale restaurants to explore.
On Naples Fifth Avenue South, a one-mile stretch, are many excellent selections of restaurants, shops, art galleries, spas, salons, and the top-class Sugden Community Theater to stop by for an entertaining show.
Then, hit up Third Street South for independent and local upscale stores for the ultimate retail therapy, plus a refreshing drink or great local finds at the Saturday Farmer's Market.
Or check out the old town where the city first began. Be sure to see the Naples Historical Society Historic Palm Cottage – the oldest home in town which was built in 1895.
Another fun part of downtown is Tin City, the beachy vibe of the area where fishermen once brought in the catch of the day. Today, the site is notorious for its beachy selections of soaps, crystals, beachwear, crafts, and fresh seafood restaurants.
This electric moped sightseeing tour takes riders on an in-depth discovery of Naples, visiting the pier, Third Street South, Tin City, Historic Palm Cottage, Naples City Dock, and much more!
9) Discover Local Ecosystems At The Conservancy of Southwest Florida Dalton Discovery Center
Featuring live animals and exhibits, the Conservancy of Southwest Florida Dalton Discovery Center is where visitors can learn more about Southwest Florida's intriguing ecosystems.
Discover the prosperous Everglades, the sprawling sandy beaches, and the vital mangrove forests within the center.
Visitors will journey through Southwest Florida from within the center, meeting plants and animals that call the local area home.
The beach, ocean, mangrove, and Everglades exhibits are all interactive and feature Animal Ambassadors to uncover more fun facts about these ecosystems.
In the Uplands exhibit, guests can witness some of Florida's unique snake species or gaze in awe over the Ocean exhibit with the 5,000-gallon Patch Reef Aquarium.
Animal lovers should also consider a visit to the Bird Gardens of Naples. At the Bird Gardens, you can see a variety of protected and rescued bird species!
Address: 1495 Smith Preserve Way, Naples, FL 34102, United States
Hours: 9:30 am – 4 pm Tuesday – Saturday
Cost: $17.95
10) Hear Personal Stories Of Survivors & Veterans At The Holocaust Museum & Cohen Education Center
Featuring more than 1,000 artifacts on display, the Holocaust Museum & Cohen Education Center's exhibits are dedicated to educating others on the history of the Holocaust and WWII.
The Holocaust Museum & Cohen Education Center shares personal stories of local residents who are Holocaust survivors and liberators, adding an incredible intimate personalization to the history and exhibits on display. The museum and center use chronological order to showcase pre-war to the post-war Nuremberg Trials.
Most of the artifacts shown on display at the Holocaust Museum & Cohen Education Center have been donated by WWII veterans, Holocaust survivors, and camp liberators.
Many of the museum's exhibits are permanent, though temporary lectures, films, and exhibits are held annually.
Address: 975 Imperial Golf Course Blvd, Naples, Florida 34110
Hours: 1 pm – 4 pm (Closed Mondays)
Cost: $13
Don't forget to check out Sarasota while exploring Florida's west coast!
11) Go On An Outdoor Adventure On Marco Island
A short thirty-minute drive from Naples, Marco Island boasts some of the most stunning beaches in the world and world-renowned golf courses!
On the southern tip of Florida's Paradise Coast, this island is the largest of the Ten Thousand Islands, a chain of islands and mangrove islets off southwest Florida's coast.
Surrounded by mangroves and the coastal shores of the Gulf of Mexico, Marco Island is a tropical paradise full of outdoor adventure and other fun activities.
Shelling on the Ten Thousand Islands is prevalent, with picks including olive shells, whelks, and scallops. Other water-based recreational activities such as kayaking, boating, stand up paddle boarding, and riding wave runners are popular things to do when visiting Marco Island.
12) Take The Kids To Learn & Play At The Golisano Children's Museum of Naples
Founded in 2002, the Golisano Children's Museum of Naples is the first museum in Southwest Florida dedicated to children. The museum is a family-friendly attraction dedicated to educational teaching using interactive exhibits to inspire creativity, thought, and learning.
The two-story museum intertwines temporary and permanent exhibits, all fully accessible, using superior technology.
Exhibitions and educational programs have been professionally developed by experts in child psychology to encourage the development of empathy, self-esteem, imagination, and curiosity.
Address: 15080 Livingston Rd, Naples, FL 34109, United States
Hours: 10 am – 5 pm (Closed Wednesdays)
Cost: $20
Heading north to Fort Myers? Here is our list of the best things to do when you get there!
13) Go Kayaking At Delnor-Wiggins Pass State Park
Located on a barrier island on the coast, Delnor-Wiggins Pass State Park is an accessible tropical oasis that has cemented itself as one of the best things to do in Naples, Florida
Numerous activities are enjoyed within the grounds of Delnor-Wiggins Pass State Park, including kayaking, sunbathing, boating, fishing, hiking, and picnicking.
Areas are designated for anglers to cast out in the park's northern section, where anglers can test their luck for tropical catches such as tarpon, snapper, sea trout, and sheepshead.
A boat launch is available to ride out into Turkey Bay to witness the splendid ecosystems of Southwest Florida's estuaries along the Cocohatchee River, with the path heading out to the Gulf of Mexico.
Address: 11135 Gulf Shore Dr, Naples, FL 34108, United States
Hours: Currently closed due to hurricane damage, check the website for updates
Cost: $6 per vehicle
14) Peer At World-Class Artwork At The Baker Museum
A three-story museum presenting exhibitions on ancient Chinese and American Modern Art, the Baker Museum is an established fine art museum renowned for its modern and contemporary art collections.
At the Baker Museum, a broad range of programs are presented for dance, film, comedy, and music, featuring internationally renowned artists. The museum has an art library showcasing over 4,200 books, 17 galleries, and unique features.
Some notable ones are four impressive installations by Dale Chihuly, a famous glass artist. Most notably, visitors will notice the array of outdoor sculptures surrounding the museum and campus.
Visiting the Baker Museum presents an exceptional opportunity for locals and tourists to explore world-class artwork in an enriching and educational environment.
Address: 5833 Pelican Bay Blvd, Naples, Florida 34108
Hours: 10 am – 4 pm Tuesday – Saturday, 12 pm – 4 pm Sunday, Closed Monday
Cost: $10
15) Walk The Scenic Boardwalk Through Audubon Corkscrew Swamp Sanctuary
About a thirty-minute trip from Naples is the Audubon Corkscrew Swamp Sanctuary, home to North America's largest virgin bald cypress forest.
The Audubon Corkscrew Swamp Sanctuary is a rewarding step into the world-famous Everglades ecosystem.
The sanctuary's popular boardwalk, which winds through the sanctuary, opens the doors to an adventure through wet prairie, pine flatwoods, marsh, and the cypress forest.
Keep your eyes out for the numerous species that call the Everglades home, including alligators, red-bellied turtles, white-tailed deer, and otters. Seasonal opportunities are available for bird-watching for migrating species, more notoriously known of them being the Painted Bunting.
The wilderness dates back nearly 600 years, the bald cypress that grows there being relatives of the ancient towering redwoods. The nearby Bird Rookery Swamp Trail offers great hiking and biking as well.
To spend more quality time with the wildlife while visiting Naples, consider a sightseeing boat tour!
Address: 375 Sanctuary Rd W, Naples, FL 34120, United States
Hours: 9 am – 3 pm
Cost: $17
16) Ride A Mini Train At The Naples Train Museum
Offering the only train rides in Naples, the Naples Train Museum welcomes all ages to have a fun day!
Within the museum is a multi-level train display set in action. Visitors can observe "Thomas the Tank Engine" in action as it courses through an interactive course teeming with fun accessories.
The Wall of Trains showcases original Lionel rolling stock and locomotives, realistic railroad products, which include freight cards, engines, cabooses, passenger cars, buildings, and more!
The Outdoor Scale Train at the Naples Train Museum allows passengers to hitch a ride pulled by a live steam or diesel locomotive. The ride begins at the boarding station and heads down Fifth Avenue to circle back. Good news – the ride loops around twice, so you don't miss anything!
Address: 401 10th St S, Naples, Florida, 34102, United States
Hours: 10 am – 2 pm Friday & Saturday
Cost: $8
Check out our 2 Week Florida Road Trip Itinerary for more ideas!
17) Witness Grand Displays At The Naples Art Institute
Once known as the Von Liebig Art Center, the Naples Art Institute is favored for its classy and well-curated exhibits on display, including rotating exhibitions.
For almost 70 years, the institute has continued supporting artists through its professionally curated exhibitions, drawing in artists looking to be inspired by or learn from the Naples Art Institute, whether in the institute's classrooms or through its exhibits.
The Naples Art Institute is run by the Naples Art Association and interacts with the community through workshops, events, classes, lectures, and special programs. It is located right in the heart of Old Naples, the charming historic neighborhood of the city.
Address: 585 Park St, Naples, FL 34102, United States
Hours: 10 am – 6 pm Monday – Saturday, 11 am – 4 pm Sunday
Cost: Free
18) Dip Your Toes In The Sand At Lowdermilk Beach Park
One of the best things to do in Naples, Lowdermilk Beach Park is a favored beachfront park, hosting scenic and outdoor recreational opportunities for visitors and tourists alike.
The perfect place to spend a family day, the park has two children's playgrounds for kids to play and socialize. The concession stands have energizing treats to keep the day of fun rolling, with showers and restrooms to freshen up in.
Picnic tables are open for lunch at Lowdermilk Beach Park while friends and family play volleyball on the sand courts. Rental options are available for gazebos for shaded relief for extra sunny days.
19) Hike, Kayak, & Camp At Rookery Bay
A National Estuarine Research Reserve, Rookery Bay expands across 40% of Collier County's coastline, totaling 110,000 acres of preserved land and water ecosystems.
The Environmental Learning Center at Rookery Bay welcomes visitors to learn more about the importance of the area's preservation through interactive exhibits and experiences.
The two-story center includes classrooms, four research laboratories, an art gallery, a gift shop, a nature store, an auditorium, and an aquarium.
Rookery Bay welcomes visitors to adventure and explore the protected land through outdoor recreational opportunities. Camping, kayaking, boating, birdwatching, and fishing are all popular activities within Rookery Bay's prosperous expanse.
There are two accessible trails at Rookery Bay, which include the Briggs Boardwalk and Monument Point Trail for hikers looking to keep to land while basking in the glorious nature of the reserve.
On this kayak mangrove ecotour, the guided tour is led by a marine biologist and Florida naturalist. It begins in Marco Island and traverses the rich mangrove forest to the Rookery Bay Reserve.
20) Burn Some Calories At North Collier Regional Park
A large venue full of fun attractions, North Collier Regional Park is home to a water park, fitness complex, an exhibit hall, and other desirable amenities to enjoy the great outdoors of Naples, Florida!
The park often hosts sporting events thanks to its numerous tournament fields, including five softball fields and eight soccer fields.
The park's North Collier Regional Park Rec Plex Fitness Complex boasts premium fitness equipment in a double enclosed gym to train up for your sport, a competition, or simply healthy and in shape. The water park is Sun-N-Fun Lagoon Water Park, perfect for cooling off from the heat.
Read next: 24 Exciting Things To Do In Orlando, Florida
21) Watch A Performance Of The Naples Players at Sugden Community Theatre
Home of The Naples Players, founded in 1953, the Sugden Community Theatre became the group's home. The theatre features vibrant performances by The Naples Players, who present theatrical and musical shows appropriate for all ages.
The Sugden Theatre is a two-story building settled near Fifth Avenue South, wonderfully surrounded by upscale boutique shops and classy restaurants.
The community theatre's European-style auditorium personifies a warming ambiance that catches one's attention with upgraded infrastructure for productions likened to a professional theater's performance.
Address: 701 5th Ave S, Naples, FL 34102, United States
Hours/Cost: Check the website for show details
Where to Stay in Naples, Florida
Now that you know the best things to do in Naples, let's check out the top places to stay during your vacation!
Best Cheap Hotel in Naples, Florida
Green Link Paradise offers guests a desirable location, less than ten miles from some of the top things to do in Naples, including Naples Botanical Garden, Tin City, and the Collier Museum of The Everglades. Savor the sweeping balcony views of the lake with plenty of space and desirable accommodations at this affordable stay.
Best Mid-Range Hotel in Naples, Florida
A pet-friendly stay, Home2 Suites By Hilton Naples I-75 Pine Ridge Road presents convenient access to I-75 to reach many of the best things to do in Naples. Hit up Naples Beach or explore downtown Naples only 15 minutes away from the hotel, while savoring complimentary breakfast and WiFi during your stay!
Best Luxury Hotel in Naples, Florida
Only a mile from Naples Beach, Bellasera Resort is a high-class luxury hotel within a six-minute stroll of fifth avenue's favorable restaurant and shopping selections.
Set in downtown Naples, guests can experience the most sought-out Naples attractions mere steps away from this elegant resort in Naples. You can also go shopping at the Village Shops at Venetian Bay which is right nearby!
DISCLAIMER: Some of the links in this article are affiliate links, which means if you book accommodation, tours or buy a product, we will receive a small commission at no extra cost to you. These commissions help us keep creating more free travel content to help people plan their holidays and adventures. We only recommend the best accommodations, tours and products, and regularly review these. Thanks for your support, kind friend!