Planning an epic Arkansas road trip itinerary to hit all the best spots? Our latest article from our recent trip through the state will make sure you don't miss a thing!
It's always been a dream of ours to go on a road trip though the Southern United States, checking out some of the best cultural and scenic vistas along the way.
This year we were lucky enough to finally tick off that dream from our bucket list, and after exploring the best sights in Louisiana we crossed the border into the neighboring state of Arkansas.
Truth be told we hadn't really heard a lot about the state, so we went in with a fully open mind and excitement levels buzzing to see what we can find.
With no expectations we were incredibly surprised at just how nice the road trip was. They don't call it the Natural State for nothing.
The Perfect Week-Long Arkansas Road Trip Itinerary
Scenic drives, historic places, limestone cliffs, great coffee shops, a bustling music scene, tree houses and plenty of hiking meant we certainly made the most of our time here.
Ready to hit the road and follow in our footsteps for a week in Arkansas? Let's dive into our itinerary!
The best way to get around is to rent a car and explore on your own! We recommend Rental Cars, which has the largest range of vehicles for the best value on the market.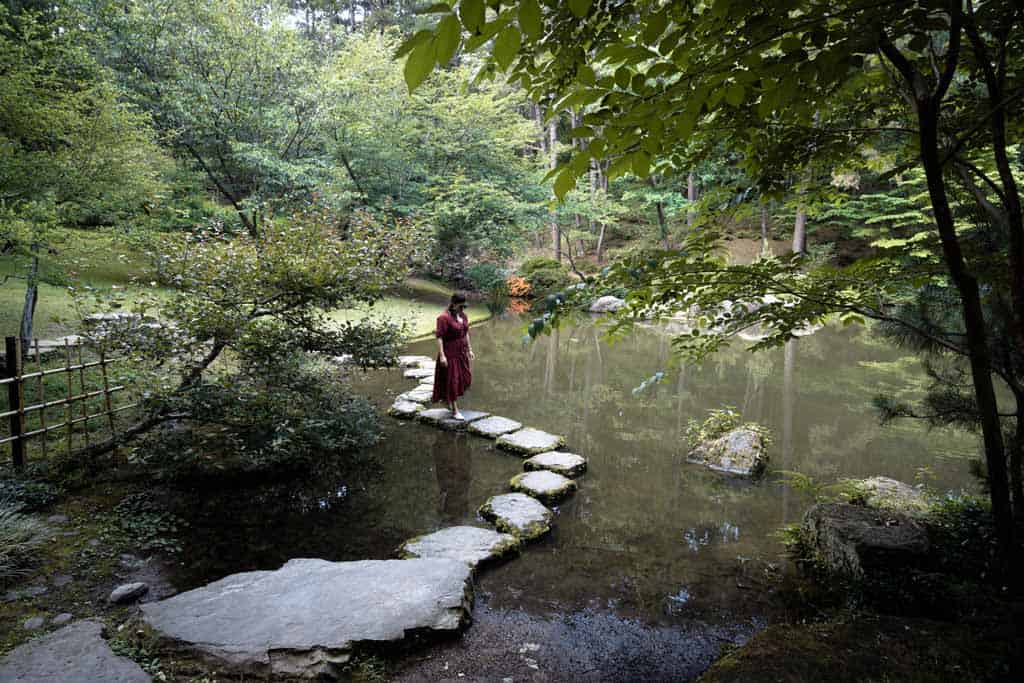 Day 1: Little Rock
Unless you're like us and travelling from Louisiana or one of the other neighboring states, you will most likely fly into the capital of Arkansas, Little Rock.
Lucky for you too, because this is a great place to start exploring.
Definitely leave yourself a day or two to explore this city, as there really is so many great things to do in Little Rock.
You can learn about the history, try some local beer, explore Bill Clinton's Presidential Library or enjoy all the green space that Little Rock offers on a bike.
Here are our suggestions for what to do on your first day in Arkansas.
Go on a Bike Tour with Rock Town River Outfitters
The absolute best way to explore a city is by bicycle. So that's what we did in Little Rock, and you should too.
We recommend spending the morning riding around and learning about the city Little Rock. The best people to do this with is Rock Town River Outfitters.
These guys provide the bikes and the knowledge with their awesome guides, who absolutely love their city.
During our bike tour we learnt a lot about Little Rock and saw so much on two wheels in a short period of time.
Ride down streets with old historical warehouses, huge mansions and of course the iconic State Buildings.
This one is not to miss if you visit Little Rock and don't have a lot of time. A standard tour will take about 3 hours.
Address: 400 President Clinton Ave Suite A, Little Rock
Opening Hours:

Closed Monday and Tuesday

Wednesday – Friday: 10am–6pm
Saturday – 9am–6pm
Sunday – 11am–6pm

Price: Starting from $60 for a bicycle or $82 for an e-bike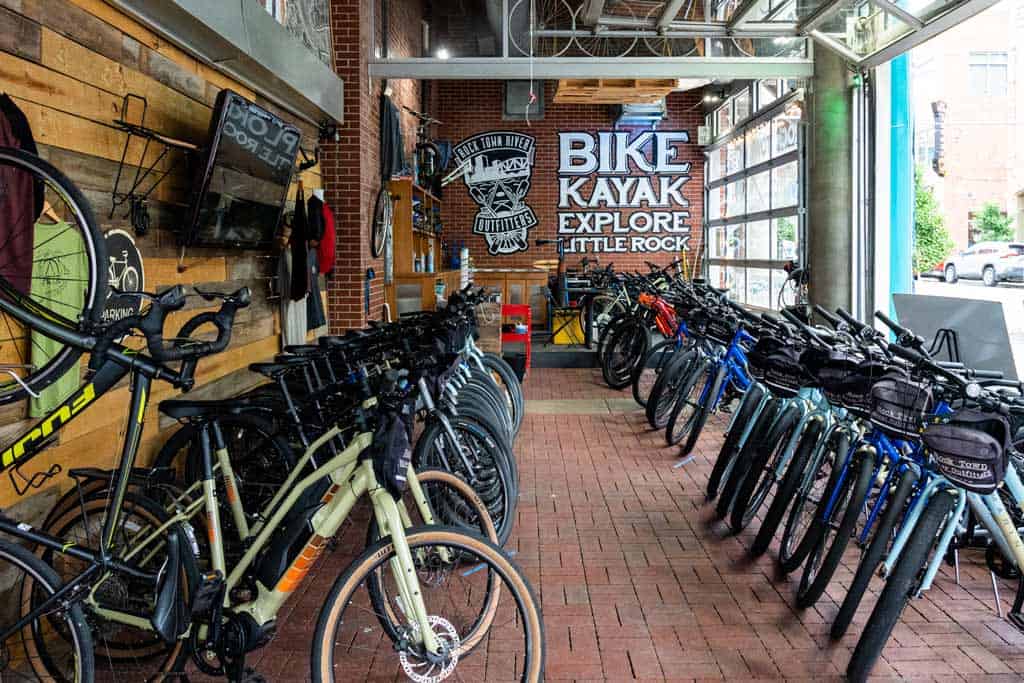 Visit the William J. Clinton Presidential Library and Museum
After a little work out, why not learn more history at the William J. Clinton Presidential Library and Museum, also known as the Clinton Presidential Center?
Being from Australia, it was fascinating to us that in the USA after the president finishes their term a museum is made to house the entire archives of the life of the presidency.
Bill Clinton was born and raised in Arkansas, so having the museum in Little Rock was a no brainer.
There are over 100,000 objects to read and see in this museum, from gifts he received, artwork and fashion pieces.
One of the real highlights though is an exact replica of the Oval Office.
There are countless images, videos and records stored here, and you can spend a couple of hours wandering around the different exhibits.
The restaurant also serves surprisingly delicious food. Worth stopping by for lunch.
Address: 1200 President Clinton Ave
Hours: 9am – 5pm Monday – Saturday, 1pm – 5pm Sundays
Cost: $12
READ MORE: Enjoy another one of the top road trips in the US with our West Virginia itinerary!
Grab some Tacos and Beer at Camp Taco
Next on our list for your time exploring Little Rock is some local music, food, craft beer and great atmosphere – all found at Camp Taco.
This small brewery is a hidden gem in Little Rock, with a large number of unique craft beersand delicious Mexican-style food.
Eating here was actually the best meal we had in the entire state. Make sure you get the Mexican ramen, it was divine!
Address: 822 E 6th St, Little Rock
Hours: 11am – 9pm Sunday – Thursday, 11pm – 10pm Friday – Saturday
Have more time in Little Rock? Check out our article on more things to do in Little Rock.
Day 2: Little Rock to Hot Springs National Park – 55 miles, 1 hr
For the next two nights you're going to stay in Hot Springs, one of the nicest places in the Southern USA.
From Little Rock, it takes about one hour to drive to Hot Springs National Park. We would recommend leaving early so you can get the most of each day, as there's a lot to see and do here.
The town of Hot Springs is one of the best places to visit in Arkansas, and while most people like to come to check out the historic bathhouses, there's actually a lot of great natural beauty around.
Hot Springs National Park has some stunning, lush forests, gorgeous waterfalls, many lakes and some great activities like mountain biking and hiking close by.
READ MORE: Check out our comprehensive guide to all the best things to do in Hot Springs!
Grab some Breakfast at The Pancake Shop
Start your day right at this amazing family business, famous for making the best pancakes in Arkansas (and some of the best we have ever tasted).
We had a great breakfast here when we were in Hot Springs and it is not to be missed. We highly recommend the blueberry pancakes, and you have to try the freshly-squeezed orange juice.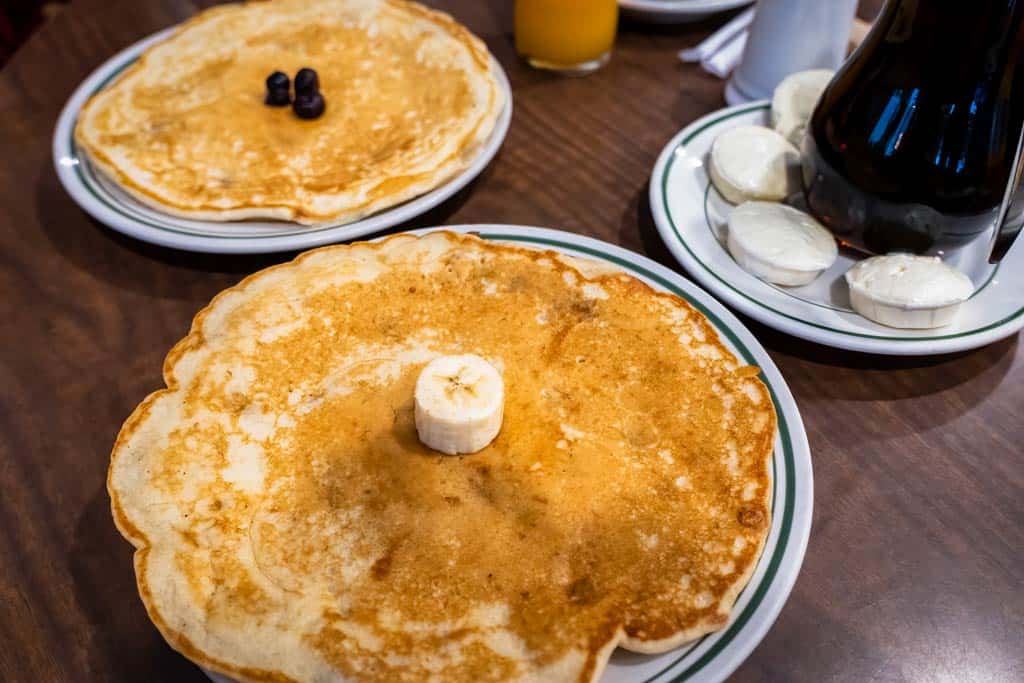 Fordyce Bathhouse Visitor Center
After your brunch in Hot Springs, stop off at the Fordyce Bathhouse Visitors Center.
This is not just a visitors centre to help you find out information about the area, it is also a museum about the history of the bathhouses that were once an integral part of the town.
Before Hot Springs became a national park, 8 extravagant bathhouses were built that tapped into the natural hot water coming from the ground, providing a luxury bathing service for gangsters, politicians and business people from around the country.
Give yourself about one hour to walk the 3 levels (and basement) of the Fordyce Bathhouse building and learn how the bathhouses once were and what they looked like.
On the upper level. you can learn about how the mineral water is extracted into the buildings and where it comes from.
Do not miss the basement where you can see this process and the machinery they once used.
After your self-guided tour, go see the rangers in the centre to help you organise the rest of your stay here in Hot Springs. They are very knowledgable and can give you advice on any hikes, mountain bike trails and photography spots in the national park.
Next it's time to walk down Bathhouse Row and check out the 8 bathhouses. Make sure to read about each one with the information boards in front of them all.
Address – 369 Central Ave
Opening Hours – 7 days a week – 9am – 5pm
Price – Museum is Free to enter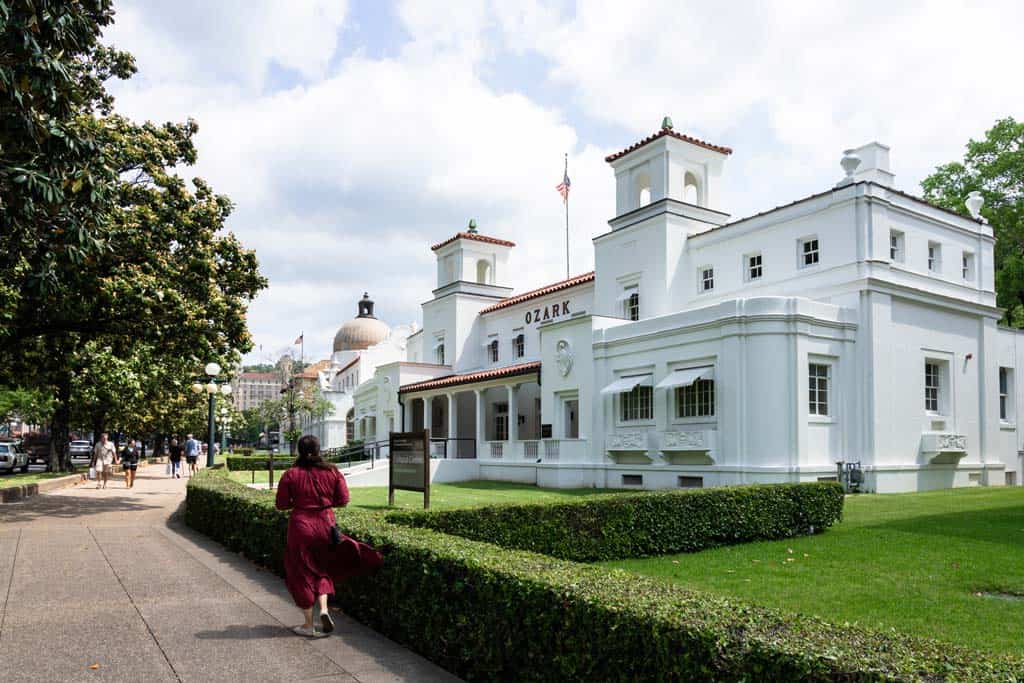 Book in for a Thermal Bath at Quapaw Baths and Spa
Since you have learnt all about the Thermal Bathhouses, why not try one for yourself?
We recommend the Quapaw Baths and Spa. We popped on in and paid for the public baths.
They were so relaxing and our skin felt amazing afterwards. The thermal water has health benefits and many locals visit the bathhouse regularly.
The service they offer for the public baths are first-come, first-serve. You do not need a reservation, just come in and pay. They do get busy and they may start a waiting list so get there early or later in the day.
Address – 413 Central Ave
Opening Hours – Wednesday to Monday – 10am – 6pm (closed on Tuesday)
Price – $25 plus tax per person (public baths)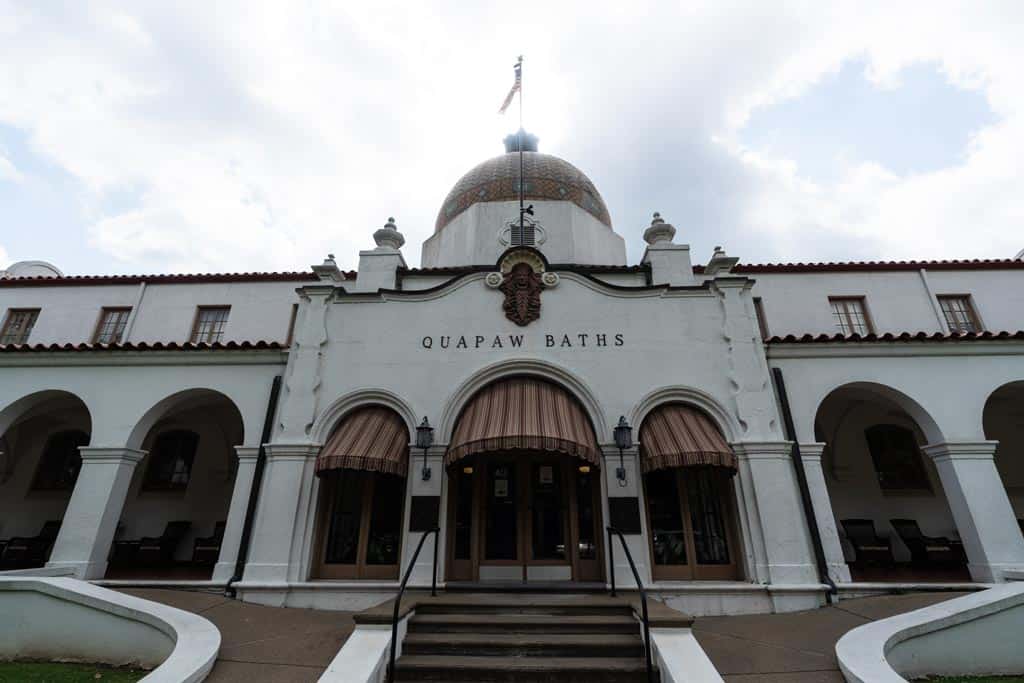 Hot Springs Mountain Tower
This is a great place to see the whole area, where you can look down over the town.
Once you have reached the mountain tower park your car and head inside. There is a fee to head up the top for the view if you want a higher elevation.
The tower elevator will take you 66 meters (216 feet) up to the top where the observation decks are.
You will enjoy amazing panoramic views of the Ouachita Mountains, Hot Springs Mountain, and Diamond Lakes area.
Address – 401 Hot Springs Mountain Dr.
Opening Hours – Hours depend on the month. Check their website.
Price – $8 for adults (12 & over) and $4.50 for children (5 to 11). Free under 5 years old.
Go on a Hike
After checking out the great view from the top of Mountain Tower, explore the short hiking trails nearby.
Get out and see the scenic Ouachita Mountains. These hikes are great for all ages and levels. You get more great views of the area and
If you have extra time and want to do some more hiking, check out the trailheads that are located very close to downtown, such as the Sunset Trail, West Mountain Trail and Gulpha Gorge Trail which are all great hikes.
Stop by the Hot Springs National Park Visitor Center to get more information on the hiking trails.
Enjoy Some Food and Beers from Superior Bathhouse Brewery
Welcome to our favourite place in all of Arkansas!
When the town was designated as a national park, all but 2 of the bathhouses closed down. These beautiful buildings though were wasting away, until one young entrepreneur came up with an idea – why not turn one of the bathhouses into a brewery?
Meet Rose, the founder of Superior Bathhouse Brewery. She came up with this incredible idea and after years of planning, permit-acquiring and historical protection agreements, she opened up the first ever brewery inside a US national park.
It's absolutely booming now, and during the summer she has line-ups down the street for people wanting to come in and grab a taste.
Rose loves good beer (learning her craft in her basement), but also loves to get experimental with her brews. Besides delicious IPAs, stouts, lagers and ales, she throws random ingredients in to see how they'll turn out. For example we tried a jalapeño ale, infused with peppers giving it a spicy taste. And boy was it good.
Do not miss stopping in here on your Arkansas road trip.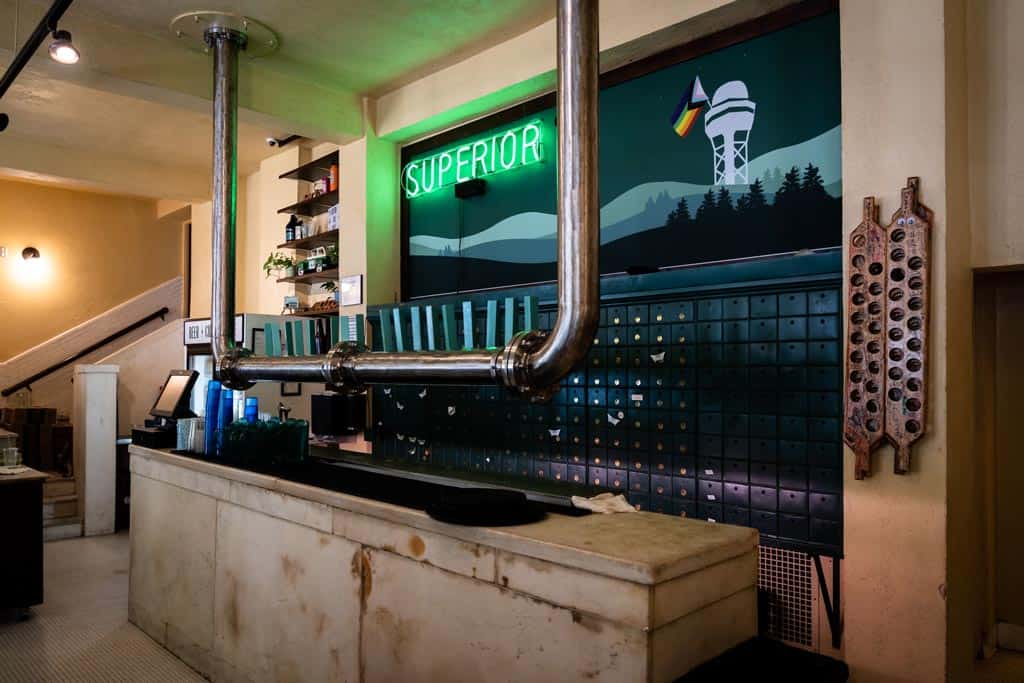 Stay at Hot Springs Treehouse
If you want to stay in one of the nicest and most unique accommodations in Hot Springs, make sure you book in for two nights here.
The Hot Springs Treehouses are just 15 minutes outside the town of Hot Springs, but feel like they're in a whole different world.
We stayed in the Firefly Ridge Treehouse, a huge log cabin with a fireplace, big sitting area, massive bed and the highlight, a hot tub on the deck surrounded by beautiful forest!
We spent two nights here and loved chilling by the fire, sitting in the jacuzzi and listening to the sounds of birds and insects. Such a peaceful place.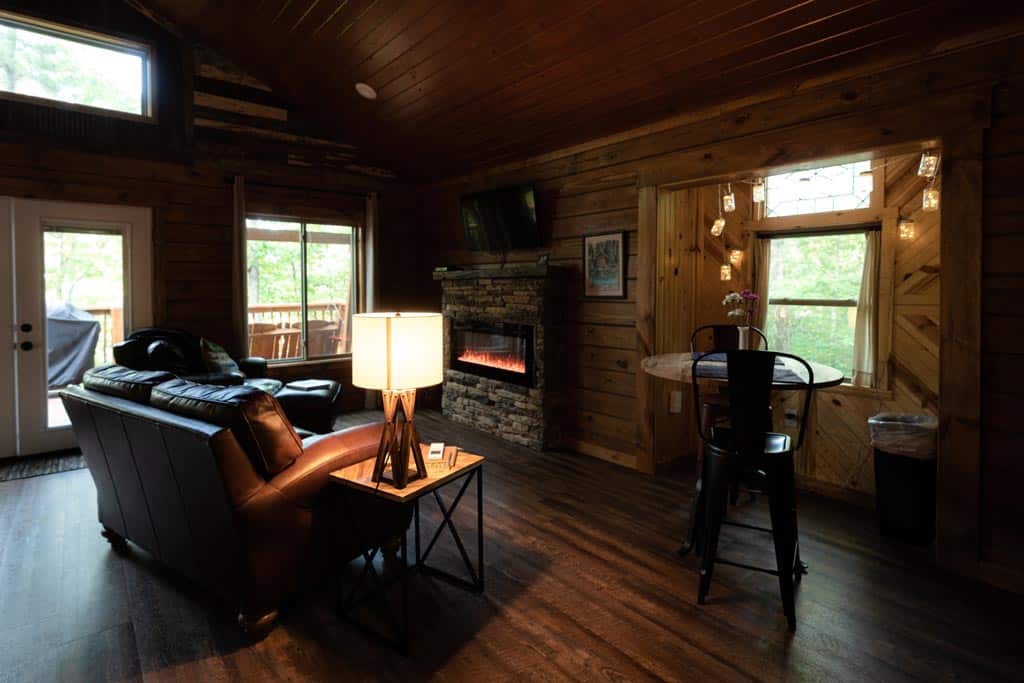 Day 3: Hot Springs National Park
On your second day in Hot Springs, head out for more great adventures around town.
Grab a Great Breakfast at Kollective Coffee & Tea
Kollective was such a great place to fill your body up with energy before a busy day of adventures.
They have a great variety of food and drinks to choose from. Their coffee was delicious and we recommend dining in too.
They make fantastic breakfast bagels, and even us as self-proclaimed coffee snobs (we are Australians after all) gave two thumbs up to their brew.
Here's their site for more info.
Go Mountain Biking on the Northwoods Trails
The mountains around Hot Springs are filled with miles of trails, so why not pick up a mountain bike and hit them?
These versatile trails are right in the backyard of downtown Hot Springs, so no need to drive anywhere – just pedal from town.
If you are around for a few more days and want to do more mountain biking, check out the places below.
Womble Trail – Located in the Ouachita Mountain
Cedar Glades Trails – Located in the Ouachita Mountains
Iron Mountain Trail – Located on the south shore of Lake DeGray
Ouachita National Recreational Trail – Located in the Ouachita Mountains
Lake Ouachita Vista Trail – Located on the south shore of Lake Ouachita
You can rent a bike though a number of companies in town.
Hot Springs Bicycle Touring Company
Spa City Cycling
Trail City E-Bikes
Parkside Cycle
READ MORE: Travelling elsewhere in the Southern USA? Don't miss our guide to the top things to do in Lafayette, Louisiana!
Visit the Garvan Woodland Gardens
There is something so calming and relaxing about walking around a garden, and this spot here is one of those magical places!
When I read there was an amazing garden just outside of Hot Springs, I had to check it out.
The Garvan Woodland Gardens is a 210-acre botanical garden with lots of walking paths to enjoy.
To promote well being, the botanical garden has walking circuits so you can either exercise in nature or sit and enjoy the stillness.
We spent hours at the Garden exploring each section. The architecture with some of the designs in the garden are so unique. I took lots of inspiration for our own garden in the future.
The gardens are located near Lake Hamilton. Lake Hamilton is a family fun man made lake where water sports take place on weekends.
Address – Garvan Woodland Gardens, 550 Arkridge Rd
Opening Hours – 7 days a week: 10am – 6pm
Price – $20 for Adults (13 and up), $5 for Children (4-12) and free for under 3 years old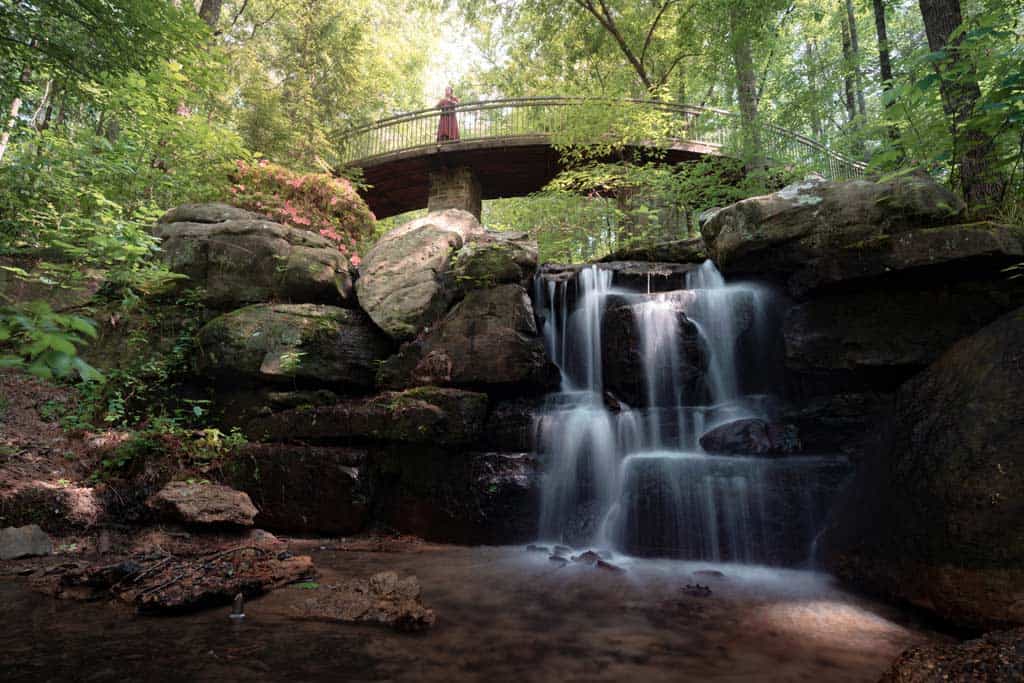 Do Not Miss the Anthony Chapel Complex
You have to visit the Anthony Chapel Complex when you are at the Garvan Woodland Gardens. Do not miss it. It is incredible.
Can you believe there's a church like this hidden in the forest in Arkansas?? How cool is this place!
This is Anthony Chapel, standing 57 feet tall and made of native wood & glass. It was built in 2006 and designed by architects Maurice Jennings and David McKee.
It looked so unique emerging from the trees, and the inside was just as cool. It's often used for weddings – what a beautiful spot to get married!
Grab Some Pizza at Delucas
Now if you want to try a traditional Pizza, Italian style, check out Delucas. This is the place to eat in Little Rock.
The pizza was the biggest pizza we have ever seen. It was huge.
Day 4: Hot Springs to Crater of Diamonds State Park – 60 miles, 1 hr 15 min
A few hours south of Hot Springs is one of the most unique places in all of Arkansas – Crater of Diamonds State Park.
This park may be hot and dusty, but you're not coming here for the landscapes. Instead this is the only place in the world where the public can mine for diamonds!
Diamonds naturally occur in the area, and while there's not enough to warrant a full-scale diamond mine being developed, there's enough around for the average Joe to dig, sift and eventually find a shiny rock.
And best of all, if you find one, you keep it! The biggest ever found was 40 carats. Can you imagine?
We tried our best but didn't find any of our own diamonds unfortunately. But we did meet some people who come every year and do indeed find the precious stones.
It's very hot out in the field, so make sure you bring lots of water with you. You can rent all the sifting equipment you'd need from the visitors centre.
The town itself is quite pleasant as well, so grab a nice BnB or motel and enjoy the atmosphere after you've (hopefully) struck it rich.
Address – 209 State Park Rd, Murfreesboro
Opening Hours – 7 days a week – 8am – 4pm
Price – $10 per person for entry, equipment rental on top of that. If you arrive late in the day, you can use your ticket for the following day.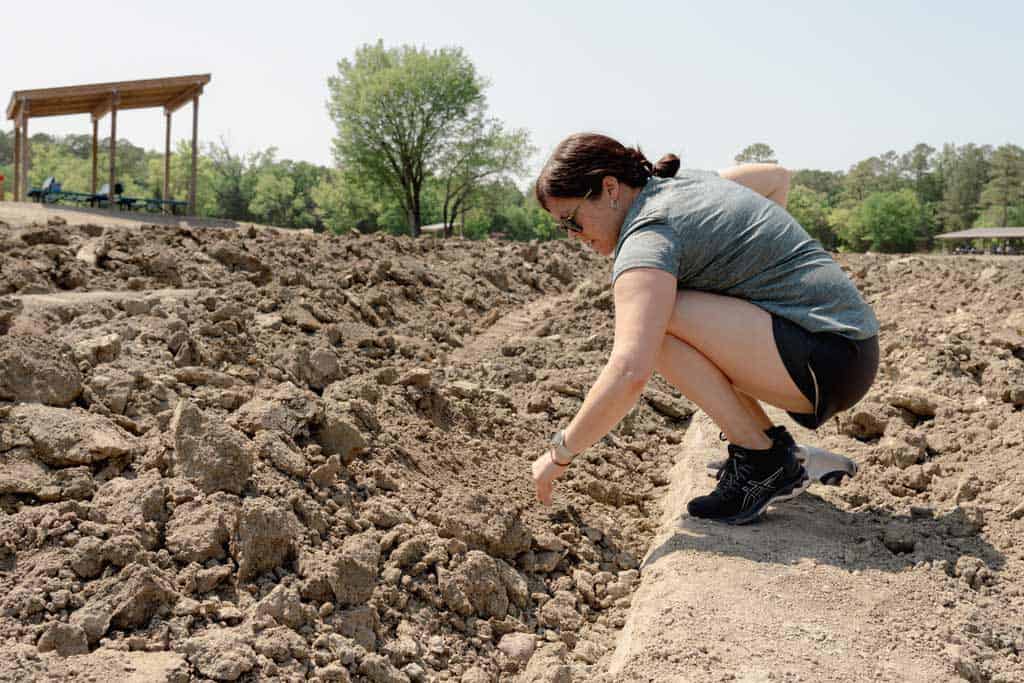 Day 5: Crater of Diamonds to Mount Magazine State Park – 118 Miles, 2 hr 30 min
From Crater of Diamonds it's time to drive to Mount Magazine State Park in Northwest Arkansas. This route will take you about 2 hours and 30 minutes, so hit the road early.
On the way, you will drive along the Mount Magazine Scenic Byway which is a gorgeous scenic drive, so keep the camera handy.
Drive the Mount Magazine Scenic Byway
The Mount Magazine Scenic Byway enjoys a slow ascent on a windy road through gorgeous forest.
Mount Magazine is Arkansas highest peak at 2,753 feet (Around 840 metres). It is a lovely drive with a lot of viewpoint stops along the way.
Do not miss them as this is a great opportunity for a nice view and to stretch your legs.
Once you reach near the top of Mount Magazine State Park you will come across the Lodge, the top accommodation in the area.
This is where we stayed and it really is a lovely place. The lodge has great views on a clear day but it is also amazing when the clouds come in low and you can enjoy a hot drink by the fireplace.
There are many trails leaving from the lodge or are located a short drive, so grab your walking shoes and hit the track.
READ MORE: Make a trip to Lake Charles in Louisiana and hit up all the incredible things to do there too!
Go Hiking
Travelling along the Mount Magazine Scenic Bypass you will see a lot of hiking trails.
When you arrive to Mount Magazine State Park your first stop should be the Tourist Center. Do drop in here and they will provide all the information you will need for hiking in the area.
There are hikes from the Mount Magazine State Park Tourist Centre or you can hike from the Mount Magazine Lodge.
Benefield Picnic Area
Benefield East Loop Trail
Benefield West Loop Trail
Mossback Ridge Trail
Inspiration Point
Sunrise Rock
Bear Hollow Trail
Mossback Ridge Trail
Mount Magazine State Park Tourist Centre
Turkey Springs
Greenfield Trail
North Rim Trail
Will Apple's Road Trail
Mount Magazine Lodge
Signal Hill Trail
Mossback Ridge Trail
North Rim Trail
Once you've finished hiking head back to the lodge for a big meal and cold beer.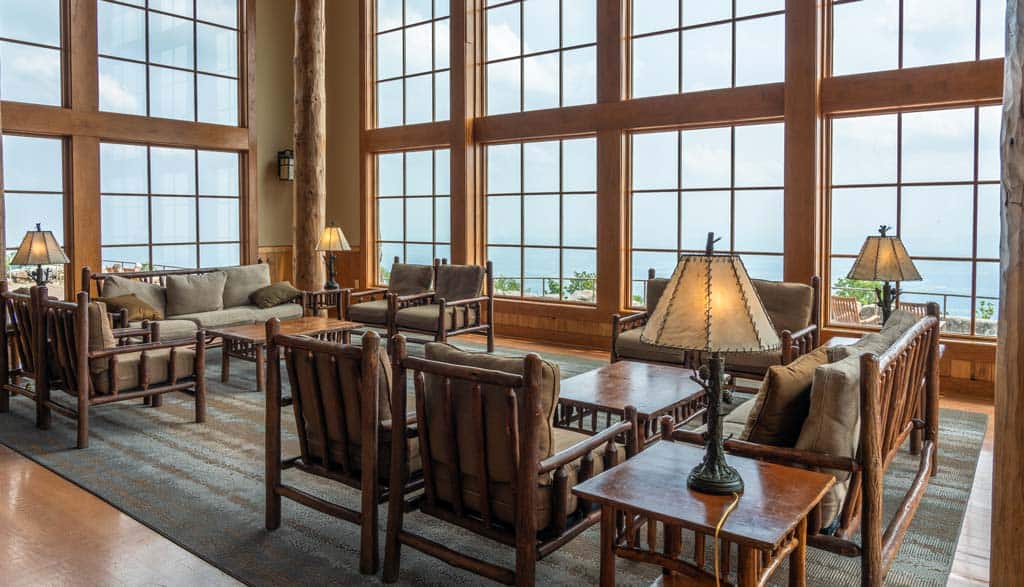 Day 6: Mount Magazine to Petit Jean State Park – 53 Miles, 1 hr 15 min
Get on the road early and head down the Mount Magazine Scenic Bypass towards Petit Jean State Park.
This is another beautiful state park where you can really embrace nature.
When arriving to Petit Jean State Park there is a camping area or cabins to stay in.
Check into the lodge and they will be able to give you some advice on the hikes in the area.
Most of the walking trails are a short distance from Mather Lodge. Spend the afternoon exploring the area by foot or relax in the lodge.
Cedar Falls Trail and Overlook
The Cedar Falls Overlook is an easy hike at just a quarter mile. It's a well maintained boardwalk that will overlook the waterfalls.
If you are keen, there is the Cedar Falls Trail hike that is 2 miles out and back. It is a moderate/strenuous hike that leads down to the waterfall. There are a number of stairs that descend and the path is well maintained.
Hike the Cedar Creek Trail
The Cedar Creek Trail is a loop trail that is about 1.2 mile (2km) long.
The well marked trail starts at the Old Pioneer Cabin where you will follow the path on a fairly easy but moderate trail.
The trail's scenery is beautiful and well worth it.
After the walk head back to your cabin or campsite, make a fire and enjoy the stars.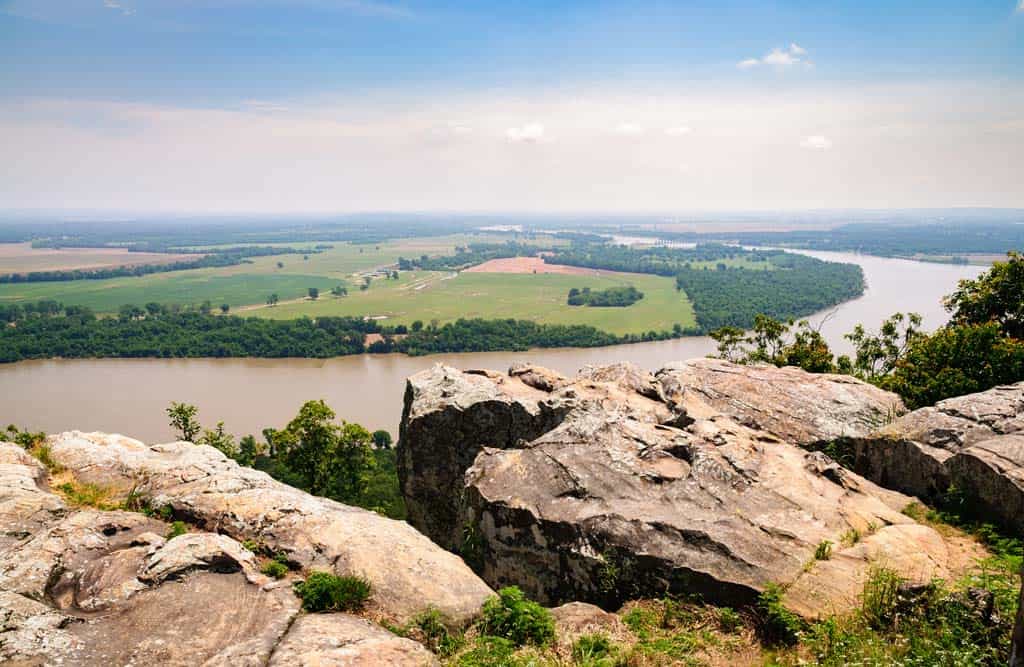 Day 7: Petit Jean State Park to Little Rock – 70 Miles, 1 hr 15 min
Before leaving Petit Jean State Park, get up early and check out the Petit Jean Gravesite Overlook.
This drive will take about an 1 hour and 20 minutes. The lookout has beautiful views over the Arkansas River Valley.
It has great boardwalk for everyone to enjoy with the allowance to go out to the edge.
Getting there for sunrise is the way to go but if you miss it, this place is still worth a stop.
Afterwards it's time to make the drive back to Little Rock to finish you Arkansas road trip.
READ MORE: Did you know there's so many awesome activities in Harpers Ferry, West Virginia? Don't miss them!
Walk Along the Riverfront Park
Drive into town, check in at your hotel (or park the car downtown) and go for a walk at the Riverfront Park.
Riverfront Park stretches 11 blocks on the south side of the Arkansas River. The gorgeous urban parkland has 33 acres for nature lovers.
The Riverfront Park is great for outdoor activities and you can even learn about the state's history. Get out and go for a stroll.
You can visit many attractions along your walk through Riverfront Park. Some of the sights you may pass include:
Little Rock Civil War Marker
Clinton Presidential Bridge
Riverfront Park History Pavilion
Junction Bridge
La Petit Roche Plaza
Medical Mile
Peabody Splash Park
First Security Amphitheater
Vogel Schwartz Sculpture Garden
William E. "Bill" Clark Presidential Park Wetlands
Witt Stephens Jr. Central Arkansas Nature Center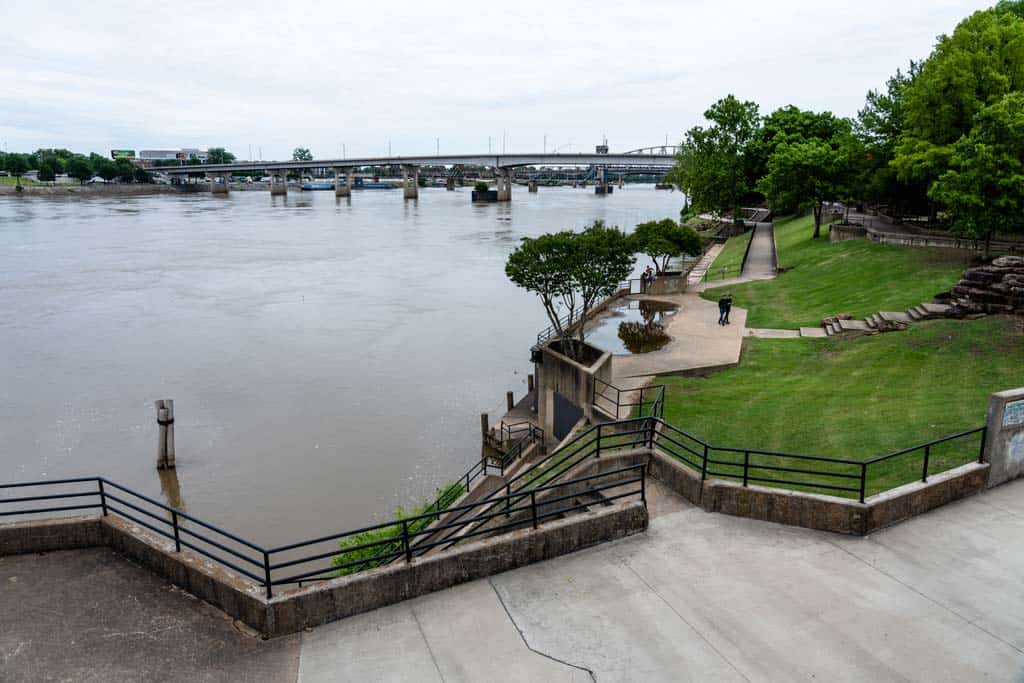 Day 8: Enjoy Your Last Day in Little Rock
It's the last day of your Arkansas road trip itinerary, and by now you've seen some of the state's top attractions.
If you have a flight out today make sure you enjoy a delicious breakfast, have a coffee and make your way to the airport.
In town for the whole day? Awesome! There's still lots to do.
Visit a Brewery and Listen to Some Live Music
Why not check out a local brewery and relax for the afternoon? Most of the breweries have live music on the weekends.
There are a few local breweries to choose from in Little Rock. You can check out some of these in Little Rock;
Lost Forty Brewing
Vino's Brewpub
Flyway Brewing Company
Stone's Throw Brewing – Quapaw Quarter
Diamond Bear Brewing Co.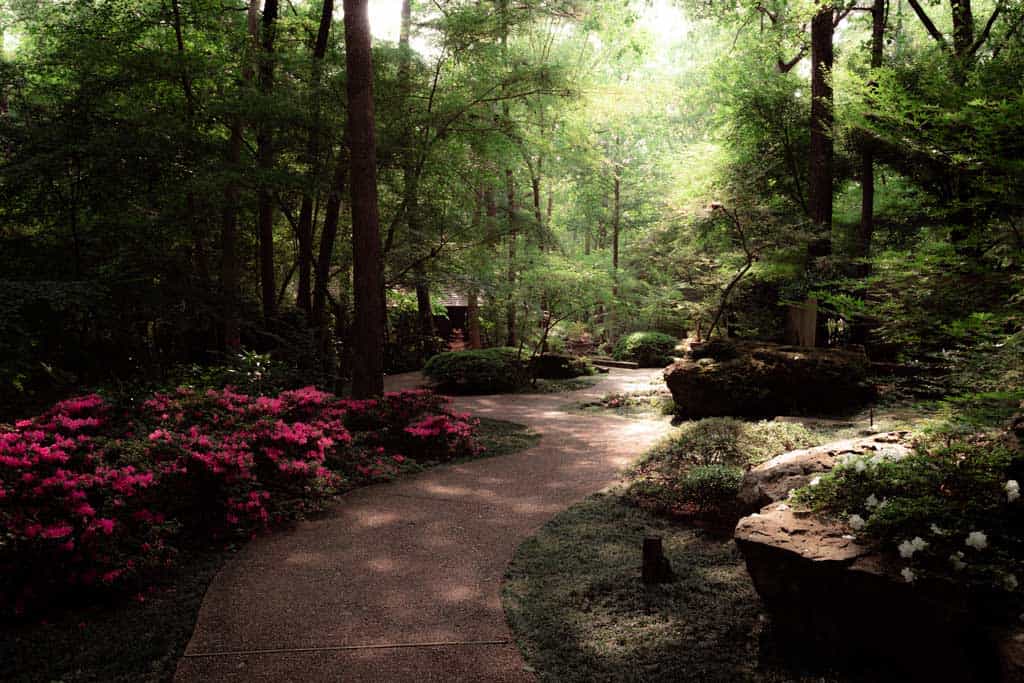 Extending Your Trip in Arkansas?
If you have longer on your Arkansas Road Trip, here are a few more places to check out
Devil's Den State Park
Near the border of Oklahoma and on the way to Fayetteville, you could stop off at Devil's Den State Park for some hiking on the number of hiking trails.
Located in the Ozark National Forest, Devil's Den State Park is a peaceful place that's worth a visit.
Eureka Springs
Another city located in the Ozark Mountains is Eureka Springs.
Eureka Springs is known for its beautifully preserved Victorian buildings in its Historic District.
Today in Eureka Springs, you can stay in one if you choose such as the Basin Park Hotel and Crescent Hotel. The historical buildings were built in the past around the city's natural springs.
In the nearby hills around Eureka Springs, you can visit the Thorncrown Chapel which is a stunning wood and glass church. Very similar to the Anthony Chapel Complex in the Garvan Woodland Gardens in Hot Springs.
If you are in the north of Arkansas, do not miss stopping off at Eureka Springs.
Blanchard Springs Caverns
After Eureka Springs, you can head north to Blanchard Springs Caverns. Blanchard Springs Caverns is 2.5 hours of Little Rock.
It's worth a visit to drive the Sylamore Scenic Byway, one of the top road trips in Arkansas.
Ouachita National Forest
Make the most of Arkansas' stunning mountain scenery by hitting the trails in the Ouachita National Forest and along the Ouachita River outside of Hot Springs.
Arkansas Wine Country
What?? Arkansas has vineyards? It sure does!
In the Arkansas River Valley you can find a whole variety of great vineyards serving up delicious drops.
While Arkansas wine country might not match Napa Valley, it's still worth a visit if you have time and like a good drink.
Buffalo National River
The small town near Buffalo National River is a great place for canoeing, camping, boat rentals and getting the family into the great outdoors on the Buffalo River.
Fayetteville
Finally for our list of other places to check out when you head west on these Arkansas road trips is the hip town of Fayetteville.
This gorgeous region is home to excellent rock climbing, cool cafes in small towns and a great launching point for the Ozark National Forest, Mulberry River and other excellent places to visit.
Renting a Car in Arkansas
There are multiple car rental companies at the Bill and Hillary Clinton National Airport, and in Little Rock. Your best option is to book ahead so you do not miss out on a car when you arrive.
The best way to get around is to rent a car and explore on your own! We recommend Rental Cars, which has the largest range of vehicles for the best value on the market.