Plan the ultimate Texas road trip itinerary that includes national parks, hiking trails, and must-see cities around the Lone Star State.
Thinking about making your way south to visit Texas? This epic 10-day Texas road trip shows you how you can experience the best that the Lone Star State has to offer.
The bulk of this 10-day itinerary is focused on central Texas where major highways form a meticulous triangle. By following this route you can experience major cities and state capitols, all the while learning just why everything is bigger in Texas!
Beginning in Dallas, you'll venture even further by exploring Texas' underrate nature and a past that continues to influence the wider country.
In reality, Texas is a massive state. You'd need much longer than 10 days to really see the entire state on an epic Texas road trip. So if you do have more time to spare, you can always add to this itinerary through many of the posts that we link to along the way.
But for the purpose of this Texas road trip itinerary, we'll be focusing on the easily accessible highlights of Central Texas.
Find more ideas with our ultimate list of the best things to do in Texas!
The Perfect Texas Road Trip Itinerary
Texas can be explored in a number of ways. From taking domestic flights to guided tours, this huge state has so much to offer. But a Texas road trip is a quintessential way to experience the Lone Star State!
During these 10 days, you'll see charming small towns, magnificent cities, and natural beauty. This road trip in Texas is the perfect introduction to the second-largest state in the continental US!
The best way to get around is to rent a car and explore on your own! We recommend Rental Cars, which has the largest range of vehicles for the best value on the market.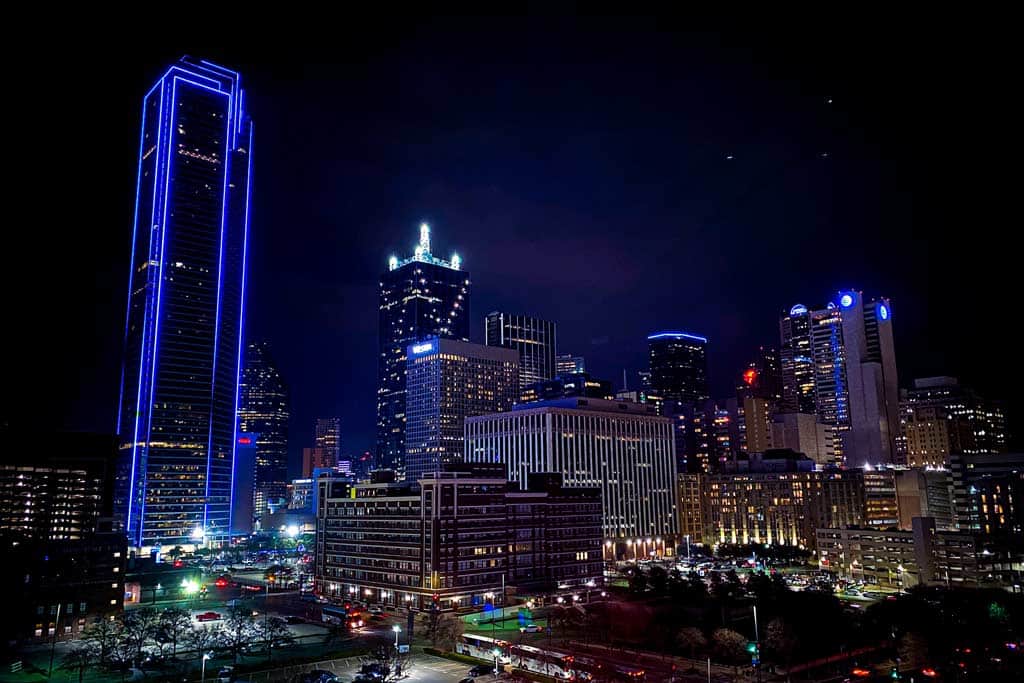 Day 1 & 2 – Dallas + Fort Worth
Day 1 of your Texas road trip begins in Dallas. At the top of a trio of highways that form a triangle through the heart of Texas, you're well-placed to begin a road trip of a lifetime.
Here in Dallas, you'll find a blend of art, history, nature, and sport. Add on a second day in Fort Worth, and you can explore the history of cattle ranches before dancing the night away at Billy Bob's Texas.
Day 1:
Dallas Arts District
Encompassing the largest arts district in the nation, exploring the Dallas Arts District is the best way to start your journey through Triple D. Here, you'll discover 20 blocks of galleries and museums, including the Dallas Museum of Art.
This thorough 3-hour tour of Dallas, not only takes you through the district but to the Klyde Warren Park and Memorial Plaza.
Sixth Floor Museum
In 1963, Lee Harvey Oswald entered the Texas School Book Depository and changed American history. Now the Sixth Floor Museum, learn all about this tragic event, including the hours before along with the emotional aftermath.
Address: 411 Elm St, Dallas, TX 75202
Hours: 10 am-5 pm (Wed-Sun)
Price: $18
Klyde Warren Park
Escape the bustle of downtown Dallas with a relaxing picnic at Klyde Warren Park. Not far from the Arts District, the park features a thriving food truck scene and regular events including movie nights.
Address: 2012 Woodall Rodgers Fwy, Dallas, TX 75201
Perot Museum of Nature & Science
A highlight of the Dallas Arts District, the Perot Museum of Nature & Science is a must-see. Featuring almost a dozen halls spread over five floors, you can dive into the topics of engineering, evolution, and earth.
Address: 2201 N Field St, Dallas, TX 75201
Hours: 10 am-5 pm (Mon, Wed-Sat) 11 am-5 pm (Sun)
Price: $20
African American Museum
Set in Fair Park, the African American Museum is believed to be the first of its kind. Home to a thorough collection of artifacts, documents, and art, it's an incredible way to explore the history and culture of African Americans.
Address: 3536 Grand Ave, Fair Park, Dallas, TX 75210
Hours: 11 am-5 pm (Tue-Fri) 10 am-5 pm (Sat)
Price: Free
Want to extend to 3 days in Dallas? Check out our Dallas Itinerary!
Day 2:
AT&T Stadium
On day 2 of your Texas road trip, it's time to explore neighboring Fort Worth. Along the way, you'll pass Arlington, home to the Dallas Cowboys and AT&T Stadium.
This spectacular stadium can seat 80,000 fans and houses what was once a record-breaking jumbotron. Go watch the Cowboys or sign up for a stadium tour.
Leave the car at home with this tour of AT&T Stadium that includes transportation.
Address: 1 AT&T Way, Arlington, TX 76011
Sundance Square
Spanning 35 blocks, Sundance Square represents the beating heart of Fort Worth. Old brick roads guide you by eye-catching architecture, including the historic Tarrant County Courthouse. Enjoy Texan cuisine, scratch your shopping itch, and stick around for the boisterous nightlife.
Kimbell Art Museum
Known as much for its architecture as its art, the Kimbell Art Museum quickly captures your imagination. Featuring art and antiquities from the Middle Ages to the 20th century, the galley covers a range of eras and styles with works from the likes of Picasso and Monet.
Address: 3333 Camp Bowie Blvd, Fort Worth, TX 76107
Hours: 10 am-5 pm (Tue-Thur, Sat) 12 pm-8 pm (Fri & Sun), closed Monday
Price: $18
Fort Worth Stockyards National Historic District
The Fort Worth Stockyards National Historic District is a unique look into Texas' connection to ranching and cowboys. Every day on Exchange Avenue, modern-day cowboys and cowgirls guide longhorns down the historic street. You can learn more about why at the Livestock Exchange.
Billy Bob's Texas
Come sundown, the Stockyards is one of the best places for nightlife in Texas. Here, you'll find Billy Bob's Texas where you can go boot scootin' crazy and indulge in some classic honky tonk!
Address: 2520 Rodeo Plaza, Fort Worth, TX 76164
You can combine your Dallas experience with a day at Fort Worth on this guided tour.
Where To Stay In Dallas + Fort Worth
At Hotel Crescent Court, you'll feel right at home in your opulent setting before opening the ornate French doors for your own private balcony.
With cable TV, an on-site pool and a restaurant, Hampton Inn & Suites is a great place to recuperate as you explore downtown Dallas.
Close to nightlife and local culture, SOVA puts you in the heart of the action at a budget-friendly price.
Are you excited to explore Dallas and Fort Worth in greater depth? Read up on the complete list of things to do in Dallas right here.
Day 2 Alternative – Amarillo Day Trip From Dallas
This drive takes 5.5 hours from downtown Dallas.
Rather than spending a day in Fort Worth, start your day bright and early to make your way to Amarillo. As you drive into the more remote northwestern Texas, you'll begin to see a different set of micro-cultures to go along with an increase in Stetsons, wild ponies, and dusty side roads.
Amarillo is a unique, quirky town that boasts a stop along historic Route 66 on top of being the gateway to Texas' western frontier. It's a great, historical stop on your Texas road trip!
Cadillac Ranch
Cadillac Ranch is one of the most interesting roadside attractions in Texas. Right off I-40, the "ranch" features the frontends of 10 Cadillacs buried in the Texan dirt. Decorated with a kaleidoscopic use of spray paint, it's one of those things you wouldn't see anywhere but Amarillo.
Address: 13651 I-40 Frontage Rd, Amarillo, TX 79124
Sixth Street Historic District
Home to 13 blocks of Route 66 fame, the Sixth Street Historic District dates back to the 1920s. The collection of old-time commercial buildings recalls the heyday of Amarillo and features Art Deco, Art Moderne, and Spanish Revival architecture.
American Quarter Horse Hall of Fame & Museum
A classic West Texas experience, the American Quarter Horse Hall of Fame & Museum explores the history of the world's most popular horse breed. Hands-on exhibits and events take you back in time to the height of cattle herding.
Address: 2601 E Interstate Dr, Amarillo, TX 79104
Hours: 10 am – 4 pm, Closed Sundays and Mondays
Price: $10
Day 3 & 4 – Austin
This drive takes 3 hours from downtown Dallas
Whether you've taken a day trip to Amarillo or decided to just stay in Dallas, next you'll be heading south to Austin along I-35. We recommend stopping in Waco on the way, which we'll provide more details about shortly.
Austin is a beautiful mix of arts, culture, and color mixed in with all the things you've come to know and love about Texas. Unique neighborhoods abound in Austin. Add on ample outdoor activities, it's best to give yourself at least two nights to explore what Austin has to offer.
One way to split your 48 hours up is by separating the attractions on either side of the surging Colorado River.
Read Next: Find out what other destinations made our list of the best places to visit in Texas!
Day 3:
Downtown Austin
Towering skyscrapers, museums, street art, and mouthwatering Tex-Mex lies in wait in downtown Austin. Spend your morning at the Museum of Weird or the Mexic-Arte Museum before enjoying some takeout food along the nearby waterfront.
See the best of downtown, along with South Congress on this e-bike tour.
Texas State Capitol
Nearby is the Texas State Capitol looming proudly over the rest of the city. The 19th-century building is one of the tallest government buildings in the country, with a beautiful dome and spire reaching over 300 feet. Join a guided tour to learn more about its history and stunning architecture.
Address: 1100 Congress Ave
Hours: 7 am – 8 pm (opens at 9 am on weekends)
University of Texas
Home to the iconic Texas Longhorns, the University of Texas is the place to be in the fall. But there's more to this campus than just football. Explore to find the captivating Blanton Museum of Art, along with the Natural Science Center and the Memorial Museum.
Sunset at Congress Avenue Bridge
There's no better place to be in Austin at sunset than the Congress Avenue Bridge. Boasting the largest urban bat colony in the world, all 1.5 million of them depart once the sun touches the horizon.
Such is the heady number, it can take 45 minutes to finish all the while the sky burns bright amber.
Watch the event from the Colorado River on a kayak tour.
The Dirty Sixth
To burn the midnight oil in Austin head to the Dirty Sixth. This rowdy nightlife strip harbors bustling music venues, pumping clubs, and dim-lit bars, perfect for enjoying a drink and reflecting on the road trip thus far.
Rainey Street Historic District
The alternative to the Dirty Sixth is Rainey Street Historic District. The revitalized old district is more laid back than Sixth Street with high-end eateries, vibrant bars, and charming, old-school pubs.
Day 4:
Lady Bird Lake
Nurse your hangover with a trip to Lady Bird Lake. When in Austin, you're never far from nature, and you'll find beautiful walking and biking trails from which to explore. Stop at Zilker Park for downtown views or paddle out on the lake with your traveling crew.
South Congress
Now that you're back to normal, head to South Congress the hotbed of the Keep Austin Weird movement. Filled with kitschy shops, street art, and teeming with food trucks, it's the place to stay weird, enjoy sprawling murals, and feast on delightful cuisine.
The Cathedral of Junk
Speaking of weird, the Cathedral of Junk finishes in the first place. The gallery of junk is spread through a simple backyard featuring a conglomerate of random items from engines to spooky mannequins.
Travelers must call ahead before visiting.
Address: 4422 Lareina Dr, Austin, TX 78745
Cost: Donation based
McKinney Falls State Park
If you haven't quenched your thirst for nature yet on this Texas road trip, head to McKinney Falls State Park. Venture along the Onion Creek Hike to see both the lower and upper falls. While only 10 miles from Austin, the change of pace and color along with the fresh air will have you ready to tackle the rest of this road trip.
Where To Stay In Austin
Five-star opulence awaits at Hotel Saint Cecilia where you'll enjoy, a la carte breakfast, an on-site pool, and free bike hire.
On Sixth Street, East Austin Hotel, is a 3-star hotel with cable TV, on-site restaurants, and close to the University of Texas.
In central, downtown Austin, the Firehouse Hostel provides a fun, atmosphere with modern amenities and close to nightlife.
Check out our post to learn more about the best things to do in Austin.
Along The Way To Austin from Dallas – Waco
As you make your way from Dallas to Austin, get off Highway 35 for a quick stop in Waco. Home to the beautiful campus of Baylor University, you'll find mouthwatering cuisine at local markets and plenty of kitschy shops to add to your road trip shopping bag.
Magnolia Market at the Silos
With your day now fully underway, replenish your energy stocks at Magnolia Market at the Silos. This small district features a handful of food trucks, along with the famous Silos Baking Co., to go along with the collection of live events, boutique stores, and a farmers' market.
Address: 601 Webster Ave, Waco, TX 76706
Hours: 9 am – 6 pm (closed Sun)
Dr. Pepper Museum
America's oldest major soda brand was founded right here in Waco. This museum features three floors packed with exhibits that take you along Dr. Pepper's timeline. The historic bottling plant even includes a Liquid Lab where you can attempt to make your own soda.
Address: 300 S 5th St, Waco, TX 76701
Hours: 10 am – 5:30 pm (Mon to Sat) 12 pm – 5:30 pm Sun
Wooly Mammoth National Monument
Spanning five acres along the Bosque River, the Wooly Mammoth National Monument commemorates the discovery of a collection of Columbian mammoths found in Waco. The only discovery of its kind in the states, the monument provides a glimpse into the lives of the mammoths and the epic 3-decade excavation effort.
Address: 6220 Steinbeck Bend Dr, Waco, TX 76708
Hours: 9 am – 5 pm
Price: Free. Guided tours are $6
Read next: The Ultimate 3 Days In Austin, Texas Itinerary
Day 4 Alternative – Texas Hill Country
A guided tour of Austin may leave you feeling satisfied with your experience in the state capitol. If that's the case, pack your car with all your day trip necessities and head to the beautiful Texas Hill Country.
Featuring rolling hills, charming small towns, state parks, and elegant vineyards, it's a lovely complement to Austin.
Pedernales Falls State Park
On route from Austin to the Texas Hill Country, stop off at Pedernales Falls State Park and soak up some natural beauty. One of the best things to do here is go for a swim in Hamilton Pool Preserve. This natural swimming hole is set in a dramatic canyon complete with limestone cliffs and a huge waterfall.
Other than Hamilton Pool, Pedernales Falls State Park has some awesome mountain biking and hiking trails.
Frederiksburg
There are a number of cozy German towns in the Texas Hill Country. The best? Frederiksburg. With eye-catching European architecture, Germanic cuisine, art galleries, and cute cafes, it's a small town not to be missed.
Visit the Wineries
On this guided tour departing from Austin, venture into the countryside stopping at three award-winning wineries. Sample wines and local treats before exploring the beautiful, winding roads in a luxury van. This is a must for wine lovers going on Texas road trips!
Day 5 – San Antonio
This drive takes 1 hour and 20 minutes from downtown Austin.
After your visit to the Texas Hill Country, head south to San Antonio. Home to Spanish colonial missions and a thriving riverfront community, San Antonio thrives on surprising its visitors. This charming city is really a must-see on any road trip in Texas!
After a drive through the Texas Hill Country from Austin, be prepared to experience a unique city that balances prominent a Spanish past, with hints of the Wild West and modern Texan culture.
If you have time, extend your trip and spend 3 days in San Antonio!
San Antonio Missions
A National Historic Park and a UNESCO World Heritage Site, the San Antonio Missions is a veritable gem that's vital to America's story. Covering five missions including the famous Alamo (San Antonio de Valero), you can learn all about the Spanish influence in this region.
The San Antonio Riverwalk
The San Antonio River Walk is the heart of local culture and hospitality. Home to river parades, the edges of the San Antonio River are lined with refined restaurants and chic bars.
This nighttime tour takes you on a River Walk Cruise with a visit to the Tower of the Americas.
Historic Market Square
Covering three blocks, the Historic Market Square is a great way to put on your tourist hat and shop, eat and drink. The square also boasts the largest Mexican market, known as El Mercado, in the States. Afterward, load up on fresh goods at the Farmer's Market Plaza.
Natural Bridge Caverns
The Natural Bridge Caverns were discovered in the 1960s and are now the largest of their kind in the US. This guided experience allows you to skip the line and explore the vast cave network laden with stalactites and stalagmites.
Book your visit to the Natural Bridge Caverns on Get Your Guide!
Ranger Creek Brewing
It's officially day 5 and halfway through your Texas road trip. Celebrate, reflect, and look forward to future adventures at Ranger Creek Brewing. Featuring more than just microbrews, you can enjoy small-batch craft whiskey before joining a guided tour.
Address: 4834 Whirlwind Dr, San Antonio, TX
Hours: Monday – Thursday 10 am – 4 pm, Friday and Saturday 12 pm – 9 pm
Cost: Tours cost $15 and run every Saturday at 1 pm and 3 pm
Where To Stay In San Antonio
Next to the River Walk, Hotel Emma offers guests a sun terrace with excellent views, a fitness center, and a pool, plus an on-site bar.
Wake up with a complimentary breakfast and wake up with a swim at Drury Plaza, before exploring San Antonio.
WaterWalk offers free daily breakfast, BBQ facilities, a fitness center, and a swimming pool all without hurting the wallet.
Day 6 & 7 – Corpus Christi
This drive takes 2 hours from downtown San Antonio.
After departing San Antonio on your Texas road trip, make your way south to Corpus Christi. Two days here may seem like a lot, but it's the perfect spot to enjoy the captivating nature that South Texas has to offer.
Day 6:
Mustang Island
30 miles south of Corpus Christi is an 18-mile barrier island that is a boon for animal lovers and beach bums. Grab the towel and head to the wild sands of this protected area. Go for a swim in the Gulf, kayak along the rugged shorelines, and keep an eye out for the island's 400 unique bird species.
Padre Island National Seashore
Established in 1962, the Padre Island National Seashore is the largest of its kind on earth. With 70 miles of untouched nature, explore a major bird migration spot and sea turtles or simply enjoy the views from the majestic coast.
Day 7:
South Padre Island
Contrasting to the previous day's national seashore, the southern version offers a balance of humanity and natural wonders.
The beaches are delightful and there are family-friendly theme parks. However, you can't beat a horse ride on the beach or a sunset yacht charter deep into the Gulf.
The Rio Grande
Staying in Corpus Christi provides you with an interesting opportunity to see the Rio Grande flow into the Gulf of Mexico. Visit the Las Palomas Wildlife area and be able to take a peak into the gulf coast of Mexico while enjoying one of the most southern points in mainland USA.
Where To Stay In Corpus Christi
The Oceanside Retreat comes with beach views from your balcony, full kitchens, and walking distance to the shoreline.
Tru by Hilton provides upscale rooms with a swimming pool and fitness center all within a short drive of Mustang and North Padre Island.
The simple Knights Inn comes with beach views, cable TV, an outdoor pool, and BBQ facilities.
Day 8 – Houston
Next on your road trip in Texas, head up towards East Texas and spend some time in Houston. This diverse city has plenty of Texas history and nature to check out.
Space Center Houston
One of the most popular tourist attractions in Texas, the Space Center Houston lives up to the hype. Dive into the history of space travel, visit Mission Control, and touch a rock that was returned from the moon! Finish up with exploring the thrilling Rocket Park.
Address: 2101 E NASA Pkwy, Houston, TX 77058
Hours: 10 am-5 pm (Mon-Fri) 10 am-6 pm (Sat-Sun)
Price: $29.95
The Museum District
Home to 18 museums, (11 of which are free), Houston's Museum District is as fascinating as it is budget-friendly. Highlights include the Museum of Fine Arts, the Menil Collection, and the Museum of Natural Science.
Buffalo Bayou Park
Enjoy some sunshine, a leisurely walk, and some cheese and crackers in Buffalo Bayou Park. This urban escape features a history water reservoir-turned-art-exhibit, plus old-time homes, beautiful, landscaped gardens, and some fun biking trails.
Find more things to do on this 3 Days In Houston Itinerary!
Where To Stay In Houston
The La Colombe d'Or promises a memorable experience thanks to its Victorian decor, outdoor pool, and proximity to central Houston.
The Cambria provides road trippers with a central location and upscale amenities at a reasonable price.
At Wanderstay budget travelers will have a modern, themed hostel with spacious communal and dining areas.
Day 9 – Galveston
From Houston, head further into East Texas with a visit to the coastal city of Galveston. Here are the top things to do when you get there!
Stewart Beach
Not far from the Historic Pleasure Pier, Stewart Beach is the spot to get some sun, go for a swim, and enjoy your last full day. Snack stands will keep your thirst quenched and your hunger at bay, and be sure to rent an umbrella for some handy shade.
The Strand
The historic Strand in Galveston is lined with elegant 19th-century architecture and where tales of the past ring along the walking path. Spread along five blocks, you'll find the Opera House from 1894 and dozens of fun shops within ancient walls.
Galveston Island Historic Pleasure Pier
The Galveston Island Historic Pleasure Pier is Texas' answer to the one in Santa Monica. Soaring out into the Gulf, enjoy the 15-plus rides, family-fun arcades, and the token fair hot dog.
Where To Stay In Galveston
At the George Manor, you'll be staying in a historic building with included breakfast and an on-site restaurant while being within walking distance of the beach.
On the Galveston Seawall, enjoy ocean views, on-site bar, and fitness center at Clarion Pointe.
By East Beach, Wingate by Wyndham, provides an excellent location, cable TV, and complimentary breakfast at low cost.
Day 10 – Return to Dallas/Houston
From Galveston, it's time for the last leg of your epic Texas road trip. To complete the Texas "triangle" drive north for 4.5 hours along I-45. For a shorter trip, drop your rental car off in Houston, which is under an hour away.
The Wrap Up
Well, there you have it folks, the perfect Texas road trip. Over ten days, you'll hit up some of the state's best cities, learn about important history and indulge in some local culture. But rest assured, there's plenty of time for fun, whether that be in Fort Worth, Austin, or Galveston.
Such is the size of Texas, there are still some notable absentees. A larger West Texas road trip would help you explore Big Bend National Park and Guadalupe Mountains National Park. But iconic places like Big Bend and the surrounding national parks would require much more time.
But no matter how much time you spend in Texas, you're sure to have a blast!
DISCLAIMER: Some of the links in this article are affiliate links, which means if you book accommodation, tours or buy a product, we will receive a small commission at no extra cost to you. These commissions help us keep creating more free travel content to help people plan their holidays and adventures. We only recommend the best accommodations, tours and products that ourselves or our fantastic editorial team have personally experienced, and regularly review these. Thanks for your support, kind friend!