Wondering the best way to spend up to 1 week on Oahu? Our Oahu itinerary includes all the best attractions and sights around this stunning Hawaiian island!
The most visited of the Hawaiian Islands, Oahu, is referred to as the "Gathering Place" for obvious reasons.
Home to world-famous beaches, like Waikiki Beach on the South Shore or the iconic surf beaches of the North Shore, Oahu is notorious for its towering waves that reach over 30 feet in the winter.
These waves, particularly those on the North Shore, lure in surfers worldwide to show off their skills and bravery to conquer these impressive waves.
And though the crystal clear blue waters and white-sand beaches of Oahu are famous, drawing in millions of visitors every year, there is more to the third largest of the Hawaiian Islands than its beaches.
Oahu is full of history, culture, and traditions, which can be experienced in most of its top attractions.
Another impactful reason why Oahu attracts millions of visitors each year is that it was the place of the World War II Pearl Harbor attack, resulting in multiple memorials established on the still active military base on Ford Island.
To experience the best attractions during your trip, use our crafted Oahu itinerary for three, five, and seven days on the island.
Our itinerary for Oahu covers the best things to do, and allows you the flexibility to spend anywhere from 3 days to one week in this tropical paradise!
How to Spend Up to 7 Days in Oahu Itinerary
From catching waves on the North Shore or the South Shore to learning about Polynesian culture, there are plenty of popular things to do in Oahu.
Our itinerary for Oahu is designed to establish a core three-day itinerary that can be extended to five and seven days for a fulfilling and memorable experience on this breathtaking island!
Check out our ultimate guide to the 25 best things to do in Hawaii for more ideas!
Core 3-Day Oahu Itinerary
This Oahu itinerary is the core of any trip to the tropical paradise of this Hawaiian Island. Three days is the minimum recommended time to be spent in Oahu, and we've curated this itinerary so you can make the most out of your trip during your three days on the island!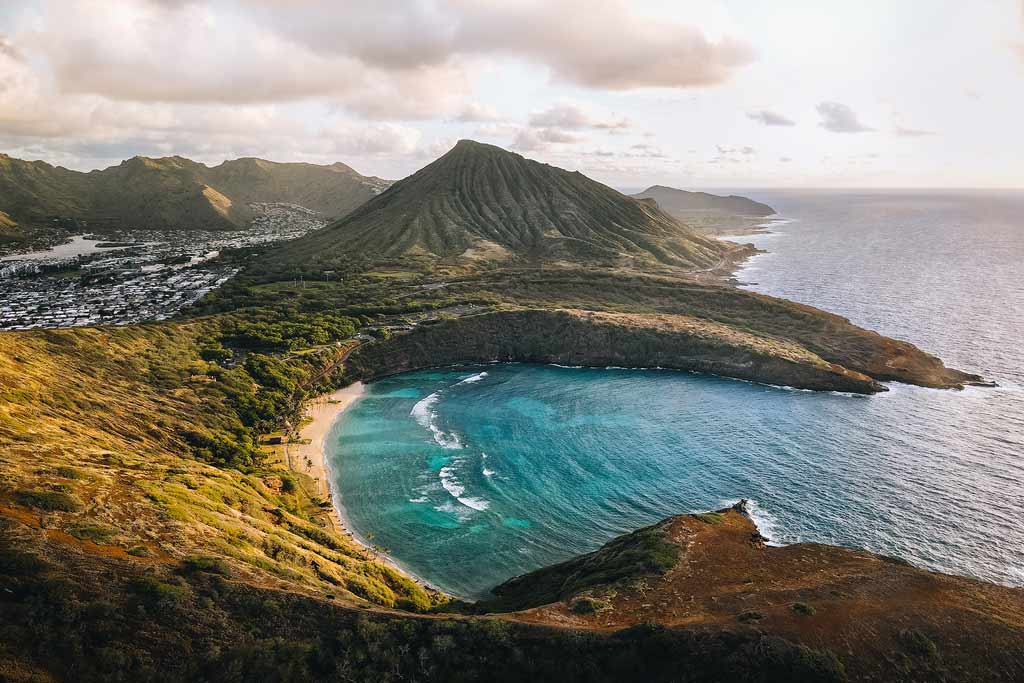 Day 1 in Oahu
Start your first day in Oahu by hitting the refreshing clear blue waters of Sunset Beach on the North Shore for a swim.
Then, check out Turtle Bay for sightings of endangered species of green sea turtles and Hawaiian monk seals. Finally, end the day with an exceptional cultural experience at the Polynesian Cultural Center, voted the top attraction on Oahu!
Day 1 Morning – Sunset Beach
A two-mile stretch of sandy heaven on the North Shore of Oahu, Sunset Beach is a legendary surfing spot for its massive waves in the winter.
Big wave surfing is a hit here, so if you're visiting during the winter, watching these courageous and experienced surfers hit these dangerously large waves can be worth the watch!
During the summer, the waves at Sunset Beach are much flatter and safe for swimming and snorkeling in. And, if you time it right, you can bask in the most vibrant and colorful sunsets at Sunset Beach, hence the name.
Read Next: Don't plan your time in the Hawaiian Islands without or Hawaiian itinerary guide.
Day 1 Afternoon – Turtle Bay
Named after the green sea turtles that once fed in the bay, Turtle Bay is on the north shore of Oahu, located between Kuilima Point and Protection Point.
The picturesque scenery here is unforgettable, with its clear blue waters and white sands. Nearby is the luxurious Turtle Bay Resort, set on 850 acres with views of Kuilima Cove. At Turtle Bay Resort, guests can access snorkeling, swimming, cultural lessons, hiking trails, and more!
While visiting Turtle Bay, there is a chance you may spot humpback whales, turtles, and Hawaiian monk seals while savoring the impeccable wild coastline views.
Day 1 Evening – Polynesian Cultural Center
Located on the north shore of Oahu, the Polynesian Cultural Center has been consistently voted the island's #1 attraction!
A living museum, the center's six Polynesian villages, and performances bring the Polynesian spirit to life for visitors to experience the rich history and culture of the Pacific Islands.
Visitors to the Polynesian Cultural Center can wander the 42 acres of tropical land filled with interactive activities as natives demonstrate the beauty of tradition, arts, and crafts.
Then, end the day enjoying an authentic Polynesian lūʻau for an exceptionally memorable first day on the island!
Address: 55-370 Kamehameha Hwy, Laie, HI 96762
Phone Number: (800) 367-7060
Hours: 12:30 PM – 9 PM (Monday-Tuesday, Thursday-Saturday), Closed (Wednesday, Sunday)
Visiting another Hawaiian Island? Check out our list of the best things to do in Maui!
Day 2 in Oahu
Start day two of your itinerary for Oahu with snorkeling at one of the top diving destinations in the world: Shark's Cove. Walk amongst history and encompassing natural beauty at the sacred Waimea Valley.
Go cliff diving in the summer at Waimea Bay between swimming in the water and lazing in the sun!
Day 2 Morning – Shark's Cove
Featured as one of the Top Twelve Shore Dives In The World by Scuba Diving Magazine, Shark's Cove is a must-visit on the north shore of Oahu if you want an unrivaled snorkeling and diving experience!
Shark's Cove is a small section of Pupukea Beach Park, the bottom of its blue waters creating small caves for marine habitats to prosper or hide.
The walls of the cliffs forming the cove are a calm pool for fish to swim in, away from the threat of the open water. This continues to the Pupukea tide pools on the south side of Sharks Cove, a popular spot for families to take their kids to explore the waters.
Read Next: Read this post so that you don't miss out on all of the best places to visit in Hawaii.
Day 2 Afternoon – Waimea Valley
Waimea Valley is a vital part of Hawaiian history, representing Hawaii's culture, tradition, and spirituality.
The mission of Hi'ipaka is to share and celebrate the living representation of the Hawaiian culture of Waimea Valley with the world.
Acting as a botanical garden and sacred historical site, Waimea Valley is a unique experience you should not pass up. It features some of the best waterfalls in Hawaii, some of which are safe to swim at while savoring the lush nature of Oahu's forests.
Waimea Falls is one of the most notorious hikes, easy for families to trek, and one of the spots to go swimming as the sound of the rushing waterfall fills the background.
Address: Haleiwa, HI 96712
Phone Number: (808) 638-7766
Hours: 9 AM – 4 PM (Tuesday-Sunday), Closed (Monday)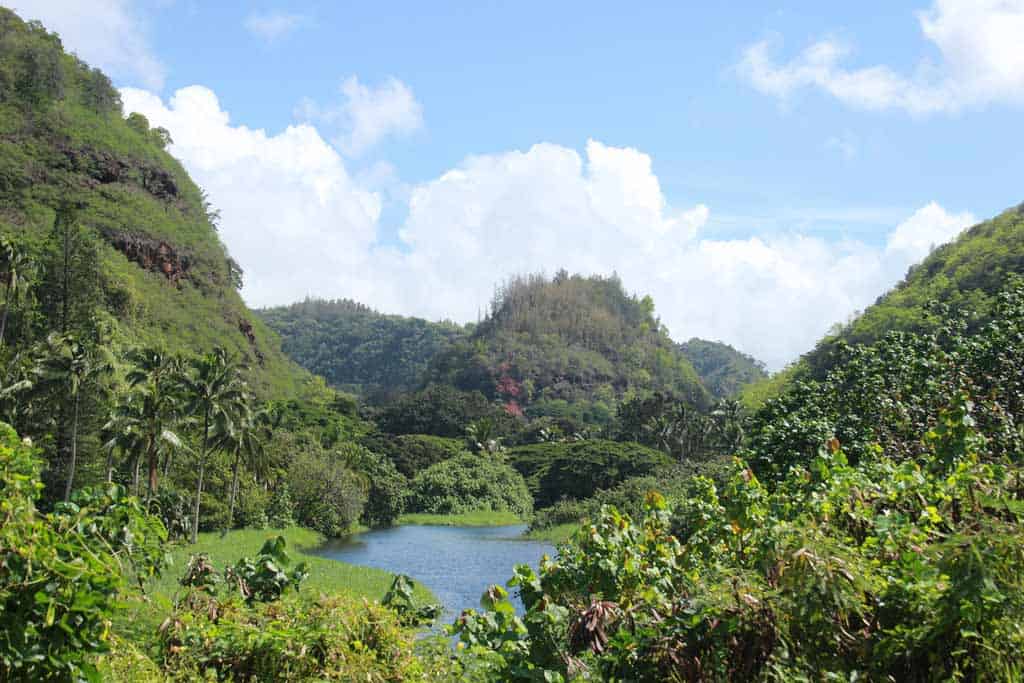 Day 2 Evening – Waimea Bay
On Oahu's north shore, Waimea Bay is legendary for its 30-foot waves that attract surfers worldwide to surf during winter!
The most popular spot for watching these surfers hit the waves is at Banzai Pipeline and Sunset Beach. However, in the summer at Waimea Bay, the waters are much more tranquil, perfect for swimming, diving, and snorkeling.
You'll even notice daring cliff divers launch off the massive half-submerged rock on the shore into the water below! 
Read Next: Be sure to add these great things to do in Oahu while you're there!
Day 3 in Oahu
Laze in the sun with massive sea turtles at Laniakea Beach while basking in the breathtaking coastal views. Grab a shaved ice and go shopping in a historic surf town.
Try the world-famous Dole soft serve and find your way out of the maze at Dole Plantation. Day 3 of your itinerary for Oahu is going to be action-packed!
Day 3 Morning – Laniakea Beach
Translating to the "wide sky," Laniakea Beach's breathtaking scenery is a wondrous sight, even with the turtles lazing about on its sands.
Laniakea Beach is most commonly called "Turtle Beach" because of all the turtles seen at this Oahu beach.
Many people come to this glorious beach to observe the giant sea turtles as they cuddle in the sand and soak in the sun's warming rays. It's a highlight of any Hawaiian vacation!
Picnicking and setting up on the sand to relish the beautiful sights is common at Laniakea Beach. However, the water is known for being a bit rough, so proceeding with caution is important!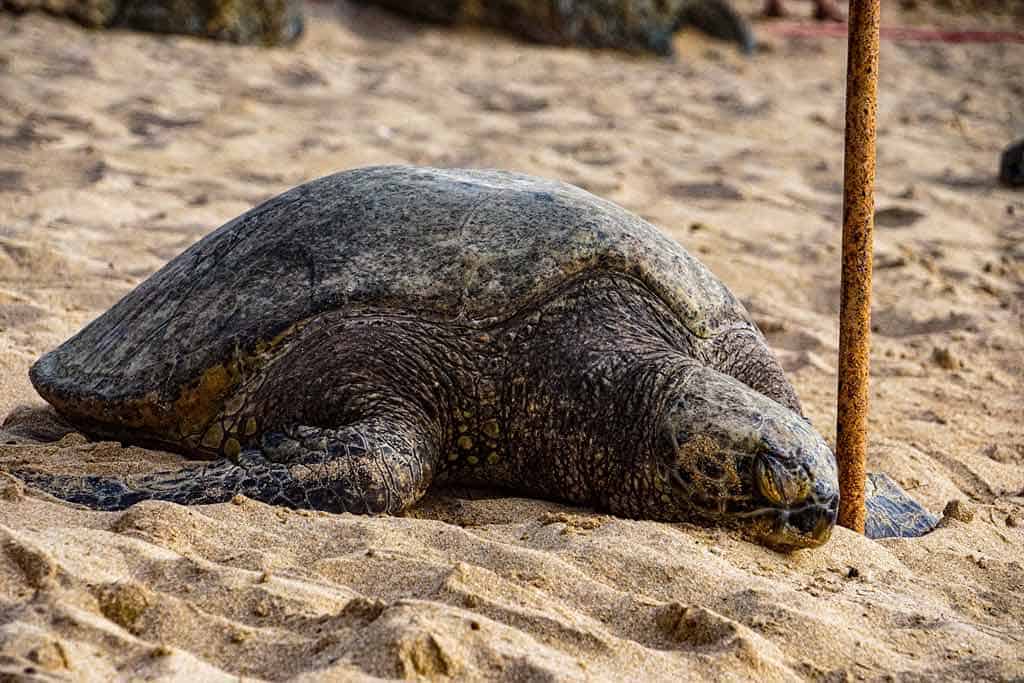 Day 3 Afternoon – Haleiwa Surf Town
A historical and cultural hub spot, Haleʻiwa is a charming surf town on Oahu's North Shore.
Throughout Haleʻiwa are cute boutiques, quality restaurants, historic plantation buildings, unique surf shops, and defining art galleries.
Numerous food trucks serve delicacies like fresh shrimp and shave ice for a refreshing snack before surfers hit the water and visitors take on the town for fun finds. Shave ice is a classic Hawaiian treat, so definitely try some while visiting Hawaii!
The town of Haleʻiwa is included in the Seven Mile Miracle of Hawaii, one of the most revered concentrated stretches of surf breaks known on the planet.
Day 3 Evening – Dole Plantation
A historic pineapple plantation, the Dole Plantation is one of the best attractions on the island of Oahu, drawing in over a million visitors every year!
Home to the world's largest maze in 2008, the Pineapple Garden Maze at the Dole Plantation features almost three miles of winding paths across three acres of land. The maze is made up of 14,000 native Hawaiian plants.
The plantation started as a fruit stand in 1950 and has since solidified itself as one of the top Oahu attractions, serving up its world-famous Dole Soft Serve.
Address: 64-1550 Kamehameha Hwy, Wahiawa, HI 96786
Phone Number: (808) 621-8408
Hours: 9:30 AM – 5:30 PM (Daily)
Read next: The 21 Best Things To Do In Kauai, Hawaii
5 Day Oahu Itinerary
Are you looking for a 5-day Oahu itinerary? If you decide to extend your Oahu vacation, simply add the five-day itinerary to the core three-day itinerary for a memorable and fulfilling trip!
Day 4 in Oahu
Today, head to the South Shore of the island to learn about the impactful history of Oahu and the United States at the Pearl Harbor National Memorial.
Then, visit the active military base and home of history at Ford Island. Finally, check out the Hilton Hawaiian Village Waikiki Beach Resort, where non-guests can enjoy the saltwater lagoon and hit the beach for a day of family fun!
Day 4 Morning – Pearl Harbor National Memorial
The location of one of the most impactful moments in United States history, the Pearl Harbor National Memorial, is where the attack on Pearl Harbor by Japanese Forces in World War II occurred.
The memorial preserves the USS Arizona Memorial, the ship that sank after being hit by a missile and then bombs.
Visiting Pearl Harbor and its museums is free, though reservations are recommended as it can get crowded at these popular attractions.
This Pearl Harbor, Arizona Memorial & Honolulu City Tour guides you through downtown Honolulu while learning in-depth educational facts about the historical sites and memorials.
Address: 1 Arizona Memorial Pl, Honolulu, HI 96818
Phone Number: (808) 422-3399
Hours: 7 AM – 5 PM (Daily)
Day 4 Afternoon – Ford Island
An islet located in the center of Pearl Harbor, Ford Island, is used by the United States Navy for battle simulations and training. The native name of the island is Mokuʻumeʻume, though Ford Island has been called Little Goats Island, Rabbit Island, and Marin's Island.
Ford Island is an active military base and home to the Pearl Harbor Aviation Museum, the Battleship Missouri Memorial, the USS Oklahoma Memorial, and the USS Utah Memorial.
A visit here is full of history, having been named on the National Register of Historic Places and a National Historic Landmark.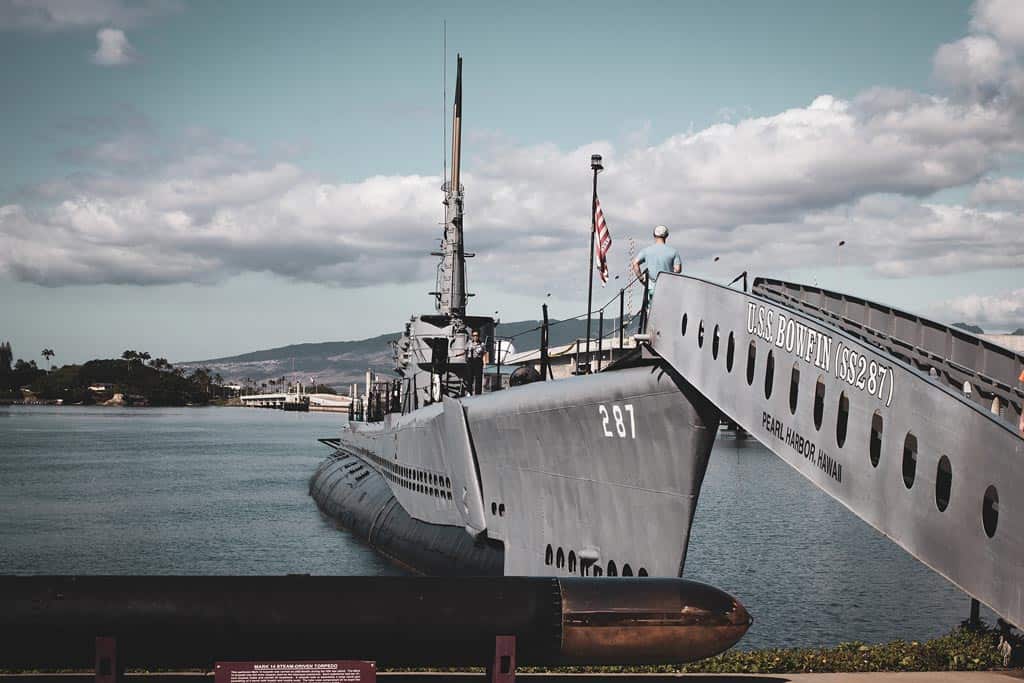 Day 4 Evening – Hilton Hawaiian Village Waikiki Beach Resort
An upscale resort settled on 22 acres that stretches across Waikiki Beach, Hilton Hawaiian Village Waikiki Beach Resort features a spa, five pools, a saltwater lagoon, an oceanfront steakhouse, and 20 restaurants.
Whether you stay at this classy hotel or not is up to you, but guests and visitors alike can hit up the resort's saltwater lagoon – Duke Kahanamoku Lagoon. The five-acre lagoon is perfect for lazing in the water or on beach chairs and trying stand-up paddle yoga.
Outside the resort is Duke Kahanamoku Beach, where visitors can take surf lessons or savor the immaculate vibes of soaking up the sun while sipping on a refreshing pina colada!
Address: 2005 Kālia Rd, Honolulu, HI 96815
Phone Number: (808) 949-4321
Here is our full list of the best things to do in Honolulu if you find yourself with extra time!
Day 5 in Oahu
Learn how to surf at one of the world's most famous beaches, and then try hiking Diamond Head State Monument for a fun day out in nature. Finally, snorkel your way through the magical waters of Hanauma Bay, stock full of vibrant colored marine life!
Day 5 Morning – Waikiki Beach
Drawing millions of visitors every year, Waikiki Beach is by far one of the most famous beaches in the world!
Visitors to Waikiki Beach are welcomed by the iconic statue of surfing legend and father, Duke Kahanamoku.
This beach, in particular, is notorious for being an excellent location for learning how to surf and paddle on authentic Hawaiian canoes due to its lasting wave breaks. From Waikiki Beach are inspiring observational points of Diamond Head and the sea.
Consider this Waikiki snorkel and sailing adventure to cruise on a catamaran, whale watch, go snorkeling, and sail the waters for a rejuvenating experience!
Day 5 Afternoon – Hike Diamond Head State Monument
Diamond Head is a volcanic cone on Oahu, and its ridgeline is likened to a tuna fish's dorsal fin, hence its Hawaiian name Lēʻahi (brow of the tuna).
When British soldiers traveled to the surrounding location in the 19th century, they mistakenly believed the calcite crystals on one of the nearby beaches were diamonds, hence its name, Diamond Head.
The Diamond Head State Monument is accessible by a hiking trail that traverses a scenic path up to the 300,000-year-old volcanic crater. From this spot, hikers can relish the breathtaking panoramic views of the Pacific Ocean and the island of Oahu.
This Diamond Head Sunrise Hike takes you up to breathe in the panoramic views atop Diamond Head as the sun rises, then savor a refreshing acai bowl and sweet treat for a rewarding delight!
Day 5 Evening – Hanauma Bay
Home to a prosperous marine ecosystem, Hanauma Bay was formed within a volcanic cone. The marine embayment is part of a tuff ring, its waters thriving with tropical fish, playful dolphins, and gentle sea turtles.
Snorkeling and swimming are popular activities within Hanauma Bay, thanks to the safe swimming waters and optimal marine life sightings.
There is a rental shop for renting out snorkel gear, picnic tables, restrooms, showers, locker rentals, a gift shop, and a food concession stand, making it easy to spend a whole day scouring the waters of Hanauma Bay!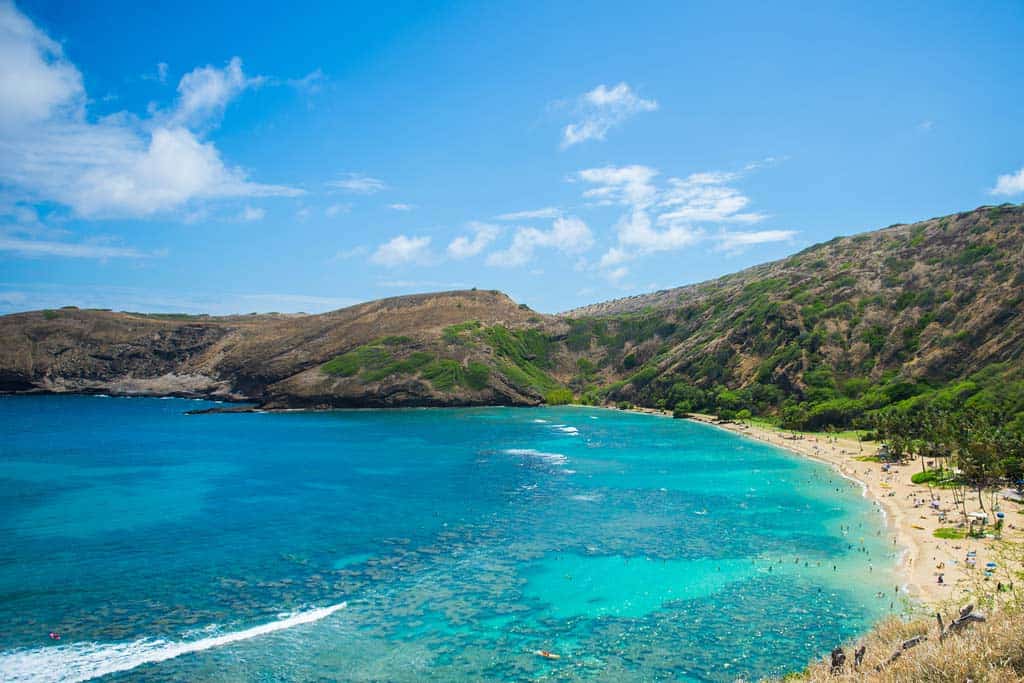 7-Day Oahu Itinerary
Our 3-day itinerary is the core of any trip to Oahu for a fantastic start to your vacation on the island. However, if you plan on staying longer, our 7 day Oahu itinerary compiles even more top attractions.
With 7 days on Oahu, you'll have more time to explore the rugged Windward Coast, which is often overlooked by the Oahu North Shore and South Shore. Get ready to have the trip of a lifetime with our 7-day Oahu itinerary!
Day 6 in Oahu
For day 6 in Oahu, you'll head to the Windward Coast, a dramatic and beautiful corner of the East Coast of the island. Visit Sea Life Park and hit up the two top-ranked beaches, Lanikai Beach and Kailua Beach, for a breathtaking experience in a tropical paradise!
Day 6 Morning – Sea Life Park Hawaii
Located on Oahu's Windward Coast, Sea Life Park is an aquarium, bird sanctuary, and marine mammal park all in one.
Then, take your pick between two of the world's most pristine beaches, Lanikai Beach and Kailua Beach, nestled conveniently next door to one another, to savor the undeniable beauty of Oahu!
At Sea Life Park, visitors can experience the magic of many beautiful marine creatures that focuses on conservation and education. This is a great activity for the whole family!
Address: 41-202 Kalanianaʻole Hwy, Waimanalo Beach, HI 96795
Phone Number: (808) 259-2500
Hours: 10 AM – 4 PM (Daily)
Day 6 Afternoon – Lanikai Beach
You need to have at least a few relaxing beach days while visiting Oahu! Also known as Kaʻōhao Beach, Lanikai Beach is nestled on the east shore of Oahu.
Representing Oahu as one of the most beautiful beaches on the island, Lanikai Beach is frequently ranked as one of the best beaches across the globe!
The cool blue waters are a sight for sore eyes, the sand soft to the touch. Experience a bit of heaven at Lanikai Beach while savoring the breathtaking ocean views!
Day 6 Evening – Kailua Beach
One of the other top-ranking beaches on Oahu, Kailua Beach, is an absolute stunner next to Lanikai Beach! The two beaches are within walking distance of one another, so you can get a taste of both worlds at these top-ranked beaches.
Kailua Beach hosts a longer stretch of sand than Lanikai Beach, perfect for settling down in the sand and basking in the awe-inspiring views of the turquoise waters and mountain backdrops.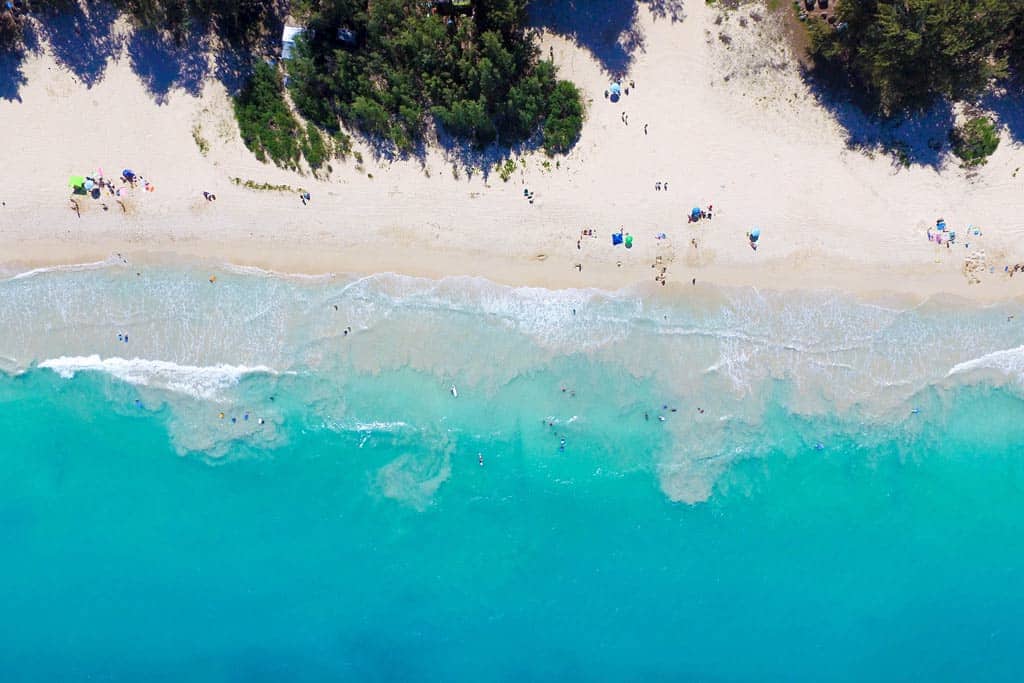 Day 7 in Oahu
Picture the iconic sights of Kaneohe Bay before you as you explore the waters of this enriching location on Oahu.
Then, sink your toes into the sand and kayak to an island of legends at Kualoa Regional Park. Finally, to end this 7-day Oahu itinerary, visit the iconic filming locations of the famous Jurassic Park movies at Kualoa Ranch!
Day 7 Morning – Kaneohe Bay
The largest sheltered body of water of the main Hawaiian Islands, Kaneohe Bay, is established by a reef. It homes a sandbar and five islands, including the well-loved Coconut Island. These qualities have made Kaneohe Bay a popular boating, fishing, and kayaking spot.
The stunning blue waters of Kaneohe Bay make for an impactful picture. In fact, Kaneohe Bay has been the backdrop for quite a few famous movies, including Adam Sandler's 50 First Dates. Surrounding the bay is the Ko'olau Mountain range, establishing an iconic backdrop.
Day 7 Afternoon – Kualoa Regional Park
Settled on Kāneʻohe Bay, Kualoa Regional Park sprawls across 153 acres, its beachfront area set within sight of the island of Mokoli'i.
This island is featured in ancient legends and is said to be the tail of the creature slain by the goddess Pele. As a result, many come to Koʻolau Range to kayak to the island from the beachy shore.
It has a long stretch of grassy space that separates it from the Kamehameha Highway, so visitors of the park can simmer in the crash of the waves at the beach.
Address: 49-479 Kamehameha Hwy, Kaneohe, HI 96744
Phone Number: (808) 768-8974
Hours: 7 AM – 8 PM (Daily)
Day 7 Evening – Kualoa Ranch
Famous for being the filming location of the Jurassic Park series, the 4,000-acre Kualoa Ranch is a private nature reserve and working cattle ranch overflowing with thriving nature.
On Kualoa Ranch's Jurassic Adventure Tour, guests are taken on an adventure of the iconic film sites within the Hakipu'u, Kualoa, and Ka'a'awa Valleys.
The tour takes visitors to the authentic dinosaur cages used for the movies and sightings of the Indominus Rex paddock and its 60-foot walls!
Address: Kaneohe, HI 96744
Phone Number: (808) 237-7321
Hours: 7:30 AM – 6 PM (Daily)
Read next: 21 Best Things To Do In Waikiki, Hawaii
Oahu, Hawaii Travel Guide
Now that you know all about the wonders of Oahu, you can plan some of the logistics! From getting a rental car, to planning the best time to visit, to booking a hotel or vacation rental, here are some travel tips for visiting Oahu!
When Is The Best Time to Visit Oahu, Hawaii
The best time to visit Oahu is in the off-season when tourist crowds aren't so large, and weather conditions are still ideal for adventuring the island's great outdoors.
We recommend visiting in April, May, September, and October. These months are also the cheapest months to visit, so look out for some great deals during your stay!
If you're visiting the island for those iconic surf breaks, you'll want to visit in winter. This is when the waves are at their biggest and best! But remember, these waves are for experienced surfers only. If you're a beginner surfer, you can learn to surf on small waves at any time of year.
Getting Around Oahu, Hawaii
When traveling around Oahu, a rental car is the best way to get around. You have the freedom to go wherever, whenever.
But if you don't want to rent a car, Oahu's bus system is one of the best in the United States and is one of the cheapest transportation methods on the island (minus walking, but that can only get you so far!).
There's also this Honolulu Airport private transfer for when you fly in or out of Honolulu Airport. The transfer can fit up to 14 passengers in the private van, perfect for big groups or families visiting the island.
The best way to get around is to rent a car and explore on your own! We recommend Rental Cars, which has the largest range of vehicles for the best value on the market.
Where to Stay in Oahu, Hawaii
If you're wondering where to stay in Oahu, there are great options for every budget! Waikiki is the most popular area to stay with the most options, and it's near the airport. From here you can rent a car or book tours to the rest of the attractions on Oahu!
Best Hostel in Oahu
Offering a range of selections, The Beach Waikiki Hostel by ALOH has pickings for private bedrooms and dorm rooms during your stay in Oahu. Only two blocks from the famous Waikiki Beach, this hostel is a great stay featuring fun and welcoming vibes with a desirable location near Oahu's best attractions.
Best Mid-Range Hotel in Oahu
Boasting a desirable location, Waikiki Central Hotel is within walking distance of top Oahu activities, such as the US Army Museum of Hawaii, Waikiki Beach, and Kuhio Beach. From the rooms, guests have balcony views of the city from above while savoring their relaxing stay on the island.
Best Luxury Hotel in Oahu
Only three miles from Diamond Head, ESPACIO The Jewel of Waikiki is a luxurious and elegant hotel perfect for living the lavish life in paradise on Oahu. Guests can access desirable amenities and accommodations, including airport transfers, the hotel's spa, the resort pool, and a Japanese-French restaurant.
DISCLAIMER: Some of the links in this article are affiliate links, which means if you book accommodation, tours or buy a product, we will receive a small commission at no extra cost to you. These commissions help us keep creating more free travel content to help people plan their holidays and adventures. We only recommend the best accommodations, tours and products that ourselves or our fantastic editorial team have personally experienced, and regularly review these. Thanks for your support, kind friend!