Wondering how to spend the perfect 3 days in Austin? Make the most of your time in this epic city with our firsthand Austin itinerary that will make sure you don't miss a thing.
The home of live music, the weird and the wonderful, Austin has become one of the most loved destinations in the United States and home to some of the best things to do in Texas.
It's a city of barbecue brisket, six string guitars, hot springs, street art and millions, yes millions, of bats. We will get to that last bit later, but as you can see, Austin has it all.
Whether you're driving up from San Antonio for a weekend in Austin, Texas, or flying in from further afield, three days in Austin is the perfect amount of time to experience the Texas capital.
Check out our latest article for a detailed list of all the best things to do in Austin!
You can explore much of the city's iconic weirdness on foot as you wander around downtown, the wide open parks and SoCo.
Austin never tries to be anything else. It's a modern and progressive city, yet still Texas at its soul. Read on to discover the best things to do with three days in Austin.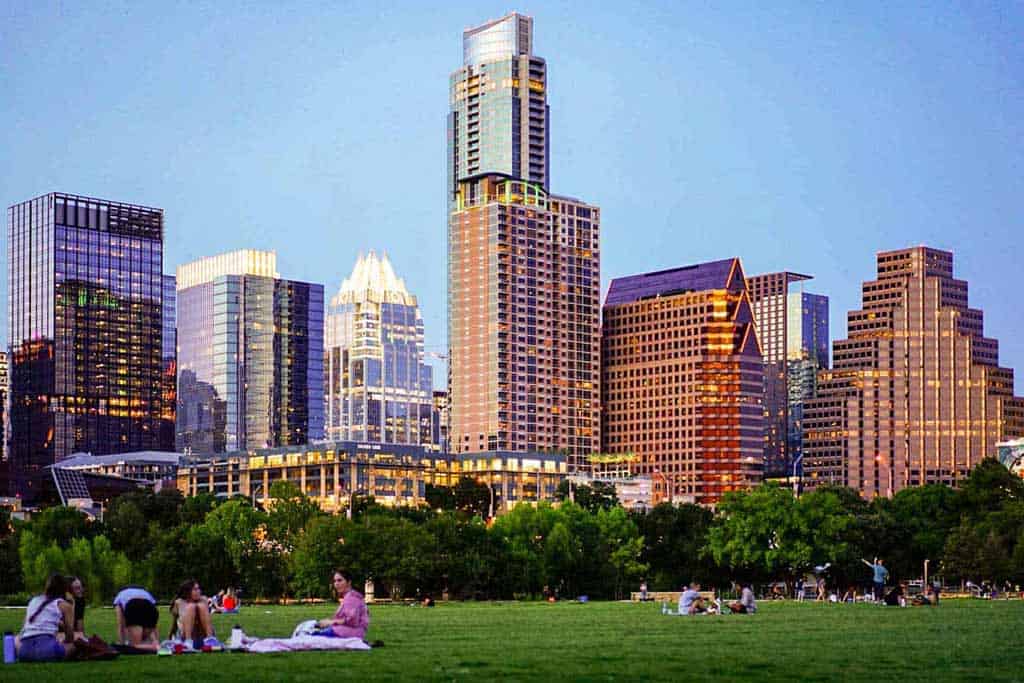 How to Spend 3 Days in Austin, Texas
There are many ways to approach your Austin weekend itinerary. You could go all in on the arts and music, or gorge on the local cuisine for 72 hours.
To help you out, we've given you a taste of everything so you can see what the perfect Austin itinerary is all about.
Day 1 in Austin
Welcome! Your weekend in Austin is getting off to a flying start with a day of history, Tex-Mex, epic sunsets and a night of live music.
Day 1 Morning – History and Museum
In a city full of music, parks and eclectic personalities, it's easy to forget that Austin is a state capital.
So before we get too carried away with chasing six string guitars and jumping into hot springs, let's explore Texas history, art and culture through its museums and galleries.
If you've arrived in Austin, Texas early enough for breakfast, then you'll want to fuel up for a morning of intellectual stimulation.
In Austin, there's only one way to do just that: Breakfast tacos.
In Downtown Austin, not only will you find an amazing collection of world-class museums but also the kind of breakfast tacos that will melt your heart.
Two of the best options are Veracruz All Natural and OneTaco Taqueria. From there, you'll be ready to go.
Austin is teeming with fantastic museums and landmarks, more than you could visit in a single morning, let alone an entire day.
Read Next: Check out our post on all of the best things to do in Texas!
With so much to see in your three days in Austin, pick one or two that capture your interest.
The Texas State Capitol building is the heart of Austin. It stands proudly at the end of Congress Avenue, looking down over the city with a watchful eye.
The impressive building is surrounded by lush grounds, perfect for a mid-morning picnic, but it's what is inside that matters most.
You can sign up for a free guided tour of the capitol building, or explore on your own. It's packed with artifacts, plus you can see the legislative chambers before popping over to the Texas Governor's Mansion.
Ten minutes from the Texas State Capitol is the Mexi-Arte Museum. It houses a captivating collection of Mexican and Latino art, from sculptures to photographs and paintings. It helps to showcase their story and impact on American culture.
Steps from the Mexi-Arte Museum is the Museum of the World. Enjoy a humorous take on history and mythology as you stumble upon strange artifacts and oddities, like shrunken heads and Bigfoot.
Other museums include the Texas Museum of Music, the Bullock Texas State History Museum and the Blanton Museum of Art on the campus of the University of Texas.
Read Next: Check out our awesome 3 days in San Antonio itinerary to plan your next stop in Texas!
Texas State Capitol:
Opening hours: 7:00 am to 8:00 pm (M-F) 9:00 am to 8:00 pm (S-S)
Admission: FREE
Address: 1100 Congress Ave, Austin, TX 78701
Day 1 Afternoon – Go Kayaking
Your time exploring the best museums in the Downtown Austin area could easily stretch into the afternoon. But don't stress. Our next activity is best done leading up to sunset.
Traversing the southern end of downtown, is the Colorado River and Lady Bird Lake. In the center is the Congress Avenue Bridge. From March to October, 1.5 million Mexican free-tailed bats create a home under the bridge.
During the day, they remain quiet, dangling from rafters. But as a tinge of darkness floats across the city, they awaken and fly out in unison.
Such are their numbers, it can take 45 minutes for them all to leave the bridge. Creating a shadow of black in front of a blazing sunset.
There are many ways to see this phenomenon during your Austin weekend getaway. You can sit on the banks of the lake and take it in from afar.
You could even stand on the South Congress Bridge itself for a thrilling and somewhat terrifying experience.
But the best way is on a kayak. A sunset kayak tour of Lady Bird Lake will allow you to watch it all happen as you bob up and down on the water.
The four-mile return paddle will showcase the beauty of the lake, the downtown skyline and the bridge.
All the while, your expert guide will kit you up with information not just about the bat colony but Austin itself.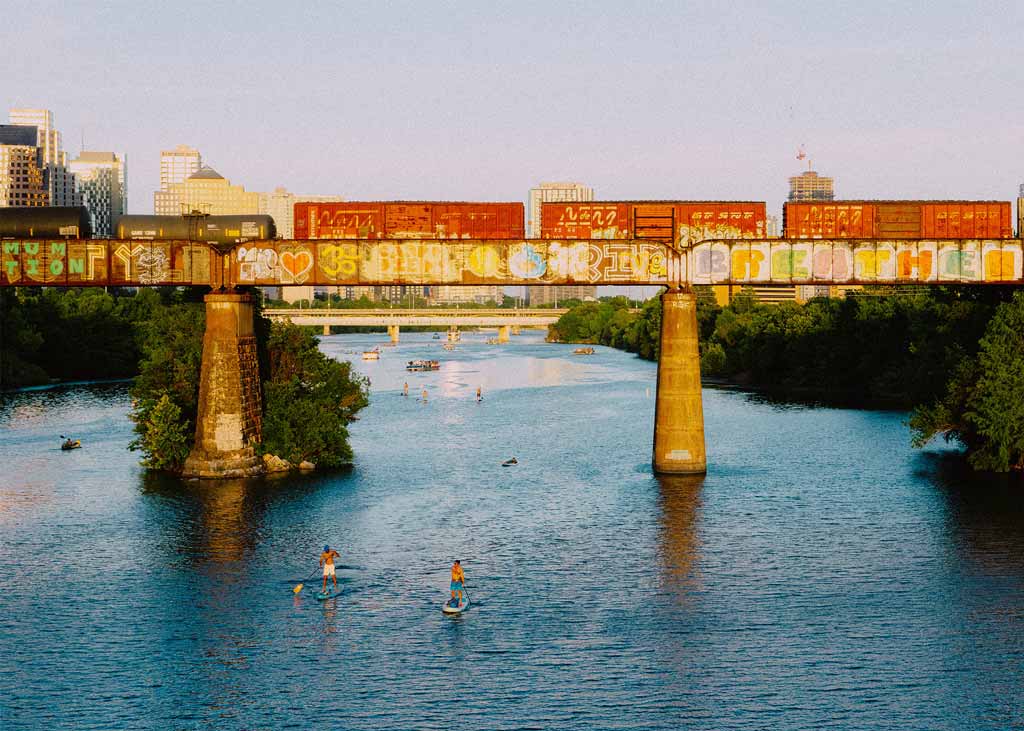 Day 1 Evening – The Dirty Sixth
With the sun now beneath the horizon and the bats far gone from Austin, it's time to turn our attention to the city's mouthwatering food scene and famous nightlife.
Austin is the live music capital of planet earth, for reasons you'll quickly come to realize. But as the bands are setting up and vocals chords are getting ready, the city becomes awash with amazing dining under the stars.
On night one, head to Sixth Street just north of all the action in downtown. The thoroughfare is lively on any day of the week, but come the weekend the cars are left behind and it's nothing but food trucks and raucous pedestrians.
Travelers come to Sixth Street for the music, but find the delicious cheap eats and several upscale restaurants to be equally memorable.
For the best eats, head to what's endearingly known as the Dirty Sixth.
This unapologetic part of town is where the night owls gather among the endless stream of live music and Tex-Mex cuisine, such as the beloved Manuel's.
After enjoying a delicious feed, wander down the street following the tunes that pique your interest.
You'll have no shortage of music lounges and venues to pick between. Some of the highlights, however, include Pete's Dueling Piano Bar, the White Horse, along with Parish and Friends Bar.
Afterwards, end the day as you started, with some zesty tacos.
Read Next: Check out our awesome 3 days in Houston itinerary to plan your next stop in Texas!
Day 2 in Austin
Grab your favorite breakfast eats and cure that hangover. Day two of your Austin itinerary is going to be one for the books.
Day 2 Morning – Lady Bird Lake and Zilker Park
Coffee and breakfast tacos in hand, make your way to Lady Bird Lake. It's here you'll find the popular Ann and Roy Butler Hike and Bike Trail.
The boardwalk runs for 10 miles along the banks of the lake. Now, we aren't suggesting doing the whole thing, especially on foot. But it's a beautiful way to wake up, see the skyline and the water glisten under the Texan sky.
Begin the trail around Downtown Austin and make your way upstream towards the city's favorite park.
Along the way, you'll spot kayakers and early birds stand up paddleboarding giving you plenty of motivation to ditch the lingering hangover.
Hopefully, by the time you reach Zilker Park, you'll be ready for the fun ahead.
One of the best things to do in the park is to dive into the Barton Springs Pool. Covering three acres and fed by underground springs, the water maintains a revitalizing 70F temperature all year long.
After being reformed by the invigorating water, put your walking shoes back on and explore the park.
On the nature trails, you'll find several themed gardens, including the Taniguchi Japanese Garden, complete with gleaming koi ponds.
Next up, it's time to join the early birds out on the lake. You can rent a kayak or SUP for stand up paddle boarding from the Rowing Dock or Live Love Paddle.
Alternatively, if you prefer to do all the above, sans paddling, join this 2-hour sightseeing bike ride.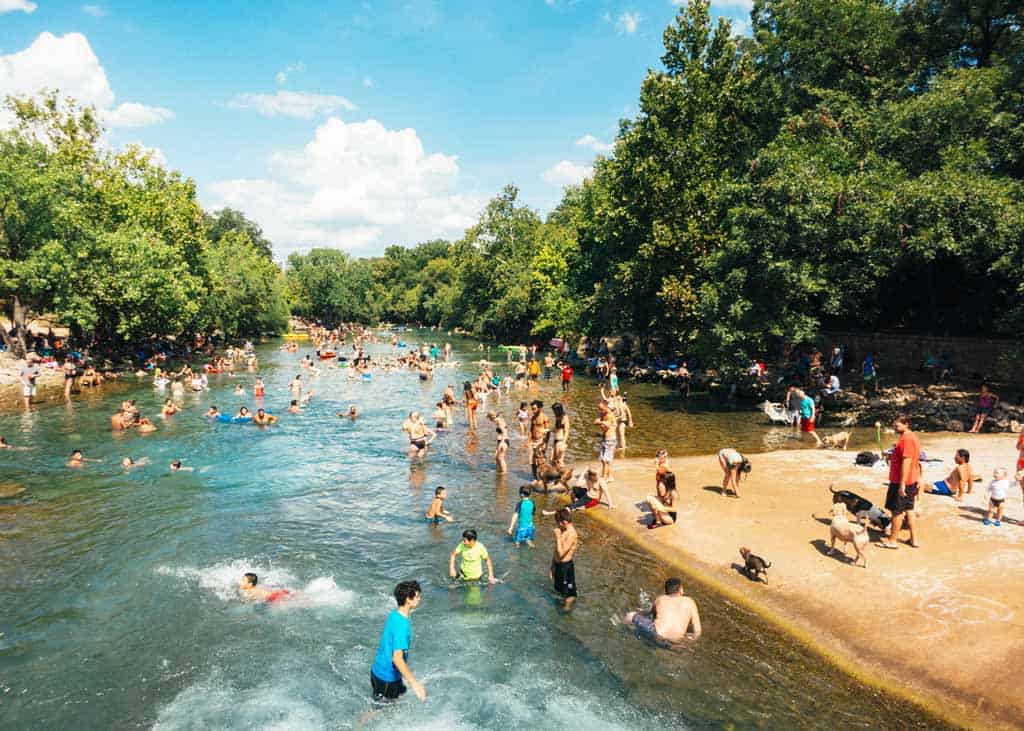 Day 2 Afternoon – Explore South Congress Avenue
From Zilker Park, it's a brief drive over to one of the most happening parts of town. South Congress Avenue is an Austin success story driven by its residents.
Now one of the trendiest neighborhoods in Austin Texas, it's here that you'll find endless boutique stores, thrift shops and even a place to grab yourself a pair of cowboy boots.
Between the stores is an extension of the city's resplendent dining scene and laid back pubs and bars.
Otherwise known as SoCo, the South Austin neighborhood is a great place to shop. There's no telling the discoveries you can make as you walk along the main avenue.
Stop by Parts & Labor or Lucy in Disguise with Diamonds for vintage treasures and handcrafted creations.
The harmless browsing will help you explore the area's amazing street art. Murals are common throughout SoCo, including several iconic Insta-worthy locations such as the Before I Die wall. You can see the best of Austin's street art on this guided e-bike adventure.
But South Congress is more than just art and shopping. It's a place that celebrates the weird and wacky.
No Austin weekend trip here would be complete without a visit to the Cathedral of Junk. This is an art gallery like no other.
It's a collection of junk arranged in the artist's backyard to form several spellbinding exhibits. In fact, the junkier it is, the better.
Cathedral of Junk:
Opening hours: Call ahead to visit
Admission: Donation based
Address: 4422 Lareina Dr, Austin, TX 78745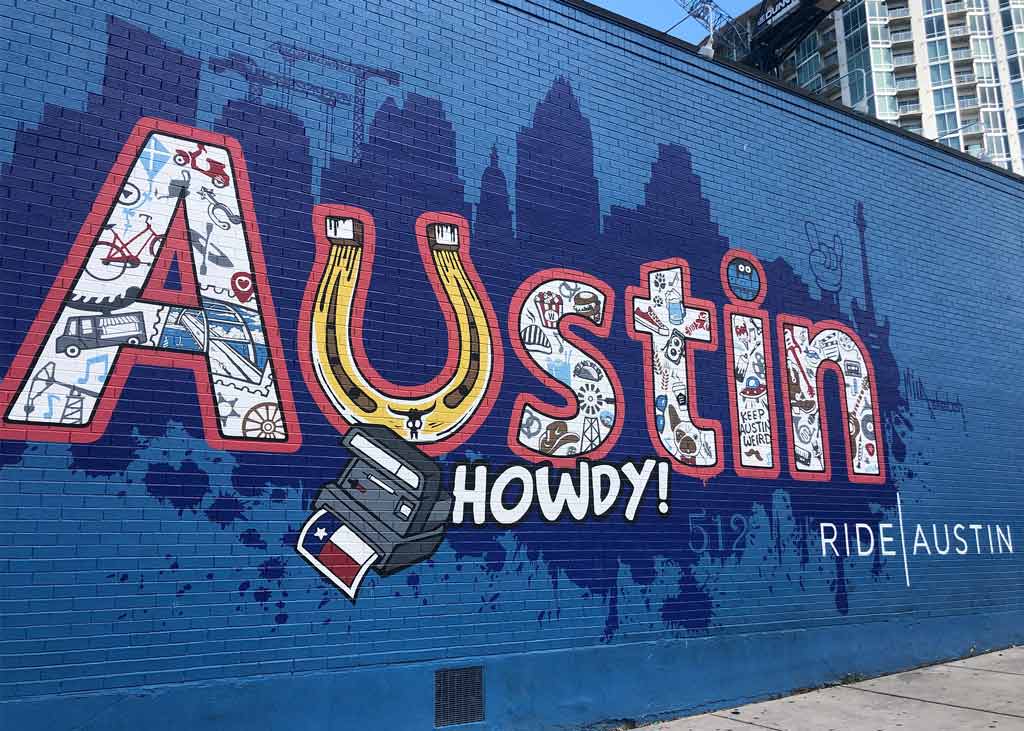 Day 2 Evening – Dance to Honky Tonk
With an afternoon of exploring the sights and personality of South Congress, turn your attention to the district's happening nightlife. But before you race to the nearest dive bar, pub or club, stop by Baton Creole.
This is a bright pink food truck that is impossible to miss. Choose between some downright delicious Louisianan cuisine before sitting down on the picnic tables and enjoying the local atmosphere.
(Baton Creole is temporarily open from 6pm to 12am, check the website for updates!)
As the stars glimmer above, experience Austin's famed live music scene once more.
SoCo has all the tunes you would want to hear. You'll have your choice of dimly lit jazz and blues bars, cover bands on a craft beer soaked stage, country or rock and a packed calendar of iconic musicians.
Wherever you go, you'll find amazing live music on the cheap.
But a few minutes from South Congress, is where you'll find one of the best honky tonk bars in Austin.
Wearing your fresh cowboy boots, make your way to what some believe is the best dancehall in Texas.
The legendary Broken Spoke has been an institution since the 1960s and the place to go for great country music and even better southern cooking.
Before the night really gets rolling, the resident instructor leads the crowd in various line dancing and Texas two step. Once you're up to speed, you'll be ready for a classic Texan evening.
Broken Spoke:
Opening hours: 4:00 pm to 12:00 am (Tue-Sat)
Admission: $0-$12 depending on day
Address: 3201 S Lamar Blvd, Austin, TX 78704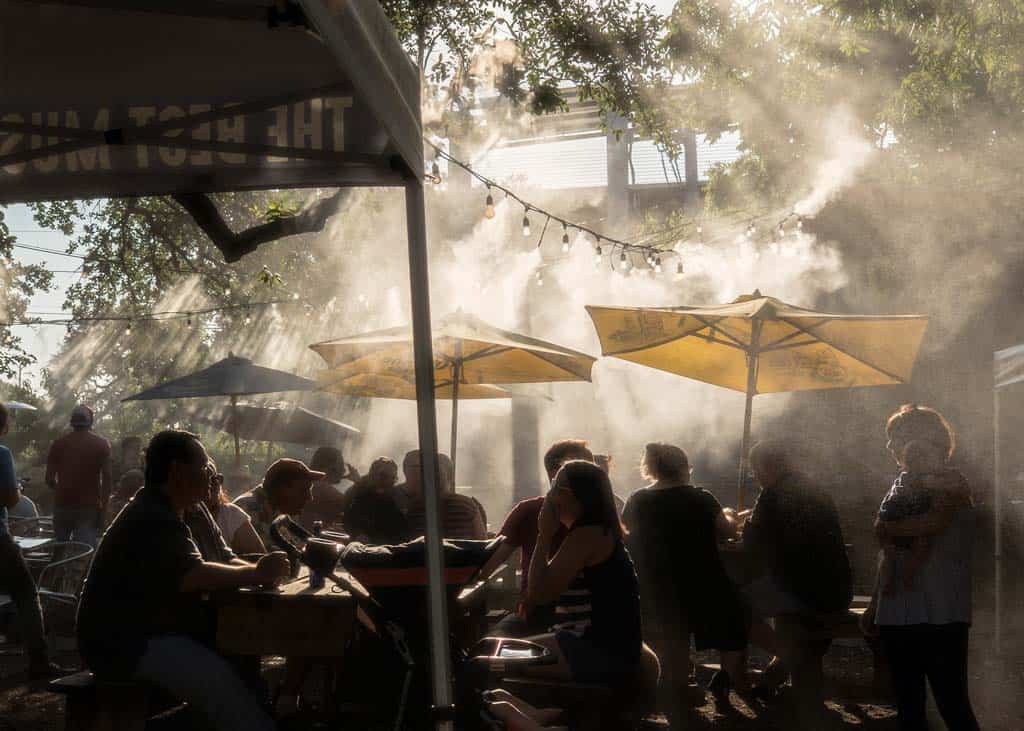 Day 3 in Austin
After a night of dancing to Boot Scootin' Boogie, you'll have reached the third and final day of your Austin itinerary. But don't fret, we are going out with a bang.
Day 3 Morning – Mount Bonnell
For the best view in Austin, you can't pass up a trip to the summit of Mount Bonnell. Thankfully, despite your night of revelry, this won't be a hard mountain to climb.
It will take around 15 to 20 minutes to make your way from the trailhead to the peak. But take your time.
You've still got a whole day ahead of you. After making it to the top, you'll be rewarded with a panoramic view of the Texas Hill Country, the neighborhoods and Austin's skyline shining under the morning light.
Soon the crowds will join you. But for a memorable experience with just you and your traveling crew, wake up even earlier and see the sun rise over the city.
Alternatively, as the trail doesn't close until 10pm, climb Mount Bonnell at sunset during any evening on your weekend in Austin.
Read next: How to spend 3 days in San Francisco!
Day 3 Afternoon – Food Tour and The University of Texas
For lunch on your last day, skip the restaurants and join a food tour.
In a city with so much culinary brilliance, it can be hard to pick between the many restaurants and food trucks.
So leave the heavy lifting to your tour guide, who will take you on a secret food tour through the city, with six stops along the way.
With a resident's intuition, you can avoid the tourist traps and get to know the city like a local. The tour runs for three hours, with each stop showcasing the city's motto of Keep Austin Weird, albeit in a food sense.
As you make your way around Austin, learning about the history and culture as you go, you'll stop to try cuisine from the Aztec era, the city's take on various international cuisines and some salivating brisket.
If you prefer to check out more of Austin's food scene by yourself, then you can't go wrong with Franklin Barbecue in East Austin. Come for the brisket and hang around for the neighborhood's street art.
After falling in love with the local cuisine, discover another intrinsic part of Austin life. The University of Texas at Austin is not only a beautiful campus, but it's packed with cultural attractions, not to mention the Texas Memorial Stadium.
As you explore the grounds, be sure to visit the Blanton Museum of Art, one of the leading university-based galleries in the United States.
Afterwards, climb to the top of UT Tower for memorable views or explore the LBJ Presidential Library.
A big reason to visit Austin in the fall is to watch the Texas Longhorns battle at Texas Memorial Stadium in front of 100,000 screaming fans. It's one of the best experiences to have in Austin. Grab a seat, or stick with the tailgate. Hook 'em horns!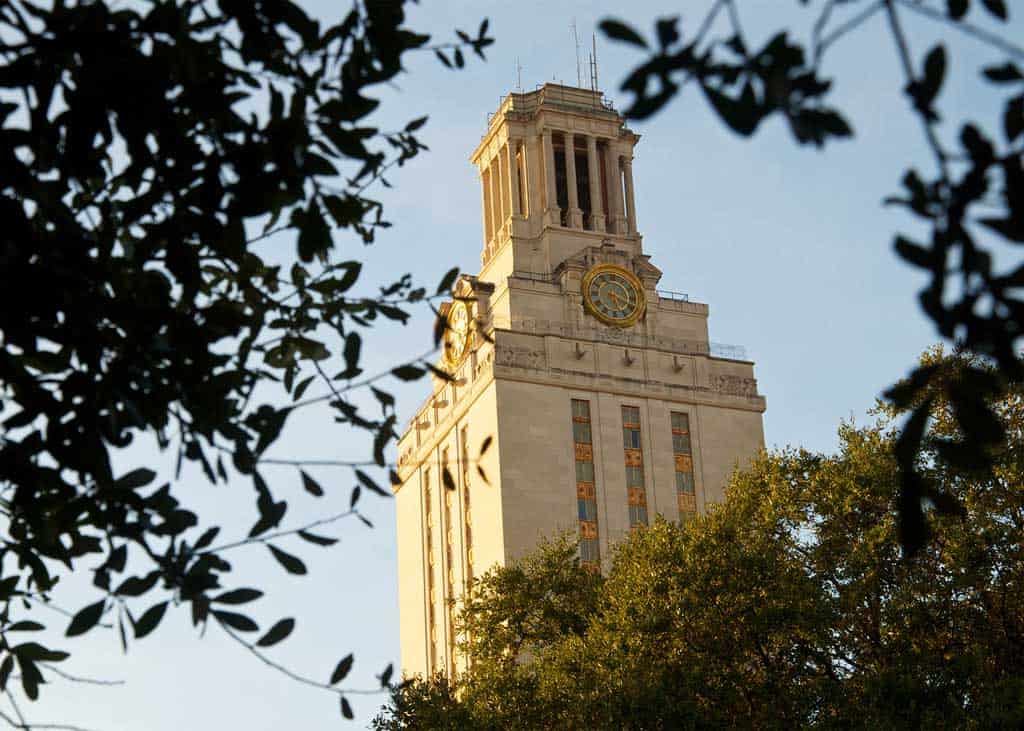 Day 3 Evening – Rainey Street Historic District
The last stop on your Austin weekend itinerary is the Rainey Historic District.
Steps from Downtown Austin, Rainey Street features rows of old bungalows. Each home provides a glimpse into a time before the district was a beloved part of local culture.
Most of the homes were built during and before the 1930s. Now on the National Register of Historic Places, rather than let the cute adobes go to waste, many have been transformed into shops, restaurants and bars.
Compared to the Dirty Sixth and SoCo, Rainey Street is far more relaxed.
This makes it the perfect last stop for those visiting Austin. Like many of the popular spots around Austin, you'll find plenty of food trucks to go along with the brick and mortar restaurants.
Choose one, or enjoy dinner at Banger's Sausage House & Beer Garden.
Afterwards, enjoy an impromptu bar crawl along Rainey Street stopping by Half Step, Lustre Pearl Rainey and Icenhauer's along the way. Or join a guided pub crawl with some locals. Either way, make the most of your last night in Austin.
Craft beer lovers will be stoked, and you'll start to wonder whether you should extend your contemporary Austin itinerary for more than a weekend.
Exploring more of the South? Check out this 3 Day Itinerary for Orlando, Florida
Weekend in Austin Itinerary City Guide
Now that you the top things to do with 3 days in Austin, here is some information that will help you know the best time to visit, how to get around and where to stay when you visit.
When is the Best Time to Visit Austin?
The best time to visit Austin is… always.
The Texas capital is a year-round destination thanks to its beautiful shoulder seasons and mild winters, so you can plan your itinerary for Austin whenever suits you best.
Although you may find yourself reaching for a thick jacket in February, overall, you can depend on the weather to enjoy the city's outdoor attractions.
Austinites are active and fun people. The local nightlife scene isn't predicated on hordes of travelers coming in. So you can always expect a fun evening.
The summers are exciting and it's a great time to experience Zilker Park and the lake. But remember, Austin gets hot. Luckily, you'll have the Barton Springs pool and Lake Travis.
The shoulder months offer pleasant temperatures great for park days and balmy evenings. This is also when two major events take place.
Those being South by Southwest (March) and Austin City Limits (October). So expect some crowds, but the atmosphere is electric, and it's a magical time to be in Austin.
Visiting During Austin City Limits
Arguably the best time to visit Austin, coming during the ACL Festival is guaranteed to be a massive amount of fun.
Street performers, international bands, the best Austin food truck vendors and every other type of entertainment you can imagine, there's a reason that ACL is now globally recognised.
Be aware though that everything books up months in advance, so if you're trying to lock in a long weekend or 3 days in Austin itinerary around these dates, you better jump in quick.
Read Next: Check out our awesome 3 days in Dallas itinerary to plan your next stop in Texas!
Getting Around Austin
For those flying into Austin Bergstrom International Airport, the trip to downtown is just 15 minutes.
The Austin Airport is the best place to get yourself a rental car. While not absolutely vital, it will be a major help when it comes to getting around Austin.
Each part of the city is very walkable. But the distance between downtown, Zilker Park and South Congress means having a car will make your life a lot easier. Plus, parking is not the thorn it is in other major cities.
If you don't wish to hire a car, we recommend staying in the downtown area and making use of the city's bus network.
Austin has 82 bus routes which connect each part of the city and a day pass only costs $2.50. Perfect if you're trying to nail that Austin 3 day itinerary without your own vehicle.
Alternatively, you can get your hands on a set of wheels and ride around Austin. The city features the MetroBike. They offer a three day pass for around $20, which comes with unlimited 60-minute trips.
Where to Stay in Austin
If you're wondering where to stay in the city, our recommendations for the best accommodation in Austin will help you choose the top spot for your budget!
Make the most of your 3 day Austin itinerary by staying close to downtown!
Best Hostel in Austin – The Firehouse Hostel
Within Austin's oldest fire station, the Firehouse Hostel is a unique experience. In central downtown, you'll find yourself within walking distance of major attractions.
Guests will also enjoy a modern hostel plus an adjoined bar.
Best Mid-Range Hotel in Austin – East Austin Hotel
This modern hotel comes with a convenient location, onsite restaurant, a sun terrace and an outdoor swimming pool. Each room comes with a lounge area plus cable TV.
From the hotel, you can walk to downtown destinations plus Sixth Street.
Best Luxury Hotel in Austin – The Fairmont
If money is no object, then the Fairmont Hotel is our choice for a luxurious weekend in Austin.
From your room, you'll have beautiful views of Lady Bird Lake or the skyline, a lounge area, cable TV, and a coffee machine.
The Fairmont has three on-site restaurants along with a relaxing wellness center.
DISCLAIMER: Some of the links in this article are affiliate links, which means if you book accommodation, tours or buy a product, we will receive a small commission at no extra cost to you. These commissions help us keep creating more free travel content to help people plan their holidays and adventures. We only recommend the best accommodations, tours and products, and regularly review these. Thanks for your support, kind friend!