Planning a trip to Beantown and wondering what to do? Keep reading for an incredible 3 days in Boston itinerary!
Few cities are as important in the history of the United States as Boston. In fact, the capital of Massachusetts is known as the "Cradle of Liberty" for its role in the American Revolution.
Those interested in the early history of the USA will absolutely love visiting Boston. And you can cover some solid ground over a long weekend in the city.
In addition to all the historical sights, Boston boasts several world-class museums and some of the best universities in the world.
It's also a top-notch sports city, with some of the most successful teams of all time like the Boston Red Sox, Boston Celtics and New England Patriots.
If you're ready to plan a perfect vacation in Boston, read on for a solid gameplan for visiting this historic American city.
My epic itinerary will take you to:
The Freedom Trail
Faneuil Hall
Beacon Hill
Old State House
Skywalk Observatory
Explore the Waterfront
Christopher Columbus Waterfront Park
New England Aquarium
Visit a bunch of museums
and breweries
Back Bay FensFenway Park
JFK National Historic Site
And with room to fit in your own personal adventures!
READ MORE: Check out our brand new, complete guide on the best things to do in Boston!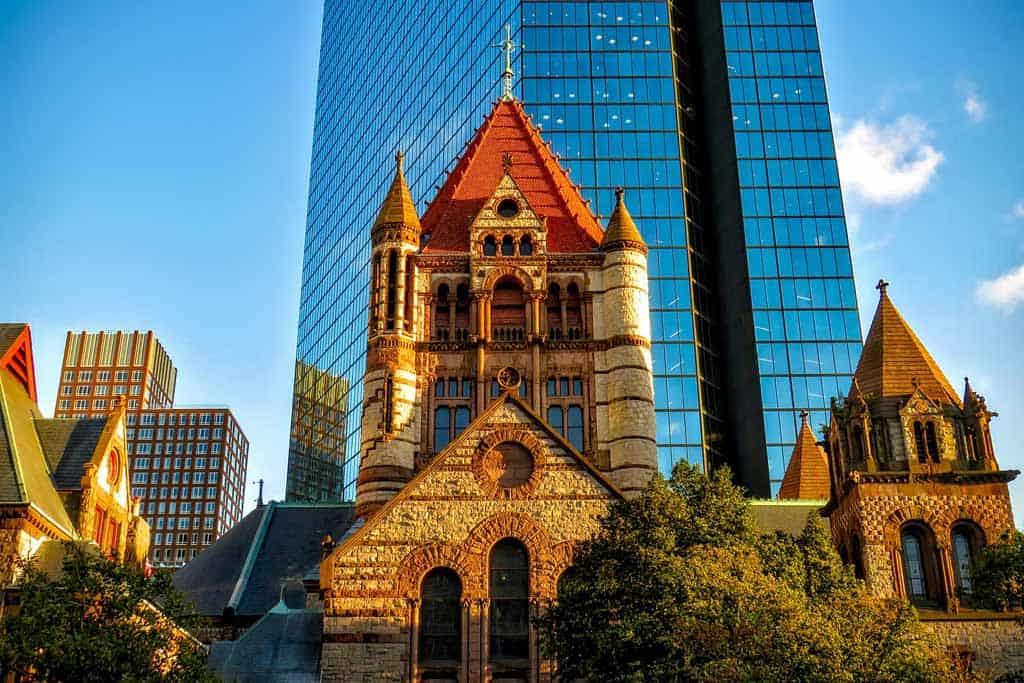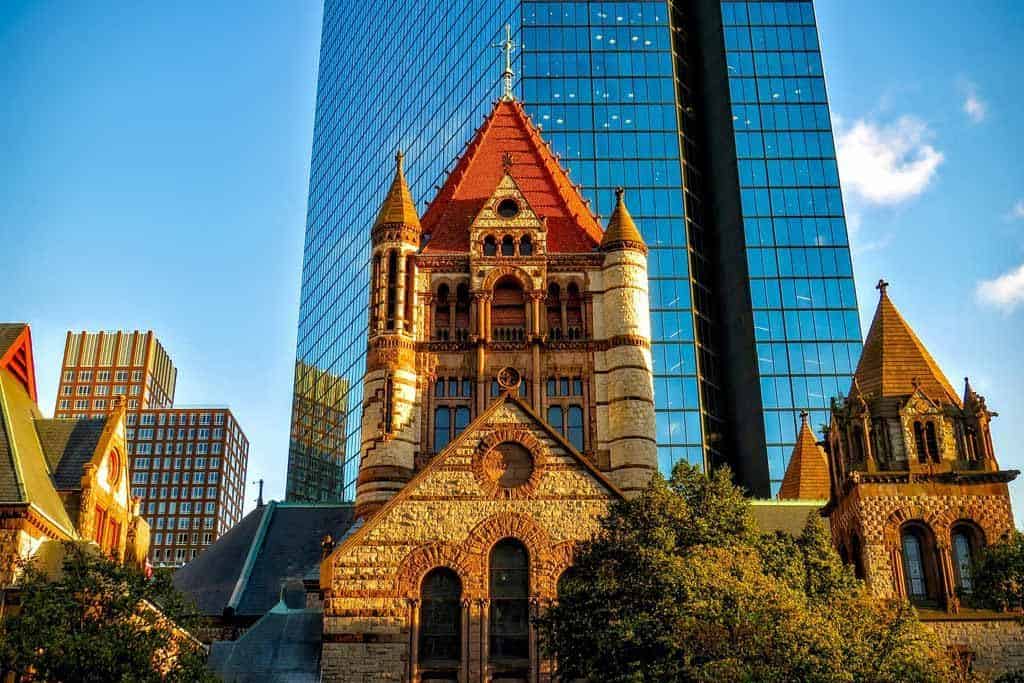 How to Spend a Perfect 3 Days in Boston
Travel Tips for Visiting Boston
When to Visit Boston
The first step in crafting a 3-day Boston itinerary is figuring out when to visit. Winters here can be brutally cold and unforgiving, which is not exactly ideal for exploring a city.
Of course, the warmer weather of the summer months also brings hordes of tourists and their selfie-sticks. For a nice happy medium, you may want to consider visiting Boston in late spring or early fall.
Whenever you visit Beantown, there's sure to be a lot going on. In a city with so many major sports teams, art museums, and a lively music scene, you have tons of options for entertainment.
I don't know about you, but I always check the calendar of events in a city before travelling there. If you've only got a few days in Boston, you might want to check and see if there are any games, concerts, or performances you'd like to attend.
Getting Around Boston
Wherever you decide to lay your head during yours Boston itinerary, getting around the city is a breeze. Boston is a very walkable city and it also has excellent public transportation.
You can get most places in Boston on the metro, which is known as "the T" here. There are also local buses and ferries, as well as a commuter rail.
For visitors, your best bet is buying a CharlieTicket 1-day or 7-day pass. The 1-day costs $12.75 and the 7-day runs $22.50, so it's actually a good deal even though you're only spending a short time in the city.
Head here to read more about the various options for getting around Boston.
Read Next: Don't forget to plan to enjoy some of the best Boston day trips!
Boston CityPASS
Finally, the one thing I seriously recommend is investing in a Boston CityPASS, which is basically a card that gives you discounts at many of the main attractions in the city.
You buy the pass for $64, and it gives you entrance into the following Boston attractions:
New England Aquarium,
Boston Museum of Science
Boston Harbor Cruise or
Harvard Museum of Natural History
Franklin Park Zoo
If you bought all of these separately, it'd cost $120.65, so you save 45% by buying the Boston CityPASS.
Now that you know a bit more about the city, let's get this show on the road and take a look at what to do in Boston in 3 days.
Day 1 – Morning
If you want to start your day like a true Bostonian, grab a coffee and a donut from Dunkin' Donuts and get a move on!
With a nice sugar high and a caffeine buzz, you're primed and ready to kick off this itinerary.
Freedom Trail
When it comes to the best things to do in Boston, walking the Freedom Trail definitely tops the list.
This is a 4km-long path through downtown that takes you to 16 different historical sites, many of which played a role in the American Revolution. Follow the footsteps of the founding fathers as you take a walk through American history on the trail.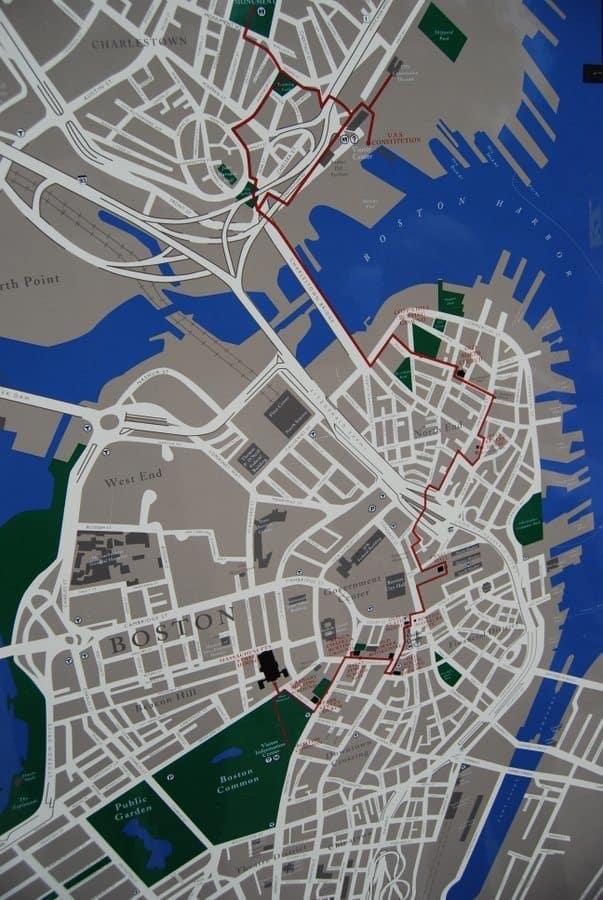 The best place to start out is Boston Common, which is actually the oldest public park in the country.
You'll have to save chilling in the park for later, though, as we've got a busy Boston itinerary to get to!
Heading north out of the park, you'll visit several important historical landmarks on the North End.
There's the Massachusetts State House, King's Chapel Burial Ground, the Old South Meeting House, and Old State House, among others.
The latter is the site of the Boston Massacre, which served as a catalyst for the Revolutionary War.
Following the Freedom Trail through the North End on your own is quite easy, as it's well-marked and there are plenty of informative signs along the way.
You don't have to join a guided tour. If you're on a budget, you can just make your own tour.
Click here to download the official brochure of the Freedom Trail and then head here to check out an interactive map.
Those who prefer listening to reading can drop down a cool $15 to download a 2-hour audio tour. Just download the app and purchase the tour and you're ready to rock.
Finally, you can sign up for an official tour and have a knowledgable local guide lead you around town.
READ NEXT: Looking for more history? Be sure to check out our list of the best things to see and do in Philadelphia!
Day 1 – Afternoon
How long you spend on the Freedom Trail is entirely up to you. Most of the sites are free to visit, but a few of them charge an entrance fee (Old State House, Old South Meeting House, and Paul Revere House).
Some people like to linger and read all the information, while others prefer to breeze through and snap a photo or two. Personally, we spent about three hours visiting a bulk of the sites along the way.
After taking in so much history in so little time, you're probably ready to chill and grab some food. Thankfully there's a spot on the trail that makes for the perfect lunch break.
READ MORE: Check out our other epic city guide on how to spend 3 days in New York!
Faneuil Hall
With only a few days in Boston, you'll definitely want to try as much local food as possible. Hopefully, you're nice and hungry by this point in the day, because there are lots of options at Faneuil Hall on the edge of North End.
This is one of the most historic sites in all of Boston, as it's where the Sons of Liberty gathered to discuss independence from Great Britain. It's been an important meeting place and market ever since it was built in 1742.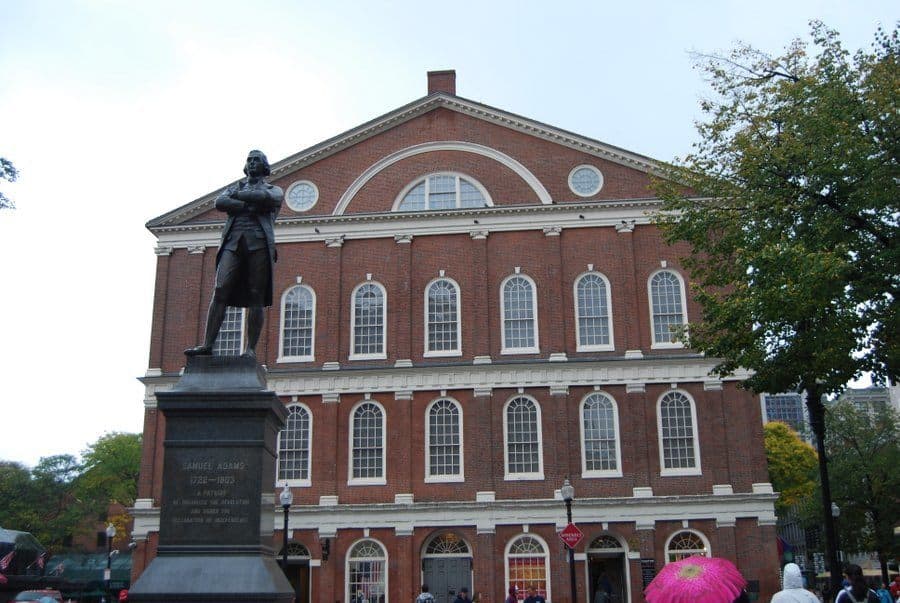 To learn more about the importance of Faneuil Hall, you can join a free talk in the historic Great Hall. These begin every half an hour between 9:30 and 4:30.
Oh yeah, back to the food! Sorry folks – there's just so much to cover with only so much time! Inside the hall, you'll see lots of excellent options in Quincy Market.
When in Boston, one must eat a bowl of chowdah. For those unfamiliar with the Boston accent, I'm talking about clam chowder – a creamy seafood soup that's a local favorite.
Or splurge and get a classic New England lobster roll!
If you want to be a mega-tourist, add a stop at Cheers. This bar is a replica of the one from the famous TV show and while a bit cheesy, is a fun place to grab a drink.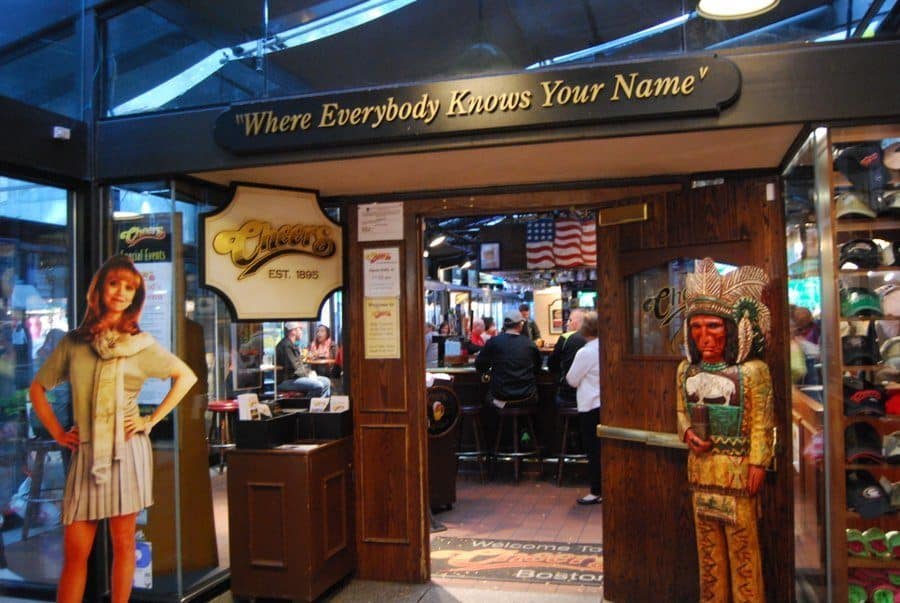 Before you go, be sure to check out the amazing street performers outside of the hall. From magicians to jugglers to clowns to mimes, there are some incredibly talented people here.
Finish the Freedom Trail
If you're feeling the history vibe, then you can keep on cruising along the Freedom Trail and cross over the Charles River.
You could easily spend the rest of your afternoon crossing the remaining sites off your list, among them Paul Revere's House and the USS Constitution.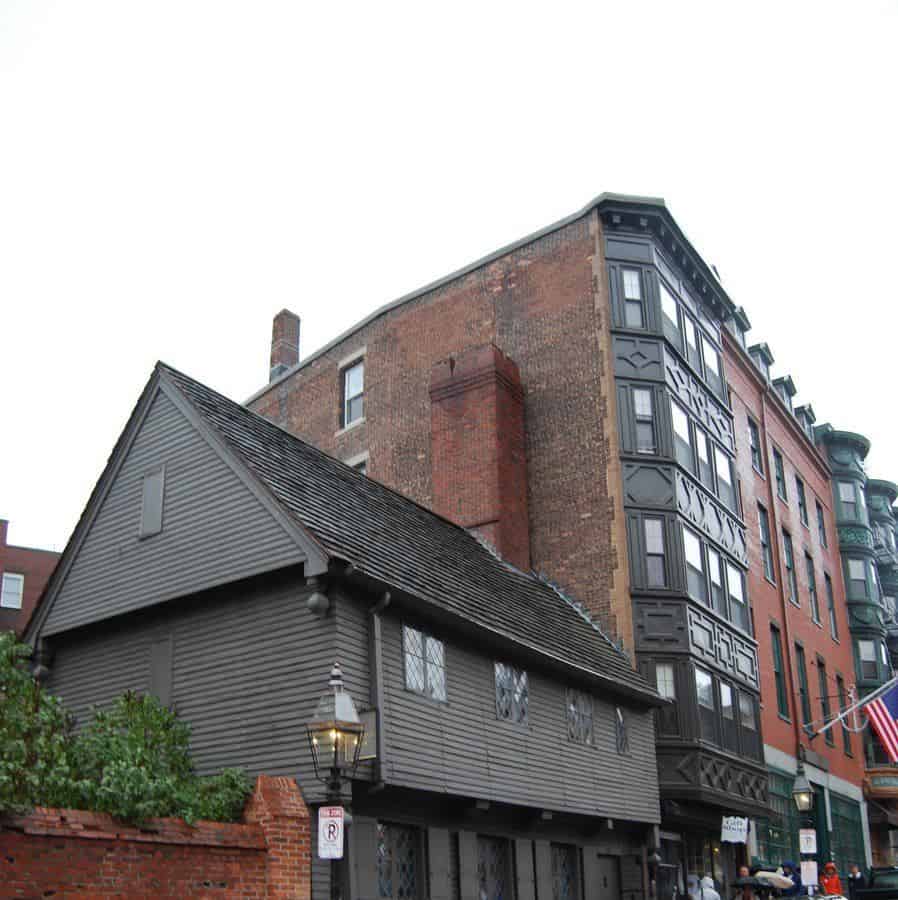 Both charge an entrance fee ($5 and $10 respectively) so you may want to take that into consideration.
Back to the Park
Should you feel a bit tired of reading plaques and looking at statues, just head back to where the day started and spend some more time exploring Boston Common.
Take a walk through the park and cross Charles Street, and you'll find yourself in the Boston Public Garden. Cruising around the pond on a swan boat in Boston Public Garden is definitely among the top things to do in any Boston itinerary.
Near Boston Public Gardens and Boston Common is Beacon Hill, another gem of the city. Beacon Hill is one of the most beautiful Boston neighborhoods, so if you have time time it's worth strolling around.
Beacon Hill is a residential area full of picturesque brick buildings, old fashioned apartments, and lots of greenery. Beacon Hill is always charming, but it is especially scenic if you visit in winter when there is snow falling everywhere.
Read Next: Looking for more history on the east coast? Check out our awesome 3 days in Philadelphia itinerary!
Day 1 – Evening
After a very busy start to your Boston itinerary, it's time to enjoy a bit of leisure time to wrap up day one. And I know just the place to do that!
Newbury Street
Once you're satisfied with your time in the garden, head out to nearby Newbury Street. This popular commercial area is famous for its well-preserved brownstones that house a wide variety of businesses.
Unless you're looking to drain your wallet, move quickly along the street. You see, the higher end of the street is full of luxury brands, earning it a reputation as one of the most expensive streets in the US.
As you get to the lower numbers, you'll find some more budget-friendly options. Take your pick from the countless cafes, shops, and bars here before our last stop.
Skywalk Observatory
To wind down day one, head to the nearby Skywalk Observatory for the best panoramic views of Boston.
The observatory is located atop the Prudential Centre and it's the only sky-high vantage point in the city. Try to time your visit around sunset for an absolutely epic view!
Tickets are a bit pricey at $21 for adults, but it's worth it on a clear day. You can even see into the neighbouring state of New Hampshire on a nice day here.
In addition to the observatory, your ticket also includes admission to the Dreams of Freedom Museum. This museum celebrates the diversity of Boston and the importance of immigrants in shaping the city.
If you're looking for a nightcap, there are plenty of bars in the area. Otherwise, head home and get some rest to gear up for the remainder of your time in Boston.
Day 2 – Morning
Rise and shine, because we've got another big day in Boston! Grab some brekky and coffee, lace up your walking shoes, and let's go!
Explore the Waterfront
Thanks to its location, Boston has a beautiful waterfront with plenty to see and do, particularly on the North End. This makes for the perfect place to spend a relaxing morning in Beantown.
The thing about the Waterfront is that there's just so much going on here that there's no way to pack it all into your Boston itinerary. That's why it's time to…
Choose Your Own Adventure
While I'm here to help you explore Boston in 3 days, I'm not giving you a concrete Boston itinerary. Travel is all about going with the flow, after all. That's why it's time to choose your own adventure at this point in the tour!
Here are just a few of the many things you can do along the Waterfront:
Christopher Columbus Waterfront Park
This beautiful green space offers some fantastic views of Boston Harbor on the North End. On a nice day in Boston, there are few places better to be than this!
In addition to enjoying the views, you can also take a walk in the rose garden or head across the street for a ride on the Greenway Carousel.
New England Aquarium
Another option while you're over here is the New England Aquarium. It's a very impressive aquarium, highlighted by their Giant Ocean Tank. This is home to the aquarium's most famous resident – Myrtle the Sea Turtle.
You can also catch a show at the IMAX theatre or join a whale watching tour here. These tours run between April and November and make for an unforgettable experience.
Click here to buy an entry ticket to the New England Aquarium. Unless you already have a Boston CityPASS, in which case the ticket is included!
HOT TIP: The New England Aquarium is included with your Boston CityPASS!
Take a Unique Tour
In the Waterfront area, you have plenty of options for a unique guided tour of Boston. Take your pick between an Old Town Trolley Tour, a Boston Harbor Cruise, or a Duck Tour.
If you're wondering about that last one, I'm not talking about exploring Boston with a flock of birds.
A "duck" is a special amphibious vehicle that brings you on a tour of Boston before splashing down into the Charles River.
A Duck Tour is a super family friendly way to explore Boston by road and by water.
Alternatively, you can book a Boston Harbor cruise. Boat cruises are always fun, and there is a wide variety of boat tours in Boston to choose from.
Choose between a historical sightseeing cruise, a Boston Harbor Cruise with buffet lunch, or a sunset yacht cruise.
You can also tour Harvard University, one of the country's most famous schools. The grounds are beautiful and lots of cool history happened at Harvard University, so it's worth checking out.
Day 2 – Afternoon
Whatever you decide to do on the Waterfront, make sure to include a quick stroll along the scenic Rose Kennedy Greenway.
This is one of the best places for cafes and restaurants in the area, so go ahead and take your pick for a lunch break.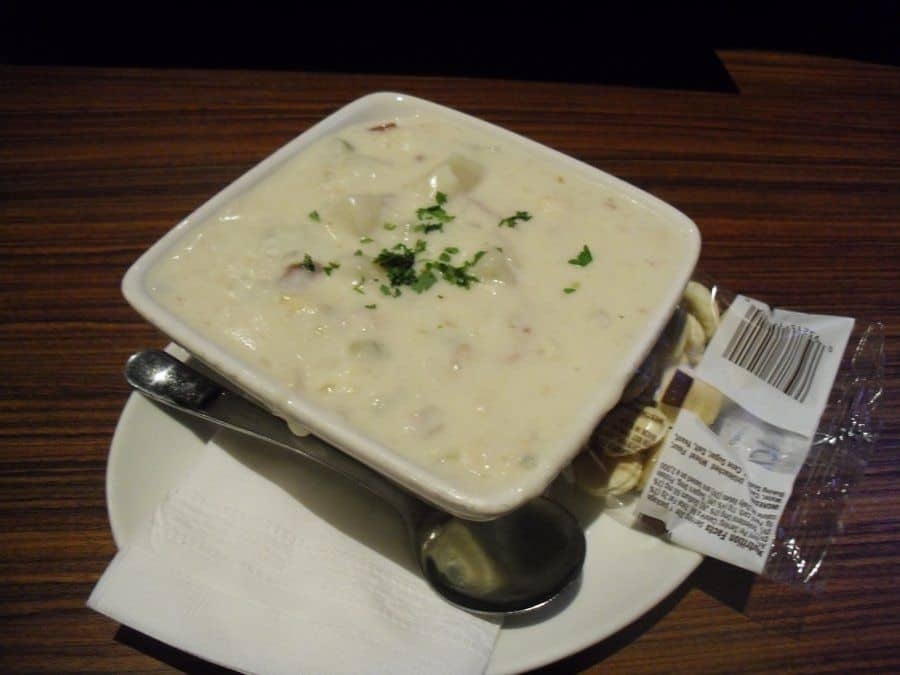 Hit a Museum
There are several great museums to choose from in Boston, and a few of them are located right over here.
If you're ready to dive back into the history lesson we started on day one, head to the Boston Tea Party Museum & Ships. Here you get to go aboard a replica ship and actually re-enact the famous event.
The Boston Tea Party is one of the most well-known events in American history so it's kind of like meeting a celebrity.
Tickets for the museum cost $40 for adults and you can save a few bucks by booking online. This is a rare museum that's fun for the whole family, so it's a great choice if travelling with kids.
Speaking of the kiddos, the Boston Children's Museum is located right next door. It's an interactive museum and is super fun, even for big kids! Tickets cost $18 and you can book online.
Visit a Brewery
While Ben Franklin may not have ever actually uttered the words "Beer is proof that God loves us and wants us to be happy," there's still a lot of wisdom behind the quote!
It's been a busy time in Boston so far, so I'd say it's time for a cheeky brew!
Cruise over to the nearby Seaport District of Boston to find Harpoon Brewery & Beer Hall. They run tours every day and tickets are sold on a first-come, first-serve basis. Check their website for all the details.
If you just want a drink and don't need a brewery tour to go along with it, another option is the Fort Point location for Trillium Brewing. These guys make some killer beers and have a solid restaurant as well.
While it's a bit of a hike from the harbor, Samuel Adams is probably the most famous Boston brewery.
They're located in the Jamaica Plain part of the city and their last tour starts at 5 PM. Check their website to read about all their tour options.
Day 2 – Evening
How you choose to spend your evening totally depends on what time of year you visit, your interests, and your energy level. After all, it's already been a huge experience in Boston so far!
With so many options and so many variables, you know what that means. It's time to choose your own adventure.
Catch a Game
As a native Detroiter I hate to admit it, but Boston is one of the best cities for sports. Not just in the US, either, but in the entire world.
I mean, they won the Super Bowl AND the World Series in the same year and were just one game away from adding the Stanley Cup. That's unreal!
If you're in Boston between October and May, there's a good chance either the Celtics (NBA) or Bruins (NHL) have a home game at TD Garden.
Even if they're away, the bars around the arena are lively. I particularly enjoyed the hilariously named "The Greatest Bar." Yeah, they're not too humble around here when it comes to sports and drinking!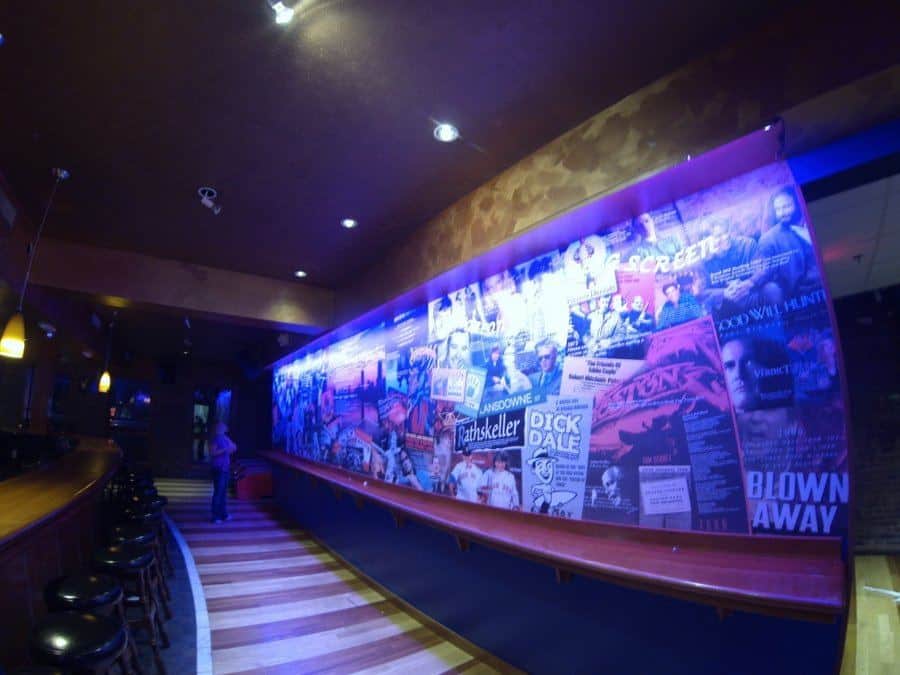 While the New England Patriots (NFL) are technically a Boston team, they play pretty far outside of the city centre. If you're willing to make the trek, most home games are on Sunday afternoons between September and January.
If the Red Sox are in town, you should definitely try to score tickets. After all, baseball is America's pastime! Plus, the Red Sox play at Fenway Park, the oldest ballpark in the country.
Historic Fenway Park has to be on your list of what to see in Boston, even if there's no game going on.
You can book a 1-hour guided tour of the sports ground here.
See a Show
Live music lovers will be happy to hear that there are plenty of options for jamming out in Beantown. From a classy night out with the symphony to a wild night of head-banging along to some heavy metal, you can find it here.
To figure out where to go for some tunes in Boston, I recommend checking out this article on the 25 best music venues in the city. I always use Jambase to see what shows are on in a city when I'm travelling there.
Of course, you can always just go out and see where the night takes you. This is a city that likes to party so you're guaranteed to find something fun. You've got to go big at least one night!
Day 3 – Morning
Depending on how your night wound up, it might be a slow start to the final day. Thankfully there's no shortage of places to get a late and leisurely brunch in this town!
We hit up Zaftigs Delicatessen (click here for directions) during our Boston itinerary and really enjoyed it. There's nothing like some eggs benedict and a strong coffee to bring you back to life!
Let's finish up this itinerary with a bang!
Museum of Your Choice
To kick off day three, head to the Fenway-Kenmore part of the city. Here are some of the best museums in town, including the Museum of Fine Arts Boston, which dates back to the 19th century.
You could honestly spend the entire day in here and not even scratch the surface. They have such a vast collection of art from all over the world it's mind-boggling.
Be sure to have a look at their visitor guide so you can make a gameplan. Tickets cost $25 for adults and you can book online ahead of time to skip the line.
Another one of the best art museums is the nearby Isabella Stewart Gardner Museum. This incredible art museum is located in the former home of its namesake, which was built in the style of a 15-century Venetian palace.
Inside, you'll see three floors full of art, surrounding a lovely courtyard and garden. This has got to be one of the nicest looking museums out there!
At just $15, the Isabella Stewart Gardner Museum is well worth the price of admission to add this one-of-a-kind museum to your itinerary.
Click here to book tickets online.
Another option is the Institute of Contemporary Art. Located on the waterfront, this stunning museum showcases so much interesting contemporary art and often has performances and exhibitions. Visit the website for more info!
HOT TIP: The Museum of Science is included with your Boston CityPASS!
Back Bay Fens
Whichever museum you choose to visit, be sure to drop by the nearby Back Bay Fens on your way out. This tranquil green space is a part of the larger Emerald Necklace chain of parks throughout Boston and Brookline.
This is the perfect place for a leisurely stroll after a jampacked 3 days in Boston. While you're here, don't miss the beautiful Kelleher Rose Garden.
In addition, you can visit one of only two remaining "Victory Gardens" in the US that were planted by citizens to help grow food during World War II.
There's also a temple bell here that was donated by Japan after the war as a symbol of peace.
Day 3 – Afternoon
After a moment of peace and quiet out in nature, it's time to finish up your Boston itinerary! Next up, we're headed to one of the most iconic places in the city – Fenway Park.
Since it's a major sporting venue, there are tons of places to eat and drink around Fenway. Go ahead and take this opportunity to grab some lunch and take a load off before visiting the ballpark.
Fenway Park
Dating back to 1912, Fenway is the oldest ballpark in America. It's home to the city's beloved Red Sox, and is a must-see when you visit Boston.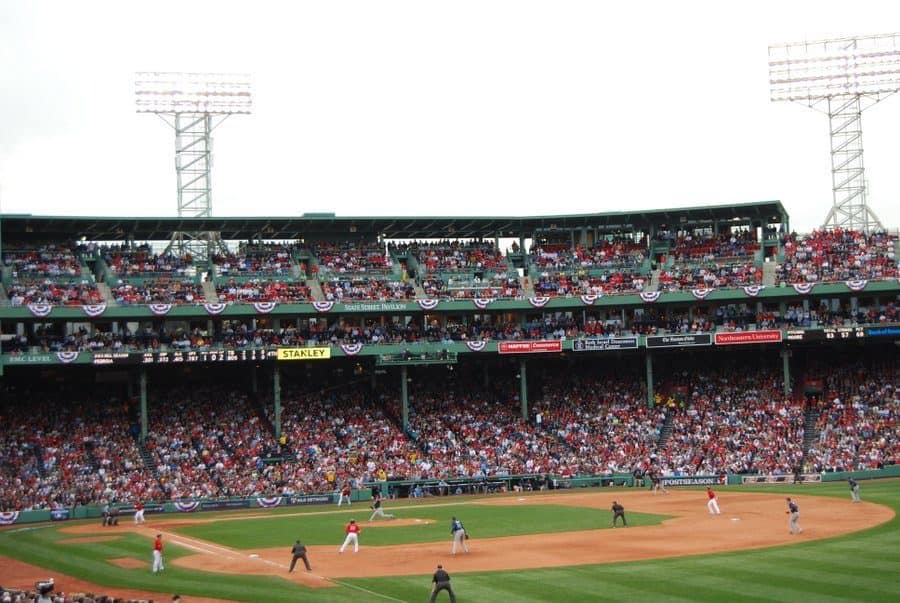 As I mentioned earlier, it's worth it to visit Fenway even if there isn't a Boston Red Sox game going on. They run tours of the ballpark from 9-5 during the season, even on game days (tours run 10-5 from November to March).
In an age of excessive corporate sponsorship and tacky theme park-esque ballparks, it's nice to visit one of the originals. I'm a Tigers fan for life but I've got to admit that going to Fenway Park is an incredible experience.
On a tour of Fenway, you'll get to learn all about the unique features of the ballpark, such as its famous "Green Monster."
You need to book ahead of time if you want to do a tour, and you can do that here.
JFK National Historic Site
If there's not a game going on at Fenway or you're just not into baseball, let me present an alternative option.
Not too far up the road is the John F. Kennedy National Historic Site, birthplace and childhood home of the 35th US President.
You can normally tour the grounds, but the National Historic Site is actually closed until 2023 for maintenance and renovations. But when they are ready to reopen, it should definitley have a place on your Boston itinerary. Check their website for more information.
If you'd like to learn more about JFK and his legacy, you can also consider adding a trip to his presidential library and museum to your Boston itinerary.
Day 3 – Evening
Congratulations on making it to the end of a busy stay in Boston! I definitely didn't go easy on you with this one…
If you actually followed this beast of an itinerary, chances are you're pretty spent by now. It's your last night in Beantown, though, so power through and head out for one last night.
With so many options in Boston, it's time once again to…
Choose Your Own Adventure
We've already covered sports and live music here, but there are lots of other great options for entertainment in Boston.
One popular option is an escape room. There are a few near Boston Common, including Trapology and Escape the Room. Find the clues and solve some mind-bending puzzles to make your escape in time!
Perhaps you'd rather wind down your time in Boston with some laughs. The city is home to many excellent comedy clubs, including Improv Asylum.
Check out their website to see what's playing while you're in town.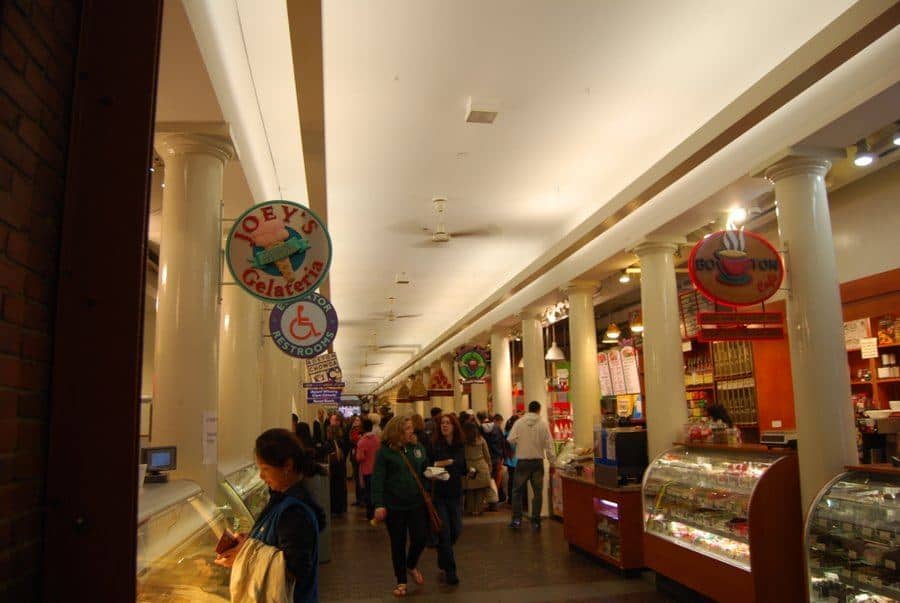 If you'd prefer to just have a nice dinner and a few drinks, the area around the Waterfront is full of great restaurants and bars.
South Boston, locally known as "Southie", also has great nightlife.
And that about does it for how to spend 3 days in Boston!
Boston Travel Guide
Where to Stay in Boston
This isn't the biggest city, but you still want to give some consideration to where you stay. Downtown is the hub of tourist activity and thus has the biggest selection of accommodation.
If you're planning on spending a lot of your time in Boston in museums and at the ballpark, the Fenway-Kenmore area is a better choice. Those focused on fine dining and shopping should look to the Back Bay area of the city.
Beacon Hill is centrally located, but it's quite expensive.
In these areas, you'll find a wide range of accommodation choices.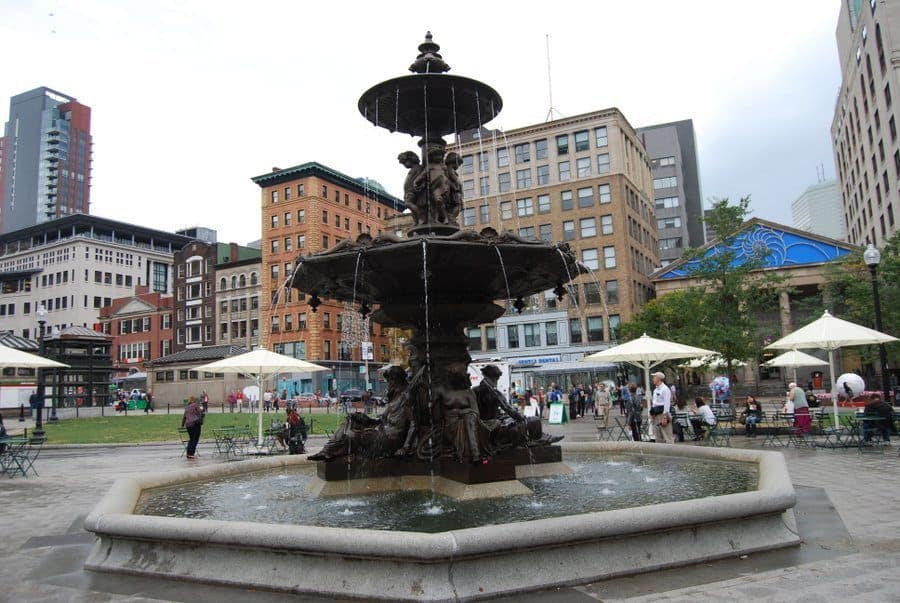 Boston is home to budget hostels, mid-range hotels, luxury resorts, and everything in between. Here's a top choice for each category:
Best Hostel in Boston – HI Boston
When it comes to hostels, you just can't beat HI Boston. It's in a great location, just steps away from Boston Common and the start of the Freedom Trail.
Hosteling International is all over the world and they know what backpackers like! They offer free breakfast as well as free walking tours, a nice TV room to chill in, a pool table, and much more.
HI Boston also has laundry facilities and a nice cafe with free WiFi if you need to get a bit of work done or just post pictures from your awesome 3 days in Boston.
Dorm beds here are comfy and each one has a light and outlet. These range from $40-60 a night depending on the number of beds in the room.
Best Mid-Range Hotel – Newbury Guest House
This fantastic hotel is located in one of Boston's most historic neighbourhoods – Back Bay. Here you can see 19th-century townhouses.
They have four different room types, from their standard room to their luxury bay window king room. All rooms include free WiFi and breakfast.
All guests can enjoy their nice common area, where there is a computer and printer along with free tea, coffee, and cookies. Yummy!
If you're hoping to catch a game at Fenway, this is an excellent choice as the ballpark is just a mile away. Rooms start at $259 a night here.
Best Luxury Hotel – Boston Waterfront Hotel
If you're looking to live it up, the Boston Waterfront Hotel on the North End is the place for you. This 5-star hotel is located right on the Rowes Wharf and is known for its "classically current" style.
All of the 232 rooms here are beautifully designed with tremendous attention to detail. These range from their Superior Room all the way up to the unreal John Adams Presidential Suite.
There are several options for wining and dining on-site, including the Meritage Restaurant & Wine Bar and Brewer's Alley. You can also get room service here 24/7!
As if that weren't enough, they also have a state-of-the-art gym here with a three-lane pool and a spa. You're really living the good life if you stay here!
DISCLAIMER: Some of the links in this article are affiliate links, which means if you book accommodation, tours or buy a product, we will receive a small commission at no extra cost to you. These commissions help us keep creating more free travel content to help people plan their holidays and adventures. We only recommend the best accommodations, tours and products that ourselves or our fantastic editorial team have personally experienced, and regularly review these. Thanks for your support, kind friend!