All you need to know about riding your motorbike on the Ho Chi Minh Highway West.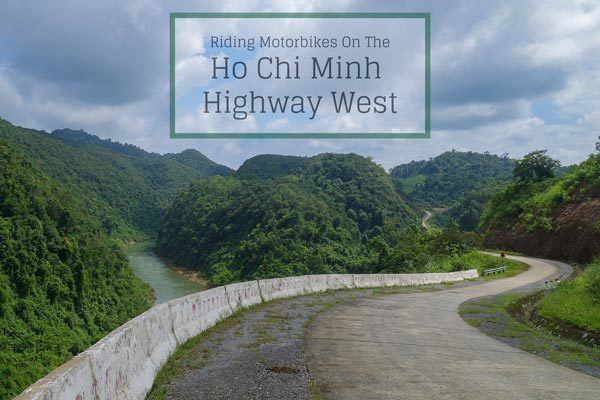 Between the years of 1959 and 1975, a series of trails wound their way through the jungles of Vietnam and Laos.
These trails were used as strategic transport routes to provide access between the North and the South of Vietnam during both the First Indochina War and the Vietnam/American War.
Hailed as one of the greatest military engineering achievements of the 20th century, the roads were known as the Ho Chi Minh Trails, after North Vietnam's president.
The Quang Tri and Quang Binh provinces of Vietnam are the narrowest sections of the country. It is here where the Ho Chi Minh Trails were the most remote, the jungle the most dense, and also the most heavily bombed.
Three important routes diverged just outside of the town of Phong Nha – Ho Chi Minh Highway East, Ho Chi Minh Highway West and Victory Road 20.
Now that the days of heavy bombing are gone (but not forgotten), these are becoming popular paths to follow for travellers and backpackers who want to ride motorbikes from Ho Chi Minh City to Hanoi, or vice versa.
Ho Chi Minh Highway West runs for 240km from Khe Sanh to Phong Nha, through one of the most dramatic and captivating regions of the country.
The road bends and twists past steep karst mountains rising impossibly skywards. Raging torrents of water flow parallel to the well-maintained pavement.
Every banked corner presents a different perspective on what beauty truly is. As you enter the UNESCO listed Phong Nha-Ke Bang National Park you will feel like you've ridden into a prehistoric era.
We've ridden 15'000km on our bikes in Southeast Asia, and the Ho Chi Minh Highway West ranks among the best scenery we have ever encountered.
The Ho Chi Minh Highway West should not be missed by any intrepid traveller looking for adventure and gorgeous scenery.
For many who ride motorbikes in Vietnam, this is even more beautiful than the famed Hai Van Pass. It remains to be one of our favourite highlights from riding motorbikes in Southeast Asia.
Don't miss our guide for Travel To Vietnam.
Tips For Riding The Ho Chi Minh Highway West
Riding the Western Ho Chi Minh Highway is not something that should be taken lightly. There is only one small village located along the entire route, meaning you will be a long way from help if something goes wrong.
Indeed for the majority of the ride you will be riding primarily with yourself and those in your group. Due to the time taken to ride the Ho Chi Minh Highway West, only small amounts of traffic occupy the roads.
This is not the most direct way between Khe Sanh and Phong Nha, and as such locals only use the road if absolutely necessary.
Here are a few tips to keep in mind when you are riding your motorbike on the Ho Chi Minh Highway West:
Take Extra Fuel With You
Unless you are riding a motorbike that is larger than a Honda Win or a scooter, one tank will not last the entire 240 kilometres. Because of this, taking extra fuel is a necessity.
The one village you pass through between Khe Sanh and Phong Nha MAY have hand pumps for fuel, but this is not a guarantee.
We recommend taking 3 litres of extra fuel per motorbike.
Leave Early In The Morning
Note: There is no accommodation options between Khe Sanh and Phong Nha.
The Ho Chi Minh Highway West is a technical road with many hills and corners. 240km might not seem like a long way, but if you have ever ridden a motorbike or scooter in Asia you know that distances almost always take longer than expected.
Weather can quickly turn into heavy downpours, forcing you to ease off the throttle. You will also probably be stopping for plenty of photo opportunities along the way, slowing down your pace.
Because of all these things, we suggest leaving as early in the morning as possible. Preferably just after sunrise.
There are no streetlights along the way, and these aren't the kind of roads you are going to want to be riding at night.
Leaving early also gives you some time to play with should you have motorbike issues – which brings us onto our next tip.
Make Sure Your Bike Is Well Maintained
Before you leave Khe Sanh or Phong Nha, give your bike a proper check up. Change the oil (should be done about every 500km if you have an older motorbike) and check your brakes, bearings, spark plug and tyre pressure/condition.
Have your chain tensioned and greased. Make sure your bike is running in good condition. Carry a small tool kit with you. A set of pliers, screwdrivers and socket wrenches will allow you to temporarily fix most things.
These tips should be applied at all times when riding a motorbike, not just on the Ho Chi Minh Highway West. But due to the isolated jungle you will be riding through, you want to take extra precautions.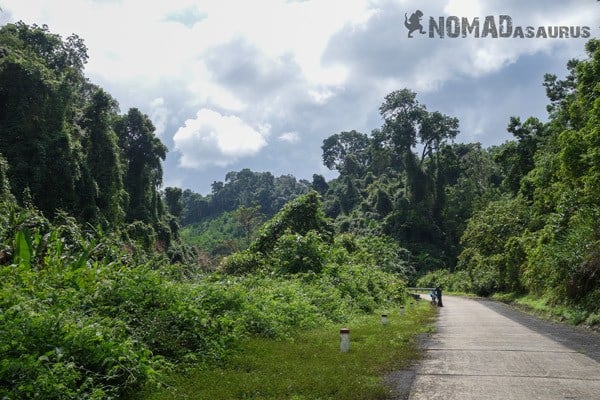 Bring Food And Water
There is nowhere to stop off and buy food or water between Phong Nha and Khe Sanh, and the ride could take upwards of 10 hours, depending on the speed you go, weather and potential breakdowns.
Make sure you pick up extra water and food to take with you along the way. A banh mi (Vietnamese sandwich) is cheap and easy to carry.
Ride Carefully
This is just common sense, but you will be surprised at how many hundreds of backpackers you will meet in Southeast Asia covered in road rash or broken limbs due to scooter accidents.
And if you talk to them, 99% of the time it was rider error that caused the crash: Not slowing down when it starts raining; Not paying attention and sliding out on gravel going around corners; Riding too fast and a cow/buffalo/dog/cat/chicken/goat/pig/other scooter pulls out in front of them; Grabbing the front brakes going downhill/around a corner, etc. Don't be one of these people.

If you have an accident between Khe Sanh and Phong Nha, you are a LONG way from a decent hospital. Keep that in mind when you start to open up the throttle going around blind corners.
Carry a first aid kit with you. And DON'T wear flip flops, shorts and a singlet, no matter how hot it is or how cool you think you look. You'll regret it if the front wheel locks up and you get thrown at 60km/h.
Wear long pants, a long shirt and enclosed shoes.
Ride With Someone
Unless you are a very experienced rider, and your bike is in perfect condition, we recommend riding with another person.
This will give you peace of mind in case something goes wrong, and it is always better to share the experience with another person.
It should be easy to meet up with a crew to join, especially during peak season. Try putting a poster up on the notice board of a hostel in either Phong Nha or Hue.
[box type="info" size="large" style="rounded" border="full"]Have you ridden the Ho Chi Minh Highway West in Vietnam? What did you think, and what tips would you give to other travellers? [/box]