The most comprehensive hiking guide on the internet for trekking in Nepal.
Nepal is known globally for its picturesque mountains. Especially known to most is the mighty Mount Everest, and a lot of people travel from all over to capture a glimpse of the world's tallest peak.
However Mount Everest is just a small fraction of what there is to discover in Nepal, with some of the most unique teahouses, monasteries and friendly locals you will come across anywhere on the planet.
The Himalaya is the 'spine' of the country, and what lays within will truly change the way you look at the landlocked Asian nation.
For those that love adventure, the best way to explore this country is on your own two feet, by trekking in Nepal.
From the lush forests of Helambu to the desolate peaks of the Upper Mustang, hiking in Nepal is extremely diverse.
There are literally so many options when it comes to choosing what hike to go on, so I have put together a comprehensive, ultimate guide to treks in Nepal in order to get you on your way to something amazing!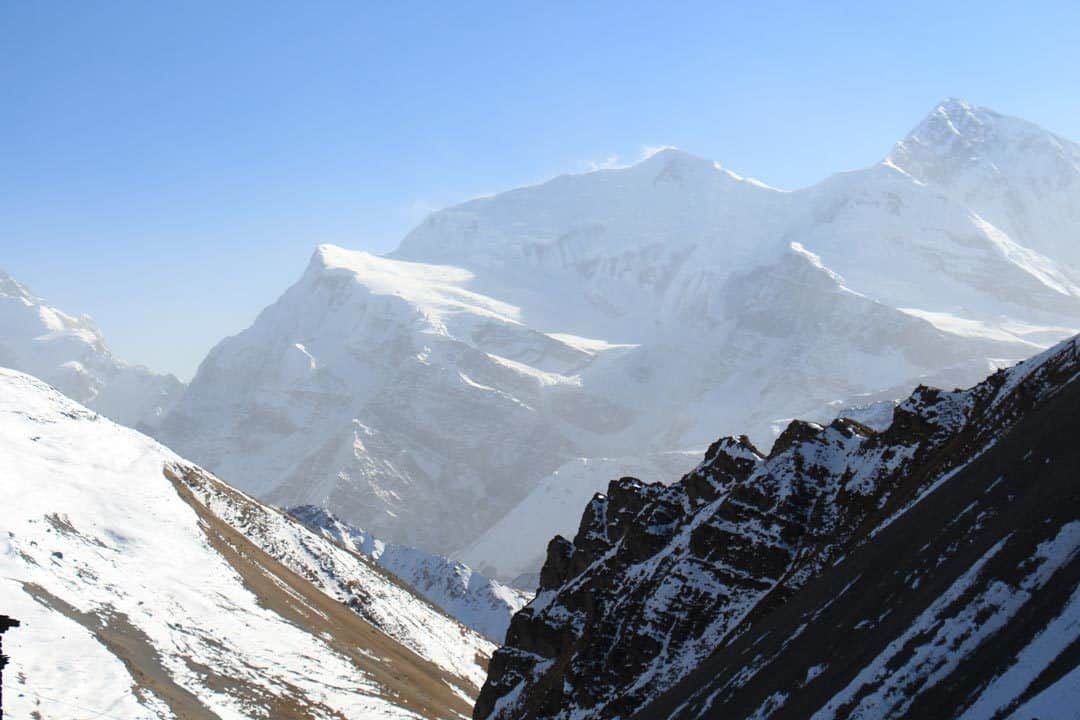 Trekking in Nepal – The Ultimate Hiker's Guide
Nepal offers short treks up to 5 days, medium treks up to 12 days and long treks for the adventurous kind where you can be out in the wilderness for up to 20 days or more.
I've trekking here on multiple trips and often get a lot of questions about accommodation and food, and some people think that Nepal can't offer much in the way of luxuries.
Well in fact Nepal has some of the most warming teahouses where you can sit down and share stories with the locals over a hot cup of tea and a plate of momos.
Everywhere you go, every trek you go on, you are bound to be invited to stay at someone's house or teahouse. Nepal's hospitality is just awesome, and so are its treks!
So without further ado, let me share all of my knowledge to help you make your epic adventure of hiking in Nepal easier to organise.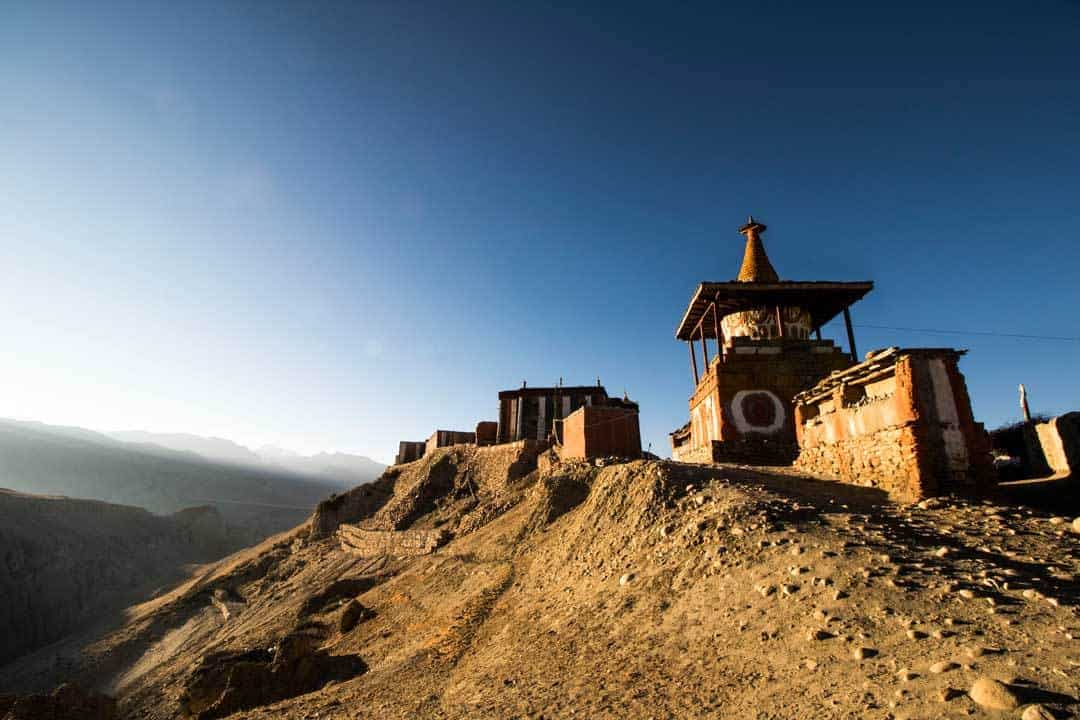 When To Go – The Nepal Trekking Season
That's a very good question and there is no definite answer. Personally I prefer to hike in Nepal at the end of the season when numbers of people on the trail have dropped by at least half.
Each of the listed months is a guideline as weather in the Himalaya and Nepal can change very rapidly so use this as a guide. The Nepal trekking season varies from year to year by days or even weeks.
Here's a brief guide for each trek listed;
Everest Base Camp: October to December and February to May
Three Passes Trek: October to November and March to May
Gokyo Trek: October to December and February to May
Annapurna Sanctuary Trek: October to May
Annapurna Circuit: October to November and March to April
Mardi Himal: October to November and March to April
Upper Mustang: May to October
Around Dhaulagiri: Very weather dependent all year round due to avalanche danger.
Manaslu: Mid-March to May and October to Mid-December
Inner Dolpo: May to October
Kagmara La: March to October
Kanchenjunga: October to November and March to May
Helambu Circuit: October to April
Great Himalayan Trek: Starting time generally October
Guided Or Independent – How To Hike In Nepal
Many hikes in Nepal require the use of guides and porters such as Inner Dolpo, Kanchenjunga and Upper Mustang due to the areas being restricted.
However, places such as the Annapurna Conservation Area and Everest Base Camp do not require guides.
If a particular hike requires a guide there really is no way around it, you must use a guide and porter in order to undertake the hike.
It is best to organise your Nepal trekking tour before you get to Nepal to save time and avoid the confusion of finding a trekking company in Kathmandu or Pokhara.
Guides are awesome to trek with and are full of knowledge even though it might cost you a bit more, it is well worth it.
In my opinion it's worth going on a guided trip when trekking in Nepal.
It's important to keep in mind too that no matter what trek you do, you're probably going to have to get a Trekkers' Information Management System (TIMS) permit. Read more about it here.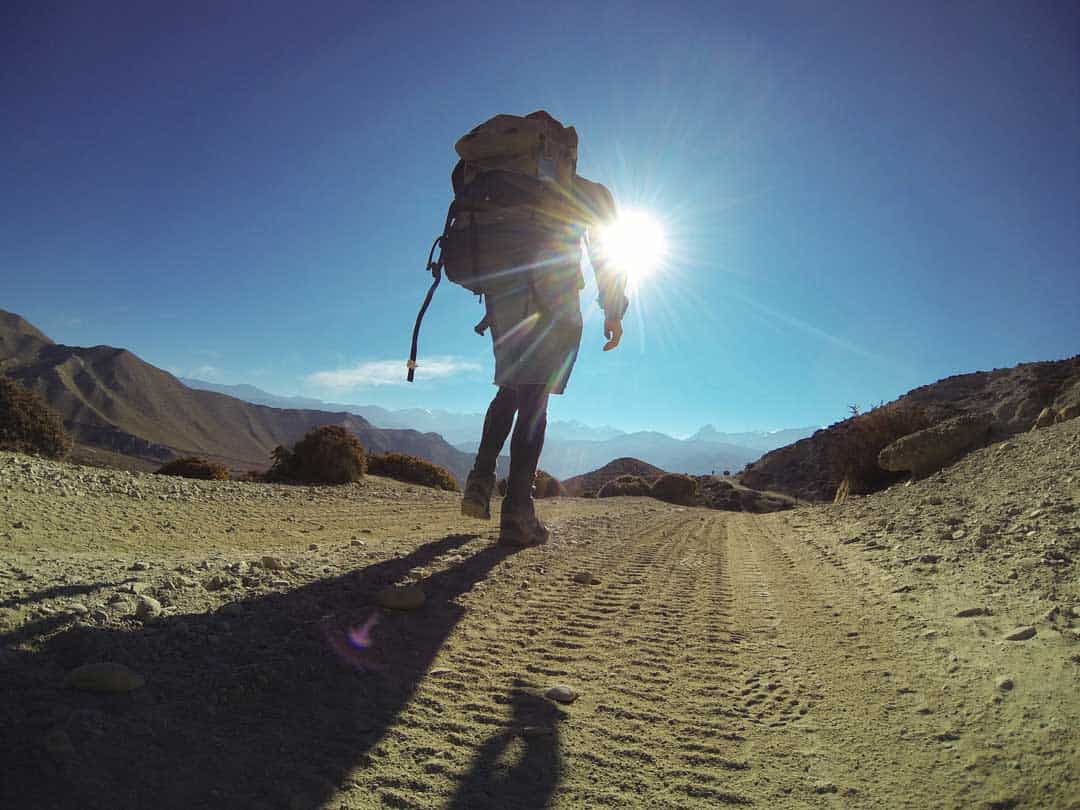 The Best Treks in Nepal by Region
Nepal offers a vast selection of different regions to which contains a multitude of trekking routes to do in Nepal; I have established a list that covers the best hikes in each of these regions.
For easy reference I will group each of the hikes to their location in Nepal.
Everest Region
Everest Base Camp
Gokyo Trek
Three Passes Trek
Annapurna Region
Annapurna Panorama Trek (Poon Hill)
Annapurna Sanctuary Trek
Annapurna Circuit
Mardi Himal
Mustang
Western Nepal
Phoksumdo Lake to Shey Gompa Trek
Kagmara La Trek
Eastern Nepal
Kanchenjunga Northern Trek
Langtang, Manaslu and Helambu
Helambu Circuit Trek
Around Manaslu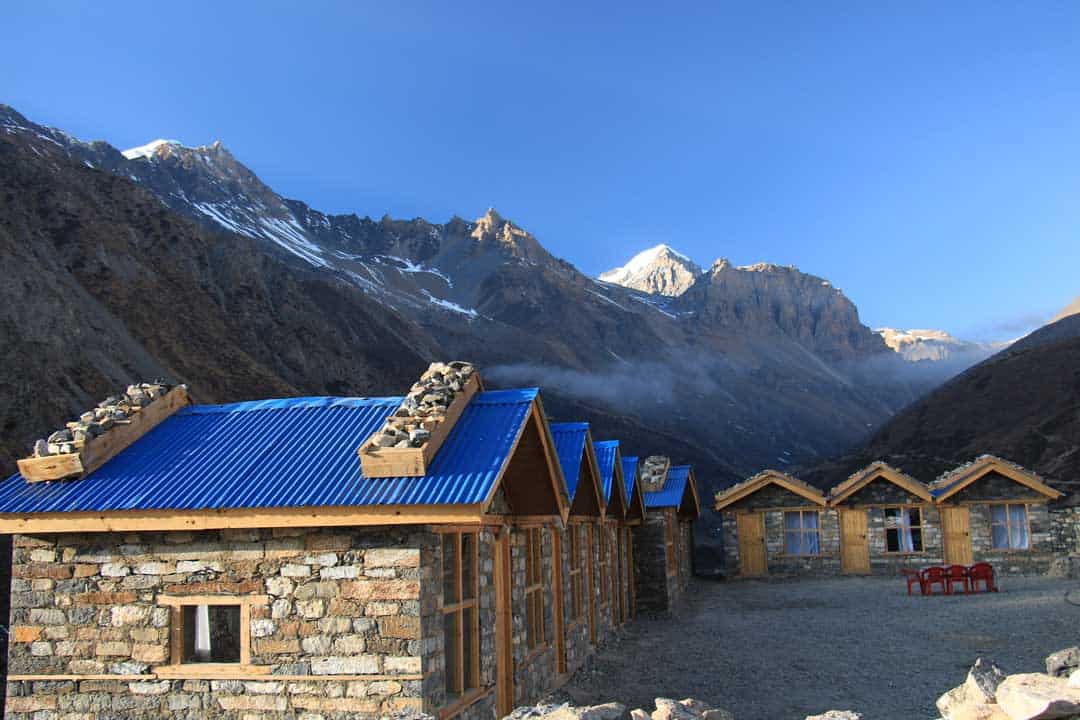 Khumbu Valley Treks – Everest Region
These are some of the most popular treks in the Khumbu Valley, which includes the famous Everest Base Camp hike.
Everest Base Camp
Time: 16 days
Difficulty: Medium to Hard
Elevation: 5,545 metres
Start / Finish: Lukla to Lukla
Permits: TIMS card, Sagarmatha National Park permit
Accommodation: teahouses
Everest Base Camp Trek is to most the pinnacle of trekking in Nepal; a must for most avid hiker's bucket list. But what makes this hike so good and why do so many travel to the Khumbu Valley for this hike?
Mount Everest, or Sagarmatha to the Nepalese, as you might know is the tallest peak in the world, with countless expeditions taking place to summit Everest since 1953 when Tenzing Norgay and Sir Edmund Hillary became the first to do so.
Mount Everest is one of the most amazing natural sites you can see anywhere in the world, and access to Everest's basecamp is becoming a whole lot easier, which now attracts more people than ever.
Getting to Everest Base Camp (EBC) all starts with a hair-raising flight to Lukla from Kathmandu to which you literally fly into the side of a mountain.
But don't worry these pilots are some of the best in the world and safety comes first.
From Lukla, there are a few options as acclimatisation becomes a priority due to Lukla's altitude, so opt for 1 or 2 days rest in town before beginning the hike.
As you fly from Kathmandu's altitude of 1,400 metres to Lukla's altitude of 2,860 metres in a short period of time, the chance of altitude sickness may be low but you have to take all precautions.
From Lukla, the hiking begins!
As you will notice along the trails, there are many teahouses and guesthouses to stay at, but in peak periods they can become very busy.
A little trick of the trade is to send one of your porters ahead (if using a porter) to check if there are any vacancies available, because the last thing you want is to be sleeping outside in the cold.
Also make sure to have your TIMS card registered before leaving Lukla!
On your EBC trek things start to get more exciting as you head deep into the Khumbu Valley, where for a few days you can base yourself in Namche Bazaar for further acclimatisation so this gives you the opportunity to explore side routes.
When acclimatising, my best hiking tip is called "go high, sleep low" which basically involves hiking above the altitude of where you will be staying, having a look around for an hour or two then descending back to the altitude you will be sleeping at.
Trust me it works a treat.
While in Namche Bazaar, be sure to check out Namche Gompa where you can hear monks chanting mantras on a daily basis both morning and evening.
If possible spend at least 1 day in Tengboche which is 4 hours hike from Namche Bazaar due to changes in altitude.
Once you leave Tengboche the views start to get pretty unreal with Ama Dablam peak and Imja Tse (Island Peak) peaking their heads out the clouds to the right of the trail while Cholatse towers above from the left.
To get some extraordinary Himalayan views, opt to do the difficult trek to Ama Dablam Base Camp which will add another 5 hours to your day.
Ama Dablam is one of the most picturesque peaks in the Khumbu and one of the most iconic in the world due to its unique shape.
Dugla to Lobuche provides you with your first glimpses of true giants of the Himalaya with Pumori, which tops out at 7,165 metres.
After Lobuche you will come across a side route which opts to trek to Kala Pattar (4 hours return).
Kala Pattar offers the best views of Mount Everest, and sorry to spoil it for you, EBC won't offer anything near the views that Kala Pattar will.
So what to expect at EBC?
You can see the Khumbu icefall which is one of the most notorious glaciers in the world for all the wrong reasons.
You can also see the camp itself which is the main place where mountaineers come to acclimatise before making their way to advanced basecamp and onwards to the 8,848 metre summit of Everest.
Three Passes Trek
Time: 20 days
Difficulty: Hard
Elevation: 5,535m
Start / Finish: Lukla
Permits: TIMS card, Sagarmatha National Park permit
Accommodation: teahouses and tents
Three Passes Trek is considered as one of the hardest treks in Nepal before you start getting into the realm of trekking peaks.
Starting in Lukla you follow the same trail as if you were heading along the route to Everest Base Camp.
The Three Passes Trek consists of three mountainous passes over 5,000 metres to which you will spend a good part of the trek above 5,000 metres, so make sure you are 100% committed before taking it on.
Himalayan trekking doesn't get any better than this!
Starting with Kongma La at an altitude of 5,535 metres, this will be your maximum altitude for the trek unless you decide to be really adventurous and add Kala Pattar which rises another 10 metres above Kongma La.
Once you have reached Lobuche, this is the junction village of which one way goes to Everest Base Camp and the other continues towards the next pass of Cho La.
Cho La is the coldest pass on the trek so it's always good to ascend as early in the morning as possible before clouds start to roll in.
Cho La reaches an altitude of 5,420 metres before descending into a lush area of meadows prior to entering the village of Tagnag.
The last major ascent on the Three Passes Trek is Renjo La maxing out at 5,345 metres and the views are guaranteed to amaze with Everest, Lhotse and Makalu all of which are in the top 5 highest mountains in the world!
For the remainder of the trek, altitude continues to decrease making things a whole lot easier as you approach Lukla to where the trek ends.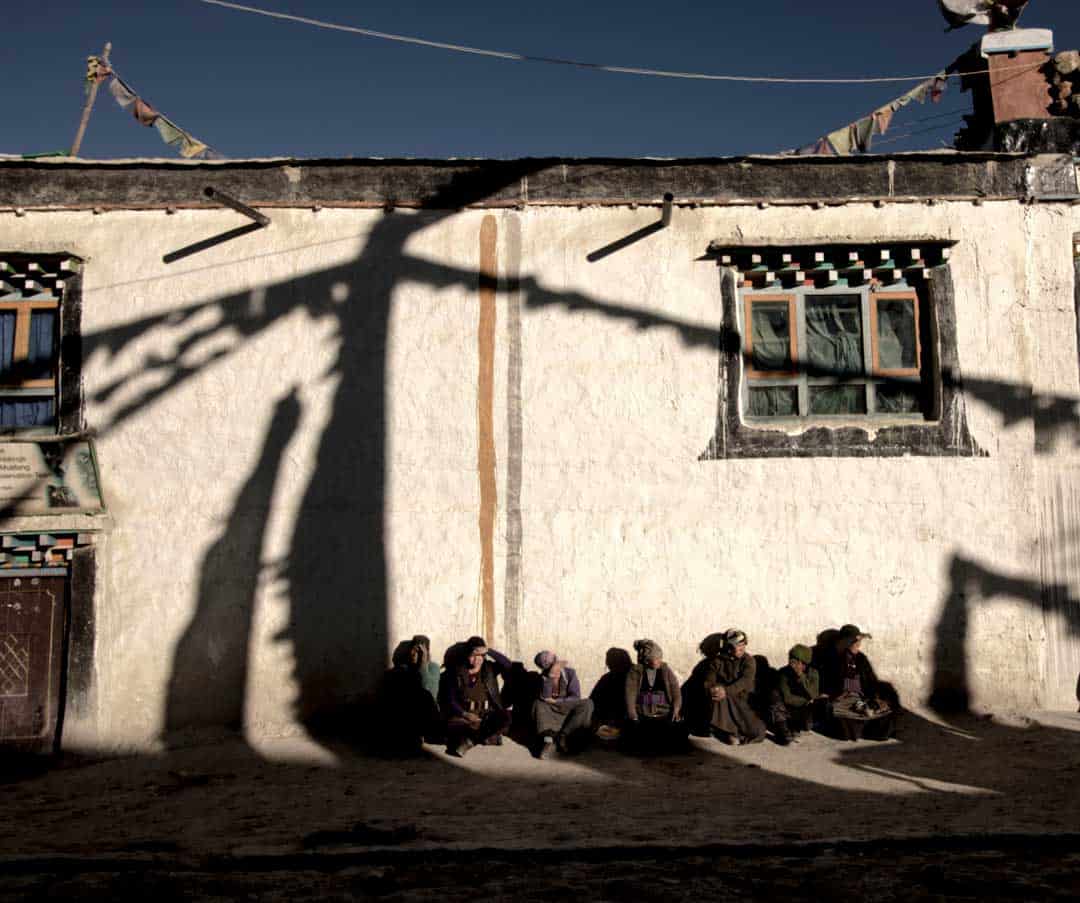 Gokyo Trek
Time: 12 days
Difficulty: Hard
Elevation: 5,360 metres
Start / Finish: Lukla via Phortse
Permits: TIMS card, Sagarmatha National Park permit
Accommodation: teahouses
Gokyo Trek is an alternative to Everest Base Camp and only really sees hikers who are on the Three Passes Circuit.
Gokyo is a return track trek meaning you come back the way you came but don't worry, everything looks different when you walk in the opposite direction.
The highest altitude you will get to on this trek is a nice 5,360 metres making it crucial that you put together acclimatization practices so opt for a rest day in Lukla before hiking to Namche Bazaar for another rest day or two.
From Namche Bazaar, the hike follows the same path as the Dudh Kosi River which will lead you to the first major pass of Mong La (3,975 metres).
After Mong La, the length of days spent on the trail becomes less due to altitude to which you will average 2-3 hours due to the trail rapidly increasing in altitude.
As you approach Gokyo, Cho Oyu, the 6th tallest mountain in the world reaching a massive 8,201 metres becomes visible directly ahead of the trail.
What makes this trek so unique is there are a series of lakes dotted throughout the landscape the first being Longponga Tsho followed by Tarujung Tsho and Dudh Pokhari which is located at Gokyo.
Once you have arrived at Gokyo, allow for at least 2 to 3 days rest before turning back and heading for Lukla.
There are some pretty awesome opportunities to see some of the most majestic mountains in the world such as Everest, Cho Oyu, Lhotse and Makalu (which are also within the top 5 highest mountains in the world) and these can be seen by taking a side route to Gokyo Ri (4 hours return).
Another option for a side trip is to Scoundrels Lookout which is 5 hours return, taking you to the origin of the river Dudh Kosi which is considered as highly sacred.
Returning to Lukla there is an alternative route via Phortse which can take up to 7 hours, where you can visit The Khumbu Climbing Centre run by the legendary Conrad Anker.
Here locals are taught alpinism and mountaineering skills making it safer for them to work and operate in the mountains. From Phortse to Lukla via Namche Bazaar, allow for 2 days.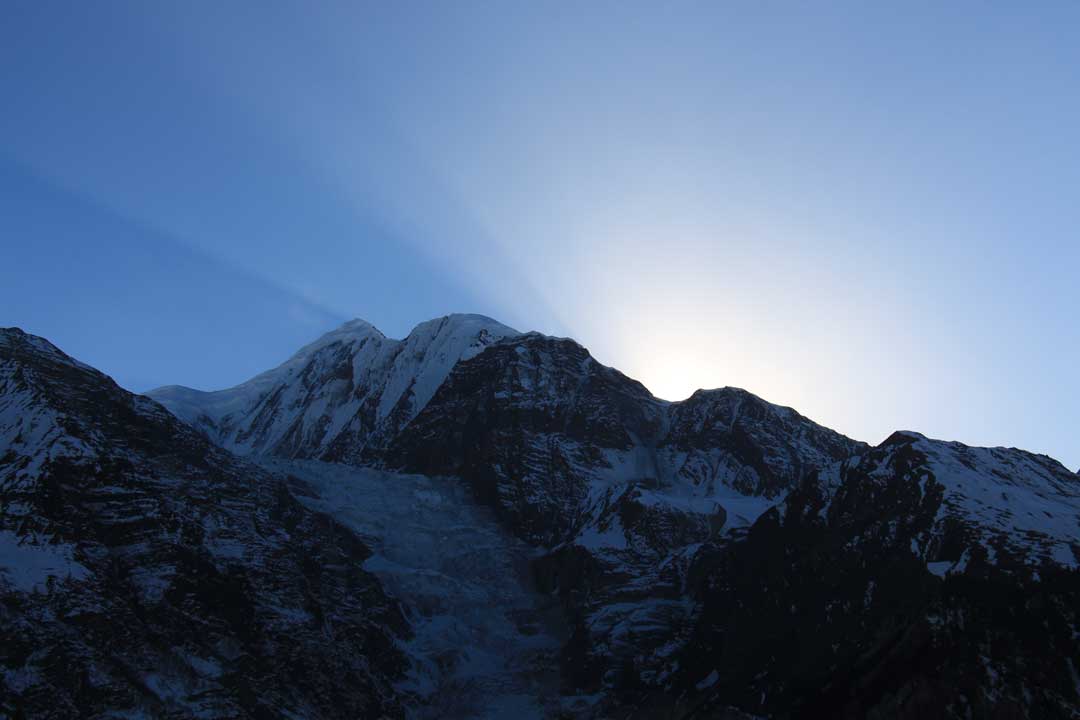 Annapurna Treks – Annapurna Region
The second most popular region for trekking in Nepal is the Annapurna Region.
Home to some incredible treks, like the Annapurna Circuit and Poon Hill, you will have tonnes of opportunities for hiking adventures.
Annapurna Panorama Trek (Poon Hill Trek)
Time: 6 days
Difficulty: Medium
Elevation: 3,210 metres
Start / Finish: Birenthanti to Phedi via Poon Hill
Permits: ACAP permit and TIMS card
Accommodation: teahouses
The Annapurna Panorama Trek is your classic guesthouse to guesthouse trek with stunning views of The Annapurna's, Dhaulagiri and Machhapuchhare.
Despite being considered as one of the more easy hikes in Nepal, The APT is truly beautiful complete with lush rainforests of Rhododendrons which are unique to this particular area and when in full bloom, hiking amongst these trees is an amazing feeling.
The APT is known for its many stone steps and which you will experience from Hille to Ulleri with a very steep section taking up to 2 hours.
Opt to stay at Kamala Guesthouse in Ulleri as the views during sunrise are breathtaking.
Ulleri to Ghorepani consists of a generally easy and slippery ascent which can be completed in 2 days but if you have time restrictions can be done in one day.
Ghorepani is positioned at the foothill of Poon Hill which is highly popular with tourists.
Poon Hill offers you some incredible views and the best way to see the Annapurna's is to get up really early i.e. 330am.
Ghorepani to Poon Hill can take anywhere between 30 minutes to 1 hour so allow enough time to ascend to the summit of Poon Hill (3,210 metres).
If the weather is clear you're in for a treat!
On leaving Ghorepani, things go straight up to Duerali La followed by a trekking along a narrow ridge to Banthanti which incorporates stunning Rhododendron forests along Luprung Danda.
Banthanti to Tadapani is a whole lot of ups and downs and during the wet can be quite difficult due to some of the tracks not being maintained.
Tadapani offers glorious views of Machhapuchhare and is also a great place to stop for lunch before pressing onto Ghandruk.
Ghandruk is a place you want to spend at least 2 days exploring because just WOW! I thought the views from Poon Hill where amazing but Ghandruk is just a whole lot of next level.
Annapurna South, Hiunchuli and Machhapuchhare all surround the village followed by a direct view up the Modi Khola to Annapurna Base Camp.
Getting out of Ghandruk is not entirely fun as the descent will most likely give your knees a good work out (take it slow) followed immediately by an ascent to Landruk.
After this, it's all easy as Landruk to Pothana or Australian Camp is all flat or 'Nepali flat' as the locals will say.
Australian Camp to Phedi is quite straight forward and will offer views of Machhapuchhare as you descend down to Dhampus and Phedi.
From hear you can arrange for a pick up back to Pokhara or a bus which will take 1 to 2 hours depending on road conditions and mode of transport.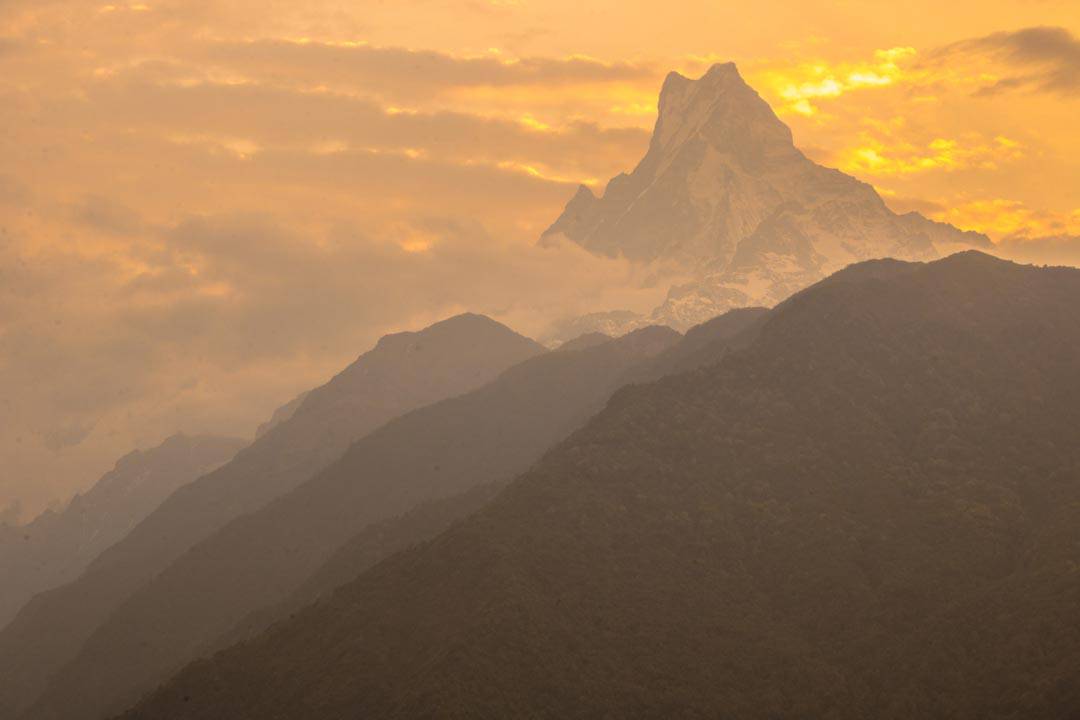 Annapurna Sanctuary Trek
Time: 10 days
Difficulty: Medium
Elevation: 4,130 metres
Start / Finish: Phedi to Annapurna Base Camp to Naya Pul
Permits: ACAP permit and TIMS card
Accommodation: teahouses
This demanding trek encapsulates you and places you in the midst of some of Nepal's finest mountains.
The Annapurna Sanctuary Trek is a 10 day trek through contrasting environments of Rhododendron forests of Pothana and Ghandruk to the alpine climates of Annapurna Base Camp.
Alongside Annapurna Panorama Trek, the AST is another opportunity to see Nepal's mountains and villages with relative ease compared to some of the more demanding hikes like the Annapurna Circuit and Everest Base Camp.
Once you are past Landruk, you enter into a valley surrounded by massive Himalayan peaks and this during periods of heavy snow can cause avalanche risks so always check with local guides to ensure your safety.
At Chhomrong, ensure you have adequately have had enough time to acclimatize as altitude after you leave increases by over 2,000 metres.
Prior to reaching Annapurna Base Camp you will come across Machhapuchhare Base Camp which really is just a small village and this doesn't mean you can climb Machhapuchhare because it is a sacred mountain and climbing is strictly prohibited.
Half way along into your trek is Annapurna Base Camp which is the gateway to a variety of trekking peaks such as Pisang Peak (6,091 metres) and Singu Chuli (6,501 metres) which are both difficult climbs requiring advanced mountaineering skills.
ABC is a pretty cool place to hang out with early mornings being clear and crisp with exceptional Himalayan.
There are a few chortens and stupas to visit in ABC and one in particular is dedicated to one of the most famous mountaineers to ever live, Anatoli Boukreev who was a leading figure in the rescue on Mount Everest noted by John Krakauer in his book, Into Thin Air.
On returning to Pokhara, there are a few options which arise once you come to the junction at Taglung and head for Ghandruk for the night because views here are just unreal!
Ghandruk to Naya Pul drops over 1,000 metres of descents so just take your time as you don't want to damage your knee.
Once at Naya Pul, jeeps are generally not too expensive so don't pay any more than 600 rupees for a jeep (sharing with others) or 300 rupees for a bus.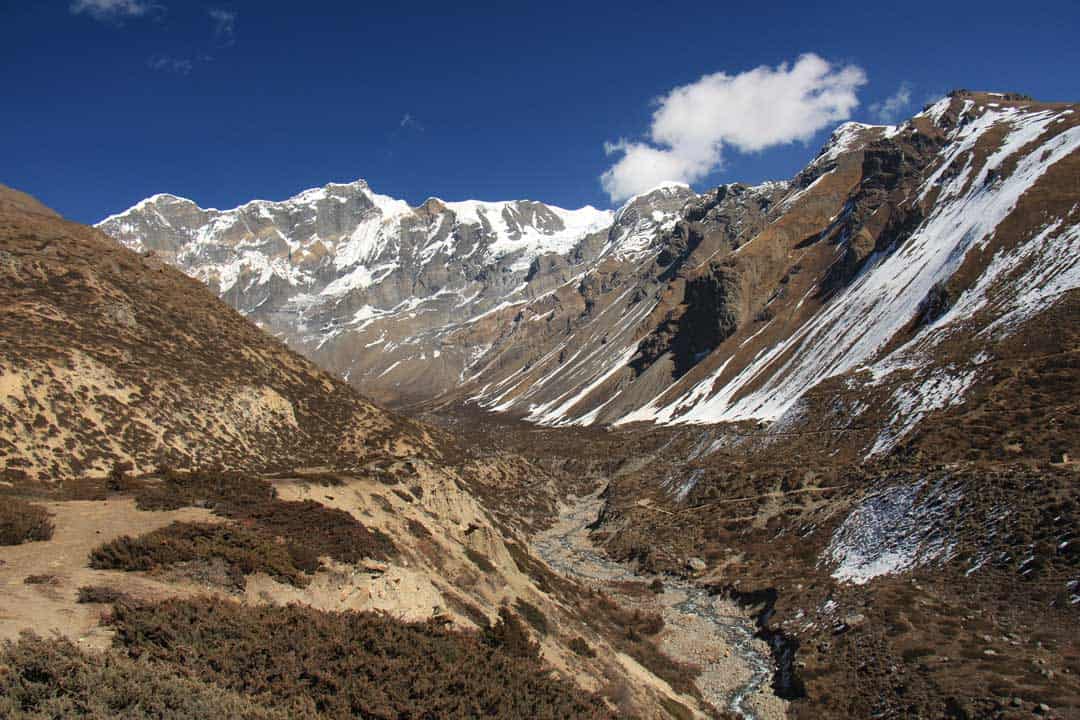 Annapurna Circuit
Time: 12 to 18 days
Difficulty: Medium to hard
Elevation: 5,416 metres
Start / Finish: Besi Sahar to Jomsom
Permits: ACAP permit and TIMS card
Accommodation: teahouses and guesthouses
The Annapurna Circuit is Nepal's gem and there's no questioning it.
It's the trek that everyone with a passion for hiking and the outdoors come to put themselves amongst some of the world's finest landscapes and its true, the Annapurna Circuit is truly one of the worlds must hikes and sorry to those who think Everest Base Camp Trek is the best, you're wrong.
The Annapurna Circuit is just so unique as you transition from subtropical forests to the high alpine pass of Thorung La and then down into the Kali Gandaki which is a rain shadowed, Tibetan influenced part of Nepal.
Starting in Besi Sahar (best accessed from Pokhara) the hike slowly begins to ascend and this will gradually happen until you reach Thorung La.
The first real challenge occurs at Pisang with a rather steep ascent to Upper Pisang which can take up to 5 hours but the views become pretty awesome with Annapurna II trailing off to the left and Pisang Peak trailing off to the right.
If you have a decent amount of time on the trail, allow for the side route to Tilicho Tal which can be completed in 2 days.
At Tilicho Tal, expect breathtaking views of Gangapurna reaching a massive 7,454 metres while the reflections of the surrounding mountains beam of the surface of Tilicho Tal.
Upper Pisang to Manang, things start to get better if you decide to take the high route to Ngawal as this route elevates your views allowing you to see both Annapurna II and III.
Manang to Letdar is another one of those days where everything just goes up so just go with the flow and take your time as the next few days are sure to test out how well you have acclimatized.
Letdar is the last place at a calm 4,230 metres before you ascend above the magic 5,000 metre line. After Letdar, a short 2 hour hike brings you to Thorung Phedi (bottom of Thorung La) so make take the opportunity to rest here until you are satisfied you can safely cross Thorung La.
The day has come to cross Thorung La and the best way to safely cross is by checking with local guides and weather conditions before crossing.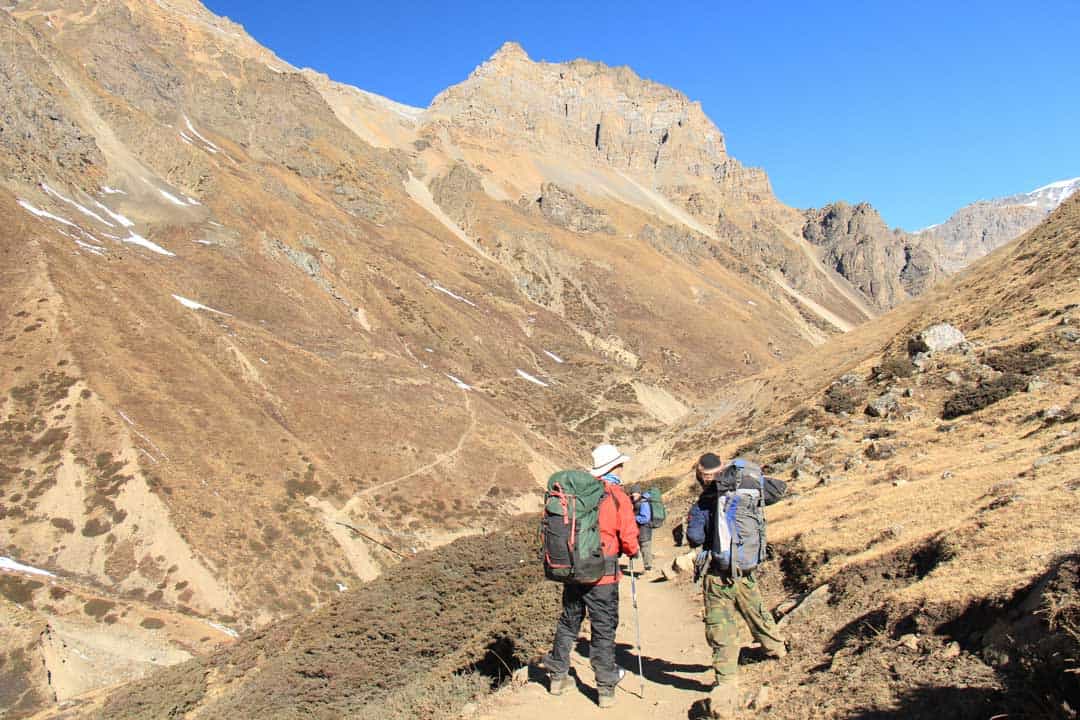 The best time to cross is early morning as conditions in the mountains will be calmer before the sun rises, but don't go too early as the chances of getting lost on the pass are higher.
In bad conditions, snow can be quite deep making the pass very difficult if you are not experienced in the mountains.
At the top of Thorung La, you will notice the landscapes begin to change as you cross over into the Kali Gandaki.
Once you arrive at Muktinath, you'll find yourself 1,600 metres lower than that of Thorung La.
Muktinath is a popular place to stop otherwise Kagbeni, known as the gateway to the Upper Mustang is one of most unique places you can stay will on the Annapurna Circuit.
Either option you choose, the environment and climate will have completely changed. The Kali Gandaki is the deepest gorge in the world meaning most of the valleys and mountains here don't receive anywhere near as much rain as the Annapurna region would.
At Eklai Bhatti (sometimes spelt Ekle) follow the direction of jeeps and motorbikes to Jomsom which is a rather large town based on the edge of the Kali Gandaki with stunning views of Nilgiri Himal.
If you are having any difficulties with yourself or others in your group, Jomsom will be your last chance for direct flights back to Pokhara otherwise for a short period, you keep following the main road to Pokhara until you enter back into the mountains at Rato Pani.
If you decide to continue, you won't be disappointed as the circuit links to Ghorepani where you can witness a stunning sunrise from Poon Hill.
From Ghorepani to Naya Pul, allow 2 days of relatively downhill walking. The last 2 days consist of hiking through lush Rhododendron forests alongside pristine waterfalls and hillside villages such as Ulleri.
From Ulleri to Naya Pul, allow 3.5 to 4 hours and this is where you finish the Annapurna Circuit!
Getting back to Pokhara can be done by hiring a jeep. Expect to pay 300 to 600 rupees for a shared jeep.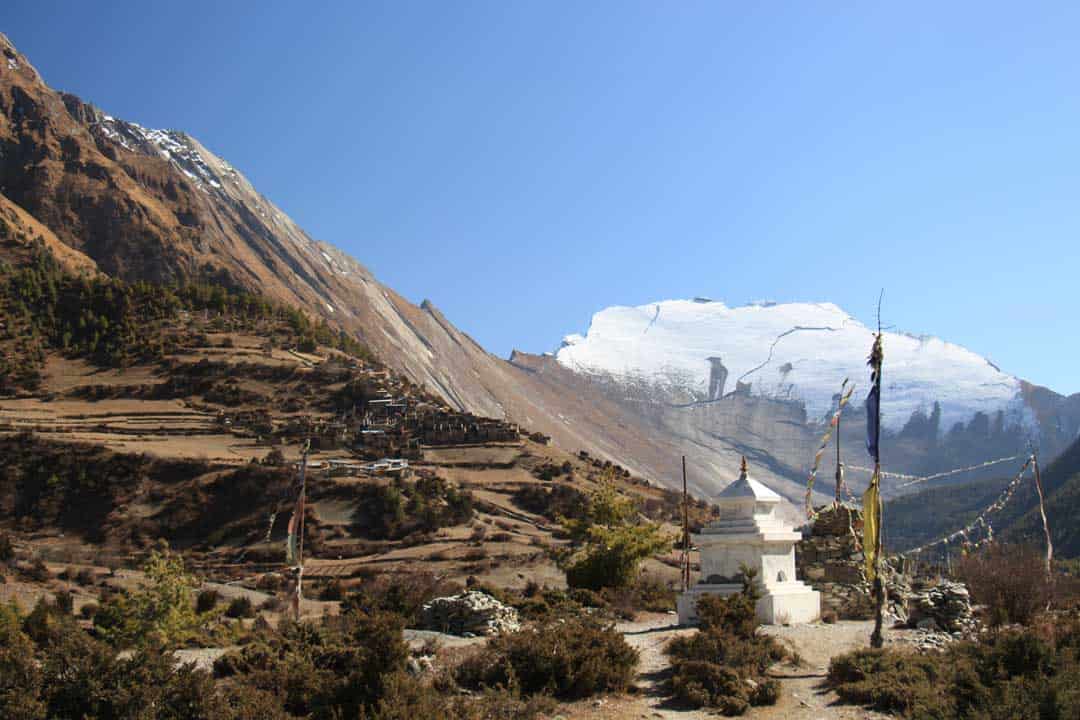 Mardi Himal
Time: 5 days
Difficulty: Hard
Elevation: 5,587 metres
Start / Finish: Mardi Pul to Mardi Himal to Mardi Pul
Permits: ACAP permits and TIMS card
Accommodation: teahouses (lower altitudes) and tents
Mardi Himal is an uphill challenge bound to test you and your fitness to the maximum when trekking in Nepal.
Mardi Himal takes you to the upper foothills of Machhapuchhare to an impressive altitude of 5,587 metres.
Keep in mind that Mardi Himal is not a popular route taken by trekkers and the track at some places could be overgrown or affected by natural elements.
Most of this trek is purely up until you reach Mardi Himal and have to come back down. Kumai approximately half way along the ridge to Mardi Himal provides a good place to pitch a tent and rest up before continuing the trek.
Views from halfway along the ridge are breathtaking with exceptional views of Manaslu, Dhaulagiri and the Annapurna's.
From Kumai to Basecamp, allow 2 days of steep trekking. Before the summit push on Mardi Himal, you will need to ensure you locate the correct trail leading up to the col.
If need, there is room to pitch a tent at 4,650 metres as from this point, steep slopes of snow and ice lead to the summit of Mardi Himal so crampons will be needed.
If you are planning to summit Mardi Himal, make sure to check with local guides about the conditions on the summit before attempting the summit. Mardi Himal and the summit is one of the harder trekking routes in Nepal.
Return the same way you came. Getting back to Pokhara can be done by hiring a jeep and expect to pay 300 to 600 for a shared jeep.
Trekking In The Mustang – Mustang
Don't miss out on hiking in the Mustang region of Nepal as well, home to one of the best treks in Nepal!
Upper Mustang Trek
Time: 10 days
Difficulty: Medium
Elevation: 4,325 metres
Start / Finish: Jomsom to Lo Manthang to Jomsom
Permits: ACAP permit (generally just a small fee), TIMS card and a $500 USD fee for the first 10 days and $10 USD per day after the 10 days.
Accommodation: teahouses
Pronounced 'Moo-Stang' , this trek is possibly the most unique of all treks in Nepal due to its harsh landscapes, dry, bare mountains with a covering of fresh snow on the top.
The Mustang Trek takes you through some of Nepal's oldest Tibetan styled villages where you will encounter some of the friendliest people in all of Nepal.
Hiking in Nepal doesn't get any better than this! The Mustang Trek is one of, if not the best trek in Nepal.
Technically the trek begins in Kagbeni as it remains the official checkpoint where you need to have your permits checked before heading off into the Mustang.
But we are going to start back at Jomsom merely because it is such a strange place. Jomsom is located at the foothills of Nilgiri Massif, a massive 7,061 metre mountain which is just awesome.
The first section of the hike trails along the Kali Gandaki River to the Kagbeni which is the gateway to Lo Manthang.
You'll need to spend your first night in Kagbeni just to become familiar with the altitude as the altitude hits 2,800 metres.
While in Kagbeni, be sure to check out Kag Chode Thupten Samphel Ling Monastery and opt for a monastery tour which will cost about 50 rupees.
Just as you leave Kagbeni, turn around and look back over the town as the contrast between the rice fields of Kagbeni with the clash of the towering white peak of Nilgiri.
Kagbeni to Chhusang is about 3 to 4 hours and is relatively flat with a few steep scree descents near Tangbe.
Chhusang is situated right along the Kali Gandaki and is a spot known for fossicking especially that of Ammonites.
While in Chhusang, be sure to visit the Mentsun Khang Gompa high above the Kali Gandaki which will add an additional 2 hours to your trek.
One of the issues with hiking in the Mustang is the midday dust storms which are not pleasant to hike in, so don't forget to pack a buff and sunglasses.
If you make it to Chhusang while conditions are calm, a further 45 minutes to 1 hour along the trail is Chele (sometimes spelt Chaile) which is a high 3,010 metres up and over looks Chhusang and further down the Kali Gandaki.
There is a section of trail which requires crossing a narrow stream on the Kali Gandaki via a dodgy metal bridge extending some 40 metres.
Once you cross, look immediately above the bridge where you will see a series of high caves (a bit like windows) about 1,000 feet into the side of the red walls.
One of the most famous climbers and adventures today; Cory Richards and a team of scientists climbed this wall in order to see what lay inside these caves for National Geographic.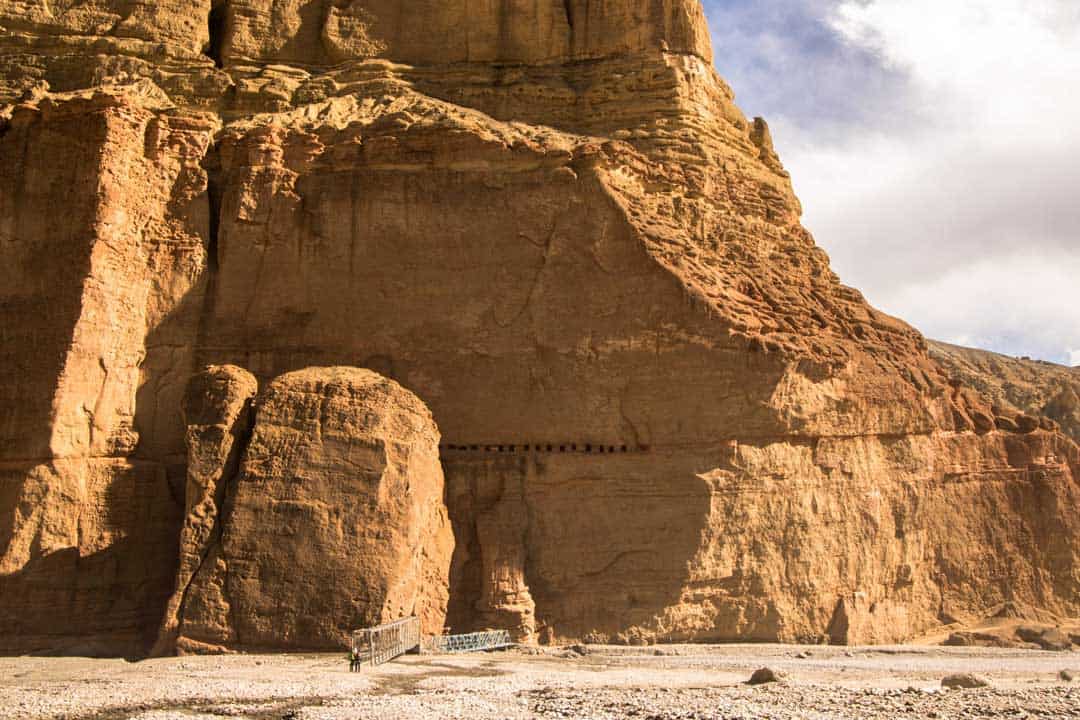 Chele to Shyangmochen or Syangboche is one of the longest days on the trail so be prepared for an awesome but tiring day.
Chele to Shyangmochen is the first real test with a continuous gradual ascent passing the cliff side village of Ghyakar to Samar, which is a beautiful little village based around apple orchards which is also ideal for a lunch break.
If you can get your hands around some of the freshly picked apples, they are seriously delicious.
As soon as you leave Samar, it's up and down through gorges for the next 45 minutes until you come to a flat section of earth which trails to your first vantage point of the Tibetan Plateau.
Instead of taking the high road to Shyangmochen opt to take the trail down into the Tangmar Chu to visit one of the most remote monasteries in Nepal, Chungsi Cave which is built into the side of a cave thousands of feet high.
The monk we met during our hike used to live in Sydney and decided he wanted to go to Nepal to become a monk! Chungsi cave to Shyangmochen is another hour further up the valley.
Anita Hotel is one of most warming and friendly teahouses in The Mustang and one of only 3 in Shyangmochen.
I said not long ago that Chele to Shyangmochen is one of the longest days on the trail…I may have lied.
Shyangmochen to Tsarang (Charang) is a big one which can be easily managed by stopping at Ghemi for lunch, good luck finding your way out of Ghemi as it is quite like a maze.
After Ghemi, you will walk alongside the longest Mani wall in Nepal, before ascending to Choyo La (3,870 metres) which requires steep climbing along fields of loose rock.
Choyo La offers a brilliant look at the Tibetan Plateau.
From here, follow the long, winding road until you come across a Gompa on the outskirts of Tsarang which is home to Dzong Gompa perched precariously on the Tsarang Khola.
Straight out of Tsarang you descend into the Tsarang Cha which you will cross again later in the trek, followed by a relatively easy but long and flat hike past Sungda Chorten which is a lone chorten built to show the border between Tsarang and the Kingdom of Lo.
Continue following the road to Lo La sitting at 3,950 metres also boosting brilliant views of Lo Manthang and Nepal/ Tibetan border.
Lo Manthang is probably the most unique towns in the whole of Nepal due to its massive walls circling the city.
Inside the walls is the Chode Gompa, Choprang Gompa and the stunning Thubchen Gompa situated in the centre of the city.
If you have a bit of downtime, coffee is funnily a thing in Lo Manthang with various cafes spotted throughout the walled city.
After a few days rest in Lo Manthang, it's time to take the high route out of the city to Chogo La which is the highest point on the trek reaching 4,325 metres.
If you are lucky enough, you can share a pot of tea with a monk at Ghar Gompa which just above the banks of Tsarang Chu and learn about the history of the monastery and why it is connected to Dhakmar.
Ghar Gompa to Dhakmar is just stunning as you traverse sections of rich red and orange eroded cliffs until you enter the town of Dhakmar under a banner of highly strung prayer flags.
Dhakmar by day might not look appealing but during sunrise and sunset, Dhakmar is the one place you want to experience.
Dhakmar to Geling is a viable option leaving Geling to Chhusang and Chhusang to Kagbeni for the last 3 days which consists of much of the same route back except you can take the high pass from Shyangmochen to Samar which would save a few hours and avoid heading back down to Tangmar Chu.
To finish your trek through the Mustang, finish in Jomsom for an 18 minute flight back to Pokhara or a 9 hour jeep ride.
The Mustang Trek requires a restricted area permit which is $500 USD for the first 10 days then an additional $50 USD per day afterwards.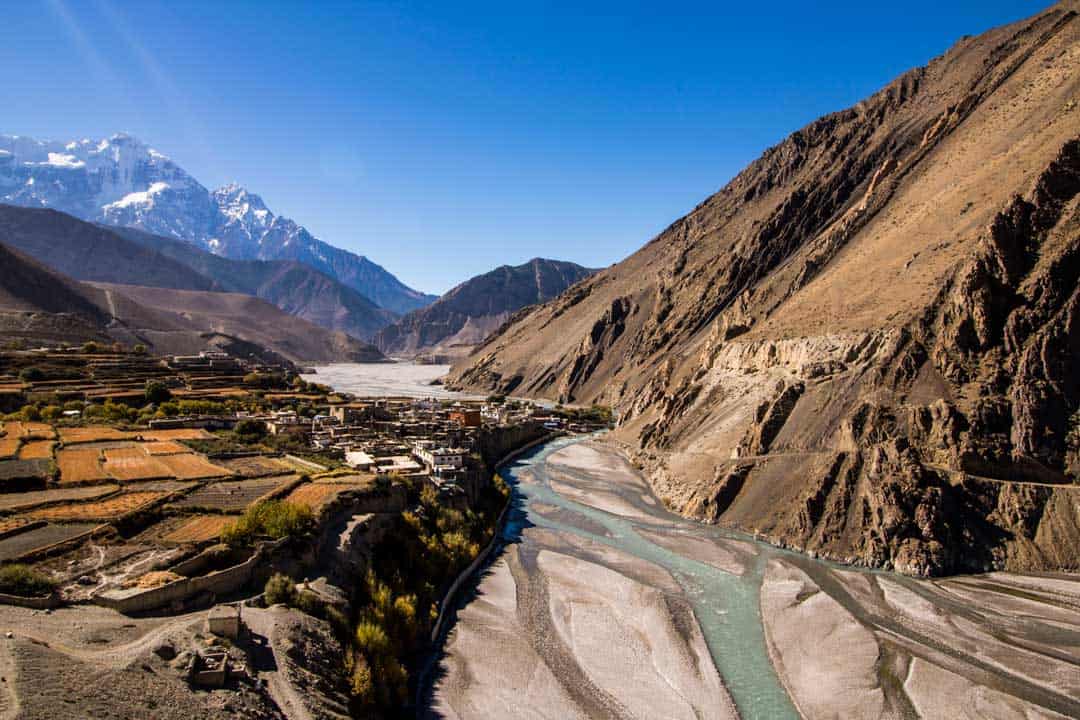 Western Nepal
Home to some of the most difficult treks in Nepal, don't miss the western part of the country if you're an experienced hiker.
Around Dhaulagiri Trek
Time: 16 days
Difficulty: Advanced
Elevation: 5,250 metres
Start/ Finish: Beni to Marpha
Permits: 2,000 rupees ACAP permit and TIMS card
Accommodation: teahouses (lower altitudes) and tents
This trek is not for the faint hearted and should only be attempted if you have advanced trekking skills.
Around Dhaulagiri is bound to test your skills over a period of 16 days with various sections requiring the use of crampons like on French Pass and Dhampus Pass.
Around Dhaulagiri offers some of the finest hiking experiences in this part of Nepal along with stunning views of the Dhaulagiri Massif being the 7th tallest mountain in the world.
Around Dhaulagiri despite being difficult is one of the best Himalayan treks to do.
Before attempting this trek, make sure to check with local guides and ensure that your porters and guide are suited to hiking in such conditions as anything over 4,500 metres is subject to avalanches.
Around Dhaulagiri will also require camping at high altitude in very cold conditions so your gear will have to be high quality.
Phoksumdo Lake to Shey Gompa Trek
Time: 7 to 10 days
Difficulty: Medium to Hard
Elevation: 5,160 metres
Start / Finish: Jomsom, Dunai or Tarap
Permits: TIMS card, restricted area permit, Shey Phoksumdo National Park permit
Accommodation: teahouses
Shey Gompa and Inner Dolpo is one of the most elusive places to visit let alone hike in Nepal which lays further west than The Mustang Valley.
This area has only been opened to visitors since 1992 and it has proven to be one of the most stunning treks although very demanding in Nepal with Shey Gompa and the Crystal Mountain.
The 2015 earthquake dealt damage to some of the older buildings so check with local guides before considering this hike.
The hike consists of a relatively high average altitude which peaks out at 5,160 metres on Sehu La while Tsakang Gompa further along the trail sits cautiously on the edge of a cliff.
Once you reach Shey Gompa at a lower altitude of 4,390 metres where apparently inside there are not any significant artefacts but it's the age of the building that becomes the reason why people come to visit. Shey Gompa is 800 years old.
A lot like the Mustang Trek, Inner Dolpo requires a restricted area permit which is $500 USD for the first 10 days then an additional $50 USD per day afterwards.
Kagmara La Trek
Time: 4 days
Difficulty: Medium to Hard
Elevation: 5,115metres
Start/ Finish: Kaigaon to Sumduwa
Permits: TIMS card and Shey Phoksumdo National Park Permit
Accommodation: teahouses (basic)
One of the shortest hikes in Western Nepal, Kagmara La Trek is a difficult and rewarding adventure leading you to stunning mountain views as you head up to an altitude of 5,115 metres.
One of the reasons for trekkers to come to this particular area is to see the elusive snow leopard while waterfalls and blue sheep make an appearance the closer you get to Kagmara Phedi.
Getting to Kagmara La Trek can be done by flying to Jumla then joining onto to a section of trail connecting Jumla to Dunai.
When you arrive at Kaigaon, it's time to get some altitude under your feet! At Kagmara La, there is an awesome opportunity to see the peak of Kang Chunne (6,443 metres).
Getting back to Jumla can be achieved by looping around to Dunai and then back to Jumla via Kaigaon.
Eastern Nepal
Eastern Nepal is of course home to some more epic trekking choices.
Kanchenjunga North Trek
Time: 18 to 20 days
Difficulty: Hard
Elevation: 5,140 metres
Start / Finish: Basantapur to Suketar
Permits: $10 USD per week, per person
Accommodation: informal teahouses (local houses)
Kanchenjunga is the 3rd tallest mountain in the world peaking at a massive 8,586 metres and what better way to explore this mountain than to trek around it.
Due to Kanchenjunga being way east of Kathmandu, the only way to trek here is with a company who has experience in this area.
It is however possible to hire a guide and porter without the hassle of going through a larger company.
Kanchenjunga North Trek requires a fair bit of skill due to the continuous high climbs and steep descents which will take you through Rhododendron forests, along narrow ridges with spectacular mountain views even the east face of the distant Everest Range.
Pang Pema to Kambachen proves to be the ultimate days hike in Kanchenjunga with glorious mountain views of peaks over 7,000 metres including Kanchenjunga and Pyramid Peak.
Langtang, Helambu & Manaslu Region
If you want to get more off the beaten path in Nepal, check out these treks.
Helambu Circuit Trek
Time: 6 days
Difficulty: Easy to Medium
Elevation: 3,640 metres
Start / Finish: Sundarijal
Permits: TIMS card and Shivapuri National Park pass
Accommodation: teahouses (basic)
Helambu is only 2 hour's drive via jeep or motorcycle from Kathmandu and promises forests of lush Rhododendrons, crystal clear waterfalls along with beautiful Himalayan views.
Helambu is a pocket of green and what better way to explore than to set out on a 6 day hike which is bound to give you a dose of healthy nature.
Helambu is surrounded by a series of khola's (rivers) which all seem to flow towards the trail resulting in plenty of bridge crossings.
Helambu is known to most as the place where Guru Rinpoche visited especially south towards Melamchi Ghyang which is a stream. However, Helambu was affected by the 2015 so check with guides before starting this trek.
Around Manaslu Trek
Time: 16 to 18 days
Difficulty: Medium
Elevation: 5,100 metres
Start / Finish: Besi Sahar
Permits: Restricted Area which requires a restricted area permit, ACAP and MCAP permit and a TIMS card
Accommodation: Teahouses
Manaslu is the 8th highest peak in the world and is regarded as a trek just as good as that of the Annapurna Circuit.
Unfortunately during the 2015 earthquake much of the trails and infrastructure were damaged as I am aware, efforts are being put forward to restore this beautiful trek.
Around Manaslu is a culmination of steep climbs, ancient gompas and monasteries and Mani walls all with stunning views of some of the most breathtaking mountains in Nepal with the Manaslu Himal dominating the northern part of the trek as you traverse the border of Tibet into the Annapurna Conservation Area.
Despite the earthquake damage to the trail and teahouses, Manaslu is on the rebound so check with local guides and authorities on the current situation as this trek in Nepal is a must.
The Great Himalayan Trail (Nepal only)
Time: 150 days (Nepal section only)
Difficulty: Advanced
Elevation: Anywhere up to 5,400 metres
Distance: 1,700 kilometres
Start / Finish: Kanchenjunga to Darchula District (east to west)
Permits: Check with Nepal Tourism on what permits are needed
Accommodation: teahouse, guesthouse to tents.
Want to do it all? The Great Himalayan Trail runs through Nepal but traverses Pakistan, India, Bhutan and Tibet for the Greater Himalayan Trail.
However, the Nepal section of the hike is possible to complete trekking from east to west through most of the trails mentioned in the above.
For further information head to www.greathimalayatrail.com to sign up to one of the greatest hikes on earth!
Tips for Trekking In Nepal
Nepal for a lot of people including myself is the ultimate destination for anything hiking and mountaineering with endless trails to explore.
With my past experiences of trekking in Nepal, I will share with you my best tips to get you through your hike!
Pack Accordingly
I have seen so many people pack gear that simply will not be used on their hike. I simply look at my gear and ask myself "what are the chances that I actually use this?"
If I have any doubts that I will not use it, I leave it behind to save space and weight.
And always have the best backpack for hiking you can find.
Train, Train, Train
Nepal is no walk in the park. I have seen so many situations where someone who has never walked further than 10 kilometres at sea level then one day attempt a hike at altitude.
This is the same at Everest with people paying big sums of money to climb the mountain without ever having used crampons or ice picks.
The harder you train, the easier you will find it and less stress you will put on your body. So where to start? Grab a back pack and put some weight in it and go walking.
Gear
Whatever you do, DON'T buy your gear when you get to Kathmandu and then go hiking.
There is nothing worse than putting on a new pair of shoes then hitting the trail immediately resulting in blisters.
Prepare your gear months in advanced to save the hassle of looking for gear in Nepal.
Listen To Your Guide
If you choose to have a guide accompany you on a trek in Nepal, listen to what they have to say.
Guides are very well trained are able to respond to any situation and 99% of the time they know best.
Go Easy
Altitude and going fast just don't go hand in hand. If you are attempting to do Thorung La or Everest Base Camp, take it easy as there is less air higher up than there is at sea level.
The slower you go up and more frequently you rest, the better your body will be in adapting to the thinner air.
Drink Up
You may be thinking that this is stupid but when conditions are colder, you tend to drink much less.
Dehydration and altitude are a terrible mix so to avoid this, bring something that you can mix in with your water to encourage yourself to drink more.
If you have drunk enough fluids, your urine will be clear meaning you are hydrated.
Take Your Own Water Bottle
Recycling isn't really a thing in Nepal so you will need to take your own water bottle. I bought a Nalgene water bottle 2 years ago in Kathmandu and I still use it to this day.
I have taken it hiking on the Larapinta Trail, Annapurna Panorama and Upper Mustang Trek and I still use it on a regular basis. It cost me $4.
Team Work Wins
Hiking at altitude can bring on Acute Mountain Sickness or AMS and can sometimes be hard to spot.
AMS can only be diagnosed when discovered by your guide or another person in your group as you may not be aware you are having any difficulties at altitude.
The sooner AMS is diagnosed, the quicker you can act to relieve the symptoms.
What To Pack For Hiking In Nepal
Various treks in Nepal require different equipment and gear so when you are packing your own, check weather forecasts and altitude.
I am going to list the essentials for the hikes listed above so no need to worry about things like crampons and ice picks unless you are attempting the Dhaulagiri Trek and Great Himalayan Trail.
Thermal clothing
Down jacket
Wind stopper jacket which can double as a rain jacket if good quality
Buff for protecting your face from wind and regulating temperatures that go into your lungs
Beanie
Sunglasses are a must as the higher you are up, the higher UV levels the more glare there will be plus sunglasses protect your eyes from wind and dust
Socks; you can never have enough socks when hiking.
Hiking pants
Snow gaiters are fantastic for places like Thorung La if the snow is deep
Gloves are a must. When buying gloves make sure you have the outer shell which ideally are waterproof and the inner parts made from warmer materials
Hiking boots; make sure they are waterproof and breathable
Sleeping bag; teahouses are warm places but there is nothing more satisfying than having your own sleeping bag. Make sure your sleeping bag has a silk liner aswell!
Sleeping mat; a compact sleeping mat is always a must if sleeping in a tent
Dry bag is an essential item if you are carrying camera gear. Nepal is known for its monsoon rains so a dry bag is essential to keeping your gear bone dry
Hiking bag; make sure your bag is a comfortable fit and you are used to wearing it before heading off on a trek
Tent; in peak season in Nepal especially Everest Base Camp and Annapurna Circuit treks, teahouses can be full everywhere you look so having a compact tent in case of situations like this can be very handy
Hiking poles help distribute weight from your bag to your poles and help you balance. One hiking pole instead of two can be used especially if you have multiple cameras like me