Hiking the Annapurna Circuit trek is as challenging as it is beautiful. It is arguably still one of the best treks in the world which sees tens of thousands of people undertake it each year.
If you open yourself to this experience, you will not be disappointed.
An Introduction Hiking the Annapurna Circuit
Whether you are organising your trek from Kathmandu or Pokhara you will need to do some prep work to ensure your trek is a success.
This Annapurna Circuit trek guide will provide you with all the information you need to make that happen!
Ok, the Annapurna Circuit adventure awaits, so let's get started!
READ MORE – Don't miss our brand new, ultimate guide to trekking in Nepal!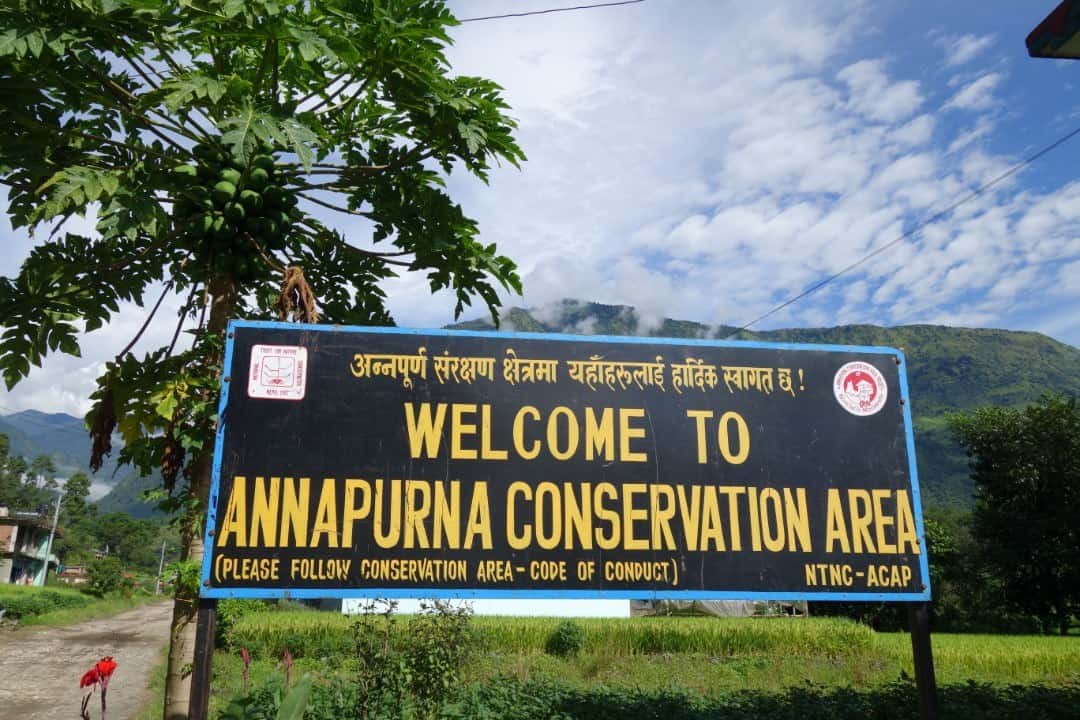 1) Overview
Days Required: 14-21
Distance: Route varies between 160km – 230km depending on start and finish points and optional side treks.
Altitude: Ranges from 820 meters at Besisahar to 5416 meters at the Thorung La Pass
Best Times to Trek: March – April and October – November
Cost: 53,900 rupees/$490USD
Here we go for the costs involved when hiking the Annapurna Circuit
Permits: 4,000 rupees/$36.50
Gear: 8,000 rupees/$73
Food & Drinks: 31,000 rupees/$283
Accommodation: 1,711 rupees/$15.50
Note – Initially we were traveling as a group of 6, then a group of 4, so we were often able to negotiate free accommodation as long as we bought food. This however was not the case for every group we met, so bargain hard!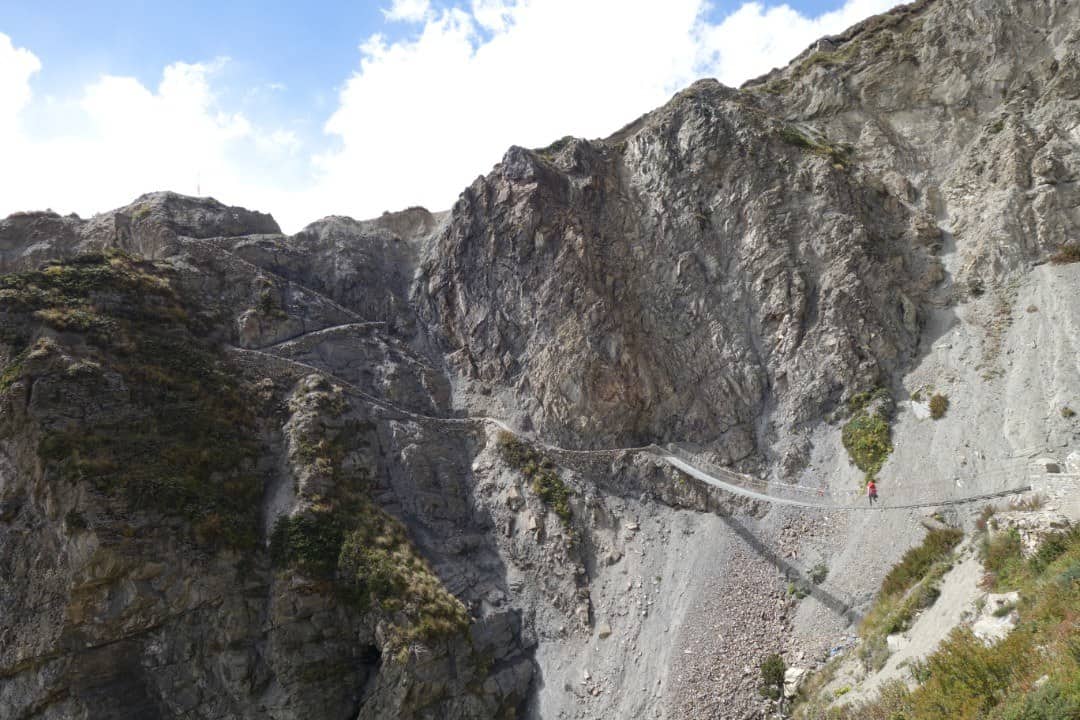 2) Required Permits
You will need to organise your Trekker's Information Management System card (TIMS) and the Annapurna Conservation Area Permit (ACAP). You will use these to check-in at various checkpoints along the trek.
The offices to complete the paperwork are located at:
Kathmandu
Pokhara
Note, I can only speak from my experience in Kathmandu, but the process was fairly straightforward.
Obtain a ticket and the required paperwork from a clerk
Each card costs $20 USD or 2000 rupees
Bring 4 passport photos (2 for each permit)
The whole process should take less than 1 hour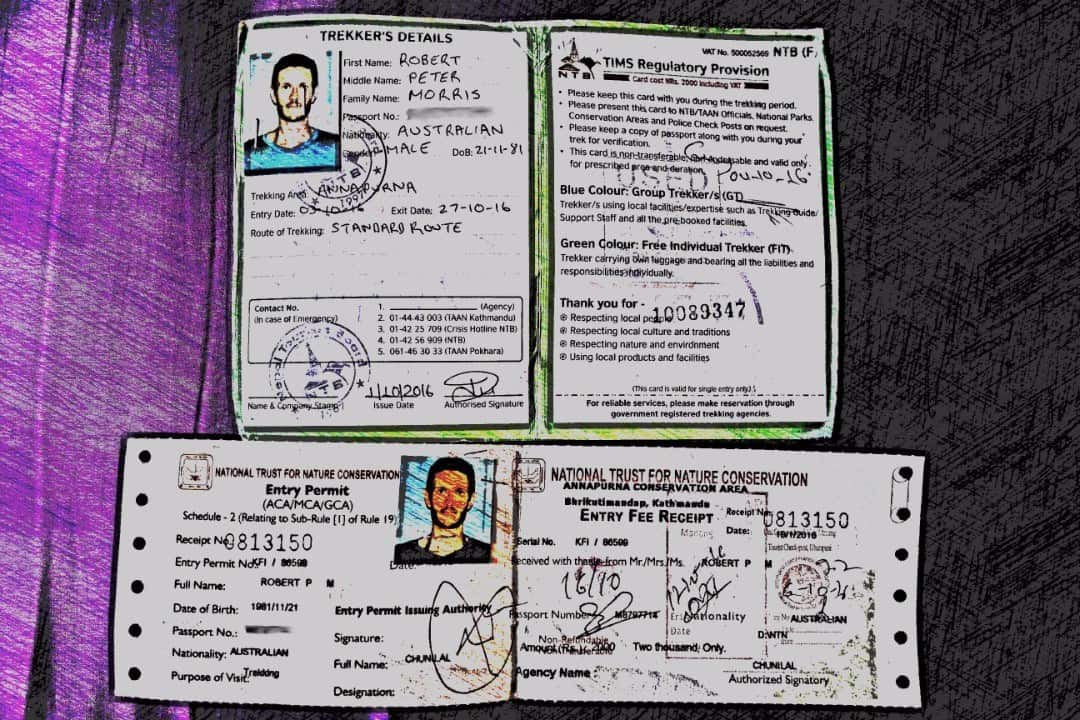 3) What About A Guide And Porter?
Deciding on a guide is a personal choice. Your decision is largely dependent on your confidence and physical condition.
The Annapurna Circuit trek is a well-traveled route so I found a guide was not necessary.
I traveled with a group, and found whenever we lost our way, there were friendly locals to point us in the right direction.
However, a quality guide can be very helpful. They know all the shortcuts, the best places to eat and can help you negotiate with lodging etc.
Ok, so what about a porter? For me, part of the reward of completing the Annapurna Circuit itinerary, was carrying my own gear.
Though I am certain people with porters feel just as accomplished.
In the end, if you decide to hire a guide and or/porter you will be providing much-needed money to a local family, so you can't go wrong.
A guide should set you back around $25 and a porter $15 per day.
READ MORE: Don't miss our complete guide to the Poon Hill hike as well!
4) What To Pack For The Annapurna Base Camp Trek
Knowing what to pack for hiking the Annapurna base camp trek is pretty important.
How Much Money Should I Bring?
I'd advise you to get your money out in Kathmandu or Pokhara prior to heading off on your trek. There is no access to ATM's until Jomsom and it is great not stressing about whether it's working etc.
In total for 2-weeks trekking, I spent 53,900 rupees or about $490 including purchasing my gear. On the trek itself, I spent roughly 2,336 rupees or $21 per day.
I didn't drink alcohol during my trek until after completing the Thorung La pass (celebration time). Beers generally cost 450 rupees/$4 for a large bottle, so if you're planning to indulge, definitely take this into consideration.
Clothing And Equipment
As I was backpacking my way around South East Asia prior to the trek, I didn't have the clothes or equipment necessary to complete the Annapurna Circuit.
I completed the trek with my 44 liter Tortuga backpack and I left my unnecessary gear in storage at a hostel in Kathmandu.
I purchased a lot of the clothing and equipment in Kathmandu and have included the prices I paid to give you a rough idea.
Purchased Gear
1 x Fleece Jacket: 1,200 rupees/$12
2 x Zip-off Trekking Pants: 1,800 rupees/$17
1 x Long-sleeve Shirt: 500 rupees/$5
1 x Thermal Underwear: 2,500 rupees/$24
1 x Socks: 250 rupees/$2.50
1 x Poncho: 500 rupees/$5
1 x Hat: 250 rupees/$2.50
1 x Trekking Poles: 700 rupees/$6.50
1 x Water Bottle: 300/$3
Pre-Owned Gear
1 x Rainproof Windbreaker
1 x Shorts
3 x T-shirts
4 x Underwear
4 x Socks
1 x Sunglasses
1 x Trail Runner Shoes *
In reality, I packed a lot more than I needed. If I did it again I would remove:
1 x Poncho
1 x Shorts
2 x T-shirts
1 x Underwear
1 x Socks
I found I was washing my clothes every evening during the early stages of the trek and about every second day later in the trek.
I didn't pack a sleeping bag, so without the layers (especially the thermal underwear) mentioned above it would have been uncomfortably cold sleeping at the guesthouses at higher altitudes.
* If you have hiking boots and are travelling to Nepal specifically for trekking, bring them, as they will be better than running shoes. However, if you're traveling like I was, you can do this trek in running shoes. Beware, you will get wet feet and may have to deal with snowfall at higher altitudes. While they rent boots for the trek, I wouldn't suggest risking blisters unless you have sufficient time to break them in.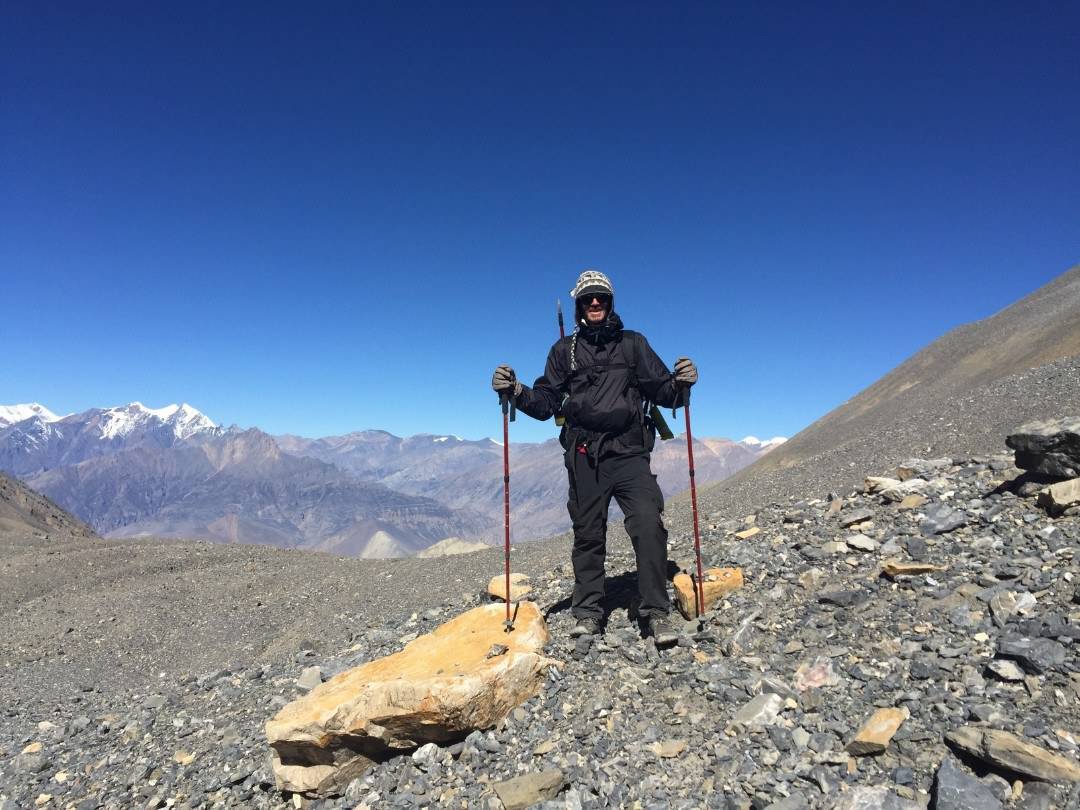 First Aid Items
When completing a trek of this nature it is best to come prepared. Below are the items I recommend for this trek. I have added the quantities I took for reference.
10 x Band-Aids (blisters are a trekker's worst nightmare)
1 x Roll Medical Tape
20 x Throat Lozenges
10 x Rehydration Salts
100 x Water Purification Tablets (this was more than enough)
10 x Paracetamol
20 x Acetazolamide tablets (this is used to minimize the risks of getting altitude sickness) *
20 x Dexamethasone tablets (this is used to treat acute mountain sickness) *
1 x Roll Toilet Paper
* Please consult your doctor before taking any medication and undertake your own research.
5) What to Expect
Make sure you know what to expect for the Annapurna Circuit hike!
Getting There And Back
From Kathmandu, take a bus to your starting point of Besisahar, the journey will take roughly 6.5 hours and should cost around 360 rupees or $3.50.
Back to Pokhara, the journey should be slightly shorter and a little less expensive.
Although where you end your trek is again a personal choice, I finished mine in Jomsom.
From there you can either choose to fly to Pokhara, for around $100 which takes roughly 20 minutes, or you can take the infamous bus journey which sees you bounce your way along bumpy mountain roads for ten hours.
The bus price will vary as there is a nice little monopoly on this journey. It cost me 1700 rupees or $15
What Should I Expect From The Trek
The trek sees you travel from lush green jungle and farming areas through to barren and rocky mountains.
The paths can be wet, muddy, slippery, rocky, dusty and lined with snow (depending on conditions).
The Annapurna Circuit takes you through some of the most beautiful landscapes Nepal has to offer!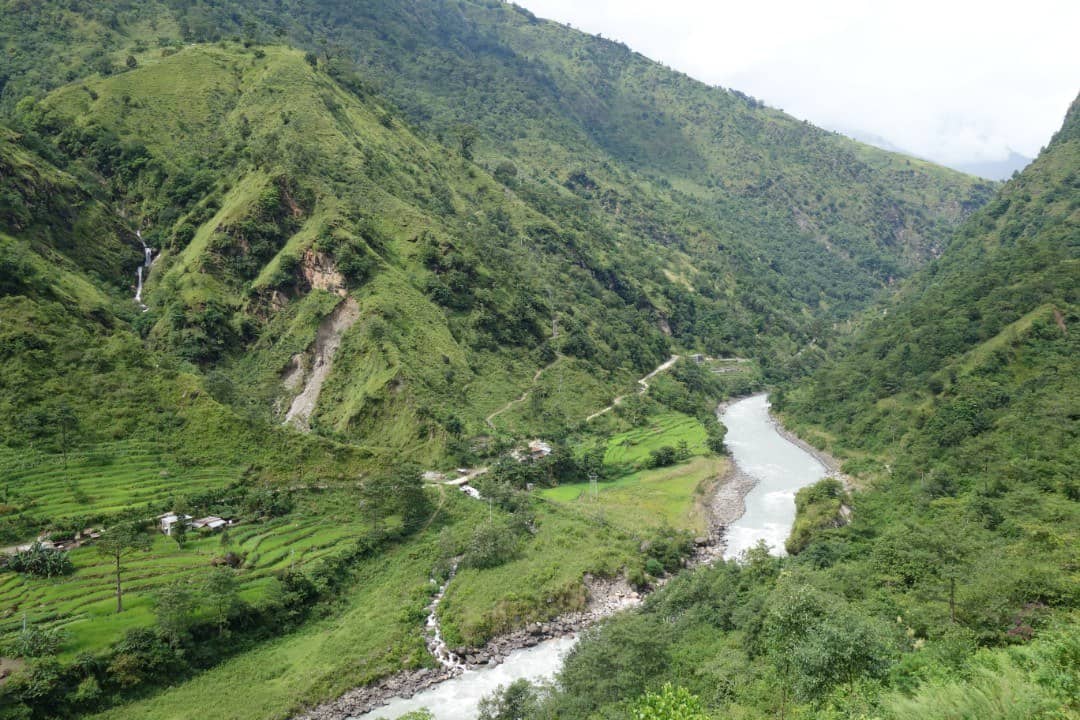 It's important to be prepared for all weather conditions. When you start your trek, expect the weather to be hot and humid.
As you go higher, it gets cooler. You'll likely start in shorts and a t-shirt and finish in a jacket and pants. Layers are your best friend!
Expect to be challenged both mentally and physically. After-all, this is all part of the fun of completing the Annapurna Circuit!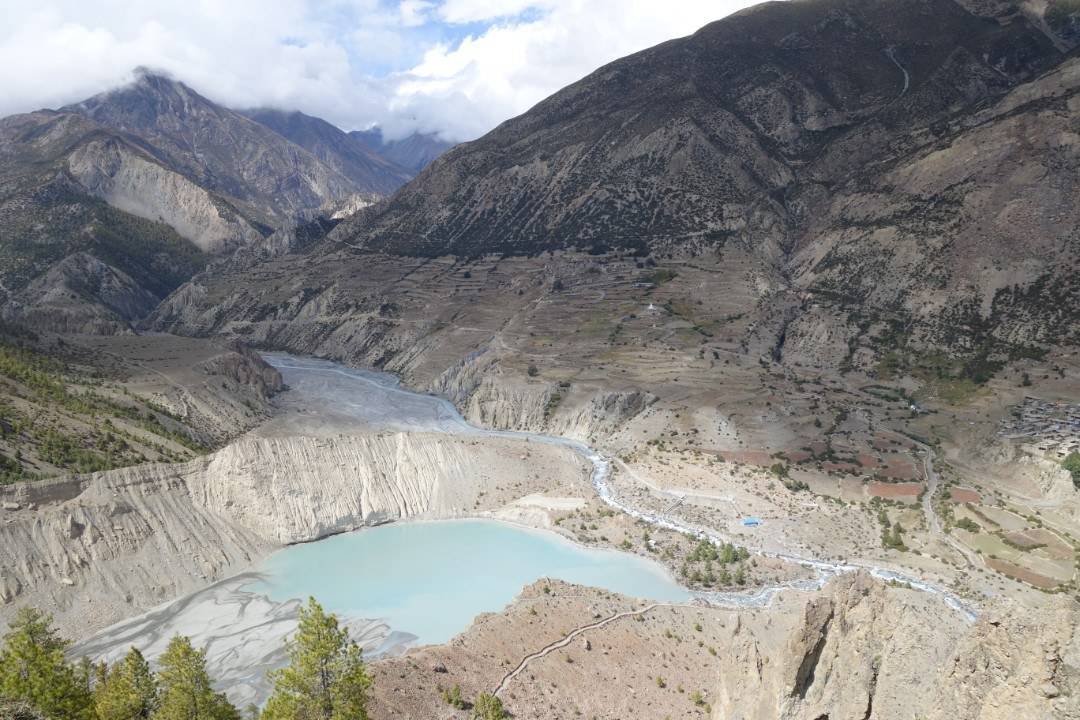 What's Accommodation Like
The Annapurna Circuit winds its way through towns with plenty of accommodation on offer.
The guesthouses have basic rooms. They often have power outlets, and occasionally have attached bathrooms with western or squat toilets.
Generally, they will have a cozy and welcoming common area with a fire and good company.
Wi-Fi is available, though it is limited, and once you're higher than Manang, it's pretty much non-existent.
During peak periods guesthouses can get full, especially at popular stops like Manang and Tilicho Lake.
This is important to keep in mind if you're arriving late in the afternoon. We saw people sleeping in the common area at Tilicho lake!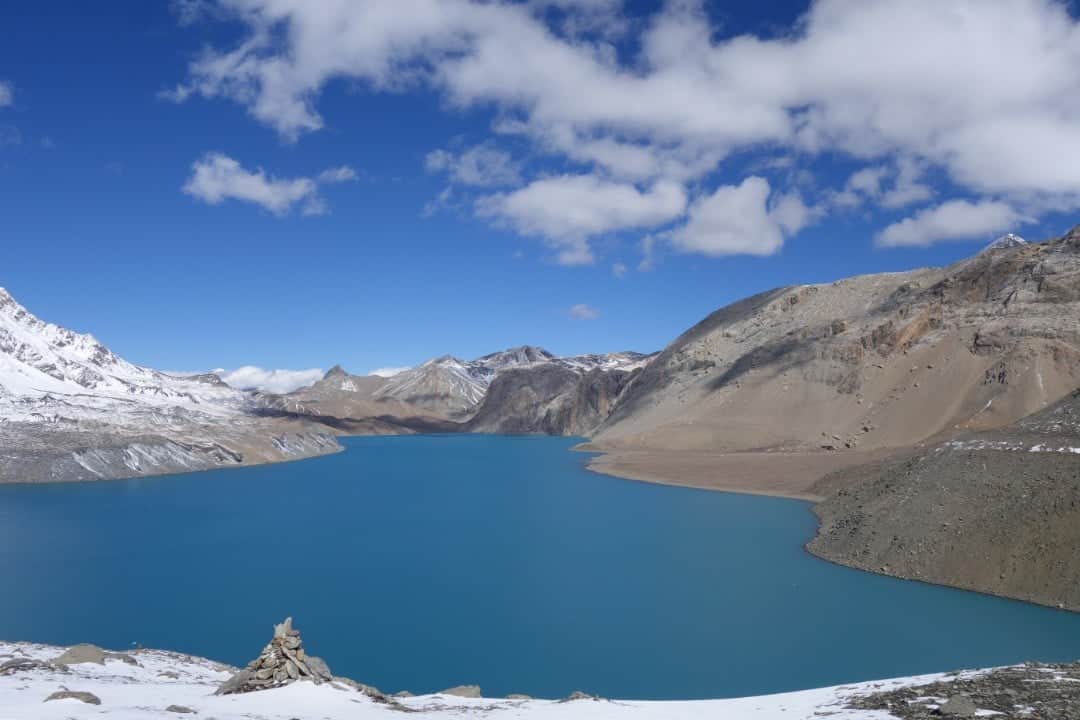 Room prices range from 100 – 300 rupees/$1-3 per person.
NOTE – This article was written back in 2016 so prices may have increased. Please do not barter for your accommodation as the locals in this area rely on tourism as their main form of income and only have a short tourist season. Thank you.
As mentioned previously, during our trek we didn't pay for accommodation after the first night until Jomsom.
The guesthouse owners were happy to accommodate our group as long as we ate all of our meals at their establishments.
In saying that, we were a group, whereas other people we spoke to had been paying for accommodation.
What About Snacks And Meals
You will find small shops dotted along the trail and in small villages you pass. Be aware that goods get more expensive the higher you go. I initially packed the below snacks.
16 x Granola Bars (2 packs of 8)
4 x Snickers Bars
1 x Jar of Peanut Butter
In the end I only needed 1 pack of granola bars instead of 2. The peanut butter was a nice snack but could have been left behind. The Snickers were a great source of sugary energy!
Make sure you stay hydrated! 1 litre of water in Kathmandu may run you 25 rupees or 25 cents, though further up the trail it is not unusual to pay 150 rupees/$1.30 per litre.
You can however save money by using your water purification tablets or fill up at reliable water stations available throughout the trek.
The meals on the trek are basic with choices ranging from porridge, pancakes, and eggs for breakfast.
For lunch and dinner, you can generally choose between Dahl Baht, fried potatoes with mixed vegetables, or a pasta dish.
The great thing about the Dahl Baht is that it comes with unlimited refills, which is great after a day of hard trekking!
You'll even see t-shirts for sale touting "Dahl Baht 24:7 Power" which is definitely true.
Meal prices typically range from 300 – 950 rupees/$3 – $8.50.
Conclusion
Whatever obstacles you encounter, however long it takes you, completing the Annapurna Circuit will be very rewarding and something you will always remember.
For me, this trek has been the highlight of my year of traveling.
There's a tonne of other great places to go trekking in the Himalaya, such as the peaks of Bhutan or the forgotten mountains of Pakistan.
But for pure beauty and easy access, it's hard to beat the Annapurna Circuit!