Planning a trip in 2022? It's a different world today, so use this guide on travel safety to make sure you stay healthy on the road!
Travelling abroad can be both exciting and awe-inspiring. There's so much of the world to see — whether you're headed out for a few weeks or taking off for an entire year.
Many of us have been itching to get back on the road. But as exciting as travelling can be, safety is the most important thing.
Apart from making sure you're safe in your new destination, you need to take steps to ensure the safety and sustainability of the local community in your temporary home.
Regulations and safety have always varied from place to place, but the pandemic brought additional challenges with it.
There are a few extra things you need to know before you book your next plane ticket.
DISCLAIMER: This article was published in partnership with SafetyWing.
Travel Safety – How to Prepare Before Your trip
Travel looks different in 2022 from former years — this isn't a surprise. But this difference comes with three specific things that you'll want to be mindful of:
1. Stay Informed on the Latest Travel Requirements
Covid-19 has changed the way that many countries accept visitors.
While borders are opening up, travel requirements for many places around the world have changed.
If you're planning your next adventure, make sure to stay on top of local regulations and entry requirements.
Travelling to a new destination now involves more research than ever before.
If you don't have the right documents prepared when you land, you risk being denied entry into the country.
The fact that these requirements regularly change without prior announcement only makes the process more difficult.
Use a tool like Borderless to check the latest information on border closures, entry requirements and local restrictions worldwide.
It's updated every 2-3 days, so you'll have the most recent information on your hands.
They also send out a weekly newsletter with the latest travel information from around the world, directly to your inbox.
Online communities like Digital Nomads Around the World, along with other location-specific nomad groups are great sources of information.
You'll find on-the-ground travellers that can give you an insight into what the everyday situation is like in a specific city or a country.
This might help you decide on your next destination – if you were planning on travelling to a certain country but discover the cities are mostly in lockdown, you might want to change your plan.
If you want to enjoy travel this year, you'll have to be flexible!
Reaching out to the local nomad community for advice is always a great idea.
However, understand that there are laws and regulations imposed by each country, which might differ from how travellers interpret those laws and regulations.
We appreciate that travelling safely is possible again, and do our very best to adhere to local regulations, no matter what they are.
Be respectful of the local communities and how they decided to deal with the pandemic.
2. Bring Your Travel Essentials
It's not just your neck pillow and a good pair of earphones that are essentials for travel nowadays.
There are a number of items you'll want to bring along to help keep you, and everyone around you, safe.
Masks
When travelling, you'll want to make sure you have a few on hand.
If you're headed on a particularly lengthy trip – like a long haul flight or train ride – it's recommended to switch out your mask for a fresh one every few hours.
It's safer and more hygienic (especially if you're struggling from mask acne, this might solve your problem!)
You won't always have access to a washing machine but reusable masks are a more environmentally-friendly choice.
And for extra safety, you can always throw an N95 mask over it!
Hot tip from a frequent traveller – give it a few minutes before you dig into your meal during the flight.
It's the only time everyone on the plane is allowed to take their mask off, so be strategic and wait until most passengers have finished their meal and put their masks back on.
Anti-Bacterial Wipes
Most airlines now provide anti-bacterial wipes you can use to wipe down all surfaces around your seating area.
It's still smart to carry an extra pack or two with you everywhere! Many of these come in small, travel-friendly packs that won't take a lot of room in your backpack.
Wiping down things like your airplane seat or desk in a shared space can help get rid of germs in your immediate area. The sooner you get used to this quick ritual, the better!
Hand Sanitiser
Honestly, travelling with a bottle of hand sanitiser is always a smart idea.
Because you can only bring a small bottle in your carry-on bag, it doesn't hurt to pack a refill bottle in your checked bag if you're bringing one along.
Health-Related Paperwork
While you still need to bring your passport and return tickets, you should also add health-related paperwork to that list.
Depending on where you are coming from and what your final destination is, you'll need different documents for entry into the country. This usually includes:
Vaccination certificate/passport (don't forget to get your booster shot on time!)
Negative COVID-19 PCR or antigen test
Travel insurance policy for the entire duration of your stay.
Apart from health-related paperwork, there are a few other things the border control might ask you for:
Return ticket – Always have this ready. I know it's hard for nomads to plan this far ahead, but you can always cancel or reschedule your outgoing flight later.
Hotel or Airbnb booking information – You'll need an address and booking confirmation. Many countries are using this for contact tracing purposes to keep the number of Covid-19 cases under control.
Regardless of where you're going, you'll want to have these on hand.
Even if you don't end up needing them when entering the country, it's likely you'll need to show some form of vaccination card and identification when going to a restaurant or another public place.
Most vaccination cards can be uploaded to your Apple wallet or as a file on your phone that can be easily reached.
One thing to keep in mind – your country's vaccination card might not be accepted everywhere around the world.
Certain EU countries, like France, require you to upload your vaccination document before you travel and create a vaccination card they accept.
Make sure to check if you need to do this beforehand, it's usually not a difficult process but might take a few days to complete.
What Kind of Travel Insurance Do You Need?
Most countries now require proof of travel insurance to allow you entry into the country.
You should assume you need it no matter what your travel plans are in 2022.
The tricky thing is that countries have different insurance coverage requirements you have to check before purchasing a policy.
Here are a few things you should look out for:
Covid-19 Coverage: This is a common requirement for most countries now. Look for a travel insurance plan that has Covid-19 treatment coverage included. (SafetyWing covers Covid-19 just like any other illness, along with coverage for unexpected quarantine.)
Quarantine Coverage: This differs from country to country. Some countries are fine with a travel insurance policy that has Covid-19 coverage, but some want an additional backup option such as an existing hotel room booking you can use for quarantine in case you test positive on arrival. Some countries, like Costa Rica, won't accept any quarantine insurance coverage that's not approved by their government.
Travel Delays: Expect the unexpected. Flight delays, lost luggage, or even a complete change of plans – many had to cancel their trip because of sudden border closures. Check what coverage for travel delays and interruptions are offered by your airline, travel insurance policy and your credit cards. Make sure to give yourself extra time to get to where you're going – most airports, bus stations, and trains are moving much slower than usual due to shortages in staff and additional safety measures.

Here's a list of specific travel insurance requirements by countries worldwide, make sure to check it before purchasing travel insurance!
One note on SafetyWing's travel insurance – while it will cover you globally, keep in mind you can't purchase their Nomad Insurance while you are still in Australia.
Due to local regulations and requirements, their insurance needs to be purchased from outside of specific countries, including Australia, Canada, and some US states.
This is only a small inconvenience because you can purchase SafetyWing on the go, even if you're already on the road.
Since it's travel insurance, you're also not covered in your home country.
Whether you're en route or have already arrived at your destination, you can purchase their policy in under a few minutes, the process is incredibly easy.
They don't even need to know where exactly you're travelling – you're simply covered worldwide, with the exception of Cuba, Iran, Syria, and North Korea.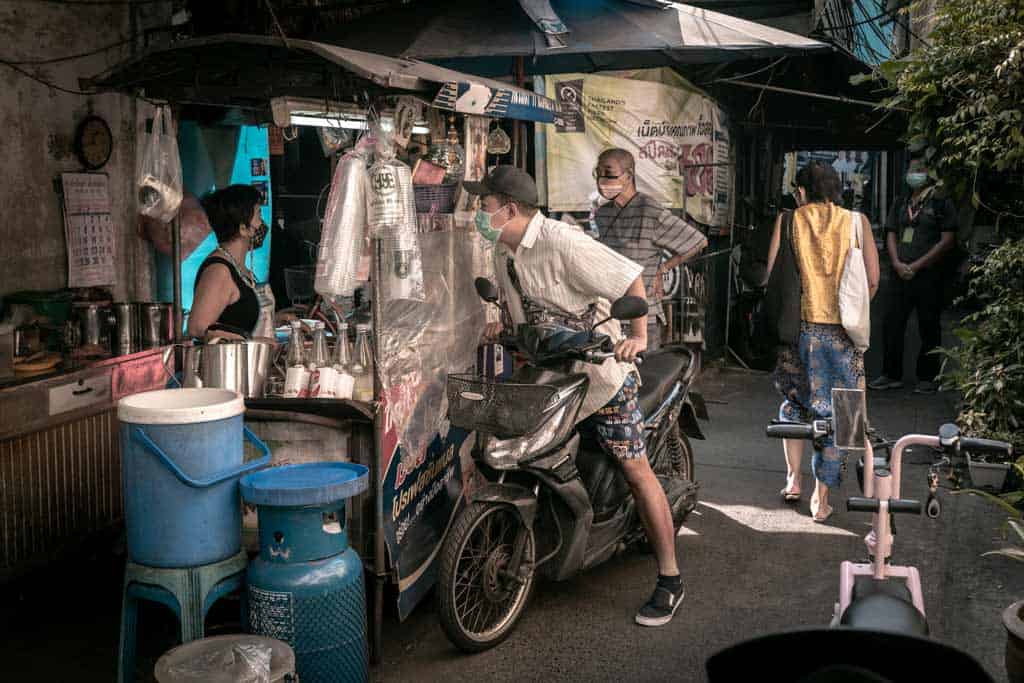 Travelling With Patience
If you've been self-isolating for the past few years, revving to start exploring the world again, 2022 might be your year.
And while travel might feel vastly different than before the pandemic, there's still plenty to do, see, and explore in a safe way.
The changes that we've seen in the industry might seem overwhelming at first. But with a little patience and planning, you'll be sitting oceanside or adventuring over land in no time!
And don't forget, there's an active community of nomads that's closer than ever – ready to offer information and help their fellow travellers.