The ultimate guide to planning an epic Ireland road trip itinerary!
We've been lucky enough to explore countless countries, and it's fair to say that it takes a lot to impress us.
But when we visited the Emerald Isle and explored the country on a two-week Ireland road trip, it honestly took our breath away.
Ireland boasts a rugged coastline, rolling pastures, picturesque lakes, quaint villages and some of the friendliest people we've ever met.
It also has more pubs per capita than any country we've ever travelled to, and we knew that was going to help cement Ireland in our list of favourite countries ever.
When we found out we were heading to Ireland in October to speak at the TBEX Europe conference we decided to rent a campervan and do an epic road trip around the country.
Ireland had been at the top of Alesha's list of must-visit destinations since she was a kid, and we couldn't be more excited to finally explore the European nation.
Having travelled in a campervan around Canada, Australia and Chile we knew that it was definitely the best way to see a country, and with the stories we had heard from travellers about the landscapes in Ireland we were sold on the van life.
After some research we found out the best campervan company in Ireland is Bunk Campers, and we decided to get something a bit more luxurious for our journey.
All the campervans we had owned or rented over the years were just basic vans, with a small bed and tiny kitchens.
This time we rented a fully kitted out campervan, and it was nice to have luxuries like running water, hot showers, a toilet (only number ones!!!), a heater (so good on those cold mornings) and a dining table to sit at.
Once we picked up our campervan in Dublin we had two weeks for road tripping Ireland the best we could.
Of course two weeks is nowhere near enough time to see everything on a road trip in Ireland, but we were lucky that we had about eight days beforehand as well to see more of Kerry County, Dublin and Ireland's Ancient East.
What we did see though made us fall in love with Ireland even more, and we're already making plans on returning in the near future for a longer trip.
Here's our guide, including tips, highlights and our full Ireland road trip itinerary.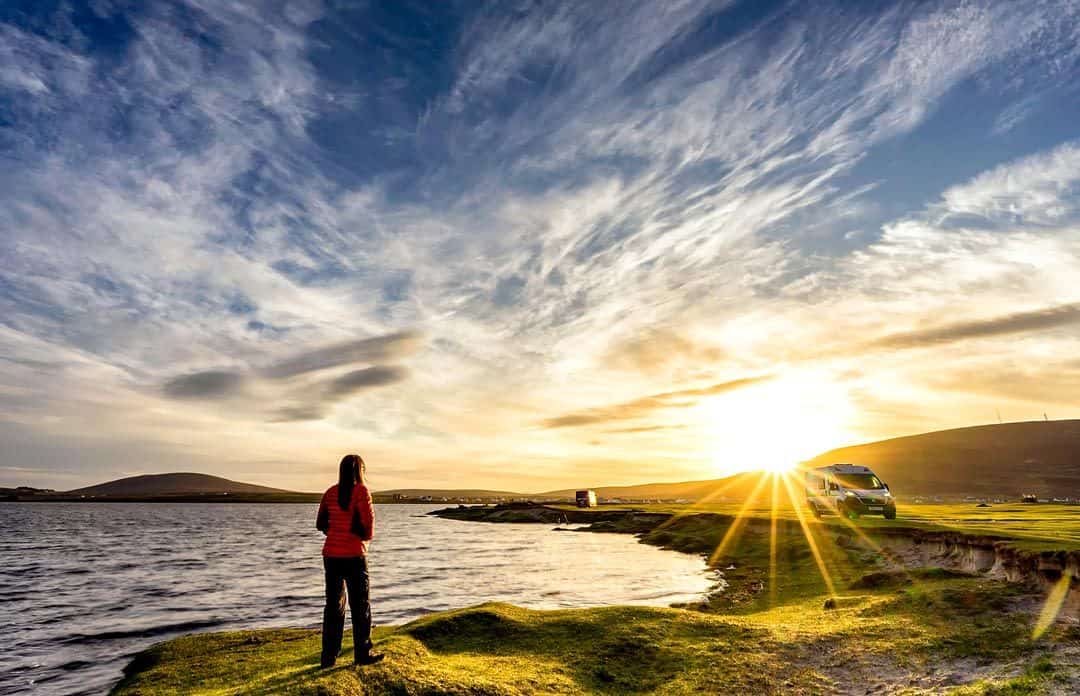 8 Highlights of Our Ireland Road Trip
Our Ireland road trip was an incredible experience, and we really fell in love with the country after our 2 weeks driving around.
We even took a quick trip into Northern Ireland (which is actually a part of the United Kingdom), and we're glad we did, as it added some other great stops into our itinerary.
From the famous Giant's Causeway to the Kerry Cliffs, exploring the history of Ireland's Ancient East to walking through the Dark Hedges, these are the highlights of our Ireland Road Trip.
Want to know where to go on a road trip in Ireland? Read on…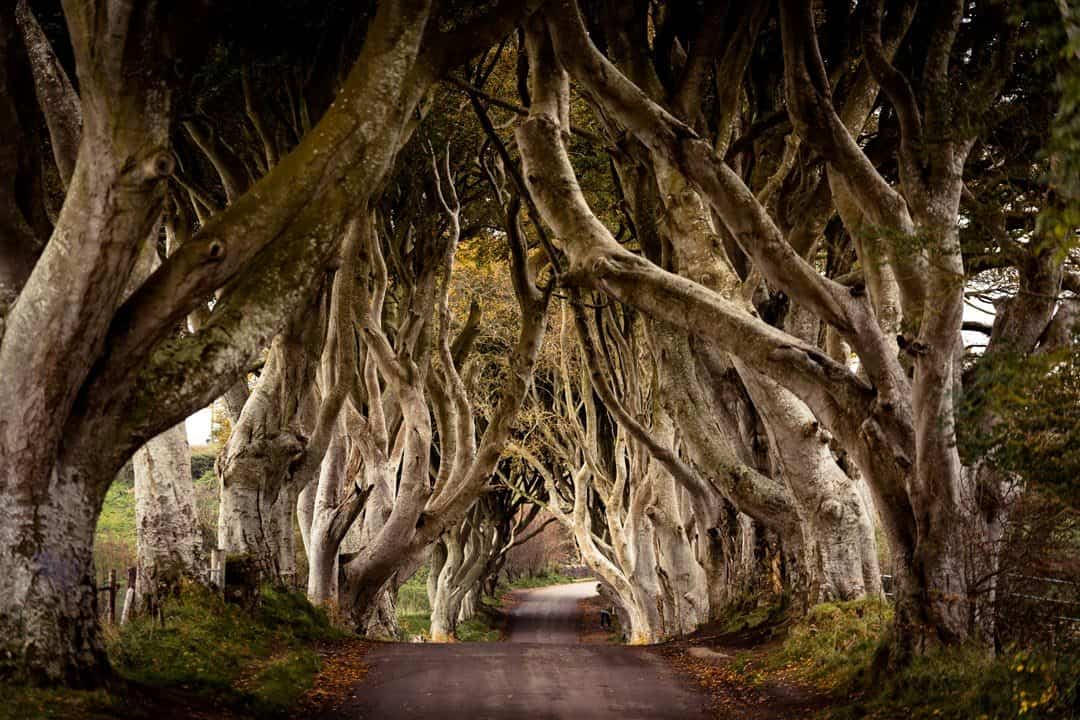 The Ring of Kerry
Arguably the best driving loop in the entire country, the Ring of Kerry starts off near Killarney in the southwest of the country and takes in the beautiful coastal scenery of the Iveragh Peninsula.
If you leave from Killarney the Ring of Kerry is about 214km long, not including all the detours, but every single kilometre of that is an absolute joy.
Check out these epic day tours and activities you can do in Killarney!
Head in a clockwise direction from Killarney, straight to Kenmare and then onwards to Sneem. This is to avoid the tour buses, which are forced to drive in an anti-clockwise direction.
Every time you see a photo opportunity make sure you grab it! The landscape is out of this world, and ranges from sprawling farmland to lush forest, with jagged mountain peaks and a dramatic coastline topping it off.
The highlight is the Kerry Cliffs near Portmagee, with towering rocks dropping spectacularly into the sea, and you can even see the famous Skellig Islands in the distance on a clear day.
If you have the time, and the weather is nice, make sure you take a trip to the Skelligs, home to puffins and landscapes that can be seen in the latest Star Wars movie.
The Ring of Kerry roads are extremely narrow, so make sure you drive with care.
Ireland's Ancient East
While the rest of the country boasts a world class coastline and jaw-dropping landscapes, for those with a love of culture and history then Ireland's Ancient East is a destination where one day can easily turn into seven.
You can begin your journey in this fascinating area with a night (or more) at Waterford, delving into the Viking history that has been around for over 1000 years. Don't miss out on the King of the Vikings virtual reality exhibition!
Head to Wexford and take a tour of the Dunbrody Famine Ship Experience. This authentic, interactive exhibition of what it was like to travel in an immigrant ship (complete with the actual Dunbrody ship!) back in the 1700s is absolutely remarkable, and while we are usually dubious of recreations, this was world class!
Enniscorthy is a gorgeous heritage village that was also home to centuries of sometimes tragic history.
The castle is well worth visiting, but don't miss out on the views from Vinegar Hill, which was actually the location of a fierce battle between British and Irish soldiers in 1798.
Hook Lighthouse is the oldest operational lighthouse in the world, and if you're looking for an iconic photo you'd be hard-pressed to find a better place than here.
By far the best attraction in Ireland's Ancient East is the Irish National Heritage Park.
This sprawling venue has been built to showcase more than 9000 years of Irish history. Kids and adults alike will be completely entranced by walking around the traditional dwellings that have been recreated on the grounds.
Passionate actors share stories of what it was like to live in the times when humans first settled in the Emerald Isle, and the hardships endured over the years.
To complete the experience don't miss out on a traditional Viking dinner in the restaurant. Expect ribs cooked underground on coals, hearty soups and fresh bread, all washed down with craft beer!
You'll be required to dress up in old-fashion clothes as well, but don't worry about the quality of food – it's absolutely impeccable, and much healthier and tastier than would have been found back in the day.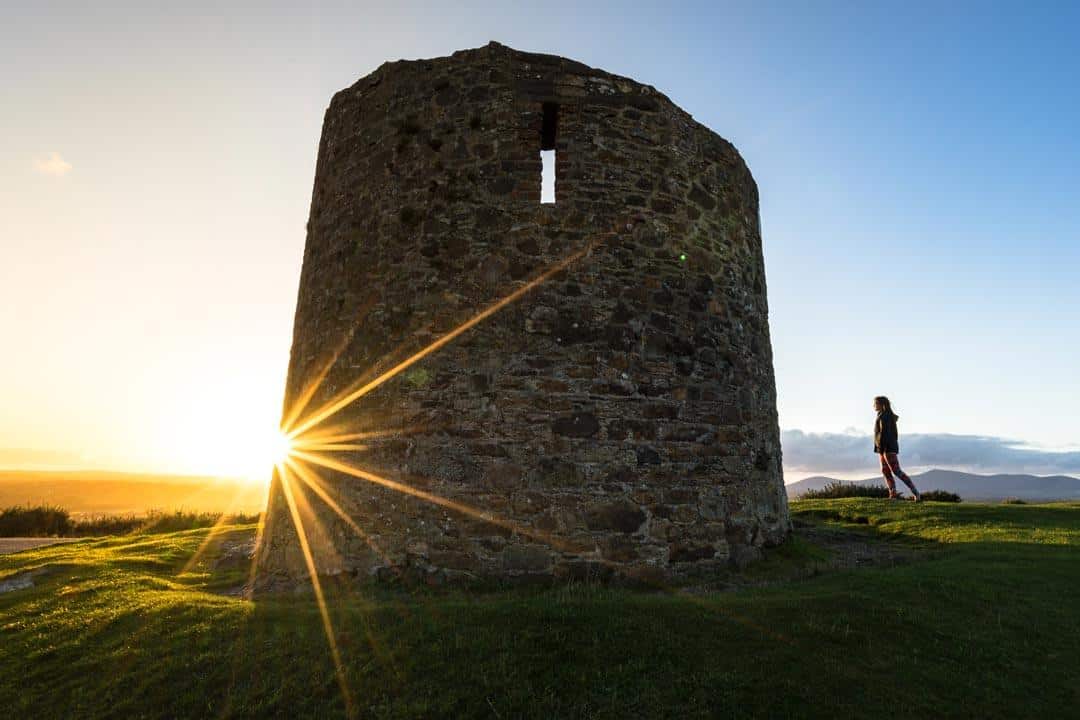 Donegal's Wild Atlantic Way
The entire west coast of Ireland has become known as the Wild Atlantic Way, and the slick marketing campaign by the tourism board isn't without just cause – It's absolutely phenomenal, and should be the main objective of any Ireland road trip.
One of the more incredible, yet often skipped, areas of the country is Donegal County up in the far north of the Republic of Ireland.
The town of Donegal itself is enjoyable, with some great pubs, cafes and restaurants to keep you entertained, but it's only when you hit the coast that you start to see the county's true potential.
Slieve League is the main attraction, with its marvellous hiking trails that offer stellar views over the Atlantic Ocean and cliffs that almost rival the ones found in Kerry.
The drive out to Meencarrick is superb, and it is one of the nicest coastal routes in the country. Don't miss driving out to the headland for some hiking next to the cliffs.
The entire length of ocean roads in Donegal is great, but make a special detour to Malin Head, the northernmost point in the Republic of Ireland (even further north than Northern Ireland).
It will be super windy, but the views are great and the bucolic roads to get there are alone worth the trip.
Loop Head Peninsula
In the list of big attractions in Ireland, the Cliffs of Moher are right near the top. These soaring, vertical rock faces tumble into the sea, and stretch for kilometres like an impenetrable barrier against the Atlantic.
They are also supremely crowded with tourists.
Instead head a bit further south to the Loop Head Peninsula, where you can find similar landscapes and scenery with no entrance fee charged, and almost nobody else to get in the way.
You won't find fences here either. If you want to walk right up to the edge of the cliffs, you can (just be careful).
If you have time, do both. But if you just want to choose one, skip the Cliffs of Moher and instead hit up Loop Head Peninsula.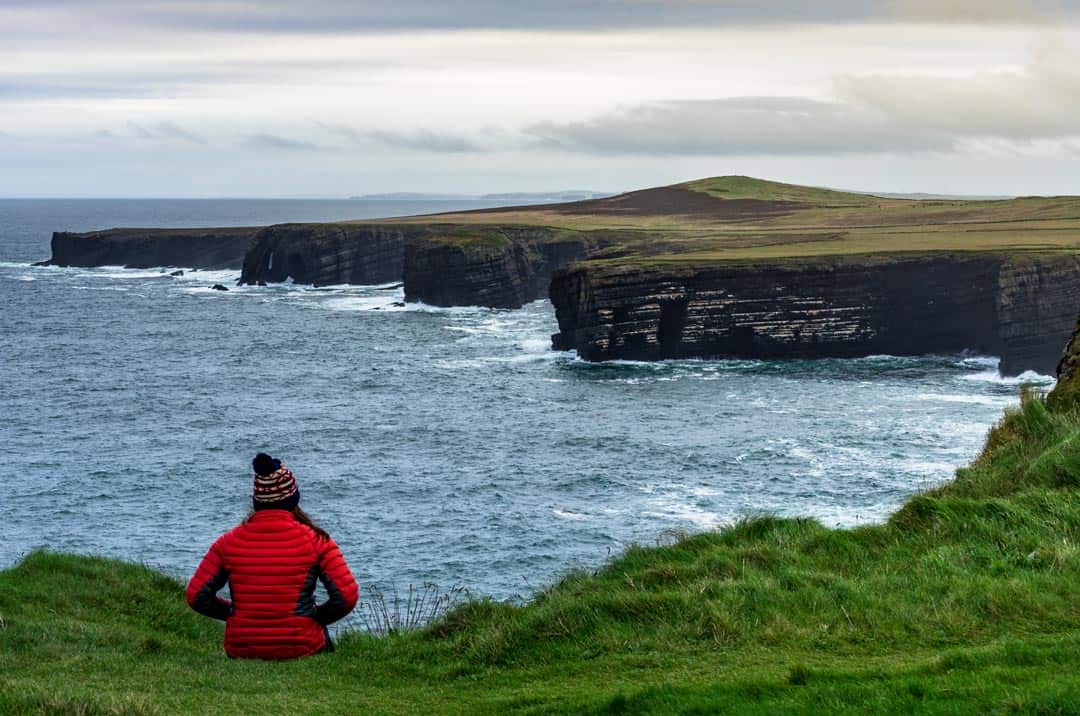 The Giant's Causeway
Although the Giant's Causeway is actually in Northern Ireland, it is still one of the best places on the Emerald Isle and should not be missed during your road trip itinerary.
Thousands of basalt, hexagonal columns rise out of the sea creating one of the most magnificent geological environments in the United Kingdom.
Legend has it that a giant built the Causeway as a path to connect Ireland with Scotland so he could take part in a fight, and if you use your imagination you can almost picture the columns forming a bridge between the two nations.
Walking around the Giant's Causeway can easily take a few hours, with plenty of great photo opportunities and even some hiking trails around to occupy your time.
The audio tour that can be purchased from the wonderful visitors centre tells the legend, geology and history of the Giant's Causeway, and is worth the price.
If you're trying to keep your costs down though you can actually visit the Giant's Causeway for free. Park in the closest town and hitch or take a bus to the site, then walk around the visitors centre.
Achill Island
When we were driving around Ireland we met one or two people that had mentioned a place called Achill Island, but it never came up as a 'must do' in our conversations.
Still, when we realised it would only be a short detour to check it out, we decided we had nothing to lose by making the visit.
It was one of the best decisions we made.
Achill Island is an absolute delight, and boasts ridiculously beautiful beaches, wonderful headlands, quaint fishing villages and fun adventure activities to enjoy.
After crossing over on the bridge we drove to the end of the road, and couldn't believe the kind of views that surrounded us.
Sheep wandered on the steep farmland with an impossible ocean vista rolling out in every direction. Hills climbed all around us, offering great hiking for those feeling active.
We ended up watching sunset from a water reservoir that looked out over the whole town of Keel, and finding a place to camp next to an inland lake close by.
With more time you could rent some surfboards or kites and hit the ocean, or head up into the mountains for some trekking.
When we return to Ireland we'll definitely be giving Achill Island a bigger portion of our schedule.
The Ring of Beara
The Ring of Kerry is the go-to for road trips in Ireland, but the nearby Ring of Beara is just as beautiful, without the people.
Just like its neighbour, the Ring of Beara is a coastal loop that takes in the absolute best vistas of the Beara Peninsula.
You'll find sheep grazing on pastures that butt up against the ocean. The roads twist and wind like a snake weaving through a field, and requires a lot of concentration to navigate.
Unfortunately the weather was quite bad on the day we did the Ring of Beara, but even then whenever we did get a glimpse of the landscape we were absolutely blown away.
Newgrange
Stonehenge might be the most famous Neolithic site in the United Kingdom and Ireland, but it definitely isn't the oldest.
Only a few hours north of Dublin is the spectacular Newgrange archaeological site; a huge, circular stone structure that was built over 5200 years ago as a passage tomb and temple.
Approaching Newgrange is not what you would expect. It is surrounded by farmland, and you can see cows and sheep walking around just on the other side of the fence. But the site itself is wonderful.
The main tomb takes up over an acre of land, and stands 15m tall with an 85m diameter. It's part of a larger complex as well, surrounded by other tombs named Knowth and Dowth.
One of the most remarkable things about Newgrange is that the entrance passage is aligned to let in a beam of light during sunrise during the winter solstice.
Guides can show you this phenomenon at any time of year though using flashlights.
You must head to the Visitors Centre to purchase your tickets first, which is actually a bit far away from the Newgrange site.
They offer free bus transport with your ticket from the Visitors Centre to Newgrange, but we recommend taking your own car to the site.
We didn't know you could do this and spent almost 2 hours total waiting – not because of crowds, but because that was just the way the bus schedule worked. Save yourself the headache and drive your own car to the site.
Ireland Road Trip Itinerary
We ended up renting our campervan to try and find the best Ireland road trips for two weeks and managed to see a lot of the country.
However it did end up being a bit rushed, and you could easily extend this to a month if you wanted to do all the amazing side trips and hiking excursions around.
This is the exact itinerary that we followed, although where possible we've given alternatives that might be worth spending the night in.
Our trip was plagued with storms and a hurricane (yes, a hurricane), so we had to skip a few things.
We don't mention many places to stay, because most of the time we slept in our campervan, and you can find your own spots along the way, or stay in any one of the dozens of epic B&Bs in the country.
We'll definitely be adding to our list once we do our next Ireland road trip.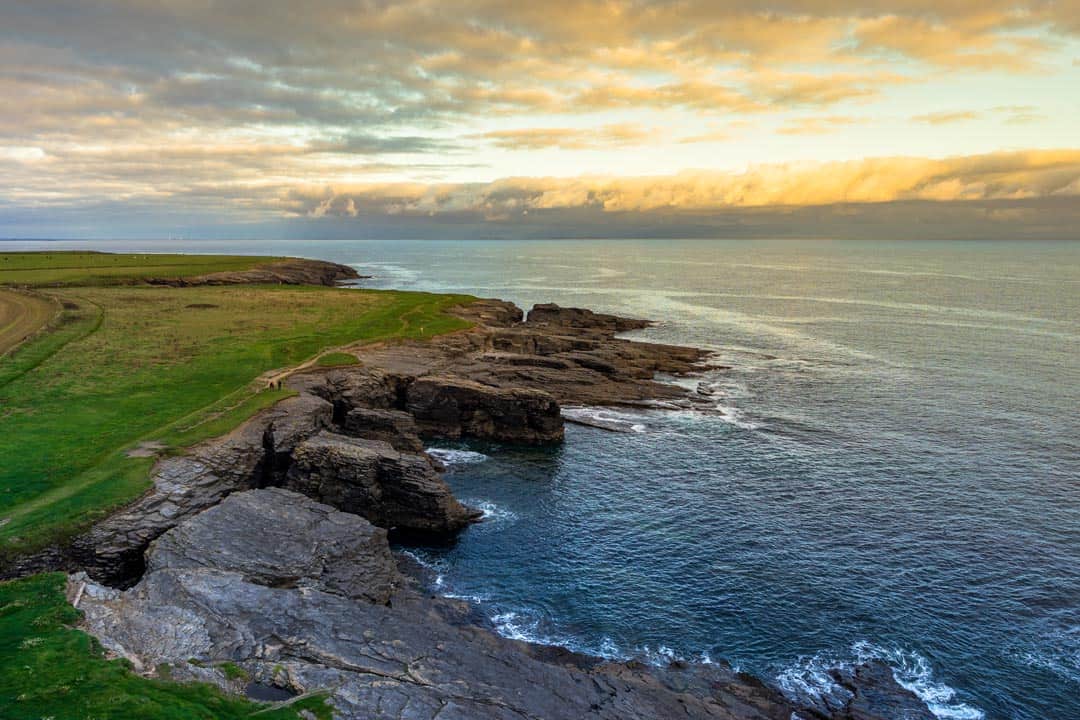 Day 1 – Dublin to Wexford (150km)
Once you've picked up your campervan in Dublin (and of course visited the Guinness Storehouse, which is a must see) head out of the city aiming for the town of Wexford in Ireland's Ancient East.
The drive itself won't be overly beautiful, but chances are you've picked up the rental in the afternoon and the goal is to just get out of the city.
In Wexford and the surrounding area there are plenty of things to do that could take up a few days of your itinerary. Some of the best things to do around Wexford are:
Visit the Dunbrody Famine Ship Experience in Wexford.
Do the King of the Vikings Experience in Waterford.
Go to Hook Lighthouse.
Spend a few hours at Dunmore Adventure Centre, which has a tonne of activities to enjoy, like kayaking, sailing, climbing, windsurfing, and our absolute favourite, the Wibit Waterpark. Ever seen the show Wipeout? Well Dunmore East has one of these giant inflatable parks set up out in the harbour! One of the funnest things we have ever done.
Hang out at Ireland's National Heritage Park.
Go cycling along the Waterford Greenway.
Hang out in Enniscorthy and climb Vinegar Hill.
Day 2 – Wexford to Cork (190km)
You can take your time driving to Cork and visit some of the great attractions in the area, or just enjoy the beautiful country scenery.
Get out and enjoy the beautiful coastal walks around Ardmore, and have lunch at the phenomenal Cliff House Hotel.
The roads are quite good and Cork itself is a fun city. Plenty of great pubs and restaurants to enjoy, and some great attractions nearby:
Visit Blarney Castle and kiss the famous Blarney Stone. Also don't forget to spend some time walking around the stunning grounds.
Eat at Cliff House Hotel…Trust us on this one.
See the colourful houses in Cobh.
Day 3 – Cork to Kenmare via the Ring of Beara (200km)
Leave early on this day because the plan is to tackle the beautiful Ring of Beara driving loop on the way to Killarney.
From Cork take the backroads to Ballylickey, then head onto the Beara Peninsula. You'll be thankful you left early because this loop will take you all day with all the photo stops.
Once you finish the loop spend the night in Kenmare, which is a beautiful little village.
Some of the main attractions along the way are:
Drive the spectacular Ring of Beara.
Walking around Kenmare.
Day 4 – Kenmare to Killarney via the Ring of Kerry (140km)
After a delicious breakfast in Kenmare head west onto the Ring of Kerry, and make sure those camera batteries are charged!
This loop is the most famous, and arguably the most beautiful, drive in all of Ireland, and if you get a sunny day it might end up being one of the best road trips of your life!
If you're into hiking, or want to do some of the day excursions around the Ring of Kerry you might need to break up your trip into two or three days.
Visit the Skelligs – Two rocky islands off the coast of Ireland home to an old monastery, puffins, and was used as a film scene in the latest Star Wars movie.
Hike around the Kerry Cliffs.
Hang out at Derrynane Beach.
Be careful of the roads along the Ring of Kerry – they are twisting, narrow and often busy with tour buses!
Day 5 – Killarney
After a few days of driving you deserve a well-earned rest. Except you're now in Killarney, and there are so many things to do in Killarney that you could easily fill a week with activities!
We spent 4 days in Killarney before we started our road trip, and loved it so much we came back! You'll be spoilt for choice here, whether you're into history, gardens, adventure activities or simply drinking beer.
Rent a bicycle and explore Killarney National Park.
Visit Ross Castle and the Abbey.
Check out Muckross House and the gardens.
Get into nature at Torc Waterfall.
Head out to the Gap of Dunloe and admire the world-class scenery.
Drink delicious beer at Killarney Brewing Company.
Climb Carrauntoohil, Ireland's highest mountain.
If you want to splash out and enjoy a night outside of your campervan, then head to the best luxury hotel in Killarney, Muckross Park Hotel.
Day 6 – Killarney to Tralee via Dingle (160km)
Once you've managed to pry yourself away from Killarney (it might take a while), you have another epic drive to check out on your Ireland road trip.
Drive out to Dingle, a wonderful town that would make a nice base for a day or two, and move out to the end of the Dingle Peninsula.
This captivating area is home to the Slea Head Drive, another magnificent loop that features rolling hills jutting up against steep ocean cliffs.
As you're now on the Wild Atlantic Way you can expect to see more than your fair share of coastal scenes, but this one around Slea Head is pretty special.
It's not just cool scenery – there's also a bunch of history, with stone beehive huts peppered along the coast and the impeccable Gallarus Oratory adding to the awesomeness of Slea Head Loop.
Spend the night in Tralee after doing some of the best attractions around Dingle:
Head out on the Slea Head Drive.
Visit the Gallarus Oratory, and all the beehive huts along the way.
Drink some Dingle Gin.
Do a boat trip to see Fungie the Dolphin.
Day 7 – Tralee to Lahinch via Loop Head (160km)
Today isn't a long day driving, and you really have two options on how you want to head to Lahinch – you could take the ferry, creating an excellent short cut, or drive out to the city of Limerick.
We personally decided to skip Limerick, even though we had heard good things, as we much prefer to be in the countryside. Plus there's a massive highlight to see along the way!
While it's only a short drive today your timing will be dependent on the ferry schedule that gets you across the small harbour from Tarbert to Killimer. Make sure you get there early in case you have to wait.
Once you get on the other side drive out to Loop Head Peninsula, home to some of the most wonderful cliffs in the entire country, and they're completely free!
If you have time, or really love cliffs, you could also do the Cliffs of Moher, although these are very touristy. Spend the night in Lahinch, a wonderful beach town with a colourful main street.
Take the ferry from Tarbert to Killimer.
Drive out to Loop Head Peninsula and see the cliffs.
Visit the Cliffs of Moher.
Rent a surfboard and hit the waves in Lahinch.
Day 8 – Lahinch to Galway via Doolin (100km)
On this day we unfortunately had to wipe all the attractions from our schedule as a hurricane hit the country, and we ended up bunkering down in the small town of Ennis to wait out the storm.
However if we had our time again, we would drive from Lahinch to Doolin, which is meant to be an amazing little beach village that gets a lot of rave reviews from our friends.
Then keep following the coast, eventually finishing up in Galway.
This stretch also could be turned into a two-day journey, with all the things to do.
Take a boat out to the Aran Islands, a World Heritage Site where the locals speak Irish as well as English and ancient, ruined churches are just waiting to be explored.
Grab a pint in one of Doolin's colourful pubs.
Follow the sea and enjoy the Wild Atlantic Way views.
Go out to Spanish Point.
Party the night away in Galway.
Day 9 – Galway to Achill Island via Kylemore Abbey (200km)
If you've ended up partying a little too hard in Galway you might need to break this journey up into two days, as you'll be leaving late. But if you're feeling fresh get a move on early!
The first stop is going to be Kylemore Abbey, a sensational old castle with some of the most beautiful gardens in all of Ireland.
Keep following the road around and make a beeline for Achill Island, where if you're not careful you may get stuck for a day or two.
Wander around Kylemore Abbey and the gardens.
Reach the end of the road on Achill Island and be blown away with the views.
Take a swim at the beach in Keel.
If you have more time enjoy all the hiking and surfing opportunities around Achill Island.
Day 10 – Achill Island to Donegal via Ballina (220km)
The beautiful drive takes in the countryside around Ballycroy, which is surprisingly delightful and has lots of great hiking opportunities.
The area around Ballina has some cool, old friaries, and once you get to Sligo you'll find tonnes of outdoor adventures to enjoy.
If you have time before settling in Donegal do the drive out to Slieve League, otherwise you can do it in the morning.
Finishing up in Donegal hit up one of the excellent restaurants and down it all with a pint of Guinness.
Go for a hike in the Ballycroy National Park.
Visit the 600-year-old friaries near Ballina.
Head up one of the mountains or lakes in Sligo.
Day 11 – Donegal to Londonderry via Slieve League and Malin Head (250km)
It's another long drive today, which could also be broken up if you had the time, because the Donegal area has a lot of epic scenery and activities to enjoy.
The first thing you should do is enjoy the coastal drive out towards Slieve League, taking the side roads that turn down into the tiny fishing villages along the way.
Slieve League is hugely impressive, and with more time you could do the hike to the cliffs, or if you're trying to fit it all in a day you can simply drive to the top and check out the views.
Get back in the car and head straight up to Malin Head, the northernmost point in Ireland. Afterwards head back south towards Londonderry.
We personally headed to Quigley's Point and stayed at the Foyleside Caravan Park as we needed power to charge our laptops, and we enjoyed the spot.
Don't miss out on Slieve League – epic cliffs and gorgeous ocean views.
The road to Meencarrick has some beautiful, old village and surf beaches to check out.
Fall in love with the scenery around Glenveagh National Park.
Stand at the northernmost point of the Republic of Ireland in Malin Head.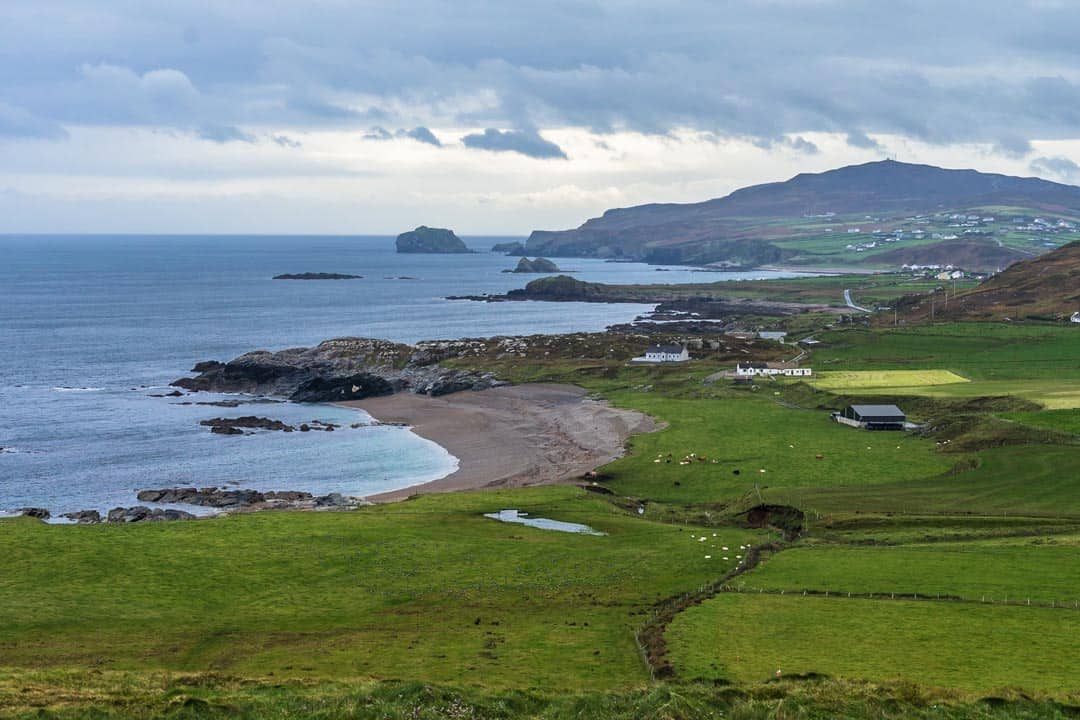 Day 12 – Londonderry to Belfast via the Giant's Causeway (190km)
You'll be spending the next few days in Northern Ireland, which means you'll get to visit one of the United Kingdom's most popular tourist attractions, the Giant's Causeway.
Stick as close to the coast as possible on the drive to the Giant's Causeway, stopping along the way to take some pictures.
Spend a few hours wandering around the famous basalt hexagonal columns, then get back in the car and make the drive into the countryside.
Swing by The Dark Hedges in Ballymoney – an avenue of enormous, twisting beech trees that is one of the most photographed places in the whole country.
It was already a popular spot, but when the HBO series Game Of Thrones filmed a scene there it was propelled into another level of busyness. Still, it's worth seeing, even if you don't know anything about the series.
Afterwards head into Belfast for the night, or pick a caravan park outside of town.
Enjoy the coastal road in Northern Ireland.
Walk across the Carrick-a-Rede Rope Bridge near Ballintoy.
Walk (don't drive) down the Dark Hedges.
Check out the Giant's Causeway. Remember you don't have to pay to enter if you don't want to visit the information centre or use the carpark.
Day 13 – Belfast
The Northern Ireland capital is filled with intense history, fascinating murals, a world-class museum and more than its fair share of awesome pubs.
Belfast is a city that oozes with grungy atmosphere, and whether you love it or hate it, you can't deny that it has an overwhelming character that should be experienced.
We were really looking forward to visiting Belfast, and it did not disappoint. To really appreciate the city though you should be willing to embrace the tragedies of the last few decades, and admire how it has bounced back.
Spend a few hours in the marvellous Titanic Belfast, known for being one of the world's leading tourist attractions. Get your ticket here.
Join a free walking tour of Belfast to learn about the city's political history.
Check out the Crumlin Road Gaol.
Day 14 – Belfast to Howth (or Dublin) via Newgrange (180km)
For the last full day jump on the highway and head south of Belfast. You can easily be in Dublin in 2 hours, but it's worth stopping off at the Neolithic site of Newgrange.
As mentioned above, Newgrange is one of the real highlights of any Ireland road trip, and learning all about the massive passage tomb is splendid, especially when you consider it's older than Stonehenge and the Great Pyramids!
If you need to be in Dublin tonight then you can be in the city quite easily, but personally we recommend heading to the fishing village of Howth, only 30 minutes from the city.
Howth is genuinely wonderful, and the perfect place to finish up your Irish road trip. You can park your van by the dock and head out to get fish and chips, or if you want a perfect place to stay head into the only hotel in town (yes, the only hotel in town), King Sitric.
Visit the ancient Neolithic site of Newgrange.
Go for a hike around Howth, or enjoy the best seafood in the country at King Sitric Restaurant.
Tips For a Road Trip of Ireland
Driving a campervan around Ireland is definitely the best way to see the country.
Having your own wheels is one thing, but having your own home is the icing on the cake!
Still there are some things you need to keep in mind before you start this fun adventure. For another good reference, check out this article on renting a motorhome in Europe.
Here are some tips for renting a campervan in Ireland.
Bigger isn't always better: The roads in Ireland can be notoriously narrow, and having a giant RV isn't ideal in the Republic of Ireland. We went with the Aero model from Bunk Campers and it was a good balance of size and comfort, without being too big for the roads.
Try to free camp where possible: This is the whole bonus of having a campervan – You get to save on accommodation! In the Republic of Ireland we never had a problem finding a carpark or patch of grass to pull up for the night. We stayed next to a lake in Achill Island, behind a bus station in Ennis, on top of Vinegar Hill and plenty of other spots. It's not always glamorous, but at least it's free!
Sometimes you'll have to stay in a caravan park: In Northern Ireland wild camping is illegal, so you have to stay in a caravan park. They're not too expensive (sometimes 20 Euros or less), but they come with the added bonus of amenities like laundry, proper bathrooms, electricity hook ups and wifi.
Buy a prepaid SIM card from 3: Having data on the road is important, and we picked up a prepaid SIM from the telephone company 3. For 20 Euro we got unlimited 4G data and unlimited texts and calls for a month. We could also hotspot our laptops off of our phone with it. Get one from any 3 store.
Don't underestimate driving distances: You might look at one leg and think, "Oh it's only 150km, we'll be there in 2 hours," but that's not always the case. Road conditions can slow you down, as will the hundreds of photo stops along the way. Don't be too ambitious when planning your schedule.
Head south and drive clockwise: The weather in Ireland moves from the Atlantic Ocean and moves across the country heading northeast. A tip we got from the manager at Bunk Campers is to head south to Kerry County and drive clockwise. That way if you get nice weather you can basically follow it north.
[box] Our Ireland road trip adventure was made possible thanks to our partnership with Bunk Campers and support from Failte Ireland. All thoughts, opinions and pints of Guinness drunk at Irish pubs are, as always, our own.[/box]
Want to save this for later? Pin It