After riding our motorcycles all through Laos (click here for the North and South), and then checking out Southern Vietnam, it was time for the next mission – Our Cambodia motorcycle adventure!
Cambodia Motorcycle Adventure – Country Number Three
We decided to skip the main border crossing checkpoint between Ho Chi Minh City and Phnom Penh, instead opting for one a bit further south – but still north of the newly opened Hat Tien immigration point. Chau Doc seemed like a nice, quiet border to try and take our motorbikes into Cambodia, and it worked out pretty well. And from that moment on, it was time to check out the best that Cambodia had to offer!
First thing you must realise is the scenery is very different to what you experience in Northern Laos and Vietnam. It is mostly flat farmland, but still very beautiful.
Please Note
There are many little local petrol stands every where you go. They will fill up empty bottles with petrol and sell it for a little more than the gas stations. We usually filled up in the mornings at gas stations in the town/ city that we stayed in. You will never go without seeing someone selling gasoline for more than 15 – 20 km along the major roads.
Vietnam Border to Kampot – 120km
While we absolutely love Vietnam, crossing into Cambodia was like a breath of fresh air. The traffic immediately dropped away to be almost non-existent. The scenery turned into large green farmland with distant mountains on the horizon. The roads were in fairly good condition and the riding itself was enjoyable. Still couldn't reach real high speeds due to the patches of gravel and a few potholes, but was better than we had anticipated.
Road Conditions: Good, few potholes.
Weather: Sunny
Traffic: Very little
Kampot To Kep (Return) – 30km One Way
The road to Kep was partly under construction, and will probably remain that way for the foreseeable future with how slow things are done here. More farmland was the typical views, occasionally blocked by large trees. Road conditions varied between nice pavement and potholed roadworks, but for such a short trip it is hardly worth worrying about. Traffic was moderate.
Road Conditions: Not bad out of Kampot, roadworks coming into Kep.
Weather: Rain the first day, sunny on the way back.
Traffic: Moderate
Kampot To Sihanoukville (Return) – 100km one way
The ride towards Sihanoukville was quite nice with not a lot of traffic until you got closer to the city. More flat Cambodian scenery, green farmlands with periodic hills and mountains. The road was in really good condition and fairly straight. Once we got to Sihanoukville we tried our best to follow the coastline all the way to Otres, managing to avoid the main road where most of the police activity and traffic was.
Road Conditions: Really good.
Weather: Sunny
Traffic: Busy once you reach the road to Sihanoukville.
Kampot To Kampong Chhnang – 260km
Following the highway towards Phnom Penh the road was pretty good. Moderate traffic until we got closer to the capital and very little road works and potholes. The closer to Phnom Penh you get the more you need to stick to the shoulder as trucks and buses start overtaking carelessly. We got to the large roundabout near the airport then turned back on the road to Sihaoukville. After 20km or so we turned off heading north on Road 51. The road here changed from nice pavement to a mix of gravel, dirt, ruts and potholes. The scenery was nice enough, but the road wasn't enjoyable. Still, it was better than dealing with the traffic around the city. When we got onto Highway 5 the conditions improved but traffic picked up, as to be expected.
Road Conditions: Good until the 'shortcut' – then rough.
Weather: Sunny for the most part, then rain.
Traffic: Very busy close to Phnom Penh and towards Battambang


Kampong Chhnang To Battambang – 200km
A very easy and straightforward road. Good condition, moderate traffic and not a lot in terms of views outside of the standard Cambodian farmlands. We made good time getting into Battambang.
Road Conditions: Pretty good.
Weather: Clear
Traffic: Medium
Battambang To Siem Reap – 180km
Another easy ride which we completed in fast time. From Battambang to the intersection of Highway 6 the roads were in standard condition and besides the few trucks and scooters there was little traffic to worry about. Once we turned onto Highway 6 the road became the nicest we had ridden on in all of Cambodia – probably due to being the main thoroughfare between Thailand and Siem Reap. The views were typical and pleasant. About 40km from Siem Reap the road began to deteriorate but was still pretty good compared to other roads in the country. Traffic in Siem Reap, to be expected, was busy.
Road Conditions: Excellent.
Weather: Sunny
Traffic: Heavy near Siem Reap.
Siem Reap To Kampong Thom – 160km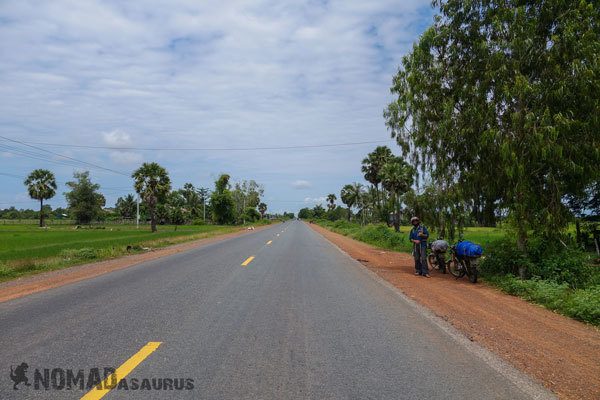 The government must have a lot of plans to improve Highway 6 but not a lot of funds. It was dusty, bumpy, torn up ready for construction but we didn't see much actual building or repairs going on. Traffic was crazy and we could barely ride one kilometre on pavement before it turned into dirt again. Not enjoyable at all, and we were glad we had decided to only go part of the way to Kampong Cham.
Road Conditions: Terrible, lots of road works.
Weather: Mix of rain and clear skies.
Traffic: Heavy
Kampong Thom To Kampong Cham – 120km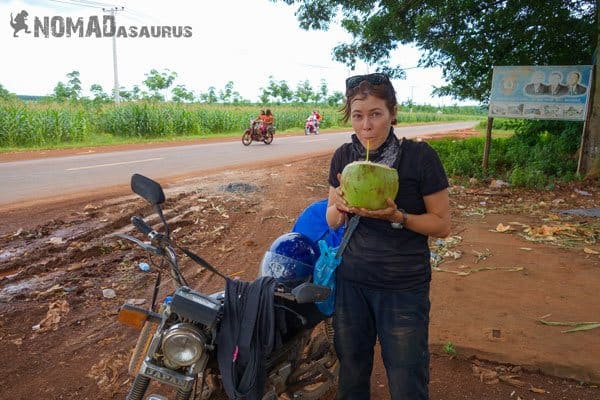 Started off on the same hellish road until it split in two – one way to Phnom Penh and the other (Road 71) towards Kampong Cham. Everything became pleasant and beautiful again. Nice roads, lush pastures, and lots of little shops to pull over and buy fresh coconuts from friendly Khmer families. There was hardly anyone on the roads until we got to Highway 7, where it picked up in numbers.
Road Conditions: Bad out of Kampong Thom, good from Road 71.
Weather: Mix of sun and rain.
Traffic: Heavy to the turn off and on Highway 7. Empty in between.
Kampong Cham To Phnom Penh – 120km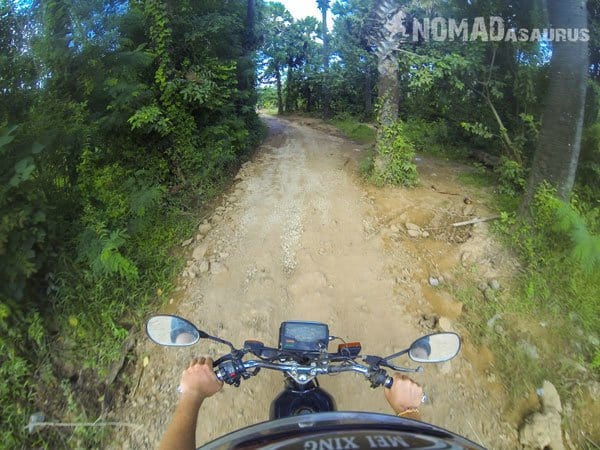 On the recommendation of our guesthouse owner, we followed the Mekong River as far towards Phnom Penh as possible. The roads varied between sealed tarmac and single lane dirt, riddled with bumps and holes, but it was definitely worth it! Riding through tiny villages and having to deal with more cows and buffalo than cars was beautiful. We took our time, stopping off to buy drinks from the locals and admiring the scenery. At times the road almost disappeared to be only a bit wider than a scooter, overgrown with shrubs and grass, but we asked people for the direction to Phnom Penh and they were happy to direct us.
The good times didn't last forever though as we eventually had to turn onto Highway 6A. It lured us into a false sense of security, being wide enough to land a plane and perfect tarmac. But soon enough that all changed. The road turned into dirt and with the amount of traffic plying the route there was an incredible amount of dust in the air. We could hardly see more than 50m in front of us for about 30km. Every part of our clothes and bikes had turned brown from the dirt. We were actually excited to get into the city and deal with the traffic over the dust. And of course, the traffic was pretty crazy.
Road Conditions: Everything possible.
Weather: Sunny, dusty.
Traffic: None until the highway, then real busy.
Phnom Penh To Snoul – 250km
We had to take the dust bowl out of Phnom Penh again, which was just as enjoyable as the first time. We turned onto Highway 8 and life became simpler. Good road conditions with minimal traffic (besides the kamikaze mini-bus drivers heading to and from the Vietnamese border). We followed number 8 until Highway 7. The road conditions deteriorated a bit, but stayed pretty good. The traffic was noticeably heavier until number 7 veered off towards Snoul. The views were nice; more of the same farmland but with more trees.
Road Conditions: Dusty at the beginning, then good.
Weather: Dusty, sunny, heavy rain.
Traffic: Moderate
Snoul To Sen Monorom (Return) – 130km
By far the best road we experienced, and we were so glad this is how we got to finish our Cambodia motorcycle adventure. Leaving Snoul was nothing overly spectacular but once we got to the forestry protection zone, it was amazing. Riding through beautiful dense jungle on hilly roads with perfect tarmac. Banked curves, no traffic, gorgeous views. We lost count of how many times we stopped to take photos. And just when you think it can't get any better, the forest ends and you are seemingly transported to the European countryside. Fragrant pine trees peppered the landscape and huge green hills rolled into the valleys and horizon. More stops to take photos, more rest breaks with beautiful vistas. The Mondulkiri region is amazing and well worth an extended visit.
Road Conditions: Very good.
Weather: Sunny
Traffic: Very little
Cambodia / Vietnam Border Crossing – Trapaing Sre International Check Point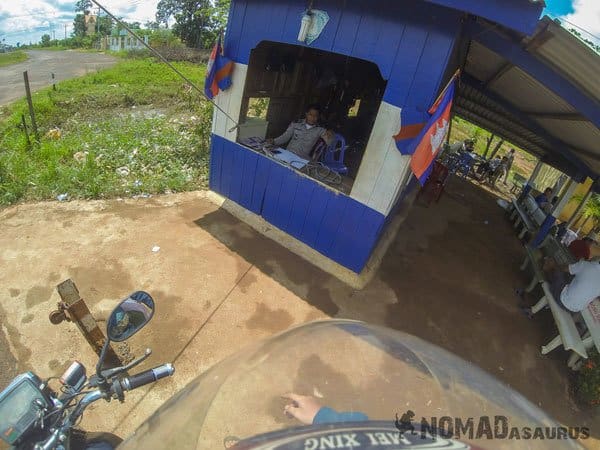 This border crossing between Cambodia and Vietnam was quick and painless. Pulling up to the Cambodian customs and immigration we parked our bikes directly in front of the office and walked up the officer. We handed over our passports and tried to speak the last bit of Khmer we would use for a while. They were pleasant and friendly, and quickly stamped us out of Cambodia. They did not want to see our motorbike registration or charge any fees.
We rode to the large Vietnam border building and parked the bikes again. We grabbed our backpacks off the back, as indicated by a guard. We went up to a little cubicle on the outside of the building and had our passports checked by a friendly Vietnamese man. We then went inside and walked up to another window. There another officer checked our passports for the visa again and stamped us into Vietnam. Next was an x-ray machine where our bags were scanned, although I think this was more of a formality than a serious check. When we were given the all clear, we grabbed our bags and went back outside to our bikes. We loaded our backpacks on and drove on into Vietnam. There were no more checkpoints.
HELLO VIETNAM…Again!