From hiking to eating the best seafood in Ireland, here are the best things to do in Howth!
When we were driving around the country in our epic Ireland road trip we kept hearing about how amazing the little fishing village of Howth was, so we knew we had to check it out.
Located only a 20-minute drive east of Dublin, Howth is a great getaway for anyone who wants to get out of the busy city and enjoy true Irish hospitality.
It might be hard to imagine, but Howth is actually one of the most popular tourist attractions in all of Ireland, right up there with the Guinness factory (skip the line with that tour)!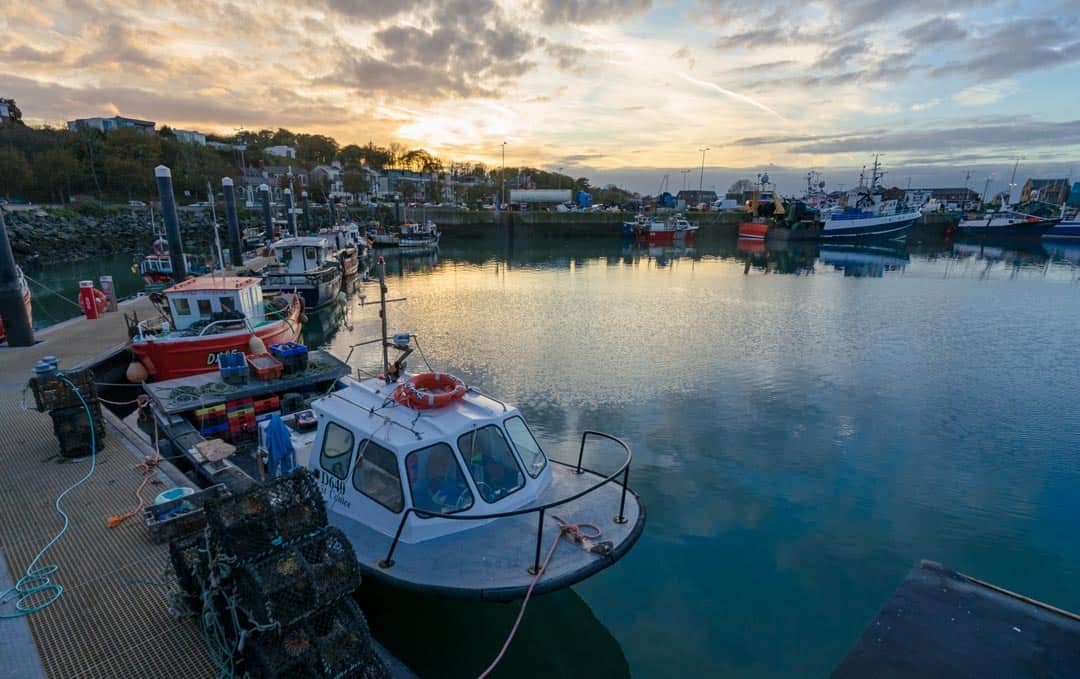 That being said most people only visit the town on a day trip, so if you're willing to spend a few nights out there you'll get to experience the true atmosphere of this gorgeous little town.
Things to Do in Howth
One thing that really surprised us when we visited was that many of the best things to do in Howth actually involve being out in nature, which suited us perfectly.
If you want to go for a hike, watch the seals play, visit the outlying islands or simply drink beer with the locals, you'll find yourself thoroughly enjoying all the excellent things to do in Howth.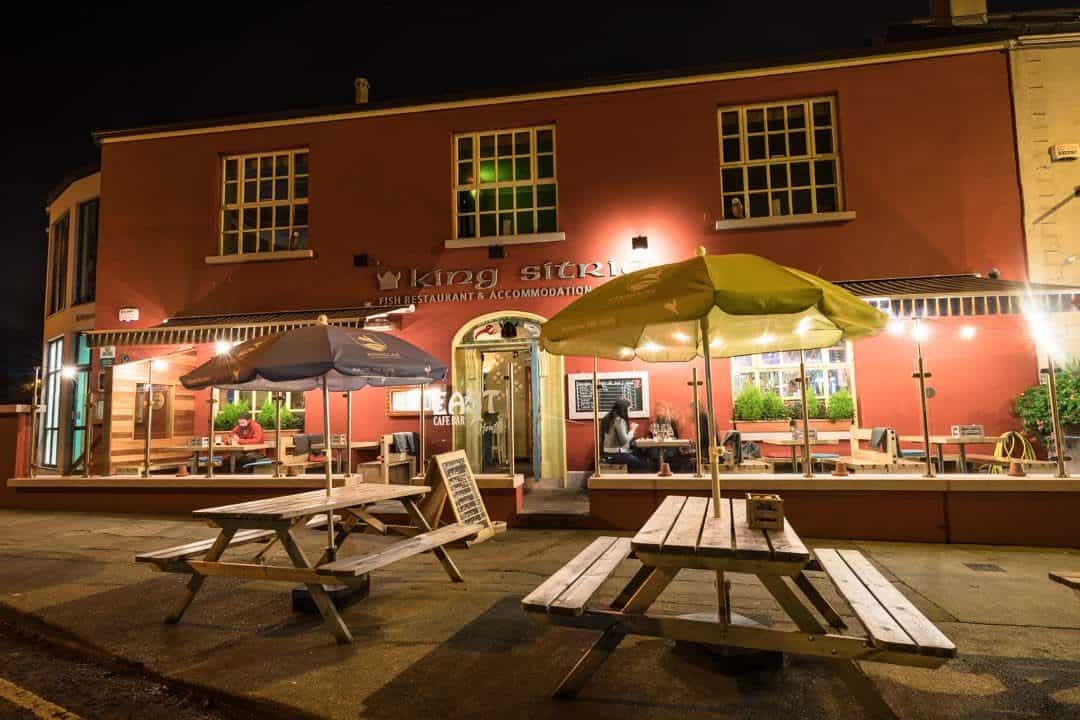 Go For a Hike
Hiking is actually one of the best activities in Howth, and on a sunny day you'll be rewarded with fresh air and beautiful views everywhere you look.
There's quite a few good options for hiking in Howth, and these are some of the best trails you can enjoy.
Embark on a new hiking adventure as you explore Howth's coastal paths with an experienced guide!
Howth Cliff Walk Loop
This famous Howth cliff walk follows the cliff tops and circles the peninsula. The well marked walking trail is about 6 kilometres long with easy terrain and no extreme steep areas or dangerous paths.
This walk may take you 90 minutes or 2 and a half hours, depending how many times you stop for photos. You will have a gorgeous view of the rugged coastline and can spot lots of sea birds, and sometimes even some grey seals.
It can get busy on the weekends so if you can be there during the week you may not see another person on the trail. The trail starts from Howth Train Station and is marked my green arrows on a white background.
There are restaurants in the middle and at the end of the the trail. The views of Lambay Island and Ireland's Eye will amaze you.
Bog of Frogs Loop
This 12km hike is not an easy one but with all the amazing views it offers it is definitely worth it.
This is a circle route starting from the Howth Train Station and returning to downtown. The purple arrows on a white background, mark the direction of the trails.
You will follow the path along the cliffs passing the Baily Lighthouse around to the Red Rock. From here you leave the coast and head up into the hillside and down the other side to town.
You can spot many different wildlife and marine life on this hike. Don't forget to bring your sunscreen and lots of water as the hike could take up to 3.5 hours. Make sure you have good footwear and are in reasonable shape.
The Visit Dublin website has great directions.
Howth Summit
The Howth Summit is absolutely magnificent, and offers insane panoramic views over the whole area. This trail starts from the Howth Train Station, with the goal to start climbing the hill.
The path can get rocky so be prepared with good walking shoes. Also be prepared for rapid weather changes. The summit can be fogged out, and if it is raining, definitely avoid this hike.
If you don't want to hike you can access the summit by car or by the number 31B bus.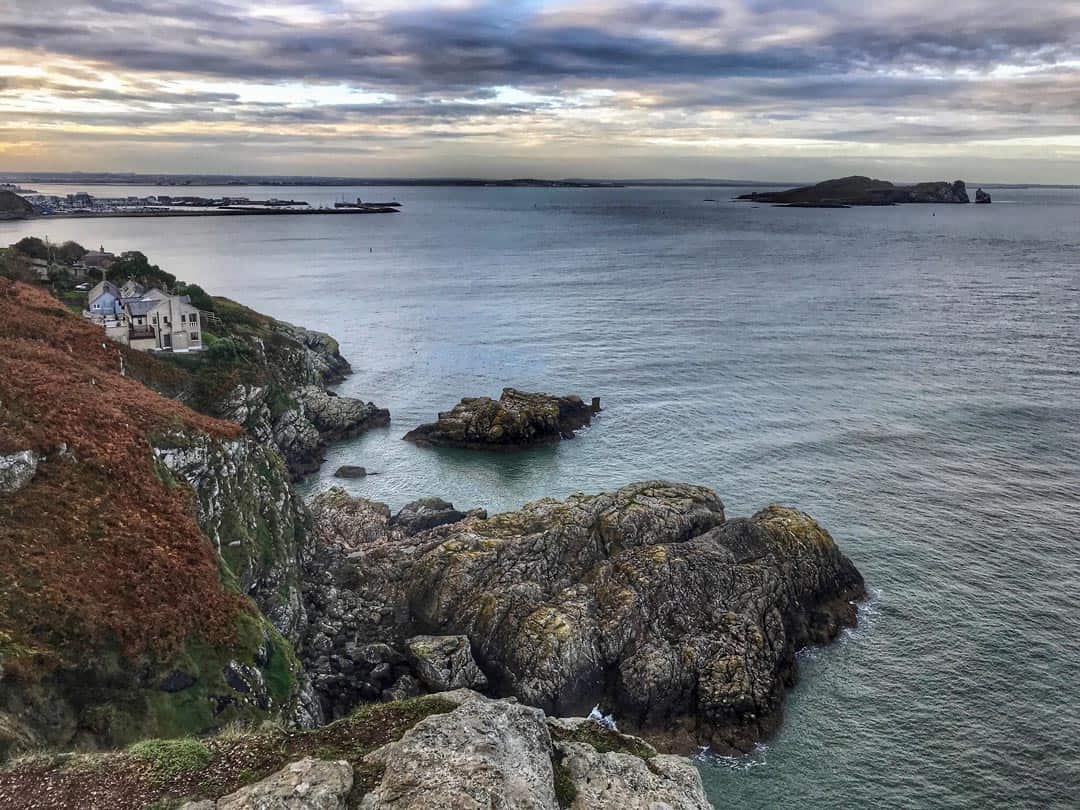 See an Amazing Lighthouse
There are two lighthouses in the area; Baily Lighthouse and Howth Lighthouse.
The Baily Lighthouse is located on Howth Head at the entrance to Dublin's Port. The cottage-style, 13-metre tall lighthouse sits out on the cliffs with a stunning view over the Irish Sea.
The lighthouse's light shines about 50 metres out to the ocean, and has been automated since 1996, but the residence is still lived in. The grounds are not open to public but you can still view the lighthouse from many places.
The Howth Lighthouse was built in 1817 and is located downtown along the harbour wall. The charming little lighthouse is a short walk from the King Sitric Restaurant and Accommodation.
You can watch the local fisherman set up their fishing lines or watch the fishing boats from a distance. It is a great spot to sit and look back at the town and take it in (and watch the seals playing).
Get Out On a Boat and Explore Ireland's Eye
You don't have to travel far from Dublin to see some of Ireland's true natural beauty, and it can all start with a short boat ride from Howth's harbour.
Take a leisurely trip out to sea and admire all the different birds from the boat, spot some seals and see the Martello Tower. Or you can get another boat out to the islands and explore them by foot.
Climb to the top of the hill and gaze out over the stunning views, or chill on the beautiful sandy beach. You can even visit a monastery that is dated back to 700 AD.
Prices range from €10 to €15 and run daily from the west pier. It is a great day out, so make the most of that refreshing sea breeze.
Taking the boat out to take in the beautiful sea views is part of Howth sightseeing experience!
If you loved Howth, prolong your stay in Ireland! Here's our full Ireland itinerary!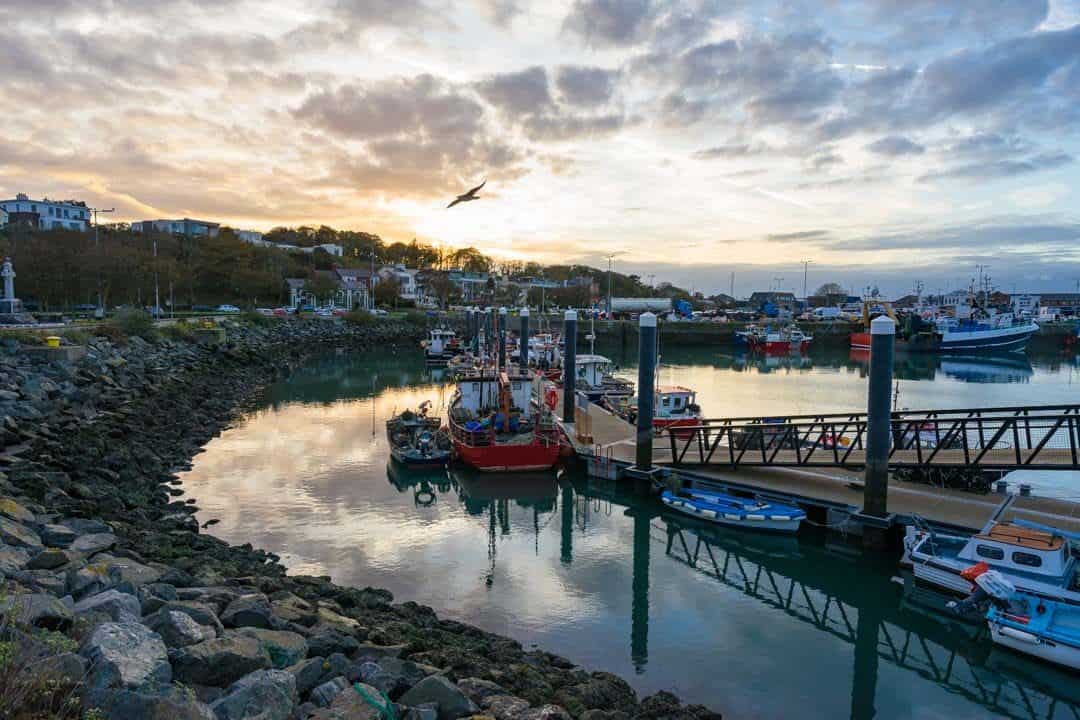 Hang Out in Howth Village
With the traditional, quaint main street, the village of Howth is filled with many places to stop in for shopping or something to eat. Despite the tourism, this is still a traditional fishing town and the harbour is packed with boats.
Grab a Guinness and watch the boats come in and out of port. We had an amazing seafood meal at King Sitric's Restaurant, and their fresh Guinness went down very, very well.
There are many places to visit in Howth and no trip would be complete without making the most of the town itself.
Bonus Things to Do in Howth
Besides the main things to do in Howth listed above, there are some other great attractions that you can fill your days with.
Howth Market – Offering fresh fish, organic meats and vegetables, homemade jams, cakes and breads.
Location: Based close to the harbour and DART train station.
Opening hours: Saturday – Sunday and bank holidays, from 10 AM – 6 PM
Howth Castle – It lies close to the town of Howth along the road to the golf course. It takes about 10 minutes to walk up there from Howth Train Station, and has great views from the top.
The castle is about 840 years old and remains a family home so during the week the castle is closed. It is one of the oldest castles that is still inhabited by the historical family.
It is only open for guided tours in the summer on Sundays from June to August, and both Saturday and Sundays in July. Tours start at 1;45pm and 3:30pm.
There is a castle café if you want to stop for a coffee and a treat. The cafe is open on Thursdays to Sundays from 10am to 5pm. You can even book a cooking class here.
Location: Howth Road, just outside the town of Howth
Opening hours: Saturday – Sunday from 12 PM – 4 PM
St Mary's Abbey – The St Mary's Abbey can be spotted from the harbour. Take a 30 minute walk up the hillside and enjoy not only the great views, but also wander through the abbey grounds.
Unfortunately, the abbey itself is closed, but you can explore the well-cared for yard and admire the tombstones. It is still used as a graveyard today. The ruin church is picturesque and a real part of Howth's history.
Address: 30 Abbey St
Opening hours: every day from 8 AM – 4 PM
Ye Olde Hurdy Gurdy Museum of Vintage Radio – This museum covers telecommunications from the beginning with the history of radios and the large collection of vintage radios. Open from 11am to 4pm.
Address: Martello Tower
Opening hours: every day from 11 AM – 4 PM
National Transport Museum – A collection of old buses, trucks, cars and even has an old tram. Located near Howth Castle.
Address: Heritage Depot, Howth Demesne
Opening hours: Saturday – Sunday and bank holidays, from 2 PM – 5 PM
If you wish to see best things to see in Howth in less than 3 hours, book a tour with Get Your Guide.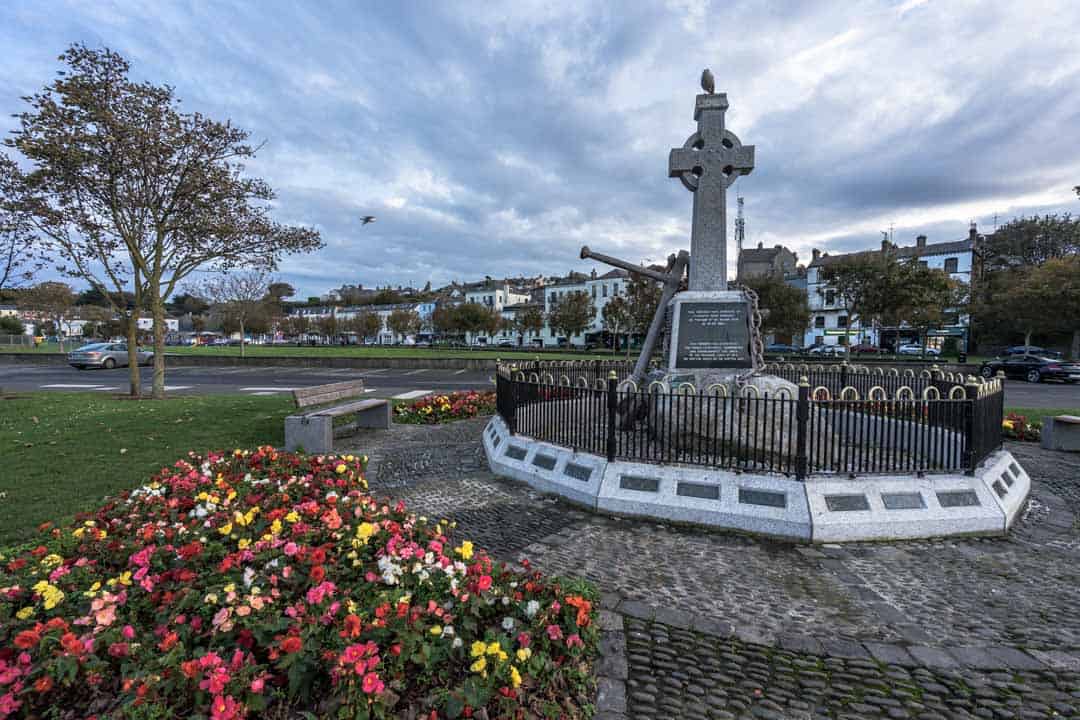 Howth Travel Guide
Howth is a wonderful town perfect for a quick getaway if you're craving for a dose of nature, good food and welcoming locals. To make your planning easier, here are our recommendation on where to stay in Howth and how to get around.
Where to Stay in Howth
Even though Howth is one of the most popular spots in the entire country, there is surprisingly only one registered hotel in the entire town. Luckily for visitors, it's incredible!
King Sitric, which is a member of the esteemed accommodation collective Ireland's Blue Book, is an absolute gem. And even though they have almost no competition, that hasn't stopped the managers and staff from developing it into one of the best boutique hotels in Ireland.
From the moment we checked in we knew it would be a place we fall in love with. The hotel is full of character, with only 6 rooms, colourful decorations, ocean views, comfortable beds and high-end amenities in a quaint setting.
Even though we could have hung out in the room all evening, we decided to head downstairs and sample some of the incredible seafood in the King Sitric Restaurant.
With so many good options we decided to let Declan, the manager, pick the freshest meals for us, and we were rewarded with an enormous platter of the best Irish-style fish and chips we could have ever hoped for…All downed with delicious Guinness (of course).
In the morning we enjoyed a made-to-order breakfast of eggs, muesli, fresh orange juice and great coffee. Simply divine.
For a place that essentially has a monopoly on accommodation in Howth, we were amazed to see that hasn't stopped them from ensuring the quality of their boutique hotel is on par with some of the best places we have ever stayed in.
Even if it's booked out during your visit to Howth (and chances are it might be), you should still stop by for lunch or dinner. Check out the King Sitric website for more details.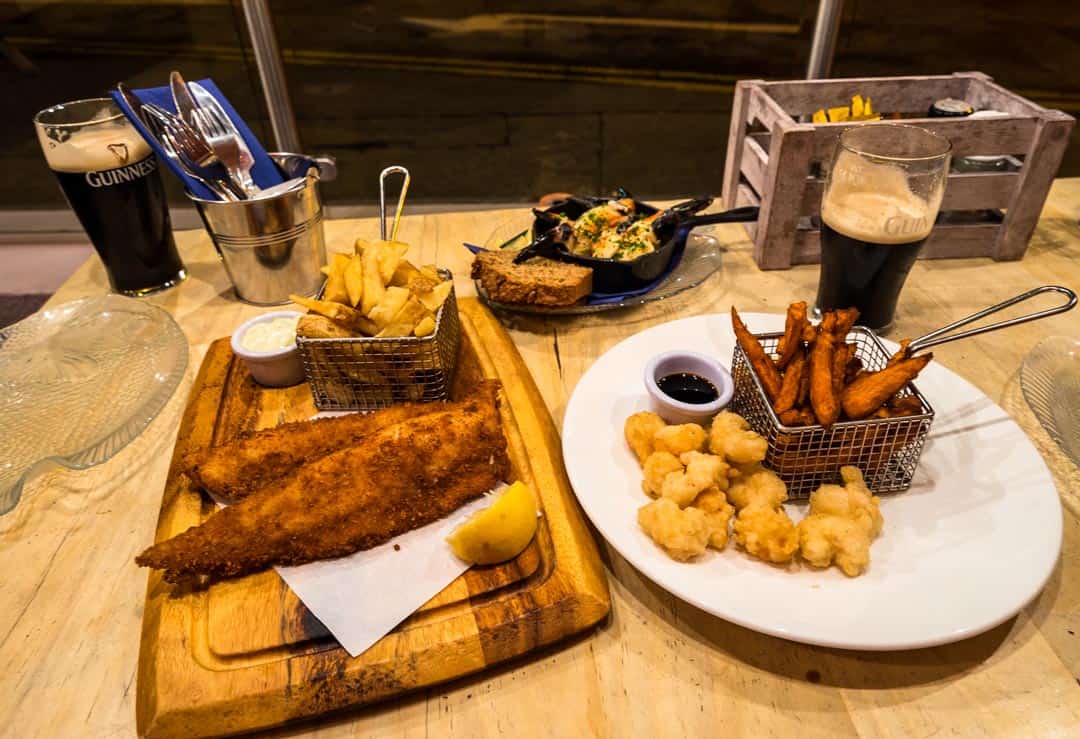 How to Get to Howth
Howth is perfectly located a short trip from Dublin and close to the airport. It makes a great stop at the beginning or end of your Ireland travels. Here's how to get to Howth.
Train
Accessing Howth from Dublin is very easy, and only requires catching a fast train from Dublin's city centre. A one-day return ticket will set you back around €4.70. The trains leave every 15 minutes and will take about 30 minutes to arrive in Howth.
Do note that there are two trains going the same direction so make sure you are on the right one. One goes to Malahide and the other to Howth, so double check the last destination is Howth.
Bus
You can get the number 31 bus that will take you right to Howth Harbour. Or you can take the 31A bus which goes through Howth Village to Howth Summit. Both buses leave from the same location, Eden Quay just off O'Connell Street.
The buses leave about every half and hour and you pay for your ticket on board. Small change is better. As for the time of the the journey, depending on what time of day you leave. Do note that there may be heavy traffic and it could take up to an hour or so.
Car
If you are coming from downtown Dublin, follow the R807 road along the coastline. This road will turn into R105 and this will lead you to downtown Howth. It is about 18km and should take about 30 minutes depending on traffic.
If you are coming from the airport, get on the M1 and head onto the R139. On the second round about it will turn into R809. When you hit a T section turn right, continuing on R809. Hitting another T section, turn left onto R105 and this road will lead you straight to Howth.
Do a Tour from Dublin
If you're more interested in staying in Dublin but getting a fully guided tour to Howth, including transport, you can book this on Get Your Guide for less than $35 a person.
That's it for our list of things to do in Howth! Make sure you spend some time in this amazing, traditional fishing village on your next trip to Ireland.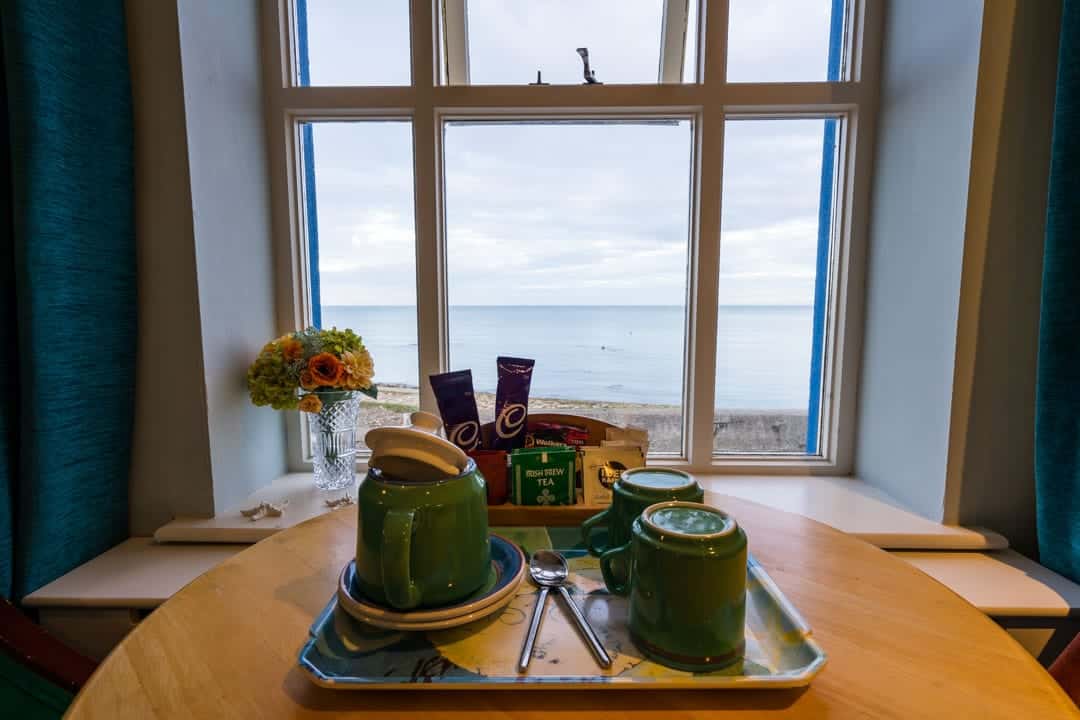 DISCLAIMER: Some of the links in this article are affiliate links, which means if you book accommodation, tours or buy a product, we will receive a small commission at no extra cost to you. These commissions help us keep creating more free travel content to help people plan their holidays and adventures. We only recommend the best accommodations, tours and products that ourselves or our fantastic editorial team have personally experienced, and regularly review these. Thanks for your support, kind friend!