Everything you need to know about hiking in Patagonia. From trekking in Torres del Paine to El Chalten and everywhere in between, this list of the best hikes in Patagonia will help you plan your big adventure!
Often and widely considered as having the most breathtaking, scenic landscapes in the world, trekking in Patagonia is every hiker's dream, whether it is for the avid day hiker to the seasoned, experienced multi-day trekker.
Patagonia is a land of dreams, ranging from the raging rivers of the Rio Moscu to the iceberg glacial lakes of Tigre Sur.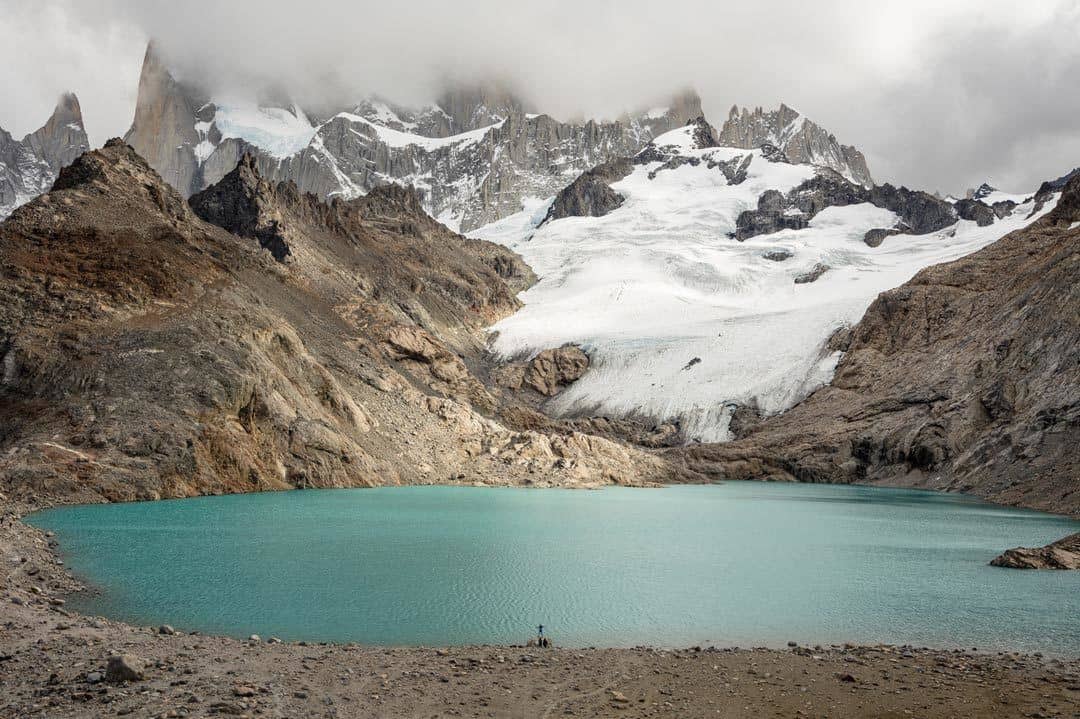 The hiking routes take you from lush meadows of wild flowers to snowy-rugged peaks at the base of the world famous Mount Fitz Roy.
Just the thought of hiking in Torres Del Paine National Park sends shivers down my spine. Ever wanted to visit one of the world's most famous granite peaks? Cerro Torre in Patagonia is your place to do so.
There are literally endless kilometres of hikes to do, but it can be very difficult to choose just one when everything looks like it's worthy of being on a postcard.
Patagonia truly is one if not the most beautiful places on earth, so where do you begin?
It's every adventurer's desire to get a taste of what trekking and hiking in Patagonia is like, so I have established a list of the best day hikes to the some of the world's most stunning multi-day treks.
READ MORE: Don't miss our guide on backpacking in Patagonia on a budget.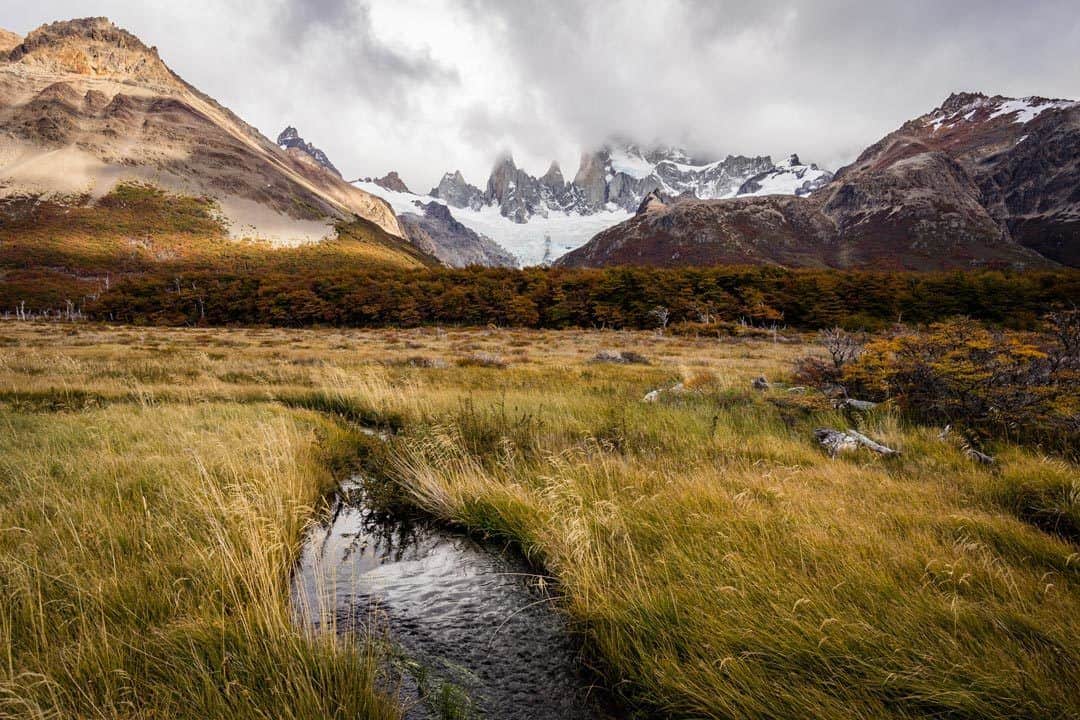 The Best Time to Go Hiking in Patagonia
Early November until late April are generally the best times to go hiking in Patagonia, however this can change from year to year due to varying amounts of snowfall.
Not a fan of the cold? Try and head there in February and March for the warmer months for some great Patagonia trekking.
Also it's necessary to know that weather in Patagonia is so varied and can change at any time, which can very quickly alter your Patagonia hiking trip. Keep that in mind when planning your adventure.
Hiking according to the seasons in Patagonia has both pros and cons no matter what time of year you decide to go, so if you were going to pick a time, aim for the end of March to mid-April, where weather seems to be slightly cooler but more stable allowing you to enjoy Patagonia in all its glory.
But the best reason for visiting Patagonia at that time of year is to see the entire region in autumn colours! Simply breathtaking.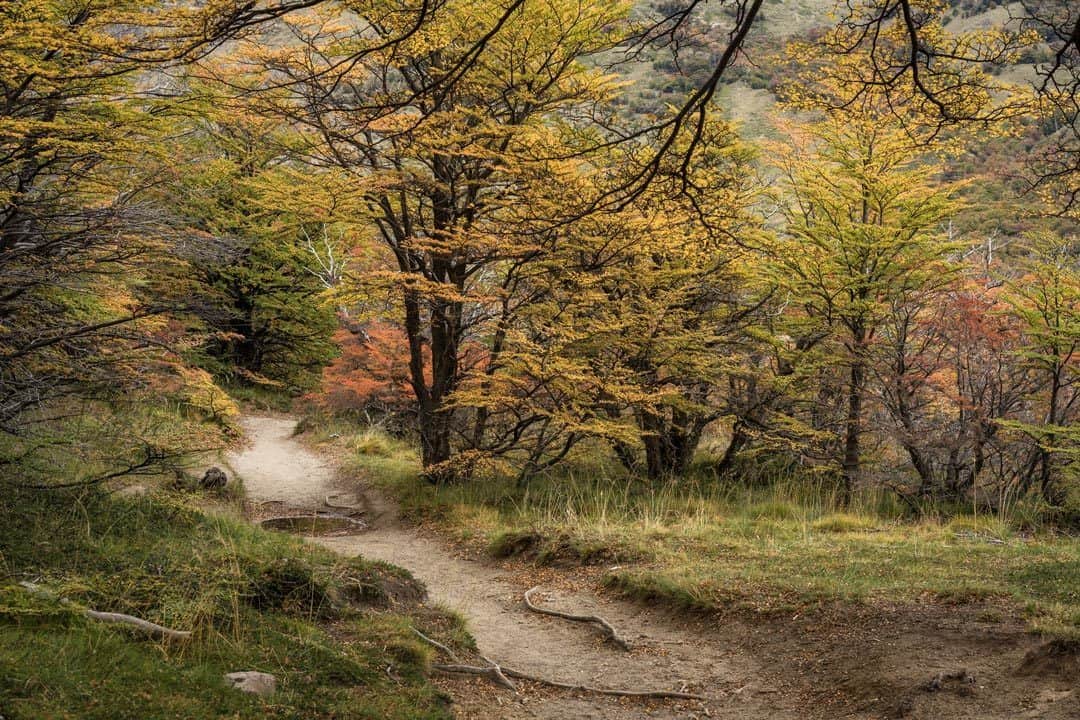 Hiking In Torres del Paine National Park
When it come to hiking in Patagonia, no trip would be complete without spending at least a few days in Torres del Paine National Park, the crown jewel of Chile.
Whether you're interested in just heading into the park for a day hike, using one of the accommodations inside the park as a base (we personally recommend EcoCamp), or carrying all of your camping gear and completing the famous O Circuit, you definitely won't be disappointed with the trekking here.
Hiking to Mirador Las Torres
Time Required: 8 to 9 hours
Distance: 18km
Difficulty: Hard
Start / Finish Points: Hotel Las Torres
Widely considered to be the most popular day hike in Torres del Paine, Mirador Las Torres is just one of the magical places you can hike to when in Torres del Paine.
Las Torres translated to English means 'The Towers', and mirador means 'Lookout', so you should have an idea of what to expect up there.
The Towers are a series of 3 jagged peaks that literally tower over a turquoise lake below, and chances are you've already seen a photo of them at least once in your life.
This particular trek is 18 kilometres of visual delights, despite it being considered as a difficult hike, and the views once you reach the top are just awesome!
Most of the trek is uphill, but don't let that put you off this classic day hike, as cascading waterfalls, forests beaming with life and boulder fields dominating the higher landscapes and just waiting for you to enjoy.
The last hour is extremely steep, so make sure you save some energy for the final slog.
If you are after a really magical experience spend the night in the park and start hiking up in the dark. If the weather cooperates you'll be rewarded with Las Torres looking as though they're on fire with the red sun lighting them up at sunrise.
Las Torres is a hiker's dream, and if you could only choose one trek in the whole of Patagonia, this would be it! Return via the same way you climbed, starting and finishing at the Hotel Las Torres.
Prefer to hike with a guide? Book your Mirador Las Torres tour here with Get Your Guide.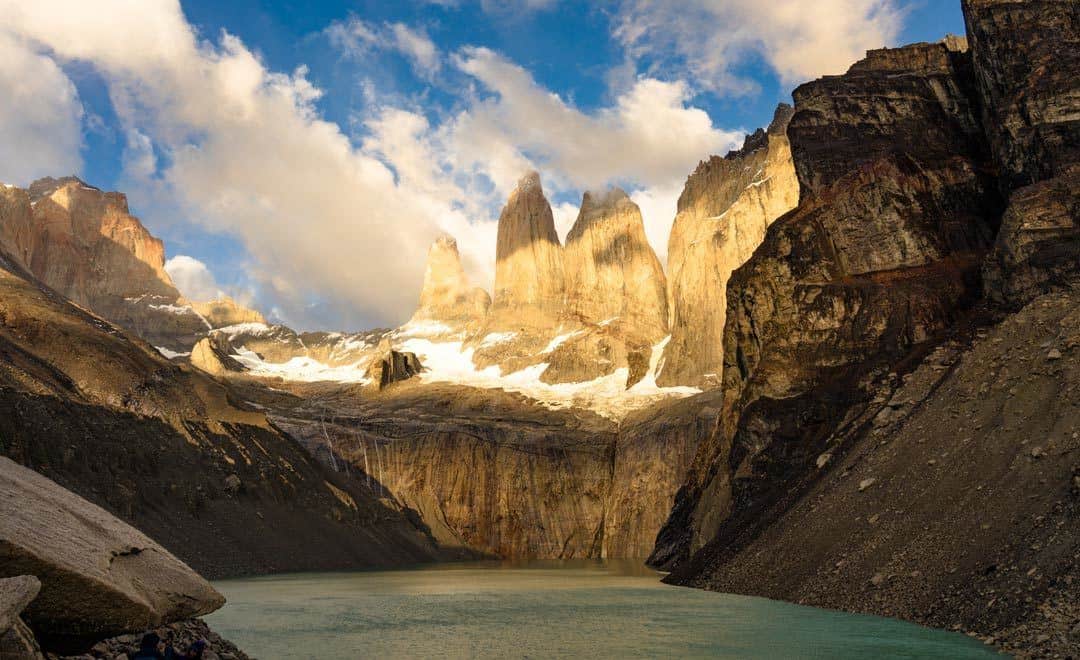 Lago Grey (Grey Glacier)
Time Required: 3 to 4 hours
Distance: 11 kilometres
Difficulty: Easy to moderate
Start / Finish Points: Mountain Lodge Paine Grande to Refugio Grey
As you might know there are quite a few glaciers in Patagonia (you can even visit some on an amazing glacier cruise in the Chilean fjords), but this one takes the cake as the best of the best.
Along the famous "W" Trek, towards the western part of the hike, is a long section that follows the Lago Grey lake, which is gradually fed by a huge glacier known as Glaciar Grey.
Here you can expect to see pale blue icebergs floating around in the Lago Grey, as parts of Glaciar Grey collapse into the lake below and it's a spectacular sight to see!
From Refugio Grey to Mountain Lodge Paine Grande is a 3 to 4 hour hike spanning over 11 kilometres, with little ascent or descent making it a fairly easy day out.
Expect to see vast areas of vegetation, wild flowers and the odd section of track that requires a tricky traverse but nothing too major. Keep an eye out for the majestic Cerro Torre piercing the sky.
Camping is available at Mountain Lodge Paine Grande and Refugio Grey if you want to spend the night there. Otherwise take the ferry to Paine Grande or Refugio Grey and start walking.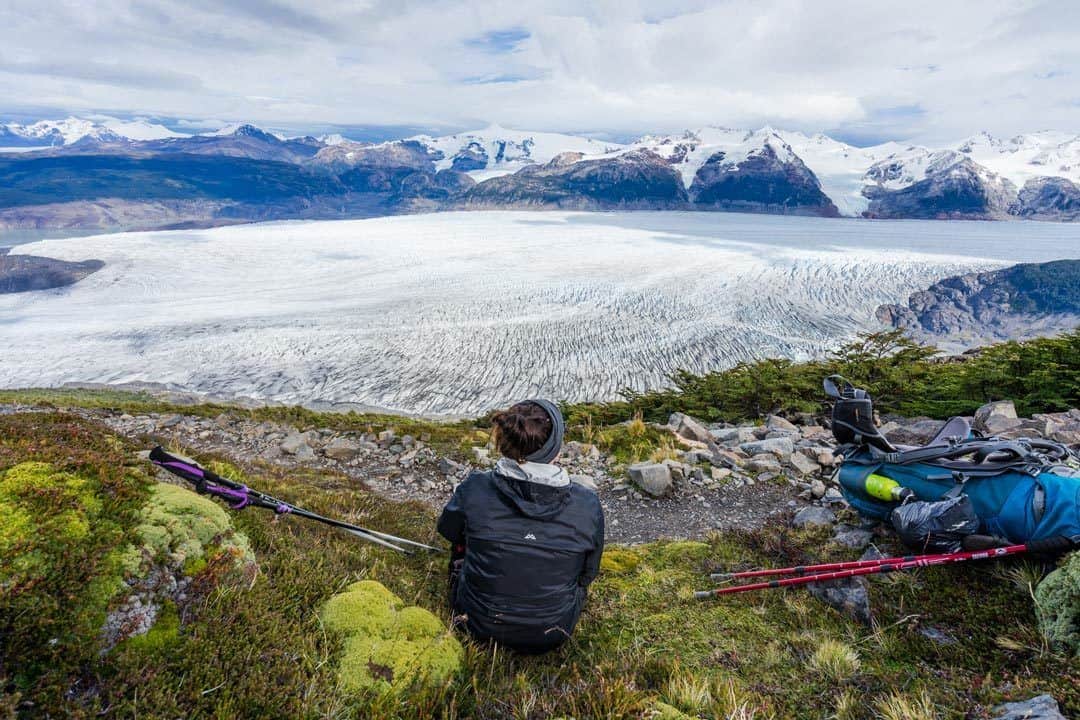 Alesha enjoying the view over Grey Glacier.
The French Valley – Valle Del Frances
Time Required: 3 to 4 hours
Distance: 12km
Difficulty: Moderate
Start / Finish Points: Refugio Los Cuernos
You always have energy in Patagonia, even when you are literally falling asleep, so don't miss this epic side trip that takes you between the Cerro Paine Grande and the Cuernos del Paine following the flowing river of the Rio Frances.
Why this hike is the one of the most spectacular side trips is because it has frozen waterfalls…how cool is that?!
READ MORE: We've just published our best hiking tips after 15 years trekking!
Also pretty dangerous though, so don't be getting your ice picks out too soon, because there are views much higher up that you can enjoy, such as the 15 minute trek past the Campamento Britanico placing you in an almost cathedral of mountains.
The Mirador right towards the end is complete with a series of tarns beaming the reflections of the surrounding mountains making it that ideal moment to getting that camera of yours out! Camping is available (minus the facilities of toilets etc). Return the same way you came.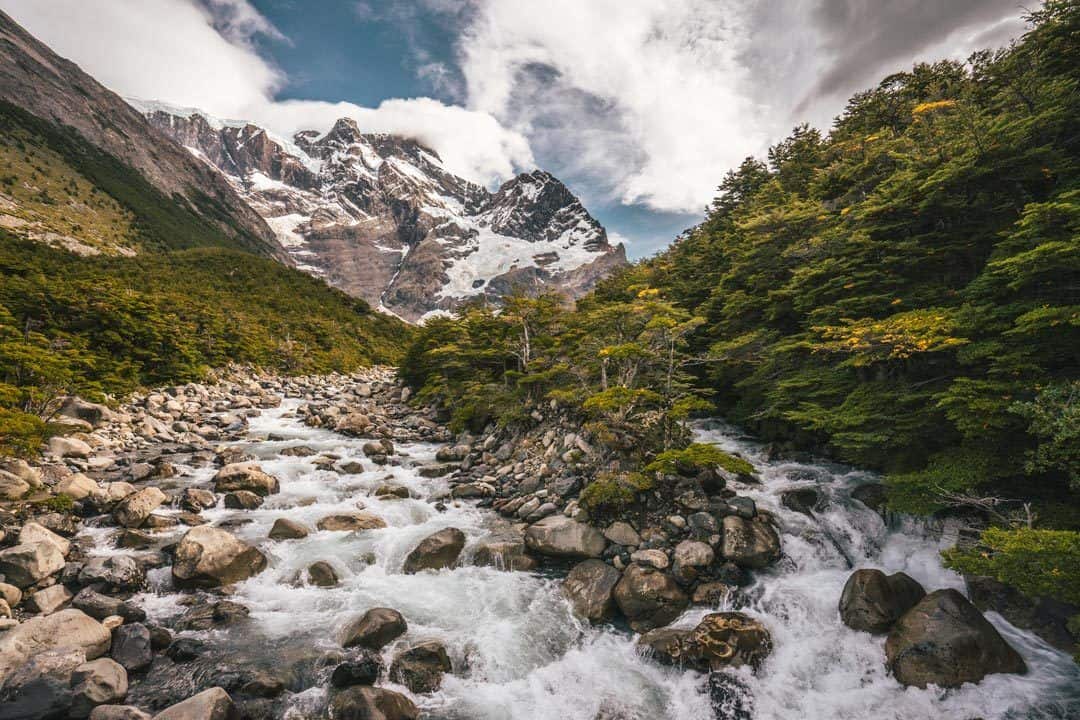 Los Cuernos Trail
Time Required: 6 hours
Distance: 22km
Difficulty: Moderate
Start / Finish Points: Hotel Las Torres to Refugio Los Cuernos
Based along the front half of the park, home to the W Trek, is a fantastic day hike weaving around a series of steep banks perched along the edges of the Lago Nordenskjold.
Los Cuernos Trail, which means 'The Horns' in English and named after the mountains you can see that are shaped like horns, is a beautiful stretch offering views of the Cuernos del Paine, which never cease to amaze, and gorgeous vistas over the lake.
If you still have bounce in your step when you finish the trail, consider a side trips up the Valle del Frances, an additional 12 kilometre stunning section of track.
Plenty of camping is available on the south side of Cuernos Del Paine if you prefer to take more time on this hike (just keep in mind it gets quite windy in these camp spots).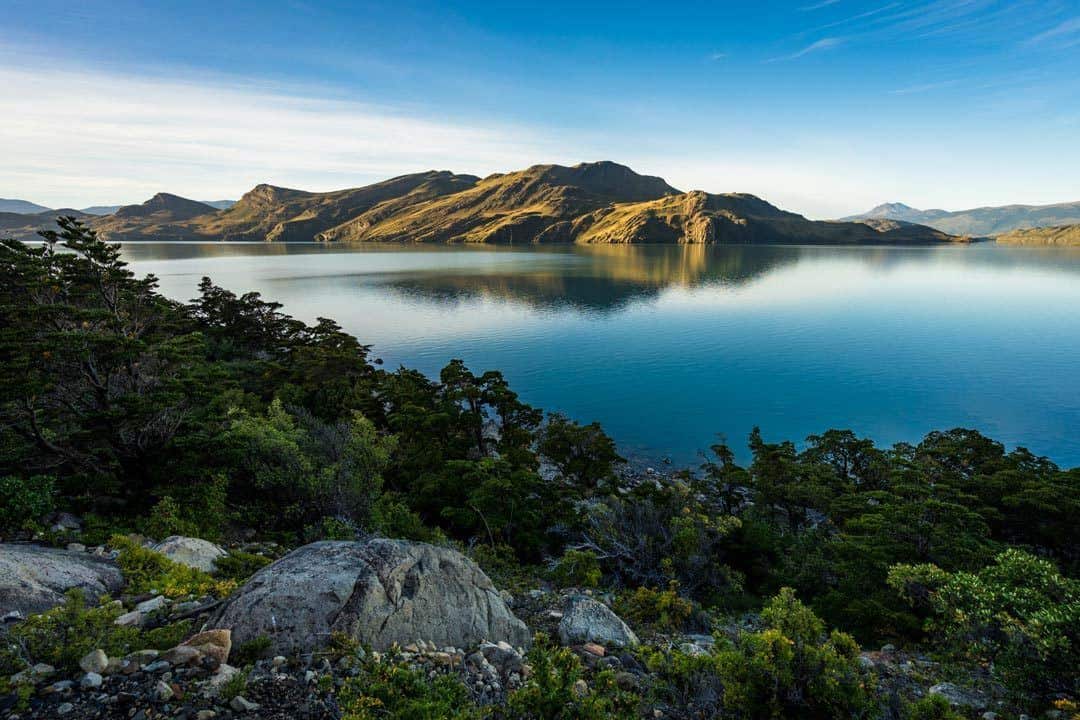 The "O" Circuit
Time Required: 6-8 days
Distance: 135km
Difficulty: Hard
Start / Finish Points – Hotel Las Torres
Defined as one of the best treks on earth, the Paine Circuit, commonly known to the hiking world as the "O" Circuit due to its shape on a map, is a must do if you have a sense of adventure.
The circuit literally has it all, from pristine forests, meadows of native wild flowers to the grand peaks of Cerro Paine and Cuernos del Paine…and let's not forget the addition of Las Torres along the eastern side of the trek.
You are best off starting at Hotel Las Torres and heading to Campamento Seron, where views of Cerro Paine (1,508 metres) dominate your surrounds along with rivers flowing off Lago Paine.
Once you connect with the track along the Rio de los Perros, mountains begin to pop-up more frequently along with glaciers, but be sure to pitch your tent at the campsite on Lago Dickinson, as views here are some of the best along the hike.
As you continue to be blown away by Grey Glacier in Torres del Paine (hopefully not by the wind), you find yourself on the trail that begins the "W" trek, which is the shorter, more popular sister of the O Circuit, which begins at Refugio Grey camping area.
Finishing the "O" circuit adds side trips along the French Valley (a must-do hike) and up to Las Torres to watch the sunrise, then heading back down to where you started.
If you want to finish on an alternative route, from Mountain Lodge Paine Grande you can hike along the Rio Grey to the Lago del Toro administration centre.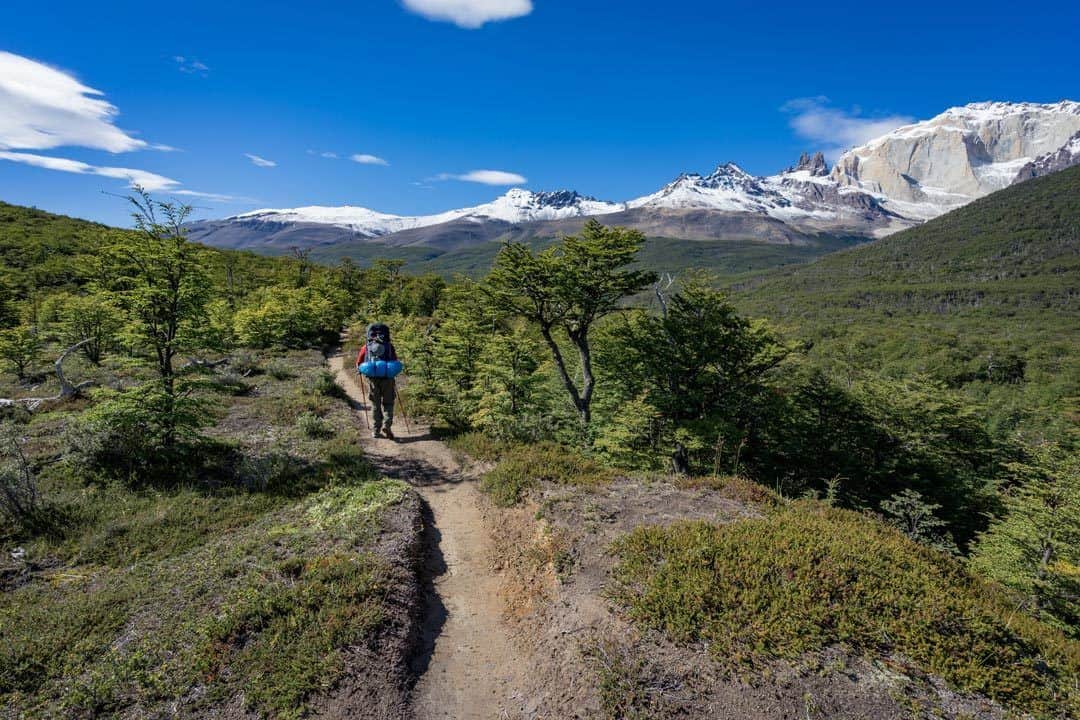 Trekking In El Chalten
While Torres del Paine is the most popular place to go hiking in Patagonia, the truth is El Chalten is the place that will steal most people's hearts.
Across the border in Argentina, further north of Perito Moreno and its amazing glacier, is a tiny village called El Chalten that sits in the middle of Los Glaciares National Park.
What makes El Chalten so epic is that not only is entrance to the national park free (yes!!!), all of the hikes start from right in the middle of the village.
So once you've finished ticking off the quintessential Torres del Paine treks, head off to tackle some of the best hikes in El Chalten!
Short Hike to Condor Lookout
Time Required: 1 hour
Distance: 2km
Difficulty: Easy
Start / Finish Points: El Chaten
Based out of El Chaten is one of the shortest hikes in Patagonia, which mostly consists of a gradual ascent to views from Las Aguilas.
Just because it's short doesn't mean it's not worth doing. The views are quite unexpected, as Viedma Lake appears with a backdrop of stunning, ever-covered mountains of snow.
This is a great hike to do for sunrise in case you don't feel like camping out in the middle of the park. Return the same way you came.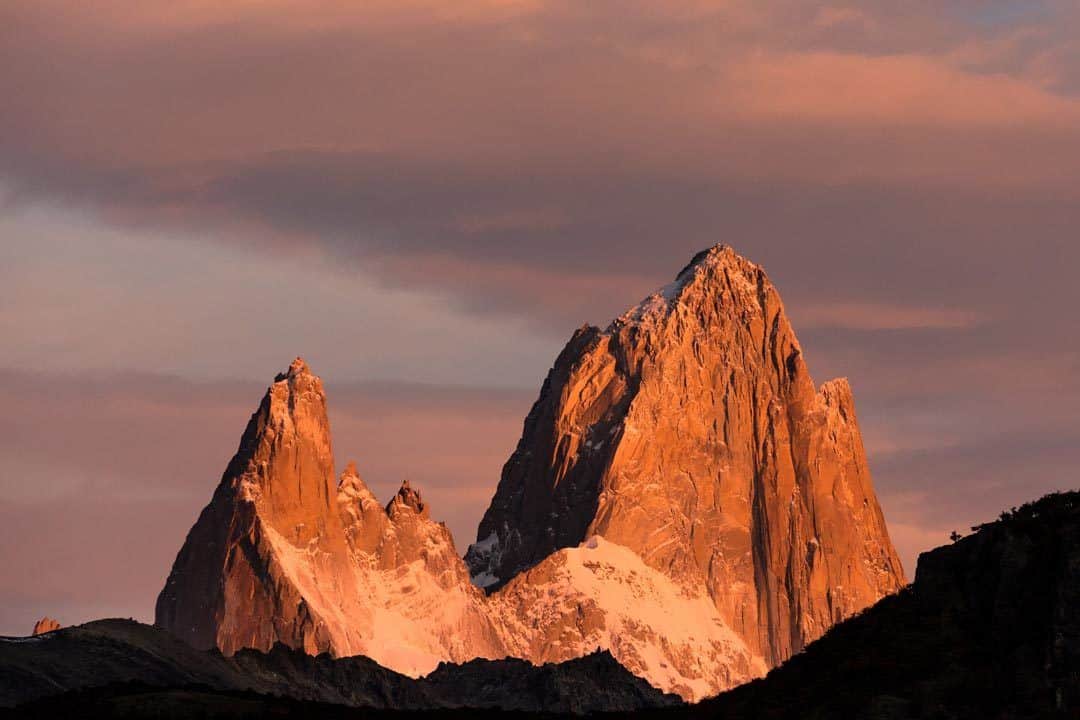 Day Hike To The Base Of Mount Fitz Roy – Laguna De Los Tres
Time Required: 8 hours
Distance: 26km
Difficulty: Moderate to hard
Start / Finish Points: Northwest end of El Chalten
This hike will be the one that takes you as close as you can get to the foothill of Mt Fitz Roy, and one of the best hikes in El Chalten.
It's best off to start early to enjoy the morning alpine glow on the peaks above, but that could be said of most treks in Patagonia.
The trail is pretty mellow to begin with, and there are a few narrow sections through forests which are lovely. Then the hard part comes.
Zig-zagging up and up for the last hour, you will finally reach Laguna de los Tres, with the most epic views of Mt Fitz Roy soaring above you!
Depending how skilled you are in the mountains, there is a climb that proceeds up the peak of Cerro Madsen (1,806 metres) for even better views of Fitz Roy.
Return the same way you came to head back to El Chalten, unless you are deciding to camp at Campamento Poincenot.
Prefer to have a guide? Book your Mount Fitz Roy tour here with Get Your Guide.
Day Hike To Cerro Torre
Time Required: 2 days (can be done as a day hike)
Distance: 19km
Difficulty: Easy
Start / Finish Points: El Chalten
A perfect opportunity to get up close and personal with Cerro Torre, reaching into the sky at 3102 metres, can be done as a day hike, but I think it's pretty cool to take refuge at Campamento de Agostini at the base of Laguna Torre.
This 2-day trek is a culmination of lush meadows, rugged ever-changing glaciers and stunning views of Cerro Torre and its surround snowcapped peaks.
As a side trip, opt for the Mirador Maestri lookout which will add an additional 5 kilometres to your adventure. At Mirador Maestri be prepared for uninterrupted views of Cerro Torre in all its glory!
On return, head back the same way you came with views looking down the Rio Fitz Roy (a glaciated river from Glaciar Torre).
Prefer to have a guide? Book your Cerro Torre tour here with Get Your Guide.
The Huemul Circuit
Days Required: 4 days
Distance: 63km
Difficulty: Very difficult
Start / Finish Points: El Chalten
This one is up there as one of the most difficult treks in Patagonia, so be prepared to be fully tested in this stunning lesser-known area of El Chalten.
This Patagonian trek, while demanding in nature, takes you into areas where Cerro Solo can be seen almost standing alone, hence the name 'solo'.
Mount Huemul is also just as impressive as the contrast between the forest floor, fields of green pastures and rocky spires mix to create stunning views.
The Huemul track puts you to the test with a river crossing almost chest deep as you navigate the Rio Tunel with majestic mountain backdrops.
It only gets harder from here as the Southern Patagonian Ice Field nears, with a climb to Paso del Viento, which is sure to get your blood pumping.
But that's not all, with a demanding climb to Passo Huemul presenting the clash of Lago Videma (lake) and the walls of the Videma Glaciar.
Views here are gobsmackingly awesome! Take your time to breathe in the fresh air before descending back the way you came.
The Huemul Circuit is considered as a very difficult trek, so its best off to hire a local guide who can help you navigate the rivers and provide insights into one of Patagonia's most magical areas if you aren't experienced.
Either way you'll need a harness and know how to use it, so all hikers on the Huemul Circuit must check in at the information centre before departure to prove they know what they're doing.
The Best Hikes in Ushuaia
Located at the bottom of Argentina and known as being 'the end of the world', Ushuaia is a place that often draws visitors looking to hang out at the bottom of South America. (Click here to read about our experience there.)
It also is a departure point for many people heading off on an expedition to Antarctica.
For those of us that love the outdoors, Ushuaia offers so much more though, and it's worth spending a few days here to get in some good treks. These are some of the favourite hikes in Ushuaia!
Laguna Esmeralda
Time Required: 3 to 4 hours
Distance: 9km
Difficulty: Easy
Start / Finish Points: Refugio Valle Los Lobos
Patagonia isn't all about multi-day treks, as sometimes the shorter it is the sweeter it tastes. Laguna Esmeralda is an easy 9 kilometre hike to the base of a glacier known as Glaciar Del Albino.
If you prefer to spend extra time taking in the stunning views, a refugios 'campsite' is available near the lake towards the end of the hike allowing you to absorb your surrounds.
At the top, be rewarded with mesmerising views of the Esmeralda Valley down below.
Although this day hike is short, there is an opportunity to put on your crampons and go for a walk along Glaciar del Albino.
The walk on Glaciar del Albino does require advanced hiking skills and that extra bounce in your step, so add up to 4 hours on to your day.
If you're not fully prepared for it and know what you are doing, don't go past the 50 metre marker unless your name is Jimmy Chin.
Glaciar Vinciguerra
Days Required: 5 to 6 hours
Distance: 13km
Difficulty: Moderate
Start / Finish Points: Tubera Valle Andorra
This moderately difficult Patagonian trek takes you to a series of glacial lakes with a few steep ascents, making this hike a worthy challenge for avid single day trekkers.
After a series of gradual/steep ascents, Laguna Encatada is finally reached, which is surrounded by lush meadows of grass with reflections of rugged peaks glimmering off its surface.
Hiking to Laguna Encatada provides a unique opportunity to climb the steady peak of Cerro Esfinge, rising to 1275 metres. At the top, the views are breathtaking!
When I think of this hike, I see rugged peaks, flowing hills of dark green grass blowing in the wind with cascading streams of water, and that's exactly what it is!
The Glaciar Vinciguerra hike sees glaciers precariously wedged between the mountains you are hiking around, as glacial melt trickles past fields of wild flowers.
The water from the glaciers ends up accumulating in glacial lakes where the odd chunk of ice sits bobbing in the freezing waters.
Return the same way you came.
Sierra Valdivieso Circuit
Time Required: 4 Days
Distance: 48.5km
Difficulty: Demanding
Start / Finish Points: Ruta Nacional 3 or Posada del Peregrine
Deep within the heart of the Fuegian Andes lays one of the more challenging treks in Argentina, but one that you definitely need to consider as a must do hike in Patagonia.
Trekking in the Patagonian Andes wouldn't be complete with just lush-rugged forests; allow some icy peaks extending from the area's many glaciers and crystal clear lakes (probably not ideal for swimming) to encompass your surrounds.
This particular trek is a lot quieter than some like the "O" Circuit, as tracks remain barely trodden, so a good sense of direction is always appreciated before attempting this 4 day, 48.5 kilometre trek.
Due to unstable weather conditions in this part of Argentina, it's always appropriate to take more supplies than you think you will need.
Sierra Valdivieso is a culmination of muddy paths with contrasting streams of blue glimmering glacial water and is something that will acquire your sense of adventure.
This hike in the Fuegian Andes is a classic mix of snow, ice and scree which can be difficult in parts, but once you ascend to the high passes it all makes getting dirty worth it!
Prefer to have a guide? Book your Ushuaia hiking tour with Get Your Guide.
The Best Hikes Along The Carretera Austral
One of the least-visited parts of Patagonia is the long, narrow strip of coastline that makes up the bottom part of Chile.
While most people will make it to Torres del Paine and Puerto Natales, few cross back into the country and continue along the epic highway known as the Carretera Austral.
Public transport is just about non-existent along this long, rugged road, which leaves people to either hitchhike or self-drive between the towns.
When winter comes the place all but shuts down, so that leaves a big part of Chile that not many people see. But that doesn't mean you shouldn't check it out!
The Carretera Austral has some insane landscapes and gorgeous mountains and lakes. The coastline is as dramatic as you could imagine, and that all ads up for some amazing hiking!
Laguna Tigre Sur
Time Required: 4 hours to 2 days (depending on side trips)
Distance: 8km
Difficulty: Moderate
Start / Finish Points: Villa O'Higgins
Patagonia is known for its spectacular glacial landscapes and what better opportunity than to view them by hiking the Laguna Tigre Sur, a moderately difficult hike into some of the most densely populated region of glaciers.
This particular hike is best undertaken with the expertise of a local guide due to it being slightly confusing in regards to finding the correct track to take.
But don't let that put you off visiting this glaciated area, as Laguna Tigre Sur offers a look into the wilder side of Patagonia, with the odd tricky ridge walk leading you to nearly undiscovered views, glaciers and mountain peaks.
High above the Glaciar Tigre is the Cordon Nevado where chilling winds and extreme temperatures can make things difficult so come prepared for the cold.
There are two side trips to choose from or you can do both with camping spots available. The first side trip leads to the base of the larger Glaciar Tigre Sur where wild flowers thrive in small pockets.
There are a few sections which require the use of your hands to navigate smaller gaps in the larger boulders. At the end of the trail its icebergs galore! Allow 2 hours for this side trip.
The 2nd side trip continues onto the smaller glacier known as Glaciar Tigre, taking you past large gorges, pristine streams and colourful meadows. Allow 3 hours for this side trip and return the same way you came.
Valle Rio Moscu
Time Required: 2 days
Distance: 13km
Difficulty: Easy
Start / Finish Points: Villa O'Higgins
Similar to what Laguna Tigre Sur provides in terms of glacial views, Valle Rio Moscu is an easy walk generally hiked in 2 days in order to explore a heavily glaciated valley towered by Patagonia's famous jagged mountain tops.
Hiking at Valle Rio Moscu has a few tricky components such as small stream crossings, best to be taken when the river is low (check with local guides when this is).
The Rio Moscu is a fast-flowing river fed by smaller streams originating from the Cordon de Villa O'Higgins range, while glacial melt from the Ventisquero Rio Moscu contributes an overwhelming amount of water to the raging river.
Ideally it's best to spend 2 days in the valley as you can explore a spectacular frozen world sitting high in the mountains above.
Camping is available at Refugio Rio Moscu, approximately halfway along the Rio Moscu.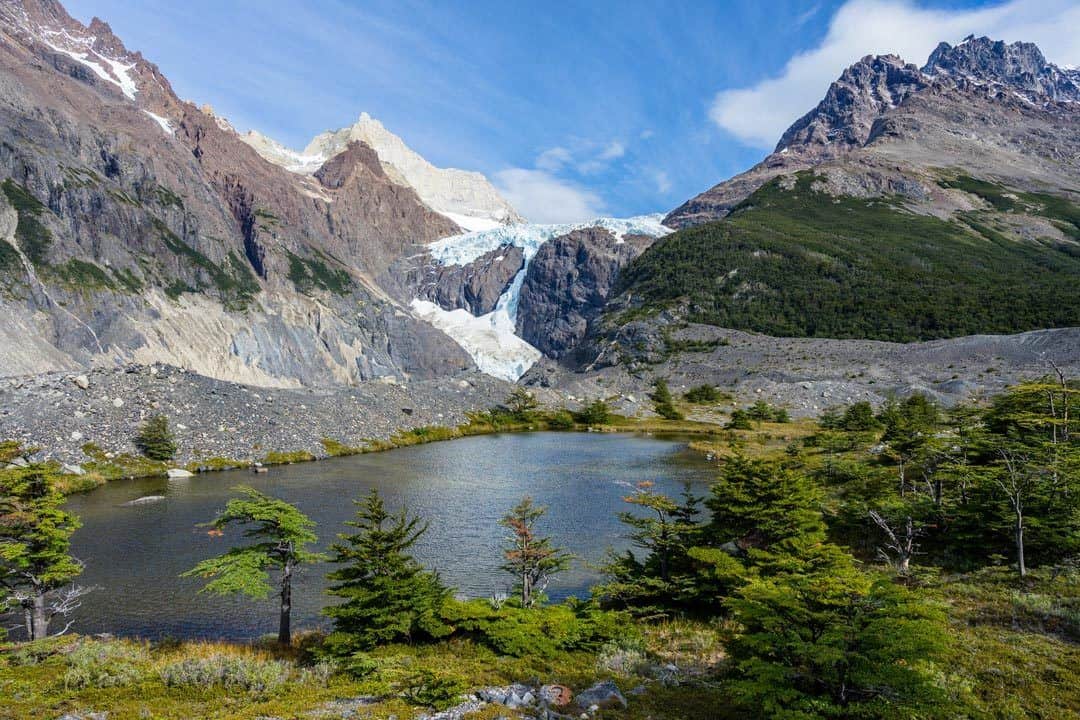 Cerro Castillo
Days Required: 4 days
Distance: 62km
Difficulty: Moderate to demanding
Start / Finish Points: Las Horquetas Grandes to Villa Cerro Castillo
This 4-day trek will take you through majestic alpine landscapes guaranteed to lead you to plummeting waterfalls, isolated glaciers tucked away into the mountainous backdrops which you will find yourself immersed.
Cerro Castillo is a culmination of everything you think Patagonia is, all jam packed into this one epic Patagonian trek.
It will put you to the test with river crossings in freezing glacial waters, and parts of it needing spot-on navigational skills. Although tracks are well-trodden, they can be impeded by Patagonia's wild untamed weather.
The whole hike consists of weaving in and out of a valley where mountains range from 1500 metres to a massive 2,675 metres of Cerro Castillo.
Camping is available the whole way along the trek, allowing you to take your time on one of Patagonia's lesser known hikes which is increasing in popularity.
To gain a different perspective of Cerro Castillo, opt for the side trip into Upper Valle Parada, adding an additional 3 kilometres to your trek, where small lakes such as Laguna Duff remain hidden gems and well worth the extra few hours' efforts.
The hike finishes at Villa Cerro Castillo, which can be taken by following either the Rio Ibanez or the adjacent path at Morro Rojo peak.
Pumalin Park – Cascadas Waterfalls Hike (Escondidas)
Days Required: 1 to 2 hours
Distance: 3.5km
Difficulty: Easy
Start / Finish Points: Caleta Gonzalo
Pumalin Park is one of the world's most remarkable nature reserves, not just because it is absolutely stunning, but because it would have been wiped off the planet if it wasn't for a one awesome human being.
Doug Tompkins, the founder of the adventure gear company North Face, bought 400'000 hectares of land that was under threat from logging companies and turned it into a privately-owned by public-accessed park.
He later donated it to the Chilean government under the condition it would continue to be protected. The government agreed, adding more land to it, and today it is South America's largest national park.
Pumalin Park can be kayaked if you prefer water, as 4 to 10-day kayak trips are available in this stunning part of the world.
However this article is all about hiking in Patagonia, so your best bet is to go for either those shorter hikes taking up to 30 minutes to the more demanding 8-hour plus hikes.
Cascadas is the one to go for as it showcases (as the name suggests) 'cascading' waterfalls. You will have to navigate through dense forests and wobbly wooden bridges and ladders before you reach the prize at the end of the trail, being the majestic Cascadas Bajas waterfall.
Camping is available at Rio Gonzalo.
The Ultimate Trekking in Patagonia Packing List
Patagonia is certainly one of the most extreme, potentially harsh climates on earth, therefore it's necessary to be prepared for all conditions months before you venture to the South American continent.
Hiking gear in Patagonia is quite expensive therefore it's better to have your gear sorted before you travel to your destination. This packing list for hiking in Patagonia should give you a good idea on what to bring.
Good quality, lightweight tent. Check out our guide to the best backpacking tents to find one that suits your style and budget.
Thermal layering including top and pants
Hiking pants, both long and short, or get convertible pants. These should be waterproof, otherwise get a pair of slip-over waterproof pants as well
Gore-Tex (waterproof) hiking boots
Quality backpack for hiking
Down jacket – these puffy jackets are essential for keeping your torso warm
Rain and wind jacket – make sure you get a quality jacket that doesn't leak
Sleeping bag and silk liner – The warmer the sleeping bag the better
Cold weather gloves – you will need waterproof gloves aswell as a pair of inner gloves to keep your fingers warm
Plenty of socks (dry socks are the best)
A beanie – keeping your head warm is essential
Hiking poles – if you're carrying a heavy bag, hiking poles will help you balance. They also provide support for your knees.
Ability to carry sufficient water (5 litres is ideal)
Food to last the entire hike. You can pre-order food in some of the refugios in Torres del Paine, but that's about it. Better to be over-prepared and over-fed then the other way around when hiking.
[box] Have you ever been hiking in Patagonia? Leave a comment below and tell us what your favourite trek was![/box]
Save this Pin for later?