If you've been following our blog for a while you would know that Lesh loves taking photos. So much so that back in April we invested in a brand new Sony A7ii Camera
– an incredible full frame mirrorless system that in our opinion is one of the best professional cameras on the market. But in order to carry her camera around, Lesh needed a good quality camera bag that would not only protect it from getting bumped around on the road, but also try to deter any pickpockets from making off with her camera. When it came to researching what bags we wanted, one brand stood out instantly. We've been long-time users and fans of PacSafe, so it was natural for us to want to try out one of their anti-theft camera bags. We got in contact with them and they sent us their Camsafe V9 Camera Sling Bag to review.
The Pacsafe V9 Camera Bag
is designed with theft-deterrence in mind, and with some of the dodgy places we travel to that was a big plus for us. It is woven with wire mesh to stop bag slashers, lockable zippers and has a nifty RFID pocket to stop card cloners. To be honest, we're not sure how many suspicious characters wandering around a bazaar in Mongolia have electronic card cloners with them, but you never know, eh?We have had this bag now for about 3 months now and it has been through some tough times. Horse riding in Mongolia, trekking in China, traversing the Pamir Highway in Tajikistan and bouncing around from shared taxi to public bus to crappy trains to minivans. How has it held up to the abuse? Read on to check out our gear review of the Camsafe V9 Camera Sling Bag.
Pros
It has wire mesh woven through the front of the bag, the bottom and in the straps, which stops bag-slashers from being able to cut your bag and spill its contents all over the floor.
The bag itself is pretty light weight – less than 1kg.
It is a perfect size for our full-frame mirrorless camera or a DSLR camera with a small to mid-sized lens attached (our 28-70 fits nicely). You will not be able to fit in a camera with a mounted telephoto zoom lens.
Internal storage pockets are customisable. We have it set up so the camera is directly in the middle and we have two smaller pockets either side. You could fit some small items on one side (We have sunglasses, lip balm, hand sanitiser, etc) and one small lens in the other. We keep our cleaning kit for the camera, a little torch and a remote instead of a second lens.
There are clips to be able to lock your zippers, which gives piece of mind when walking around a bustling market or crowded street.
Luckily for us, it is very durable. We are not kind on our equipment, and everything we own gets put through hell and back. This bag has held up to some of the worst kind of abuse and barely has a mark on it. It also does a great job at keeping dust out.
The compartments have awesome padding and you feel your camera and other items are fully protected.
To access the camera you do not have to take the bag off your body. Just swing the bag from the back to the front and the camera pocket is right there, ready to grab and start snapping.
We really love the front accessory pocket for different items. It has small organiser pockets which are especially useful for your spare SD cards, spare batteries, cables, etc. We also keep a notepad and pen in there. Only issue with this pocket is it is hard to get to the items buried inside.
The rain cover is a bonus. You can never predict the weather but with this you are always prepared. It is compact and tucks away down the bottom of the bag.
It has a RFID safe pocket to protect your credit cards.
The tablet/laptop sleeve is a good feature. We keep our iPad and passports in there and it is always snug against your back.
It has an elastic pocket on the outside for water bottles or a small tripod.
The bag hugs your body quite tightly, which is great in crowded streets and markets.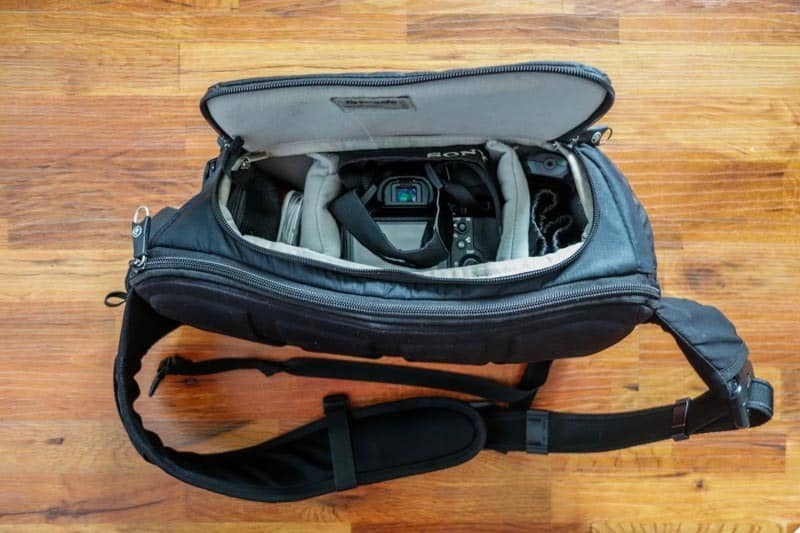 Cons
Now of course not everything with this bag is perfect. To be honest it doesn't even come close to being perfect. But the things that we consider to be cons are not major issues, and could be overlooked by less fussy people.
If you wear a bigger backpack normally (such as when you are travelling or hiking), it is not a good bag to wear on the front. The straps really gets in the way and can dig into your back.
Some of in the inner pockets are too small and are quite difficult to access in a hurry. The zippers don't open the entire way, which we suppose is purposely designed to be that way but we think is quite annoying.
It is a little awkward to put on, especially if you are wearing a thick jacket or hat.
If you have a lot of weight in your bag (ie a tripod on the side) it feels off-balance and can put extra strain on your shoulder.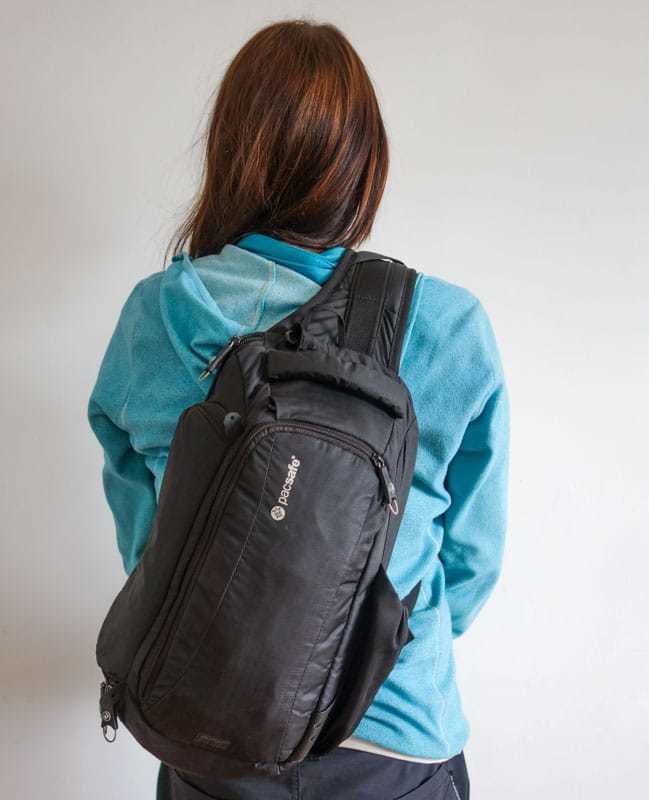 Who The Pacsafe V9 Camera Sling Bag Is Great For
The Pacsafe V9 Camera Sling Bag is a perfect accessory for the amateur photographer who wants some extra protection for their equipment while going out on day trips or small hikes in the woods. If you have any concerns about pickpocketing or bag-slashing than this is the bag for you.
Who It Is Not Great For
Someone who constantly wears a larger pack on their back for travelling or hiking.
Anyone who has a lot more camera equipment, or carries a large zoom lens.
A female going to a conservative country, as the strap really shapes your chest area.
Overall Rating – 7.5/10
We've decided to give the Pacsafe V9 Camera Bag
a 7.5/10. For what this bag is designed to do – carry a basic mirrorless or DSLR camera setup and act as a deterrent against opportunistic thieves – it is pretty good. It ticks all the boxes and does it in a nice lightweight and durable style. With a few minor tweaks in the design aspect such as having wider pockets that are easier to access it would bump up a couple of points.
For us personally the bag serves its current purpose, but we will be looking for an upgrade in a few months once we begin adding a few extra lenses to our kit. The V9 Camera Sling Bag just won't be big enough to hold any more equipment, but we will definitely be choosing to stay with the PacSafe brand when we get an upgrade.
PacSafe kindly sent us the V9 Camera Sling Bag for free in order to review it. All thoughts and opinions our own.