Keep your feet comfortable and have all the support you need with the best hiking boots of 2023. Find out which pair of hiking shoes suit your trail needs best!
If you're looking to spend any amount of time hiking, you know that a good pair of boots along with great hiking socks will be at the top of the list of hiking essentials.
But with so many options out there, it can be a bit overwhelming trying to decide which pair is best for you. We've gone through dozens of pairs of hiking boots over the years and have our top picks based on those we've worn, tested and researched and we're passing our top recommendations on to you in this post.
Shop with confidence that each pair of hiking boots on our list has made it there because we've either purchased them ourselves or they made the shortlist.
Other Great Options…
Top Recommended Hiking Boots
| | | | | | | |
| --- | --- | --- | --- | --- | --- | --- |
| | | | | | | |
| | | | | | Polyurethane-coated Leather & Textile | |
| | | | | | | |
| | | | | | Nubuck Leather & Cordura Nylon | |
| | | | | | | |
| | | | | | | |
| | | | | | | |
| | | | | | Nubuck Leather & Gore-Tex Textile | |
| | | | | | | |
| | | | | | | |
| | | | | | Synthetic Leather & Polyester Mesh | |
---
The Best Hiking Boots – Our Expert Guide
Choosing the best hiking boots goes beyond quality. We aim to highlight a range of boots that suit different adventures and budget scales, ensuring you get the most out of your next trip.
Our Top Choice: Salomon X Ultra 4 Mid GTX
Price Range: $150 – $175
Type: Lightweight
Weight: 1 lb 14 oz
Material: Polyurethane Leather & Textile
The Salomon X Ultra Mid soars to the top of our rankings thanks to its performance in a range of factors. The lightweight hiking boot will help you fly like the wind. It feels like a trail runner, yet its ankle support allows you to tackle challenging climbs and ascents without worry.
Salomon is renowned for its quality build that promotes comfort and durability. For a reasonable price, this boot will help you complete a wide berth of adventures, from local jaunts to high alpine treks for several seasons.
PROS
Lightweight w/ support
Waterproof
Wide size option
CONS
Thin underfoot protection
---
Merrell Moab 2 Mid
Price Range: $125 – $175
Type: Lightweight / Midweight
Weight: 2 lb 4 oz
Material: Suede Leather & Mesh
For solid hiking boots at an attainable price, the Merrel Moab 2 Mid is an easy decision. This shoe is a clear favorite among budget hikers and despite the diminutive price, it doesn't lack comfort.
Hikers with wider feet will love this boot and it also offers supportive soles for those with high arches. In addition, users will enjoy the EVA footbed which creates extra security.
On top, there is a breathable mesh ceiling with suede leather fitted in to increase durability. They combine to make a great waterproof boot that also offers functionality and a traditional look.
PROS
Budget-friendly
Comfortable
Waterproof
---
Lowa Renegade GTX Mid
The Lowa Renegade GTX Mid is a midweight hiking boot that keys in on stability and support. From the moment you lock eyes with this boot, you'll be sent back to the 80s. It's a traditional style with modern technology that provides exceptional ground support and quality grip.
This support and grip make it a great shoe for those who carry heavy loads. Despite its apparent bulk, its polyurethane frame and Nubuck Leather upper help to keep the overall weight down.
The lighter materials, however, mean this comfortable boot has durability issues. Keeping it from our top spots.
PROS
Light for larger shoe
Plenty of support
Waterproof
CONS
Lacks long-term durability
---
Scarpa Zodiac Plus GTX
To tackle rough terrain and make your way up and down serious mountains, the Scarpa Zodiac Plus GTX should be at the top of your list. The hefty price tag may scare some away, but you get great value for your buck.
With solid all-around performance, the Zodiac Plus offers top-shelf traction and is very durable thanks to its full-grain leather upper. Its tough construction ensures support up steep terrain without taking away too much comfort.
But one can expect more stiffness than lighter boots. Users will also have to maintain the leather.
PROS
Excellent traction
Durable
CONS
Expensive
Lacks some comfort
---
Salomon Quest 4 GTX
Price Range: $200 – $250
Type: Midweight/Heavy Weight
Weight: 2 lb 15 oz
Material: Leather & Textile
Another great hiking boot for rough terrain is the Salomon Quest 4 GTX. This is a step up in weight from our top pick but provides the kind of toughness and protection needed on long-distance backpacking trips.
The Quest 4 covers so many boxes that it's overkill for the average hiker simply looking to get out on the trails. But for those ready to take the next step, you'll appreciate the durable upper and extra cushioning underfoot.
Both will be there at the start and end of your next high-mileage trek.
PROS
Tough yet comfortable
Great long-distance boot
CONS
Heavy
Not for everyday use
---
La Sportiva Nucleou High
Soaring up well above the ankles, the La Sportiva Nucleou High is a flashback to old-school hiking boots. The leather exterior intertwined with mesh micro vents allows this boot to be both durable and breathable.
The boot's Gore-Tex liner means hikers will also have dry feet after a long day on muddy trails.
Despite its bulky look, the Nucleou High is considered a lightweight boot for its overall size. It's nimble enough to be a friendly companion on day hikes.
On the other hand, the strong toecap absorbs the shock from rocks and roots, plus with ample ankle support, it's a solid long-distance boot.
PROS
Lightweight
Supportive
Breathable
---
Hoka Anacapa Mid GTX
Hoka has burst onto the boot scene over the last few years, quickly gobbling up a section of the market. They are known for their unique styles and superior comfort, of which the Anacapa Mid GTX is no exception.
The off-beat hiking footwear helps make room for the extra cushion that ensures both comfort and a helpful push with every step. The springy midsole will help you enjoy a chill but fast journey. The mid-height boot also helps to support your ankles.
However, as much of the material is brown and Vibram rubber, you can expect durability issues on serious trails.
PROS
Crazy comfortable
Smooth and quick
---
Altra Lone Peak ALL-WTHR
With no break-in period, their patented wide-toe box (yes!) and top-shelf mobility, the Altra Lone Peak ALL-WTHR is one of the best lightweight hiking boots going around.
The mid-ankle design coupled with the boots' lightweight and speed has quickly made it a favorite among thru-hikers.
It's the second lightest boot we look at and it comes with an eVent waterproof layer that sheds water like a duck in a pond. The toe box provides breathing room, helping to stave off that foot stink.
PROS
Comfort and speed
Ankle support
Waterproof
CONS
Lacks exterior toe protection
---
LA Sportiva Ultra Raptor II Mid GTX
The Ultra Raptor II lives up to its epic name with an equally striking design. The flow of colors across tough material gives this hiking shoe a head-turning personality.
But beneath all that is a hiking boot ready to perform off the beaten path.
This is an expensive boot, but one that will take you wherever you want to go. It comes with fantastic support and the lugs offer consistent traction, great for all terrain. Despite its lighter weight, you can also expect decent comfort.
PROS
All-terrain shoe
Lightweight
Great traction
---
Scarpa Maverick Mid GTX
Price Range: $175 – $225
Type: Lightweight
Weight: 1 lb 13 oz
Material: Synthetic Leather & Polyester Mesh
Scarpa has long been a legend of hiking boots. The Maverick Mid GTX puts a fresh spin on a classic boot design. The mid-high boot provides all the support you'd expect from Scarpa.
Yet its lighter weight, athletic design, and breathability bring it in line with other boots.
The colorful Maverick is easy on the eye. It comes with synthetic leather and a GORE-TEX layer which combines to offer ample waterproofness.
It's flexible, with little break-in needed and the comfort quickly comes to the fore. Lastly, for the price, it's a fantastic value.
PROS
Lightweight, yet rugged
Waterproof GORE-TEX Leather
Added arch support
CONS
Poor fitting can lead to blisters
You may also be interested in…

Best Hiking Socks
Best Sleeping Bag
---
Choosing the Best Hiking Boots
The classic high-ankle leather boot dominated the hiking scene for decades. But new faces and fresh looks are evolving an industry with a helpful influence from the rise of thru-hikers.
Rugged designs promoting ankle stability used to rule the day. But now there are more options than ever, with hikers pursuing lighter designs to carry them across the mountains.
Along with a good pair of socks, your hiking boot is your first layer of defense against the ground you're traversing and will greatly enhance the enjoyment of your adventure.
Our guide leans towards comfort and performance, ensuring you get the most out of your time outdoors.
Now that you know the best hiking boots, let's dive into the lingo that will help define what boot is right for you.
Types & Categories
Lightweight
Gone are the days when hiking boots were swath patches of heavy leather designed to last. Today, the increased use of our amazing outdoors has led to improvement and expansion in hiking boots.
The best example is lightweight hiking boots, which have become the most popular choice among hikers from weekend warriors to thru-hikers.
The reason for this is a balance between weight, comfort, and price. For those walking long distances, the lack of weight makes for a more enjoyable and comfortable experience. The lightweight material, think mesh and nylon, also means you'll be foregoing bigger price tags.
Keep in mind, while many of these shoes will purport to be waterproof or resistant, the reality is the opposite. However, lightweight shoes are great at wicking moisture and allowing your feet to dry naturally.
Trail running shoes are renowned for this while finding a balance between fast movement and comfort over rocky terrain.
Owing to their material, these shoes don't last as long as heavier boots.
Mid-weight
Midweight hiking boots are the perfect compromise for hikers looking to save on weight but still want ankle support. The midweight category dominates our list, and it's a quickly expanding boot type.
It has taken a leaf out of both categories on either side to create a best-of-both-worlds situation. Older folks will love the sturdiness and often waterproof designs.
While those that like to go a bit faster won't find themselves slowed down by the over-ankle layout.
This category tends to be on the more expensive side. But it's money well spent. Users will note their boots' reliability and quickly fall in love with their ability to navigate easily to expert terrain.
Heavy
Heavy boots dominated the market for decades. I'm sure some of us can remember our first serious hiking boots. They are rigid, strong, and made of all the right stuff. But boy, did they give your calves and ankles a serious workout.
Today, those heavy leather designs no longer reign supreme. In fact, they'll make up just a handle of the choices at your local outfitter. The movement towards lighter options has meant heavy boots have had to change their stripes.
Turns out, you can teach an old dog new tricks. Heavy hiking boots now come with a variety of materials such as thicker Gore-Tex, and while slightly lighter than previous generations, remain just as tough.
These boots are great for winter and snow hikes but be warned you'll be sweating it up come the summer. Last but not least, remember to break these bad boys in before you begin your first big hike.
Comfort
How you feel in the shoe is ultimately the most important thing. It's uniquely subjective and I advise you to try on your chosen hiking boot before purchasing online.
Some hikers, including myself, love a wide-toe box. Not only do they provide toe protection, but they expand the amount of surface grip. Others will need specific insoles and arch supports to match their specific feet designs.
Not all boots will work for you, regardless of how well their overall rating is.
Stability & Support
Beyond providing grip and lessening the pain from kicking rocks, hiking boots' primary aim is to provide stability. Something that's derived from more than just ankle support.
Trail runners aren't renowned for their ankle support, stability, and stiffness. Their relative flexibility is great for quicker hiking, but the lack of stiffness can cause calf fatigue over the course of the day. However, arch support and a variety of sole types can help you find more stability.
Generally, if you're looking for extra stability and/or support mid to heavy hiking boots will be what you're after. The additional stiffness will keep your whole gait in line, especially through lengthy, steep descents and uneven, rocky terrain.
Waterproofness & Breathability
A good hiking boot doesn't necessarily have to be waterproof, especially if it's lightweight and can shed excess moisture quickly. So don't worry, unless you plan on doing a lot of treks in wet weather and snowy conditions.
For the most part, waterproof boots are heavier thanks to their thicker materials. There are some exceptions, with many of our top picks offering solid waterproofness while remaining in the midweight category.
Waterproofness ties into breathability. Waterproof boots aren't breathable and vice versa. So it's important to consider what you're going to be completing. Major hikes in the summer will need breathable hiking boots and the warm sun will do its best to dry you out.
The most important aspect of breathability, however, is protecting your feet. Ventilation will help wick sweat, lowering the potential for blisters, or worse. Plus, they ensure your stinky feet are, well, less stinky.
Traction
Your ability to grip the terrain becomes more important as the hike's difficulty increases. Traction is an element that helps separate hiking boots from your everyday jogger. It allows you to make your way up and down a mountain regardless of the weather.
For traction, you should be on the lookout for lug patterns. Some brands, like Salomon, are renowned for their traction and unique patterns that separate it from others.
Each boot has a different personality. Some are tailored to slick slabs or rock and others for gripping wet roofs and muddy trails.
Lug patterns provide plenty of grip and will work in a lot of conditions. But if you want your boot to fill your niche, then running shoes need a heel brake and mountaineers should look for a pointy pattern.
Weight
Ultimately, the weight comes down to what kind of adventures you plan on getting up to. Lighter boots are usually preferable, but there are definitely exceptions.
Thru-hikers love saving weight and lightweight hiking boots also help you go faster. But they won't get you far if you're heading into serious backcountry where constant wear and tear will quickly have you purchasing a heavier, stronger boot.
Upper Materials
The comfortability of your boots goes far beyond the insoles and toe box. The materials that wrap around your ankles can make or break your experience in the outdoors.
Upper materials provide the biggest insight into your boots' breathability, waterproofness, and durability.
Your traditional hiking boot would make use of a range of leathers. But today, leather doesn't always mean a boot is heavy and stuck in the past.
Nubuck Leather is a prime example. The full-grain leather can feel like suede. It is soft and flexible and provides a bridge between weaker mesh and full-blown leather.
Nylon and mesh are common in lighter boots, aiding in breathability, comfort, and moisture-wicking. These, however, provide less support and aren't as durable. For durability, opt for full-grain leather.
Durability
No hiking boots will last forever. But some will become a trusted friend across many journeys, others will quickly wilt under the strain of rocks and roots.
Durability tends to come at a cost. Durable boots use heavier materials, such as full-grain leather and can weigh multiple pounds. The trade-off is that you get what you pay for. Lighter boots won't be as durable, although midweight boots try their darn best.
Durability can be defined in many ways. For some it's decades, for us, it's a couple of seasons of heavy use. A good lighter boot can provide that, along with greater comfort.
Cost & Value
A lot of us just want to get into the great outdoors. We aren't necessarily looking for extreme hiking boots that are ready to take us up to Aconcagua.
You can find a great boot from between $150 and $200 that will provide comfort, decent durability, and, importantly, the support needed to get up that local mountain.
From $250 and above, you need to ensure that the boot first fits well (a lot of cash down the drain if it doesn't) and that it fits your chosen adventure.
The more expensive the boot, the further it's gone into a certain niche, whether that be mountaineering or trail running.
Value is finding a boot that will last and also bring your trips to the next level.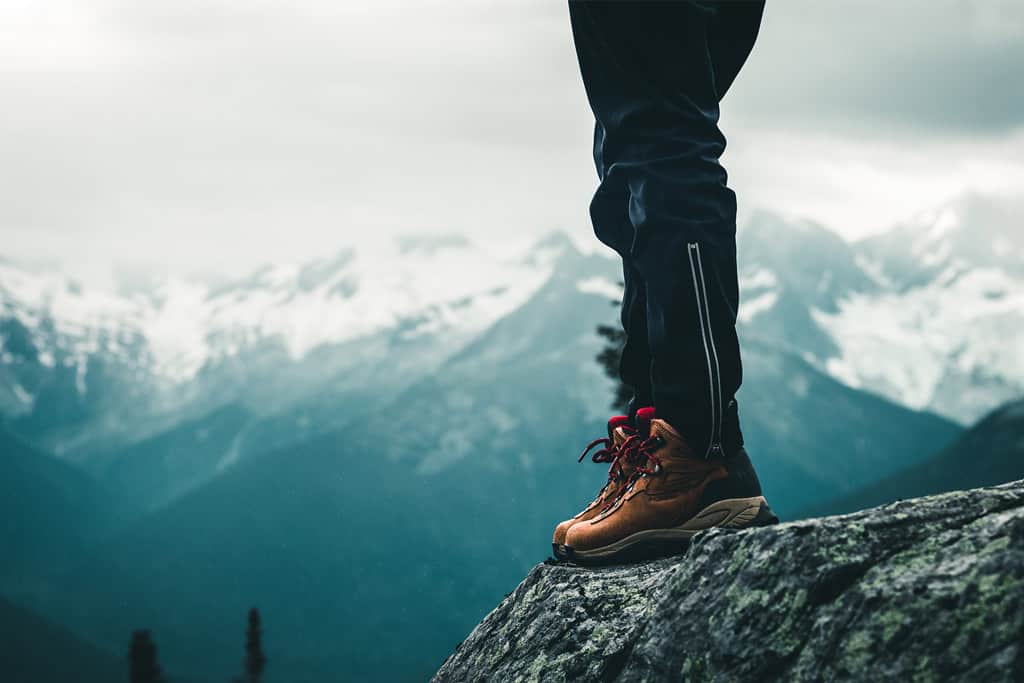 The Wrap Up
Any of our ten top hiking boots will get you through your chosen adventure with a smile on your face. Some have particular niches in which they excel. If that's your niche, then consider it a match made in heaven.
But for a well-rounded performance, whether it's a day trek or a month in the Sierras, it's hard to pass up on the Salomon X Ultra Mid GTX.
Enjoy support, comfort, a waterproof and lightweight design and a boot that you won't be in a rush to take off once you're in camp.
EDITOR'S CHOICE:
Salomon X Ultra 4 Mid GTX
The Salomon X Ultra 4 Mid GTX is our top hiking boot. The ankle material of these hiking shoes is ultra soft, yet provides ample support from the beginning to the end of the day.
Most hiking boots have decent waterproofness, however, this is a particular strength of the Ultra 4.
Its lightweight mix of leather, GORE-TEX and mesh allows for protection and quick-wicking if moisture flows over the ankles.
You may also be interested in…

Best Hiking Socks
Best Sleeping Bag
DISCLAIMER: Some of the links in this article are affiliate links, which means if you book accommodation, tours or buy a product, we will receive a small commission at no extra cost to you. These commissions help us keep creating more free travel content to help people plan their holidays and adventures. We only recommend the best accommodations, tours and products, and regularly review these. Thanks for your support, kind friend!