In our Sony ZV-1F review we put the latest entry-level Sony vlogging camera to the test to see if it's the best option for new vloggers on the market, or if you're better off sticking to a smartphone.
For the past few years Sony have been leading the way for vloggers, by designing high quality, feature-heavy cameras specifically for content creators and YouTubers.
With the popularity of video soaring across social media, it only makes sense to tap into this massive and lucrative market.
Gone are the days where you needed thousands of dollars worth of equipment to shoot a video that looks half decent, and that's where Sony's range of ZV cameras has filled a void for creators.
The ZV-1 launched to much fanfare, quickly becoming one of the best vlogging cameras on the market.
The ZV-E10 soon followed, giving the option for aspiring videographers to swap lenses for different perspectives.
Today Sony have brought a new player into the game, launching their brand new, entry-level Sony ZV-1F for vloggers, and we were lucky enough to get our hands on one for a couple of weeks of in-the-field testing.
NOMADasaurus Verdict – Sony ZV-1F
This is a great little entry-level vlogging camera for people who want something better and more dedicated than a smartphone.
PROS
20mm fixed lens means wide field of view
f/2.0 aperture
Easy to use
Eye autofocus and product focus works great
S&Q with 1080p 120fps
Articulating LCD screen
Very compact
CONS
Not a lot of other features
Fixed lens means no optical zoom
Only 4k 30fps
Lacklustre for photos and no RAW shooting
But in a world where just about everybody has a smartphone in their pocket with capabilities to produce beautiful, 4k masterpieces, does this new camera have enough appeal to win over a different audiences?
Priced at USD$498 / CAD$649 / AUD$899 / €649, it's not exactly cheap, but is it worth the price to move away from filming on an iPhone?
That's what we set out to discover in our personal Sony ZV-1F review.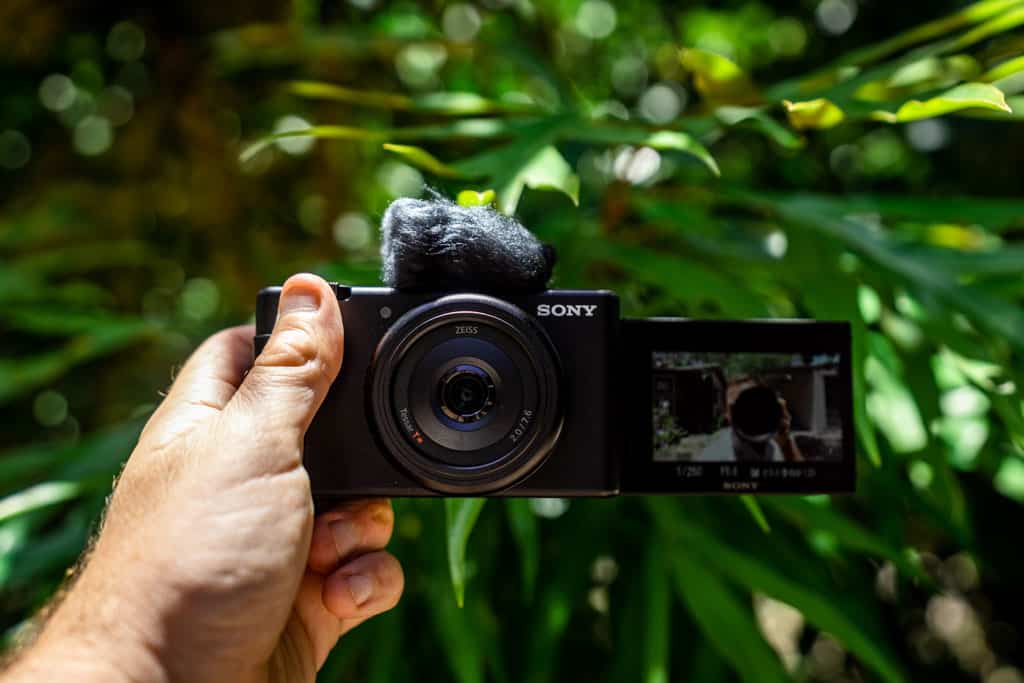 Sony ZV-1F Review – What's Better: a Vlogging Camera or a Smartphone?
Being professional content creators, we have made vlog-style videos on a whole range of different cameras.
From action cameras like the GoPro HERO12 Black to full-frame hybrids like the Sony A7iv and even our trusty iPhones, we're always mixing and matching our content based on whatever camera we have handy.
For us a vlogging camera has to serve two main purposes:
Be convenient to use
Produce good enough quality
The first one is obvious. If a camera is inconvenient to use, then we'll never actually use it.
Things like how quick and easy you can start recording, how easy it is to use in the field, how little we have to worry about settings and whether we can get focus and framing spot on without double checking everything all play into convenience.
And when we say good enough quality, it's because at the end of the day we make vlogs, not cinematic films.
If the content is just going on YouTube or Instagram Reels, then we don't usually worry about intricate colour grading, high frame rates, etc. Just write the story, shoot the video, edit it as quickly as possible and publish.
The ZV-1F aims to tackle the above two points, and does a decent job at both.
Quick Fire – Sony ZV-1F Features
No, it's not as good as our A7iv. And no, it's not as quick and easy to use as a GoPro. But it's a damn sight better than our iPhones for vlog-style content.
For a little camera it packs a lot goodness under the hood.
Just want to know what the best Sony ZV-1F features are? Here we go:
Type 1 (13.2×8.8mm) Exmor RS CMOS sensor
20mm fixed equivalent lens
f/2 wide aperture
Articulating LCD touch screen
425 autofocus points, including eye autofocus
4k 30fps
1080p 120fps (in S&Q mode)
Active image stabilisation
20 megapixel still images
Directional 3-Capsule Microphone
Vertical video mode
ISO – 125 to 12,800
USB-C charging port
Who is the ZV-1F for?
If you're an aspiring content creator looking to publish good quality travel or lifestyle vlogs, the Sony ZV-1F could be the right option for you.
The ZV-1F is aimed at beginner vloggers and creators who want something better than an iPhone or Android, but don't want to spend a fortune or need additional features that you can find in the ZV-1.
Love travel, adventure and photography videos?
Then make sure you swing on by our YouTube channel to check out our latest vlogs!
iPhone vs ZV-1F – Which is Better?
If you're looking to produce video, and only video, then the Sony ZV-1F is better than an iPhone or Android smartphone.
It is better in low light, is easier to manage different video settings, has manual video settings if required and the articulating LCD screen means you can see yourself properly when filming, which you can't do when using the rear camera on a phone.
For photos though, the ZV-1F is pretty lacklustre and with the computational algorithms of modern smartphones the images they can produce look better straight out of camera.
Video Modes
The Sony ZV-1F shoots in ultra high resolution 4k 30fps and 24fps (25fps in PAL mode).
If you switch on over to S&Q mode, which stands for Slow and Quick, you can record at 120fps in 1080p, which achieves a 5x slow-mo rate at 24fps – perfect for that cinematic b-roll.
The caveat is the camera doesn't record audio in S&Q, but that's probably not going to be much of a hinderance anyway.
The best part is switching between normal speed and S&Q couldn't be easier, with a simple one-button click swapping out the settings.
There's also a hyperlapse shooting mode which can record your video at up to 60x faster and play it back in 24, 25 or 30fps.
Here are some of the other video settings which we really love on the new camera.
READ MORE: Check out our expert guide to the best travel tripods!
Steady Shot
Shaky footage in most circumstances is just painful to watch.
If it's minor shake when you're standing still, it adds to the natural style of a vlog.
But start walking around and talking to the camera, and the footage can make the viewer feel nauseous.
That's where image stabilisation comes in to remove that pesky camera shake.
The Sony ZV-1F has decent image stabilisation built in, which they call Steady Shot.
Active is what you want to use for run-and-gun vlogging, and we leave Active Stabilisation on about 90% of the time.
No Steady Shot is fine if you are mounting your camera to a tripod, but we don't recommend hand holding it and vlogging.
One thing to keep in mind is that Active crops in a bit to adjust for the additional stabilisation, so the 20mm fixed lens becomes a 25mm equivalent, but this is still wide enough for most vlogging situations.
Product Showcase
One of the top features to make it into the Sony ZV-1 was 'Product Showcase', a revolutionary setting that made the camera seamlessly focus on an item that was held in front of the lens, and then focus back on your eye when removed.
Sony brought Product Showcase to the ZV-1F, and we're so glad they did.
This is an extremely handy feature when doing product reviews, as you never have to worry about missing focus on the item you're talking about.
You do have to activate the setting in the menu to use it.
Bokeh Switch
There's nothing quite like nice, creamy bokeh to highlight a subject.
Bokeh is the out-of-focus background elements in a shot, often very popular in portrait photography, and the ZV-1F does a pretty good job at achieving this visual effect.
By activating Bokeh Switch the camera drops down to its widest aperture, f/2, and defocuses the background.
Eye Autofocus
One of our favourite features of the Sony range of cameras is their industry-leading autofocus system.
Despite being an entry-level vlogging camera, the ZV-1F incorporates the best part of Sony's focus engine – eye autofocus.
What this does is automatically detect the eye of the subject and adjusts focus on this part of the image.
If you're vlogging, the last thing you want is the tree in the background to be razor sharp while your face is blurry.
READ MORE: Don't miss our ultimate travel photography guide!
Picture Profiles
Despite the camera being aimed at beginner video creators, Sony has included the ability to switch Picture Profiles to give a greater scope of power in the editing room, including the professional-grade S-Log profile.
We'll be completely honest though. If you're a beginner video creator and looking at the ZV-1F, chances are you're not going to be looking to use S-Log or Cine
So while it's fantastic to have and most professionals would consider this essential, for an entry-level camera it's kind of overkill.
Still, if you want to have a go at colour grading, learn how to expose for S-Log, shoot some content and pull it up in your favourite video editing software to play around.
Soft Skin Effect
Sony has something called a 'Soft Skin Effect' which digitally smooths out wrinkles and blemishes in your skin.
It can be turned to low, medium, high or off. We tried it out, and immediately turned it off.
Call us out-of-touch millennials but even though this feature works pretty well, we think it's over the top and don't understand the purpose of putting a filter over your face on a vlog to make you look artificially younger.
Yea ok, we're out of touch millennials.
Vertical Shooting
Finally in our list of Sony ZV-1F video features is the ability to shoot in vertical.
We live in a world of Instagram Reels and TikToks, and if you've ever tried to crop landscape orientated content into 9:16 you know how difficult it can be. And that's ignoring the huge loss of details and resolution you get from the crop itself.
Simply turn your ZV-1F from landscape to portrait and start shooting to record natively in vertical.
Nail the framing and composition first time, and still be able to use your content at full resolution.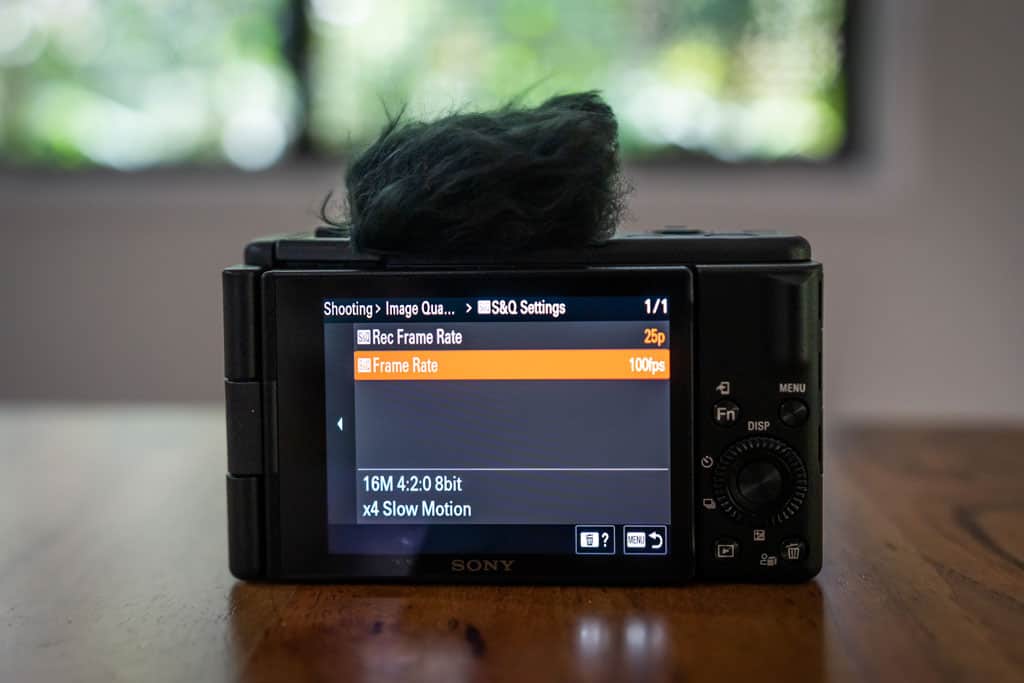 Photography
We're just going to say it now – don't bother with this camera if you're planning on using it for anything other than snapping basic YouTube thumbnails.
With a 20 megapixel sensor it's no slouch, don't get us wrong, but the camera really isn't designed for photos and there's one glaring thing that makes this obvious:
The Sony ZV-1F does not shoot in RAW, only in JPEG.
What that means is the camera automatically compresses the style into the file, deleting the extra data meaning you're very limited when it comes to editing your files.
If you don't edit your shots and only shoot in JPEG anyway it's not that big of a deal, but unless you're happy with everything produced straight out of camera, not having RAW is a real limitation.
READ MORE: While you're at it, check out our guide to epic landscape photography tips!
Fixed 20mm f/2 Lens
The biggest gripe we had with the ZV-1 was that it just wasn't wide enough for proper vlogging.
If you turned on Active Steady Shot the crop factor meant it essentially cut off the top of your head, unless you had ridiculously long arms or mounted the camera on a GorillaPod and held it out really far.
The ZV-1F has fixed this problem by introducing a wide angle, fixed 20mm equivalent lens with f/2 aperture.
This is more than wide enough to have two people in a shot while vlogging (perfect for the couples out there, like us).
It also means the camera can be kept very compact with a pancake-style lens and no moving parts on the front.
The down side is that there is no optical zoom like on the ZV-1, so you're basically stuck at 20mm unless you use the digital zoom, which crops into the shot up to 4x.
The wide f/2 aperture is really shallows the depth of field, perfect if you're trying to achieve a bokeh effect, and also allows for a large amount of light to hit the sensor in low light.
Articulating LCD Touch Screen
One of the main reasons the ZV-1F is better for vlogging than a smartphone is the ability to see yourself while you're filming thanks to the articulating LCD Touch screen.
Flipping it out to the side allows you frame your face in the shot selfie-style, and you can also spin it around to point in just about any direction you need.
This allows for proper composing at different angles in addition to getting your face in the shot.
This LCD screen is also touch-activated, and you can use this to not only change focus by tapping the screen but also access any of the features you may need such as Bokeh Switch, Product Showcase or white balance.
Menu System
The old Sony menu system on their cameras was…awful.
Complicated, hard to navigate, not making any sense and just frustrating.
After years of feedback Sony finally took on the advice of their millions of users and rebuilt the menu system from the ground up.
Introduced on the Sony A7Siii and subsequently rolled out to most of their new models after that, the updated menu system is also installed on the ZV-1F.
It shouldn't be a surprise really, but we're very, very thankful that it's here.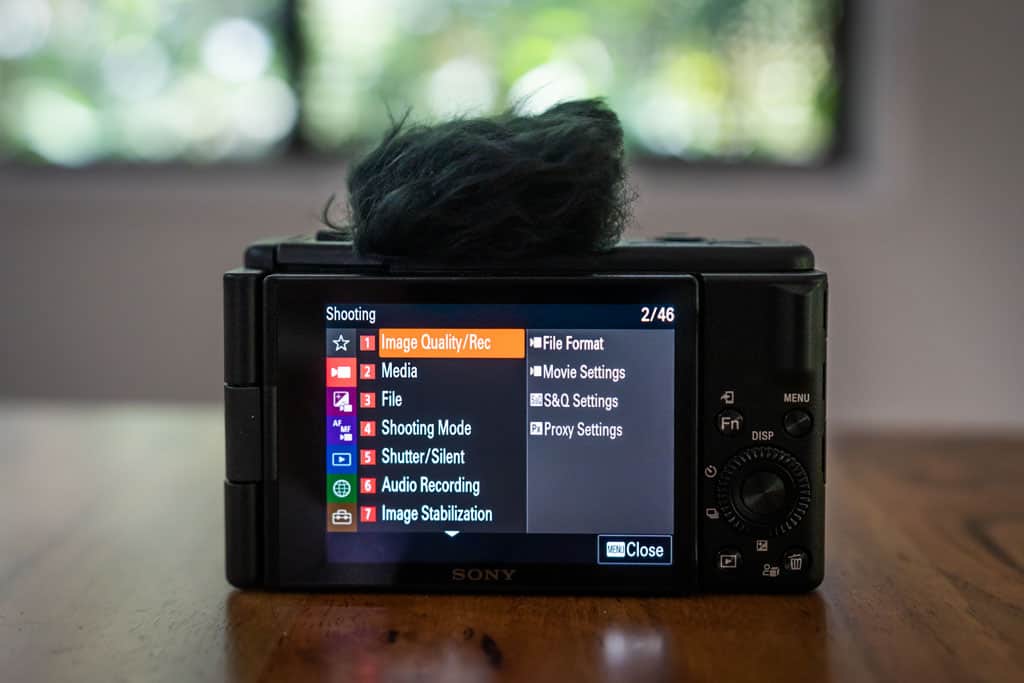 Build Quality
The overall feel of the ZV-1F is pretty great, and despite its plastic case, the overall build quality is better than expected.
The small, rubber handle provides just enough grip to hold the camera in point-and-shoot mode as well as when vlogging, meaning you don't have to attach it to a tripod if you don't want to.
It's important to note that the Sony ZV-1F is not water resistant though, so keep this in mind before you go running around in the rain or under a waterfall.
READ MORE: Have a look at what made the cut in our list of the best camera backpacks on the market today!
Low Light Capability
The Type 1.0 sensor is fantastic in the middle of the day, and goes pretty strong indoors with artificial lighting, but in dark scenarios the video quality gets pretty noisy.
Pushing the ISO to higher levels such as 1600-3200 really started to bring out harsh noise in the blacks.
We found it pretty acceptable to ISO 800, and while you can push it further if you need, just keep in mind the low light capabilities start to fall apart.
Audio
The ZV-1F has a built-in directional 3-Capsule Mic for capturing audio, and for a little camera the audio quality is pretty good.
We compared the ZV-1F native audio with our iPhone 13 Pro Max and the ZV-1F had deeper tones and clearer dialogue, picking up slightly less background noise.
The camera comes with a little dead cat that slips into the hot shoe mount to block out wind noise, and it works pretty well.
If you're taking video seriously though you'll want to throw on an external microphone and plug it into the dedicated microphone input.
Sony's ECM-G1 works perfectly with the ZV-1F and offers a significant improvement in sound quality.
NOMADasaurus Verdict – A Decent Option for Newbie Vloggers
So you've made it to the end of our Sony ZV-1F review, and if you haven't already made your mind up about whether or not this camera is right for you, we'll share our thoughts.
The Sony ZV-1F is aimed at beginner vloggers and content creators who want to upgrade from a smartphone but don't want to spend the extra money for a higher end camera.
For this, it serves its purpose. The Sony ZV-1F is better than the latest iPhone and Android phones when it comes to video quality.
The articulating LCD screen, product showcase feature, in-built microphone (with ability to add an external microphone) and the added bonuses of being able to carry multiple batteries and SD cards means that it really is a little vlogging powerhouse.
It definitely makes a case for being the best vlogging camera for beginners.
But if you're thinking about taking content creation seriously, and maybe even want to do this for a career, should you rush out and buy it?
It depends.
If you're only shooting IG Reels or TikToks and have no desire to create long form YouTube videos, stick to your phone for ease of simplicity.
Ready to take the plunge into YouTube though, maybe start a travel channel or just document your life, but don't want to kill the budget?
Then the Sony ZV-1F is for you if you're ready to start creating YouTube videos on a budget too.
Sony ZV-1F vs ZV-1 – Which One is Right for You?
We've owned the ZV-1 since it came out and have used it everywhere from Australia to Greenland, Canada to Thailand for travel videos, and we think it's a pretty versatile camera.
Over the past few weeks we've been testing out the ZV-1F to see if it's the best vlogging camera for new content creators though, and are pretty impressed with it.
Wondering whether you should get the Sony ZV-1 or the Sony ZV-1F?
If you will only do vlog-style videos with a lot of talking head shots, the ZV-1F is better because of the wider 20mm fixed lens (and it's cheaper).
But if you plan to do photography as well, and maybe dabble in some proper b-roll then the ZV-1 is the camera for you thanks to the optical zoom and RAW capabilities.
Sony ZV-1F – 3.5/10
Having put the camera to the test in our Sony ZV-1F review, we give it a solid 3.5/5 stars.

If you need an entry-level vlogging camera for YouTube content creation that also can shoot vertical for social media, but don't want to break the budget, this is a great option.