Having the best camping hammock can add an extra layer of rest and relaxation to your day. Find out which backpacking hammock we prefer on our big hikes!
Unlike essential hiking gear such as backpacks, tents, sleeping bags and headlamps, hammocks are typically considered a luxury when camping, especially if you plan ultralight hiking over longer distances.
But there are some great camping hammocks out there that are perfect for any occasion. We've been hiking all around the world for years and can tell you from firsthand experience that sometimes a hammock can be a game changer for relaxing after a long day on the trail.
In this post, we'll give you everything you need to know about buying the best backpacking hammock and give you a few of our top picks.
Top Recommended Camping Hammock
| | | | | | |
| --- | --- | --- | --- | --- | --- |
| | | | | | |
| | | | | | |
| | | | | | |
| Warbonnet Outdoors Blackbird XLC | | | | | |
| Hennessy Ultralight Backpacker Asym Zip | | | | | |
| | | | | | |
| | | | | | |
| | | | | | |
| Hennessy 4Season Expedition Zip | | | | | |
| | | | | | |
| | | | | | |
| | | | | | |
| | | | | | |
---
The Best Camping Hammock
The flexibility that hammocks provide means there is an abundance of ways to improve your sleep setup. The best backpacking hammocks allow you to get into the outdoors, and sleep in comfort without overloading your hiking pack.
Improvements in tech mean that heavier isn't always better and more durable. Sure, it's a solid rule of thumb, but as this guide explores, the best camping hammock can be both ultralight, and comfortable, and protect you from the changing elements.
Additional extras can make your hammock tent-like, well, a tent while still providing the soft swinging sensation you love and the ability to set it up just about anywhere.
Editor's Choice: Sea to Summit Pro
On the lookout for a lightweight camping hammock that provides great value for money? The Sea to Summit Pro is your answer. This setup comes cheap while also including a full suspension system.
With a max weight capacity of 400 pounds, you also receive an excellent strength-to-weight ratio.
The Sea to Summit Pro packs down tightly with the help of the included compression sack. This makes it a solid choice for backpacking, although it's a more than handy addition to any car camping trip or park hang.
The setup comes with a buckle suspension system that can take a minute to get used to. However, once you have it dialed in, you'll have a budget-friendly setup ready to go fast.
PROS
Value for money
Includes suspension systems
Great stuff sack
CONS
Small sleep size
Learning curve for setup
---
Dutchware Chameleon
Price Range: $125 – $150
Weight: 1 lb. 3 oz.
Capacity: Up to 350 lbs
Dimensions: 11′ x 4'9″
Versatility is the aim of the game for the Dutchware Chameleon hammock. As the name suggests, the Chameleon can shape-shift to provide hammockers with a buffet of options.
Before even pushing the buy button, discerning hikers, climbers, and mountaineers can choose the weight, fabric, and color. But that's just the beginning, extras such as the bug net and suspension system are all up to your purview.
The Dutchware Chameleon boasts an interchangeable asymmetric design that means you won't have to commit to leaning one way or the other. While at 11 feet long, it's a top choice for those seeking room to breathe.
PROS
Customizable
Adaptable to varying weather systems
CONS
No removable ridgeline
Comes with a learning curve
---
Warbonnet Outdoors Blackbird XLC
Price Range: $175 – $225
Weight: 1 lb. 5.75 oz
Capacity: 350 lbs
Dimensions: 11′ x 5'2″
The Warbonnet Outdoors Blackbird XLC straddles the line between rugged durability and backcountry comfort. Despite its "lowly" 40-denier fabric, the Blackbird XLC is designed to take you anywhere thanks to its sturdy ripstop weave and 350-pound max capacity.
The asymmetrical design provides a wider base and a flatter lay to enjoy. It's a comfort that you'll look forward to each day. However, it's the inclusive extras that help to put this hammock above the rest.
Adventurers will love the extra large foot box that provides breathing room and minimizes the chance of your kicking fabric all night.
You'll also have an included, integrated bug net along with a storage shelf that will keep your prized possessions safe and dry.
PROS
Great strength-to-weight ratio
Four season use
Comfortable
---
Hennessy Ultralight Backpacker Asym Zip
Price Range: $225 – $275
Weight: 1 lb 15 oz
Capacity: 200 lbs.
Dimensions: 8'4″ x 3'11"
Another option for the budget-oriented adventurer is the Hennessy Ultralight Backpacker Asym Zip. This is one of the top ultralight backpacking hammocks thanks asymmetric design that adds comfort not often seen at this price point.
The Ultralight Backpacker Asym Zip provides you will a full backcountry camping setup. This means you'll be ready to tackle your next trip from the moment your new hammock steps into your hiking bag.
The included rain tarp and bug net will help you weather the elements and bugs. While the asymmetric layout creates a flat lay with the addition of storage pockets.
PROS
Full shelter system
Budget-friendly
Comfortable
CONS
Tarp is small
Non-removable bug net
---
Hummingbird Hammocks Single Hammock
For the ounce counters among us, the Hummingbird Hammocks Single Hammock puts the ultra in "ultralight". At an insane 5.5 ounces, this hammock provides users with an outsized 300-pound of max capacity.
This balance of weight and strength is created thanks to a range of high-end materials such as parachute fabric, mil-spec bonded nylon, and double lock stitch. Despite this, the Single Hammocks price is one that will make your eyes pop.
In helping keep the weight down, the suspension system uses a continuous loop and button link, much lighter than a carabiner.
PROS
Uses parachute specifications
Great pack size
CONS
Small sleeping dimensions
---
Kammock Mantis
From one parachute-inspired hammock to another, the Kammock Mantis provides users with a high-end product that deploys only the best materials.
Unlike the Single Hammock, the Kammock Mantis is one of the more expensive hammocks in our guide. But with the owner's dedication to quality, you get what you pay for.
Everything in the Kammock Mantis has been chosen specifically to elevate it. This includes the diminutive carabiners that boast a patented 13 kN design, the packable Python 10 suspension systems, or the diamond-weave ripstop that makes it as durable as it is comfortable.
PROS
Durable, quality material
Removable bug net
Bomb-proof rain tarp
---
ENO SubLink Shelter System
A highly rated camp hammock, the ENO SubLink Shelter System needs no additional extras. Featuring a complete sleeping shelter, this ultralight hammock comes with built-in rain tarps, bug nets, and suspension straps.
Coming in at under 6 ounces, the setup is incredibly light. It also packs down to a punch, fitting right at the base of your pack. Despite its low weight, you can still expect durability thanks to a nylon stitch that takes away some comfort but aids in the hammock's ability to handle a long expedition.
PROS
Complete system
Lightweight
Ease of use
---
Hennessy 4Season Expedition Zip
Price Range: $200 – $250
Weight: 5 lbs 3 oz
Capacity: 250 lbs.
Dimensions: 10′ x 4'11"
Aside from our top choice, the Blackbird XLC, those looking for a true four-season hammock should take a peek at the Hennessy 4Season Expedition Zip. Yep, you'll pay close to well over$200, but if you're serious about enjoying the outdoors regardless of the weather forecast, it's worth every penny.
Hammocks lose points when compared to tents because of their warmth rating. The 4Season Expedition Zip deals with this by providing users with extra insulation on the bottom layer.
There is also a sleeve for a foam pad or insulating quilt. However, what really moves the needle is the reflective space blanket, included in the setup. This provides the hammock alone with a temperature rating of 40 degrees.
PROS
Four season setup
Warm and comfortable
CONS
Expensive
On the heavier side
---
Klymit Traverse
Klymit has been a budget outfitter that has consistently produced quality gear well beyond its price range. The Klymit Traverse is another such example, adding its name to the pile of top-budget hammocks.
The Klymit Traverse is the cheapest hammock option in our guide. This immediately makes it a top choice for a starter camping hammock. That's before we mention its solid 75-denier polyester, which stands the test of time while providing ample comfort.
The hammock's single panel stitch provides for a flat lay, so you can say goodbye to the infamous "banana bend" sleep shape. While the setup is efficient and easy.
PROS
Budget-friendly
Includes suspension system
Easy to use
---
Grand Trunk Skeeter Beeter Pro
Quality budget hammocks continue to rule this guide, however, the Grand Trunk Skeeter Beeter Pro does things its own way. Aside from having a top-shelf name, the Skeeter Beeter Pro is a great choice for adventurers who expect to encounter some frustrating critters on their next trip.
Featuring a complete no-see-um mesh canopy, you'll enjoy thorough protection from bugs, mosquitoes, and other pesky guests. In addition, all it takes to ride the hammock of the mesh canopy is to flip it over.
Pushing it down the list, however, is the lack of important extras. These include suspension straps and a tarp.
PROS
Cheap, but quality
Great bug protection
---
Kammok Roo Double
Trekkers looking to hit the outdoors with their significant other, or who would prefer a little extra room, have found their answer in the Kammok Roo Double.
Double hammocks are essentially designed for two people, but they also help provide a solution to those that prefer to spread legs their way through the night.
With a max capacity rating of 500 pounds, the Roo Double provides users with 100 feet in length and a roomy 5 feet, 7 inches of width. Despite its overall size and roominess, it won't be an anchor with a solid weight of 23 ounces.
While it can easily hold two, it's popular to use it as a spacious cocoon to reward yourself after a long day on the trail.
PROS
Spacious
Relatively lightweight
Durable
---
Grand Trunk TrunkTech
Some hammocks go beyond regular nylon stitches with their own proprietary designs. The Grand Trunk TrunkTech Double Hammock is a great example with their Micro Grid ripstop nylon that has a 40-denier rating.
The lower denier rating means the hammock boasts a lower weight, but the Micro Grid layout ensures the setup provides an impressive 500-pound max capacity. The durable and strong material is also lush and cozy thanks to its soft and forgiving spread.
In addition, the large sleep space on top of the low price makes it a great choice for beginner hammocks.
PROS
Lightweight and durable
Spacious
---
Choosing the Best Hammock
Now that we've explored the best hammocks going around, let's dive deeper into what makes them stand out. In addition, by exploring their features, you can find out what works best for you.
Types of Fabric
As important weight-bearing equipment, hammock material is a vital piece to the conversation. The quality of the chosen fabric is often marked by its denier rating.
This rating discloses the fabric's thickness, the higher the better and more durable the material. However, this will lead to a heavier hammock.
Most hammocks have a denier rating in the 70s. This is a solid rating that is not ultralight, yet not especially heavy. Those on the lookout for a lightweight camping hammock can find good options with a denier rating as low as 30.
In addition to this, instead of a denier rating, fabrics are weighed as ounces per yard squared. In this case, 1 ounce is on the lower end, and 2 on the higher.
Nylon
The most common fabric used in hammocks is nylon. As has been the case since it boomed during the Vietnam War, Nylon is consistently durable, comfortable, and lightweight.
Weight
As camping technology catches up with the rest of the world, we are seeing an incredible increase in quality, durable and lightweight gear. Camping hammocks are no different, with many being remarkably lightweight for their performance.
Most of the backpacking hammocks in our guide weigh under three pounds. Those planning on using their hammock out in the backcountry will be smiling at the range of options.
But the lighter-weight hammocks will come with an outsized price range. Like other gear, heavier options are often cheaper, but not always as durable. Finding a balance is important.
In addition to the weight of the hammock is the suspension system. These are the extras that hold up your new home and can quickly turn ultralight hammocks into a 10+ pound anchor.
Suspension Systems
The suspension system is what makes your hammock work. Your hammock camping setup will require fixed points or tree straps in order to elevate you above the ground.
These systems, whether that be daisy chain straps, whoopie slings, or buckle suspensions, add weight to your overall setup. These are, of course, vital to the use of your hammock, and each one has its own personality.
These are the most common hammock suspension system. They are easy to set up and often accompany a simple or budget hammock.
For simplicity and lack of weight, whoopie slings are a great option. They are easily adjustable, pack down well and work with a wide range of hammocks.
Lastly, the buckle suspension is similar to a whoopie sling in terms of ease of use and pack weight. However, a cinch buckle is utilized to hold the strap onto the tree.
Knots
Unlike a tent where you just need to hammer in a few pegs, setting up your hammock can take time and practice. Getting familiar with your hammock is important before you head out into nature.
Knowing several knots that work well with your hammock is the key to this process. You'll have your favorites, but add on a couple of extras just in case your situation requires one.
Some of the more common knots include the aptly named backpacker hitch. Simple and effective, just be sure to add a barrier, such as a thick branch between the strap and the tree. This will protect the tree from your use.
The second is the king of knots, the Bowline. This works for tying your hammock to a tree along with tying your guyline and ridgeline, which adjusts the "sag" of your hammock.
Hammock Tarps
For thru-hikers or other backcountry trekkers, hammock tarps are an essential extra. The tarp drapes over your hammock, protecting you and your gear from rain or snow while providing ample shade when the sun is at its peak.
Just like a tent's rain fly, your tarp must be large enough to come down on either side of the hammock's center. This will provide enough room for runoff while creating more protection.
If you're looking to purchase a hammock tarp, be sure to buy one that matches your chosen hammock. As you can see above, some of our options provide the tarp as an included extra at the time of purchase.
Comfort
Suspending you above the ground, hammocks are naturally comfortable. When done right. But it does take some time to get used to. Whether that be the swaying, or for side sleepers,s the at times awkward positioning.
With that said, not all hammocks are built the same. It's important to key in on what helps you sleep well and narrow your choices from there. If you are a side or stomach sleeper, an extra wide base (or double hammock) may do the trick. While an asymmetric design can also provide additional comfort.
Sleeping Pads and Quilts
Hammocks aren't just for slinging up in the park for a nice spot to read a book. As they become more synonymous with the outdoors, particularly on multi-day trips, there are more options for backpackers to consider.
Beyond ultralight adventurers, a sleeping pad or insulating quilts can vastly improve comfort and your quality of sleep. Some hammocks come with a sleeve specifically for sleeping pads that keep the pad stranded in place, providing you with extra cushion.
A sleeping pad can also help to spread the base of the hammock to provide a flat lay while spreading the width of the material, which is great for stomach and side sleepers.
As for quilts, they are a popular option for three to four-season expeditions. An insulating quilt sits underneath your sleeping bag, adding not just extra cushion but more protection from the elements.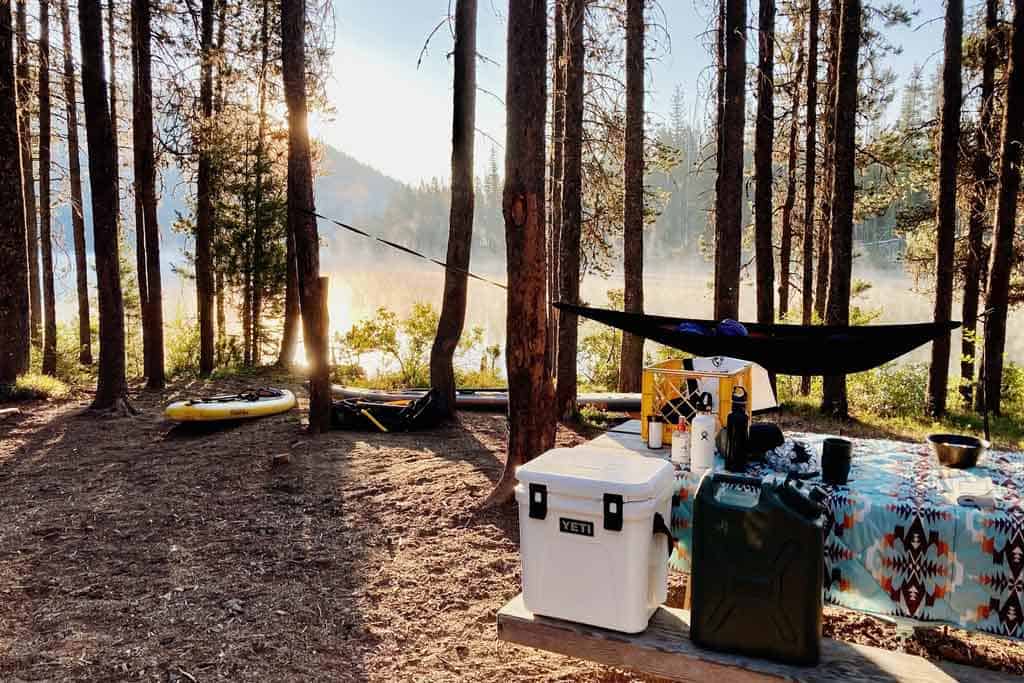 Bug Nets
Bug nets can either be a handy extra to have in your setup or a vital piece to the puzzle. Depending on where you are heading, whether that be Florida or Maine during the blackfly season, a bug net will surround your sleeping setup with a breathable layer that will keep the bugs out.
Just like a tarp, the bug net addresses some of the hammock's weaknesses when compared to a traditional tent option. Some hammocks come with an integrated bug net that will have you on the trail and sleeping in buggy regions in no time.
For hammocks without a bug net, you can buy this separately. However, the net is most effective when it can zip onto your sleeping setup, fully enclosing you.
The Wrap Up
The diversity of options when it comes to the best backpacking hammocks will leave you with plenty to think about. From budget-friendly and ultralight options to four-season designs that will help you manage cold-weather camping, your first step is to dial in what kind of experiences you're after.
Beginner adventurers may prefer a cheaper setup to allow them to figure out what works best without a large financial commitment. Those exploring distinct ecosystems, like Maine in the black fly system should first look at integrated bug nuts.
This is why the Sea to Summit Pro rises above the pack. Although not strictly budget-friendly, it covers all bases, providing comfort and warmth all year long. Plus, the inclusive extras will have you ready to go.
EDITOR'S CHOICE:
Sea to Summit Pro
The Sea to Summit Pro is our top for the best camping hammocks money can buy.
It weighs next to nothing once you take note of the inclusive extras such as a buckle suspension.
This makes it great for backpacking or car camping/van life.
The weight of the Sea to Summit Pro doesn't stop it from boasting a solid max capacity of 400 pounds.
Its asymmetric cut provides room to move and, importantly, a flat lay.
At an affordable, middle-of-the-road price point, this hammock is a great value!
DISCLAIMER: Some of the links in this article are affiliate links, which means if you book accommodation, tours or buy a product, we will receive a small commission at no extra cost to you. These commissions help us keep creating more free travel content to help people plan their holidays and adventures. We only recommend the best accommodations, tours and products that ourselves or our fantastic editorial team have personally experienced, and regularly review these. Thanks for your support, kind friend!