Vietnam's Most Spectacular Archipelago
Halong Bay in Northern Vietnam is synonymous with natural beauty. A simple uttering of the famous name will instantly conjure up images of striking limestone monoliths, floating fishing villages and traditional junk boats cruising amongst the Karst landscape.
Declared a UNESCO World Heritage Site in 1994, and selected as one of the New7Wonders of the natural world in 2011, Halong Bay is one of the most inspiring and captivating places in all of Southeast Asia. Comprised of over 1600 islands and islets the archipelago in the Gulf of Tonkin attracts visitors from all over the globe who want to explore Vietnam's ethereal magnificence.
In 2013 more than 7.5 million tourists visited Quang Ninh, the province that Halong Bay is a part of. People flock to see a sight that is ranks alongside with Angkor Wat as one of the best in Southeast Asia. While tourism is booming, however, around 1000 fishing families who call the bay rarely see much of the income generated from large companies. Life goes on as much the same as it has for thousands of years, for those living in the floating villages scattered amongst the monoliths.
There are many ways to explore Halong Bay, such as day trips from the capital city, Hanoi, or overnight junk boat tours. You can base yourself on the large Cat Ba island and use that as a jumping off point to the other coves and islets throughout the area. There are many caveat emptors from those who have chosen to go on cheap tours with budget companies. The saying, "You get what you pay for" perhaps rings true here. We went on the famous Castaways Island tour through Vietnam Backpacker Hostels and loved every second of it – an experience we highly recommend.
Whichever way you choose to visit this place however will never alter the emotions felt as you watch the sun set over one of 1600 islands, throwing hues of red, purple and orange glistening across the calm seas. An image that will forever remain as timeless as the karsts themselves.
Need accommodation in Hanoi? Book here with Agoda.com
Images Of Halong Bay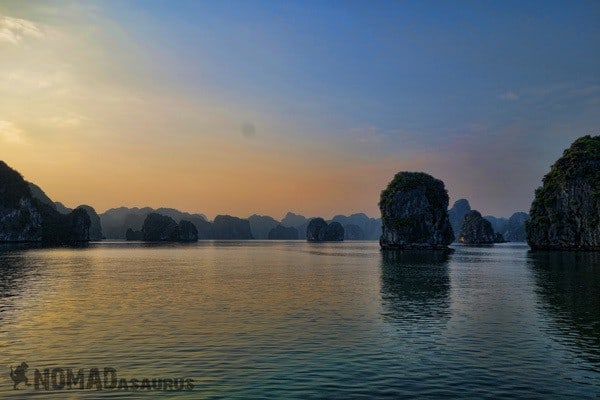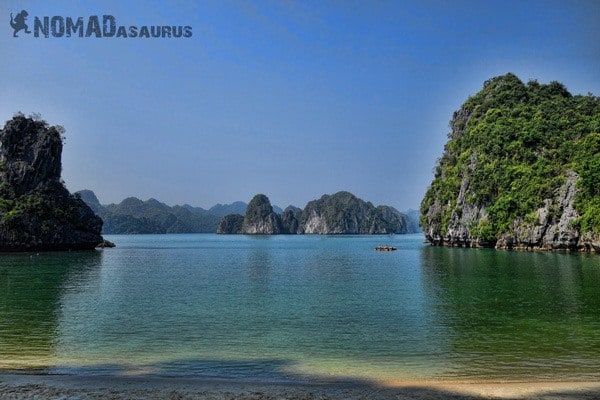 Want to book a tour for Halong Bay? Check out Get Your Guide.
[box type="info" size="large" style="rounded" border="full"]Have you ever visited Halong Bay? Tell us your thoughts on this amazing destination! [/box]