Looking for all the best attractions in Lake Charles, Louisiana? We managed to tick most of them off on our most recent trip to bring you our guide to all the best things to do in Lake Charles!
On all of our trips to the USA, we've stuck to the big cities. New York, LA, San Francisco, etc.
But as amazing as these places are, we always knew the real heart of the States lay in the towns in the South, where culture, history and cuisine was as fascinating as it was insightful.
So when we left our home in Australia on our most recent trip to the US, we couldn't be more excited to finally check out the South, starting off with Lake Charles in Louisiana!
The fifth-largest incorporated city in the United States, Lake Charles is home to many historical and vibrant activities.
Known for its blues music, mouthwatering cuisine, and beautiful bayous, many visit this cajun side of the country for a full-on French-inspired experience.
From attractions to lodging, Lake Charles is filled with the magnetic influence of culture and history.
And this hot travel spot's attractive qualities don't stop there. Lake Charles is renowned for its optimal fishing and hunting, though many will just eat the freshly prepared catches instead.
While most visitors stick to a New Orleans itinerary on their trip to the south, trust us when we say you should check out what else is around.
If you're looking for things to do in Lake Charles, we've got you covered with these top thirteen things to do during your visit.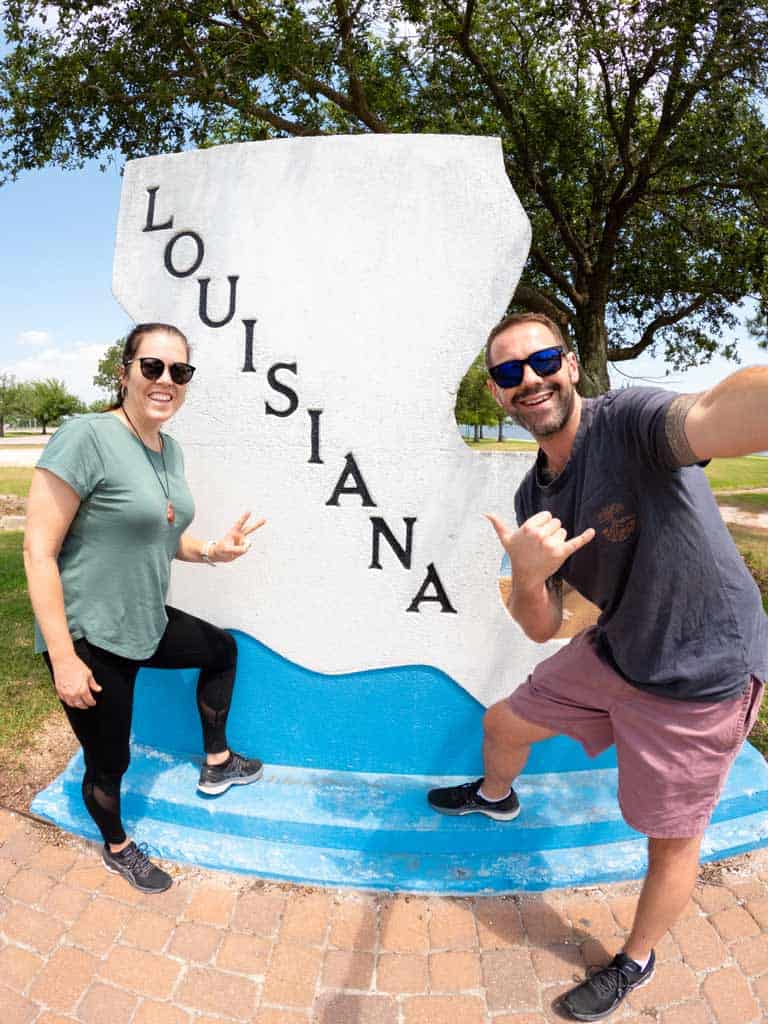 The Top Things to Do in Lake Charles Louisiana
Lake Charles is a great travel destination waiting to be explored.
Stroll through Downtown Lake Charles during the day, touring the many well-known historical museums, before getting a taste of Louisiana nightlife with a specialty cocktail in hand.
Then, it's time to live it up in the cultural center of Louisiana!
Explore this stunning city by exploring its enigmatic downtown and touring its many historical museums. Let's get started!
READ NEXT: Don't forget to read our list of the best things to do in New Orleans while you're in Louisiana!
1) Explore Downtown Lake Charles
If you love big city entertainment, get ready for a refreshing experience in Downtown Lake Charles!
Part of Louisiana's grand southern hospitality, Downtown Lake Charles houses magnetic attractions such as the Mardi Gras Museum, the 1911 Historic City Hall Arts & Cultural Center, and the nearby centuries-old giant Sallier Oak tree rooted into the grounds of the Imperial Calcasieu Museum.
It's here that tourists and locals alike can sink into refreshing nature and big-city life that integrates a homey stylishness that invigorates and revitalizes.
During the day, enjoy the magnificent weather by taking a guided tour around downtown and the lakefront on the water.
At night when downtown comes alive, step over to a local favorite, Luna Bar & Grill, for specially crafted cocktails while people-watching at the exceptional patio seating.
The town center of Lake Charles boasts a wide selection of premium mouthwatering cuisines and drinks waiting to be tasted.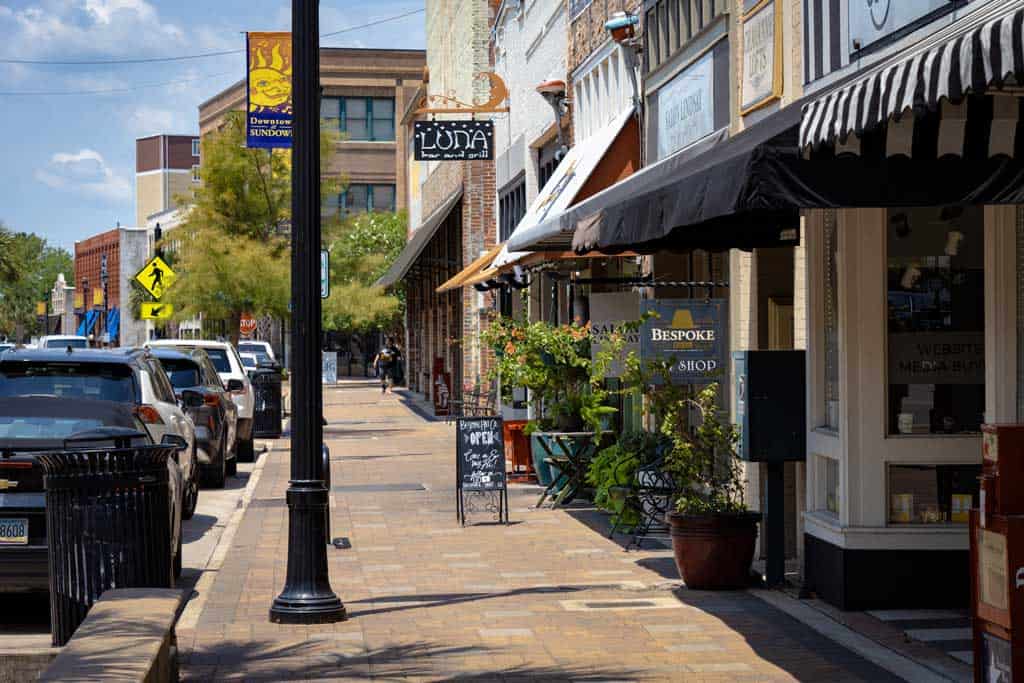 2) Drive the Creole Nature Trail
Another one of the best things to do in Lake Charles is driving down the Creole Nature Trail, one of the most stunning and scenic drives in all of Louisiana.
Stretching 180 miles, the Creole Nature Trail is an All-American Road that bends and twists throughout southwestern Louisiana's wildlife refuges, coastal wetlands, and marshes.
This was our literal first activity after we arrived, as we had been told it was a great place to see alligators. As Aussies, this was a huge drawcard, and boy it did not disappoint!
The Creole Nature Trail is one of 57 designated scenic byways in the United States.
Fondly referred to as "Louisiana's Outback," the Creole Nature Trail is, fortunately, an easy-to-follow network of back roads that can make for a family-friendly activity to experience education exhibits.
Start at Adventure Point to learn about the untamed Louisiana landscape and its many species before following the guided trail to wildlife watch, fish, or book an airboat or kayak tour!
Don't miss the Pintail Wildlife Drive – a haven for birds, turtles and of course alligators!
We even had gators chilling out right next to the road, which was a real buzz. Be careful if you get out of your car though, those teeth are sharp!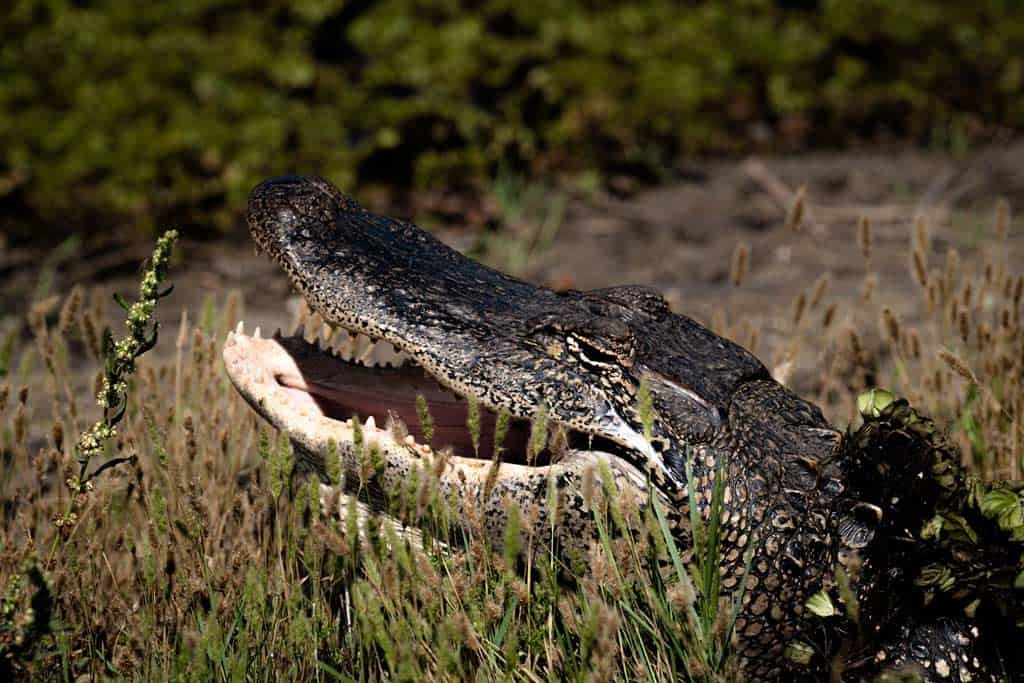 3) Stop by the Mardi Gras Museum of Imperial Calcasieu (When it Reopens)
Hosting the second largest Mardi Gras Festival, Lake Charles traces the history of this enigmatic event at the Mardi Gras Museum.
One of many reputable Lake Charles attractions, guests can explore the history of the Mardi Gras festival at this museum.
Climb aboard a parade float and sift through the largest display of glamorous Mardi Gras costume displays in the world.
Learn about the history of King Cakes, and discover the unique treasure of Mardi Gras.
The Mardi Gras Museum houses six rooms dedicated to exploring the festival's founding.
The first floor explains the intricacy of how Mardi Gras came to be, and the fifth room displays the most extensive collection of Mardi Gras costumes in the South.
Climb aboard the parade float while experiencing the sounds and excitement of the Mardi Gras parade!
Mardi Gras is a staple of southwest Louisiana, and checking out this museum is one of the best things to do in Lake Charles.
The Mardi Gras Museum will be opening in a new location sometime in 2024. Check details here.
4) Tour The Imperial Calcasieu Museum
One of many Lake Charles museums, the Imperial Calcasieu Museum was founded in 1963. Its collection features memorabilia and artifacts that present life in the old Imperial Calcasieu region from the native Americans to the present day.
Items like photographs that chronicle the Great Fire of 1910 exemplify the long and impressive history of the region.
The Imperial Calcasieu Museum houses the Gibson-Barham Gallery. This 2,500-square-foot space is used to exhibit visual artists and cultural and historic exhibits using a revolving method dedicated to providing educational viability to preserve the unique history and culture of Southwest Louisiana.
On the grounds is a centuries-old oak tree termed the Historic Sallier Oak Tree. At this precise location, Charles Sallier decided to build his winter home to bask under the shade of this impressive oak tree.
Fun Fact–the city and lake were named after Charles Sallier, one of the first to settle near the famous lake.
Bask under the centuries-old oak tree and tour the Imperial Calcasieu Museum to learn about the region's unique history. Check the website to see what special exhibits and events are on!
Address: 204 W Sallier St
Hours: Wednesday – Saturday 10am – 6pm
Cost: $5
5) Kayak the Bayous with Sarge from Lake Area Adventures
We really loved our time in Lake Charles, and this was by far our favorite thing to do here!
Get ready to kayak the bayous and bask in the refreshing Louisiana nature at various locations, including Prien Lake Park, with an absolute legend of the area.
Lake Area Adventures is owned and operated by Sarge, an ex-Marine who is one of the friendliest, funniest and most hospitable people we have ever met.
Hanging out with Sarge alone is enough to book a kayaking adventure here, but add the beautiful bayous he'll take you through, and you're in for a treat.
Prien Lake Park is a 29-acre lakeside park that is a family-friendly activity spot that offers picnic tables with waterfront views, a children's water park for the kids to play, and a boat launch to take out the boat for topside views.
During your guided kayak adventure, you'll be able to explore Prien Lake Park's waterway, which once hosted 19th-century schooners, and the gorgeous bayous of Lake Charles.
Whichever you head out to, taking time to visit the outdoor haven is highly recommended during your visit to Lake Charles Louisiana.
Visit the Lake Area Adventures website to check prices for tours and kayak rentals, and don't miss our video to show you what it's like!
6) Dance Your Shoes Off at a Music Festival
Conveniently located between New Orleans and Houston, Lake Charles welcomes many looking to dance their shoes off at thrilling and sensational music festivals.
Lake Charles hosts weekend festivals and fairs to celebrate Louisiana's Cajun and Creole heritage as a fun and comfortable getaway spot.
Through food and music, exemplary performances are performed in downtown Lake Charles enacted by regional and national shows.
Personifying Louisiana's magnifying outdoor recreation events, these magical festivals will have you dancing the weekend away.
This city is known as Louisiana's Festival Capital for a reason!
Read next: 21 Best Things To Do In Lafayette, Louisiana
7) Chill Out at North Beach
A white-sand beach located in Lake Charles, North Beach is a great outdoor activity to invest an afternoon into during your visit to this cultural hotspot city.
North Beach is a large family-oriented beach that many families visit to soak up the sun's rays and dip their toes in the salty water.
Many settle down at the available picnic areas with tables for food and drinks, while others build sandcastles or walk the sandy length of the beach. It's not uncommon to find people swimming in the water, just be on the lookout for alligators!
Take advantage of the public restrooms and showers before heading to Millennium Park, a popular nearby park.
8) Head Down to the Gulf of Mexico
Unnamed until the early 1540s, the Gulf of Mexico is a marginal sea. Part of the Atlantic Ocean is bordered by five states of the United States on the northern and eastern border, Cuba to the southeast, and five Mexican states on the western and southern border.
To see the astounding Gulf of Mexico, travel from Lake Charles to Rutherford Beach, one of several beaches that can be seen while traveling down the Creole Nature Trail All-American Road.
Settle down to soak in the encompassing magnitude of this incredible destination as the Gulf of Mexico waves rush up and recede from the sandy beach.
Gather shells for souvenirs on this famous rustic beach, taking home a piece of the Gulf of Mexico with you from your trip to Lake Charles.
9) Visit the Charpentier Historic District
Listed on the National Register of Historic Places in 1990, the Lake Charles Historic District is a 40-block historic district of Lake Charles that pulls you back in time.
Locally termed the Charpentier Historic District, this is a self-guided driving or walking experience that can be explored by horse-drawn carriage ride.
Taste the enriching history as you travel past the finest collections of Victorian architecture in Louisiana that dates back to the late 1800s.
We recommend starting your tour of this fantastically historical experience at the Lake Charles Tourist Bureau on Lakeshore Drive.
Then, tour Shell Beach Drive to see stunning southern-style mansions and scenic sunset views as you ogle these impressive architectural finds. Whether you walk or drive, these historic houses and mansions are definitely worth checking out when you visit Lake Charles Louisiana.
10) See How the Magic is Made at Bayou Rum Distillery
Winner of the Louey Award for tourism attraction of the year, the Bayou Rum Distillery is one of many yummy top attractions to consider when visiting Lake Charles.
Bayou Rum Distillery has notable markers in its high-quality products. The rum is distilled from locally grown sugar cane in southern Louisiana.
The molasses used in their products are sourced from the oldest family-owned and operated sugar mill in the United States. Every batch of rum is distilled in copper pot stills, aged in Bourbon casks under a solera system, and then bottled in-house.
The hand-crafted, pot-distilled, and naturally gluten-free rum, has won awards for a good reason.
To see the grandiosity of this top Lake Charles attraction, schedule a tour to learn how Bayou Rum Distillery makes its rum from Louisiana Sugarcane in a working 36,000-square-foot distillery.
Address: 20909 Frontage Rd, Lacassine, LA
Hours: 9am – 5pm, Tuesday – Saturday
11) Eat at All the Amazing Restaurants
Lake Charles is home to many savory and mouthwatering restaurants that master Cajun and Creole cuisine. Some of Lake Charles's most notable and worthy restaurants include The James 710, 1910, Luna Bar & Grill, and Crawfish Boil-N-Go.
If you want fine dining and the best food in the city, you absolutely have to book in at The James 710.
We ate dinner here one night and trust us, it was divine! Do not miss the cocktails.
1910 is a restaurant and wine bar located in downtown Lake Charles. This enigmatic restaurant is housed in the Phoenix Building, commemorating the Great Fire of 1910 that burned several city blocks in Lake Charles.
Serving refined Creole and Cajun fusion cuisine with a French backbone, 1910 is a highly recommend restaurant to settle down to eat at.
Luna Bar & Grill is an easygoing eatery and bar. The California-accented Louisiana eats are combined with live music for a lively atmosphere.
This musically-influenced restaurant masterfully combines culture, art, and cuisine into a magnetic eating experience. The burgers are great.
And lastly, Crawfish Boil-N-Go is a no-frills Cajun takeaway that promotes boiled and spiced crawfish with southern sides like potatoes and corn.
The available drive-thru option offers a quick alternative to returning to dinner at the hotel. Of course, you can't leave Lake Charles without tasting its world-renowned crawfish dishes.
12) Walk the Cyprus Forests of Sam Houston Jones State Park
First named after the Texas folk hero, Sam Houston Jones State Park has since been named to honor Louisiana's 46th state governor.
This 1,087-acre public park spans tree-filled lagoons, abundant wildlife, and a forest mixed with pine and hardwood trees.
Many birdwatchers settle for a fulfilling wait as nearly 200 species of birds can be observed at Sam Houston Jones State Park. This spot is one of the best places for bird watching in all of Louisiana.
Step into the great outdoors on one of the three available hiking nature trails that wind through this stunning natural-filled park.
Address: 107 Sutherland Rd
Hours: 6am – 9pm daily (closes at 10pm on Fridays and Saturdays)
Read next: The Perfect 3 Days in New Orleans Itinerary
13) Visit the Lake Charles Casinos
Lake Charles LA is also known for its casinos. While we don't personally gamble, a lot of people do like to come here to try their luck, so we decided to include it in our list.
L'auberge Casino Resort is the most popular casino in Lake Charles. L'auberge Casino Resort hosts concerts and events, fine dining and casual dining options, and of course, slots, table games, and more at the casino.
Golden Nugget Casino and Isle of Capri Casino are two other popular ones.
The Lake Charles casinos exude luxury, so even if you can't afford to stay at their fancy hotels or you're not interested in gambling, maybe just grab a drink or a bite to eat and walk around, absorbing the affluence and glamour.
Where to Stay in Lake Charles Louisiana
Now that you know all the fun things to do in Lake Charles Louisiana, it's time to go over the best places to stay.
There are great options for every budget here. There are no hostels, but there are some affordable hotel options for those on a tighter budget.
Best Budget Hotel in Lake Charles LA: La Quinta Inn & Suites
This affordable hotel is great for travelers on a budget. Take advantage of the complimentary breakfast at La Quinta Inn & Suites Lake Charles – Westlake.
Grab your fill before heading out for an eventful day in Downtown Lake Charles to explore all this historic, vibrant city has to offer.
Best Mid-Range Hotel in Lake Charles LA: Best Western Plus Prien Lake
Get settled down at the Best Western Plus Prien Lake Inn & Suites! Popular with solo travelers, this mid-range hotel features free parking, non-smoking rooms, and a 24-hour front desk to help you with all your needs and concerns during your stay.
Best Luxury Hotel in Lake Charles LA: Golden Nugget Lake Charles
Reserve a room at the Golden Nugget Lake Charles for the time of your life. In the entertainment district of Lake Charles, the Golden Nugget Lake Charles is settled near a private beach while featuring its own country club, championship golf course, and casino!
DISCLAIMER: Some of the links in this article are affiliate links, which means if you book accommodation, tours or buy a product, we will receive a small commission at no extra cost to you. These commissions help us keep creating more free travel content to help people plan their holidays and adventures. We only recommend the best accommodations, tours and products that ourselves or our fantastic editorial team have personally experienced, and regularly review these. Thanks for your support, kind friend!