A beginner's guide to Siem Reap – aka Siem Reap for the socially inept….
The Beginner's Guide To Siem Reap, Cambodia
You keep seeing the root-covered ruins of Angkor Wat and have got it in your head that you need to see this place.
But what's the best way to get there? Where do you stay? What do you need to know before you arrive? Well I've been there, done that, and I'm here to help.
Here is my beginner's guide to Siem Reap, Cambodia.
READ MORE: Check out our brand new guide to help you travel to Cambodia!
Before You Go
First off, you need a visa. I suggest applying for one online and printing 2 coloured copies before you go. It makes the border crossing much faster!
Also have cash ready. Cambodia uses the Riel and USD. However if you bring USD be sure it is immaculate. I didn't take this seriously enough and had bills turned down because they had a fold! And be sure to bring small bills, like 20s and under.
Cambodia is cheap and many places will say they can't make change. When we arrived at our hostel we tried to pay with a 20 and the receptionist said she couldn't make change for us.
Luckily, there are many ATMs around Siem Reap if you have the right kind of credit/debit card. Bring a Visa or Mastercard with a magnetic strip. My debit card only had the chip which left my friends and I really strapped for cash!
Bangkok to Siem Reap
If you have money, fly to Siem Reap. It is much simpler. But for the rest of us on a budget here's how to get to Siem Reap by train.
Arrive at the station early as you can only buy tickets the day of. The train ride is about six hours with hard seats and is slow but at 50baht/$1.50 incredibly cheap.
When you arrive in Aranyaprathet you will have to negotiate with a tuk tuk driver to take you to the border which you should haggle down to about 60baht.
At the border there will be a building for exiting Thailand. Many people will try to convince you that you need to go to a different visa office but just go straight to the Thai exit.
You'll go up some stairs into an office and depending on when you arrive this can go fast or very slow. Be sure to have your exit papers ready! Then you will go downstairs and walk across the border into Cambodia.
The entry point here is basically a shack. A man will hand out entry papers that you must fill out before you can get your passport stamped. Outside this shack there is a free bus that will take you to the bus terminal outside of town.
Here you have several options of finding a private car or a van. We opted for the van which was fine but a bit crowded.
They'll take you the 4 hours to Siem Reap and drop you off in a central spot where you can hail yet another ride in someone's van to get you to your hotel or hostel.
It's common for these buses to stop at a friend's roadside shop or restaurant with overpriced items. Just be sure you have water and snacks ahead of time to avoid being over-charged.
If you would rather take the bus from Bangkok to Siem Reap, you can book it ahead of time on Bookaway.
Where To Stay In Siem Reap
So you love your friends but you need some space. Lucky you! Siem Reap is a great place for backpackers on a budget.
If you prefer to save your money on accommodation you can find some very cheap hostel dorms (we paid 3.50 per person).
Our hostel, Angkor Wonder Hostel, had a private 4 person room with our own bathroom. Unfortunately the walls of the bathroom didn't go up to the ceiling so anything happening in the bathroom could be heard by everyone.
The doorknob was also broke off so you had to wedge the door shut and open it by pulling the top corner where there was a hole made by other people trapped inside. Overall this place was fine for the price.
But Siem Reap also gives you the opportunity to upgrade for a very reasonable price. For about $20 a night you can have your own room at other hostels.
I moved over to Naga Angkor Hotel after the first night in Siem Reap. I love you guys but I need to poop in peace.
Note from Alesha and Jarryd – We also highly recommend the Mad Monkey Hostel in Siem Reap. Not only is this one of the best hostels in all of Southeast Asia, but they also put a huge portion of their profits into community projects and providing their Khmer staff and their families with medical care and education.
They are also the same team that manage the Naga Angkor Hotel.
Things To Do In Siem Reap
There are so many things to do in Siem Reap! Here is a list of our favourites.
Angkor Wat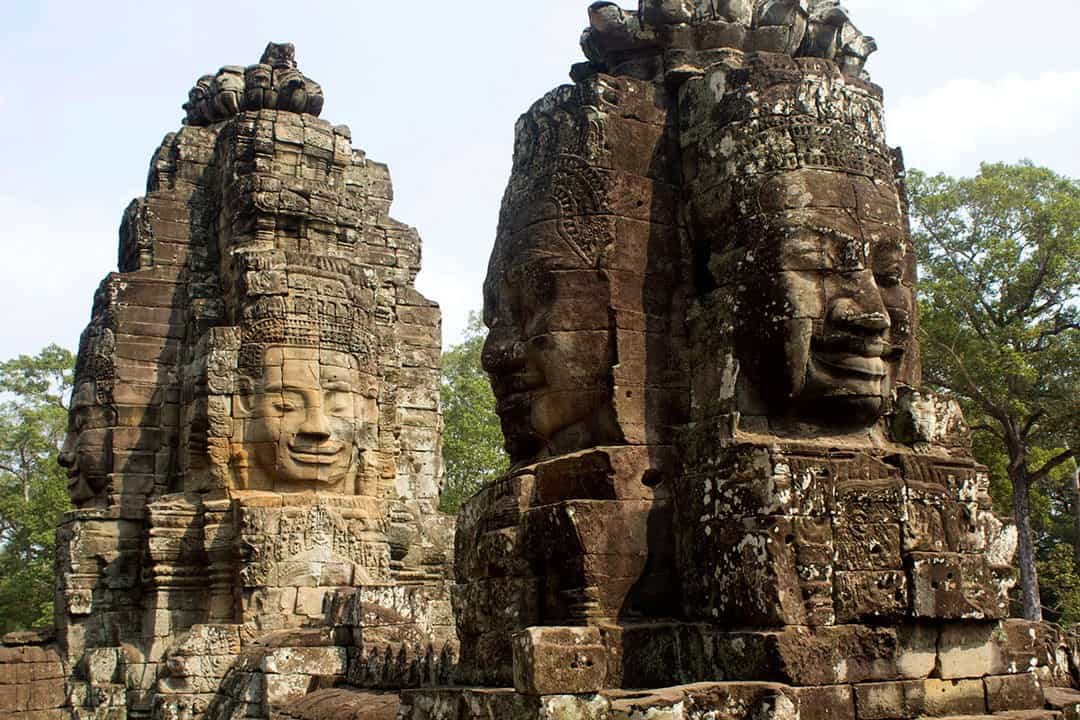 Obviously if you are in Siem Reap you have to see the Angkor Wat Archeological complex. It is a huge site and if you really want to explore it well I suggest getting the 3-day pass although you can get a good taste with the 1-day pass.
To get there, talk with your hotel or hostel and they can arrange a tuk tuk to take you there. Ours cost $15 dollars for the 4 of us. He was very good at watching for us when we left each site and had lots of cold water ready.
However, the tour didn't include the actual Angkor Wat temple. When we asked how much extra to take us there he said $5. Of course, he left out that he meant $5 dollars per person which we didn't know until the end of the tour.
So make sure when you negotiate you are very clear on the details!
Remember at Angkor knees and shoulders need to be covered. If you only brought shorts, buy some of the obligatory elephant pants that are sold everywhere. They are very comfortable and by the end of your trip you'll want to collect them like Pokémon.
Want a guided tour of Angkor Wat? Book your tour here.
To get tickets your tuk tuk will take you to the ticket booth. Tell the vendor what pass you want (1 day-$37, 3 day-$62, or 7 day-$72 ; updated 2018). They'll take your picture and print the ticket with your photo. Always have this ticket handy as they will check it at each site you visit.
Many blogs suggest going to the complex at dawn to see the sunrise and apparently everyone in the world listens to that advice! I've heard that it's extremely crowded in the mornings.
Luckily my friends and I had a bout of laziness and didn't leave until 10am. Although we were exploring during the hottest part of the day much of the crowd had dispersed.
So if you don't mind missing the sunrise, you'll enjoy a less crowded view of the temples.
Note from Alesha and Jarryd: We definitely recommend getting up for sunrise at least once. I mean, how often are you going to have the chance to watch the start of a new day in front of one of the most remarkable archaeological wonders in the world? Yes there are crowds – that's because it's incredible!
Spas
Do all the spas. There are cheap spas everywhere but some don't have qualified masseuses so I suggest researching for locations with good reviews.
I had a back and neck massage at Lemongrass Garden for $18 and a full-body aromatherapy massage at Khmer Relief Spa for $24. Both were excellent.
Pub Street
Another famous location is Pub Street in the centre of town. There are many Western-friendly restaurants and bars that offer amazing deals.
Cocktails on the expensive end were $4 and some as cheap as $2.50. Be careful though, there's lots of scammers looking to take advantage of tipsy tourists!
ATVs and Motorbikes
Another outdoor option is an ATV or motorbike tour of the countryside. You don't need experience to go on these tours and it shows you more of the area outside of town. My friend did one of these by herself and said she had a great time.
Phare Circus
If you really want to take part in an entertaining cultural experience make sure you go to the Phare Circus. The Cambodian circus has helped hundreds of disadvantaged youths over the years make a career for themselves. It's one of the best things to do in Siem Reap, as well as one of the best things to do in Battambang. Don't miss it!
What Scams In Siem Reap To Watch Out For
Purse snatchers. Cambodia is known for motor bikes grabbing purses or phones from pedestrians. Keep your belongings close to your body and away from the street.
Beggars. There are many beggars who use children to get money from tourists. They usually say something like "I don't want money only milk." The major problem with this is the adults keep the children out of school to beg. If you want to help there are some charities you can donate to instead.
Change scam. A common scam is when you hand over some USD to a vendor they will say they don't have change for that much money and they talk you into buying a few more items to make it work out even. They do have change. Be firm in your price and what you want. Don't let them talk you into buying extra things you don't really want.
I hope my experience as a first-timer can help you to have a fantastic trip. So print your visa, pack some sunscreen, and book that fancy hostel. You're ready for an adventure in a beautiful, historical Siem Reap!
What else would you add to our beginner's guide to Siem Reap, Cambodia? Let us know in the comments below!