In 2014, a writing competition changed my life forever.
I had never considered myself to be a decent writer. Sure, I kept a journal of our travels through Central America, but the notion of being a 'professional travel writer' was far beyond my imagination. It was just something I did for fun and to keep track of memories.
A little travel blog named NOMADasaurus had become my outlet for sharing the stories of our journey. A quiet corner of the internet where friends and family would check in to see what Alesha and I were up to as we wandered the globe.
I knew that some were making a living from documenting their travels, either through blogs, photography, videos or social media, but I had no idea how.
When a friend encouraged me to enter the 2014 World Nomads Travel Writing Scholarship, I hesitated strongly.
It sounded like an incredible opportunity, giving 3 lucky people the chance to be mentored by an award-winning travel writer and coached into the industry.
But of course, I wasn't good enough to be in with a chance. I barely graduated high school, had never received any journalism education and knew nothing about what it takes to tell a good tale.
Still, with nothing to lose, I penned a story about our old Canadian campervan, Latoya, and sent it in with 15 minutes to spare before the deadline closed.
A few weeks later, I received an email from World Nomads:
"Your entry has been chosen as a WINNING entry in our 2014 Travel Writing Scholarship. Congratulations!"
Things would never be the same again.
In August that year I flew to Berlin with two other recipients, Rachel and Amanda, to meet with Alex Leviton, a renowned travel writer.
We took part in an intense 3-day workshop that explored the power of storytelling, an introduction to journalism and how to pitch ideas to editors.
I was then set free on an all-expenses-paid trip around Europe to create stories for World Nomads. A fully-fledged insight to what it's like to be a professional content creator.
For the next two years I muscled my way into the travel writing industry, using the skills I learned to become a contributing writer for some of the largest media outlets in the world, including BBC Travel, CNN, Yahoo!, Business Insider and Forbes.
These publications would pay me for my stories, helping Alesha and I stay on the road and explore the farthest reaches of the planet.
One day an editor at BBC said that if we could submit good photography as well, they would pay more for our images. As a couple of backpackers living on USD$35 a day, this was a huge eye-opener, and we started to put our efforts into photography and video, alongside writing.
I took the advice of Alex and dove deep into the emerging world of social media, broadening my horizons and being ready to adapt should the industry change.
Change it did, and using what I had learnt on the World Nomads scholarship and from working with the best travel editors in the world, we started to grow our own little publication.
Fast forward to today, and this website you're reading is now one of the largest travel blogs on the internet, turning over significant revenue and transporting us to the planet's most beautiful and remote destinations.
We've turned our passion for travel into a successful business, working with tourism boards, camera companies and tour operators to be paid to create content about our experiences.
One week we're sipping cocktails on a luxury expedition ship in Greenland, the next we're abseiling into crevasses. All for 'work'.
We literally get paid to travel the world, with all of this kickstarting thanks to the World Nomads Travel Writing Scholarship.
And now, World Nomads, Alesha and I want to help you do the same.
The 2022 World Nomads Content Creator Scholarship
This year World Nomads have launched a new Scholarship for 4 budding content creators to achieve their own travel dreams, and we're very proud to be partnering with World Nomads as the official mentors for these lucky winners.
What is the Content Creator Scholarship?
The Content Creator Scholarship is a brand new concept, building on the success of World Nomads' previous Travel Writing, Travel Photography and Travel Videography Scholarships.
The industry is evolving, and with professional travel content shifting from single disciplines to covering a multitude of bases, World Nomads have combined the 3 programs into one overarching 'Content Creator Scholarship'.
If you're a creative person that loves to travel, then being a professional content creator is likely a dream job. But there's a lot more to being a content creator than simply uploading trending TiKToks.
You need to learn the art of storytelling, visual media creation, shot and travel planning, working with clients, navigating social media, pitching, business admin and cutting through the noise to deliver beautiful content.
That's what this new Scholarship is exactly designed to teach.
World Nomads are giving 4 lucky people the chance to achieve their travel dreams by sending them on an all-expenses-paid travel assignment to a place of your choosing.
You'll discover exactly what it's like to be on a travel campaign, managing epic adventures and delicious food with creating content to share across multiple platforms.
Before, during and after you'll be coached by us, professional content creators NOMADasaurus, to help you through every step of the way.
This Scholarship is a world-first, and is going to be the best springboard to working in the travel content creator industry possible.
The Mentorship
It's safe to say we have learnt a lot since 2014 working as professional content creators.
While we try to make our life look as chill and enjoyable as possible on social media, the truth is there's a lot of work that goes on behind the scenes to execute this job for clients.
For our fellow creators reading this, you know exactly what we mean. It's the best job in the world, bar none. But it's not a holiday.
That's why World Nomads have asked us to be the mentors for the 4 winners of the Content Creator Scholarship.
Leaning on nearly a decade of experience working in the most remote destinations imaginable and partnering with hundreds of brands like Sony, Expedia, Destination Canada, Trip Advisor and Volvo, we know the ins and outs of the industry.
We'll be providing personal 1-on-1 coaching with each winner to help them learn everything they need to know about the industry – how to create beautiful content, storyboarding, how to work with clients, expectations and deliverables, how to turn your passion into a business, and plenty more.
We very rarely offer personalised coaching for creators, so this in itself is a very unique opportunity.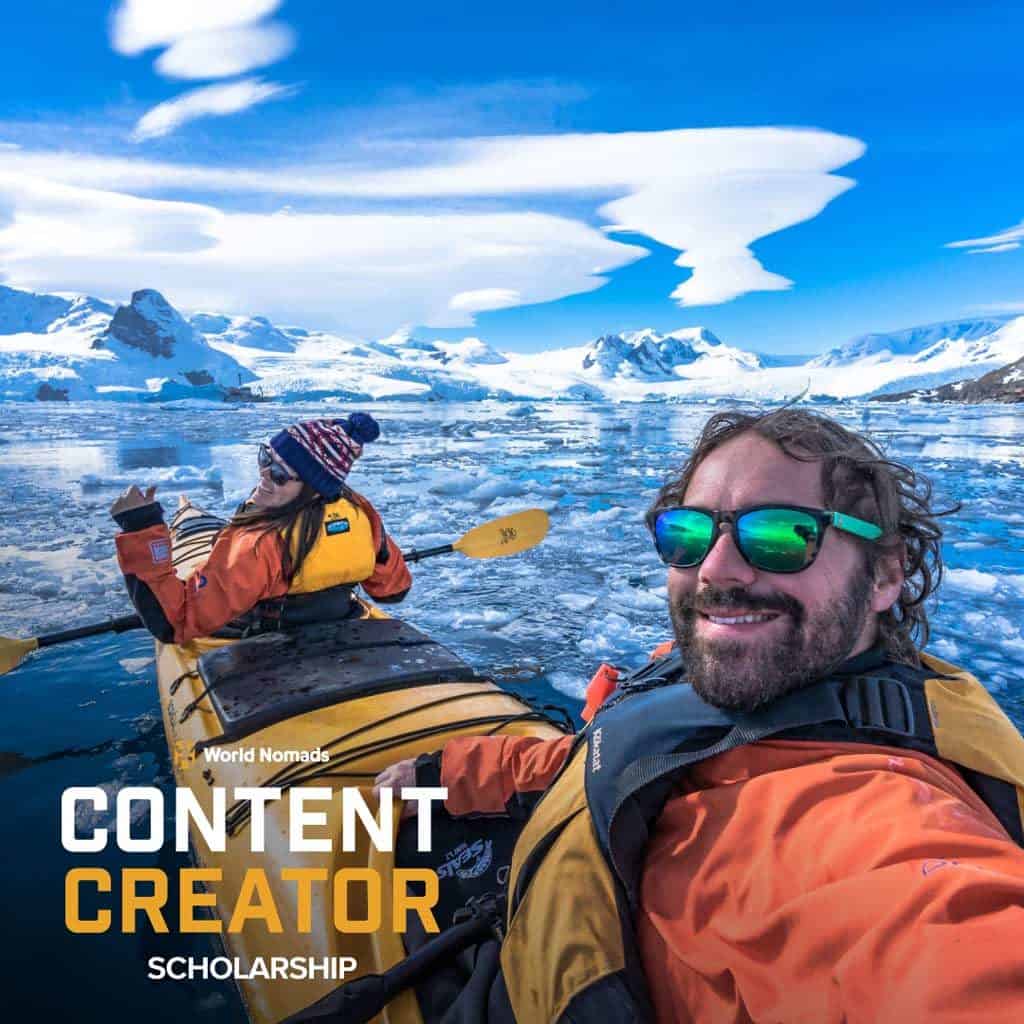 What You Can Win
World Nomads have partnered with us (NOMADasaurus), Sony, RØDE and Bright Trip to offer some incredible prizes!
Professional Mentorship
Unlock your potential with 1-on-1 coaching from us!
$2500 USD Travel Budget
Travel and create content on assignment for World Nomads
Sony Camera
Shoot beautiful Vlogs with a Sony ZV-E10 camera & lens kit worth $799 USD
RØDE Audio Gear
Record superior sound with mics and gear worth over $700 USD
Bright Trip Courses
Expand your travel and creative skills with courses worth $500 USD
Travel Insurance
Travel safer and smarter with US $150 toward your travel insurance.
As you can see above, the prizes are very substantial, coming in at well over USD$5000 value.
Mentorship
You'll be coached by us, as mentioned above. If that's not reason enough to enter then we don't know what is!
Travel
You'll be given a budget of USD$2500 to book a 3 to 4-day trip within a 4-hour flight from your home city.
You will have the freedom to select where you go and what you want to create, under the guidance of ourselves and World Nomads.
On this trip you will be required to create an agreed number of deliverables, just like any other professional content creator, and upload them by a specific deadline.
World Nomads will also share your content across their website and social channels, providing further exposure for you as a creator and opening more doors to expand into the industry.
Gear
Our friends at Sony will be giving each winner a brand new Sony ZV-E10 vlogging camera to capture their content with, and RØDE will be providing each winner with $700 worth of microphones and other equipment.
We personally use Sony and RØDE gear ourselves on all of our assignments, so you'll have a complete setup to become a professional content creator!
Courses
Bright Trip will be giving each winner access to their amazing creator courses to the value of USD$500.
Insurance
If you can't afford travel insurance, you can't afford to travel. Especially if you're on assignment with some expensive gear going on epic adventures!
That's why World Nomads will provide each winner with USD$150 to put towards travel insurance for their trip.
How to Enter the Scholarship
Entering the World Nomads Content Creator Scholarship is very easy, and won't take too much of your time.
Here's a rundown on how it works:
You can find the entry form on this page.
We want to see your best travel content and understand why you think you should win. We will be weighting entries based on 80% content shared and 20% written submission.
Your content can be old or new, but must:
Showcase a travel story, experience or location
Show originality, creativity and be visually engaging
Effectively tell us a travel story or travel experience
Be an image, video, blog or vlog post that is in English and publicly accessible
Take 1-2 minutes maximum to review in full (view, watch or read)
Your 150 word or less written submission needs to convince our judges that you have a passion for travel and creating content as a career.
Your content can be on a blog, Instagram, Facebook, TikTok, YouTube, Twitter or any other media outlet.
Whether it's a written article, beautiful photo series, inspiring video clip or even an intriguing podcast, as long as it's travel-related and you have a desire to become a professional creator, you are eligible to join!
You do not need to have a large social media following either. In fact we couldn't care less how many followers you have. All we care about is your passion and creativity.
Alesha and I are two of the judges for this and are very excited to see all the entries.
Applications close October 16th, and the winner is announced November 16th, 2022.
What Winning the Scholarship Could Mean for You
As I look back on the growth and success of NOMADasaurus and our own personal brands, I hand-on-my-heart attribute where we are today to winning the World Nomads Scholarship in 2014.
Yes, we could have still developed our business into what it is today without the scholarship. Anything is possible after all, and many of our friends are successful in this industry without the leg-up that we received.
However the scholarship offered so much more than just a title.
It was a window into a world that I never thought was possible. It opened doors to working with publications and brands that probably never would have happened so early in our content creation career.
Having access to a mentor expedited the learning curve tremendously. Where else could I have found such a behemoth of the industry willing to answer any question I threw her way?
And most of all having a global company as forward-thinking and influential as World Nomads backing us from day 1, and continuing to back us throughout our entire careers, allowed us to develop into who we are today.
In 2022 the scholarship is taking on a revolution, and we are so thrilled to be part of the journey.
So if you're a budding travel content creator and have always wanted to turn your dreams into reality, make sure you enter the World Nomads Scholarship.