Looking for great ideas on how to spend a long weekend in Asheville? Our 3 day Asheville itinerary has it all!
For travelers in the USA looking for charming cities filled with cool attractions and surrounded by nature, Asheville NC is the perfect place to visit.
Asheville North Carolina is such an amazing city because it combines culture, art, history, and nature. There are so many mountains, national parks, waterfalls, and hiking trails to see in addition to the landmarks in town.
So if you're heading to this laid-back city in the mountains and wondering how to spend a weekend in Asheville, this itinerary is designed to help you out.
Whether you're road-tripping the US, traveling solo, enjoying a weekend getaway with friends, or looking for a romantic couples vacation, Asheville has plenty of activities to suit your needs.
If you need inspiration about how to spend 3 days in Asheville NC, read on!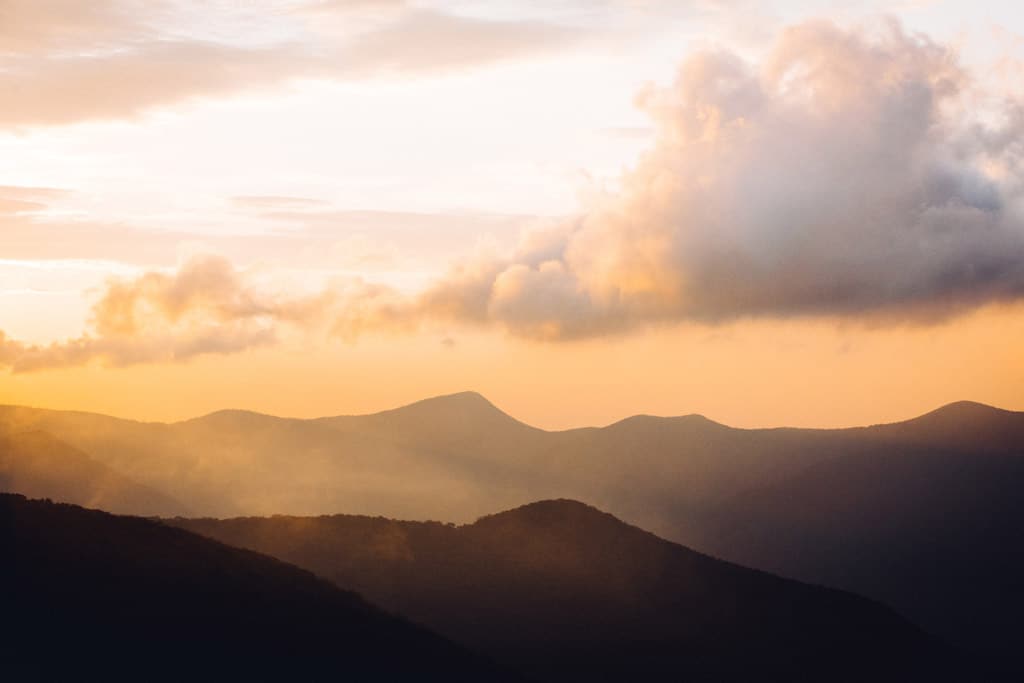 How To Spend 3 Days in Asheville Itinerary
This 3 days in Asheville itinerary will start with a day of sightseeing in downtown Asheville, plus 2 days of enjoying nature like the Pisgah National Forest, Blue Ridge Parkway, French Broad River, and more.
If you are driving your own car, head straight into Asheville and start exploring.
If you are arriving at Asheville airport, either pick up a rental car, or take the local airport bus into downtown for just $1.
Once you arrive, it's time to start exploring!
Check out this list of the 21 best things to do in Asheville for more ideas.
Day 1 in Asheville – Sightseeing in Downtown
Your first day visiting Asheville will focus on the centrally located highlights of the city.
There are so many cool attractions in downtown Asheville, so spend the day enjoying the heart of the city on foot.
Day 1 Morning – Downtown Asheville NC
Start your 3 days in Asheville by getting acquainted with the city center. You can cover most of the area on foot, though there are local buses to help you get around the longer distances.
For example, the Biltmore Estate is over an hour's walk from downtown, so catching a local bus will save you some time. Check the local transit website to help you plan your bus routes for your weekend in Asheville NC.
Botanical Gardens
The Botanical Gardens open at sunrise, so if you're feeling ambitious you could head out here to watch the sun come up. Otherwise, meander over here whenever you're ready.
A peaceful stroll through the plants, flower gardens, and greenery is the perfect way to start the day. Once you've had your fill of the Botanical Gardens, head into the heart of downtown Asheville.
It's a 30-minute walk from the gardens to downtown or a 4-minute Uber ride. Or take the N1 Local bus route.
Address: 151 W.T. Weaver Blvd
Hours: Sunrise to Sunset
Cost: Free
Asheville Museums and Landmarks
There are a few great museums in Asheville that are worth checking out. You can try to hit them all, or just pick the ones that interest you the most.
The Asheville Art Museum has an impressive collection of American art from the 20th and 21st Centuries. The Asheville Science Museum has lots of interactive exhibits about the natural world.
Alternatively, the Asheville Pinball Museum is a unique place where you can play antique pinball machines and learn about their history.
In addition to museums, downtown Asheville has other notable sights to check out on your self-guided walking tour.
Grove Arcade is one of the USA's first shopping malls. This historic site boasts lots of impressive architecture. Just behind Grove Arcade is the Thomas Wolfe Memorial, another historic landmark that celebrates the life of the famous American writer.
Pack Square Park is a green space in the city that hosts local events.
All of these museums and attractions are within walking distance of each other, so I recommend just spending a few hours going for a stroll downtown and checking out the attractions that excite you most.
READ NEXT: While you're putting together your plans for North Carolina, be sure to read our post on the best things to do in Charlotte!
River Arts District
Next up on the first day of your Asheville itinerary is the River Arts District. From the center of the city, it's a 25-minute walk to the River Arts District, otherwise, it's a quick ride on the W2 local bus route.
Once you arrive, enjoy browsing through all the art galleries and meeting some of the local artists. Full of street art, great food, and a creative atmosphere, this neighborhood of Asheville is a favorite among locals and tourists alike. It's a must when exploring downtown!
After all this walking around and sightseeing, you've probably worked up an appetite so it's time to start thinking about lunch.
Continuing further south along the east coast? Check out this article: The Perfect 3 Days in Atlanta Itinerary
Day 1 Afternoon – Breweries and Biltmore Estate
Lunch at a Brewery
For lunch on day 1, try out your first Asheville brewery. This city is known for its spectacular breweries and craft beer scene, so you'll want to try as many as you can!
There are a few of the most popular Asheville breweries right in the River Arts District, including Wedge Brewing Company, New Belgium Brewing Company, and Hi-Wire Brewing. Grab a beer (or a few) and enjoy your afternoon.
The River Arts District also has lots of amazing cafes, bakeries, and restaurants if you're not into the brewery scene.
Biltmore Estate
The next stop on your 3 days in Asheville itinerary is the Biltmore Estate, one of the most famous attractions in the city.
Located in the southern end of the city, it's a bit out of the way from downtown so either drive your rental car, take an Uber, or ride one of the following local bus routes: S1, S3, S5, S6.
Once you arrive at Biltmore Estate, the former home of George Vanderbilt, spend the rest of the afternoon admiring this stunning mansion and all its 8,000 acres of gardens and amenities. Embark on a Biltmore House Tour to ensure you see it all.
In addition to touring the mansion itself, you can explore the tiny, charming towns of Antler Hill Village or Biltmore Village.
You could also do some wine tasting at the Biltmore Winery, stroll through the Italian Garden, or visit the Observatory. Biltmore Village truly has so much to offer, so enjoy your afternoon here and really soak in all the elegance of "America's Largest Home".
Visit the official website of the historic Biltmore Estate for more information about the hours, attractions, tours, directions, parking, events, and more.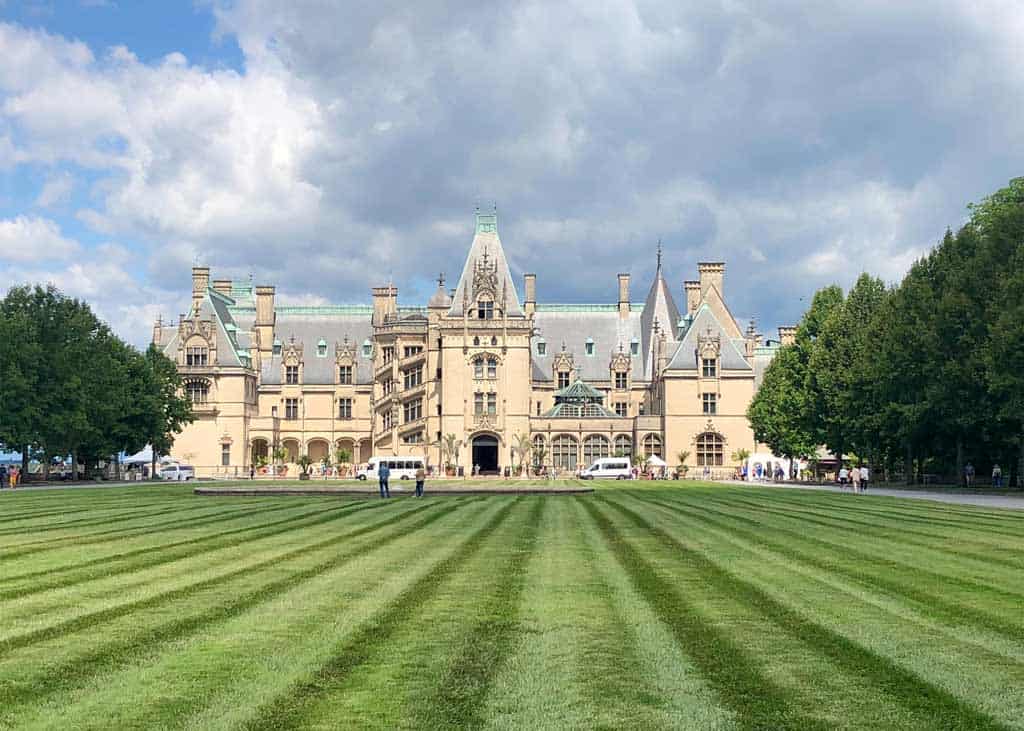 Day 1 Evening – Relaxing, or More Breweries
Your weekend in Asheville has been off to an amazing start, so you may want to take it easy on your first night. The next day of this 3 days in Asheville itinerary will take you out into the mountains of western North Carolina for some hiking and exploring nature, so you'll want to conserve your energy.
Grab some dinner at one of the many amazing restaurants downtown and get a good night's sleep. You can find so many cuisines in the area, including Japanese, Indian, French, Mexican, and of course, classic American pub fare. Just wander around and find a place that calls to you.
However, if you're one of those people who loves to live life to the fullest and you want to go out tonight, there are more great breweries near downtown that you can hit up for some food and beers.
Wicked Weed Brewing Pub and White Labs Brewing Company are two of the best options.
Day 2 in Asheville – Pisgah National Forest
One of the most stunning areas of natural beauty near Asheville NC is the Pisgah National Forest. If you're a real nature lover, this forest is a must-see when you visit Asheville.
Morning and Afternoon – Hiking, Waterfalls, and Natural Scenery
Spend day 2 of your 3 days in Asheville itinerary in the Pisgah National Forest. Though the forest is just outside of Asheville NC, I would recommend renting a car for today because it's much easier to get around the wilderness with your own vehicle.
This lush forest is located in the Blue Ridge Mountains, a subrange of the Appalachian Mountains. Because there is so much to see and do in the mountains outside Asheville North Carolina, I'll provide a few different options that you can choose from.
As you'll be spending most of the day in nature, I recommend bringing a packed lunch and some snacks to hold you over until dinner.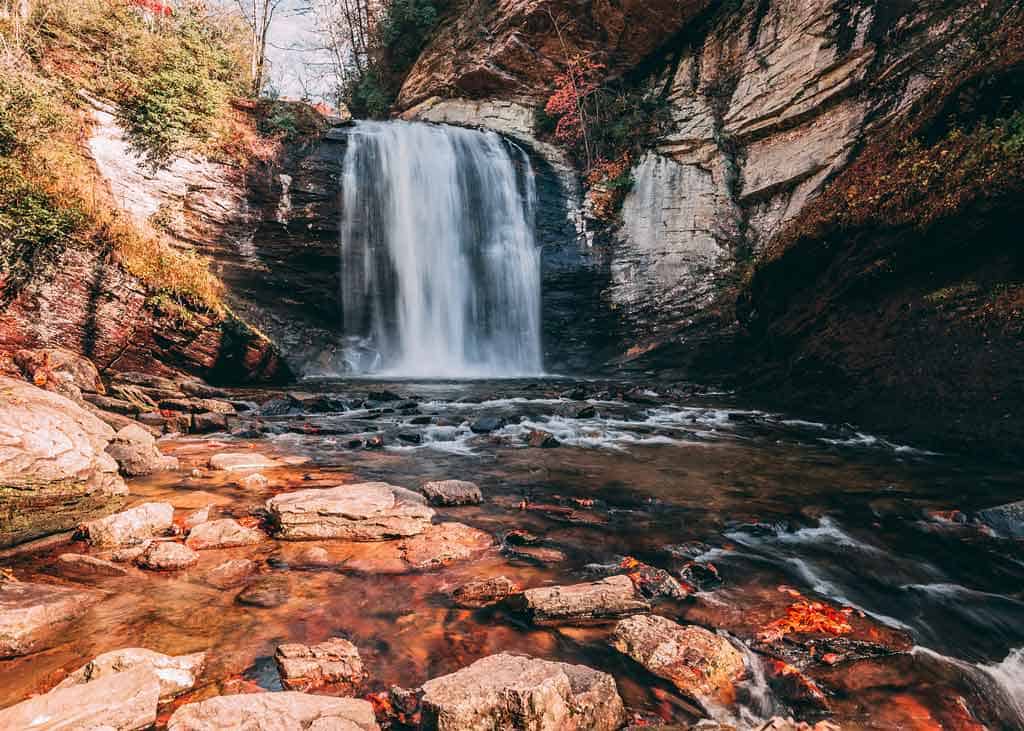 Hike Mount Mitchell
This activity is only for the really fit and adventurous travelers who love hiking and a challenge.
Mount Mitchell is the highest mountain in the Appalachian Mountains, so climbing it is no easy feat. The Mount Mitchell Hiking Trail is 6 miles long and traverses steep, challenging terrain. It can take about 8 hours to hike to the top and back.
However, this is one of the best hiking trails in the Blue Ridge Mountains and is a real treat for those who really love hiking. The trail begins at Black Mountain Campground in Mount Mitchell State Park, about a 1-hour drive northwest of Asheville.
This is a full-day activity for those who want to tackle it. For those of you who prefer less challenging activities in nature during your Asheville vacation, here are some other things to do in Pisgah National Forest.
North Carolina Arboretum
Heading south from Asheville NC will bring you to even more attractions in the forest, many of which are more mellow than hiking Mount Mitchell.
The North Carolina Arboretum is an incredible collection of gardens, exhibitions, and walking trails that showcase the best plant species of the Appalachian Mountains.
The biodiversity on display here is fascinating. So while you're exploring the forests outside Asheville, stop in the NC Arboretum to learn something new.
Address: 100 Frederick Law Olmsted Way
Hours: 8 am – 9 pm (hours vary based on season and exhibition)
Cost: Admission is free but there is a $16 parking fee for a standard vehicle
Waterfalls
The southern corner of the Blue Ridge Mountains is also home to lots of gorgeous waterfalls. One of the most popular is Looking Glass Falls. Located right next to the main road, you don't have to hike far to reach this beautiful waterfall.
Just drive along Highway 276 and park at the parking area for Looking Glass Falls. Just a short walk away is this stunning waterfall!
Sliding Rock is another amazing place to visit in Pisgah National Forest. It is also located along Highway 276 and is just a short walk from the designated parking lot.
The perfect place for a hot, sunny day, Sliding Rock is rightfully named. It is a long, wide, somewhat flat waterfall that tumbles down a smooth, slanted rock. So it's like a big natural waterslide, and you can spend some time splashing around in the freshwater.
Both of these waterfalls are located about 45 minutes drive south of Asheville.
For more of the USA's best mountains, check out the best things to do in Denver, Colorado
Linville Gorge
This area of the Pisgah National Forest is absolutely breathtaking. Linville Gorge is a rugged wilderness area full of unique rock formations, hiking trails, and scenic lookouts.
While Mount Mitchell is the most difficult activity, and the waterfalls are easy, peaceful activities, hiking in Linville Gorge is an intermediate activity perfect for those who want to hike and see cool views without taking on anything too strenuous.
There are lots of hikes in this national park to choose from. Babel Tower Trail, Hawksbill Mountain Trail, and Linville Falls Trail are moderate-level day hikes. The latter is only 2.8 miles and takes you to a waterfall.
Easy, 1-mile hikes include Pine Gap Trail and Cabin Trail, both of which are leisurely and enjoyable.
Chimney Rock is one of the most famous rock formations in the area. There are a few Chimney Rock hiking trails that bring you here, including the Hickory Nut Falls Trail, the Outcroppings Trail, and the Four Seasons Trail.
For a real treat, consider booking a helicopter tour of Chimney Rock. You can get a bird's eye view of the sprawling forest, mountains, and unique rock shapes.
Once you've done some hikes and seen some waterfalls, drive back into Asheville to continue your weekend trip with a fun night out.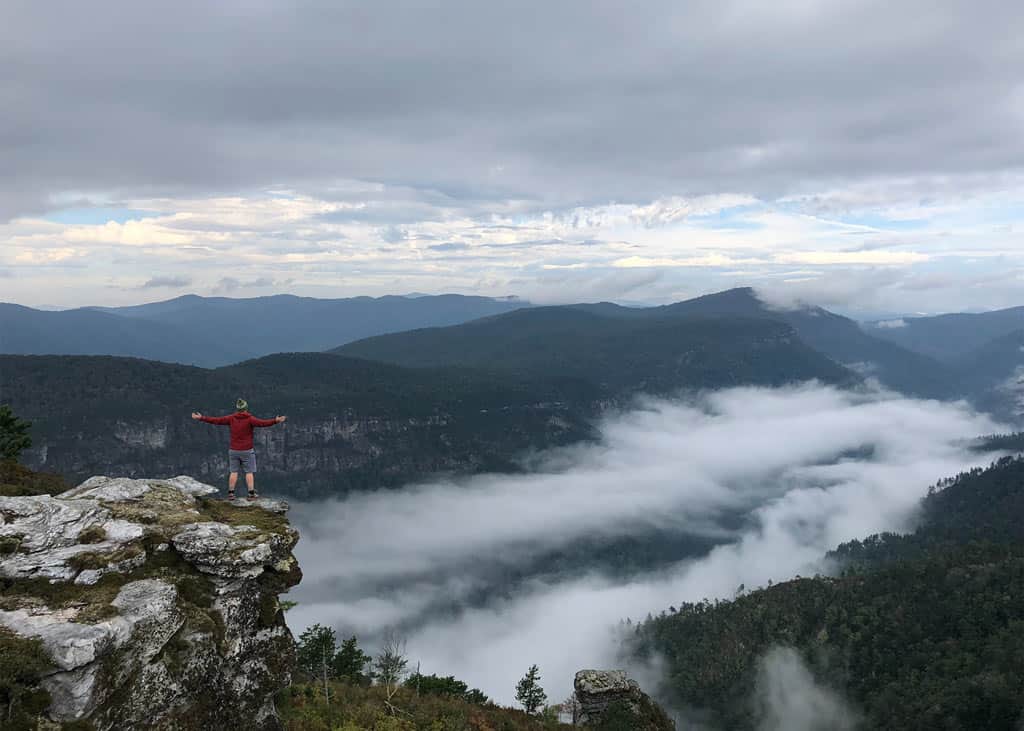 Day 2 Evening – Enjoy Some Live Music
Aside from great restaurants and breweries with outdoor seating, Asheville has lots of amazing options for live music.
Whether you want to head to an actual concert venue and catch a ticketed event, or you just want a casual meal with a live performance in the background, spend your second night in Asheville enjoying the nightlife.
For a more casual setting, head to one of the following restaurants that offer live music:
Jack of the Wood Celtic pub
The One Stop Bar and Kitchen at Asheville Music Hall
Off the Wagon Piano Bar
Salvage Station
The Grey Eagle
If you want to enjoy an actual concert, musical, comedy show, or other performance, check out the following venues:
The Boiler Room
Thomas Wolfe Auditorium
Orange Peel
Isis Music Hall
Hazel Robinson Amphitheatre
Wortham Center for the Performing Arts
Wherever you decide to go, live music is a super fun way to spend a night during your weekend in Asheville itinerary.
Day 3 in Asheville – Blue Ridge Parkway and More Outdoor Adventures
The last day of your weekend in Asheville NC will be spent soaking in more of the natural beauty. Having a rental car is also a good idea for today because you'll be tackling the Blue Ridge Parkway, one of the USA's most scenic drives.
Day 3 Morning – Yoga or Kayaking
If you're feeling a little foggy from last night, you can start the day with a refreshing yet peaceful activity to clear the mind.
Yoga
Asheville NC has some lovely yoga studios where you can book in for a morning flow.
Hit up Asheville Yoga Center in downtown or West Asheville Yoga for a class.
Or if you want a more unique experience, book a morning yoga tour with Asheville Wellness Tours and do yoga outside on top of a mountain.
This guided tour will take you up into the Blue Ridge Mountains for a quick hike and a yoga session atop the mountain.
READ NEXT: Be sure to plan your trip to Nashville, Tennessee with our Perfect 3-Day Nashville Itinerary!
Kayaking
If yoga isn't your thing, consider starting your day with a kayaking session.
The French Broad River flows through downtown Asheville North Carolina and is an iconic part of this beautiful city.
To get out on the river, book a tour with local guides. They will provide you with a kayak, lifevest, and any other equipment, and they will take you out on the river for a nice paddle.
Whether you choose to kayak or do yoga, I highly recommend making the most of your last morning in Asheville North Carolina by getting active in nature.
Day 3 Afternoon – Blue Ridge Parkway
After a wholesome morning on the last day of your Asheville trip, head to one of the most scenic drives in North Carolina and the entire USA.
The Blue Ridge Parkway runs for over 400 miles and passes into numerous states on the USA east coast.
From Asheville NC, there are multiple entry points to the Blue Ridge Parkway. If you want to drive south, you can find Blue Ridge Parkway Milepost 393 off the North Carolina Highway 191 near I-26. If you want to head north, you can find Blue Ridge Parkway Milepost 382 off the U.S. Highway 70 east of downtown Asheville.
Wherever you choose to get on, the road is well paved with lots of signage, and there is no entrance fee. The Blue Ridge Parkway official website has maps, attractions, and travel tips for your drive.
Craggy Gardens and Craggy Pinnacle Hike
Craggy Gardens is a highlight of the Blue Ridge Mountains northeast of Asheville. Between Mileposts 364 and 367, you can easily turn off the parkway to visit this amazing spot.
Full of stunning views, unique gardens and twisted, gnarled trees, there is so much to see here. Take on the short but steep Craggy Pinnacle Hike for the best views.
The Craggy Gardens Visitor Center is full of maps, trail info, and facts about the flora and fauna of the area.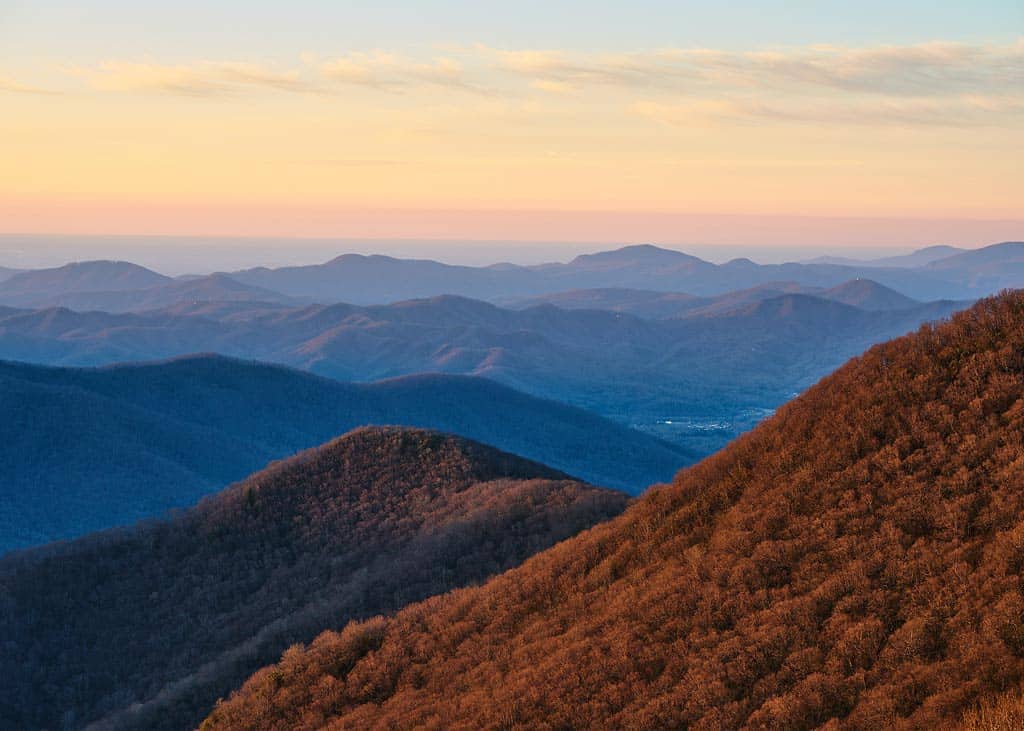 Day 3 Evening – Spa and a Nice Dinner
To celebrate the last night of your weekend getaway in Asheville NC, treat yourself to a spa treatment, a nice dinner, or both!
Spas in Asheville
There are some lovely spas around the city where you can indulge in a massage, skin treatment, or other sorts of holistic remedies.
The Omni Grove Park Inn has one of the city's best spas. This luxury hotel is not only one of the nicest places to stay in the city, it also has a stunning subterranean spa facility.
Complete with eucalyptus steam rooms, saunas, hot tubs, and treatments, the Omni Grove Park Inn is the epitome of luxury.
Salt Spa of Asheville is another amazing spot. With Himalayan salt caves creating a zen atmosphere, they offer massages, salt and sound therapy, and more. Bookings are by appointment Wednesday through Sunday.
Exploring the South? Be sure to check out our perfect 3 days in New Orleans itinerary!
Best Asheville Restaurants
Whether or not you choose to visit a spa, definitely finish off your weekend in Asheville with a nice dinner. This foodie town has so many great restaurants, so be sure to take the time to try at least one.
For amazing food on the last night of your 3 days in Asheville NC, try one of the following restaurants:
Tupelo Honey for incredible, authentic southern cuisine
Rhubarb for farm-to-table cuisine
Storm Rhum Bar for a delightful late-night menu
White Duck Taco Shop for the city's best tacos
Curate for tapas (they also have a bodega for the same amazing food if you can't get a booking)
Hemingway's Cuba for a rooftop bar with flavorful Cuban food
Biltmore Winery for wine tasting and exquisite charcuterie boards
Asheville Travel Guide
Now that you know how to spend a weekend in Asheville, let's cover some of the logistics.
Here is a quick travel guide to help you plan when to visit, how to get around, and where to stay in Asheville North Carolina.
When is the Best Time to Visit Asheville NC
There is really no bad time to spend 3 days in Asheville NC. Located about midway down the US east coast, North Carolina has a humid subtropical climate with pleasantly warm weather most of the year.
Because Asheville is in the mountains, the temperatures do get cooler, particularly in winter. There is a fair bit of rainfall, especially in the humid summer months.
The best time to visit Asheville is the shoulder seasons of spring (March through June) or autumn (September through November). Both of these seasons are warm but not too hot. You'll enjoy lots of sunny days, with maybe some rain, and the temperatures will be comfortable.
Spring is the best time for wildflower blooms, and the local gardens will be flourishing. Autumn offers the most gorgeous views while hiking as the tree leaves are changing colors. If you're doing lots of wilderness exploring, spring and autumn have fewer crowds and perfect hiking temperatures.
Though winter is the coldest time of year, the Christmas decorations around town and at the Biltmore Village are charming.
Getting Around Asheville NC
The USA isn't known for its amazing public transport, but the bus system in Asheville is quite extensive. The transport you'll need during your Asheville weekend getaway depends on your plans.
If you plan on doing lots of hiking and exploring in the mountains, renting a car is definitely the best way to get around. Asheville is a nature lovers' paradise. I already included lots of outdoor activities in this Asheville itinerary, but there is so much more to see.
In addition to the spots on this itinerary, Asheville is also near the Great Smoky Mountains National Park, the iconic Grandfather Mountain National Park, the Cherokee National Forest, and more.
Some of the best hikes, waterfalls, and views are out in remote wilderness areas where public transport doesn't reach. So if your NC weekend trip will include lots of exploring nature, definitely rent a car.
Otherwise, if you just plan on mainly hanging out downtown, you can get away with just walking and taking the local bus. Ubers or Lyfts are also pretty cheap, so if you need a ride back to your hotel after a fun night out, that's an option.
The best way to get around is to rent a car and explore on your own! We recommend Rental Cars, which has the largest range of vehicles for the best value on the market.
Where to Stay in Asheville NC
If you're wondering where to stay in Asheville NC, there are options for every budget. Here are some of our top recommendations.
Best Hostel in Asheville: Bon Paul & Sharky's
Bon Paul and Sharky's Hostel is the perfect place for budget travelers. At $38 per night for a dorm bed, this hostel has a fun social atmosphere and is significantly cheaper than all the hotels in the city.
It's not right in the center of the city, but it is still near lots of cafes, bars, and restaurants and there is public transport to take you where you need to go.
Best Mid-Range Hotel in Asheville: Cambria Hotel
You can't get a better downtown location than this! If you're looking for a convenient hotel with all the best downtown attractions and restaurants within just a few blocks, Cambria Hotel is perfect.
With prices ranging around the $200 mark, and lots of positive guest reviews, this hotel has everything you need for a comfortable stay.
Best Luxury Hotel in Asheville: The Inn on Biltmore Estate
For absolute luxury in Asheville, stay right on the same property as the famous Biltmore House.
As one of the top Asheville tourist attractions, the Biltmore House is one of the most impressive mansions and properties in North Carolina.
Stay in their gorgeous inn and enjoy all the amenities on-site, including a fitness center and spa facilities, multiple restaurants, the Biltmore Estate Winery, the landscaped gardens, and more.
DISCLAIMER: Some of the links in this article are affiliate links, which means if you book accommodation, tours or buy a product, we will receive a small commission at no extra cost to you. These commissions help us keep creating more free travel content to help people plan their holidays and adventures. We only recommend the best accommodations, tours and products that ourselves or our fantastic editorial team have personally experienced, and regularly review these. Thanks for your support, kind friend!