The top things to do in Asheville, a charming town in western North Carolina perfect for nature lovers.
Asheville is a small city with so much to offer. Whether you love nature, art, history, nightlife, or food, Asheville has something in store for you.
Surrounded by the southern Appalachian Mountains and many national parks, this city is like heaven for nature and hiking enthusiasts.
The Blue Ridge Mountains, the Great Smoky Mountains, and the Pisgah National Forest are all situated right outside the city.
Head out into the vast wilderness for any outdoor activities or sports like camping, hiking, biking, climbing, bird watching, and more.
Or explore some of the beautiful parks and gardens near downtown Asheville.
The French Broad River cuts through the city as well, providing locals and travelers with space for kayaking, canoeing, or fishing.
The Blue Ridge Parkway, one of the USA's most scenic drives, also passes through Asheville.
In addition to all the incredible nature here, downtown Asheville is packed with history, art, and entertainment.
READ NEXT: Make the most of your time in Asheville by checking out our 3 Days In Asheville Itinerary!
With numerous museums, art galleries, and historic landmarks, you can learn and educate yourself while exploring the city.
You can also eat and drink to your heart's content at the cozy local bars, breweries, cafes, and restaurants.
So whether you're venturing here for a week of hiking and camping in the mountains, or you're just stopping by while traveling through the east of the USA, here are the best things to do in Asheville!
The 21 Best Things to Do in Asheville NC
Asheville may not be one of the USA's most well-known cities, but it is growing in popularity. Thanks to its gorgeous mountains and national forests, and its thriving nightlife full of art, live music, and breweries, Asheville is a real gem of North Carolina.
From the River Arts District, to the Great Smoky Mountains, to the Asheville Pinball Museum and the NC Arboretum, here are some of the most fun things to do in Asheville NC.
The best way to get around is to rent a car and explore on your own! We recommend Rental Cars, which has the largest range of vehicles for the best value on the market.
1) Drive Along the Blue Ridge Parkway
Definitely one of the best things to do in Asheville is driving along the iconic Blue Ridge Parkway. This scenic route through the Blue Ridge Mountains will bless you with stunning views and plenty of opportunities for hiking, rock climbing, horseback riding, mountain biking, and more.
The entire Blue Ridge Parkway stretches over 400 miles and passes through multiple states in addition to North Carolina. It would take you at least a couple of days to drive the entire thing, even more if you make stops along the way.
But taking a quick day trip from Asheville NC to drive along the famous drive is perfect if you want to get out of the city and into nature.
If you're road tripping around the USA or just traveling to Asheville by car, consider driving along the Blue Ridge Parkway on your way in.
Some of the best views on the Blue Ridge Parkway include Mabry Mill, Beacon Heights, Flat Rock, and Rough Ridge.
Some of the best detours to take off the Blue Ridge Parkway include waterfalls like Crabtree Falls and Hickory Nut Falls, and caves like the Lost Sea, Grand Caverns, and Shenandoah Caverns.
If you're up for a real challenge, hike Mount Mitchell in Mount Mitchell State Park, which is the highest peak east of the Mississippi.
2) Admire the Biltmore Estate
One of the top Asheville tourist attractions is the Biltmore Estate. This national historic landmark was once home to the Vanderbilt family, one of America's wealthiest and most well-known families.
George Vanderbilt fell in love with this mountainous region of western North Carolina and had a massive estate built in the late 1800s.
No one has lived in the estate since the 1950s, but it is still owned by the Vanderbilt family and preserved as a tourist attraction.
The official website refers to the Estate as a "legacy of elegance and charm", and the estate has become known as "America's largest home".
When visiting Asheville, a stop at this estate is a must! Not only can you tour the actual Biltmore house, but there is an Italian Garden, observatory, farmyard, winery, Outdoor Adventure Center, and playground.
There are also numerous niche gift shops, cafes, and restaurants, as well as accommodation options and tours. Different events are often hosted as well, including a Christmas Candlelight Evening.
A complimentary ticket allows you to explore the Biltmore Estate and gardens on your own.
Visit the website for a full list of prices and hours of operation, as they differ depending on each attraction in the Biltmore Estate.
3) Wander Through Biltmore Village
Just across from the famous Biltmore Estate is the charming Biltmore Village. This small village was originally meant to house all the staff that worked at the mansion.
Today, it is home to a mix of shops, cafes, restaurants, and more. There are art galleries, breweries, live music venues, and shops selling homemade jewelry, ceramics, and crafts.
All the businesses are located inside cozy cottages and historic buildings, offering a rustic charm to the streets. There are red brick sidewalks and plenty of shady trees, as well as the Cathedral of All Souls church.
Even if you don't plan on shopping or eating, a stroll through this quaint little village is a nice thing to do before or after visiting the Estate.
Christmas time is a particularly lovely time to visit Biltmore Village, as there are festive lights, Christmas shows and events, and live music.
READ NEXT: Be sure to check out all the best things to do in Charlotte while you're in North Carolina!
4) Visit Grove Arcade and the Thomas Wolfe Memorial
One of the oldest places to visit in Asheville is Grove Arcade.
This was one of the USA's first indoor shopping malls, and now it's one of the best Asheville attractions. Opened in 1929, the arcade is full of impressive, historic architecture.
In addition to representing the history of the town, the area is now a cultural hotspot. There are locally owned shops of all kinds, as well as restaurants, bars, and cafes.
You can shop, eat, drink, and just wander through one of Asheville's most iconic and historic places.
If you're a big fan of history, walk 10 minutes over to the Thomas Wolfe Memorial. This house, historic site, and Asheville museum is a monument dedicated to the famous American author.
Thomas Wolfe is most known for his novels and short stories, particularly the book "Look Homeward, Angel". He was one of the country's great literary figures throughout the 1900s, and it's cool to see the house he lived in preserved so well.
These two historic landmarks are highlights of downtown Asheville.
READ NEXT: Looking for more mountain adventures? Be sure to check out our 3 days in Denver itinerary!
5) Go Hiking in the Great Smoky Mountains
A subrange of the Appalachian Mountains, the Great Smoky Mountains are located on the border of North Carolina and Tennessee.
Taking a day trip to these mountains is one of the most fun things to do in Asheville, especially if you love hiking.
The protected wilderness here is the land of the Cherokee Native Americans, who have been living in these mountains and forests for more than 14,000 years.
While taking on the hiking trails, acknowledge and respect the land of the native people who call this place home.
There is so much to do in the Great Smoky Mountains. Hike a short loop to two waterfalls near Bryson City: the Tom Branch Falls and Indian Creek Falls. Or hike the longer Boogerman Trail or Little Cataloochee Trail, both of which pass by historic buildings in the forest.
You can also go fly fishing in Deep Creek or hike up to Clingman's Dome for an incredible view. Be on the lookout for wild elk roaming through the wilderness, and bring your mountain bike if you want to hit the trails near Bryson City.
6) Wander Through Asheville's River Arts District
The colorful and vibrant River Arts District started as an industrial zone near the railroad tracks in Asheville. All the empty spaces and warehouses acted as the perfect spot for local artists to set up workshops and galleries to showcase their work.
Now, the thriving River Arts District is one of the best things to see in Asheville. It is a hub for creativity, where hundreds of locals host events, classes, and shows that center around art.
It is the arts center of Downtown Asheville, so come through and check out what all the local artists have been up to. The best time to visit is the Second Saturday of every month when there are guided gallery walks, events, performances, and food and wine tastings.
7) Kayak on the French Broad River
The French Broad River flows through Downtown Asheville and into Tennessee, and eventually into the Mississippi River.
It is apparently one of the oldest rivers in the world, dating back hundreds of millions of years. The river is large and wide and is perfect for many activities.
The French Broad River is one of the best spots for fishing in North Carolina, particularly for trout.
Kayaking, canoeing, or tubing are also fun things to do on the river. There is no better way to spend a hot, sunny summer's day in North Carolina than getting out on the water.
You can book a guided kayak tour, or head to a local tourism office in town and enquire about renting inner tubes for floating.
READ NEXT: Heading south? Check out this epic 3 days in Atlanta itinerary!
8) Visit a Brewery
One of the things Asheville NC is known for, in addition to mountains and historic buildings, is breweries. The city supposedly has more breweries per capita than any other city in the USA.
There are lots of amazing breweries in downtown Asheville where you can taste beers, listen to music, grab some food, and have an epic time.
One of the best breweries is Catawba Brewing Company which has incredible limited-release beers that change regularly. The Wedge Brewing Company is another local favorite in the River Arts District with an outdoor patio and food trucks.
Burial Beer Co has a wide variety of heavy IPAs, and Funkatorium is known for its unique sours. New Belgium Brewery is near the River Arts District and has tastings and tours.
There are so many more, but those are a few local favorites. All you have to do is wander through the city center and you're sure to stumble across some good ones.
Or ask any locals what their favorite brewery is and they will surely have a few to recommend.
9) Stop by the Folk Art Center
While driving along the Blue Ridge Parkway be sure to stop at the Folk Art Center.
This art museum celebrates art from the Appalachian trail and specializes in homemade crafts. Alongside the art galleries are craft shops and there are often artist classes and demonstrations as well.
Inside the Folk Art Center is also the Allanstand Craft Shop, which was established in 1895 and is known as the oldest craft shop in the USA.
You'll also find the office for the National park service here, which is convenient if you're planning on visiting the mountains after browsing through the craft stores.
Address: 382 Blue Ridge Pkwy
Hours: 10am – 5pm Daily
Cost: Free admission
Read Next: Plan your trip to the Tar Heel State with our guide to the best things to do in North Carolina.
10) Explore Pisgah National Forest
One of the absolute highlights of Asheville NC is the Pisgah National Forest.
This stunning area of natural beauty is home to over 500,000 acres of land, and some of the land was once part of the Biltmore Estate. The area is also home to the first school of forestry in the USA: The Pisgah Astronomical Research Institute.
Now it's a protected national park with plenty of hiking and biking trails to entertain outdoorsy travelers who visit Asheville.
Highlights include the two waterfalls known as Looking Glass Falls and Sliding Rock. The latter is a low, wide waterfall on a flat slab of rock so you can roll down the falls like you're on a waterslide.
There are also some great camping spots in the forest, and incredible hiking trails with unique natural landmarks. Linville Gorge has some of the best trails, particularly the trails to Table Rock and the Chimneys.
If you have time for a day trip from Asheville, definitely spend a day enjoying all the waterfalls, swimming holes, gorges, and outdoor activities available in this gorgeous Forest.
11) Visit the North Carolina Arboretum
Located in Pisgah National Forest, visiting the North Carolina Arboretum is one of the top Asheville activities.
The arboretum showcases the botanical diversity of the southern Appalachian mountains throughout its 434 acres of public gardens.
There are so many cool things to see at the North Carolina Arboretum, from the numerous gardens like the heritage garden and Bonsai Exhibition Garden, to all the hiking trails and cycling trails.
A highlight is the National Native Azalea Collection, which has lots of beautiful flowers on display. The NC Arboretum focuses on preserving native plants and reinforcing the connection between people, plants, and the planet.
It's a real highlight of North Carolina, especially if you have an interest in plants. Visit the website for more detailed information about the gardens and the species on display.
Address: 100 Frederick Law Olmsted Way
Hours: 8 am – 9 pm (hours vary based on season and exhibition)
Cost: Admission is free but there is a $16 parking fee for a standard vehicle
READ NEXT: Enjoy small Southern towns? Consider checking out our post on all the best things to do in Charleston, South Carolina!
12) Treat Yourself to a Spa Day
After doing lots of sightseeing and exploring the nature of Asheville, you deserve to treat yourself. There are some lovely spas in Asheville where you can pamper yourself and find some zen.
The Omni Grove Park Inn Spa is one of the nicest in the city. With mineral pools surrounded by unique rock towers, this spa built into the side of a mountain is stunning to look at and refreshing to soak in.
Another option is the Wake Foot Sanctuary and Spa. Located inside Grove Arcade, this is the perfect place to soak your feet in a serene environment after a day of hiking.
Or head to the Salt Spa of Asheville, where you can relax in a cave of Himalayan salt and get a massage or do salt and sound therapy.
13) Enjoy the Local Botanical Gardens
If you're wondering what to see in Asheville, the Botanical Gardens must be on your list
Full of beautiful flowers and plants, there is no better place to relax on an afternoon of sightseeing in Asheville NC. With multiple landscaped gardens and peaceful walking trails, you can meander through the greenery and admire the beauty of nature.
Like most other nature centers in North Carolina, these gardens focus on the preservation of the area's native plants.
The gardens are lovely year round, but mid-April and mid-August are prime because most flowers are in bloom.
Address: 151 W.T Weaver Boulevard
Hours: Open daily sunrise to sunset (Visitor Center and Gift Shop open 11 am – 3 pm daily)
Cost: Free admission and free parking
Looking for more adventure in the South? Check out these great things to do in Atlanta!
14) Do Yoga
Another one of the best things to do in Asheville is attending a yoga class. There are a handful of places around the city to do yoga, and all of them will leave you feeling refreshed and rejuvenated.
Asheville Yoga Center is the closest to downtown Asheville, and Asheville Community Yoga or West Asheville Yoga are other good options. Hot Yoga Asheville is near the Western NC Nature Center and has heated classes for those who want to work up a sweat.
Riveter indoor rock climbing gym also has a yoga studio and a bar, so you can spend a fun day climbing and stretching before grabbing a drink at the bar.
Another option is booking a tour with Asheville Wellness Tours and doing yoga on a mountain in the Blue Ridge Mountains.
This is a great way to combine a yoga class with some hiking and majestic mountain views.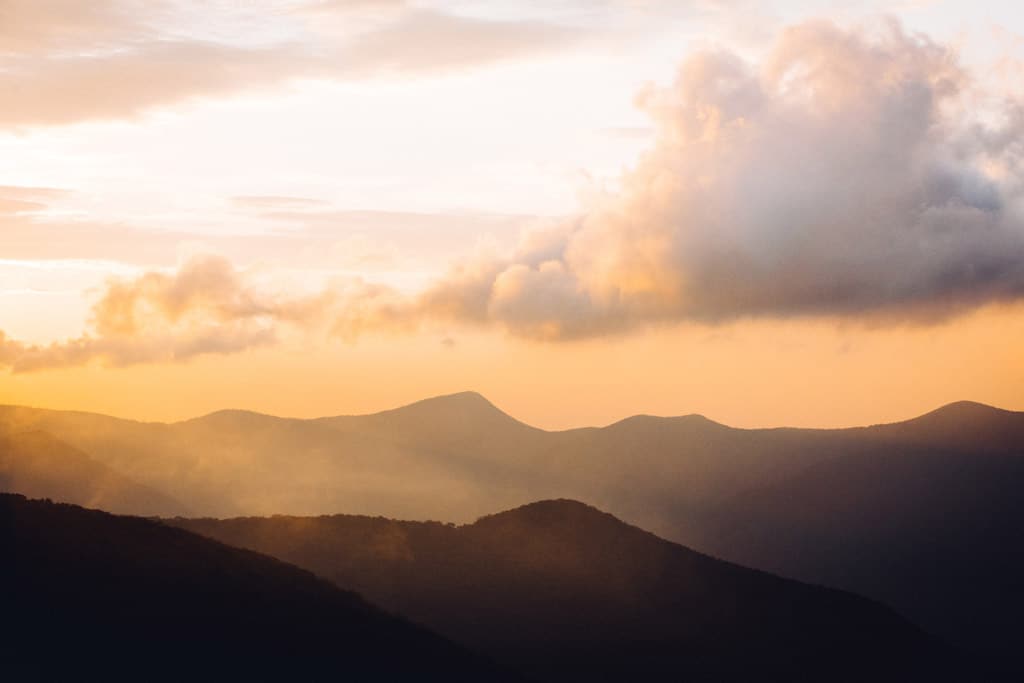 15) Visit a Vineyard
Asheville NC has some amazing vineyards and wineries. Probably the most visited is the Biltmore Winery at Antler Hill Village in the Biltmore Estate, but there are others around downtown Asheville and in the surrounding mountains.
Point Lookout Vineyard is one of the most scenic vineyards in Asheville, with panoramic views of the surrounding mountains.
Burntshirt Vineyard is a quaint winery with an outdoor patio for wine tasting. They also hang wine bottles from the trees on the grounds, giving the area a quirky aesthetic.
Other amazing wineries near Asheville include Linville Falls Winery, Stone Ash Vineyard, Marked Tree Vineyard, and Addison Farms Vineyard.
16) Stroll Through Craggy Gardens
Located on the Blue Ridge Parkway, Craggy Gardens is one of the more unique Asheville points of interest.
Due to its high elevation in the mountains, the landscape here is rugged and twisted. The trees are bent into weird shapes by the wind, which is how the garden gets its name. The land isn't carefully landscaped like the Botanical Gardens, it is raw and wild.
There are lots of endangered plants and flowers to see up here in addition to the twisted trees. There is also a picnic area and a visitor center with information, history, maps, and guides to the nature and trails in the area.
Spring and early summer is the best time to visit Craggy Gardens, when the flowers are in bloom. For the best views of the surrounding mountains, hike up the short Craggy Pinnacle Trail.
Address: 364 Blue Ridge Pkwy
Hours: Open 10am – 5pm Daily
Cost: Free
17) Relax in a Local Park
If you want to stretch your legs and spend some time in nature without venturing all the way out to the mountains, Asheville has some nice local parks.
Pack Square Park is a local favorite, with lots of shady trees, fountains, street art, sculptures, and a stage that often hosts lots of events and concerts.
French Broad River Park has lots of paved trails for running or walking next to the river. It also has a dog park so you can bring your furry friends. Carrier Park is nearby, which has volleyball nets and space for lawn bowling.
Pritchard Park in the city center is a small green space that has a Friday night drum circle.
Another option is the Western North Carolina Nature Center, which is more like a mini zoo or wildlife park than a normal park. But it is still a great place to visit with kids or anyone who wants to see some animals.
The WNC Nature Center has many plants and animals from the Southern Appalachian Region, so it's a fascinating place to learn about the local area and its wildlife. The focus is on rehabilitation and education, and you can see a full list of the animals they have on the WNC Nature Center website.
18) Take a Day Trip to Green River Gorge
Another one of the best things to do in Asheville NC is visiting Green River Gorge. Full of magical old growth forests and exciting river rapids, ravines, and caves, there is so much to see and do here.
The Green River has multiple different sections, some of which have intense white water rapids and some of which are calm and peaceful. Adrenaline seekers can go white water rafting, and those looking for a more mellow experience can drift down the calm parts of the river on an inner tube.
Either way, coming here on a hot, sunny day for swimming and floating in the river is the best way to spend a summer day.
The surrounding Green River Game Lands are popular for hunting, fishing, and hiking. There is also a 225-foot high bridge over Green River Gorge, which is the highest bridge in North Carolina and one of the highest in America.
19) Visit a Unique Museum
In addition to historic buildings, breweries, and art, downtown Asheville is home to lots of interesting museums.
For those who love to learn, the Asheville Museum of Science is one of the most popular museums. It showcases, fossils, minerals, a dinosaur skeleton, and lots of interactive displays.
Visit the Asheville Art Museum to see artwork from the 20th and 21st Centuries, and visit the Asheville Radio Museum to see vintage home radios.
Another highlight is the Asheville Pinball Museum. This museum has over 75 pinball machines and other arcade games, so you can play the games while you learn about history.
Believe it or not, this corner of North Carolina is actually home to more than one pinball museum! You can also visit the Appalachian Pinball Museum in downtown Hendersonville, which is 30 minutes south of Asheville.
20) See Unique Natural Landmarks in Chimney Rock State Park
Located just 25 miles southeast of Asheville NC, this is one of the most fun day trips to take from the city.
Located near the dramatic landscapes of Hickory Nut Gorge and the Blue Ridge Mountains, Chimney Rock State Park is a nature lover's paradise.
Here you'll find all the best outdoor activities like hiking, bird watching, rock climbing, and more.
But the real highlight of this state park is "The Chimney", a 535 million-year-old monolith. This giant rock is an iconic sight in the North Carolina mountains, and you can get gorgeous views of the forest from the top.
Either take the elevator inside the mountain to the top or opt for the Outcroppings Trail if you want to hike.
If you really want an epic experience, consider booking a helicopter tour over Chimney Rock State Park. You can see this stunning corner of the North Carolina Mountains from above and get a unique view of the area.
21) Enjoy Some Live Music
Last, but not least, seeing live music is another one of the best things to do in Asheville.
Because this is such a vibrant city with lots of artists and fun, social venues, live music is everywhere.
Orange Peel, Salvage Station, One World West, and Asheville Music Hall are some popular local venues that have a variety of artists and genres. Jack of the Wood is a cozy Irish pub known for having bluegrass music, and Ben's Tune-Up has a DJ on weekends and reggae music on Sundays.
For a more unique live music experience, consider buying tickets to the Asheville Lyric Opera to see some inspiring opera singers.
But similar to the breweries, live music is everywhere. Your best bet is to ask any locals you meet what their favorite recommendations are because there are so many to choose from!
Where to Stay in Asheville NC
Now that you know what to do in Asheville NC, let's discuss some of the best places to stay.
Like some of the lesser-known cities in the USA, Asheville doesn't have many hostels because it's simply not that touristy. There is one hostel, however, and there are lots of amazing hotels.
So there is somewhere great to stay in Asheville NC for travelers of all budgets.
Best Hostel in Asheville: Bon Paul & Sharky's Hostel
This is the only hostel in Asheville, but that doesn't mean it's not nice! This hostel has a 9.2 / 10 rating on Hostelworld and travelers rave about the cozy vibe, comfy beds, cleanliness, and friendliness of the staff.
A dorm bed here costs around $38 per night, and it's located in West Asheville near lots of nice bakeries and cafes. You'll have to take public transport to all the downtown shops and attractions, but it's worth it for the affordable price and homey atmosphere here.
Best Mid-Range Hotel in Asheville: The Ashe Farm
This rustic and gorgeous bed and breakfast is the perfect place to relax in nature and enjoy some classic Southern hospitality.
Surrounded by mountains and gardens, guests can enjoy lovely views, complimentary home-cooked breakfast, horseback riding, and hot mineral springs. And you can get this incredible experience for just under $200 per night if you stay in a standard queen room.
The Ashe Farm is more suited for travelers with a car, as it's located about 24km outside Asheville. But if you're road tripping in the USA or planning on doing lots of hikes and day trips into the mountains, staying here is ideal.
Best Luxury Hotel in Asheville: Omni Grove Park Inn
The Omni Grove Park Inn is the epitome of luxury when staying in Asheville. Set in a historic building built in 1913, you can enjoy mountain views, decadent rooms, and amenities like multiple restaurants, the on-site spa, a golf course, and swimming pools.
Located close to all the downtown shops and attractions, you really can't get more luxurious than the Omni Grove Park Inn!
DISCLAIMER: Some of the links in this article are affiliate links, which means if you book accommodation, tours or buy a product, we will receive a small commission at no extra cost to you. These commissions help us keep creating more free travel content to help people plan their holidays and adventures. We only recommend the best accommodations, tours and products that ourselves or our fantastic editorial team have personally experienced, and regularly review these. Thanks for your support, kind friend!