From exploring the Rocky Mountains to enjoying the entertainment, restaurants, museums, and parks of downtown, here are the best things to do in Denver Colorado!
If you're ever looking for an incredible combo of wilderness and outdoor activities with culture, entertainment, history, and nightlife, Denver CO is the perfect.
Located in the west of the USA on the border of the majestic Rocky Mountain Range, there are lots of opportunities for hiking, skiing, snowboarding, and driving along scenic Alpine roads.
You can use Denver as a base for exploring Rocky Mountain National Park or visiting one of the area's ski lodges.
But Denver is such a fun city packed with attractions that you don't even have to leave downtown to have an epic time.
There are historic landmarks and interesting museums for history lovers. There are live music venues and art exhibits for music and art lovers.
Looking for ideas on how to see it all in Denver? Read our 3 Days in Denver Itinerary!
The food scene is top notch and there are some nice gardens and theme parks for families and anyone looking for a fun day outside.
No matter what your interests are, Denver has something in store for you.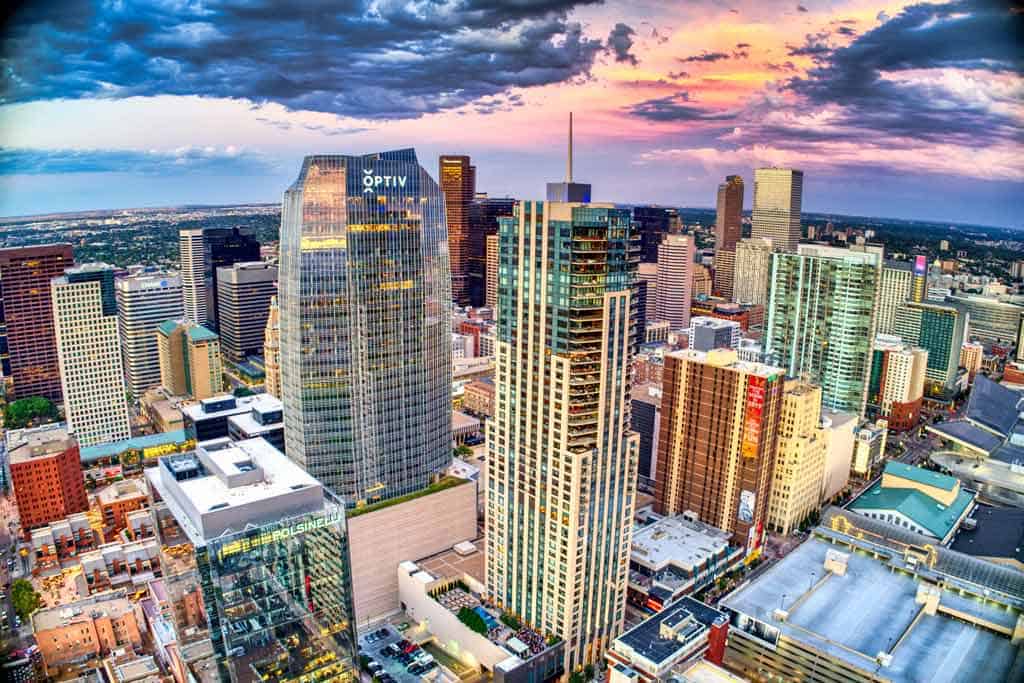 The Best Things to Do in Denver, Colorado
There are so many things to do in Denver, from nature to culture to entertainment and more.
Nicknamed "The Mile High City", because its elevation is exactly one mile above sea level, USA locals and international travelers alike flock to Denver CO.
Many of the best attractions in the Mile High City cost money, though the prices are completely worth it. Consider buying the Denver CityPASS, which includes access to a number of top attractions at discounted rates.
The Denver CityPASS includes the Botanic Gardens, the History Colorado Center, and some of the best Denver museums, just to name a few. If you plan on visiting a few of these, it's worth getting the pass to save a bit of money!
So let's get into the list of the best things to do in Denver Colorado!
1) Explore the Red Rocks Park and Amphitheatre
One of the most famous landmarks in the Mile High City is the Red Rocks Park and Amphitheatre. It is an open air amphitheater built into a rock face made of red sandstone that is millions of years old.
Not only is it a fascinating sight to see, it is a historic venue that serves many purposes. The Red Rocks Amphitheatre is an iconic venue for concerts and events. It also has a Visitor Center, a Trading Post, and the Colorado Music Hall of Fame.
There are even two hiking trails in the Red Rocks park which surrounds the venue. Located just a 10-minute drive west of Denver, it's an easy trip. If you don't have a car, there is a shuttle that runs between downtown Denver and Red Rocks.
Visit the Red Rocks Park and Amphitheater website to check what shows are playing and get more information.
Hours: Opens one hour before sunrise and one hour after sunset (actual times vary depending on season and performance dates)
Address: 18300 W Alameda Pkwy, Morrison
Cost: Free, unless you're attending a performance
2) Catch A Show At the Denver Center for the Performing Arts
Another one of the top things to do in Denver is attend a show at this nonprofit organization in the heart of Denver Colorado.
The Denver Center for the Performing Arts is always hosting a variety of shows such as popular Broadway musicals, locally-written plays, comedy shows, opera performances and more.
There are multiple theaters within the complex, and there is even another place to catch performances in Denver: the Denver Performing Arts Complex. The Colorado Symphony often plays here at Boettcher Concert Hall, if you're a fan of classical music.
Check the websites for each place to find a show you would love to attend.
Denver Center for the Performing Arts:
Denver Performing Arts Complex:
3) Admire the Architecture in Larimer Square
While exploring the downtown area of the Mile High City, check out Larimer Square.
Established in the late 1800s, this historic block is the oldest in the city. A pioneer named General William Larimer was the inspiration for the name, and nowadays it is a cultural and artistic hub of Denver.
Full of historic 19th century buildings and decorated with hanging lights and flags, it is one of the city's coziest spots. Just wandering around here is one of the best things to do in Denver.
There are plenty of dining and entertainment venues in Larimer Square, as well as in the nearby 16th Street Mall. So if you're looking for a night out, head to the very spot where Denver was founded and admire the historic buildings paired with new and modern venues.
4) Explore the Denver Art Museum
Located near Capitol Hill, the Denver Art Museum is one of the top Denver tourist attractions.
The Mile High City has lots of art museums, but this is the most popular one.
Complete with displays of modern and contemporary art as well as fashion, furniture, design, and more, there is so much to see here. It is especially known for its indigenous art collections.
Check out the special exhibits and consider supporting a local artist by buying some of their work at the gift shop.
Also consider visiting the Kirkland Museum of Fine and Decorative Art, or the Denver Museum of Contemporary Art. If you're a real art fan, Denver has no shortage of options!
A visit to the museum is included with your Denver CityPASS, which will save you a bit of money.
Hours: 10am – 5pm daily, close 9pm on Tuesdays
Address: 100 W 14th Ave Pkwy
Cost: $18 adults, $10 students/seniors/military, FREE for youth under 18
Website: https://www.denverartmuseum.org/en
5) Check out Union Station
Visiting the historic landmark that is Union Station is another one of the best things to do in Denver. Union Station used to be a significant train station in downtown Denver, but has been converted into an entertainment, cultural, and social hub of the city.
There are shops, bars, restaurants, games, events, live music, produce markets, and more here. Terminal Bar is one of the area's most famous spots! There are also 4 beehives on the roof of the building, courtesy of the Denver's urban beekeeping program.
However, it is still the center of the Mile High City and lots of public transport passes through here.
This is a great place to grab a drink after a long day of sightseeing, or to meet up with people as it's a central location in Denver.
6) Drive the Mount Evans Scenic Byway
If you're wondering what to see in Denver, and you love alpine landscapes and dramatic natural scenery, the Mount Evans Scenic Byway is a must.
This 28 mile long drive up Mount Evans winds and curves through the peaks of the Colorado rockies. Rent a car if you don't have one already, and enjoy spending the day up in the mountains.
A highlight of the route is Echo Lake Park. This beautiful lake surrounded by forests and mountains has a picnic area, barbecues, and campgrounds. You can't swim in the lake, unfortunately, but you can go fishing.
Nearby is the Idaho Springs Reservoir if you want to go for a swim.
The Mount Evans Scenic Byway is a quick and easy day trip from Denver, especially if you aren't into hiking but still want incredible mountain views.
READ NEXT: Check out our guide on all the best things to do in New Orleans!
7) Visit the Denver Museum of Nature and Science
Another one of the best things to do in Denver, especially for families with young kids, is to visit the Denver Museum of Nature and Science.
Included with your Denver CityPASS, the museum is home to numerous captivating exhibits about the natural world.
This museum is sure to amaze people of all ages, which also boasts an IMAX theatre, a planetarium, and lots of classes and events.
The aim of the museum is to educate Denver residents, visitors, and people of all ages and cultures about the natural world.
If you're a big fan of museums, the natural world, and learning new things, consider heading to the Denver Zoo or the Wings Over the Rockies Air and Space Museum. Those spots in addition to the Nature and Science Museum are some of the best things to do in Denver.
Hours: 9am – 5pm daily, close 9pm on Fridays
Address: 2001 Colorado Blvd
Cost: $19.95 adult, $14.95 ages 18 and under, kids under 3 are FREE (prices may be cheaper during off-peak times, and special exhibitions cost extra)
Website: https://www.dmns.org
Read Next: Spending more time exploring Colorado? Be sure to read our guide on all of the best things to do in Colorado Springs!
8) See a Performance at a Live Music Venue
The Red Rocks Amphitheatre may be the most famous concert venue in Denver, but there are plenty of other places in the city where you can see a live performance.
Because Denver is such an up and coming city in the USA, and it has an amazing art and entertainment scene, there are constantly bands, musicians, comedians, and more coming through the Mile High City.
Some of the best live music venues in Denver include:
Mission Ballroom
Larimer Lounge
Summit Music Hall
Ogden Theatre
Paramount Theatre
Bluebird Theatre
And there are so many more! Getting into the live music scene is one of the best things to do in Denver. Whether you book a concert months in advance or just see what's playing once you arrive, you are sure to find something worthwhile going on.
9) Catch a Sports Game
If you're a big sports fan, you can't miss a local Denver game. Even if you're not into sports, consider joining in the contagious enthusiasm of the American sports scene just for one night.
Denver has lots of pro sports teams, and lots of die-hard local fans.
One of the best things to do in Denver is seeing a baseball game at Coors Field. Home of the Colorado Rockies baseball team, Coors Field offers spectacular views of the Rocky Mountains in the distance.
The Denver Nuggets basketball team is also a local favorite. Their games at the Pepsi Center, which has been recently renamed to the Ball Arena, pull in massive crowds and lots of energy.
Or watch a Denver Broncos football game or a Denver Pioneers ice hockey game.
Real sports lovers can also visit the Colorado Sports Hall of Fame Museum, a true gem of the Mile High City.
10) Enjoy the Greenery at Denver Botanic Gardens
Strolling around all 24 acres of the Denver Botanic Gardens is definitely one of the best things to do in Denver.
Complete with a public amphitheater, traditional Japanese garden, and themed gardens full of diverse plants, there is lots to see here.
The Denver Botanic Gardens also sometimes host events, exhibitions, public art displays and art installations, so check the website to see what's on when you're visiting Denver.
There is also a botanic garden location at Chatfield Farms in Littleton, which has a butterfly farm and a historic ranch.
Hours: 9am – 4pm daily
Address: 1007 York Streek
Cost: $15 adults, $11 students and kids under 15
11) Hike St Mary's Glacier
This is one of the best outdoor Denver activities.
St Mary's Glacier is a snowfield with a gorgeous lake that you can swim in during the summer. But even in the winter when the lake is frozen over, the peaks of the Colorado Rocky Mountains stand tall in the distance and the area is beautiful.
Located about 1 hour west of downtown Denver near Idaho Springs, this is a quick and easy day trip from the city if you're looking to spend some time in nature.
If you don't have a car, you can book a guided tour to St. Mary's Glacier that includes a visit to geothermal pools.
This is a great option if you're a solo traveler looking to meet people, or if you just want to sit back and have someone else cover your transport.
12) Learn About Denver's History at the History Colorado Center
This fascinating museum showcases different time periods in the history of Denver Colorado.
There are special exhibits, artifacts, artworks and displays that dive deep into specific topics as well. You can learn a lot here, and if you're interested in history it's one of the best Denver attractions.
History Colorado is a local organization that also has other museums in addition to the History Colorado Center. Check out the Center for Colorado Women's History or the Forney Museum of Transportation. There are other museums and historic sites scattered around the state as well.
But if you don't have time to venture to all the historic Denver attractions, at least visit the History Colorado Center to get an overview!
Hours: 10am – 5pm daily (closed Thanksgiving and Christmas)
Address: 1200 N Broadway
Cost: $14 adults, $12 seniors, $10 students, $8 kids 5-15, FREE kids under 5
Tip: Book your ticket on the website in advance for a $1 discount on your ticket
Heading east in your travels? Be sure to check out all the great things to do in Chicago!
13) Spend Some Time in the Local Parks
If you don't have time to visit the mountains, there are plenty of opportunities to get some fresh air and exercise in the city. City Park and Washington Park are two of the best places to visit in Denver.
City Park is a busy area of downtown Denver that is full of fun things to do. Not only is it home to the Denver Museum of Nature and Science, the area also hosts the Denver Zoo, tennis courts, kids playgrounds, picnic areas, and more.
City Park is most known for its large green space with two lakes and plenty of space for chilling out in the sunshine (preferably in summer when the weather is warm!).
It's an iconic spot in the Mile High City, so come have a picnic, play a round of tennis or basketball, check out the museums, or just relax and watch the world go by.
Washington Park is another beautiful green space in Denver. It's a bit more residential and less crowded than City Park. There are lots of walking or cycling trails, as well as a lake for kayaking and a few sports fields.
14) Take a Free Tour of the Colorado State Capitol
One of the most captivating landmarks in the city center of Denver is the Colorado State Capitol.
This neoclassical-style building is topped with a golden dome, and is maybe the most impressive building in Denver CO.
For anyone interested in learning about the Colorado General Assembly, the architecture, or the history of the building, consider joining one of the free tours on weekdays. You can actually enter the House and Senate chambers with a guide to learn about the legislative process.
You can also embark on a climb to the dome, which sits at exactly one mile above sea level (hence the city nickname, Mile High City).
Free tours of the capitol are filled on a first come, first serve basis, and the tours are capped at 20 people.
Colorado State Capitol hours: 7:30am – 5pm, Monday – Friday
Address: 200 E Colfax Ave
Hours for free tours: 10am or 11am, Monday – Friday
15) Ride a Roller Coaster at Elitch Gardens Theme Park
Spending an exciting day at this theme park is another one of the best things to do in Denver.
With over 50 different rides, including roller coasters, a heart-stopping Tower of Doom, and a water park, there are so many fun things to do here for people of all ages.
Or head to the Observation Tower for panoramic views over the city and the surrounding Rocky Mountains.
Elitch Gardens is actually one of the oldest amusement parks in the USA, and it is one of the best Denver attractions.
The park is temporarily closed but reopens on April 30. I recommend booking a skip-the-line ticket online in advance to avoid waiting in a long line when you arrive.
Hours: Opening hours are constantly changing depending on season and day of the week. Visit the website for a complete list of hours.
Address: 2000 Elitch Circle
Cost: $45 if you book online, $65 if you buy tickets at the park
READ NEXT: Consider visiting another great Rocky Mountain city and read our post on all of the best things to do in Salt Lake City!
16) Eat And Drink To Your Heart's Content in Downtown Denver
One of the best things to do in downtown Denver Colorado is eating! Yep, just eating. And drinking! There are so many amazing places to eat and drink in the Mile High City that you have to try at least a few different restaurants, bars, breweries, or cafes.
All you have to do is explore downtown Denver near places like Union Station, 16th Street Mall, or Larimer Square. Those areas are packed with so many amazing cafes, trendy bars, coffee shops, international eateries, ice cream shops, fast food places, and nice restaurants.
Here is a quick list of the top places to eat and drink when you visit Denver:
Misfit Snack Bar for its unique, rotating menu
Little Man Ice Cream for amazing homemade ice cream flavors
Pony Up for crafty cocktails
Fire on the Mountain for some of Denver's best chicken wings
Dimestore Delibar for killer sandwiches
El Five for tapas, fancy wines, and a Mediterranean vibe
Allegro or Thump Coffee for delicious coffee
Cherry Creek Grill for classic American cuisine
Blue Moon Brewery for a wide variety of local beers
The Patio at Sloans for a scenic, lakeside outdoor dining experience
Pizzeria Locale for Denver's best pizza (3 locations around the city)
ChoLon for upscale Southeast Asian cuisine
And that is just scratching the surface! If you're a real foodie, you'll be in heaven when you visit Denver CO.
17) Go Hiking in Rocky Mountain National Park
Full of glassy lakes, dramatic alpine landscapes, and dense forests, Rocky Mountain National Park is one of the best places to visit in Denver CO.
Those who love outdoor adventures should definitely do some of the hikes in the national park.
There are trails that cater to all fitness levels, so whether you're a seasoned wilderness and fitness expert or you just want a nice and easy walk, there are plenty of options.
Alberta Falls and Bear Lake trails are short and easy. Longs Peak is the longest and hardest hike, recommended for experienced hikers only. Twin Sisters, Black Lake, and Fern Lake are moderate hikes suitable for most average people.
Other fun things to do in the park include birdwatching, mountain biking, camping, kayaking, and more. Or consider booking an epic zip lining tour from Denver!
Visit the official website for information about visiting the national park such as weather updates, campsites, trail details, and more.
18) Visit the Denver Firefighters Museum
This museum is one of the most unique things to see in Denver.
The aim of the Denver Firefighters Museum is to share and preserve the history of the city's fire department. There are special exhibits as well as photographs, documents, and research on display.
The fire company in Colorado began around 1866-1869, and has played an important role in the wellbeing of Denver over time. This museum is designed to entertain and educate, as well as promote fire safety.
Hours: 10am – 4pm, Tuesday – Saturday
Address: 1326 Tremont Place
Cost: $9 adult, $8 senior/military/firefighters, $7 kids
19) Enjoy the View from Lookout Mountain
One of the easiest outdoor adventures to have near Denver is heading up to Lookout Mountain.
Located in the foothills of the Rocky Mountains, this mountain peak is perfect for panoramic views and for spending a day outside in nature.
You can conquer some hiking trails, go mountain biking, visit the "Buffalo Bill" Museum and Grave, or visit the Nature Center to learn about the local flora and fauna.
Whether you have kids who need a day of entertainment, or you just want to get out of the city and enjoy a fantastic view, this is one of the most fun things to do in Denver.
The mountain is only a 30 minute drive west of Denver CO.
20) Drink and Dine at the Source Market Hall
One of the best things to do in Denver for food lovers is head to the Source Market Hall.
This rustic ironworks building from the 1800s has been converted into an artisan food hall that has a sophisticated yet fun and lively vibe.
It is located in Denver's River North Arts District, commonly called RiNo. There are all sorts of delicious things here, from coffee, cocktails, and breweries to bakeries, cheese shops, and restaurants.
You can buy fresh produce or meats from the butcher. Or you can taste small plates from different vendors, or sit down and enjoy a real meal. Everything is high quality and you are truly spoiled in terms of options.
Address: 3350 Brighton Boulevard
Hours: 7am – 11pm weekdays, 8am – 11pm weekends
21) Visit the Molly Brown House Museum
One of the more unique museums to see in the Mile High City is the Molly Brown House Museum.
The building itself is special because it belonged to Margaret "Molly" Brown, a Titanic survivor. Not only that, but the Historic Denver Organization and Denver citizens helped save the building from demolition in the 1970.
The museum itself celebrates history, activism, philanthropy, and education. It showcases the power of community and the preservation of historic buildings. It is a beautiful place to explore, and the museum staff are extremely knowledgable and passionate about education.
For a guided tour through the Molly Brown Museum, just add $2 on to your admission ticket price.
Address: 1340 Pennsylvania Street
Hours: 10am – 4pm Tuesday – Sunday, closed on most holidays
Cost: $16 adults, $14 seniors/students/military, $12 ages 6-18 (prices are cheaper for Colorado residents
Where to Stay in Denver, Colorado
Now that you know what to do in Denver Colorado, let's dive into where to stay.
Whether you want to stay right in downtown Denver, or you prefer a cozy bed and breakfast outside the main city center, there are some great accommodation options in the Mile High City.
Best Hostel in Denver: Ember Hostel
The top rated hostel in Denver is Ember Hostel, which has over 1,000 positive traveler reviews and. 9.5 out of 10 score on Hostelworld!
A dorm bed here costs $55 per night, which isn't that cheap as far as hostels go. But this is still cheaper than most hotels in the area, and you'll get a super cool and social experience staying here.
This retro hostel inside a historic mansion is located walking distance to all the best Denver attractions. It has a jacuzzi, a fire pit, patio area, laundry service, free on-site parking, free Wifi, free coffee and tea, and private bunks with curtains and shelves.
If you're trying to visit Denver Colorado on a budget, this is the best hostel to stay in.
Best Mid-Range Hotel in Denver: Off Broadway B&B
Just off South Broadway Street, this mid-range bed and breakfast is a cozy and peaceful place to stay. It's not right in Downtown Denver, but the bus stop is a half block away so you can easily get to the best attractions.
The quieter neighborhood is nice for those who want to stay out of the hustle and bustle as well. A room here costs around $160, so it's a decent price and it's near other Denver attractions.

Best Luxury Hotel in Denver: The Ritz-Carlton
Definitely one of the most high end hotels in the Mile High City is the Ritz-Carlton. Not only does this hotel have everything you could possible need in terms of amenities, it's centrally located and pets are allowed.
It is also considered one of the best hotels in Denver for art aficionados. That means the art and design in the building is upscale and impressive for real art lovers.
DISCLAIMER: Some of the links in this article are affiliate links, which means if you book accommodation, tours or buy a product, we will receive a small commission at no extra cost to you. These commissions help us keep creating more free travel content to help people plan their holidays and adventures. We only recommend the best accommodations, tours and products that ourselves or our fantastic editorial team have personally experienced, and regularly review these. Thanks for your support, kind friend!