It is true that Myanmar accommodation can be more expensive than other South East Asian countries. But you can still find that awesome cheap deal if you know where to look. During our month-long stay in Burma, we found lodgings that ranged in price from $10 a night up to $25 (for double occupancy rooms).
NOTE: We find going directly to these places will get you the best price. Do not book anything online as the prices on popular booking websites are a higher rate than the walk in rate.
All prices were accurate as of March/April 2014. Subject to change depending on time of year.
Myanmar Accommodation – Where We Stayed In Burma
YANGON
Mahabandoola Guesthouse
Address: 453/459 (2nd Floor) Mahabandoola Road (Corner of 32nd st) Pabedan, Yangon
Telephone: +95 (0)1 248104
Pricing: $6 for single, $12 for a double, and $18 for a triple
This budget accommodation was one of the cheapest ones in Yangon. It is located on the third floor of the building it occupies. It is centrally location, about 50 meters away from the Sule Pagoda. This place does need a good scrub and the bathroom has definitely seen better days, but that's what you should expect for that price. Most of the rooms have air-conditioning, but there are a few with fans. There is a dorm up stairs but it is a small room and you can not stand up in it. The beds were ok but we did get in on a late bus and were tired so I think anything would have been comfortable for us at the time. The staff are not that friendly and are very hard to wake up (they sleep in the front room where you enter). If you have an early or late departure you need to shake them hard to open the gate. There is many agencies down stairs to help you book transport beyond Yangon. There are food options around the area you just need to open your eyes more widely. We have heard from fellow travellers that if you get there late and they are full they will let you sleep on their kitchen floor for a small price.
MANDALAY
We stayed in two different places in Mandalay, about 200m apart from each other.
A.D.1. Hotel
Address: Between 87th and 88th, 27th and 28th Road, Eindawya Sintada Street, East of Eindawya Pagoda
Telephone: +95 2 34505/ +95 2 66517
Pricing: Single;$15, Double: $25
(Includes fan, private bathroom, and including large breakfast)
This hotel is down a little lane way, off a busy road. The medium sized rooms are clean and the beds are comfortable. WiFi only really works downstairs in the lobby and on the roof top. It has slow and periodic connections, same as the rest of the country. Massive, delicious breakfast on the charming roof patio. So large that you will probably skip lunch! Depending on which side of the hotel you stay on, you may be woken up very early by the loud Buddhist prayers coming from the near-by temple. Request a room away from this if possible. The hotel does do scooter ($10) and bicycle rental through the reception. They are happy to organise a taxi for you to the bus station ($7) or to the train station ($5). However if you want to save money, the train station is not too far to walk to. The reception is open 24 hours.
Rich Queen
Address: 87th St, Mandalay, Myanmar
Telephone: +95 2 60 172
Pricing: Double: $20- 25
(Includes private bathroom, hot water, A/C, and breakfast)
We stayed in the larger room our first time (due to availability), and the room was of considerable size. Air conditioning, clean private bathroom, even a fridge and a TV! WiFi worked in the room, but was better in the lobby. They have a computer in the lobby for guests to use free of charge, if you don't have your own devices to connect. Very friendly staff, located on a side street of a somewhat busy road, so nice and quiet. We found the beds to be comfortable and linen clean. You can rent a scooter and bicycle from reception. If you are heading to the bus station ($7) or train station ($5) they will organise a taxi for you. The train station is a a reasonable walk from the hotel if you want to save the money. The reception is 24 hours.
HSIPAW
Yee Shin
Address: Mine Pon Street, West Quarter, Hsipaw, Northern Shan State, Myanmar
Telephone: +95-82-80711/ +95-9-5278501/ +95-9-5278201
Pricing: Single: $5- $7, Double: $10- $15
(Shared bathroom/ private bathroom. Includes hot water, fan and breakfast)
This place is in the heart of town. Such a great location to walk around and explore the pleasant village. The bathroom was very clean, with hot water. Some of the rooms were a shoe box but the bed on the floor was comfortable. WiFi was available in the rooms and lobby. They had a computer in the lobby for guests if you don't have your own device to connect. They organise treks to various hill tribes from the reception. We did the two day hike ($20 per person, includes guide, food and accommodation) with Sino as our guide which we would highly recommend. The staff there are so friendly, helpful and speak very good English. There is lots of food and drink options just a minute walk away from the guesthouse. We really enjoyed Mr Food and Mr Shake. There were many more little gems but we were not there long enough to try. The guesthouse is walking distance from the train station and bus station. You can purchase onward transport tickets through the reception if needed.
KALAW
Golden Kalaw Inn
Address: 64, Natsin Street, Mineli Quarter, 10 Quarter. Kalaw, Myanmar
Telephone: +958 150 311
Pricing: Double: $14
(Includes private bathroom, hot water and breakfast
This inn was walking distance to the bus drop-off point. It is located up a small hill with an awesome view. We had a large room with a long shared balcony looking east (sunrise anyone?). No fan or air-con, but you do not need these as it is quite chilly in the night and not that hot during the day. There are adequate blankets provided. Hot water is available, but you must tell the staff when you want a shower so they can open the valves to your room. The room was clean, but don't expect to see your reflection in the tiles in the bathroom. There was a decent breakfast included with varied food choices (Burmese, Shan, Indian or American). There is Wifi throughout the building but again, only works occasionally. Friendly, English-speaking staff can organise treks for you if you want also.
INLE LAKE
Joy Hotel
Address: Kan Thar Quarter, Nyaung Shwe
Telephone: +95 81 209083
Email: [email protected]
Pricing: Single: $10, Double: $20
(Both includes private bathroom, hot water, fan, and breakfast)
This hotel was located alongside a small river, a little hidden but well signed around the town. They had two buildings with multiple rooms, single, double and triple. Our room was clean, spacious and had a comfortable bed. There was Wifi in the room but sporadic as there were regular power outages in the town daily. The staff are friendly and can book transport and a lake tour if you want. There is a lot of local restaurants near by that are well priced. You can hire a bicycle to ride around town and to the outer areas from reception. The lake is very relaxed and we found the people were too. Highly recommend the lake tour. Yes it is touristy, but worth it.
BAGAN
Winner Guesthouse
Address: Main Rd, Wetkyi-in Nyaung U, Bagan, Myanmar
Telephone: +95 61 61069
Pricing: Double: $20- $24
(Shared bathroom/ private bathroom. Includes A/C and breakfast)
Winner Guesthouse is located in the Nyaung U area, about a 10-15 minute bicycle ride from the bus stop. We found the location great, walking distance to nice pagodas for sunset. Reception is open 24 hours, but if you do need anything you might have to wake the staff up. There are buses that come in early morning and late in the night. We found the staff to be very friendly and will give you tips on the best spots to go and see sunrise and sunset. The room was clean and the air conditioner worked very well (a necessity in Bagan). The shared bathrooms very a bit dirty but not too bad. We hired a bike each for 2 days and that was a great way to get around. There is food options around the area but over priced. We did ride our bikes to the main restaurant road in Nyuang U where the prices are better. Just remember take a torch at night or early morning when riding around. Some areas have no lights and some of the drivers on the roads are crazy, so for your safety turn your lights on. Bike hire $1.60 for the day from the reception. E-bike hire from next door is for $8 a day.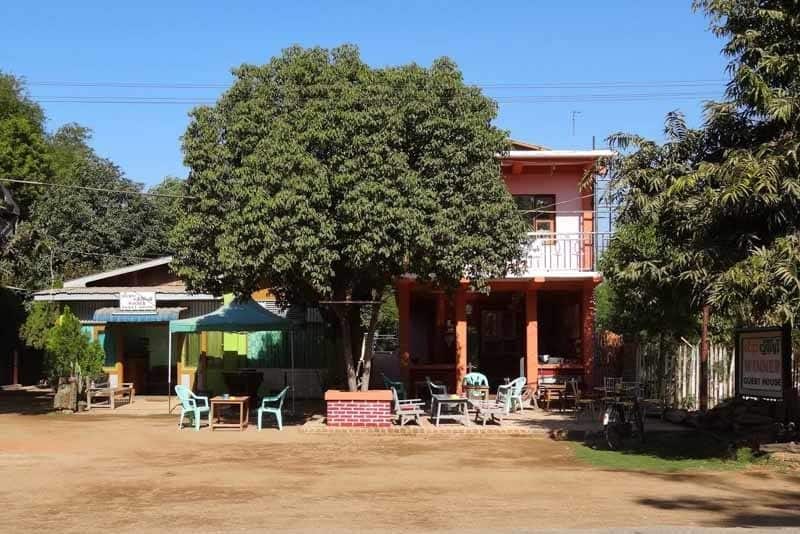 Where did you find the best and cheapest Myanmar accommodation? Comment below and let us know!