From exploring the Moon Valley to floating effortlessly in salt posaols, these are the best things to do in San Pedro de Atacama.
The Atacama Desert in Northern Chile is one of the most amazing places in South America.
Known for being the driest non-polar desert on earth (Antarctica just beats it), you could be forgiven for thinking it is a flat, sandy world devoid of any life.
This is simply not the case.
The landscape around the Atacama Desert is sensationally varied, with cone-shaped volcanoes dotting the horizon, rugged valleys eroded into the sandstone and captivating salt lakes scattered like jewels in the rough.
At its heart is the rustic village of San Pedro de Atacama. With an eclectic mix of indigenous and modern cultures, San Pedro feels a lot more like its neighbour, Bolivia, than it does Chile.
It is in this earthen village where adventures into the Atacama Desert begin…
Things To Do In The Atacama Desert
There are dozens of amazing things to do in the Atacama Desert. Whether you are into sightseeing or hiking, adventure activities or wildlife, you'll never be short of places to visit here.
We spent 10 days on an Atacama Desert road trip, living out of a camper van and exploring the best spots around.
A few days checking out the things to do in San Pedro de Atacama was more than enough, but it's all the activities out in the desert that will keep you here for longer.
Here is our list of the absolute best things to do in the Atacama Desert.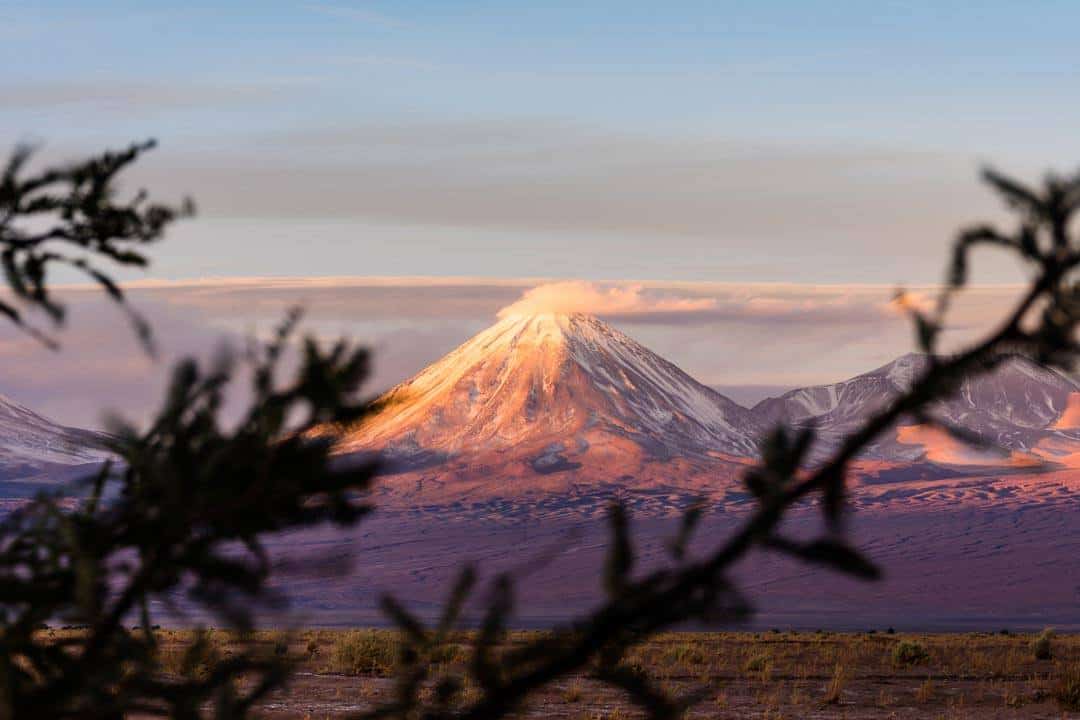 Valle de la Luna (Moon Valley)
Just outside of San Pedro de Atacama is the other-worldly Valle de la Luna, or Moon Valley in English. It is perhaps the most visited, and widely known of the places to visit in the Atacama Desert. And for good reason.
Walking, cycling or driving through the Moon Valley is like being on, you guessed it, the moon. This landscape is one of the main reasons people visit the Atacama Desert.
Being so accessible to San Pedro de Atacama also means it's very popular with tourists, but don't let that put you off from visiting.
From the moment you enter the park you become part of a huge adventure playground. As long as you keep safe, you're free to climb over the dunes and ridges, crawl through caverns and hike to your heart's content.
The viewpoints just outside of town are also a great spot to catch sunset. If you don't have your own wheels or don't want to rent a bicycle, you can join a tour, although we recommend going independently.
Make sure you set aside at least 3-4 hours for proper exploration of this epic San Pedro de Atacama must see.
Entrance: 3000 CLP (USD$5), or 2500 CLP before midday.
Piedras Rojas
After the Moon Valley and the El Tatio Geysers, Piedras Rojas (or Red Rocks in English) is the next most popular thing to do in the Atacama Desert, and once you get there you'll see why.
Water of the bluest colour laps against large sandstone formations that glow red in the midday sun. The rocks have been eroded over time to be round lumps across the landscape.
With snow-capped volcanos forming the backdrop, it's easy to see why tour companies in town push this location so hard.
It's quite a drive from San Pedro de Atacama, heading towards the Argentine border, and with an altitude of over 4000m, it's not always possible to visit in the winter time. In fact when we tried to get there the roads were closed due to snow.
Still if you're there in the right time of year, don't miss a trip to Piedras Rojas. It's one of the best things to see in San Pedro de Atacama.
Want to spend a full day exploring? Check out this awesome guided day-tour of Altiplanic Lagoons and Piedras Rojas!
Go Stargazing In The Atacama
The Atacama Desert is known for having the best stargazing opportunities in the world. The high altitude coupled with the low density population means there's almost no light pollution. This creates perfect conditions to see the Milky Way.
You can do what we did, and simply camp out in the desert and admire the stars at night, or sign up for an Atacama Desert stargazing tour.
These tours leave San Pedro de Atacama in the evenings, and head out to a remote location in the desert. The company will provide light snacks, drinks, and most of all a powerful telescope, so that you can really study the stars. They are among the most popular San Pedro de Atacama attractions.
If you want to go a step further consider doing a tour out to one of the observatories, which are open to the public. Definitely check out ALMA, the largest observatory ope to the public in the world.
Want to learn how to take better photos on your travels? Check out our article on travel photography tips for beginners.
Float In Laguna Baltinache
Huge salt plains can be found all over the Atacama Desert, and these create interesting depth perception experiences (think about the classic photos that come out of Salar de Uyuni in Bolivia).
This huge concentration of salt also has another cool effect though. The lagoons and ponds around the Atacama Desert are so salty you can float effortlessly in them.
Join a multi-day guided tour to Salar de Uyuni and take your time exploring the interesting rock formations, geysers, lagoons and see if you can spot a flamingo.
The most popular place to visit is Laguna Cejar, but we decided to visit the newly-discovered Laguna Baltinache, which is located down a long, dirt road off the main highway between San Pedro de Atacama and Calama.
For 5000 CLP (USD$8.35) you can swim in the salty pools, and the feeling of having half your body out of the water is quite surreal. Laguna Baltinache also has very few visitors, so it's like visiting the Dead Sea without any people.
The $8.35 also includes shower facilities, which is a must to get all the salt off of your skin.
If you prefer to visit Laguna Cejar you won't regret it, as it's beautiful, but it'll cost you three times the price and you'll have to share the experience with dozens of people.
El Tatio Geysers
The most popular place to visit in the Atacama Desert, outside of San Pedro, is the El Tatio Geysers.
Located a few hours north from San Pedro de Atacama, at an altitude of 4300m, the geysers are constantly shooting jets of water and clouds of steam into the air in spectacular visual displays.
The terrain is like being on another planet, just like you would expect in the Atacama Desert, and with the eery atmosphere of the geysers adding to the landscape it's a very unique place.
The best time to visit the geysers is for sunrise, when the golden light allows you to actually see the water rising up, and capture excellent pictures.
If you don't want to drive all the way out there you can organise a tour to El Tatio geysers from San Pedro de Atacama.
We didn't get to visit the geysers due to heavy snow, but even the drive out to there was well worth it.
Visit Salar de Tara
Salar de Tara is Chile's answer to the famous Salar de Uyuni salt flats across the border in Bolivia, and it is pretty amazing.
Huge, salt-encrusted fields are spread out for kilometres, with a thin layer of water sitting on top. This creates perfect reflections with the sky and views that stretch for miles.
Being completely flat as well allows you to play around with some cool optical illusions, by positioning people and objects at long distances apart, and having one or the other look enormous or small.
Salar de Tara is a few hours east of San Pedro de Atacama, and can be visited as part of a tour or with your own transport.
This is another place we missed due to heavy snow, and we were sad we didn't get the chance to visit.
Chacabuco Nitrate Village
Not all of the best things to do in the Atacama Desert are about nature. For a truly unique experience head out to the village of Chacabuco, between Calama and Antofagasta.
This abandoned town popped up in 1924 when the adjacent nitrate mine was established. The town quickly grew in size to house the workers and their families, and kept on developing until the mine was suddenly shut down in the 30s, thanks to the creation of synthetic nitrate.
These days you can still visit Chacabuco, and it is like stepping into a ghost town. Houses, schools, offices and factories were left to collapse into themselves, creating an eery atmosphere.
The centre square still has a gazebo, park benches and a playground, and the local theatre can be explored (with the top level being turned into a museum).
When we arrived we were excitedly waved in without paying a fee, however we suspect that there is meant to be a ticket purchased to explore Chacabuco.
It is well worth visiting for the atmosphere alone, and if you like taking photographs, it is one of the most interesting places to visit in the Atacama desert.
Find The Flamingos At Laguna Chaxa
One of the Atacama Desert's most wonderful creatures is the pink flamingos that can be found at a few of the lakes around the place.
Every year the flamingos flock to the lakes to feed and breed in the desert. The best location to see them up close, and in huge numbers, is Laguna Chaxa.
Located about an hour from San Pedro de Atacama, Laguna Chaxa is a huge salt lake surrounded by footpaths and boardwalks. It also has an information centre and bathroom facilities.
The walking trails are mellow, although they may get muddy after rain, and it gets you to some wonderful vistas.
Depending on the day you may see hundreds of the pink birds feeding in the lakes, or you may see none. The day we went there was only a couple, but it was still cool to catch a glimpse of them.
Make sure you're in Laguna Chaxa for sunset too, as the views are absolutely spectacular.
Wander Around The Death Valley
Close to San Pedro de Atacama is the Valle de la Muerte, or Death Valley. This sprawling environment, which is just north of the Moon Valley, has rugged and weathered formations, and some huge sand dunes.
Also going by the name of Mars Valley, this is a popular spot for people to go sand boarding down the dunes. You can rent a board from San Pedro de Atacama, or join a tour.
We drove our campervan in, parked it up at the base of a huge dune and started hiking. Climbing to the top of the hill gives a sensational view over the whole valley.
Make sure you're careful crawling around as the sand can give way quite easily, but it's a great place to explore.
Be inspired to travel to other parts of the country with our epic photos of Chile essay.
Visit The Pukara de Quitor (Quito Fort)
Just outside of San Pedro de Atacama is one of the region's most fascinating man-made attractions – the Pukara de Quitor.
This pre-Incan fortress dates back over 700 years, and the stacked stones perched on shale and sandy hills are a lot of fun to explore.
There's not much shade, so make sure you go early in the morning or late in the afternoon to avoid the unbearable summer heat.
You can get there by heading north along the Rio San Pedro from town for a few kilometres. It's a dusty road, so be prepared if walking or cycling.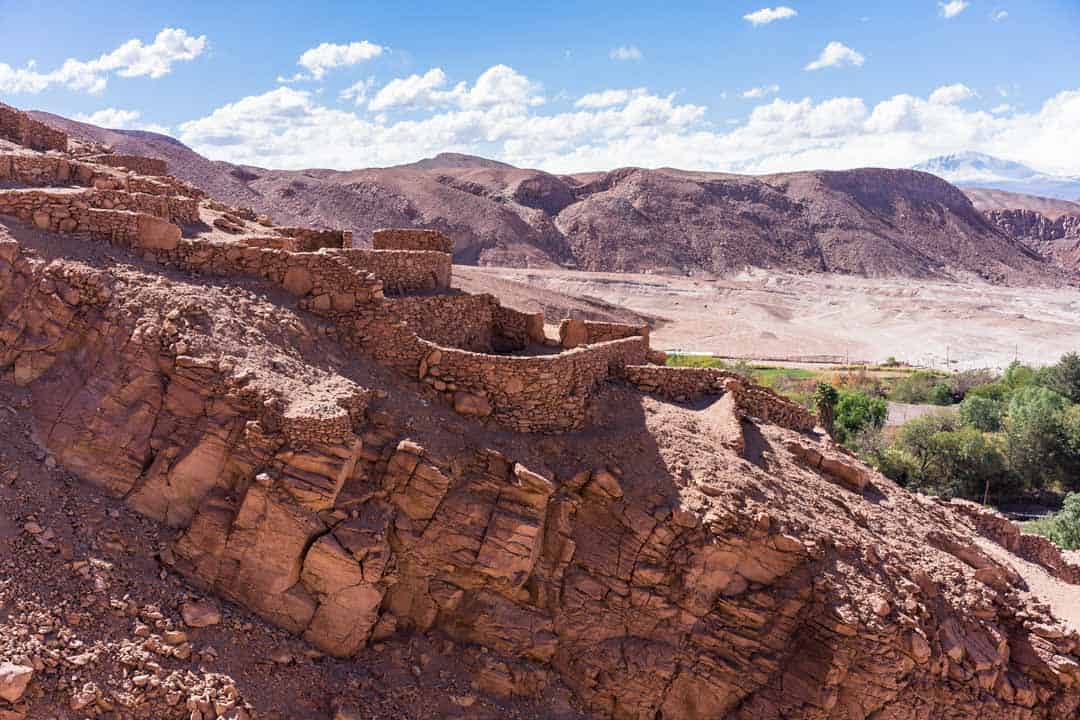 Walk Around The Village Of San Pedro de Atacama
One of the best things to do in San Pedro de Atacama is of course walk around the beautiful little town.
If you've been travelling through the rest of Chile or Argentina prior to your trip to the Atacama Desert you'll be blown away at just how different this mud-brick and dirt road village is compared to other parts of the country.
It's like stepping back a few hundred years. You'll find livestock wandering the streets, vendors selling handmade souvenirs and stores and very little electricity and wifi.
One of the highlights is the gorgeous church near the main square. It used to be painted white, which contrasted strongly against the rest of the town, but a few years ago the locals stripped the paint away and left it with its original, mud style.
You can easily spend an hour or two happily wandering around the labyrinth streets, stopping into gift stores and cafes.
Want a great introduction to the city? Sign up for the free walking tours that meet in the main square every day.
Visit The Oasis At Valle de Jere
When you're heading to the towns of Tocanao and Socaire make sure you stop off at the beautiful and lush Valle de Jere.
Contrasting the red sandstone like an oasis in the middle of the desert, this lovely valley offers break from the usual scenery one expects in the Atacama Desert.
There's a small entrance fee of a few dollars, then you're free to walk along the small creek that cuts through the gorge, or climb high for amazing vistas.
The green trees and shrubs give some much-appreciated shade, so if you have time bring some lunch and relax in this unusual spot near San Pedro de Atacama.
Take A Trip To Tocanao
38km south of San Pedro is the cool, old, western-style village of Tocanao.
Famed for its church and bell tower dating back to 1750, Tocanao is a sleepy place that usually acts as a stopover for people taking trips to other more popular places in the Atacama Desert.
Unlike most of the Atacama Desert, the water found around Tocanao is quite pure, meaning it has developed as an excellent agricultural hub and somewhat of an oasis.
If you're driving through town make sure you stop off to go for a short walk. You'll also find a few places to eat traditional Atacaman meals if you're feeling hungry.
Drive Out To Rio Grande
Even though the small village of Rio Grande is quite out of the way (unless you're visiting the Rainbow Mountains and the nearby petroglyphs), it was actually one of our favourite places to visit in the Atacama Desert.
The drive alone is spectacular, with the road hugging the edge of steep mountains and winding valleys, and once you arrive in Rio Grande it's impossible not to fall in love with its charm.
This traditional, mud brick village has dirt streets, tiny store fronts, a very unique church and tonnes of friendly locals.
The land around Rio Grande is quite fertile and you can find paddocks of grain, fruit and vegetables being tended butting against the rugged terrain.
There's not a lot to do in town, but it's well worth driving to the end of the road just to check it out and enjoy its atmosphere.
READ MORE: Here's our Chile Travel Guide to help you plan your adventure!
Find The Church At Socaire
The high-altitude town of Socaire (3500m) is right on the edge of the Atacama Salar and the last village of size before you head to the Argentine border.
Surrounded by snow-capped peaks in winter and home to a lovely little church, Socaire is another charming town in the Atacama Desert.
This is a great place to buy some souvenirs, as many of the locals make authentic handicrafts and sell them for decent prices.
If you're ok with the altitude it can be worth spending the night in Socaire and use it as a launching pad for all the best things to do in the area.
Learn About Ancient History At The Yerbas Buenas Petroglyphs
The petroglyphs at Yerbas Buenas are another example of excellent things to do in San Pedro de Atacama that have more to do with history and humanity than epic scenery.
Found on the road to Rio Grande, Yerbas Buenas is a fascinating anthropological site covered with ancient carvings of local species and people.
Reports vary in their age, with some saying they are over 10'000 years old, while others claim only 2500 years old, but no matter when they were created they are still amazing to see.
You pay your entrance to the park ranger, then walk around the site. You'll find the petroglyphs carved into the rocks around a central formation, and also in the side of a cliff a short walk away.
This is a place that really deserves to have a guide, as an expert gives the rock art more context and meaning, but there are still modern paints on nearby rocks to show you what you are meant to be looking at.
Have Lunch In Machuca
Machuca is so small the word 'village' is being overly generous to its size. More of a collection of shacks operating as a transport stop, and some small houses close by the maintain them, Machuca is found on the way to El Tatio Geysers.
Still that doesn't mean it's not worth stopping at, as the quaint, walled church testifies to its importance in this remote location.
If you're on a tour between San Pedro de Atacama and El Tatio Geysers you may end up stopping in Machuca for lunch.
Expect to find alpaca on the menu, as well as chicken and duck, all barbecued on coal cookers.
Fly In A Hot Air Balloon Over The Atacama Desert
One of the best times to see the Atacama Desert is at sunrise, and luckily one activity allows you to do this from high above the earth.
While not as well known as hot air ballooning in Cappadocia, flying above the Atacama Desert is still one of the best things to do in San Pedro de Atacama.
You'll be picked up from town and driven out to the launch site. Just before the sun goes up the balloons drift majestically into the air, giving views over the entire desert and valleys.
It's surreal to be floating along as the day begins, completely silent and mesmerised by the landscape's beauty. Even if you're afraid of heights, it's well worth doing.
The cost is around USD$300, and includes transport, a bilingual guide and your balloon ride. We didn't do it, but Atacama Ballooning seems like the company to go with.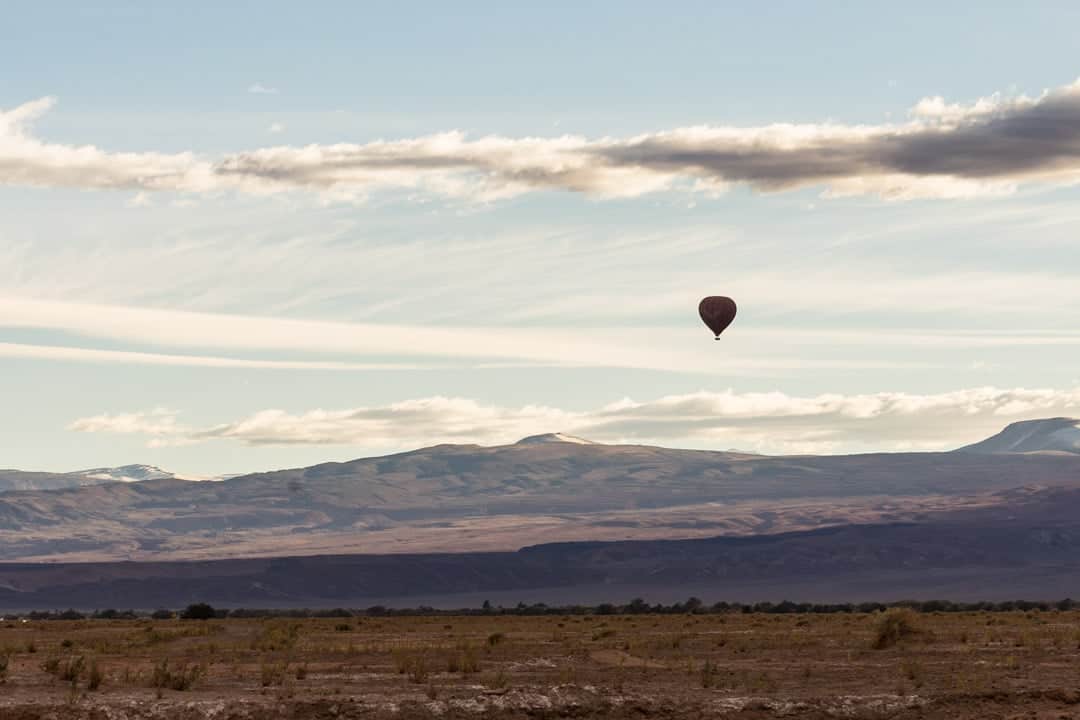 Enjoy The Mountain Views
Ultimately one of the best things to do in San Pedro de Atacama is simply to kick back and enjoy the epic mountain views.
Unlike other deserts you may have visited, the Atacama is not a vast, flat field, but rather punctuated with snow-capped mountains and cone-shaped volcanos and scarred with gorges and valleys.
Head out in the morning or late afternoon, find a beautiful lake to chill out at, and take in some of the best views in all of Chile.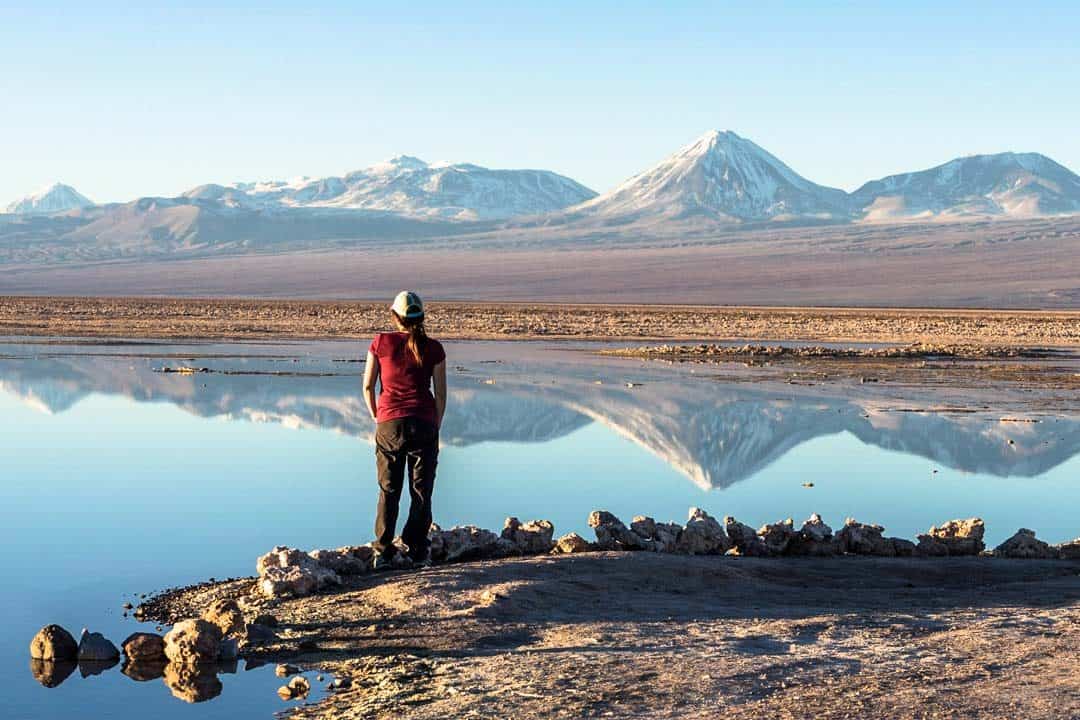 San Pedro de Atacama Travel Guide
Now that you know what to do in San Pedro de Atacama it's time to learn how to get around in the Atacama desert and find your perfect accommodation!
How To Travel In The Atacama Desert – Campervan Toad Trip
By far the funnest, most independent and budget way to travel the Atacama Desert is to rent a campervan. This gives you the freedom to go where you want, when you want without the need for signing up for expensive tours in San Pedro de Atacama.
Besides having your own wheels, being in a campervan also means you can camp just about anywhere outside of the major tourist attractions for free.
Throw in a basic kitchen, and you can make all your own food as you go. Another cost saver!
So how do you find the best campervan rental in San Pedro de Atacama? We personally recommend Soulvans.
Soulvans is a new business run by a Chilean man and his German wife, and is based out of Santiago. They have a whole collection of awesome, budget campers that you can rent in Punta Arenas, Santiago or San Pedro de Atacama, and they come with everything you could need for a perfect road trip.
What makes Soulvans even better than their major competitor (cough…Wicked) is that there vans aren't covered in offensive graffiti, and the maintenance is taken much more seriously. They are also a Chilean company, meaning you are supporting the locals here.
You can pick up a campervan in San Pedro de Atacama, or any of the other locations. We loved our campervan road trip in the Atacama Desert with Soulvans, and definitely recommend them. Make sure you tell them that NOMADasaurus sent you!
Camping San Pedro de Atacama
If you love a bit of adventure, and like to keep your costs down, then camping in San Pedro de Atacama is the best option.
If you've gone ahead and rented your campervan then check out the amazing app, iOverlander. This is a user-updated app that allows you to find places to camp and set up your RV all over South America.
If you don't have a campervan and instead have a tent, then the best thing to do is hike or hitchhike a bit out of town and find a riverbank or tree to camp next to.
Free camping in Chile is a bit of a grey area, but the general consensus is as long as you aren't disturbing anyone, then you should be fine.
Save a dollar and find the best places to stay ever by camping San Pedro de Atacama!
Where To Stay In San Pedro de Atacama
San Pedro de Atacama has a whole range of accommodation options, from budget hostels to mid-range guesthouses, right up to one of the absolute best luxury resorts you can imagine.
Best Hostels In San Pedro de Atacama
If you are looking for a nice hostel, we recommend looking up the options on HostelWorld. There's plenty of great, basic options on there and are bound to keep your budget down.
Hostal Rural is the number one hostel in town for backpackers looking to socialise, and they offer free breakfast, free wifi and great places to chill out during the heat of the day.
For the best midrange hotel in San Pedro de Atacama, you should definitely check out the Ckoi Atacama Lodge. This place is beautiful, with a great, quiet location near downtown and a nice breakfast. The style and design is also very unique, and you'll instantly fall in love with this place like we did.
Best Luxury Hotel In San Pedro de Atacama – Hotel Cumbres
For Alesha's birthday we parked up the campervan and headed to the best luxury hotel in San Pedro de Atacama, the Hotel Cumbres San Pedro. This place is on another level when it comes to luxury.
The restaurant, bar and lobby area is massive, with beautiful indigenous art scattered around the place and comfortable couches to lounge on.
The grounds are enormous, tastefully done to match in with the surrounding landscape with a number of pools to enjoy when the heat gets too unbearable.
At the back of the property is also a stargazing area, where a local astronomer holds nightly talks.
Our room was incredible, with the biggest bed we have ever seen, a huge sitting private patio and an outdoor rain shower. Amazing!
The food was also out of this world. We enjoyed a huge lunch in the restaurant with traditional local ingredients, all downed with delicious pisco sours. Afterwards we were so full we couldn't even eat dinner.
Our stat at Hotel Cumbres San Pedro de Atacama was simply wonderful, and a perfect place to celebrate Alesha's birthday in town.
It's a little bit out of town, but the hotel offers free transfers.
That's it for our list of the best things to do in San Pedro de Atacama! There's a lot of amazing activities and scenery around the place, and we hope we could give you some inspiration.
Have you been to Northern Chile? If so let us know what your favourite things to do in the Atacama Desert are in the comments below.
Our campervan was provided to us by Soulvans, and our accommodation at Cumbres Hotel was made in partnership with their brand. All thoughts, opinions and sleepless nights spent staring at the Milky Way are, as always, our own.
Save this Pin for later?
DISCLAIMER: Some of the links in this article are affiliate links, which means if you book accommodation, tours or buy a product, we will receive a small commission at no extra cost to you. These commissions help us keep creating more free travel content to help people plan their holidays and adventures. We only recommend the best accommodations, tours and products that ourselves or our fantastic editorial team have personally experienced, and regularly review these. Thanks for your support, kind friend!