We managed to find the absolute best boutique hotel in Santiago! Here's our review of CasaSur Charming Hotel.
It's not always easy to find a place that feels like home when you travel. You're constantly surrounded by new people, foreign sights and unfamiliar surroundings. Travel is exciting, and we wouldn't change it for anything, but wanting to feel truly comfortable is something we all need on our journey around the world.
After 4 months wandering South America, home is exactly what we found in the bustling hub of Santiago.
In the hipster Barrio Italia neighbourhood, filled with antique furniture shops and funky cafes, a humble house is redefining excellent accommodation and the concept of boutique hotels in the city.
The Best Boutique Hotel In Santiago
It all starts with the name – CasaSur Charming Hotel. With 'charming' in the title, you know it's going to be an extraordinary place.
In a city with thousands of hotels and guesthouses, CasaSur has grown one of the most remarkable reputations imaginable in the hospitality industry.
From bright beginnings just two years ago, the affable owners Eduardo and Catalina have created an oasis in the city, and rise through the crowded ranks to become the number 1 hotel on TripAdvisor. Not an easy feat for any business, let alone a family guesthouse with only 6 rooms trying to compete with international hotel chains.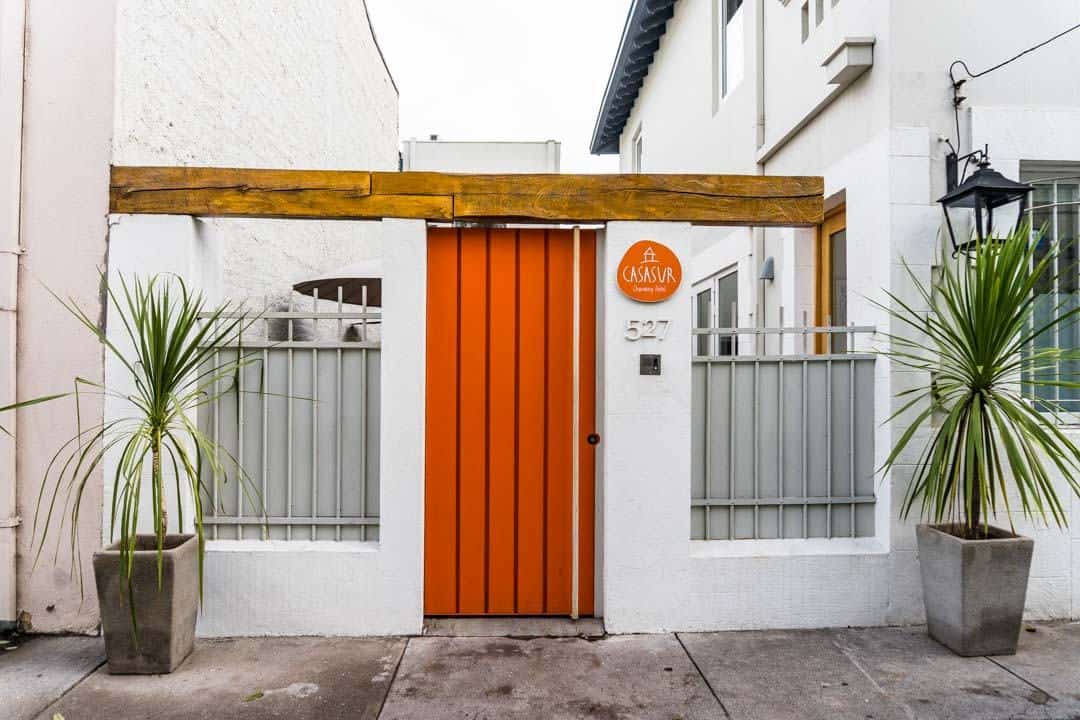 What makes this even more remarkable is that CasaSur is a boutique hotel in every sense of the term. The 6 rooms means only 12 guests will be there at any one time. This allows everyone to be given the most excellent level of service possible.
You won't find sprawling hotel lobbies and waiters serving you cocktails by a grandiose pool. Instead you'll find a bubbly, helpful staff that strive to be more like your friend and ensure you really do feel like you're at home every time you walk through the door.
Eduardo and Catalina have put it in an enormous amount of effort in finding the right employees to work at their gorgeous boutique hotel in Santiago.
"For us finding the right staff was the hardest thing," Eduardo told us over a glass of wine in one of their favourite cafes, Cafe de la Candelaria. "Trying to teach the fine line between being friendly and being overwhelming with the guests is tough, but our girls have figured it out perfectly now."
And they are right! The staff have found that perfect balance and they can read exactly what each guest wants. Some prefer to be left alone in the morning, while others are happy to chat away for hours.
Every time we engaged in thoughtful conversation with the staff they could determine the exact right moment to politely excuse themselves. It's a skill that few people in the hospitality industry can master, and Eduardo and Catalina have taught it beautifully.
Naturally though you don't rise to the top of the industry on staff alone, and that's where the other elements of CasaSur Charming Hotel shine brightly and cement its place as the best boutique hotel in Santiago.
The Rooms
We arrived early in the morning after the short bus from Valparaiso. When we walked in Eduardo met us with open arms, and told us that our room was ready despite the early hour.
Once we had completed our check-in, with offers of coffee, tea or juice to welcome us, we were shown upstairs. The first thing we noticed – a big "Welcome Alesha and Jarryd" handwritten on the door. It's the personal touches…
The bright, airy double room was painted white with just the right amount of decorations to give the place character without feeling overly busy.
The queen-sized bed was enormous and like sleeping on a cloud. We didn't even have to touch it to know it would be comfortable, but when we did lay down Alesha and I knew it was going to be hard to crawl out of bed in the morning.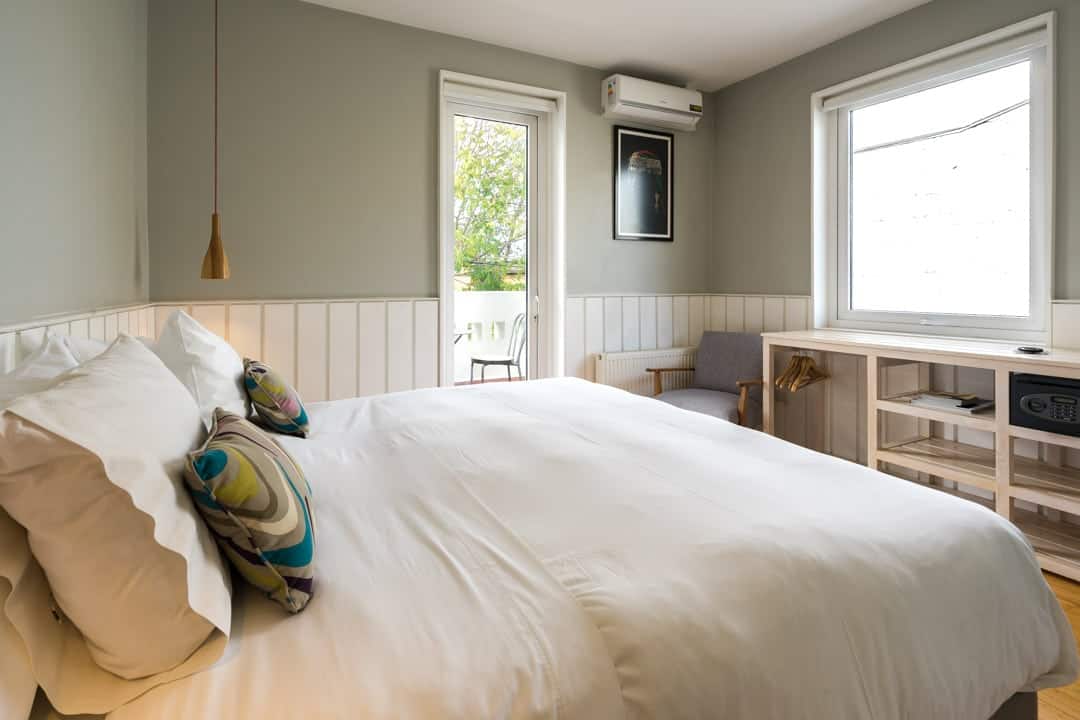 A small balcony with chairs and a table looked out over the street below, which also let in even more light. Admittedly we didn't use the balcony though, as we spent most of our spare time wandering the city or chatting with the guests and staff in the downstairs living room.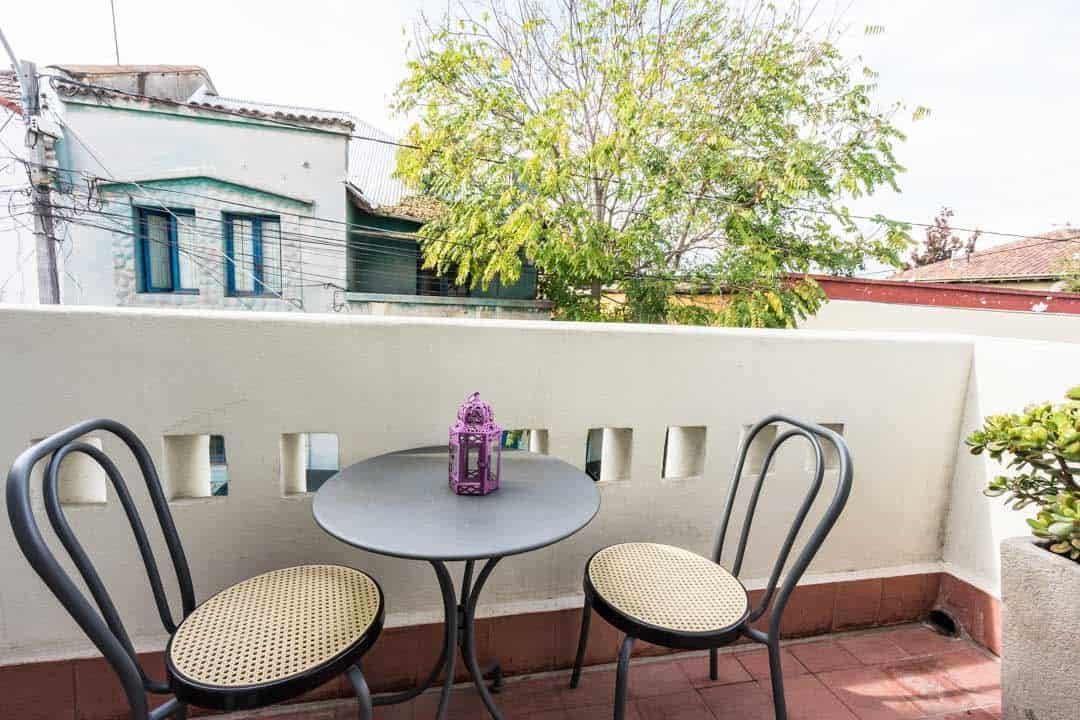 The bathroom was spacious, with enough shelves to put your toiletries so they weren't bunched up next to the vanity. The shower pumped out high pressure hot water.
After years of staying in every single type of accommodation imaginable, from the floors of shepherd's huts to 5-star resorts, it's these little touches that we find surprisingly comforting.
The Property
Heading back downstairs to the reception and dining area was like stepping into your family's living room. There's beautiful chairs and tables to relax in, with books, magazines and newspapers scattered around.
The outside sitting area of CasaSur Charming Hotel is a lovely, leafy space and a perfect spot to enjoy breakfast or a drink in the afternoons. Unfortunately for us the weather wasn't cooperating and we didn't get to enjoy this spot, but come summertime it would be wonderful!
With such a gorgeous common area to be shared with the limited number of guests it's not unusual to find people lounging around chatting and sharing stories at any time of day.
The Breakfast
It takes a lot for us to get impressed by something as simple as breakfast, yet at CasaSur Charming Hotel we'd actually get excited every morning to crawl out of bed and feast!
Rather than having a buffet spread each meal was personally prepared in the kitchen when guests woke. To start with a homemade yogurt and muesli bowl would come out, along with a fresh fruit platter and juice.
Eggs made any style you like would follow, along with gourmet bread. To top it off a traditional Chilean desert would always finish the meal, changing every day. It might be pancakes with caramel sauce or a delicious cake. Hard to resist!
And if you like coffee (or love coffee, like us), expect freshly ground Peruvian beans, with as many refills as you can handle.
What we really liked was the communal table to enjoy breakfast at. While there were individual setups as well for those who prefer to keep to themselves until after coffee, we joined the large dining table every morning.
This offered a great opportunity to meet the other guests. Every single morning we would sit around for over an hour after our meals were finished, chatting away. Eduardo, Catalina and the staff would come join us periodically, adding to the homely atmosphere.
On our final morning we had a very early flight, but that didn't mean we had to miss out on breakfast. As the reception is open 24 hours, when we came downstairs we were again offered a delicious, fresh coffee and handed a pre-packaged box with fruit, juice and a gourmet sandwich.
While everything at CasaSur Charming Hotel was simply divine, the breakfast and atmosphere every morning really added the icing on the cake.
The Tours
The staff are a plethora of local information, and helped set us up for everything we could want to do individually. That being said the best boutique hotel in Santiago also offers tailor-made tours using licensed, freelance guides for those who like a deeper experience.
We were told about hiking tours up into the valleys as well as walks around the city, but we didn't get a chance to experience any of these with our tight schedule.
Eduardo is even considering running a very personalised tour to one of the most local and interesting markets in Santiago. It's not something that any tourist would ever get a chance to see, so if you find yourself at CasaSur Charming Hotel on a weekend ask him if his secret market tour is up and running.
Our stay at CasaSur Charming Hotel was one of the most enjoyable accommodation experiences we have had in almost a decade travelling the world. Everything from the comfortable rooms to the enormous breakfasts and of course the friendly staff made it a cut above the competition.
Not to be missed either is the iconic and retro neighbourhood that it's in, Barrio Italia. This place is on the rise with world class cafes, restaurants and bars, and it's easy to spend hours simply wandering the colourful streets and sipping on lattes – one of our favourite pastimes.
If you're looking for the best boutique hotel in Santiago, and want that real feeling of home on your travels, don't miss out on CasaSur Charming Hotel. Get in early though, because with only 6 rooms and no plans for expansion, this place books out fast.
About The Hotel
Address: Eduardo Hyatt 527, Providencia. Santiago de Chile
Phone: +562 25027170
Email: [email protected]
Metro: Santa Isabel Station
[button link="https://www.casasurchile.com/" type="big" color="orange" newwindow="yes"] Book Your Stay At CasaSur Charming Hotel[/button]
[box] We were welcomed to Santiago as guests of CasaSur Charming Hotel. All thoughts, opinions and cups of fresh Peruvian coffee are, as always, our own.[/box]