If you're travelling to Indonesia, make sure you don't miss out on these amazing things to do in Jakarta!
Jakarta is the capital and largest city of Indonesia, and also happens to be the most populous city in all of Southeast Asia.
The people of Jakarta are amongst the friendliest ones you will find anywhere in the world, and as such they are very accommodating and helpful when it comes to showing you a great time while visiting Indonesia.
The city is a real "melting pot" for all of the many cultures and religions of Indonesia, which makes it such a unique and fun city to spend some time in.
Things To Do In Jakarta
There are numerous Jakarta attractions from many historic sites, great shopping areas, and a very exciting nightlife in this very busy and bustling city.
While there are many famous attractions that you will find listed in most places, I thought it would be more fun to give you 5 wonderful things to do in Jakarta, and great places to visit in Indonesia, that are a little more off the beaten path.
Book a fully-customized tour with a local guide to experience the best of the city!
1) The Epic Cable Park
The Epic Cable Park is perfect for anyone looking for a little more action than is normally found in a city. It's a Jakarta must see!
Located in Anchol, this is a terrific water park where you can wakeboard to your heart's content. No matter if you are new to the sport or an expert, you will thoroughly enjoy this experience.
There are wonderful employees that can give you lessons as a beginner or tips to help you improve your game. It is also set up so kids can enjoy the same thrill as the adults and not get hurt.
This is the 2.0 section, and the park goes right up to the Big Blob Jump where you can really take off and fly! Other runs have obstacles you have to get around. Do 360's or coast along easy, it is all right there for everyone to take part in.
This is one of the most popular Jakarta tourist attractions, as it is fairly inexpensive and is terrific for families or pros doing some training. With ideal weather year round, this park can be enjoyed whenever you visit. One of the best places to visit in Jakarta!
Address: Jl. Lodan, RW.10
Opening hours: Monday – Friday from 10 AM – 6 PM, Saturday – Sunday from 9 AM – 6 PM
2) Adventure Indonesia
Adventure Indonesia is a company that provides tours for anyone wanting to experience the best scenery and natural resources that Indonesia has to offer. These can be day trips or even 3 day, 3 night excursions.
Start out in Ranu Pani and take a hike to see the beautiful volcano of Bromo. Ijen is another fascinating sight and these give you a chance to do some climbing where you will see some magnificent country.
Or you can climb aboard their boat and get a tour of the various islands.
You can either join another group or have your own private tour. Do some snorkelling on many of these islands where there are some amazing coral reefs to explore. You could see many varieties of marine life including manta rays and sea turtles.
You will definitely want to see the very interesting, almost prehistoric looking Komodo dragons the country is famous for.
If the weather is clear, you will not want to miss the chance to sleep out on the deck under the fantastic starry night.
No matter what you choose to see and do with them, the guides and crews of Adventure Indonesia are very knowledgeable and fun, and will make your visit to Jakarta unforgettable.
3) Bellagio Boutique Mall
While you are in the city, you will undoubtedly want to do some shopping. For this, the best place to visit in Jakarta is the Bellagio Boutique Mall.
It is a surprising little mall because it is not as flashy as many of the other malls. It has a lot of character and represents more traditional shopping for locals.
It is centrally located near the Marriot in Mega Kuningan. It occupies 4 floors that are filled with a wide variety of restaurants and stores.
The ground floor has great tourist shops and stalls where you can pick up all those fun souvenirs.
There is also a very nice pharmacy and supermarket on this level. On the upper levels you will find such things as a golf simulator, places for traditional massages, and lounges with some great karaoke.
You will find ATM machines as well as money changers here for you convenience.
Not only is there the typical fast food places to eat, but you will find a wonderful Indian restaurant and other nice places to eat.
The best part about this mall is that it is less crowded than the bigger, shinier ones so you can take your time and enjoy window shopping and strolling the stores with friends.
Address: Jl. Mega Kuningan Barat No.3
Opening hours: every day from 10 AM – 11 PM
4) Jakarta Ocean Dive
If you're thinking what to do in Jakarta next but incidentally also always wanted to take up diving? No better time, like today!
Jakarta Ocean Dive is a wonderful scuba diving school in Jakarta where you can obtain your PADI Open Water Diver license.
They will also take anyone that is already licensed out to one of the many perfect places to dive in Jakarta.
To get your license it is a 4 day course, and during this time the employees will pick you up at your hotel and take you to the swimming pool for the first portions of the lessons.
For the sea dives, they take you out to Kepulauan Seribu in a speed boat, which is a wonderful experience in itself.
The waters that you make your dives in is fantastic. Clear and warm enough that you have ample opportunity to see some spectacular fish species swimming by.
The instructors take many pictures for you with their underwater cameras, so you will have plenty of proof of your adventures scuba diving in Indonesia when you get back home.
Everyone at Jakarta Ocean Dive is very friendly and accommodating, which makes this whole experience one you will talk about for a long time.
Jakarta sightseeing isn't complete without a scuba diving experience!
Address: Jl. Pademangan 1 No.1
Opening hours: every day from 8 AM – 5 PM
5) Kite Museum of Indonesia
The Kite Museum of Indonesia is one of the most fun and unique museums in Jakarta. Called Museum Layang-Layang, the buildings are arranged in a traditional Javanese, or Balinese/Hindu style compound that boasts many large trees.
There are magnificent murals on the floor and other places that make it a real work of art and fascinating place to stroll around.
It has a wonderful area for kids to play when not taking part in all that the museum has to offer.
Initially, visitors watch a film that depicts the history of kites, and the different types of kites in Indonesia as well as the rest of the world. With each region or province having their own kites, it is a very interesting film.
The kites reflect the culture and people of that area. After the film a guide takes you through the main building where the kite collection is housed, giving you the history of them all.
You will see some of the most amazing kites that you will be in awe of how they were made and how they could possibly fly.
In other buildings there are several different classes offered. Kids get to build their own kites, and then fly them in the compound.
There are also classes where you can learn how to do pottery and ceramics, umbrella painting and more.
The Ibu, who owns and designed the entire facility and lives on the grounds, also has a beautiful batik collection that he will share with anyone that is interested.
The beauty and colour of the entire museum is such a refreshing and enjoyable Jakarta attraction that it is well worth searching out this little hidden treasure. It's one of the more interesting things to see in Jakarta.
Address: Jl. H. Kamang No.38
Opening hours: every day from 9 AM – 4 PM
Price: US $1-2
Save this Pin for later?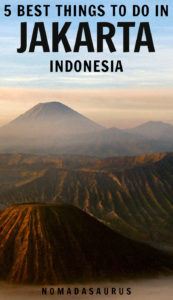 DISCLAIMER: Some of the links in this article are affiliate links, which means if you book accommodation, tours or buy a product, we will receive a small commission at no extra cost to you. These commissions help us keep creating more free travel content to help people plan their holidays and adventures. We only recommend the best accommodations, tours and products that ourselves or our fantastic editorial team have personally experienced, and regularly review these. Thanks for your support, kind friend!