From witnessing the most beautiful sunsets to learning to cook authentic Indonesian food, these are just some of the best things to do in Gili Air.
If your idea of paradise is sunny blue skies, white sand beaches, and aquamarine waters, then the Gili Islands are perfect for you!
Gili Air is the island we immediately fell in love with when travelling around Indonesia.
With beautiful scenery all around, this sand island has no motorized transport to dull the senses.
Horse-carts are used to transport people and goods, and the gentle clip-clopping of hooves is all you hear. It's a welcomed relief and helps your mind relax instantly.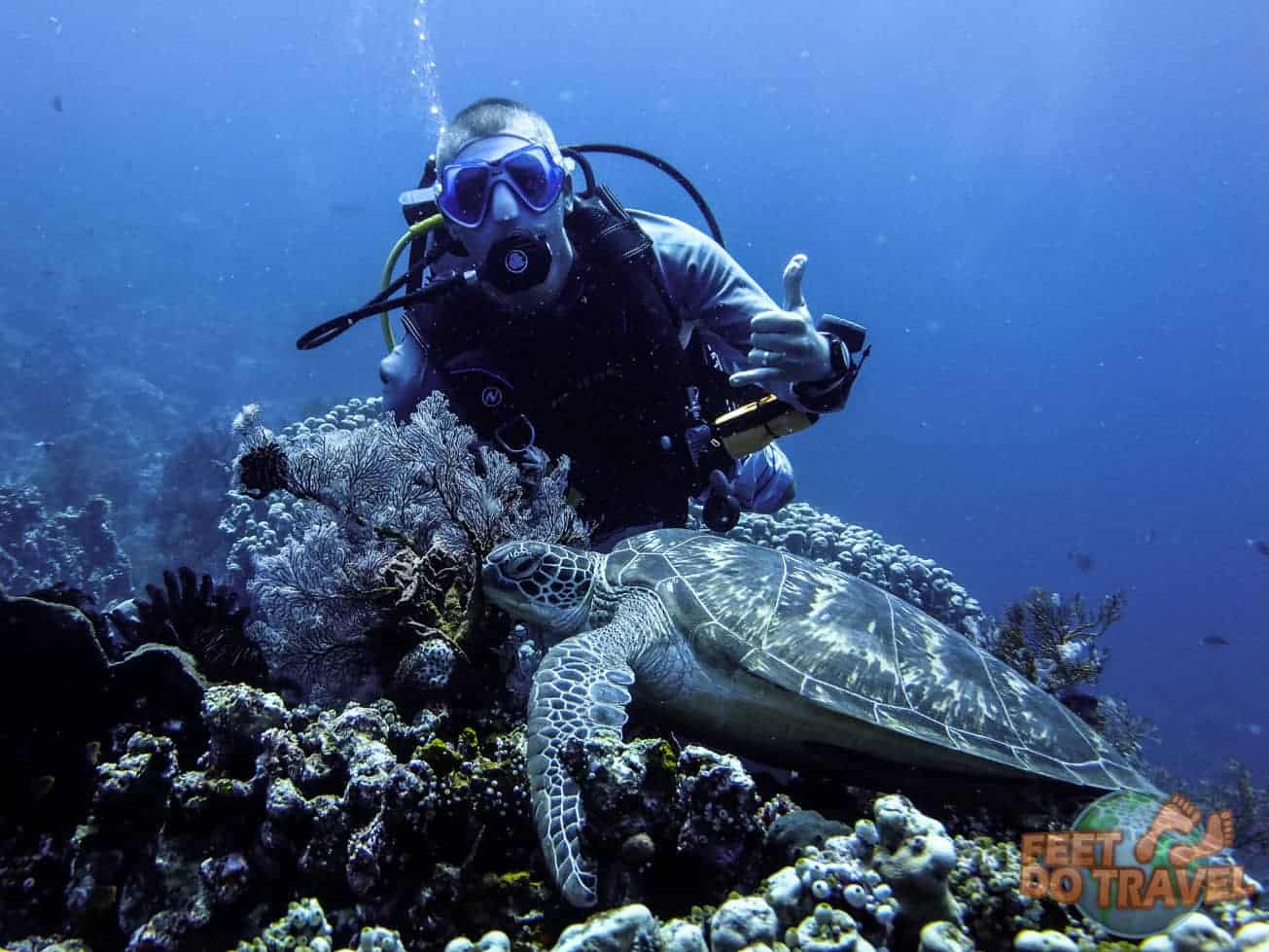 Our Favourite Things To Do In Gili Air
We quickly discovered there is much more to do here than lazing around in a beach hammock drinking fresh coconuts. So if topping up your tan doesn't suit you, there are plenty of other things to do in Gili Air.
Scuba Diving And Snorkelling
Scuba Diving the Gili Islands is the number one activity on Gili Air, and why not! With year-round warm water temperatures and visibility up to 30 meters, it's perfect for all levels.
Did I mention turtles? The Gili Islands are known for having plenty of turtles!
Not qualified? Take a one-day scuba experience or "get your PADI" with a three day Open Water Course.
There are many excellent dive operators to choose from, however Oceans 5 is right on the harbour, are highly recommended, and carry out regular reef and beach clean ups to help the environment.
They are also the only Disabled Diving Centre on the island so anyone can learn to scuba dive.
If scuba diving isn't for you, no worries! Snorkelling is also very popular, and one of the wonderful things to do in Gili Air.
There are many local stalls renting a mask/fin/snorkel set. Alternatively, book a 3-island snorkel tour which will take you to all the best snorkelling spots.
For something a little different, you can easily island hop for a day trip to Gili Meno and snorkel the underwater statues.
I personally love them but some people think they are creepy, however this artificial reef does attract plenty of fish (and turtles!).
Please remember to be a responsible snorkeler.
Do not stand on the coral, attempt to touch/chase turtles or any marine life, and please do not feed the fish. I know it is amazing to have fish swimming all around you, but bread isn't their natural diet and can be harmful to them, it also means they won't eat algae off the coral which is needed to sustain a healthy reef.
Diving Cost: Prices are set across the GIli Islands, equipment hire is included. One fun dive for a qualified diver is 490,000 IDR (USD$36), a one day Discover Scuba is 900,000 IDR (USD$65) and an Open Water Course is 5,500,000 IDR (USD$400).
Free Diving
Free Diving is quickly becoming the new scuba diving. There are a few centres on Gili Air to choose from, but I personally recommend Freedive Flow just up from the harbour.
The centre is professional yet relaxed with record holding instructors.
They teach absolute beginners through to Instructor Trainers, but if you don't want to commit to a course, try the half-day introduction.
They run both AIDA and PADI courses as well as breath hold workshops for surfers (perfect if you are going to Bali afterwards!)
Cost: Pricing starts at 1,950,000 IDR (USD$142) for a 1 day course.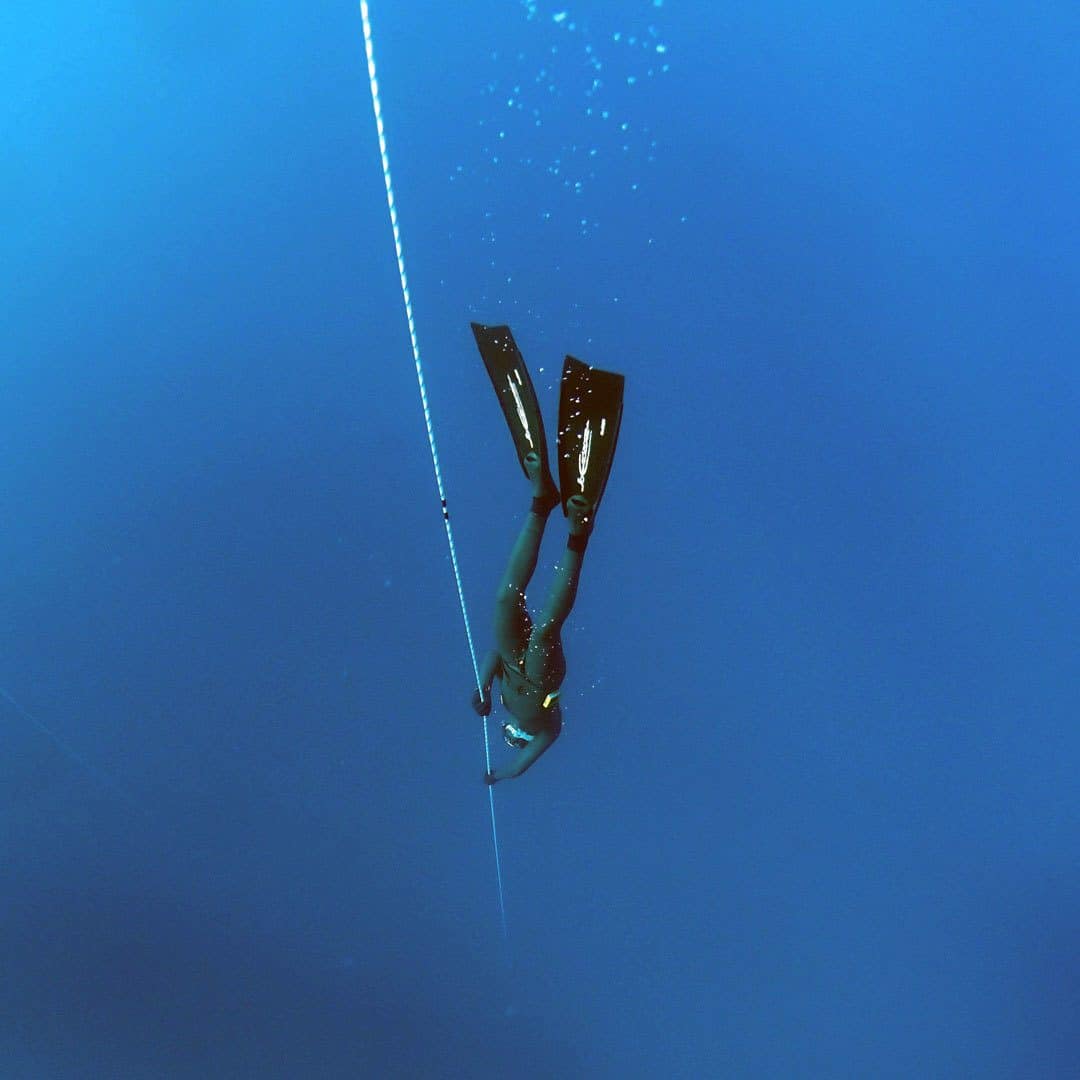 Subwing
For a bit of fun, why not Subwing the Gili Islands!
Subwing is the new snorkeling and feels like you are flying underwater. It's easy to learn, suitable for all ages, all fitness levels and is very addictive.
All you do is hold onto the Subwing board and a boat will gently pull you along, it's up to you to tell the driver if you want to go a little faster.
If you are an adrenaline junkie, dive down and do tricks, or for a lazy snorkeling experience, stay on the surface and enjoy watching turtles and fish swimming by.
Don't forget your GoPro which you clip to the board and film yourself!
Cost: 2 x 25 minutes inc equipment is 350,000 IDR (USD$25)
Explore The Island
It will only take about two hours to walk around the entire island and enjoy its full beauty.
Dip your toes in the ocean, stroll along the sandy paths, have a selfie on one of the many beach swings, or stop at one of the many beachfront restaurants for a cool drink and a spot of people watching.
If you want to know the real Gili Air and how locals live, walk inland where you will be rewarded with fields of palm trees, free-roaming cows, chickens and cats.
Gili Air is a cat island and no dogs are allowed.
Please remember to cover yourself up when away from the beach areas to be mindful and respectful of the island's Muslim culture.
If you don't fancy walking, there are plenty of places to hire a bike, however do note that small sections in the north are very sandy so you may have to push.
If you wish to do more than usual Gili Air sightseeing, book a tour with Klook to see more of the Gili islands.
Cost: Bike hire is 50,000 IDR (USD$4) for 24 hours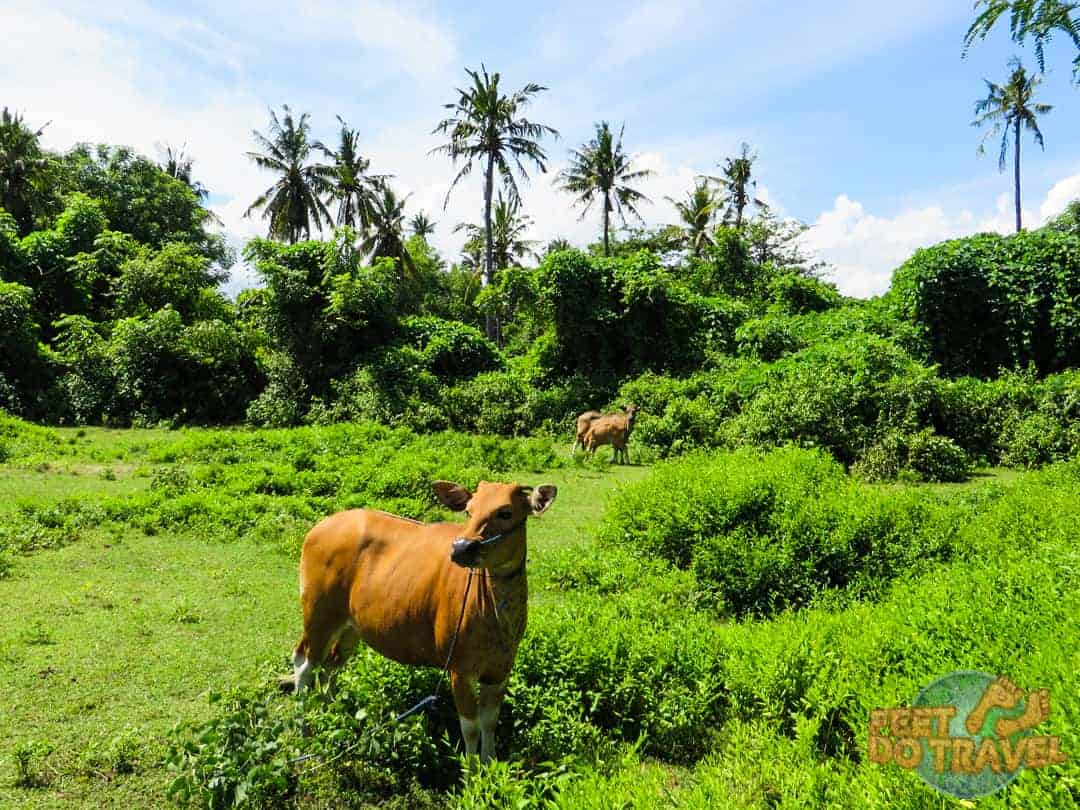 Shopping
Yes there is shopping on Gili Air! From small boutique stores selling clothing for both men and women, to local beachfront stalls.
You can buy handicrafts made from wood or coconut shell, locally produced jewelry and homeware. Coconut oil is a popular purchase and all make perfect gifts or souvenirs.
If you want more shopping, island hop over to Gili Trawangan. Experience how the locals travel on a public boat, or take one of the fast boats which run every hour.
It's easy to pop to Gili T, spend, spend, spend and still be back on Gili Air in time for sunset drinks.
Cost: Public Boat is 20,000 IDR (USD$1.50) per person, fast boat is 100,000 IDR (USD$7) per person. All tickets purchased at the harbour.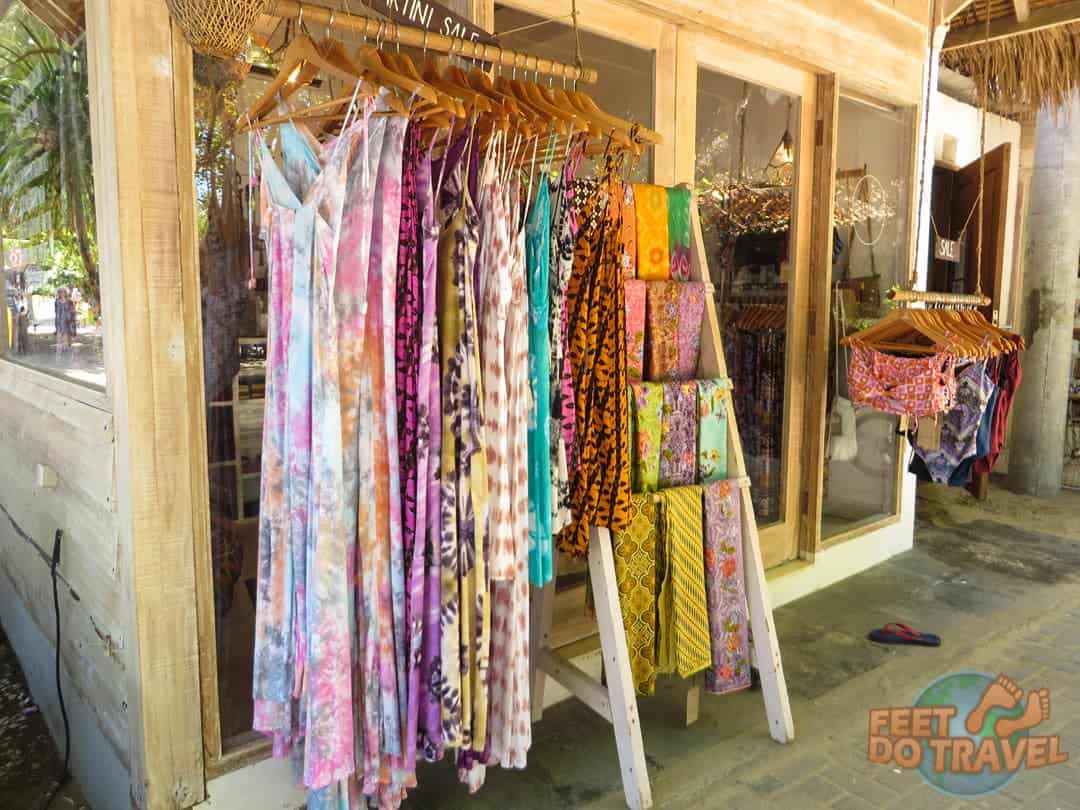 Sunset On The Beach
This is my favorite activity on Gili Air!
There is nothing better than sitting on a beach bean bag with a cocktail, cold beer or fresh coconut in your hand watching the sun set behind Bali's Mount Agung.
The sky can turn pink, orange or red, even when it's cloudy the sunsets on Gili Air are spectacular.
Along the west coast there are plenty of beach bars and restaurants to choose from but for me, the best sunset spot on Gili Air is Gili Lumbung.
For that Instagram-worthy photo, Gili Lumbung has a swing, what a perfect way to end your day!
Enjoying the sunset on the beach completes your Gili Air sightseeing experience.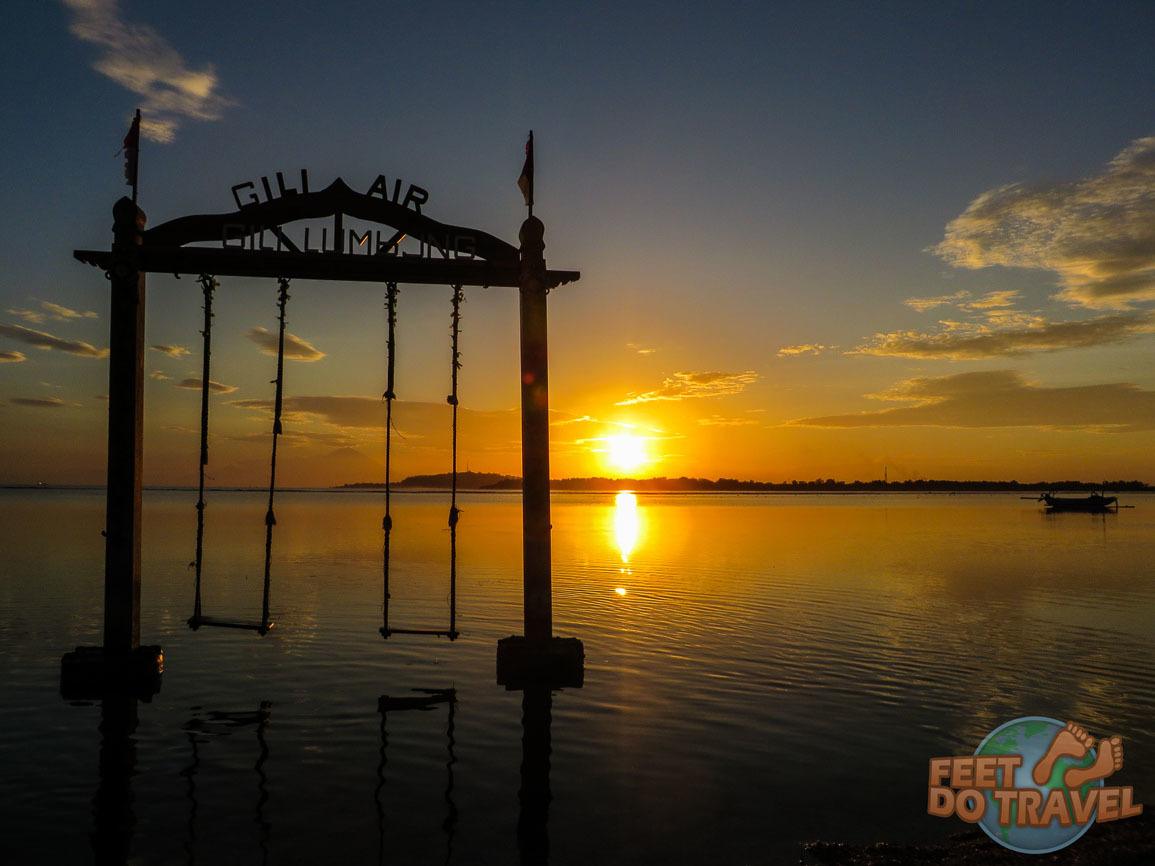 Listen To Live Music
Who said that Gili Trawangan has all the night life? Gili Air has its own evening vibe with something to suit everyone.
If you like live music, Monday nights at Gili Lumbung there is a really good guitarist playing mainstream music such as Ed Sheerhan (Indonesia loves Ed!), Tuesday's Puri Vida have a Reggae band and on random evenings, De La Resto near the harbour have a really good guitarist.
Zipp Bar and Bel Air also have live bands playing on various nights of the week.
If you prefer DJ's, start your evening with sunset drinks at Cheeky Monkeys on the west coast, they have the awesome live DJ Fishplant playing ambient tunes.
Chill Out have a beach party every Tuesday from 10pm with House Music, Legend Bar in the north has a trance music DJ every Wednesday from 9pm – 4am and Saparis have regular beach parties (just look out for the flyers).
Go out in the evening and dance with the locals. The vibrant nightlife is definitely one of the more unexpected Gili Air tourist attractions.
Movies On The Beach
There are two outdoor cinemas on Gili Air showing movies every night from 8pm.
Take a wander to Ombak Paradise on the south-west coast, and to Bel Air on the east coast to find out which movie will be shown.
Outdoor cinemas are just some of the fun places to visit in Gili Air.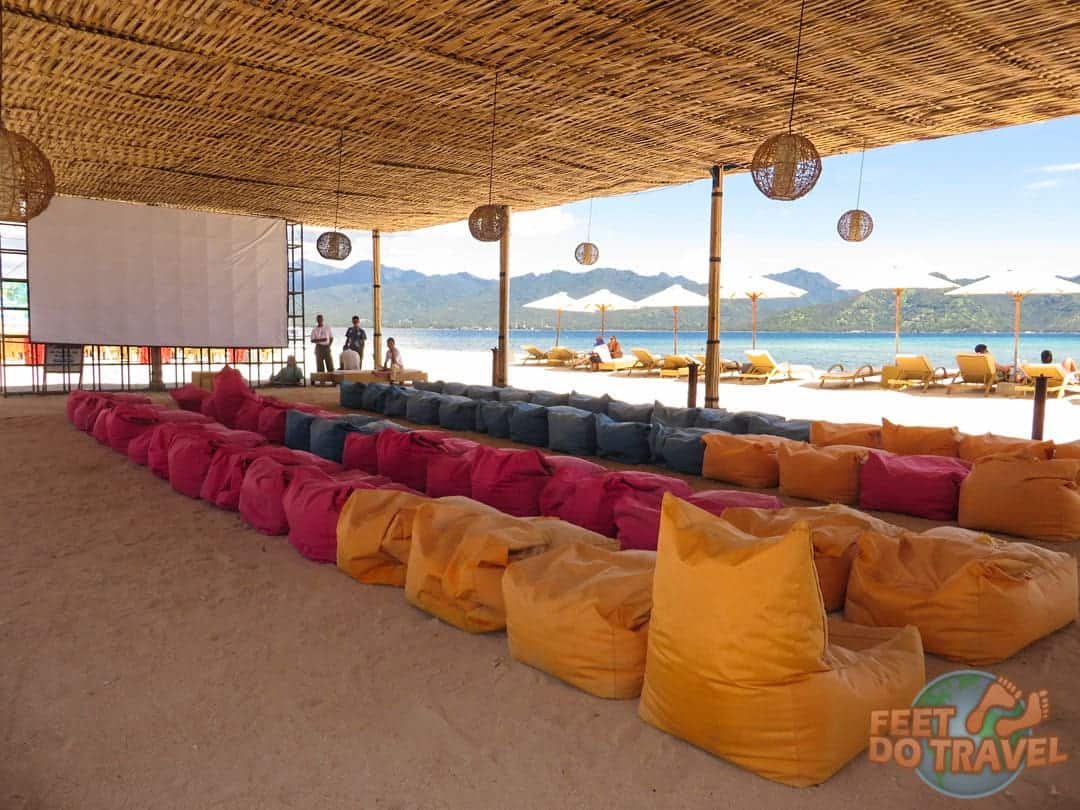 Be Green And Beach Clean!
When visiting destinations like these, we always make the most out of it and just enjoy in its stunning nature, rarely thinking to give back.
If you want to help keep Gili Air beautiful, why not take part in a beach clean up?
One of the things to see in Gili Air is the sense of community and shared responsibility towards their environment.
Gili Shark Conservation and Trash Hero work with most of the dive centres around the island, so join in one that is near you.
It only takes between 30 – 45 minutes of your time and at the end, you get a free soft drink or beer! How can you refuse?
Not only will you have the feel good factor of reducing the amount of rubbish that will end up in the sea, you will also meet like-minded people and be a part of the island community. Go on, be a #TrashHero.
Yoga, Aqua Yoga Or SUP Yoga!
If you are new to yoga, or practice regularly and wish to attend a class on Gili Air, there are a few places around the island offering a variety of yoga classes.
Start your day with a morning flow class with Blue Marine overlooking the beach.
If you want to challenge your yoga balance, why not try a sunrise or sunset stand-up paddle board (SUP) yoga class?
In the middle of the island is H20, a yoga and meditation center which run twice daily yoga classes, workshops and yoga retreats.
If you prefer Aqua Yoga, they are daily at 10.45am.
Doing yoga at the beach while enjoying the sunset, is a Gili Air must see.
Cost: 100,000 IDR (USD$7) per class, SUP Yoga is 270,000 IDR (USD$20) including board hire.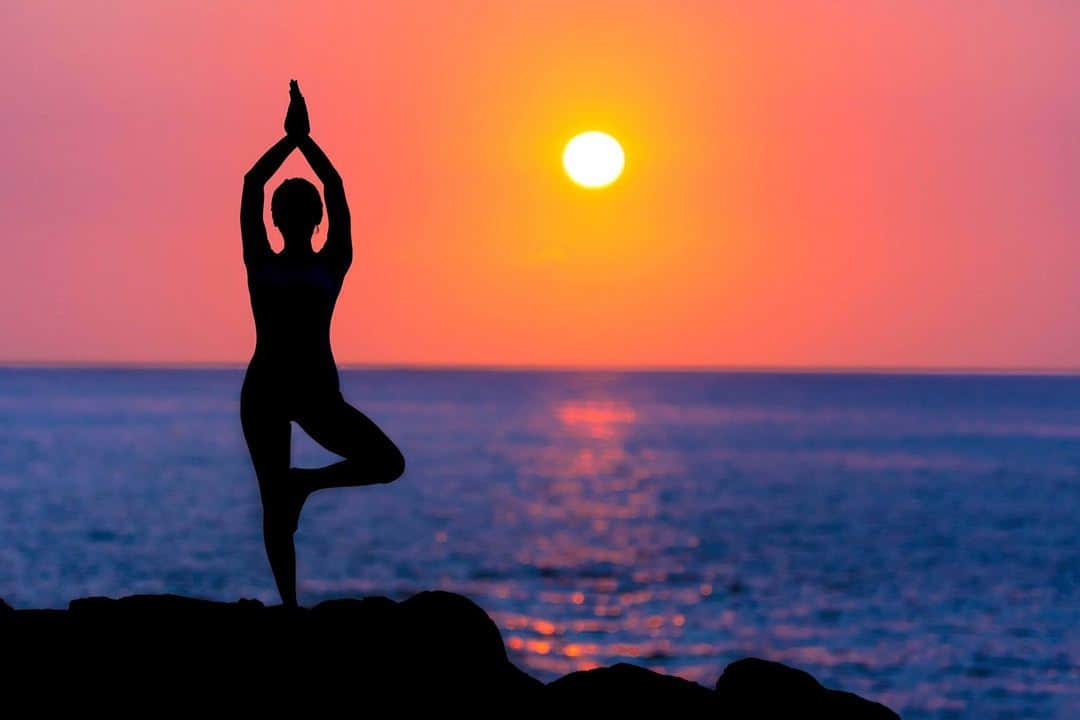 Pamper Yourself
Why not pamper yourself in paradise?
There are many beautiful massage centers around the island for your total relaxation. Have a massage, reflexology, nature baths, facial, manicure, pedicure – you name it Gili Air has it!
Highly recommended are Jasmine, Bulan Madu and Bel Air. If you are after a bit of luxury wellness, head to Slow Villas.
Since diving and other water sports are one of the main Gili Air attractions, you can count on feeling exhausted at the end of the day. Make sure to take some time to treat yourself to some wellness.
Cost: Starting from 110,000 IDR (USD$8) for a 1 hour massage
Indonesian Cooking Class
If you ticked everything from your list and you're wondering what to do in Gili Air – learn the local cuisine!
If you want to recreate a delicious Mie Gorang at home, why not take a Gili Cooking Class. Located in the harbour, there a three daily classes suitable for all the family and vegetarians.
There are classes to suit your budget and each one focuses on traditional Indonesian cuisine.
If you are staying in the north, Warung Sunny is highly rated. The best part of this experience is, of course, the feast you have at the end!
Cost: Courses start from 290,000 IDR (USD$21) per person for 1 – 1.5 hours.
Gili Air Travel Guide
We can't tell you all these amazing things to do in Gili Air without letting you know some basic travel information for this beautiful island either!
Do I Need A Visa To Visit Gili Air?
A 30 day visa to Indonesia is granted on arrival for most countries, and it's free!
Best Time To Visit Gili Air?
With its tropical climate, Gili Air can be visited all year round, however there are two distinct seasons.
Rainy season is November – April and Dry Season May – October. High season is July & August so prices are likely to be higher.
How Do I Get To Gili Air?
From Lombok: The nearest airport is in Praya, Lombok. From here, take a taxi to Bangsal harbour and a boat over to Gili Air. Your accommodation will be able to arrange a private transfer, but you can also do it easily yourself.
From Bali: If you are flying into Bali (Denpasar), there are many fast boats to bring you directly to Gili Air. Eka Jaya, BlueWater Express and Gili Bookings are the most popular and tickets can be purchased easily online. Check with your accommodation as they may also be able to arrange this for you.
Best Accommodation On Gili Air?
There are a plethora of places to choose from to suit every budget. There are luxury bungalows, villas, beachfront locations as well as comfortable homestays and hostels.
You can use Agoda to search for hotels and homestays. (Get 10% off your accommodation with our exclusive discount: AGODANMD10)
What Is The Currency And Are There ATM's Or Credit Card Facilities?
Indonesian Rupiah (IDR) is the official currency in the country.
Estimated exchange rates:
£1 = 19,000 IDR, 1 AUD$ = 10,000 IDR, 1 US$ = 13,000, 1 Euro = 16,000
There are seven ATM's located around the island but cash is king.
Dive centers, accommodation and some restaurants do accept credit cards but a 3% charge is added.
There are also a couple of money exchange offices if you do need to change some cash in to IDR.
Is There Anything I Should Be Culturally Aware Of?
The Gili Islands are Muslim so to respect their culture, please cover up when you are away from the beach area.
Although the dress code is pretty relaxed, it's not polite to walk into a shop or past the mosque wearing just a bikini. For females, topless sunbathing is not permitted.
When entering a shop or someone's home, please remove your shoes as it's considered disrespectful not to do so.
Learn the lingo – even if you say just a couple of words, the smiles you receive in return will make it worthwhile. "Selamat Pagi" or just "Pagi" means good morning, "Terima Kasih" or "Makasi" means thank you or thanks and if someone asks "Apa Kabar" (how are you), respond with "bagus" meaning good.
DISCLAIMER: Some of the links in this article are affiliate links, which means if you book accommodation, tours or buy a product, we will receive a small commission at no extra cost to you. These commissions help us keep creating more free travel content to help people plan their holidays and adventures. We only recommend the best accommodations, tours and products that ourselves or our fantastic editorial team have personally experienced, and regularly review these. Thanks for your support, kind friend!