Everything you need to know about getting off the beaten path and scuba diving in Maumere, Indonesia.
I am on a mission to document the best diving in the world, and it brings me to a lot of remote, relatively unknown locations in the world.
Some of these places are world-class when it comes to scuba diving on pristine reefs and abundant marine life, but are so unknown by main-stream divers, that every time I explore one of these locations I feel like a pioneer discovering new grounds.
They are so unknown and rarely visited in fact, that the scuba industry/tourism hasn't been able to take root, and the locals are forced to continue long traditions of fishing, almost always in very destructive ways, and targeting endangered species.
What I mean is, for generations these local communities have survived, not just by sustainable fishing, but from killing giant manta rays, whale sharks and other sharks and rays, just to sell a few parts to other rich Asian countries. Its hard to imagine, in 2017, of people harpooning by hard giant, majestic whale sharks, just for a fin.
READ MORE: Looking for a dive watch? We've just published our expert guide on how to choose one here!
A solution that has been highly successful in many countries and islands, is to convince these villagers that these animals are worth a lot more alive then dead, and turn them into tour guides.
They slowly put down their long lines, nets and spears, and stock their boats with masks and dive tanks. These pioneers, developing brand new scuba locations, are making a slow but inevitable change that the oceans desperately need.
So any time I discover a new world-class dive location that no one knows about, I love to shout it to the world, and do my small part to keep these few/new scuba tour operators in business, and away from their old lifestyles.
This was the case last week in Maumere, a small city in central/eastern Flores, which is highly over looked, but will some day be a popular dive destination.
Right now I had every dive site and reef to myself, and my guides were a rag-tag crew on a old fishing boat with brand new tanks and gear, but one day, just like nearby Komodo National Park, Maumere will be recognised as one of the scuba greats.
If you get there now, you can be one of the first people to experience scuba diving in Maumere, just like I was.
I put together a complete guide to scuba diving Indonesia, with information about the top 20 dive locations in the country, what to expect and how to get there, and of course Maumere is included.
Guide To Scuba Diving In Maumere, Indonesia
I am intrigued with Indonesia in general, because with its 17k+ islands sprawled out through the coral triangle, there has to be hundreds more insanely awesome dive sites that have yet to be discovered, not to mention the countless species needing to be discovered still. Maumere is one.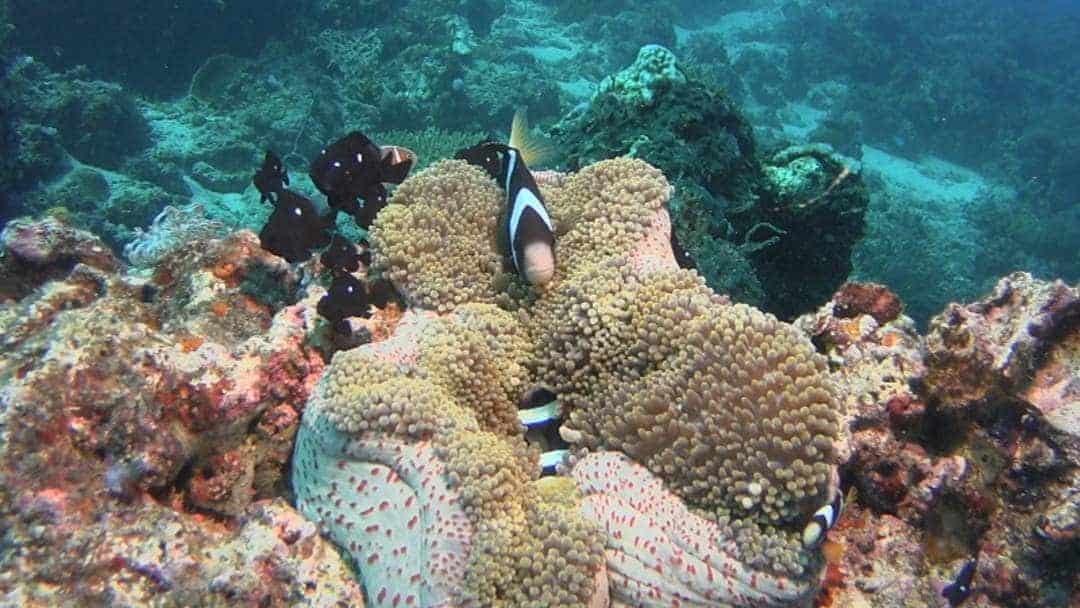 Maumere had enough known dive sites to keep me busy for the week, from great wall dives all around Babi (Pig) Island, to healthy soft and hard reef dives to wrecks and of course macro.
On one dive in front of the beach of Babi Island, I saw countless gorgonian fans, that were as big as cars, the biggest I've ever seen, and then table coral/elk horns that were also giants. The underwater photography opportunities were endless, anywhere I went
Babi Island was one of the islands that got the worst of the tsunami in 1992, killing a lot of people. Since then the government made it illegal to live on the island, so only a few day-shacks are on the beach, where the occasional fisherman will spend the day drying fish.
Some people also let their goats loose on the small island, to feed on the grass. So for a surface interval in between dives, this is an amazing place to chill. You won't find much shade, but I was lounging n the white sand beach, void of the sounds of cities and humans, with great views of volcanos on the horizons.
My favorite dive of the trip was a night dive just off the beach in front of the Sea World (not THAT Sea World) Beach Club.
It was a shallow muck dive right in front of the resort, where I found so many awesome little critters like octopus, nudibranch, swimming flatworms, a variety of crabs, blue ribbon eels, and loads of other crazy stuff I hadn't seen during the day.
There were unlimited photo and video opportunities, and in fact my batteries died on both my camera and my video lights, from all the shooting!
Travel Tips For Maumere, Indonesia
Because Maumere is really off the beaten path in Indonesia, I've put together some travel tips for Maurmere.
How To Travel To Maumere
To get to Maumere is actually really easy, which was a surprise. It is only an hour flight from Bali, and at the time I went flights were about $100 return.
I should mention that, even though Maumere is still a developing dive location, at the airport I did meet a lot of Germans, who told me that Maumere is a popular trekking destination with all the volcanos in the area to hike up, as well as the extremely beautiful 3 colored lakes. So maybe that is why there are direct flights to the city.
Don't Miss Maumere's Amazing Lakes
Speaking of the lakes, what they are, is three lakes on top of a volcano, each one a different color. If you have a drone and can get that aerial view, its even more beautiful.
I hope scuba diving Maumere is on your radar now, as I know it won't disappoint. If your goal is to get some great dives in, away from the crowds, this is the place to go. You'll be diving in a fish tank environment, having every photo opportunity to yourself. Get there.