Welcome to the Mongol Rally Diaries series by Benny D. These blog posts showcase Benny D's journey from London to Mongolia as part of the legendary Mongol Rally.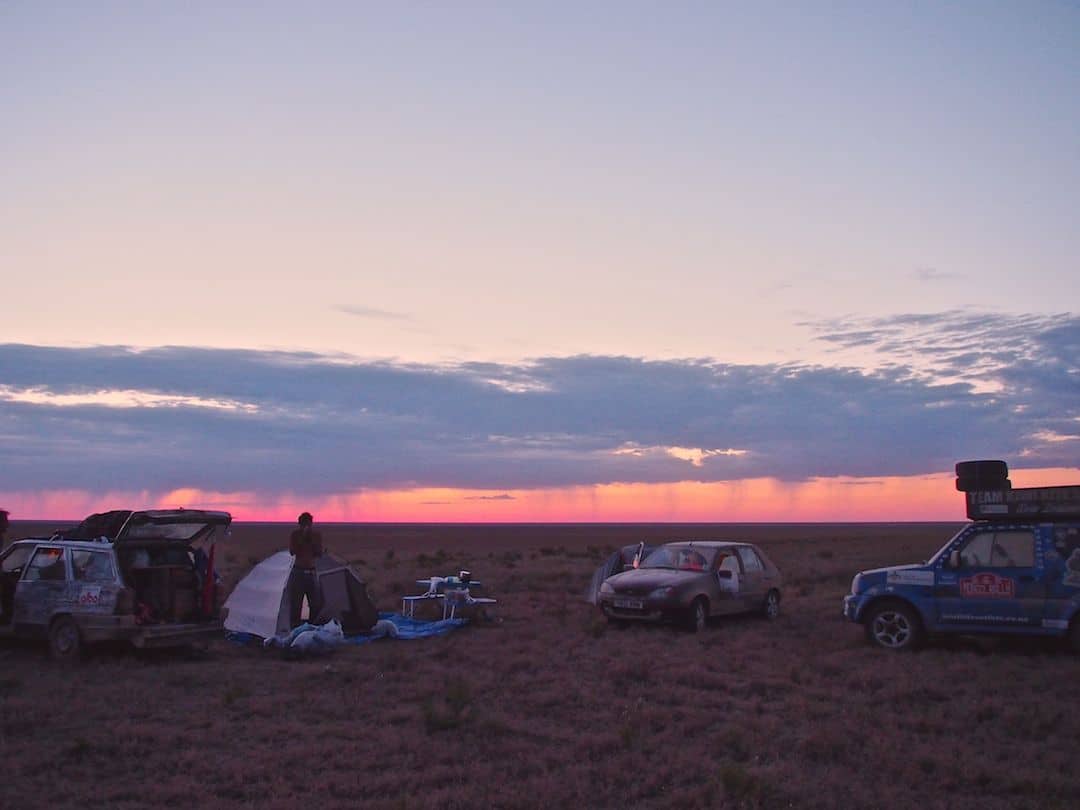 Kazakh Desert Bash
I've never had the inclination or any good reason to punish a car like I did poor Marylou. The little red 1993 Ford Fiesta Freestyle was built for short trips around European cities or between quaint little English villages. No doubt this had been her life up until now.
When it was rolled out of the factory I bet no one who put it together ever imagined it would one day be hurtling across the Kazakhstan desert, its little front wheels spinning through sandy tracks and bouncing uncontrollably over dried mud and grassy roads that continuously split into a myriad of alternate pathways reaching endlessly for the horizon.
Not the life she was born for but right now it was quite necessary to attack these roads with a fair amount of vigour and speed. For one, the car would easily get stuck on the smallest uphill section if I didn't fly into it with a fair amount of momentum. And secondly we had about 650 km of this punishing terrain to endure before we would encounter any reasonably sized town and hopefully better roads.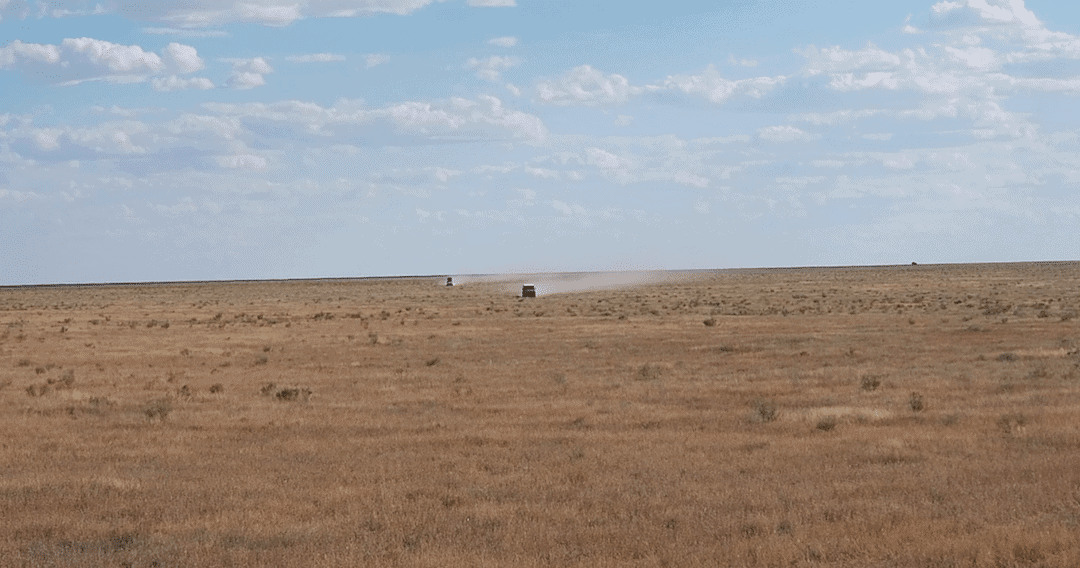 The morning had started out well considering we had helped three Uzbek truck drivers finish two bottles of vodka at the little roadside café the night before. Our little convoy of four vehicles– ourselves, the four Italians in a Fiat station wagon, team Kiwi Kite Surfers -Leon and Daz in their blue Suzuki and Jan–the Czech Doctor not participating in the rally but just touring around in his fully equipped Land Rover.
At this point, I'd like to point out that if it were not for the Doctor and the reassurance that his vehicle would be able to extricate us from any danger, there's no way we would have even considered taking this route. The alternative was 2000kms of potholed pavement that would probably be just as damaging and a lot more boring.
Not long after sunrise we took a fairly bumpy track through the cool morning air south of Bayneu and then turned east into the unknown.
At least the maps we had indicated a broken dotted line that yes – there was a path that goes across this desert but as to its condition was anyone's guess. Not long after we began, a local stopped us in his utility and indicated that we should not continue down this road.
We thought perhaps he was just stopping us because only two of our four vehicles were four wheel drive, but when we showed him on the map where we wanted to go he made us follow him to a fairly well my gravel road that took us 70 km inland and then turned into tracks. From here it started to get a little bit more difficult.
I took the lead in the Fiesta with the Italians and then the two four by fours behind. With the long wheelbase and heavy load the Fiat initially had difficulty keeping up. After taking an alternative track will become stuck in the soft sand and we would stop and wait for Jan to lead them back to us. This would become a recurring theme and made for slow progress.
The Kiwis were on the tightest timeframe and clearly frustrated by our lack of headway. Much of the time though there is just no alternative and the track is in such poor condition that I can only hope to go as fast as second gear you will take me.
With minimal clearance underneath our little car its necessary to keep one set of wheels on the centre of the track and the other set up on one side and when I can't see around the corner or over a hill I quietly pray that no vehicle is coming the other way.
Perhaps I was a bit too confident or maybe it was unavoidable but after mounting a small crest Marylou virtually landed in a massive hole and bounced through with aloud bang. Something was screeching in scraping as she rolled to stop.
I thought the front axle had snapped and surely this was the end. I inspected the underside of the vehicle and found no major damage–except that the engine mount was broken but still sitting in its bracket, albeit not quite where it should be.
We set ourselves small targets on the map and eventually arrived at a point where it seemed the road would go no more. We negotiated our way around a large lake that I initially thought was a mirage.
From here the tracks became full of dust but because of the searing heat it was necessary to leave the windows at least partially down.
Even if the windows were up the car was still full of dust. Scarves wrapped across our faces to assist our respiration we would drive for 50 or 60 km and stop to wait for the others. Sitting next to the car in a thin square of shade we would sip lukewarm water and lick a completely melted snickers from the inside of its wrapper. At one point I was certain we had lost the others.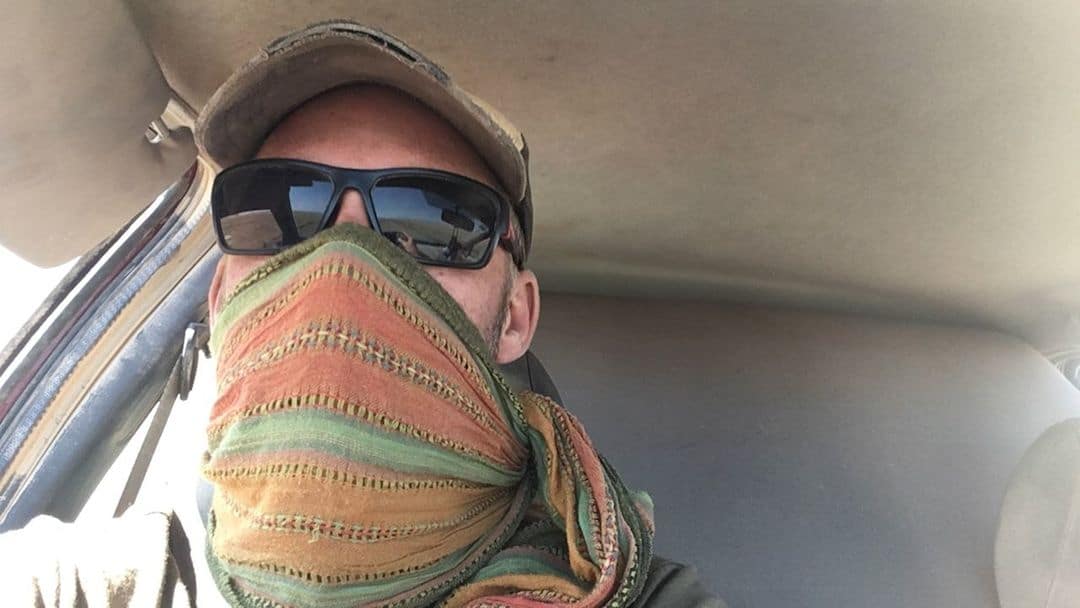 I did not see any clouds of dust rising from behind the vehicles somewhere out in the desert for well over an hour. The Italians had lost the box from their roof and had to redistribute its contents throughout the other two vehicles.
As the massive red sun approached the horizon we pulled over to set up camp. I was completely exhausted, mentally and physically after 12 hours of wrestling and caressing our little machine over what amounted to less than 400 km of the most demanding country I have ever driven.
Everyone was up before dawn to see the sun rise up behind the thin curtain of rain that was trying to reach the parched earth way off in the distance. Today's first destination would be Bozoi, what appears on the map to be a settlement with fuel and hopefully supplies.
By my calculations it's less than 100km's, and from there it should only be another 200 kilometres to the main highway. With any luck we'll see some asphalt tonight. We forge on with huge billowing clouds of dust soaring behind us and the rising sun seemingly increasing the temperature by the minute. We all congregate at a point where I must change a completely shredded tire and get pulled out of a high spot once more.
'See you in Bozoi' I say and this time we follow the Italians until the road splits. My map says to stay left but they go right. Certain that all roads must eventually lead to town, I just continue on. Marylou takes another hard hit and when I go to change gears I realise we have lost the clutch.
Bozoi – London, New York, Paris, Bozoi.
Bozoi is essentially a small village built around a Chinese / Kazakhstan joint venture natural gas storage facility project on the new pipeline that supplies gas to the southern regions of Kazakhstan and through to China. Not a place frequented by many tourists and I don't think its going to make next years Traveller Magazines hot new destinations list.
When we roll into town in our dust covered defective machines we got some pretty strange looks. Every single vehicle is a Russian made UAZ 4WD and where the streets aren't covered with concrete slabs there are holes as big as our car.
The town has one shop and we get fuel and a cold drink and top up our jerry can. A teenage boy buzzes around us around on his motorbike, revving it and trying hopelessly to assist us, our arrival clearly the highlight of his year.
The rest of the convoy are nowhere to be seen. After an hour I find the Doctor parked near the road to the gas plant. He informs me the others are waiting at a designated spot for us and he must go and find them. Four hours later we are reunited but we have lost a half a day.
The Kiwis are really keen to try to make the main highway before it gets dark and the Doctor goes with them. Farewell to our friends with the four wheels drives who helped us get here. But now we are on our own.
We take Marilou back to the fuel station and make friends with a kind gentleman in overalls. We sign language that we have no clutch and he begins to inspect the car. Some of the locals join him and they all start tinkering to try to work out what is wrong. During this time we ascertain that the road that the Kiwis and the Doctor have just taken is virtually impassible.
Although we cannot communicate with anyone verbally its clear that under no circumstances should we try to follow them. Instead there is a new road that goes east and will bring us to the main highway near Aralsk. This is communicated to me by our friendly mechanic pretending to drive with one hand on an imaginary steering wheel and leisurely smoking an imaginary cigarette with the other–clearly indicating that the road is a piece of cake.
We eventually work out that the master cylinder is ruptured and our only option is to try drive to the next town without a clutch to see if we can have it repaired there. Aralsk is less than 200kms apparently. Remittance requested by our friendly mechanic is a bottle of Coca-Cola for his boys and then he takes us into town to a small restaurant.
We sit down at a table with plastic tablecloths and cannot read anything on the menu so when asked if we want 'something' we just say yes. We're very hungry. Not long after we're tucking into the local delicacy of fried organs with onion and some stale bread. I wash it down with a beer and not long after the only guy in town who can speak English arrives.
He works for the gas company and brings a few other locals along so they can have their curious questions about the peculiar white people translated. The gentleman is super helpful and reaffirms to me that the new road towards Aralsk is indeed the only feasible way to get our car out of here. Typical of Kazakh peoples selflessness he takes me for a 10 minute drive out of town to show me exactly where the road starts that I need to take tomorrow.
Aralsk
The only problem is that he specifically tells me to follow the road all the way straight, do not turn. The next day we follow his instructions and after 150 km of often corrugated but reasonably decent compact gravel road we come to a single lane track again.
They told me the road was good all the way and it seems very strange that it has degenerated so badly. This section of road becomes very difficult and without a clutch I can feel the gearbox swinging around and bouncing with each bump.
Eventually we reach the railway and realise we should have taken a turn off towards the highway some 30kms back. There is a small village and we enter it and come to what looks like an abandoned railway station. I do a U-turn in the sandy yard and try to stop on a hill. Marylou stalls with a shudder and once again I proclaim that's it. This is the final resting place.
We prepare at this point to pack all our belongings into our backpacks and walk towards the highway. Some curious locals come to inspect and give us an ice cold drink. They show us the road to Aralsk and help us push the car through the sand and by some miracle she starts again. Soon after I see an old Lada coming towards us on the one lane track.
I honk my horn and flash my lights because it will be impossible to restart on the sand with no clutch, but he stays his course. I'm forced to drive up the embankment to let him past and once again we exit the car and give it a mighty push to roll start it and keep going.
After a period the track becomes a far less damaging pressed gravel road and eventually Marylou's tyres transfer from the rumble of dirt to the smooth hum of asphalt. I let out a holler of 'woohoo' and pat her on the dash with affection. I feel genuine remorse for all the bad things I said about her and all the times I cursed a Ford.
This little four-cylinder front wheel drive sedan has just conquered a brutal 800 km of desert terrain, the last 200 without a clutch and numerous other impediments and my admiration for her is considerably elevated.
Poor Aralsk was once a thriving poor town on the edge of the Aral Sea – The earths fourth largest inland lake- until the Soviet government orchestrated one of the worlds worst environmental disasters by diverting much of her feeder rivers away from the ocean for cotton irrigation. Since the early 1970s the ocean has been one third of its original size.
We check into the towns only dilapidated hotel which I dubbed 'Hotel California' because it looked eerily closed and abandoned even once we got inside. If only I knew how prophetic my words would be – 'you can check out any time you like but you can never leave.'
The pink walls and broken plumbing would be our home for the next five days while we waited for a clutch cylinder to be sent up from Shymkent and for some backyard welding to be administered to Marylou.
With each passing day we are losing valuable time from our schedule. We had planned to cover approximately 800kms per day so by the fourth day in Aralsk we were more than 3000kms behind and beginning to realise that our goal of reaching the Mongolian capital was slowly becoming unobtainable.
To further deter us, the Italians arrived the day after us and from their information it seemed that the first teams had reached the Mongolian border only to be told that it is now compulsory to pay a deposit equal to the import tax on the vehicle- US $6000 in one case- before they'd be permitted to enter the country.
One team had apparently complied only to be given the run around by border officials when they exited the country and asked how to get their deposit back.
After a couple of caviar and vodka sessions and some minor repairs to the Fiat the Italians struck out for Russia whilst we remained stranded in Aralsk with nothing to do but annoy the girl at the local café whilst catching all of Kazakhstan's Rio Olympics highlights reel over and over to the soundtrack of an ex wrestler turned central Asian gangster rapper.
Late on the fifth day our mechanic picked us up and took us to his garage. We paid him the amount we had agreed upon through a mediator and collected Marylou without ever being able to exchange a single word with our repairman, but we warmly shook hands and I'm sure he wished us luck.
Apparently there is a conservation program to restore the waters to the Aral sea and return its little port town into a seaside village once more. And although the residents are happy enough, some locals understandably feel a certain degree of animosity towards tourists who come to survey their misfortune.
In general though, like most Kazakhs, they cheerily make the best of what they've got, but I think if I had to stay there for one more day, out of sheer boredom and frustration I was going to implode.
Enjoying the story? Stay tuned for Benny's adventures in the fifth week of the Mongol Rally as he travels with Penny into Kyrgyzstan and back out again