Everything you need to know about the slow boat to Laos from Thailand.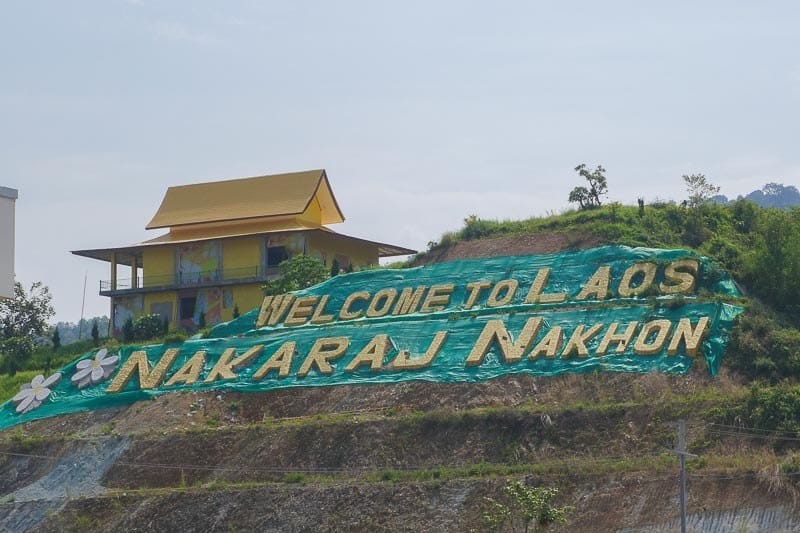 Prices for the slow boat to Laos are have been updated for December 2016. Subject to change.
So you're looking to take the slow boat to Laos from either Chiang Mai, Chiang Rai, Pai or Chiang Khong in Thailand and want some tips on the best way to do it? Here is everything you need to know before you board and once you're on the boat!
Can I book the slow boat to Laos through an agency?
Yes, there are many agencies that can arrange this for you in each place. Sometimes even your accommodation can organise this for the same price as an agency. Just ask at your reception.
Don't miss our latest guide on the best things to do in Luang Prabang!
Chiang Rai – 1550 Baht ($47.50)
You get picked up from your Chiang Rai accommodation at 6:30-7am. There is a 2-hour ride to Chiang Khong, which is the closest town to the border, arriving at around 9am.
You then cross into Laos. Once you have officially entered the country you hop on the shuttle and get transferred to Huay Xai where the slow boat leaves. This is a 2-day journey, including shuttle and slow boat to Laos.
Chiang Mai – 1700 Baht ($52)
There are many agencies you can book this through in Chiang Mai. The typical schedule is 10:00am Pick up from your Chiang Mai accommodation.
It is a 4-hour drive to Chiang Kong where the border is located. You will be transferred to your accommodation in Chiang Kong and stay there for the rest of the day.
Pick up in the morning at 8:30am and transfer to Thai Immigration. Cross into Laos by shuttle bus. At 10:00am board the slow boat to Pakbeng.
Packages do include accommodation (either just in Chiang Khong, or sometimes Pakbeng as well), but depending on the price will determine your accommodation standards.
This is a one-day journey in the shuttle to the border town and 2 days on the slow boat to Luang Prabang.
If taking the 2-day slow boat from Chiang Mai to Luang Prabang seems like too much of a headache and takes too much time, check out the sleeper bus. You can book it on Bookaway.
Pai- 1750 Baht ($53.50)
Leave Pai at 2pm or 6pm, Fuel up on the outskirts of Chiang Mai to continue on towards Chiang Khong. The trip is long and you will arrive in Chiang Khong around 1-2am.
This package does include all your transport and your one night accommodation in Chiang Khong.
Don't expect anything fancy with the accommodation. In the morning they will drop you at the border around 9am. This is a one-day journey in the shuttle from Pai to the border town and 2 days on the slow boat to Laos.
If you're going to be in this town, check out our complete guide on the best things to do in Pai.
Can I do this on my own and not through an agency? And what are the costs?
Yes you can, but it might not flow as nice as an organised booking. Although it will work out cheaper. You may have to travel to Chiang Khong one day and then do the border crossing the next day to be in time with the slow boat to Laos.
The information below is making the journey from Chiang Rai
Bus from Chiang Rai to the Border- 65 Baht ($2)
Get the bus to Chiang Khong. Ask around at the bus station and let them know you are going to the Laos border.
Shuttle over the Friendship Bridge- 25 Baht ($0.75)
This is the bridge from Thailand to Laos. Foreigners can no longer take the ferry across.
Visa on arrival- $30 US
Shuttle from the border to boat dock- around 30,000- 50,000 Kip ($3.50 – $6)
This price is an estimate as we asked various drivers but they didn't seem to know what we were asking. They all gave different prices but we couldn't determine whether we were on the same page, as they assumed we had everything pre-organised
Slow boat organised from the border – 1200 Baht/ 300,000 Kip ($37.50)
Slow boat organised from the boat dock in Huay Xai – 900 Baht / 220,000 Kip ($27.50)
Tuk tuk into Luang Prabang- 15,000-20,000 Kip ($1.80- $2.50)
We bartered and got it down to 15,000 kip per person. The tuk-tuk mafia will tell you that you have no option but to pre-purchase a ticket. We refused to and started walking. Eventually a driver offered to take us for the cheaper price.
Note – We have since heard of some travellers who refused to get off the boat outside of Luang Prabang. They started an argument with the boat captains, demanding they take them the rest of the way, along with the locals. Eventually the boat men kicked everyone off the boat, LOCALS INCLUDED. For the sake of trying to save a few dollars, don't do this.
I have no US cash for my visa payment, where do I get some?
In Chiang Rai we went to a large bank near the clock tower. The smaller branches and exchange centres do not have foreign money. Look for the larger branches and banks. Chiang Mai there a lot more options.
Where do I get some Laos Kip?
Before you receive your visa and cross through customs gate there is a currency exchange counter. There is also one on the other side, but I would recommend exchanging your money before you officially cross through. It will be quicker because most people obtain their visas first then deal with the currency once they enter Laos. We found the exchange rate to be market price and they didn't charge a fee.
What's the go with my slow boat ticket?
If you are on a tour, they will stop into the agencies and explain what's going on to you. We had to give our passport to the owner, and he explained that to get the tickets you need to show your passport entry stamp and they will write down your name and passport number. He passes it on to the driver to get the tickets with the money to pay.
Laos is still behind when it comes to technology and everything is done by hand. So by giving your passport to the driver, the process will be faster with the same language spoken and this is a daily routine for them. If you are a little hesitant about handing your passport over to a stranger (we were), you are more than welcome to go with the driver and watch while your ticket is being processed.
If you are flying solo just go to the ticket box located up from the water on the left when you are walking down to the boat dock.
How long will the slow boat to Luang Prabang take?
Two days all up. The first day will have you on the water for up to 7 hours. You leave Huay Xai at 11am and arrive in Pakbeng around 6pm. You will then spend the night in Pakbeng in accommodation at your own cost.
On the second day it will take up to 8 hours. You leave Pakbeng at 9:30am and arrive in Luang Prabang at 5:30pm.
On the second day make sure you get to the boat at 8:30am or earlier to choose your seat. Otherwise you may end up stuck in the engine room. These times all depend on the season, due to the changes in river height.
Is there food and drinks on board?
There is food, drinks and alcohol on the boat that you can purchase, but it is double the price compared to the main land. I would recommend getting your food and drinks before you board.
If you want beer some mini marts at Huay Xai sell Styrofoam boxes and ice to keep them cool. By purchasing everything before boarding it will be cheaper and you will have a larger selection to choose from.
On-Board and Land Prices (in Lao Kip)

| | | |
| --- | --- | --- |
| ITEM | ON LAND | ON THE BOAT |
| Large Beerlao | 10'000 | 25'000 |
| Can of Beerlao | 8'000 | 15'000 |
| Coffee/Tea | 5'000 | 5'000 |
| Soft drink (Coke/Sprite/etc) | 8'000 | 15'000 |
| Chips/crisps | 7'000 | 15'000 |
| Cup of noodles | 7'000 | 15'000 |
Where should I stay in Luang Prabang?
Luang Prabang has a whole lot of different options for hotels and hostels. It's not the cheapest place in the country, but still you can expect to find a room for around $10 a night or less if you do some searching around. In the peak season it is not uncommon to walk around for hours trying to find something in your budget (which is exactly what we did).
If you would rather show up in town with something already organised, we definitely recommend checking out the options on Agoda and Booking.com
NOMADasaurus readers get an exclusive 10% off your accommodation on agoda. Use the code: AGODANMD10 at checkout.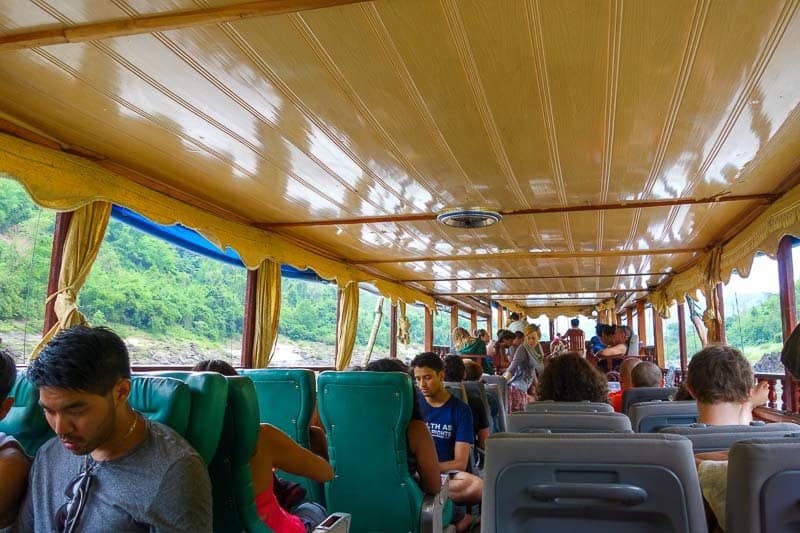 What are my other options if I don't want to take the slow boat to Laos?
Speedboats from Huay Xai
You can get to Pakbeng and Luang Prabang by speedboat too. It leaves from a different pier as the slow boat in Huay Xai, but if you have booked through an agency you will be picked up and taken there.
If you do decided to do it on your own the boat cost (when full, 6 people per boat) is 190,000 kip to Pakbeng and 320,000 kip to Luang Prabang. It is harder to organise at the pier, but if you have a group of 6 all ready, you are laughing.
It takes 3 hours to Pakbeng and 3 hours to Luang Prabang, with a long break between places to have lunch and change boats.
Be aware that if you pre-book the speed-boat in the off-season then it is not guaranteed to be operating the day you want it to, despite what the travel agent says.
If you get to Huay Xai and are informed that it is not running, they will offer you either the slow boat or the bus, and refund you the difference in price. This way is definitely the quickest way to get from Huay Xai to Luang Prabang but not the safest.
The drivers wear helmets but (from what we saw) the passengers didn't, but I could be wrong. It doesn't have the best safety record and there are many hazards when the river water level is low. Unless you have a death wish reconsider and take the slow boat to Laos.
*****WE DO NOT RECOMMEND THIS OPTION*****
Bus from Huay Xai
This way is also a quicker way but a long route – 500km. There is a few bus terminals in Huay Xai and it can get a little confusing.
There is a station north (Kiew Lot Sai Nuan station), one south (Naluang Station), and another one where the minivans leave from which is also south of town (Naluang Mini Bus Station).
Most tourists prefer the minivan. Songthaew drivers know which station has which buses or minivans so just ask.
If this is the form of transport you have chosen then you will need to catch a songthaew out there, which may cost between 15,000- 30,000 kip depending on how many people you have.
Don't forget to barter, it doesn't hurt to try! You can catch the normal bus for around 120,000 kip or the VIP bus for around 145,000 kip.
Don't have high expectations for the buses just because they have the VIP name tag. Definitely confirm if the bus has air conditioning or not.
There are multiple destinations, 3.5 hours to Luang Namtha, 7 hours to Oudom Xay and a long 12 hours to Luang Prabang. Make sure you bring a good book or have some good music on your music player. You can organise this on your own or with an agency.
With an agency it may cost around 1500 Baht, Leaving Chiang Mai at 10am and arriving in Luang Prabang at 5am, driving through the night.
Packages usually include mini bus from Chiang Mai to Chiang Khong, shuttle across the friendship bridge to Huay Xai, and the bus from Huay Xai to Luang Prabang.
The buses are filled to capacity and sometimes more. The roads are still under construction so in sections can be very bumpy. If you get motion sickness, don't forget your tablets.
We still think the slow boat to Laos from Thailand is the best way to go! What do you think?