Looking for the best sinks for campervans for your van build or upgrade? These are our top 8 recommended campervan sinks!
In van life, your campervan is your home away from home. And it is likely that you are constantly looking to add as much comfort as possible with all the campervan essentials you can. From coffee makers, heaters, mattresses and all sorts of knick-knacks, home on the road is what you make it.
Although it is probably a small and cramped space, the kitchen is an important feature of your van conversion. Whether you invest in a stove, an oven or other kitchen appliances and accessories, one thing that is vital to your kitchen is a sink.
The kitchen sink is easily the most used accessory in a campervan. We use it to wash dishes, rinse fruit and vegetables and sometimes to store things when driving.
Campervans have limited space and sinks come with many space-saving options like a foldable faucet, stove combo and lid. Other than size, there are many other factors to consider.
In this post, we review the best campervan sink ideas. We will take you through some of the best sinks for your camper van conversion and give you a comprehensive guide on selecting the best campervan sink.
8 Best Sinks for Campervans in 2024
Here are the best campervan sinks. We have evaluated each of these in terms of size, quality, price, aesthetics, type and space-spacing features.
Best Overall: Ruvati Drop-in Top Mount Bar Prep Sink
Price Range: $200 – $250
Type: Stainless Steel
Material: Stainless Steel
Depth: 9 inches
Faucet Included: No
The Ruvati drop-in sink is a perfect campervan sink with soundproof padding, brushed stainless steel construction and a beautiful appearance.
It has stainless steel construction, with a 16-gauge thick body and 8-gauge rims for a perfect top mount fit.
The compact sink is 9 inches deep and 13 inches wide. It has 90° inside corners and channel grooves for a modern and aesthetic appearance and easy wastewater drainage.
Moreover, the included practical accessories are pretty handy. It comes with a basket strainer drain to protect the water system from clogging and a bottom rinse dish grid to cover the bottom against scratches.
The only downside to this Ruvati sink is that it is a little pricey for what you get with a sink. It can be a little bulky, depending on how much space you have in your campervan kitchen and how much space you want to dedicate to your sink.
PROS
Beautiful appearance and is easy to mount.
Noise dampening padding.
Handy strainer basket drain.
CONS
The bottom can get scratched easily.
Pricey
---
Best Undermount: Orlando Undermount Single Bowl Sink
Price Range: $75 – $100
Type: Undermount
Material: Stainless Steel
Depth: 7 inches
Faucet Included: No
This Orlando under-mount sink is a basic under-mount, single-tub sink. It is 15 inches wide and 7 inches deep with a beautiful brushed satin finish.
Unlike Ruvati, it has curved corners that are easy to clean and allow total gray water drainage. The rectangular sink has an 18-gauge stainless steel composition.
This model is made from thicker stainless steel sheets and offers better durability and corrosion protection.
Orlando's under-mount sink also has sound-dampening padding. It reduces the sound of running water and lessens the moisture buildup. The top is coated with an anti-condensation spray to reduce moisture.
It also comes with a strainer basket to catch food debris.
PROS
Durable 18-gauge stainless steel construction.
Ample soundproofing.
Curved corners for easy cleaning.
CONS
The bottom can get scratched easily.
---
Best Combination Sink: Dometic Combination Sink/Stove with Glass Lid
Price Range: $400 – $450
Type: Sink/Stove Combo
Material: Stainless Steel
Depth: 5 inches
Faucet Included: Yes
This Outdoor RV Sink Stove Cooktop combo is a space-saving option for a camper van. It has a single burner with easy-to-clean detachable pan grids.
The stove, on the left side, runs on propane gas with a quick-start ignitor. To the right, the sink is nearly 6″ deep with a faucet hole.
It's convenient to use foldable faucets because of the glass lid, or one that rotates out of the way when you need to lift the lid. The combo does not take a lot of counter space. In total, it is 12 inches wide and 21 inches long and just under 6 inches deep.
The heat-resistant safety tempered glass lid protects you from the heat, looks visually appealing and can work as a tabletop for preparing meals. The kitchen sink comes with a siphon and rubber seal to ensure a tight and waterproof bond.
We like how this sink/stove combo kills two birds with one stone in a functional, space-saving way. On the downside, both the sink and stove are not very big on their own. So if you were choosing between a camping stove and this, you won't be disappointed by the single-burner stove.
Likewise, if you are OK with a shallow sink for minimal dishes then this is a great multi-purpose deal that saves loads of time on the installation and space inside the van.
PROS
Solid and functional stove sink combo.
Takes less space than regular sinks.
Convenient tempered glass top.
CONS
The valve hole is relatively big so a standard valve will not fit perfectly.
Does not come with a faucet
---
Largest Sink: Ruvati Workstation Drop-in Bar Prep Sink with Chopping Board
Price Range: $250 – $300
Type: Drop-In
Material: Stainless Steel
Depth: 10 inches
Faucet Included: No
The Ruvati Workstation is a functional sink for your tiny home. It comes with useful accessories and an extra workspace to save counter space.
The sink has a wood cutting board lid for preparing food and a colander to store and wash vegetables in the sink.
The conversion sink has a similar setup to the other Ruvati sink we mentioned earlier. It is made from brushed stainless steel, with an 8-gauge thickness on the rims and a 16-gauge body with a faucet or tap hole.
The larger sink is 15 inches wide and 20 inches long, while the depth is 10 inches. So, it will take a bit more space than other sinks.
In the box, you will get the bottom rinse grid, deep basket strainer drain assembly, cutout template and mounting clips.
We love the amount of space this provides for washing dishes and, potentially, doubling as a place for washing your hair in the sink. With 10 inches of depth, there is plenty of holding space.
However, it should be noted that you may need to go to a hardware store for better mounting clips and you should be aware that the sharper corners of the sink can be difficult to clean. An additional downside is if you were looking for a smaller sink, this one could be a bit large for your tiny home on wheels!
PROS
Sleek and modern appearance.
Big 20-inch sink
Practical free accessories.
CONS
Mount clamps are weak and easy to bend.
Sharp corners are hard to clean.
---
Best Budget Sink: Ufaucet Above Counter Ceramic Vessel Sink
The Ufaucet vessel sink is a sleek white ceramic countertop sink. It is one of the best camper van sink ideas for adding a beautiful at-home look to your van.
At 19 inches long, 15 inches wide and 5.25 inches deep resting on the top of your counter, the sink provides a modern aesthetic to the camper van that makes it feel more like a traditional kitchen sink.
This premium ceramic sink is easy to clean and maintain with a smooth and non-porous surface that is double-fired for strength and durability.
The center wastewater drain hole is 1.75 inches wide, and there is no faucet or overflow hole as it is to be used as a vessel sink. This sink can also be installed like an undermount sink with the front exposed, and voila, you have a budget farmhouse-style sink!
On the downside, you are potentially trading function for appearance with this vessel sink. While it looks amazing, you can't really stack dishes in it and washing dishes may be a bit of a challenge.
If you happen to build your van with a separate handwashing sink, this is a great option. But as a kitchen sink, you may want to consider more traditional sinks because it is not entirely practical in the kitchen.
PROS
Minimal ceramic body.
Large drain hole.
Aesthetically pleasing
CONS
The sink may wobble as it is not as sturdy as a drop-in sink
May not be practical as a dishwashing sink
---
Best RV Sink: RecPro RV Sink
Price Range: $75 – $100
Type: Drop-In
Material: High-Density Polyethylene
Depth: 5.5 inches
Faucet Included: No
This 15″ x 13″ RV sink by RecPro is a simple but easy-to-install campervan sink. Available in either black or white to match your van interior, the sink is pretty heavy-duty all things considered.
Unlike many stainless steel or ceramic campervan sink options, this RecPro sink is made of high-density polyethylene. However, it is resistant to both cracking and melting to temperatures up to 500 degrees Fahrenheit.
Further, its single-basin structure has a hydrophobic coating to make it less inclined to absorb water and add years to its life.
Maintenance is also pretty straightforward. Don't use steel wool to clean it and don't leave anything that may stain it in the sink for too long, such as coffee, tea or soda.
And note that the sink is only 5 inches deep and feels more like it's made from a think plastic than a hardy material.
But this is a basic, budget-friendly RV-style sink that is relatively easy to install, and maintain and the color options will match what you are looking for in any campervan sink.
PROS
Lightweight dense and solid basin.
A hydrophobic coating helps with fading.
500°C temperature rating.
CONS
Small in size.
Can be damaged by using steel wool
May experience staining
---
Best Vessel Sink: Ruvati Bathroom Vessel Sink
If you are wondering why we have three Ruvati camper van sinks it is because Ruvati is a leading kitchen and bath fixtures manufacturer known for their high quality and long-lasting products. This porcelain bathroom vessel sink is another example of its exceptional quality.
The 15 x 15-inch square ceramic sink is highly durable with a smooth, non-porous finish. It has a glossy white polished basin that resists stains.
The ergonomic sink design and wide drain hole efficiently drain the water and keep it clean and dry. The simple appearance will perfectly complement almost every van interior.
On the downside, you have to purchase all drain and faucet components separately. And this vessel sink can take up a fair amount of counter space. It is also more expensive than the Ufacucet vessel sink. But you're investing in more high-quality and durable products with this sink by Ruvati.
PROS
Smooth finish to quickly drain water.
Stain-resistant body.
Popular and trusted brand.
CONS
Pop-up drain has to be purchased separately
---
Best Double Sink: Dayton Double Bowl Drop-in Stainless Steel Sink
Price Range: $120 – $150
Type: Double Sink Drop-In
Material: Stainless Steel
Depth: 6.5 inches
Faucet Included: No
The Dayton Double Bowl Drop-In Sink is the only double sink on our list, but definitely deserves its chance to find its way into your campervan kitchen!
The sink comes in three styles – one, three or four holes which can be used for soap dispensers and faucets, allowing you to have individual taps for each bowl or a rotatable for both. And you have 5 different size options, so you can find one that fits your needs.
Both bowls are the same size, so you can use them any way you want – whether clean vs dirty dishes or otherwise. Moreover, the drain hose is off-center for optimal sink space usage.
The Dayton Double Bowl has stainless steel construction for durability and reliability. Like most other stainless-steel sinks, it also has sound-dampening padding to reduce noise and moisture.
Other sinks struggle to provide high-quality mounts, but Dayton has a unique U-channel installation that allows you to clip mounts before dropping in, making the installation a little easier.
However, like most sinks, you will need to purchase everything you want to connect to the sink separately – such as the faucet, soap dispenser, drain and plumbing. Also note that because it is a double-sink you will need to ensure that you plumb the wastewater correctly, which may require additional parts and a little bit of knowledge.
But if having sufficient sink space is important for your campervan kitchen, this is a great option for keeping up with your dishes!
PROS
Perfect for large campervans.
Multiple configurations.
Unique U-channel installation reduces the under-sink installation time.
18-gauge stainless steel construction.
CONS
No accessories included
Finish scratches easily
---
How to Choose the Best Campervan Sink?
There are many campervan sink ideas as sinks are available in many different sizes and configurations. So, choosing the best one can be pretty complex.
So, here are the factors that will help you in selecting the best RV sinks.
Type of Sink Options
Combination Stove and Sink
This type of van sink has the most functional and practical design for van living. It uses a limited area and enables you to cook a meal and for washing pots. It is an ideal choice for a small camper van because of its practical design and usability.
Standard RV Sink
Standard or basic camper van sinks are not much different. They are available in many shapes and styles and come with stainless steel, porcelain or copper finish. Moreover, they have integrated drains to connect to your gray water tank and faucets.
Compact sink
Compact sinks are space savers and multi-functional options. They have handy lids that can be used as tabletop or food preparing areas. Some compact sinks also have foldable taps that hide under the cover.
The tops can be glass, wooden or metallic. They are great for any van because of their dual functionality.
Double Sink
Double sinks provide complete home-like luxury. Typically they provide more space and are deeper, allowing you to use the sink in multiple ways. Whether washing dishes on one side and drying on the other or stacking dirty dishes until the entire sink is full, a double sink is a great option for any van conversion.
Vessel Sink
Vessel sinks are raised and sit on the countertop. They typically have ceramic construction and are available in various different styles and colors. This type of sink is usually more for aesthetics than function in van living.
Portable Sink
It is an excellent option for weekend campers. It doesn't require any plumbing to your camper van water system and works as well as other sinks.
This option is more of a DIY sink because you may need to create a custom solution between your freshwater tank, van sink and greywater tank. 
Size
Size is a crucial consideration and small sinks tend to be the best for van life. Space is limited in a camper van and you may not want to give up extra room in your van for a fancy sink.
A small sink connected to your fresh water tank with a simple water pump will go a long way in any van, especially off-grid.
Installation Type
There are two basic types of installation methods when it comes to campervan sinks.
Drop-In
Drop-in sinks are as they sound and the easiest to install. You cut a hole in your countertop and simply put it in place, screw the mounts, and you are good to go. The edges of the sink above the counter.
Undermount
Undermount is slightly difficult to install, and you might have to get professional help. These sinks sit flush with the edge of the counter, thus providing additional counter space.
Finishing and Construction.
These are two critical factors. Look for a rustproof, stain-resistant sink for longevity. Campervan sinks are sure to take a beating and you'll want one that will hold up to the bumps and scratches along the way.
Moreover, finishing will enhance the van's interior. The best sinks for RV living will combine function and aesthetics to give you that "at-home" look and feel.
Other Components to Consider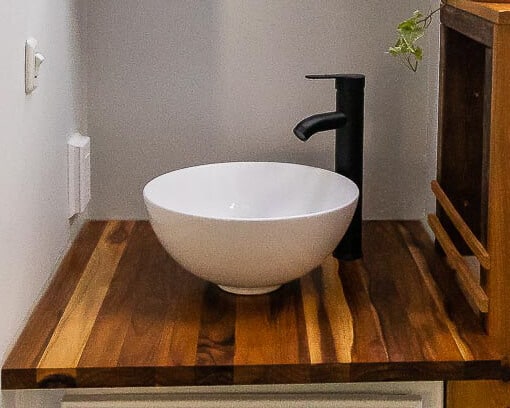 A van sink is only part of the water system in a van. You will need to consider how you will pump water from your water source to your tap and back down into a gray tank.
Faucet
A vital partner to a sink is a faucet. The faucet delivers water from the fresh water tank or water container to your sink usually by way of an electric pump, foot pump or hand pump.
There are foldable faucets to save some space and accommodate the lids of compact sinks and even combos that provide soap dispenser options as well.
Water Pump
Campervan and RV water pumps are available in two types: electrical and manual. An electric pump will simply draw the water from the water tanks to the faucet with a flick of a switch.
The manual water pump is available in different configurations like foot pump and hand pump. With foot pumps, you can pump water by pressing the lever with your foot.
Likewise, a hand pump is popular in van life because of the simplicity in simply pushing a handle back and forth to draw water from your water tanks.
Wrapping Up
While sinks are not the most glamorous aspects of van life, they are important. And by now we hope you are capable of making an informed purchase decision when it comes to sink options for your camper conversion.
If you don't have a favorite yet, we point you back to ours: the Ruvati workstation drop-in sink. Simple, easy to install and incredibly practical for camper van living. You can't go wrong with this pick!
DISCLAIMER: Some of the links in this article are affiliate links, which means if you book accommodation, tours or buy a product, we will receive a small commission at no extra cost to you. These commissions help us keep creating more free travel content to help people plan their holidays and adventures. We only recommend the best accommodations, tours and products that ourselves or our fantastic editorial team have personally experienced, and regularly review these. Thanks for your support, kind friend!