Wondering what you need to know to be successful stealth camping in a van? We'll cover all the basics so you can stealth camp like a champ!
When you live in a van full-time, camping will eventually require bending the rules and sneaking a night's sleep. Stealth camping your way through major cities or minor pit stops will save you hundreds of dollars and could seat you in the heart of the action. Or it could leave you twenty miles away at the nearest Costco.
Many municipalities that don't explicitly outlaw overnight parking still won't take kindly to a loud campervan taking up residential or business spaces. Even if you're just heading out for the weekend, you may be forced to lay low for a night or two on your way to your final destination.
We've got the best tips for stealth camping and finding free overnight parking out there for you today. This guide will cover it all – from building your van with stealth camping in mind to stealth camping tips once the sun is setting.
Follow along, learn the ropes, and you'll never be too far from a great night's sleep.
What Is Stealth Camping In A Van?
Any van is a stealth camper van if you spend the night where you're not supposed to. Typically the idea of stealth camping is when you park overnight in a neighborhood or side street where you will blend in with other parked cars.
First the good news: While it often involves some private property, stealth camping doesn't have to mean breaking the law. Most van-lifers define stealth camping as sleeping outside of designated camping or boondocking areas without drawing any attention to yourself.
Whether that means leaving the van parked on the side of city streets, in a quiet corner of residential areas or in the parking lot of an industrial park, the concept remains the same. The goal is to get a great night's sleep without bothering the neighbors.
Stealth camping is an art form, equal parts guts, preparedness and a splash of luck. Some van lifers spend entire months stealth camping and taking advantage of gym memberships to live in expensive cities. While others hear the dreaded knock right as they're drifting off to sleep.
Nobody is expecting you to make your van completely disappear. Sometimes the best stealth camping spots require hiding in plain sight. It's more about laying low, not drawing unnecessary attention to your rig and, most importantly, respecting the locals.
Why Stealth Camp?
The usual answer is affordability. There is no such thing as paid stealth camping. Every spot you sneak into will be free. Crowded campsites are charging $30+ a night for sometimes nothing more than a piece of concrete.
And with so many people RVing, finding a formal place to camp is becoming more and more difficult. In retaliation, more campers than ever are turning to car camping in hotel parking lots or whichever dark corner fits their rig.
Stealth camping is good for more than just your wallet. Van dwellers are seeing a slowly shrinking map of true freedom camping. Try finding a free dispersed camping spot free in the Eastern United States on the Fourth of July weekend.
Learning these tips and tricks for stealth camping will have every city within reach, leaving a light on for you for decades to come. The difference between a night unperturbed and being disturbed can be slim, and it only takes one trash bag full of wet wipes from a disrespectful van dweller to shut down a corner.
So let's take a closer look at the protocols.
Unspoken Rules of Stealth Camping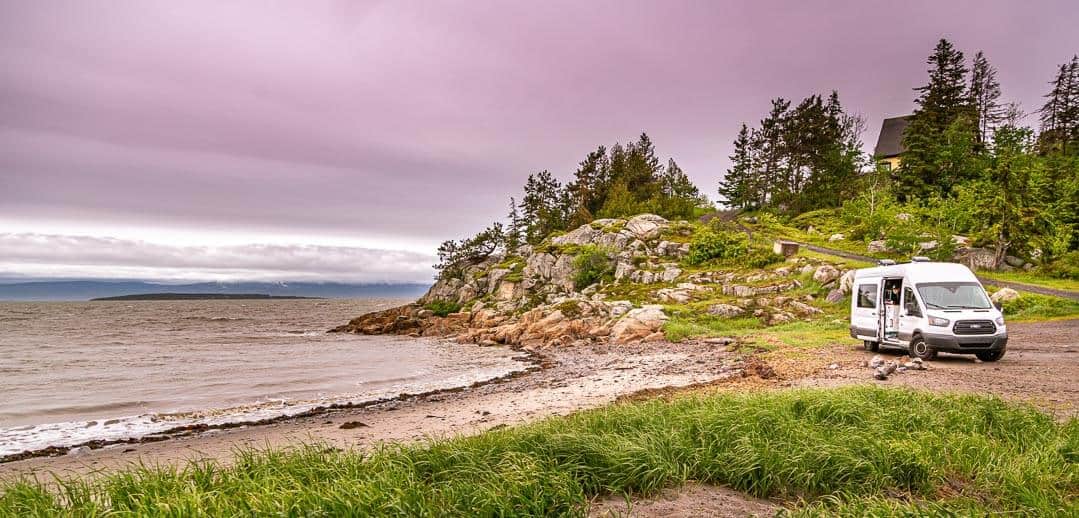 Rules and regulations can oftentimes feel cumbersome. Some of the most beautiful coastal and mountain routes are often the most regulated, and police officers are starting to learn every trick in the book. As much as we hate to hear it, all these rules are a direct response to unruly van campers who have ruined a spot for the rest of us.
The more we break the rules, the harder it will be to enjoy stealth van living and van life in general. So take a few minutes to understand your side of the bargain – before we get banned from more truck stops and grocery stores.
Leave No Trace
To keep as many spots open and unregulated for overnight parking as we can, every van lifer should incorporate some tactics of stealth camping into their everyday van life routine no matter where you're boondocking.
Well, one tactic in particular: leave no trace.
It should go without saying that a rule for every van dweller when it comes to camping is to ensure that once you leave a spot nobody can tell that you were ever there. Leaving no trace should be the number one goal of every night spent away from the confines of an immobile roof.
Nothing gets the "No overnight street parking" signs out faster than a stealth camper leaving trash.
There are 7 steps of the program that are relevant on every single night you spend in your van:
Plan Ahead and Prepare
Travel and Camp on Durable Surfaces
Dispose of Waste Properly
Leave What you Find
Minimize Camper Impacts
Respect Wildlife
Be Considerate of Others
Leave no Trace should be a crucial three-word phrase in any traveler's mind at all times, whether you're camping in a van in a busy city or miles out in the middle of the wilderness.
Don't Overstay Your Welcome
Depending on the details of your parking lots, there are a few implied lengths of your stay. Any stealth camping at a business where overnight parking is allowed, you are expected to be out before noon the following day.
You should also consider making a quick trip inside the proprietor's store to make purchases that support their business. Residential camping is a bit looser, but you should still be gone by the light of the third day on the same street.
Absolutely No Activity Outside The Van
Most neighborhoods and businesses won't mind looking the other way on someone trying to get a good night's sleep inside their van. But setting up camping chairs, cooking outside, or playing music is an easy way to make enemies.
Even if you're stealth camping spot is in a business that will allow overnight parking, setting anything up outside of your van is a quick way to ruin it for everyone.
Best Places To Stealth Camp
Now that you know the unspoken rules of stealth camping let's put them into action. Remember that no matter where you go, try not to draw attention to yourself, and leave early.
Corporations
Places like Walmart, Canadian Tire, Bass Pro Shops, Cracker Barrels, and many truck stops have official overnight parking policies in place. That takes most of the 'stealth' out of the equation. But these spots are as free as can be, so they're often a no-brainer on your way to a final destination.
There is no easier way to guarantee a great night's sleep than chatting with the store manager to make sure your chosen location can allow overnight parking.
Rest Stops And Gas Stations
You would think that every rest stop in the country allows overnight parking. But the rules vary state by state. Make sure you understand the laws where you are before you set up shop in broad daylight.
Truck stops and gas stations along major highways may let you rest your head a while. But be sure to fill up with gas while you're there and inquire inside.
Residential Streets
How good of a character judge are you? There is no set method for picking out streets that won't mind overnight parking. But the proper residential neighborhoods won't bat an eyelash over a Class B camper parked on the side of the road for a few days. You can always arrive late leave early and enjoy a great free spot to park overnight.
Stealth campers often look for roads with ample street parking and find a parking spot that only faces houses on one side. The more cars the merrier as it is easier to blend in this way.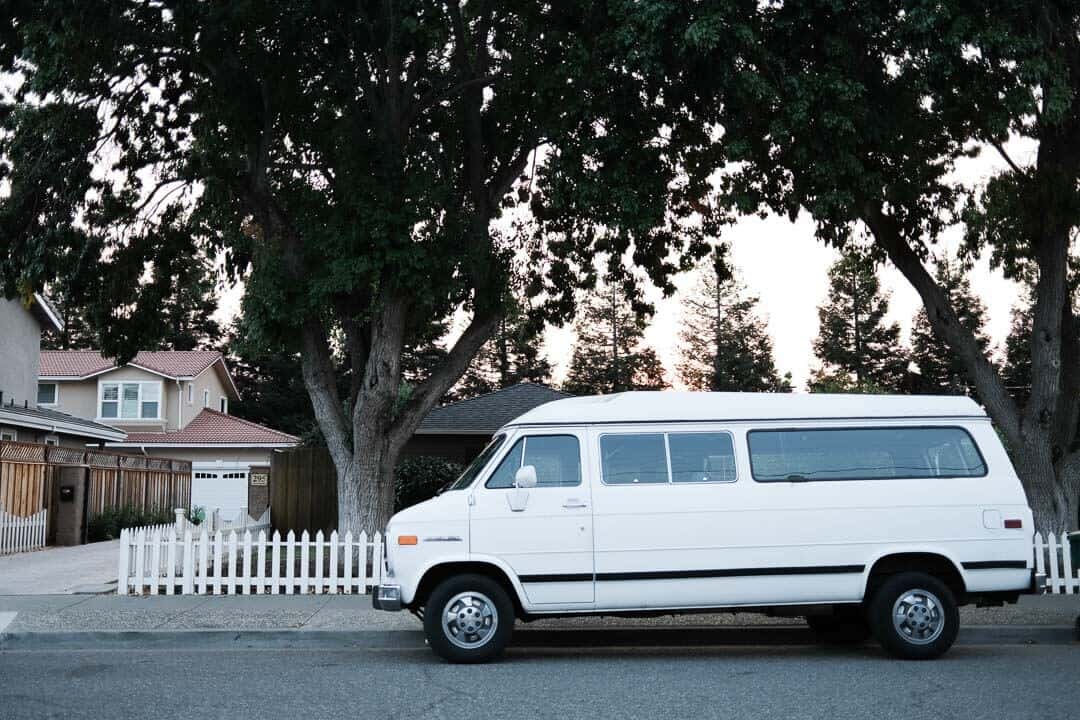 24/7 Gyms
Easy to blend in, and if you're a member, these spots come with free showers, a security guard, and plenty of other parked cars to hide behind. Depending on whether you plan to stay within a certain geography or travel across the entire continent, some gym memberships will be more beneficial than others.
City Parks
City parks can be hit or miss. At this point, most small towns across the country have some sort of regulations against sleeping in city parks. Still, if you find a welcoming village, you'll have a stealth camping spot that rivals any campsite.
If you're trying to figure out the legality of a specific city park, work backward. If there is no sign explicitly prohibiting stopping overnight, you're in the clear.
The only exception to this rule is city parks near schools. Avoid RV parking anywhere near a school building at all costs.
Harbors And Boat Ramps
Fishermen work odd hours, which can work in your favor. This can be better for a basic camper van or a cargo van that blends in better. And these parking lots are always open and fishers don't mind sharing the cement as long as you keep it down.
Churches
Just make sure you're gone by Sunday. It's best to ask permission before setting up shop here and don't take advantage of the congregation's hospitality. That means don't overstay your welcome.
National Forests
While this is technically dispersed camping or boondocking, any guide on where to park your van should mention national forest land. You may have noticed there is no free place to sleep inside of any national parks, but forests are different.
Here, the government encourages freedom camping and in some states will allow you to camp wherever you want within forest grounds.
How To Find Stealth Camping
Take these tips into mind and get your cars parked with plenty of patience. No matter where you're pulling in you should budget some time to look things over and feel comfortable in your new space. It won't always click the first time.
Meet The Community
There's no technique better than word-of-mouth for finding a few hidden gems. The van life community is known for being incredibly welcoming and unafraid to share a wealth of information.
City stealth camping will vary significantly from town to town. No matter where you are, the best-kept secrets are probably found offline.
Folks in their van generally tend to be more helpful than the average citizen. They may not mind it if you respectfully start a conversation and ask for some tips, especially if you show them your rig.
Talk to your friends who have been there before or local online message boards before you get somewhere, and they will at least give you a good place to start your search. If you're totally unsure of your surroundings, it can help to look for other vans parked doing the same thing.
A great way to differentiate cargo vans from stealth van life is to look for a stuffed roof rack, solar panels, or any fans.
# VanLife Apps
Internet applications like iOverlander, FreeRoam and freecampsites.net have thousands of spots marked off worldwide. These applications all rely on user input to develop a database of all sorts of stealth camping and R.V. living information.
Other cars who have taken the very same route in the past are bound to have reported a few options. Van lifers love to let people know about a new secret spot.
Check for updated reviews and comments from within the last year to ensure that you're not heading into a trap. Commenters will frequently update listings with the latest closures, and the maps are constantly changing. Chances are a spot that hasn't been reported on in several years has either shut down or is impossible to find.
There is an app for everything you could need while boondocking. From water to showers to great stealth camping spots, you'll be sure to find the closest places to your destination.
Read Local Signs
Every inch of the country has been marked, labeled and fought over. So expect to see a fair share of "no overnight camping" signs with varying degrees of how they are enforced.
Apartment complexes can seem like goldmines, but landlords are quick to tow, so tread lightly. Once you hit private property all bets are off.
Every municipality may have different rules and regulations than its neighbors, so pay attention to signs anytime you enter a new city. Any county that has made overnight parking illegal will be sure to let you know as you drive in.
If you can't seem to run into many van dwellers, and can't find any tips for stealth camping or parking lot reviews online, maybe that's a hint. Being in a town for a week and seeing no one else living out of a van is a good indicator you need to leave that town ASAP.
Prepare Your Van During The Van Build Process
Just like every aspect of the van life, stealth camping starts at home. So if you plan to do a lot of stealth camping, building the right van is the first best step you can make to blend in anywhere.
Actually, It starts With The Right Van
Before you drive your conversion vans home from the lot, you'll already have made the most critical decision of the stealth camping process. That is, which campervan is best for blending in while still providing a livable space?
The three most popular van styles – Mercedes Sprinter, Ford Transit, and Dodge ProMaster – all share the same chassis and color as a typical work van and they strike an outstanding balance between stealth and standing room.
Nowadays, there are only two types of sprinters on the road: ones with the Amazon logo on them or stealth campers, and it's tough to fool anyone with a Sprinter van with a roof fan anymore. Hardcore stealth vans will have low roofs to thoroughly blend in, but that comes at a severe loss of interior space.
Pick your van based on standard cargo vehicles and choose a simple white exterior color scheme. You'll be on your way to sleeping wherever you decide to stop for the night.
Blend In By Sticking Out ("Wealth Camping")
Stereotypes rule the day. The van you're driving will impact your chances of stealth camping. A cheeky technique frequently employed by stealth campers who take comfort seriously is hiding in plain sight with a classic Class B R.V.
You can't judge a book by its cover, and you certainly shouldn't assume based on the model year, but the truth is harsh. Pull up in a 2004 Chevy Express covered in rust, and the neighbors will be more inclined to call the cops. But pull up in a well-maintained vintage Westfalia, and the neighbors will ask for a tour.
We're not saying that you have to have a $100,000+ van before you can plan on stealth camping. Just know that we live in a day and time when if you look like you might pose a threat, it is assumed that you will be one.
We jokingly call this concept "wealth camping." Because the newer and/or nicer vans are less likely to trigger a call to the police than an older, more rugged one.
Be Totally Self-Contained
You can open up whole new worlds for your adventure by taking a bit of extra time during your build to map out a septic system. Anything as simple as a composting toilet or as complex as a blackwater system will get the job done and reduce trips outside. 
All it takes is one midnight trip to the bathroom to blow your cover. So make sure you build your van out in a way that you can cook, wash the dishes, and use the restroom without having to open any doors.
Manage The Lighting
Take a few good solid looks at your campervan from the outside on a clear night. Any small gap between your curtains and the window has the potential to blow your cover. So make sure you've got a shade for every single window in your rig.
Even with the right curtain game, bright white lights will leak through your barrier. Bring along a simple set of dimmable LCD string or fairy lights to have a dim option at night.
In addition to interior curtains, you might want to think about tinted windows. This simple upgrade has the added benefit of helping keep the sun's rays out of your interior space. Tinted windows will also act as a theft deterrent preventing could-be criminals from seeing inside.
Don't Hook Anything To The Outside (Yes, That Means Stickers!)
The more flashy bits and pieces to your exterior, the more heads will turn as they walk by, which is the opposite intention of stealth camping. Keeping your exterior as ambiguous as possible will help push forward the work truck illusion most modern Class B campers strive for.
No one will believe a straightforward contractor's van has made it to 25 state parks and 15 scenic overlooks. So don't stuff your windows full of stickers marking your trip. Save these for your water bottle.
On the Road
The work doesn't stop once you leave the driveway. These steps will help you keep a low profile once you've made it to your stealth camping destination.
Show Up Before Sunset
There are a few different schools of stealth camping thought. Some risk-takers like to show up to their target sleeping spot late at night to reduce the risk of being noticed. But there is a more cautious approach.
Especially for your first few nights, ideally, you'll have dinner done and your van ready for bed before the sun goes down. The fewer lights and movement you need at night, the better, as they become much more apparent.
Once you get the hang of stealth camping, you can bend the rules a bit and show up late with confidence. But it is still a good idea to have everything set up before sunset. The later it gets, the more desperate you are to find a place and turn the engine off, which is the wrong mentality while stealth camping.
It's also easier to miss a few details at night, such as a sign that explicitly prohibits overnight sleeping.
Sleep And Go
Don't hang around waiting for someone to tell you to leave. You haven't successfully stealth camped until you've pulled out of your spot without being noticed. So plan on taking your breakfast to go and getting out of dodge as soon as you can.
Exit From The Front
While your van is parked at your stealth camping spot, try to avoid opening up the back or side door whenever possible. No contractor constantly steps out of the back section of their van.
Opening up those big sliding doors gives everyone on the street a full-sized view of your interior. Instead, only use the front doors for entrance and exit, so all the people notice is standard car stuff.
Stealth Camping Safety Tips
It's not always easy to fall asleep while stealth camping. There are a few more variables at play than you may be used to. The last section of our guide will explore ways to feel peace of mind while parked behind a department store.
Stay Inside
There are several good reasons not to be wandering around your camper's exterior in the middle of the night. As well as helping you to remain stealthy, staying inside your van is the safest way to stealth camp.
As long as you're self-contained, you won't need to get out of your van for any reason.
Be Ready For Takeoff
Don't leave knick-knacks lying around and a bag of rice open on the counter. Ideally, you'll be waking up in the morning, checking the traffic, and swinging around into the driver's seat.
The fewer steps between you and the open road, the better. If something happens and you do have to take off in the middle of the night, you won't want to mess with your leveling blocks before you gun it.
Trust Your Instincts
It's normal to get a bit jumpy when pulling into a spot you're unsure about, especially after dark. Still, it's not normal to spend the night nervously staring out the window. The van life involves plenty of listening to our intuition, and a (hopefully unopened) can of bear spray.
If you pull into your spot and it all feels off, don't stick around and try to force it. Chances are, nothing will happen. But if your gut is telling you to move on, you may as well start the engine.
You'll quickly learn to spot a few telltale signs that will reassure you about the safety of a particular location and a few signs you need to move on.
While it's important to listen to your instincts, it's also essential to prepare for a bit of failure. The only way to learn it all for yourself is trial and error, and a few knocks are all part of the game.
Use this guide to set you on a path toward free nights under the stars, and don't let one bad experience scare you off from stealth camping permanently.
DISCLAIMER: Some of the links in this article are affiliate links, which means if you book accommodation, tours or buy a product, we will receive a small commission at no extra cost to you. These commissions help us keep creating more free travel content to help people plan their holidays and adventures. We only recommend the best accommodations, tours and products that ourselves or our fantastic editorial team have personally experienced, and regularly review these. Thanks for your support, kind friend!