Our ultimate 10-day Hawaii itinerary includes some of the gorgeous beaches, historic sites and enticing landmarks of the major Hawaiian Islands.
The world-famous tropical paradise of Hawaii is overflowing with thriving rainforests, golden beaches, cultural monuments, and so much more.
Any Hawaiian vacation will refresh the mind, body, and soul through the natural beauty and heartwarming culture of these islands. Though there are eight Hawaiian Islands, our perfect 10-day itinerary will only cover three – Maui, Kauai, and Oahu.
10 days isn't a huge amount of time for exploring all of Hawaii. You could easily spend 10 days on just one Hawaiian Island! But if you're hoping to see as much as you can on a 10-day Hawaii vacation, this itinerary should give you a jump start on your planning.
Out of all the Hawaiian Islands, Oahu is the most visited because of its famous attractions, such as Pearl Harbor and Waikiki Beach. For a more undeveloped and rugged option, Kauai is the perfect island to set the scene for a wild adventure of the great outdoors.
Of the three islands included in your 10-day Hawaii itinerary, Maui is the ideal middle ground, offering an in-between of developed and undeveloped areas for exploring.
We've curated this perfect Hawaii island hopping itinerary so you can see the highlights of Maui, Oahu, and Kauai.
If you have enough time to add to your vacation, we recommend island hopping to the Big Island of Hawaii as well. The Big Island has so much to offer and it would be a shame to rush through it in only 10 days, so you're better off saving the Big Island for a separate Hawaii vacation someday.
A Brief List of Where To Visit For This 10-Day Hawaii Itinerary:
Maui (Days 1-3)
Day 1 – Black Sand Beach
Day 2 – Haleakala National Park
Day 3 – Ke'anae Arboretum
Oahu (Days 4-6)
Day 4 – Polynesian Cultural Center
Day 5 – Pearl Harbor National Memorial
Day 6 – Waikiki Beach
Kauai (Days 7-10)
Day 7 – Na Pali Coast
Day 8 – Waimea Canyon
Day 9 – Hanalei Bay
Day 10 – Tunnels Beach
What to Know Before Planning Your 10-Day Hawaii Itinerary
Creating a 10 days in Hawaii itinerary is difficult as there is so much to do on these gorgeous islands! Hopping from one island to another can be exhausting and time-consuming, so we've decided not to include the Big Island of Hawaii for the sake of time.
However, it's just as magnificent with world-famous activities like Hawaii Volcanoes National Park and Akaka Falls State Park.
This 10 day Hawaii itinerary compiles the top attractions on Oahu, Maui, and Kauai. We recommend including the Big Island only if you have more time to add on to your trip!
When to Visit Hawaii
Typically, Hawaii's heavy rain season is November-March. We recommend avoiding these months when planning a trip to Hawaii so you can relish in the stunning islands' vibrant and thriving outdoors.
Ideally, the best time to visit Hawaii is April, May, September, or October. These are the off-season months for tourists, meaning fewer crowds and lower prices for your trip!
Extend your bucket list with our guide to the 25 best things to do in Hawaii!
How to Get Around the Islands
Rental cars aren't necessary when traveling around the islands, though they do give you more flexibility. But public transportation, bus systems, rideshares, bike rentals, and shuttles are standard methods of getting around if you don't want a rental car.
One major factor to consider is how you will get from one island to another. An inter-island flight is the easiest and quickest way to island hop!
The largest airport on the Hawaiian Islands is the Daniel K. Inouye International Airport, also called the Honolulu International Airport, on Oahu. On Kauai is the Lihue Airport, and on Maui is the Kahului Airport.
These airports welcome interisland and overseas flights to go back and forth from island to island. The main airlines that fly between the islands are Southwest Airlines, Hawaiian Airlines, and Mokulele Airlines.
Once you reach each island, you'll likely want to grab a rental car.
The best way to get around is to rent a car and explore on your own! We recommend Rental Cars, which has the largest range of vehicles for the best value on the market.
The Perfect Hawaii 10-Day Itinerary
Day 1 – Maui
Start your Hawaii itinerary 10 days trip with a visit to Maui, also known as the Valley Isle. First, drive down the legendary Road to Hana and then check out some of the unique beaches on the island!
Day 1 Morning – Road To Hana
The perfect way to start your trip is on Maui, the second largest of the Hawaiian Islands, on the scenic Road to Hana. This legendary 64-mile route winds along the coast from south Maui to north Maui, crossing the east coast on the way.
The Road to Hana gives visitors a glimpse of the prosperous nature of Maui, from its cascading waterfalls to its dense tropical rainforests.
This adventure tour takes visitors on an unforgettable experience along the Road to Hana to see popular points of interest, from an outdoor beach picnic to adventuring the lava caves at Wai'anapanapa State Park.
Day 1 Afternoon – Black Sand Beach
A unique feature of Maui is the intriguing black sand beaches that litter its coastlines. Located off the mile 32 marker of the Road to Hana is the best one: Black Sand Beach in Wai'anapanapa State Park.
Also called Honokalani, this beach is a natural wonder and a sacred site for Hawaiians, representing history and shared legends. Here you can also find the largest heiau in Hawaii, a religious temple.
There are also magnificent natural features on the shores of this sandy beach, including sea stacks and lava caves.
Day 1 Evening – Kaihalulu Beach (Red Sand Beach)
Another top sight on Maui is its unique red sand beach, Kaihalulu Beach!
Commonly referred to as "Red Sand Beach," Kaihalulu Beach is a hidden cove that paints a tranquil and eye-catching image. The crescent-shaped beach achieves its striking red color from the lava cinder cliffs and Ka'uiki Head cinder cone.
Before heading here, there are some important cautionary notes to consider. Kaihalulu Beach is a clothing-optional beach, so don't be surprised at what you may or may not see when you reach the beach.
The hike to Kaihalulu Beach is recommended for experienced hikers only and should not be trekked before, during, or after heavy rainfall.
Read Next: Don't miss out on all of the best destinations in Hawaii.
Day 2 – Maui
Continue your exploration of what some would consider the best Hawaiian Island! Day 2 of your itinerary will include lots of beautiful nature, hiking, snorkeling, and swimming!
Day 2 Morning – Haleakala National Park
Home to the Seven Sacred Pools, Haleakala National Park is an enriching journey that everyone should take when visiting Maui and the Hawaiian Islands.
Featured in the Disney movie Moana, Haleakala National Park is where the dormant volcano Haleakalā rests. Its name translates to "house of the sun."
Haleakalā has been told in legends to have been where the demigod Maui lassoed the sun from atop the summit of the dormant volcano to slow the sun's descent. And from this place, people travel worldwide to bask in the mind-blowing sunrises seen from its summit.
To experience this legendary sunrise firsthand, join this sunrise tour led by an eco-certified guide to see the sunrise from atop Haleakalā. Afterward, treat yourself to a fresh breakfast to end your trip with a delicious meal!
Day 2 Afternoon – Molokini Crater
Molokini Crater, a unique landmark off the coast of West Maui, was formed after an eruption estimated to have occurred nearly 230,000 years ago!
The half-submerged crater now forms an islet, its waters teeming with reefs and marine life. These components have made Molokini Crater a trendy location for snorkeling, whale watching, scuba diving, and boating.
Set in the ʻAlalākeiki Channel, Molokini Crater is three miles off the island of Maui's shores. Experience this eye-catching volcanic crater on this afternoon snorkeling trip that takes guests out on a 55-foot catamaran across the Pacific to swim the abundant waters surrounding Molokini Crater.
Day 2 Evening – Wailea Beach
Renowned as one of the best beaches in America, Wailea Beach's palm tree-lined golden-sanded shores are met with gentle waves of shining blue waters.
One of the best things to do in Maui, Wailea Beach, is a replenishing escape from the hustle and bustle of life. Soak in the salty breeze and fresh air while sinking your toes in the sand while lazing in the sun.
Day 3 – Maui
Though you won't have time to see the entire island in 3 days, enjoy an action-packed day 3 in Maui! Check out more incredible local attractions and even have the chance to see some stunning waterfalls!
Day 3 Morning – Maui Ocean Center
Founded in 1998, the Maui Ocean Center has solidified its magnificent reputation since its establishment. The aquarium is home to the largest living tropical reef aquarium in the Western Hemisphere and hosts one of the world's largest collections of live Pacific corals.
Throughout the Maui Ocean Center are world-class exhibits that display an abundantly diverse selection of marine life, including species that are specifically endemic to Hawaii.
As you stroll through the Maui Ocean Center, take the opportunity to learn more about local marine life and culture through the center's impactful educational programming and interactive exhibits while peering at the extraordinary creatures of the underwater world.
Address: 192 Maalaea Rd, Wailuku, HI 96793
Hours: 9 am – 5 pm
Day 3 Afternoon – Na'ili'ili Haele Stream & Waterfalls
Frequently referred to as Bamboo Forest, the Na'ili'ili Haele Stream & Waterfalls is where the intricate displays of bamboo and cascading waterfalls can be seen up close using the Bamboo Forest Waterfalls Trailhead.
The hike is acceptable for all levels of hikers, though there comes a point where only experienced hikers are advised to continue forward.
The beginning of the hike takes trekkers through a thriving bamboo forest and then to a tricking streambed. Again, it's at this point that only experienced hikers should proceed, leading to a continuous line of waterfalls.
Day 3 Evening – Ke'anae Arboretum
Sprawling across six acres, the Ke'anae Arboretum is flooded with intriguing species of plant life in its botanical garden and arboretum. These sought-out species include the rainbow eucalyptus trees, the only gum tree species that can sustain itself in a tropical rainforest.
The Ke'anae Arboretum's scenic trails are designed to be strolled through to savor the sights of the numerous species that grow there. Look out for species growing in this rainforest, such as taro and hibiscus!
Address: 13385 HI-360, Kula, HI 96790
Have more time to spend in Maui? Check out our full list of the 21 best things to do on this fantastic island.
Day 4 – Oahu
Next on our epic 10 days in Hawaii is a visit to the most visited island: Oahu! From the North Shore to the South Shore, Oahu is packed full of national parks, pristine beaches, unique attractions, and pumping surf waves. Let's get started!
Related: Don't miss out on all of the best things to do in Oahu!
Day 4 Morning – Sunset Beach
Sunset Beach, renowned for its waves and picturesque views, stretches two miles across Oahu's north shore. Professional surfers travel from across the planet to catch big waves here during the winter.
Thankfully, in the summertime, the waves here are typically flat and gentle, perfect for swimming and snorkeling. Its picturesque sunset views are a notorious sight, so beach bums could even spend all day hanging out here!
Day 4 Afternoon – Shark's Cove
Boasted as one of the top shore diving destinations in the world, Shark's Cove is a great place to visit if you're looking to explore the waters of Oahu and Hawaii.
The cove is part of Pupukea Beach Park, forming a small section where the cove's calm pool welcomes schools of fish looking to hide away from threats in the ocean's open water.
For a family-friendly spot at Shark's Cove, head to the Pupukea tide pools on its southside!
Day 4 Evening – Polynesian Cultural Center
An absolute must-do when visiting Hawaii, the Polynesian Cultural Center is where visitors can experience the rich culture and heritage of the Pacific Islands!
The center acts as a living museum. Its 42 acres are home to six Polynesian villages and thriving tropical land. Here you can witness the Polynesian spirit come to life through its performances and interactive activities where natives demonstrate the empowering displays of their crafts, tradition, and arts.
The trip to the Polynesian Cultural Center ends with an authentic Polynesian lūʻau that will surely be a highlight of your 10 days in Hawaii.
Address: 55-370 Kamehameha Hwy, Laie, HI 96762
Hours: 12:30 pm – 9 pm (Closed Wednesdays and Sundays)
Read next: 21 Best Things To Do In Honolulu
Day 5 – Oahu
You're halfway through an amazing 10 days in Hawaii! Today you'll continue exploring Oahu with a trip to the Pearl Harbor Visitor Center in Honolulu and a few other top locations on the island.
Day 5 Morning – Waimea Bay Beach Park
Located on Oahu's north shore, Waimea Bay Beach Park is a famous surfing spot during the winter, its waves breaking some of the records for the world's most consistent surf breaks.
However, when the waves have flatted in the summer, this beach is a popular swimming, snorkeling, and cliff-jumping destination on the island!
Address: 61-31 Kamehameha Hwy, Haleiwa, HI 96712
Hours: 5 am – 10 pm
Day 5 Afternoon – Dole Plantation
Featured as one of the top attractions in Oahu, the Dole Plantation was home to the world's largest maze in 2008. The record has since been broken, but guests to the plantation can still walk amongst the three-acre Pineapple Garden Maze. Once you find your way out, grab a serving of Dole's world-famous Dole Soft Serve as a treat!
Address: 64-1550 Kamehameha Hwy, Wahiawa, HI 96786
Hours: 9:30 am – 5:30 pm
Day 5 Evening – Pearl Harbor National Memorial
The Pearl Harbor National Memorial is a significant historical attraction in Oahu. Signifying the location where the Japanese Forces bombed an important US harbor, here you can see important monuments like the USS Arizona Memorial and the USS Battleship Memorial.
Skip the line at this popular tourist attraction by booking your tickets online in advance!
Address: 1 Arizona Memorial Pl, Honolulu, HI 96818
Hours: 7 am – 5 pm
Day 6 – Oahu
On day 6 of your 10 days in Hawaii itinerary, you'll wrap up your exploration of Oahu. There is much more to do in Oahu that isn't on this itinerary, such as whale watching, exploring the botanical gardens and art galleries, and watching Hawaiian green sea turtles bask in the sun.
But you'll still have a blast exploring Oahu's tropical beaches and hiking trails today!
Day 6 Morning – Waikiki Beach
The world-famous Waikiki Beach continues to lure millions of visitors to Oahu annually. Waikiki Beach is where surfing legend and father Duke Kahanamoku continued to hone and craft the sport of surfing, teaching others as he did.
It is no wonder the iconic Duke Kahanamoku statue was placed here!
Find more fun activities in the area with our list of the best things to do in Waikiki!
Day 6 Afternoon – Diamond Head State Monument
The Diamond Head State Monument is home to the volcano cone known as Diamond Head, and it's one of the absolute best hikes in Hawaii. The 300,000-year-old volcanic crater offers out-of-this-world Oahu and the Pacific Ocean vistas from above!
Hike at sunrise for the best views! Or book a guided tour with round-trip transport if you'd rather tackle the trail with the reassurance of an experienced local guide!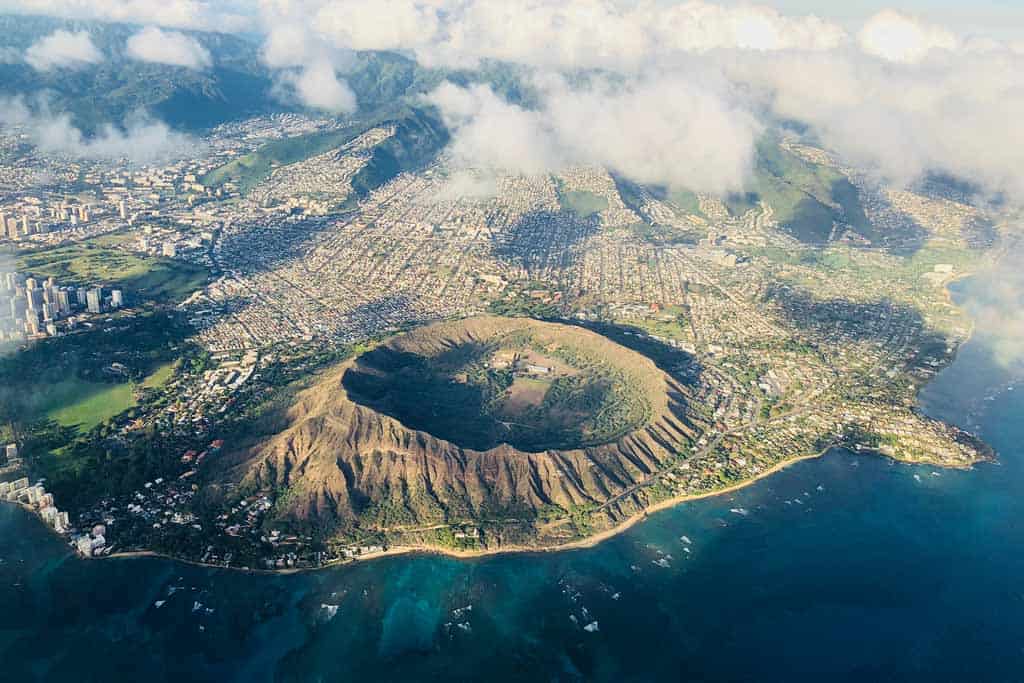 Day 6 Evening – Hanauma Bay
Part of a volcanic cone, Hanauma Bay protects a voluminous sea life ecosystem within its embayment. Snorkeling and swimming have become popular at Hanauma Bay, where dolphins, sea turtles, and tropical fish come to feed, swim, and play!
Read Next: After reading this post, you may want to add to your Oahu itinerary!
Day 7 – Kauai
Known as the Garden Isle, Kauai is a haven for nature lovers. From the rugged Na Pali Coast to the surrounding beaches, waterfalls, and national parks, Kauai has endless opportunities for adventure.
Day 7 Morning – Na Pali Coast State Wilderness Park
Famous for its use in the movie Jurassic Park, Na Pali Coast State Wilderness Park has wild, dramatic scenery with imposing sea cliffs, dipping valleys, and roaring waterfalls.
Hiking is a great way to sightsee here, though a boat tour also offers a great perspective of the cliffs from the water. Or you can get a bird's eye view of the lush jungles and rippling cliff faces on a helicopter tour!
Day 7 Afternoon – Kokeʻe State Park
Featuring over 45 miles of hiking trails, Kokeʻe State Park is teeming with opportunities and rewarding challenges. Sightseeing is incredible here, with vast canyons and valleys sprawling beneath the trails. You should also be able to catch a glimpse of some unique species endemic to Hawaii, such as the 'iwi and 'apapane.
Day 7 Evening – Poipu Beach
Wind down the day with another gorgeous Hawaiian beach! One of the best things to do in Kauai is admiring Poipu Beach's sparkling crystal-clear waters and crescent-shaped sandy shores.
Popular among bodyboarders, swimmers, surfers, and snorkelers, this is a great place to frolic in the water and watch the sun go down. This family-friendly beach has lifeguards on-site and a nearby wading pool perfect for kiddos to explore the beautiful waters of Poipu Beach.
Day 8 – Kauai
This 10-day Hawaii itinerary continues with more adventures on Kauai. Get ready to explore more local attractions and state parks!
Day 8 Morning – Kauaʻi Coffee Company
The largest coffee farm in the United States, the Kauaʻi Coffee Company, is a unique opportunity to consider taking up when on Kauai.
Visit the coffee orchard, learn about the coffee growing process, taste exclusive estate-grown Hawaiian coffees, and savor the miraculous viewpoints of the coffee orchard that leads to the open ocean beyond!
Address: 870 Halewili Rd, Kalaheo, HI 96741
Hours: 9 am – 5 pm weekdays, 10 am – 4 pm Sat/Sun
Day 8 Afternoon – Waimea Canyon State Park
Consistently called the Grand Canyon of the Pacific, Waimea Canyon is a sight to behold. This mindblowing landscape is located on the west coast of Kauai and offers some epic hiking routes.
Its most famous trail, the Waimea Canyon Trail, leads to exceptional viewpoints of the natural landmark.
Day 8 Evening – Kauai Plantation Railway
Journeying through the historic 105 acres of Kilohana Plantation, the Kauai Plantation Railway is a short 2.5-mile trip that offers an outstanding perspective of the land of Kauai.
Passengers on the train can see breathtaking sights of native crops established by ancient Hawaiians, including groves of mango and papaya, as the train chugs along!
Day 9 – Kauai
Experience more of Kauai's wonders on day 9 of your Hawaii itinerary!
Day 9 Morning – Hanalei Bay
Stretching from the Waipa Stream to the Hanalei River, Hanalei Bay is famed as one of America's best beaches. The two-mile beach is a picturesque image to behold with its mountain backdrop and crystalline waters. It is conveniently near local shopping for souvenirs and eatery options for a quick energy boost.
Day 9 Afternoon – Kōloa Rum Company Store & Tasting Room
The first commercial distiller, bottler, and blender of Hawaiian Rum in Kauai, the Kōloa Rum Company Store & Tasting Room, has gone on to become an award-winning company! The tasting room is settled on the historic Kilohana Plantation and welcomes visitors to relish in the refinement of harvested sugar cane while sampling their white, gold, and dark rum.
Address: 3-2087 Kaumualii Hwy, Lihue, HI 96766
Hours: 10 am – 5 pm, Closed Sundays
Day 9 Evening – Na 'Aina Kai Botanical Gardens & Sculpture Park
Showcasing more than 160 bronze sculptures, the Na 'Aina Kai Botanical Gardens & Sculpture Park hosts one of the nation's largest collections of sculptures. The botanical garden displays rare plants on its landscaped grounds that portray the beauty of nature in its many elements.
Address: 4101 Wailapa Rd, Kilauea, HI 96754
Hours: 8:30 am – 4 pm Monday – Friday
Have time for more activities? Check out our list of the 21 best things to do in Kauai!
Day 10 – Kauai
On the last day of this 10-day Hawaii itinerary, savor the incredible rejuvenation of Kauai's rich nature, culture, and history. Soak in every moment because as soon as you leave The Garden Isle, you'll be missing it!
Day 10 Morning – Kilauea Lighthouse
Part of the Kilauea Point National Wildlife Refuge, the Kilauea Lighthouse is an iconic landmark of Kauai. The historic structure was built in 1913, meant to protect ships from crashing upon the rocky shores below.
For 62 years, the lighthouse had a significant role in protecting ships as they traveled between Hawaii and Asia for commercial purposes. It is open for tours on the ground floor to learn more about the lighthouse's history through interactive exhibits.
Address: 3580 Kilauea Rd, Kilauea, HI 96754
Hours: 10 am – 4 pm Wednesday – Saturday
Day 10 Afternoon – Tunnels Beach
One of the most famous snorkeling spots in Kauai, Tunnels Beach's clear waters are perfect for gazing upon the vibrant tropical fish and marine life as they swim.
A coral reef rests close to the shoreline, making it a hot spot for observing the rich marine ecosystem. Unsurprisingly, sea turtles like to hunt for food here and nap afterward on the beach's sandy shores!
Day 10 Evening – Limahuli Garden & Preserve, National Tropical Botanical Garden
Found on the north shore of Kauai, the Limahuli Garden & Preserve is one of the sought-after attractions on the island. The botanical garden and nature preserve encase ancient Hawaiian history through its preservation of native species that have a heavy significance in its culture and tradition.
Address: 5-8291 Kuhio Hwy, Hanalei, HI 96714
Hours: 8:30 am – 2:15 pm Tuesday – Saturday
DISCLAIMER: Some of the links in this article are affiliate links, which means if you book accommodation, tours or buy a product, we will receive a small commission at no extra cost to you. These commissions help us keep creating more free travel content to help people plan their holidays and adventures. We only recommend the best accommodations, tours and products that ourselves or our fantastic editorial team have personally experienced, and regularly review these. Thanks for your support, kind friend!