If you're just getting started in van life and are looking for some campervan hacks and top tips to speed up your learning curve we've got you covered with this post!
No matter how long you've been living in a van it seems there are always tips, tricks and hacks to pick up along the way. Life on the road is full of beautiful moments. But there are many things to do to keep the wheels rolling and never enough storage space.
Taking care of business is a part of daily life. But it becomes especially important when your bed doubles as a dining area. The best van dwellers are always looking for van life hacks that save space, gas, or money.
Full-time living in a van is all fun and games until your grey water tank is full, the gas tank is empty and the storage cupboards are a bit messy and overflowing with things that don't seem to fit anywhere else.
We've made pretty much every mistake in the book. Each time we feel the agony of defeat on the road we remember that van life is all about learning to do a better job next time. And today, we're going to walk through some tips and tricks we learned the hard way that now make life on the road easier.
A little bit of preparation makes a massive difference in van living. Every single one of these hacks may not work for your specific campervan life. But as long as you're willing to put in the work and constantly tinker, you'll make the most of your time in a van.
Top Campervan Hacks for Better #VanLife
While there are tons of great ideas out there for how to make van life better, the reality is that every hack comes with a tradeoff. There are no "right" or "wrong" ways to live in a van. In fact, there is no "better" or "worse."
How you choose to live is simply up to you. And once you accept that you have and are learning to live your own way then you truly become a part of the vanlife lifestyle.
Here are a few hacks to get you started in the right direction.
Have the right gear.
Some of the best van life hacks are the ones staring at you from the top shelf. Storage space is a premium inside any campervan, so filling it up with junk is extra costly. This tip involves every aspect of life on the road.
The right van life essentials will work wonders in the long term – whether you're shopping for camping, cooking, or day-to-day life in your rig.
Everything you put inside your car will be subject to blowing down the highway at the same speed as hurricane-force winds. Cheap products will eventually fall and they will break.
A plastic folding camping table isn't a big deal on a backyard picnic. But when you have to set up and take down your table at every stop, you don't want to be wrestling with the legs.
And you certainly don't want to have to move ten things around every time you're trying to do something in your van. Expect to get loads of use out of your gear and commit to spending the extra money where it matters.
Related: Check out our post on all of the essential van life gear.
Make a budget… and then double it.
Van life is all about experiencing more with less. But having some financial wiggle room makes a huge difference on every trip. Once you hit the road, three categories will make up most of your spending – gas, camping and food.
Fuel
Write down your gas estimate and be prepared to double it. Time and time again, we underestimate how many miles it takes to get from point A to point Z.
Stops, old country roads and random side quests are all part of the fun of taking your home on the road. But the mileage adds up. So does the fickle and unpredictable price of fuel.
Camping
Camping costs will be tied directly to your van build and the weather. Campsites with electricity will quietly become a large part of your overall spending. We avoid them as often as possible.
Spartan adventurers can find free places to sleep every night if they really want. But we've never met a van dweller who doesn't like to treat themselves here and there.
It's much easier to enjoy a night under an immobile roof if it's already part of the budget. So don't start your trip expecting never to spend a dime on sleeping costs.
Food
Food is probably where we spend the most money. And we don't even go out to eat very often. If you plan to, then be sure to account for that in your budget. Same for alcohol, as those drinks can add up quickly too.
We eat mostly healthy, so we can't stock up on ramen and peanut butter and jelly. Instead, we're constantly buying fresh produce and vegetables, free-range poultry and beef products and organic everything whenever we can.
We justify the increased cost of our meals with the healthy trade-off we experience in exchange. If you can survive on ramen noodles and whole wheat bread, your food budget will take you far. It's all up to you.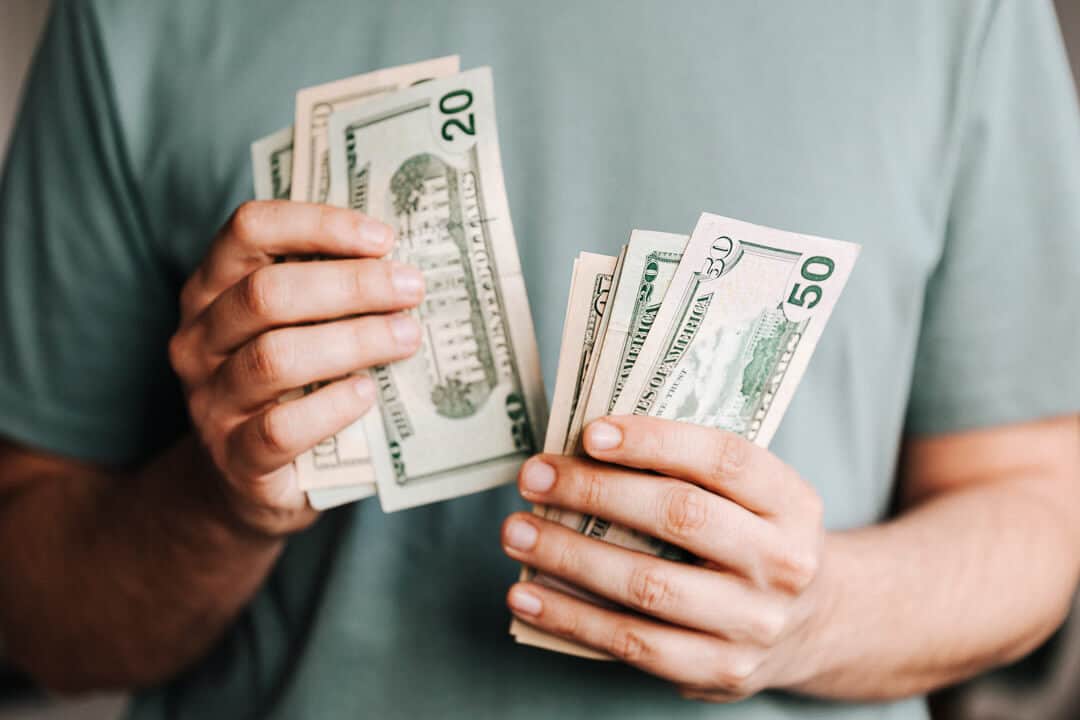 Download campervan apps
The right campervan apps will save you time, money and tons of frustration along the way.
Whether you are searching for camping spots, a place to shower or accessible WiFi, there are great mobile apps for that.
Certain apps are the keys to unlocking a kingdom of great spots to camp that will provide views worth the extra drive.
Apps like iOverlander or Campendium compile thousands of trips into the great outdoors into detailed descriptions of what's available on the road ahead.
Since 2012, overlanders and full-time RVers have marked off locations on these applications, leaving useful tips about all sorts of overnight stealth camping, parking, or businesses. Dump stations, propane fill-ups, laundry, Walmarts, and wifi are all marked down.
You can even find out about road conditions before driving down any unmaintained dirt roads. You don't want to head out into the woods unprepared, especially if you're towing a trailer.
Camper van apps are the quickest way to get connected to the van life.
Invest in the Right Power Setup
Your power setup should be the most expensive part of your campervan conversion budget. You need plenty of power while living in a van, and the best places to sleep are often miles from the nearest plug-in.
Understanding your campervan electrical system is imperative both for making good decisions about how to use your power and for knowing how to troubleshoot in the event something goes wrong… and it likely will!
There are no van life hacks to make power pop out of thin air. But a decent solar setup is the next best thing.
Don't shy away from spending a few thousand dollars as you build out your power system to include a large battery bank, proportionate power inverter and efficient and powerful solar panels.
If you are constantly having to seek out power hookups at pricey campgrounds because you can't seem to keep your battery bank at healthy and sustainable levels you'll find yourself regretting that you didn't invest more in your power grid upfront.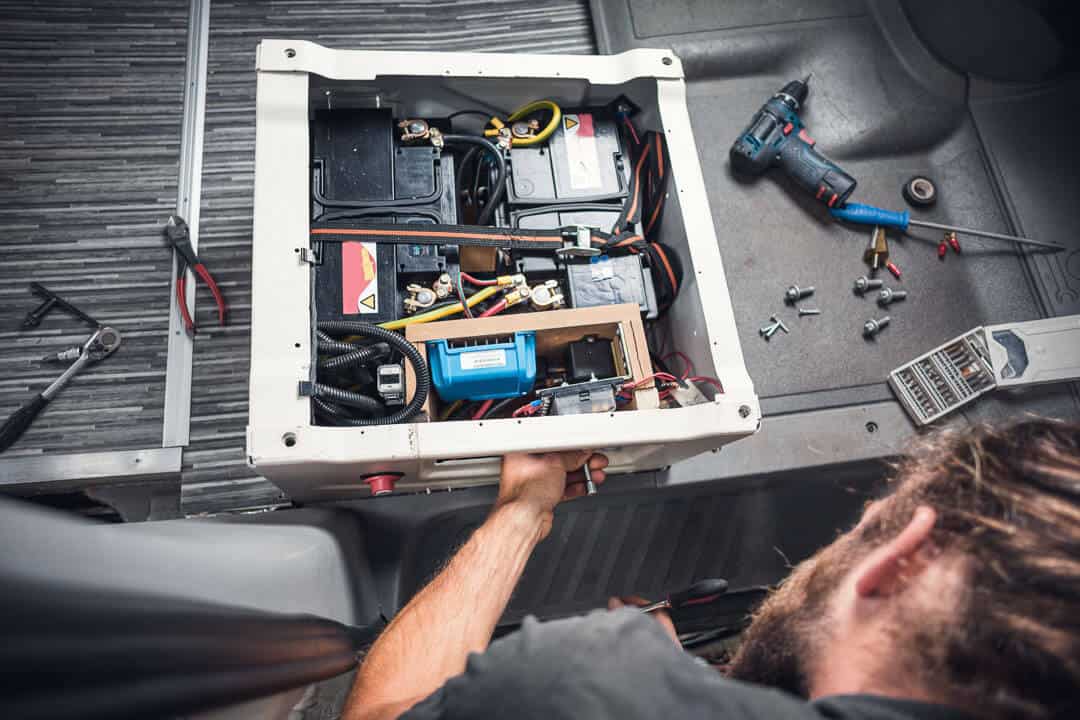 Use 12v chargers or inverters while driving
Speaking of the right power, don't forget the most powerful part of your RV, its engine.
Find a relatively affordable 12-volt power inverter like this one that will turn all those hours headed down the highway into free energy for your devices.
You can pump endless hours of entertainment into the back to keep things quiet or let your copilot transform into your coworker in the front seat.
You'll quickly find there is always something you can be charging. Even if you're just heading from the campsite to the grocery. As we drive we are often charging two laptops, two phones and a Bluetooth speaker through two cigarette lighters and our inverter.
It feels like free energy until I have to fill up at gas stations.
Invest in an affordable mosquito net for your doorway
Smaller RVs such as a campervan can heat up fast. Cracking open the door provides instant relief.
But it's only a matter of time before the local critters catch a whiff of what you've got cooking. Mosquitos can smell blood from over 100 feet away. And if you are within range, you can count on visitors.
The only things standing in the way of leaving our windows and doors open are theft and bug bites. No matter how far you drive you won't outrun mosquitoes, which are capable of taking any small openings and turning them into a night of haunting buzzes.
To keep up the airflow in bug country, find a magnetic mosquito net like this one. Hang them from whatever doors you use the most and let these simple mosquito net shields help you enjoy the summer outside.
Organize, organize, organize. Did we say organize?
You can never have too many pockets. And cupboards can never be full of too many shelves, bins and organizers.
It's good for the mind to live in an uncluttered space. And a relaxing way to feel in control of your environment is to put everything away.
The only trouble is that you may only have three cupboards to store your entire life, and everything shifts the moment you put the van into drive.
Storage hacks are about creating more space wherever possible. These are a few ways we try to keep our things from flying around the campervan.
Buy storage bins for pretty much anywhere they will fit
Storage bins are a true necessity when traveling with more than one person in the same van. You can instantly double any cupboard or space behind the back seat by adding stackable storage bins into the area.
Slide storage bins beneath the sofa, bed or table and build out shelves to house whatever bins will fit.
Not only do they store things properly, but also they keep them from sliding around, falling and breaking as you drive.
Invest in packing cubes for clothing organization
Inside those storage bins, we want more storage! More bags! More Organization! Packing cubes aren't the lifesavers some travelers make them out to be.
But they'll keep you from digging through every drawer to find a clean pair of underwear.
Placing the cubes inside your larger storage bins will prevent everything from blending on the drive-over. Use them for clothing, but also for anything else you want to separate and stow away.
Utilize a magnetic spice rack
Eating a delicious homecooked meal in a campervan conversion is an incredible experience. The things you'll be able to do with a limited kitchen will surprise you, especially if you bring the right spices.
A cupboard full of cumin may smell nice, but you'll never get it cleaned. Tiny spice bottles bounce and roll until the top falls off. Then they just spill. And let's not get into the danger of not properly stowing away your kitchen knife set!
You have to keep your spices upright and locked into place in your van and a magnetic spice rack is an easy installation that makes that happen without taking up valuable cabinet space.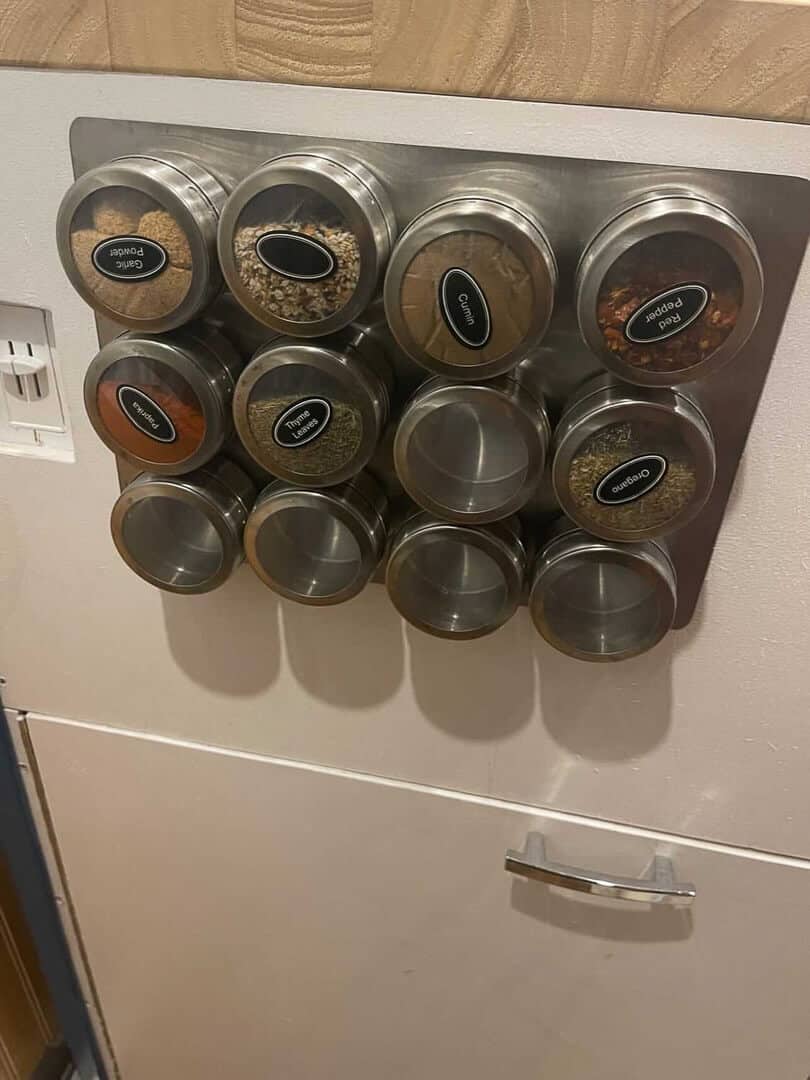 Shoes
A few hacks help you store shoes with less space. But there is only one guaranteed way to keep your shoes uncluttered – leave a few pairs at home. It's painful, but you need less than you think.
Shoes are all about quality over quantity. One waterproof hiking boot, something comfortable to wear around camp and a pair for hitting the town are about all you need if your shoes are versatile.
We've wasted far too much space on our road trips bringing along extra pairs of shoes we haven't even used. Three pairs of shoes are usually enough. And if it doesn't work out, it's a great excuse to take a shopping day.
Eat right as often as possible.
One of the simple van life hacks will save you money and calories. Make that spice rack get to work, and don't forget to continue your regular diet routines, even if it's a bit of a challenge on the road.
We'll all have travel days where we don't do much more than stop at McDonald's or In-N-Out Burger (our personal favorite!). But cutting down on cheap fast food and taking the time to cook for yourself will save money and keep you healthy as you travel.
Our favorite way to eat right while traveling is to cook a bunch of food before hitting the highway. Having a tasty meal on standby when our stomachs start grumbling saves several costly stops for fast food and helps us get to our destination with a bit of energy left in the tank.
Everyone has a different diet. But don't forget to keep track of what you're eating and eat the right foods to give yourself energy, even if you're doing nothing but driving all day.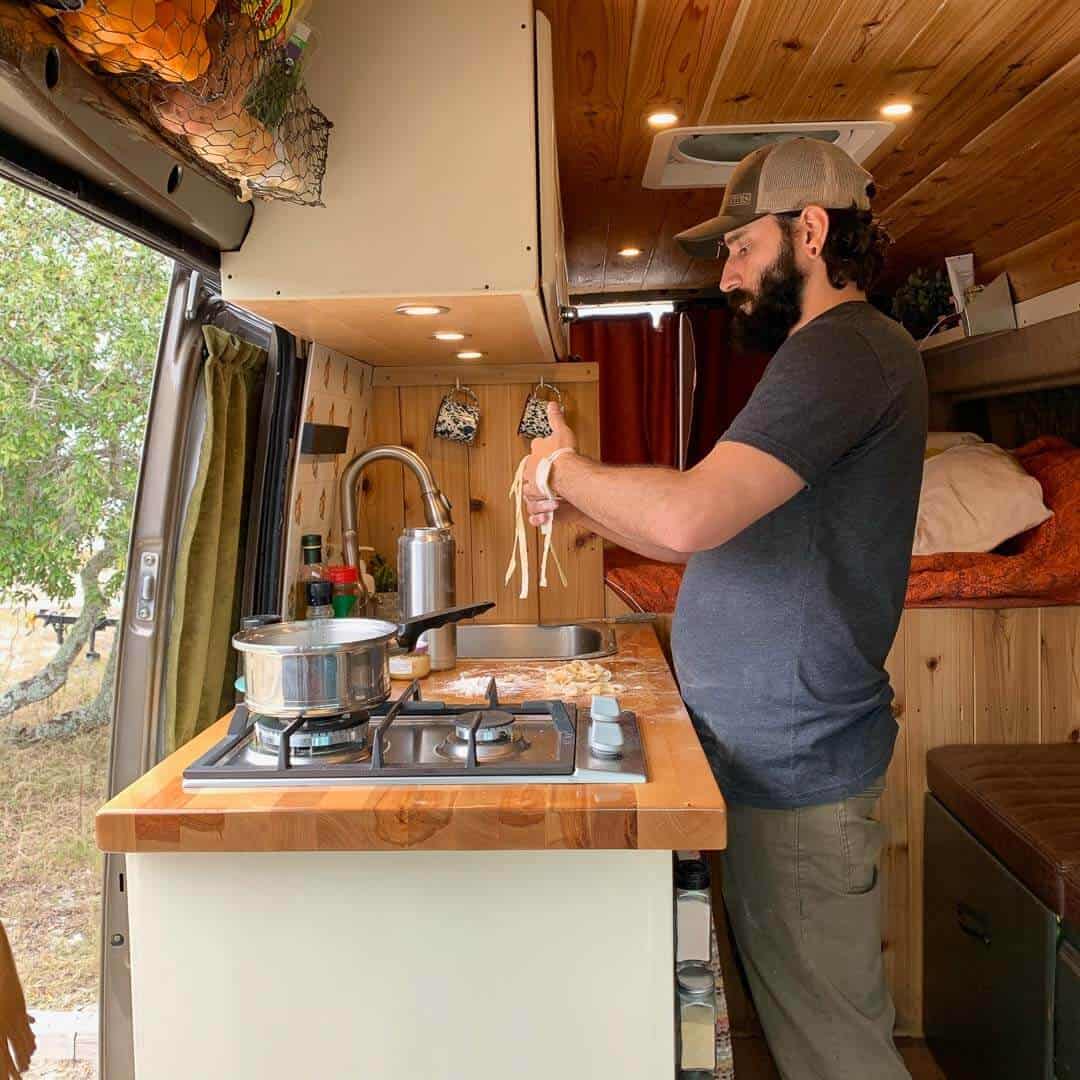 Yes! You should buy an outdoor shower
Van lifers are notorious for cutting corners when it comes to personal hygiene. After a week on the road or in the woods, a hot shower will bring you back to life, not to mention make you more sociable.
If your camper doesn't already have a shower installed, several DIY shower options will have you feeling fresh in no time.
If you're just traveling in the summer months, you can hang a simple solar shower bag from the roof or install a black-painted PVC pipe on the roof to get the job done. Colder weather will require professional reinforcements and a propane hot water heater.
Whichever shower option you choose, you won't regret taking the time to incorporate it into your camper van. Don't forget to make an outdoor shower curtain you can hang from your doors or roof for added privacy at the campsite.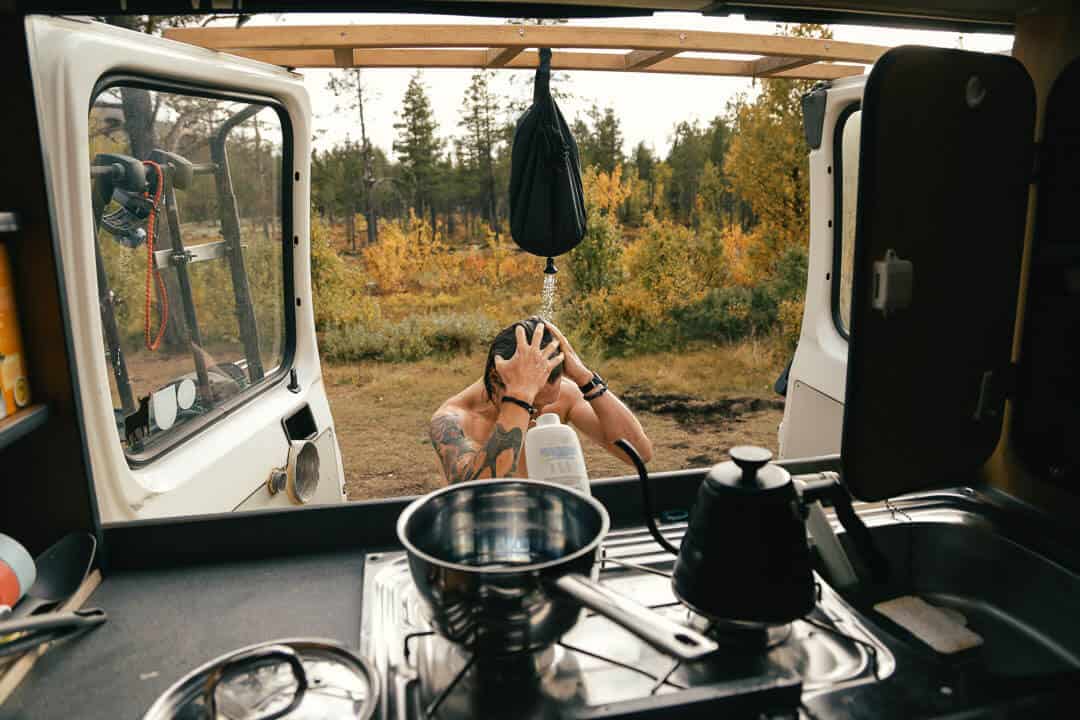 Spend 15 minutes a day straightening up
There is not a lot of room for error inside most campervans. A few dirty dishes and dirty clothes can quickly snowball into a messy space. Get ahead of the mess by scheduling a bit of time in your day to tidy up.
Knock out any dishes, sweep the floor, or refold your clothes – whatever has been bugging you the most lately. A spotless camper van and a little exercise will lead to a spotless, positive mindset and will allow you to spend the day relaxing.
Enjoy the ride
Van life hacks and tricks aren't just limited to what is inside your van. They also extend to your heart and mind.
You're going to have quality time on the road. And sometimes it will likely take you longer to get around than you expected. Try to avoid ever having to hurry from one place to another.
Most camper vans aren't built for speed, and it is not fun to be in a rush anyway. (After all, didn't you begin your van life trying to escape all of the hustle and bustle of the rat race?!)
A four-hour drive quickly turns into a six-hour drive with a few stops to stretch the legs and a wrong turn or two. All of a sudden the sun is setting, you haven't eaten dinner, and you're still looking for a place to park for the night.
All the van life hacks in the world won't stop you from experiencing frustration now and then. But if you can laugh off the bad moments inside your camper van, you'll get to the good stuff much faster.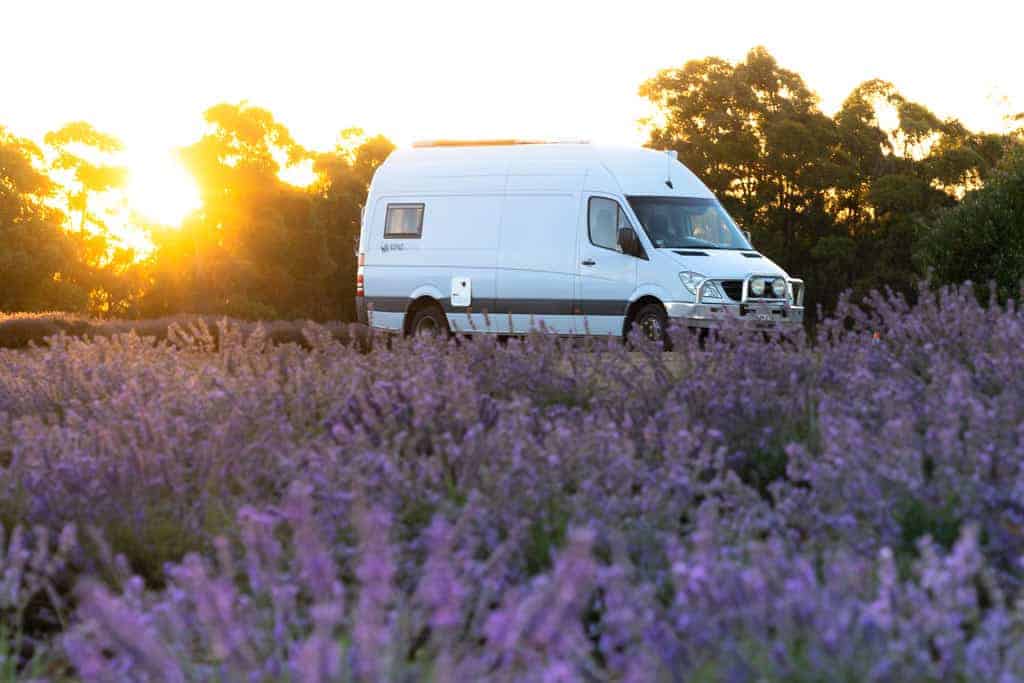 Quick Van Life Hacks Honorable Mentions
These are a few hacks you can do to make more of van life, whether you are full-time or just out for a road trip from time to time.
Use sleeping bags as blankets. Unzip the sleeping bag and save space in your van by not having an extra blanket on the bed. Likewise, use your sleeping bag as a blanket when you want to enjoy the great outdoors on cool nights.
Take showers as often as you come across them. If you find yourself at a formal campground don't feel guilty if taking a shower is the last thing you do before you check out. In van life, you never know where you'll find your next showers so take advantage of the ones you know you have.
Use baby wipes to take care of your more intimate parts in lieu of a proper shower. This can extend the time you feel comfortable between showers.
Consider a conversion bed that allows you to use the space both for sleeping and for a table, couch, desk or otherwise.
Hang shoe organizers on the van backseat to supplement your cupboards by adding more storage and organization space to your living area.
Mount D-Rings, cup hooks and eyelits safely and securely around the van. Attach and hang items as necessary.
We hope these van life hacks have given you an idea of where to start, or where to go with the next chapter in your van living. We're sure we missed some, so let us know your favorite van life hacks and we'll be sure to share them!
DISCLAIMER: Some of the links in this article are affiliate links, which means if you book accommodation, tours or buy a product, we will receive a small commission at no extra cost to you. These commissions help us keep creating more free travel content to help people plan their holidays and adventures. We only recommend the best accommodations, tours and products that ourselves or our fantastic editorial team have personally experienced, and regularly review these. Thanks for your support, kind friend!