Looking for the best campervan inverters? These are our top 6 picks for the best campervan power inverters on the market. 
In van life, chances are you've found yourself in a situation before where you were camping off-grid in a beautiful place, and you realized that, despite how nice it is to not have cell service for a change, your phone needs to be charged.
Sure, you can crank up the van and burn a little fuel plugging into your cigarette lighter car charger. But there's a better way – a much better way!
Power inverters are becoming standard components of virtually any van electrical system. Whether you are building out your van or have purchased one ready for the road, adding the right size inverter to your power system will allow you to use all of your favorite electrical devices and appliances off-grid that you would otherwise have to run only with shore power.
But picking the best inverter can be a challenge. Not only must you decide between modified sine wave inverters and pure sine wave inverters, but also you'll want to ensure that you do not pick one that is either too large or too small.
This means before you actually make your decision to purchase a power inverter, you are going to have to determine how much power you use among your AC appliances and then be sure you have a battery bank with enough power supply to meet your power needs.
In this post, we'll provide you with a shortlist of only 6 pure sine wave inverters from which to choose. And we're recommending only 2000-watt options as this is typically the best size. All models we recommend have both larger and smaller wattage sizes if you would like one larger or smaller. 
Plus we'll explain what to look for when purchasing one and share why we chose the one we did for our van.
On that note, let's get into our Editor's Choice and the pure sine wave inverter we chose for our own van life AC power needs.
---
Best Product // Our Top Picks at a Glance
The Best Campervan Inverters
We've narrowed down the list to our best recommended pure sine inverters. None of the products on this list fall into the modified sine wave inverter category because we do not think you should invest ANY money into anything other than a pure sine inverter.
We'll cover more of the reasons why in the section below. Now on to the best inverter options for your camper van conversion.
---
Best Overall: Renogy 2000W Pure Sine Wave Inverter
Price Range: Around $300
Continuous Watts: 2000 Watts
Peak Watts: 4000 Watts
Efficiency Rating: 90%
Idle Draw: Minimal
Warranty: YES
Renogy is the most popular name among van lifers. The company builds exceptional solar panels, batteries, battery monitors and solar charge controllers to complete your power system needs.
This 2000W pure sine wave power inverter is a reflection of their quality. This exceptional product is easy and safe to use.
It features a solid 2000W power with a peak surge power of 4000W to jumpstart big electrical appliances.
The peak surge is good enough to start most of the heaviest campervan appliances that you would consider running.
Moreover, its operation is reasonably smooth and does not create any irritating or buzzing sound when functioning in full swing. The pure sine wave inverter is quite efficient, with a conversion rate of 90% and a low self-power usage that might as well be zero.
Additionally, it has two ventilation fans to retain the performance while keeping the temperature in an acceptable range. Clearly the more the inverter works to power up your AC electronics the more important these dual fans become. 
Along with these traits, it has many safety features that make it an excellent option for campervans. The inverter has ground fault circuit interrupter, over-temperature, over-voltage, under-voltage, short circuit and overload protection. It notifies the user with its LED lights.
The inverter comes with a 5V USB Type-A port, three AC outlets and an AC hardwire port. Moreover, you will get a 19ft wired remote and a 3ft AWG cable. Remote is an excellent addition because many similar power inverters do not have a remote.
Renogy 2000W is an excellent product with all the great features and performance, but the fans can be slightly loud sometimes.
PROS
4000W surge power to start big appliances.
Great conversion rate with meager self-power consumption.
Comes with a 19ft wired remote.
CONS
Loud fans.
Large dimensions
---
Runner Up: Xantrex Prowatt SW2000 Pure Sine Wave Inverter
Price Range: Under $500
Continuous Watts: 2000 Watts
Peak Watts: 4000 Watts
Efficiency Rating: 85-90%
Idle Draw: Minimal
Warranty: YES
Xantrex SW2000 is a great solution to your power inverter needs. Xantrex's primary focus is mobile power products and they have been designing and manufacturing them for the past 30 years.
Like its Renogy counterpart, Xantrex Prowatt has a 2000W continuous power surge and 4000W peak surge power. The product is 85% to 90% efficient, which means it will deliver 1800W realistically.
Moreover, it has enough charge to fire up high-voltage devices like microwave ovens and fridges (note, you must have an adequate battery bank to support this kind of ac power draw).
The trait that we love the most is its big digital display. It shows voltage, output power, and error code information and reminds the user when the battery needs a recharge.
The screen is a unique feature because it makes it easier for us to monitor the inverter's status, and most other devices do not have a screen. Moreover, it also has LED indicators which give you a quick sense if something is wrong.
We also like that we can trust the Xantrex Prowatt to be a safe device to use. It has low voltage, over-voltage, AC overload, over-temperature and GFCI protection. T
The device alarms the user and shuts down when the voltage surpasses the safe value either on the high side when too much AC power is drawn or on the low side when the battery voltage drops to unhealthy levels. The product also comes with a 2-year warranty.
All these modern features can heat the inverter. So, it has two small fans to keep things cool. The fans are thermostatically controlled which means that the fans kick in when the temperature rises to a specific boundary.
On the downside, the device is relatively expensive and has a remote switch port on the back. But Xantrex does not come with a remote switch, which must be purchased separately (approximately $25).
We also aren't big fans of the fact that the wires that connect to the battery are exposed and do not have a plastic cover to keep them from contacting other wires and items on accident. This is a minor inconvenience, however.
Otherwise, this is a great product produced by a great company that stands by its products with a reasonable warranty that we have, in fact, had to use when we had issues with our Xantrex 600W pure sine inverter.
If you have the extra money to invest in a great 12V inverter this is an excellent option!
PROS
Durable and lightweight.
Efficient and cool operation.
Big display and LED indicators.
CONS
Pricey
No remote in the package.
Exposed battery connections
---
Best Premium: AIMS Power 2000-watt Power Inverter
Price Range: Around $1,000
Continuous Watts: 2,000 Watts
Peak Watts: 6,000 Watts
Efficiency Rating: 92%
Idle Draw: Minimal
Warranty: YES
AIMS power 2000-watt is another excellent power inverter on our list. AIMS has been manufacturing inverters, solar panels and charge controllers since 2001. They have an exceptional technical support staff who always take extra steps to resolve any issues.
AIMS Power 2000-watt is a robust yet bulky power inverter. With 92% efficiency, it is one of the best on the list.
It provides a 6000-watt surge for 20 seconds which is more than enough to kickstart power-hungry devices.
It also has a power-saving mode to reduce idle power use. This campervan power inverter is one of the strongest power inverters, great for almost any type of application.
An excellent additional feature for any van life user is the automatic transfer switch. It will automatically turn on the backup mode in case of a power outage and vice versa. It is a handy feature because you do not have to turn on the switch manually in the event your AC power supply from shore power fails.
The AIMS 2000W 12v inverter is incredibly safe to use like other power inverters. It also has overload, high voltage, low voltage and short circuit protection. Moreover, it also has fans for a cool operation.
The thing we love the most is the easy installation. You only need one set of heavy-duty cables and AIMS provides a detailed user manual to conveniently and safely install it. Moreover, they have a supportive technical staff that is always willing to help.
However, there are a couple of drawbacks that we found. It does not have GFCI protection. Instead, it has a port to attach it separately. Also, this pure sine inverter is pretty heavy and does not come with a remote control.
PROS
300% peak surge.
Robust and Durable construction.
Easy to Install.
CONS
No GCFI protection.
Very heavy.
No remote control
---
Smallest: Go Power GP-ISW1500 12V Industrial Pure Sine Wave Inverter
Price Range: Under $500
Continuous Watts: 1,500 Watts
Peak Watts: 3,000 Watts
Efficiency Rating: N/A
Idle Draw: Minimal
Warranty: YES
Go Power GP-ISW1500 is the best power inverter for small campervans. The small product packs full power of 1500 watts with a peak surge of 3000 watts.
Go Power has grown to one of the biggest solar solutions manufacturers in North America. They are a part of the Dometic family and provide a complete range of solar chargers, inverters, controllers and much more.
The power inverter made it to our list due to its compact size and exceptional performance.
While we're comparing other 2000W continuous power inverters, the 1500-watt inverter is 91% efficient and comes at a very affordable price point. Moreover, its build quality is pretty good.
We really like that this 12v inverter is a great product for small to medium-sized campervans and can run heavy-duty power appliances. Most campervan power needs do not need more than 1,500-2,000 continuous watts so this size inverter is perfect for the average van lifer. 
Go Power has two AC power outlets and a hardwire port to run sensitive electronics like laptops. Both AC ports have GFCI protection, and the unit itself has over-voltage, under-voltage and overload protection. It also has a 2-year warranty.
On the downside, because of its small size, the fans have to work hard to ensure a consistently low temperature. That's why the fan can be pretty loud and annoying. It also lacks a remote, which can be purchased separately for approximately $35. 
PROS
Compact, Lightweight and Heavy-duty.
91% power efficiency ensuring maximum power conversion.
GFCI protection on both AC ports.
CONS
Fans are quite loud.
Remote not included.
---
Best Budget: Go Wise Power PS 1009 2000W Power Inverter
Price Range: Under $400
Continuous Watts: 2,000 Watts
Peak Watts: 4,000 Watts
Efficiency Rating: N/A
Idle Draw: Large
Warranty: YES
Go Wise Power PS 100 is another power inverter with a continuous power output of 2000 watts and a peak power of 4000W. It is a suitable inverter for any campervan and RV usage.
Go Wise is not a well-known and established company. But they manufacture high-quality campervan and solar panel accessories.
This 2000W pure sine wave inverter is a flashy campervan power inverter with a combination of black and bright green colors. It also has grooves on all sides to compliment the sleek design of the inverter.
We like that the inverter has an LCD screen that shows both AC output and DC input of solar system voltage. On the control panel, there is also a power button with a remote port and USB port to charge mobile devices and audio equipment.
We're also fans of the fact that, like other inverters, it also has overload, overvoltage and under-voltage protection. Moreover, as a pure sine wave inverter, it is excellent for sensitive electronics like laptop chargers and fridges. And it includes a remote switch with a 15-foot cable.
On the downside, although the rated power is 2000 watts, the inverter has a lower efficiency rating than other inverters on our list. That's why we will keep this device as our last resort when shopping for a campervan power inverter.
PROS
Sleek appearance and solid construction.
Handy LCD screen displaying input and output voltage.
Includes remote switch
Comes with a 1-year warranty.
CONS
Not as efficient as the other inverters on the list.
Loud fan
---
Best Alternative Option: BESTEK 300-watt Pure Sine Wave Campervan Power Inverter
Price Range: Under $75
Continuous Watts: 300 Watts
Peak Watts: 700 Watts
Efficiency Rating: N/A
Idle Draw: Minimal
Warranty: YES
The BESTEK 300-watt 12v inverter is like a backup inverter that you can use if your primary one is not working correctly.
Or if you don't want to spend the money on a larger pure sine wave inverter, this small device is quite good, efficient and easy to use as it plugs into your vehicle cigarette lighter.
BESTEK is a leading electronic brand from France. They are developing high-end electronic products to enhance the campervan living experience.
This 12v inverter is among the best and most portable pure sine inverters with its 300-watt power rating and peak power of 700-watt. Moreover, it comes with a solid aluminum chassis ensuring a durable and long life.
We like that the power inverter has two AC outputs and two USB ports for optimal performance. The ports are enough to charge or operate most of the electrical devices on the van simultaneously. Of course, be sure to monitor what sensitive electronic devices you plug in at the same time.
Due to its lower power rating, you can charge the device from the cigarette lighter port. The lighter pin is exceptionally strong and promises a dependable life. The safety feature of the device includes overheating, under-voltage, over-voltage, overload and short-circuit protection.
BESTEK has a beautiful, ergonomic design and intelligent fan design. Overall, it is pretty good at maintaining an acceptable temperature, but it's very noisy and bothersome.
Additionally, this is not a full-on power inverter that you can count on to run our larger appliances. It is only 300 watts of continuous power.
Also, unless you have wired in cigarette lighters to your house battery power system, you have to run it off your vehicle battery. This can be an issue if you draw too much power in charging your devices and run your starter battery too low.
But if you are living a simple life on the road and don't need to charge or run larger appliances, this is a great option. 
PROS
Small in size, big in performance
2 USB ports to charge multiple devices at 2.4amps.
Robust aluminium construction.
CONS
The fan is fairly noisy
Smaller continuous power rating
Draws power from vehicle starter battery
---
How to Choose the Best Campervan Power Inverters
Not all power inverters are created the same. You can't just pick the biggest inverter without considering your power usage needs and your battery bank capacity.
Space and cost also come into play when making the best purchasing decision. And while the inverters will get the job done (at least for a while), there is definitely a good-better-best inverter out there for you!
Let's get into the things you should look for when choosing the best campervan power inverter.
Types of Inverters
When shopping for an inverter for your van, you will come across two main types – pure sine wave ("PSW") and modified sine wave ("MSW"). While we're discussing the modified sine wave inverter below, we didn't include any on our list because we like to make sure that we've recommended the best possible products. 
Modified sine wave inverters are not great for all applications and lack the function and efficiency of pure sine wave inverters.
Pure Sine Wave Inverters ("PSW Inverter")
A pure sine wave inverter has the purest AC power. The output voltage and current are similar to a power grid current that we use in our homes. PSW has a consistent negative to positive-transition, making it smooth and efficient.
They also have high-frequency technology that does not cause damage to any AC device, whether it's a standard appliance like a heater and air conditioner or sensitive electronics like a laptop, fridge, or microwave.
Pure Sine inverters are comparatively expensive but do not damage your appliances. They are the only kind of campervan power inverter we recommend.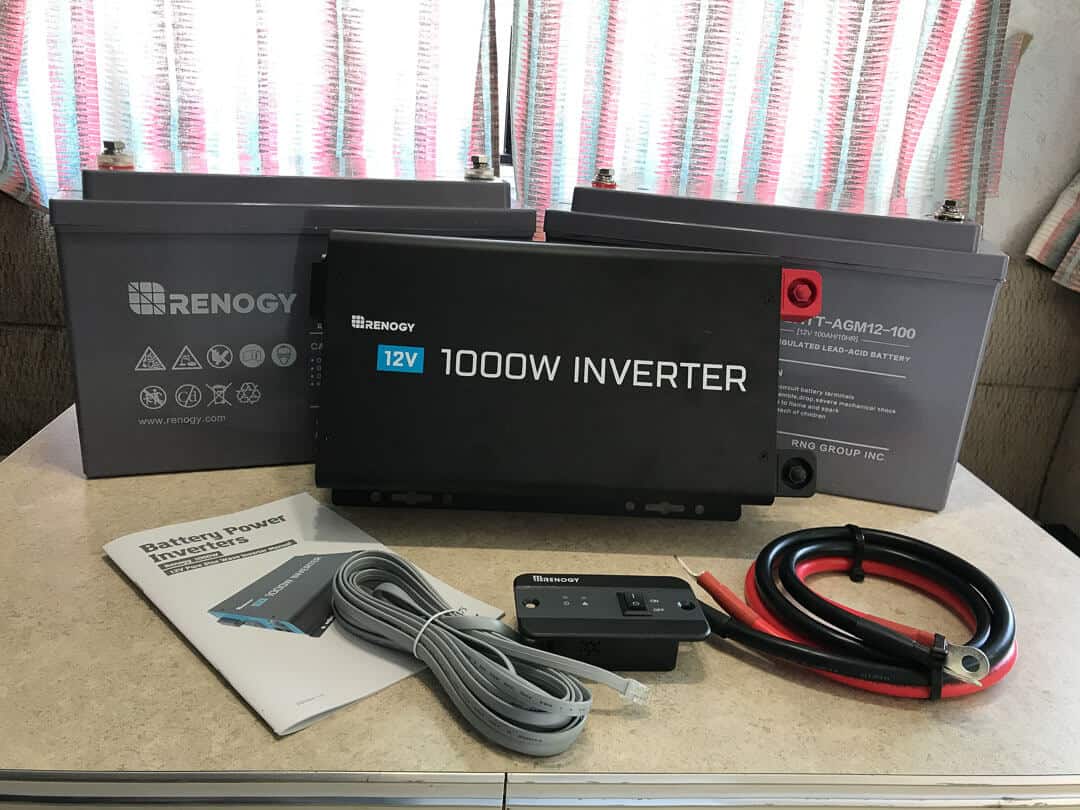 Modified Sine Wave Inverters ("MSW Inverters")
Modified sine inverters have intervals in output, from maximum positive to the maximum negative value. To translate, due to the intervals in waveforms, these inverters are not great for appliances that need extra power to start, like motors, fridges, and relays.
Moreover, modified sine wave inverters do not have constant electrical flow, which affects the life and operation of AC devices. For this reason, you don't want to count on a modified sine inverter to run sensitive AC appliances inside your camper van conversion. However, modified sine wave inverters work perfectly with simple appliances like boilers and heaters.
Modified sine wave inverters are pretty affordable inverters, but they can damage your appliances. So, we don't recommend using a modified sine wave inverter under any circumstance.
Inverter Size ("Wattage Rating")
The size of the inverter is measured in watts, and you must have seen two power ratings on every product page. The lower one is continuous watts, which is what you can count on to run devices in a continuous time frame. 
The higher value is called a surge or peak power, which may occur when an appliance is first turned on and requires more power to get started before its power needs to taper off. 
Peak/Surge Watts Rating
Peak or surge watts is the maximum amount the inverter can produce. But they can retain this value only for a short time without doing damage to your battery bank and or forcing a shut-off.
Regardless of whether you use AGM batteries or a lithium battery bank, it is important to never push your inverter beyond the peak watt rating to preserve your battery life.  
The high power is used to jumpstart big AC appliances like a fridge or microwave. These devices require a substantial amount of power to start up. The early kick is where the surge watts are used for a few seconds.
Continuous Watts Rating
The lower rating usually found on inverter specs is the continuous power or watts rating. It is the amount that an inverter can deliver for regular use. You will compare your power usage with this rating as you look at how many watts you think you will need to run various devices at any given time.
Choosing the right inverter size requires some research and calculations. Firstly, you will calculate the power usage of your campervan. Simply add the rated power of every electric appliance in your campervan that you would use at any given time. 
Keep in mind that you won't always run all of your electronic devices at the same time. So consider different scenarios where you may charge a laptop, or phone battery and want to run your Instant Pot or hair dryer. Be sure to account for the maximum amount of power you think you would use. 
The answer will be the inverter size you need. But keep in mind that pure sine wave inverters are typically 80% to 90% efficient. So, it must have some extra watts to equal the power loss.
A 2000W inverter at 80% efficiency is really 2000W x 80% = 1,600 continuous watts. At 90% it would be 2000W x 90% = 1,800 continuous watts.
Efficiency Rating
A battery bank will surely lose some power when DC power is converted into AC power. The efficiency rating demonstrates the amount of energy an inverter will lose in conversion.
A standard inverter has an efficiency rating of 80% to 90% or more. This means an inverter with 90% efficiency will lose only 10% DC power in conversion.
Efficiency rating is a crucial factor because you are losing essential battery capacity. So, it is vital to get an inverter with 10% to 20% more wattage than required to fill up the efficiency gap.
For example, if your campervan has 1000W usage requirements, consider getting a 1200W or 1500W inverter to be on the safer side. That way when you lose efficiency through the inverter you will still have over the 1,000W that you desire.
Safety Features
Safety features are a valuable part of every campervan inverter. They protect the device from harming itself, appliances and house battery banks.
Every inverter we mentioned has basic safety features that will keep you and your appliances safe in case of abnormal situations. In these situations, the inverters alert the user with LED indicators and alarms.
Most inverters have over-voltage, under-voltage, overload and short-circuit protection.
Expensive and modern devices also have GFCI (Ground Fault Circuit Interrupter). It is a high-speed circuit breaker that cuts the connection in case of a ground fault. Moreover, they have a temperature sensor as well.
You will also find that some inverters will alert you if your connections become loose either to the battery bank or the inverter itself, which is more common than over or under-voltage. 
No-Load Consumption
No-load consumption or idle consumption is the amount of electricity an inverter uses when not connected to appliances. Just turning your inverter on will require the inverter to use some battery power not only to power the lights and fan on the inverter but also to have the ability to immediately power any devices connected to it.
The no-load consumption is an important consideration because power resources are already limited in the campervans. Usually, the idle consumption is pretty low.
For instance, our top pick Renogy uses 0.024 kW per hour. So, usually, the values are fairly low, but some inverters can use 1amp per hour or more.
This means they will consume 8 amps to 10 amps out of a 100 aH battery in a night. Moreover, solar panels do not produce any electricity during the night.
So, you might end up with empty batteries in the morning if you have a cheap inverter, or an inverter that is much larger than your power needs and battery bank will support.
Make a wise decision and choose a power inverter with the lowest no-load consumption possible. Also, some inverters have stand-by or eco-mode switches to minimize idle power usage. It's worth paying a little more for an inverter with this feature.
Dimensions
Size is an important factor for small campervans. While big motorhomes can easily accommodate big inverters, you'll want to plan an appropriate space for your inverter in your campervan.
The basic explanation of the size can be that a more powerful inverter will take more space. A more powerful inverter will require a larger battery bank to support it, thus requiring more space for your entire power setup.
So, always measure the space in your campervan before choosing a suitable inverter. Moreover, keep in mind the room for ventilation. It is essential because inverters need some fresh air to circulate with their built-in fans in order to operate properly.
Budget
There is a wide range of inverters on the market and you might get confused with the diversity of price range between them. So, it is recommended to compare the price and specs before making a buying decision.
There are overpriced inverters with outdated and low-tech features. And, on the contrary, you can also get one with some great features at a comparatively low price.
Modified sine wave inverters are available at somewhere between $50 to $100. But these inverters are not very efficient and we feel like you are wasting your money on them.
The 12V pure sine inverters lie somewhere in the territory of $250 to $500+. They are efficient and have an excellent power rating. And on the higher end you will not get modern features like a wireless remote control and better efficiency.
Wrapping Up
Choosing the best camper van inverter is not easy. But it can be if you have the right idea about what to look for. So, we hope that after reading the guide you have the proper knowledge to make an educated decision for what works best with your campervan.
We still think our Editor's Choice, the Renogy 2000W inverter, is the best overall pick and that you won't be disappointed in its performance in your electrical system. 
We've chosen to install the Renogy 2000W pure sine wave inverter in several of our vans because we find the value of this inverter to be the best. We trust the quality behind Renogy, and the price point is incredibly reasonable. 
It provides all of the power needs our battery bank will support, and we also like the remote control switch that we've installed in a convenient place.
Plus, while we have never had an issue with our inverter, we have had great customer service with Renogy support with other Renogy products we've used.
Campervan Inverter FAQ
While we covered many of these topics to some degree in the post already, here are the most frequently asked questions about campervan inverters we come across on a regular basis.
Do I need a power inverter for my campervan?
Honestly, particularly if you are investing in a full campervan conversion, the answer is 100% yes. And there are very few situations where we would say that having an inverter is not necessary.
If you plan to use minimal low-voltage appliances and electronic devices that will charge on standard cigarette lighters in your vehicle then you may not need an inverter. Also if you opt to install USB chargers and cigarette lighter outlets as part of your DC electrical system then you can likely skimp on a larger power inverter. 
But when it comes to routine van life you will be hard-pressed to find a van dweller that does not have at least a 1000W to 2000W inverter installed in their van.
In fact, what we are finding to be more and more common in van life thanks to increased efficiency and reduced costs is a 200-300 amp hour battery bank with 2-3 lithium batteries connected in parallel with a 2000W inverter.
Couple this with a modest solar system and you have an affordable and effective way to ensure that you don't have to worry about power usage throughout your van.
How big of a power inverter do I need for my campervan?
We have found that most people choose an inverter that is either too large or too small for their battery bank and power consumption needs. The truth is, you can have an inverter that is too large for your battery bank.
Even though you may be able to run larger voltage appliances, you will quickly drain your battery bank to the point it affects the battery life.
On the flip side, you may find that your battery bank is adequately sized, but that you need or want to use appliances that are too large for your inverter. This happened to us when we first set out on the road with a modest 600W Xantrex inverter.
The inverter was great and did its job well. And we had enough battery capacity to support using 600W of energy at any given time. However, we found that we needed more power to be able to charge multiple laptops, camera batteries and cell phones. 
Our first year on the road we used a complicated system of having to plug/unplug different appliances in different orders for different amounts of time because we did not have the properly sized inverter.
Now we recommend a standard 200-300 amp hour battery bank capacity (preferably lithium batteries that can discharge much lower than AGM or flooded lead-acid batteries) with a 2000W pure sine wave inverter.
If you think you will need more power than this and want to go with a larger inverter, then be sure to increase the size of your battery bank as well. And when you increase the size of your battery bank, be sure to consider increasing your solar system and/or consider having to rely more on shore power to keep your massive battery bank topped off.
There are fancy calculators out there to more accurately gauge your inverter size needs. But unless you have some incredibly extenuating circumstances, it is highly unlikely you would need anything more than 2000W in an inverter.
But a good rule of thumb is to go larger rather than smaller and always remember that it's worth investing in bigger capacity and better quality batteries to support your power needs.
How Do I Install A 12V Inverter?
Simply put, consult your specific inverter instruction manual for installation. However, in general, you will want to connect the power inverter to your battery bank either directly (if you do not have a good battery monitor installed) or to your positive and negative battery bus bars.
However you connect the inverter to your DC power source, you MUST include a fuse or breaker on the positive connection between the battery or the inverter or else you risk damaging the inverter, battery and appliances connected to the inverter.
You will also want to install the invert as close to the battery bank as possible and use heavy gauge wires of the appropriate size as you will be transmitting large amounts of energy through the wires into the inverter.
Again, consult your inverter user manual both for the safe distances and wire gauge for your specific power setup.
DISCLAIMER: Some of the links in this article are affiliate links, which means if you book accommodation, tours or buy a product, we will receive a small commission at no extra cost to you. These commissions help us keep creating more free travel content to help people plan their holidays and adventures. We only recommend the best accommodations, tours and products that ourselves or our fantastic editorial team have personally experienced, and regularly review these. Thanks for your support, kind friend!